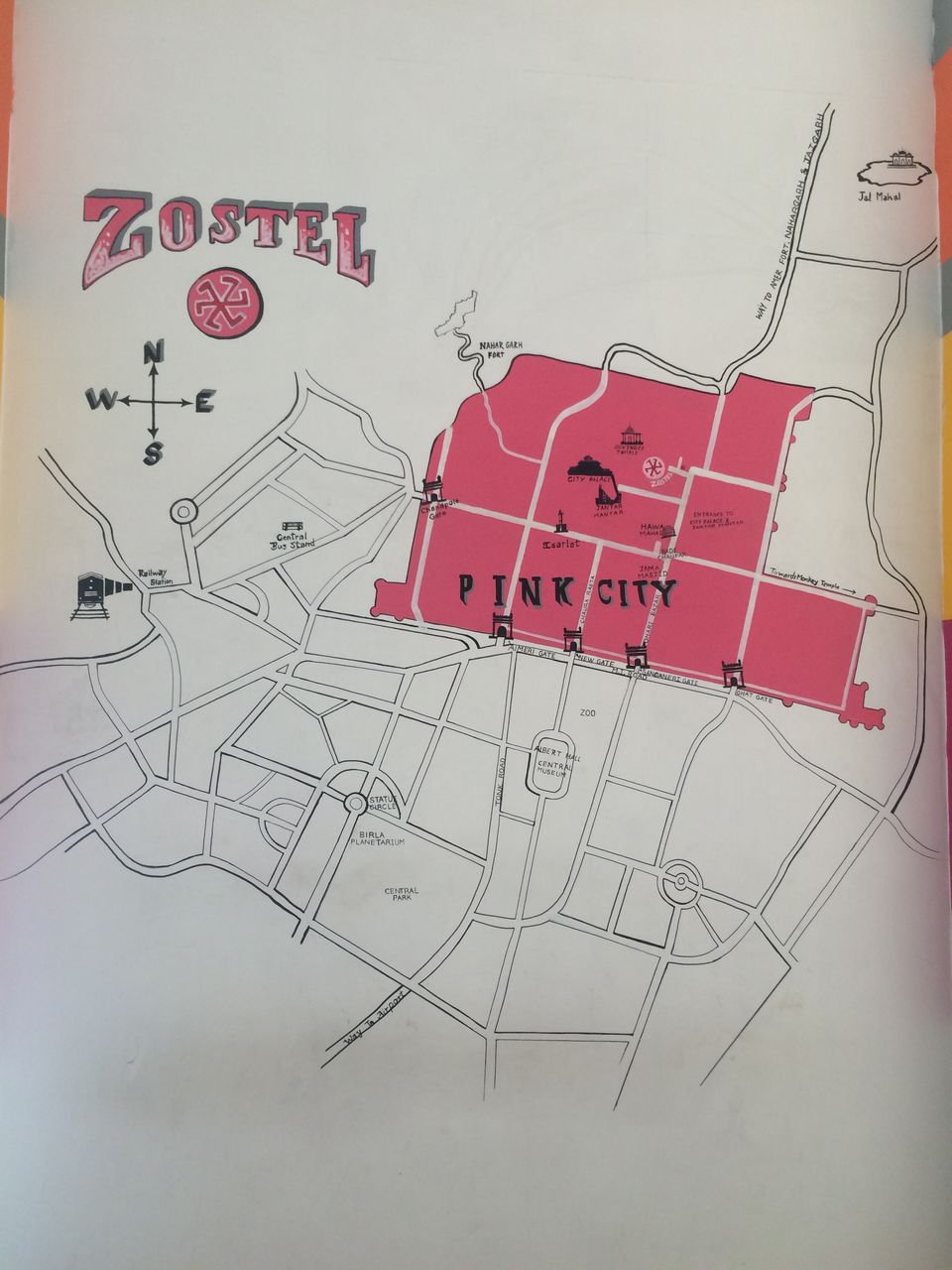 Jaipur - The Pink City
All ready to leave for Jaipur with my friend Sierra,my dad drops me off at my friends place and from there we are dropped off at the Chandigarh Railway Station by her mother and driver. The Train Garib Rath is already there and we run in haste so as to not miss the train. We look up our seats and get inside and make ourselves comfortable. The excitement is always there as you onset your journey to the most awaited trip of the year 2016. The train is pretty reasonable and good for people who are just looking forward to travel and explore places. The Train Cost two and fro from Chandigarh - The City Beautiful to Jaipur - The Pink City was covered in Rs.1500. I personally had planned and organised this trip well before a week and booked train tickets through IRCTC and our stay in Hostel - ZOSTEL. We had got our dinner packed from our respective homes and as soon as an hour passed by we had our meal and started to talk about how our trip would turn out and our expectations, and as we were friends since 2009 B.ed days so couldn't miss talking about the our good old days. As our conversation continued we realised we should sleep to be prepared for the next long day ahead.
Day 2 - The Garib Rath reaches bang on time at 0700 hours, and i had downloaded UBER app so had called up the taxi which was waiting for us outside the Railway Station. So, we get down at Jaipur Railway Station and board the taxi and head to our Hostel - "Zostel" our home abode for few days. The hostel is close to the Hawa Mahal and other tourist spots. We check-in Zostel and the person at the counter shows us our dormitory, we place our luggage and super excited for the day and freshen up and have our meal of the day and proceed to explore Jaipur. 27th September is WORLD TOURISM DAY so, we decided to make the most of it and visit as many tourist places (no entry tickets on World Tourism Day).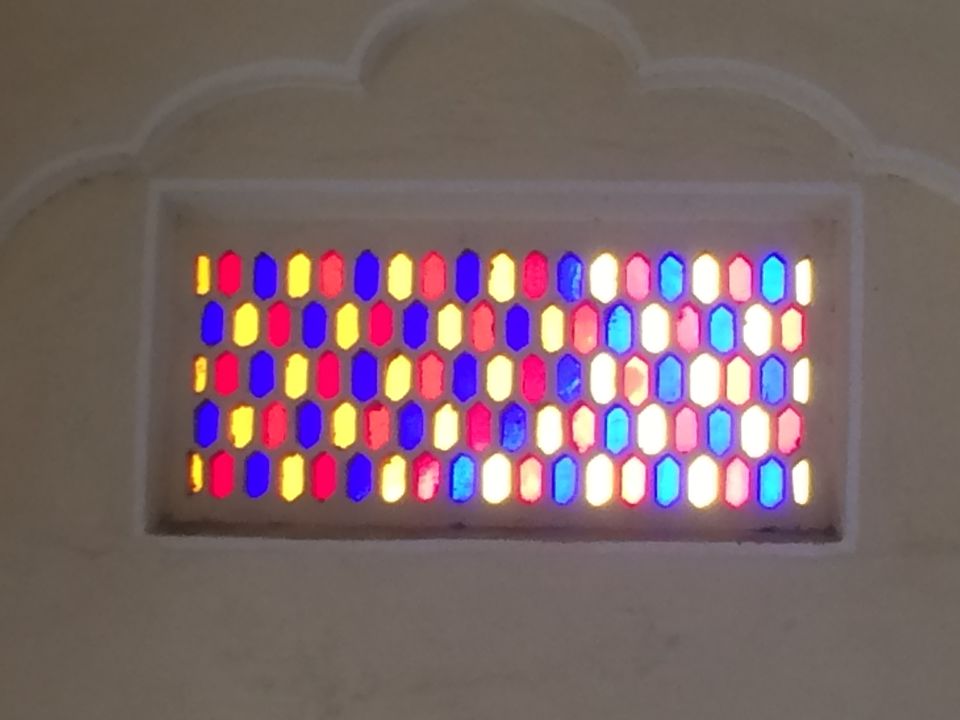 The above pictures are taken inside HAWA MAHAL our first visit to Iconic Place. Hawa Mahal is on main road and has numerous small windows with glass painted with different hues. The name gives us pretty much clear picture as to what to expect from Hawa Mahal. Hawa means "Air" and Mahal means "Palace" so the name HAWA MAHAL was kept. As you step inside and walk across the corridors and floors, you see the whole place is so cool. People inside the Hawa Mahal say, in past women weren't allowed to move out much and they had to cover their faces so, these small windows were made for them to see what is happening in the outside world and windows being small, men couldn't see these women.
After seeing Hawa Mahal, City Palace, Jantar Mantar we head to see Albert Hall Museum. Due to scorching heat, walking since morning by the time we reached here, our energies were at rock bottom and we decided quickly to see the Museum. Due to the maddening rush it took us good two hours to see the whole of it. It's well maintained and generally isn't crowded on regular days, because it was WORLD TOURISM DAY people were coming in large numbers to see it as entry was free of cost.
Now i decided to get onto Zomato and find a place where we can sit and charge our phones and freshen up, and energise ourselves. This is a lovely Cafe in Jaipur. I loved it absolutely from the Ambience to the drinks, snacks, service just about everything. If you are in love with exploring cafes like me, then must visit and relax yourself by sipping piping hot coffee.
And we started walking towards the main road to catch an auto and just about 15minutes from there was a WORLD TRADE PARK (MALL).
After we were done with the coffee and relaxation, we headed to G.T. Central, Malviya Nagar, Jaipur. The place has one shopping mall that is G.T.Central and lot of eating options are there. So, i tried a Chikoo Shake from Juice Walas for Rs.70 and absolutely relished it.
After exploring the market here, we wanted to have our dinner. So, Zomato helped us with that and we decided HOP ON - HOTEL LAS VEGAS for our sumptuous dinner. Fantastic place must say,for a rooftop lover like me who loves to sit in open. We ordered Veggie Blast and spent a good time there. Booked Uber and went downstairs and had a good coffee at CAFE BAE. Head back to Zostel and this brings an end to our Day 2.
Day - 3 (28th September 2016) We gear ourselves and plan for the day. So, we take a public transport to the Amer Fort which is for Rs.11. Make sure you reach by morning 0900 hours,so that one can see the fort without sweating it out as the sun plays the spoilsport. Out of all the three forts in Jaipur, this is the best and all the forts should been seen in one day in a sequence which we couldn't somehow. The Entry ticket to the fort for me was Rs.10 as i was a student so had taken my student ID with me. We took a guide for Rs.200 which was needed as without the guide lot of things one misses out. Inside the fort there is one two odd shops of books, souvenirs etc.So, i bought one Souvenir for Rs.100. It took us about 2-3 hours to see the fort. One can even take elephant ride which costs Rs.1100 one way if one cannot walk for 2-3 kms. There is also a famous temple near the Amer Fort "Shri Jagat Shiromani Temple" also known as "Meera Bai Temple" as it has Lord Krishna and Meera's Statue. It has Lord Vishnu statue in white marble also. This temple has two gates. One can access this temple from the stairs of the Amer fort which leads to the inside of the temple open courtyard. The main gate can be accessed from the main road. The main entrance is flanked by two elephant statues. This is the oldest temple of Amber town. After this, the Guide took us to the near by village where the jaipuri quilts were made and one can buy at a reasonable cost compared to the shops in Jaipur city.I purchased two single bed quilts for Rs.2100. Took bus upto JAL MAHAL (the bus fare for one person from Amer to Jal Mahal was Rs.7.50), walked around the Jal Mahal. Though it was closed and quite sunny still we preferred to walk around and then took bus again and reached near our hostel.Took an Auto from there to TINDER BOX. It's a nice cafe,searched on Zomato so, thought to sit and relax over there for a while and chit chat about how the day went by and what more could be done so as to best utilise the time and make the most of the remaining day while putting fuel in our bodies.After strolling in the C scheme area where this is located decided to hop into another joint called TEA TRADITION and had good chocolate shake and cafe latte over there (Bill amounting to Rs.231). In the evening we went to JOHARI BAZAAR, walked down the streets, bought one two odd neck pieces (Costing Rs.65 and Rs.190 respectively after bargaining), and head to M.I. Road which is approximately one kilometre from Johari Bazaar. We walk down the street then get to the famous LASSIWALA - A Prestigious Lassi Shop,and let me tell you if you miss out on this one while being in Jaipur then you're just going to regret later,because here i got to have the best lassi of my life. And, when i say this, i mean it, as staying in North India, Punjab one has the best lassi.But, i assure you this LASSI is better than what one gets in the Punjab. We are fag tired and dead, as its almost night and we decide to head back to our hostel ZOSTEL.
Day 4 (29th September 2016) - The fourth day we were all set to see the left over places. Got up early and set out to see the remaining two forts. Started with Nahargarh Fort and then moved to Jaigarh Fort.The guide at Nahargarh took Rs.50 for the tour. Nahargarh Fort ticket for student is Rs.5 (don't forget to carry your valid ID proof students, you could save a lot of money) and me and my friend took a bus to the Fort area costing Rs.11 each. The fort has lot of history like any other historical place. For the other fort, we took an auto to Jaigarh and at our time the wax museum wasn't opened due to some issue,but now one can see the wax museum which remains open.We took a guide at the entrance gate who was an old man and quoted Rs.50 but we paid him Rs.60 for the tour and showing us the fort. Few things one would never get to know if the guide is not there to tell you. We did the fort tour wrong way, one should start from Jaigarh to Nahargarh and then go to Amer/Amber Fort through a cart which goes from the tunnel of Nahargarh Fort. After the forts, we decided to visit the Gaitore ki chattriyaan. The Gaitore is basically, the graves of the kings and famous personalities who ruled Jaipur. And, there are different graves for the children and the grown up adults. The entry ticket to Gaitore is Rs.20 for a student. Went to Mahrani Market and then MI Road in auto and had lassi from the famous Lassiwala (Ghanshyam Aggarwal) and by the time we were done it was evening and we headed back to our hostel and got ready for Blackout Pub and disc which is in C Scheme. The rooftop sitting is nice as evenings are pleasant so one can enjoy the food and beverages and chit chat with friends. And the day ended after we reached hostel around midnight.
DAY 5 - 30th September 2016 - The last day in Jaipur so i decided to visit the Jaipur Zoo and the entry ticket was Rs.20. The zoo isn't that big but is nice if you want to spend time watching the animals. After this i went to see the Birla Mandir, Moti Dungri and went to a cafe (name forgotten) and later with a friend to Tea Tradition and had tea and back to hostel to pack our bags and wind up our journey of Jaipur and started towards Railway station for our evening train to Chandigarh.