From sab milke plan banate hai to sab milne ka plan banaten hai somewhere this trip happened.
It was the winters of 2021, and our plan for Andaman and Nicobar just got cancelled, we threw a dart and our next destination was chosen, Kedarkantha near a remote village in Northern Uttarakhand. I had secured myself one weeks' leave from office for this trek. We chose the third week of December to depart for the trek, as I had researched it'd be a good time to expect snowfall. This trip, was going to be our 'Escape' from our regular lives. The trek was organised by Sajal Singh sir and company, but I was extremely skeptical about how these trekking companies would work, as I was experiencing this for the very first time. However, it all worked out well and I was thrilled to be a part of it.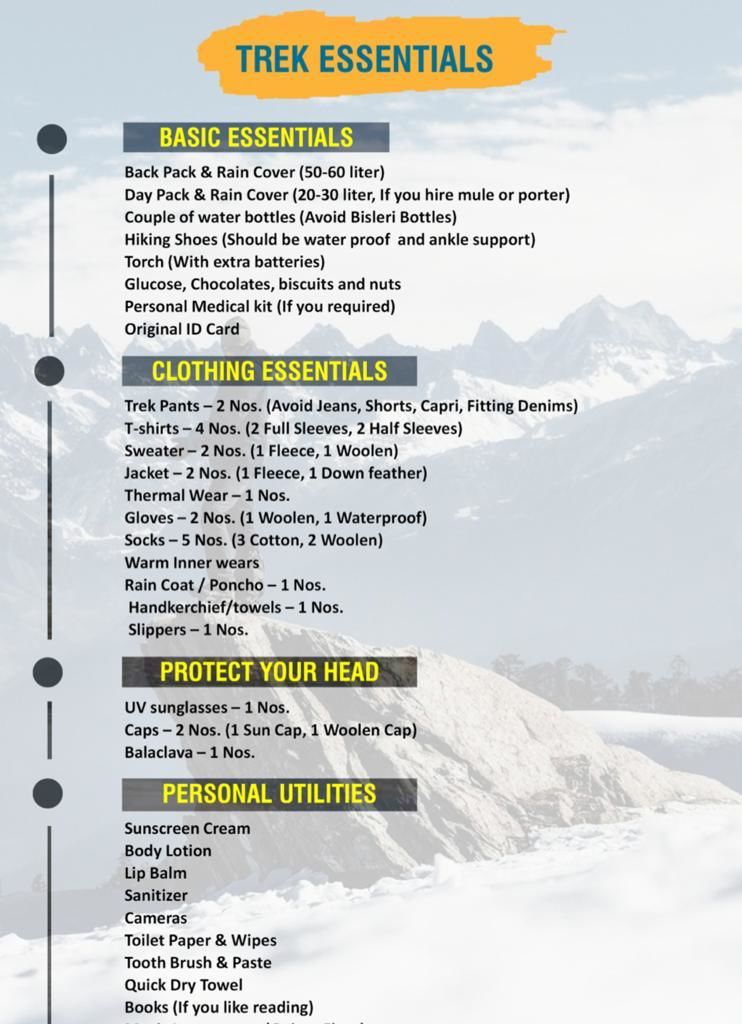 Now taking you to the D-Day.
The first leg was an overnight journey from Delhi to Dehradun. To all of the trekkers, our trekking company sent an advance message 2 days prior about the driver's numbers. As soon as I arrived in the wee hours, I immediately called the driver to find the cab. The company had to pay for the cab costs from Dehradun to Sankri village (the place from where the trek would begin).
It was a fine morning of December 18, we were total of 4 and we all met in Dehradun, the capital city of Uttarakhand. We started for Sankri in traveller accommodating a total of 13 members which was directly booked by our trekking company, For the whole morning, we discussed our plans for the trek to Kedarkantha.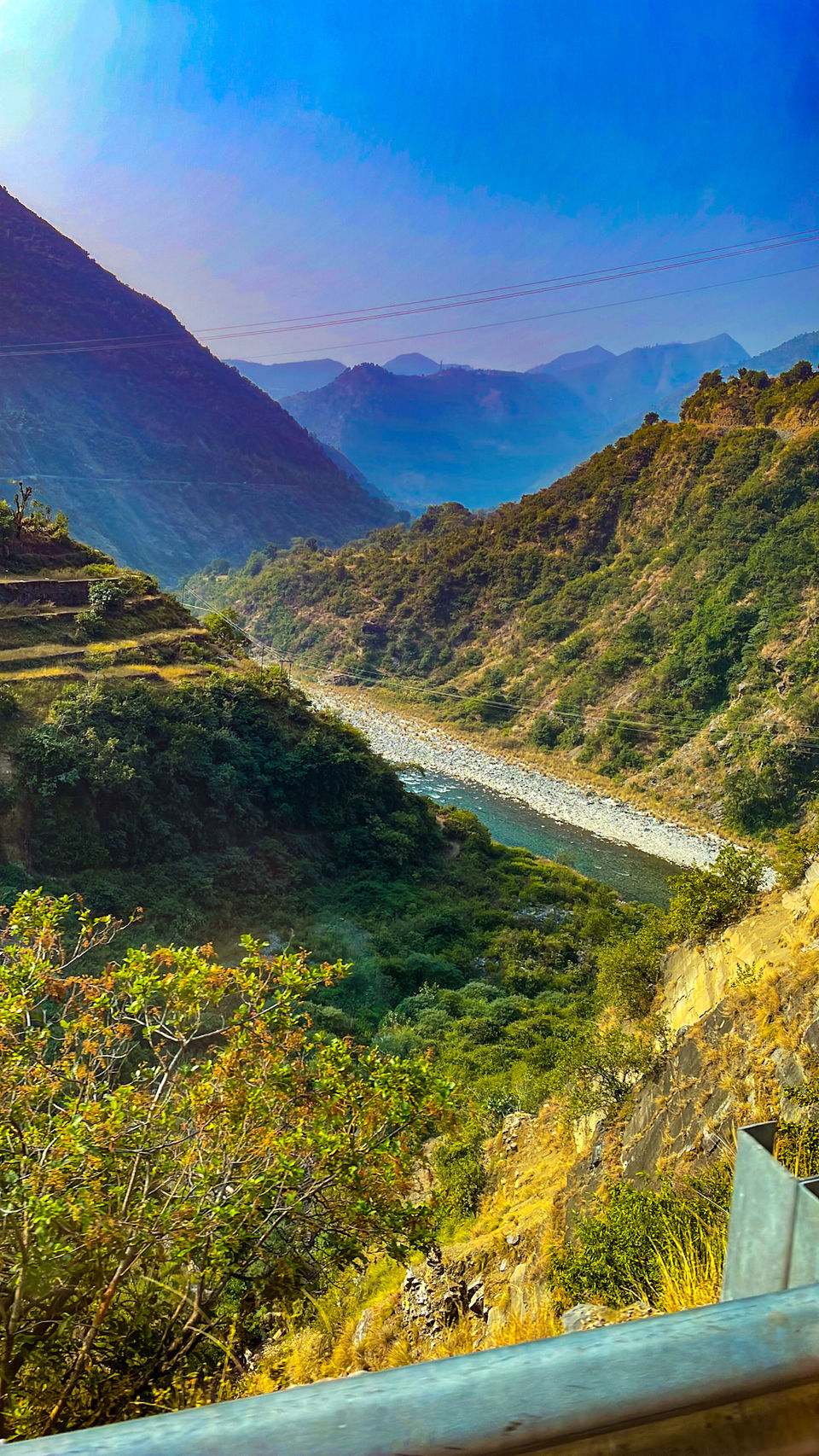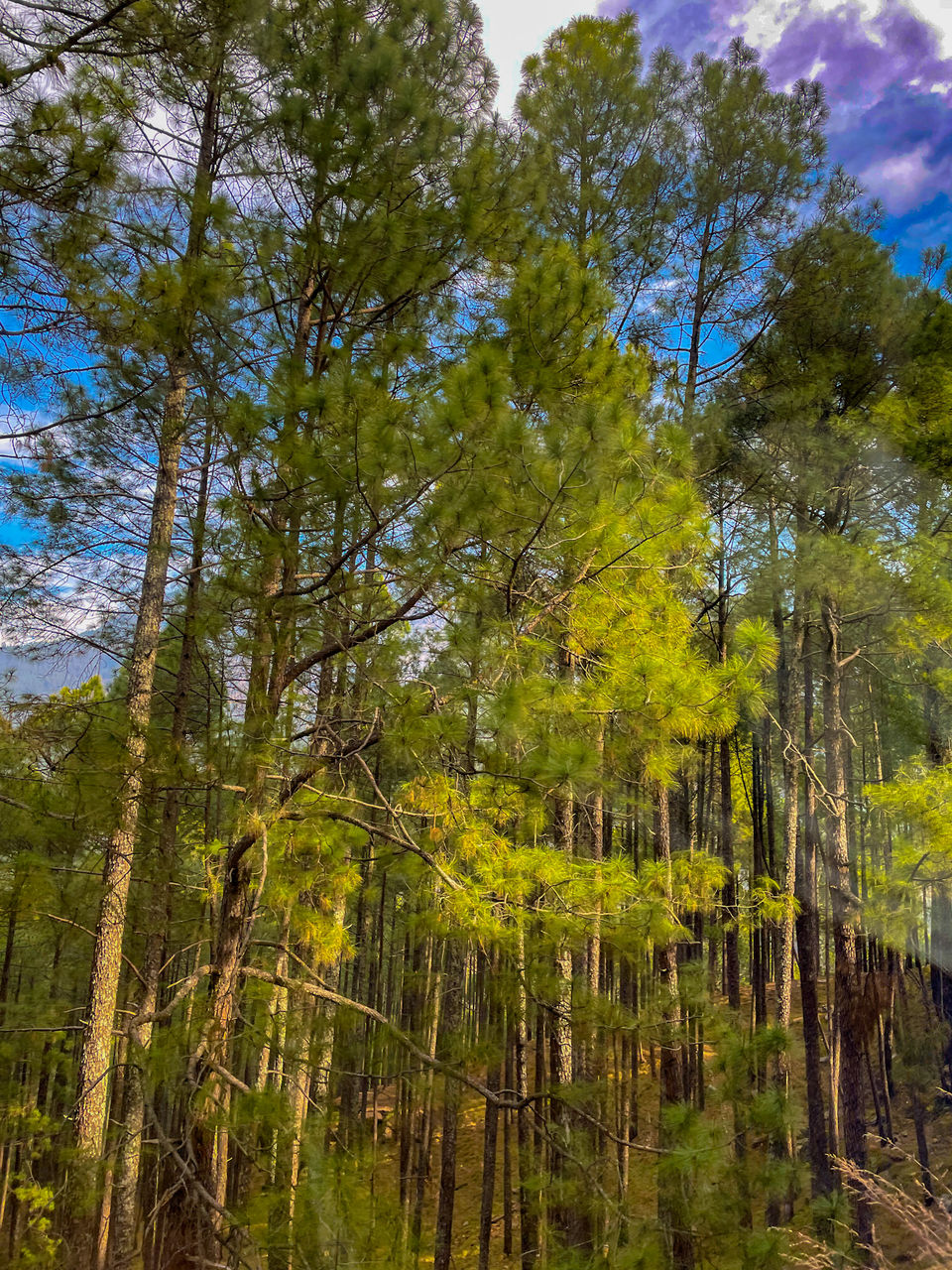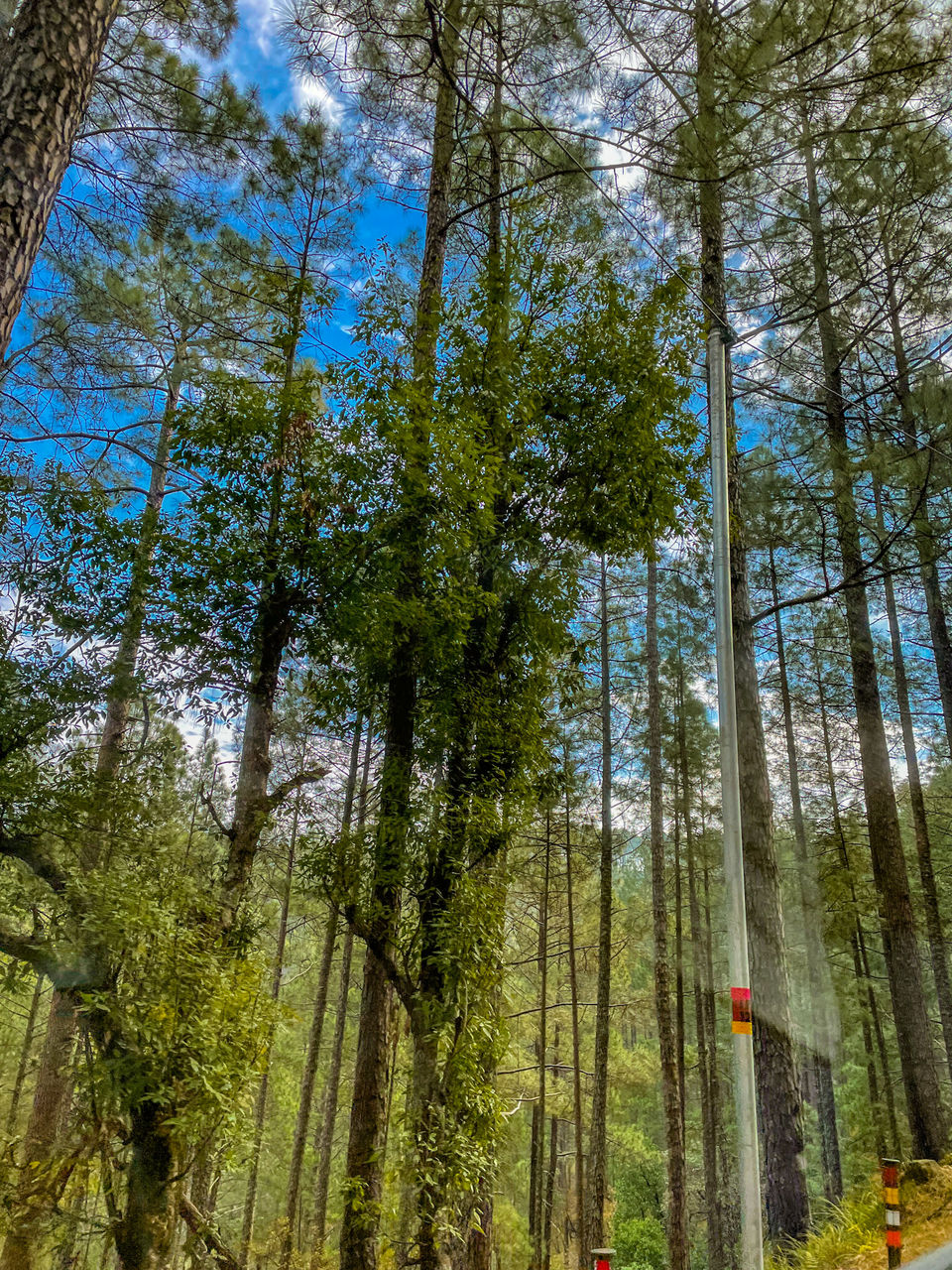 Sankri is a remote Himalayan village located in Uttarakhand, about 8 hours' drive from Dehradun -- the capital city. Sankri is part of the Govind National Park and is thus under the jurisdiction of the forest department; therefore, prior permission is required to enter the park. There are mesmerising views of the Himalayan mountain peaks, an old wooden temple with wooden carvings, a place full of mythological stories and apple orchards to name a few. A picturesque road connects Govind National Park's Entry Gate to the village of Sankri.
After reaching Sankri in the early evenings, the sudden drop in temperature seemed like a shock to our skin. Nevertheless, we began preparing for the long-awaited trek as soon as we reached the town and got the room. Our trek leader briefed us about the next day's trek then we had dinner and chatted throughout the night.
The village of Sankri is quite well known among trekking enthusiasts because it is the starting point for treks like Kedarkantha, Har-Ki-Dun, Bali Pass, Ruinsara Lake, Bararsar Lake, and others. A small market in the village is busy with trekking enthusiasts buying and renting the gears they need for their adventures. Most of the equipment you need can be found there, except during the rainy season.
We woke up early in the morning, had a light breakfast and soon formed a queue with our trek-leader at first followed by his two comrades at the head and tail of the group ensuring no one gets mis directed and maintains the pace.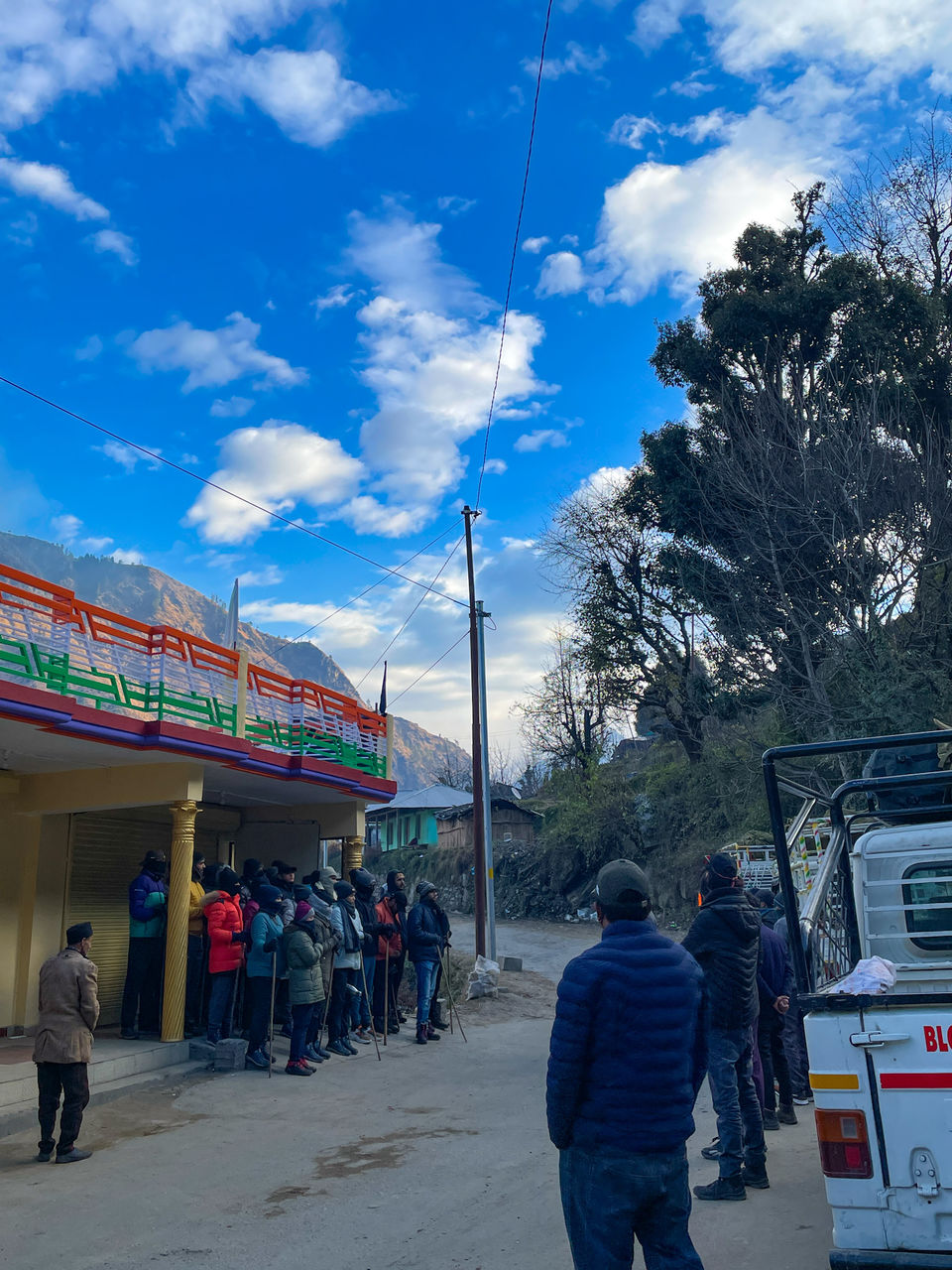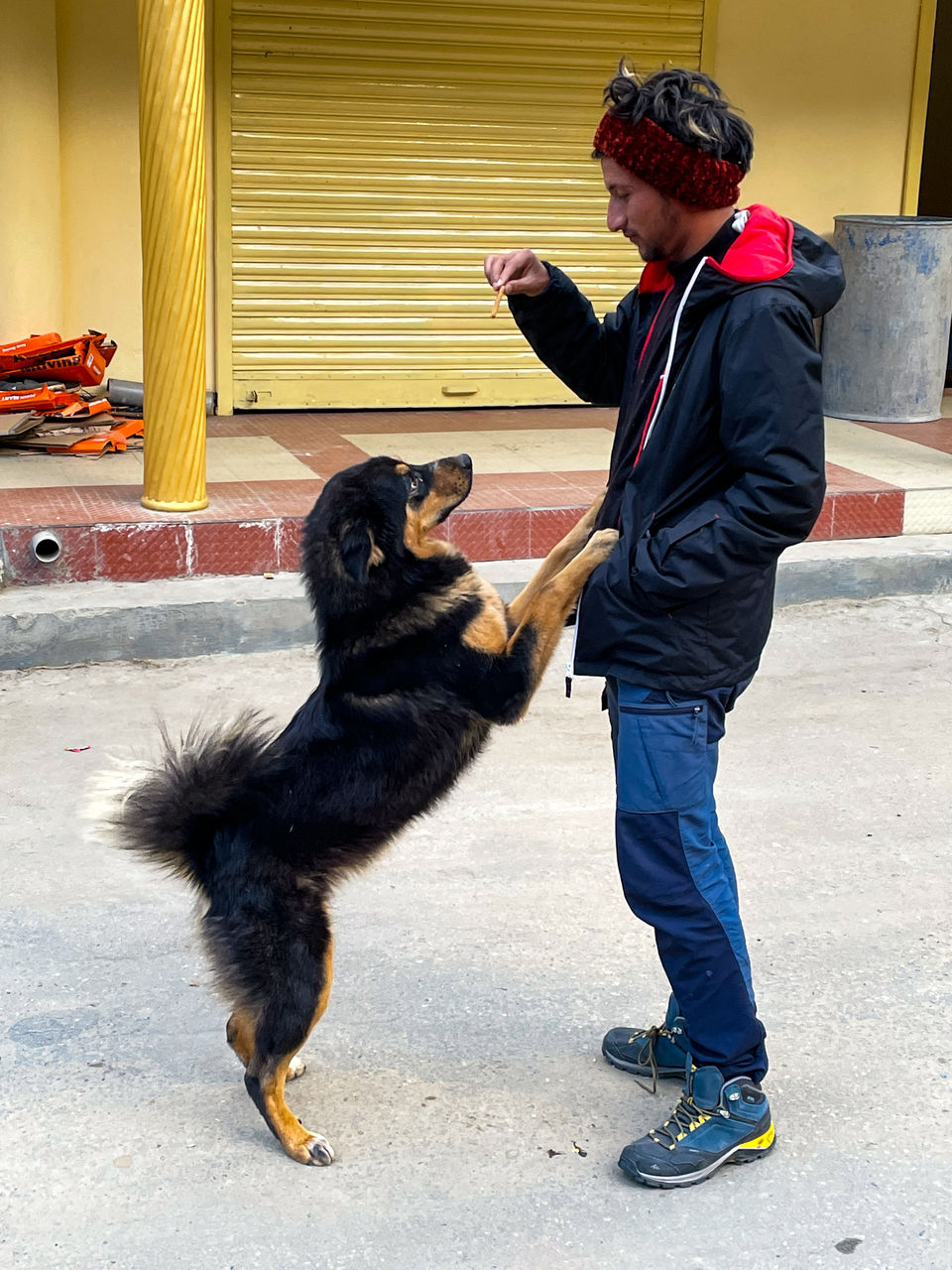 As we hiked and gained altitude, we would take short breaks to rest our lungs or to sip water from my water pack. Or we'd look around at the natural environment around us. A four-hour walk takes you through woods filled with tall, old, beautiful pine trees, amid mountains covered in snow. The first base camp is surrounded by breathtaking views. Then we rested at base for some hours and had lunch and acknowledged the fact how beautiful a greeting the sun gives gives the mountains.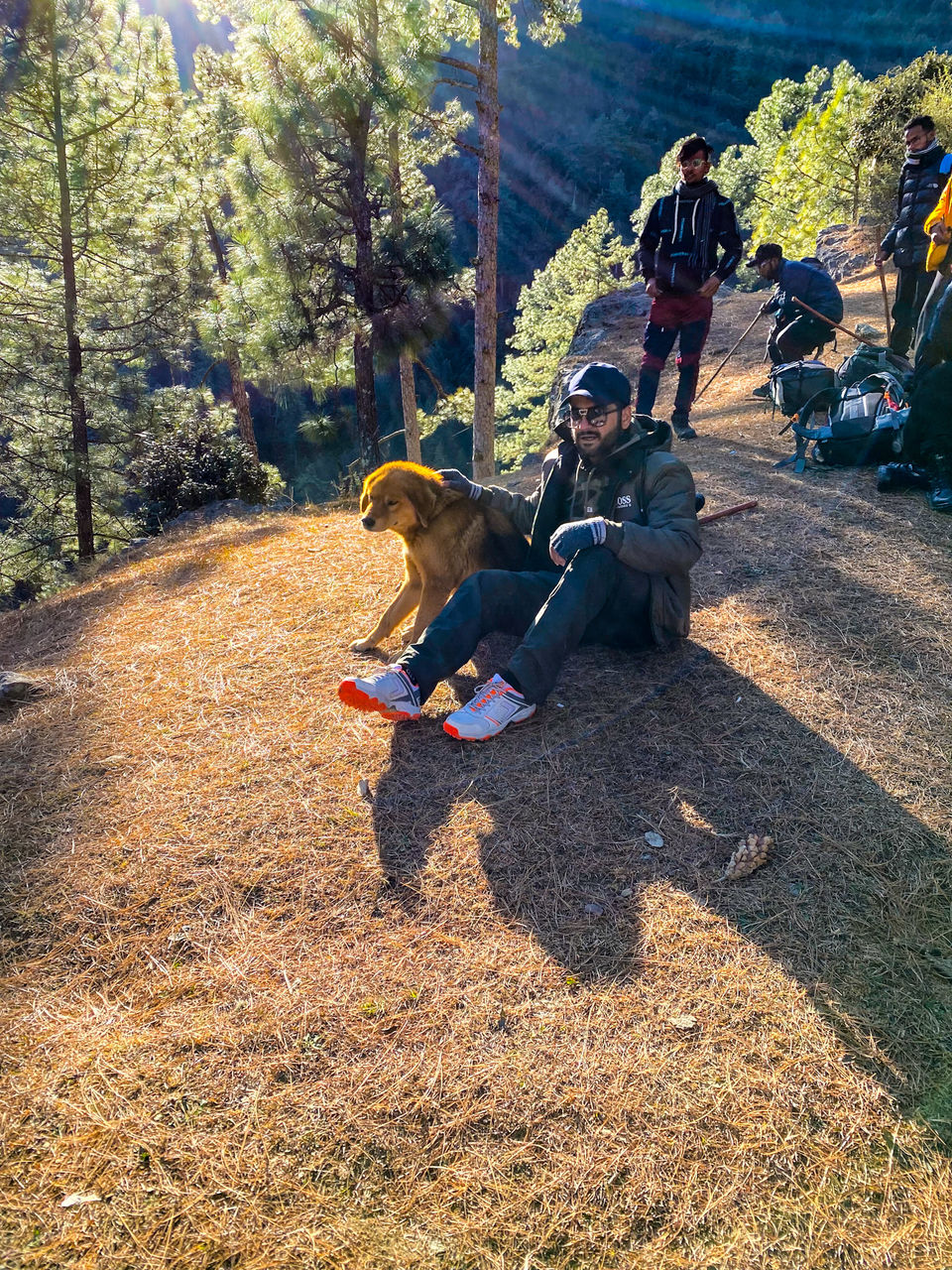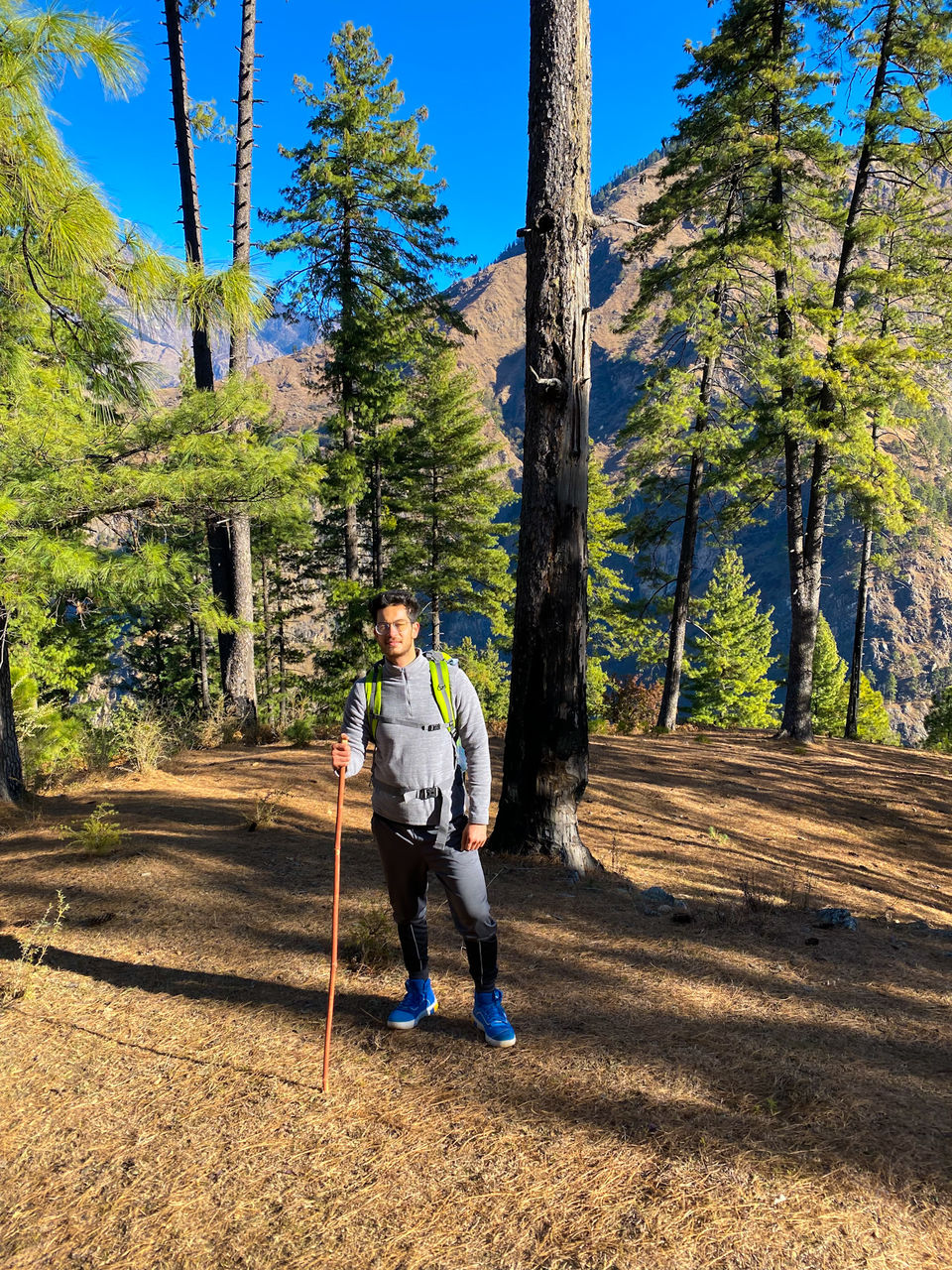 Early at the evening we started for Juda-ka-talab which is a half an hour journey from our base camp. During our time we got old frozen snow which made our hike more slippery and dangerous so we tried to keep our ascent at slow pace. It's important to remember that on the trail you will see many mules carrying heavy loads so always be on the mountain side so you are not pushed by these mules; otherwise, a slight push can also be very dangerous at that height.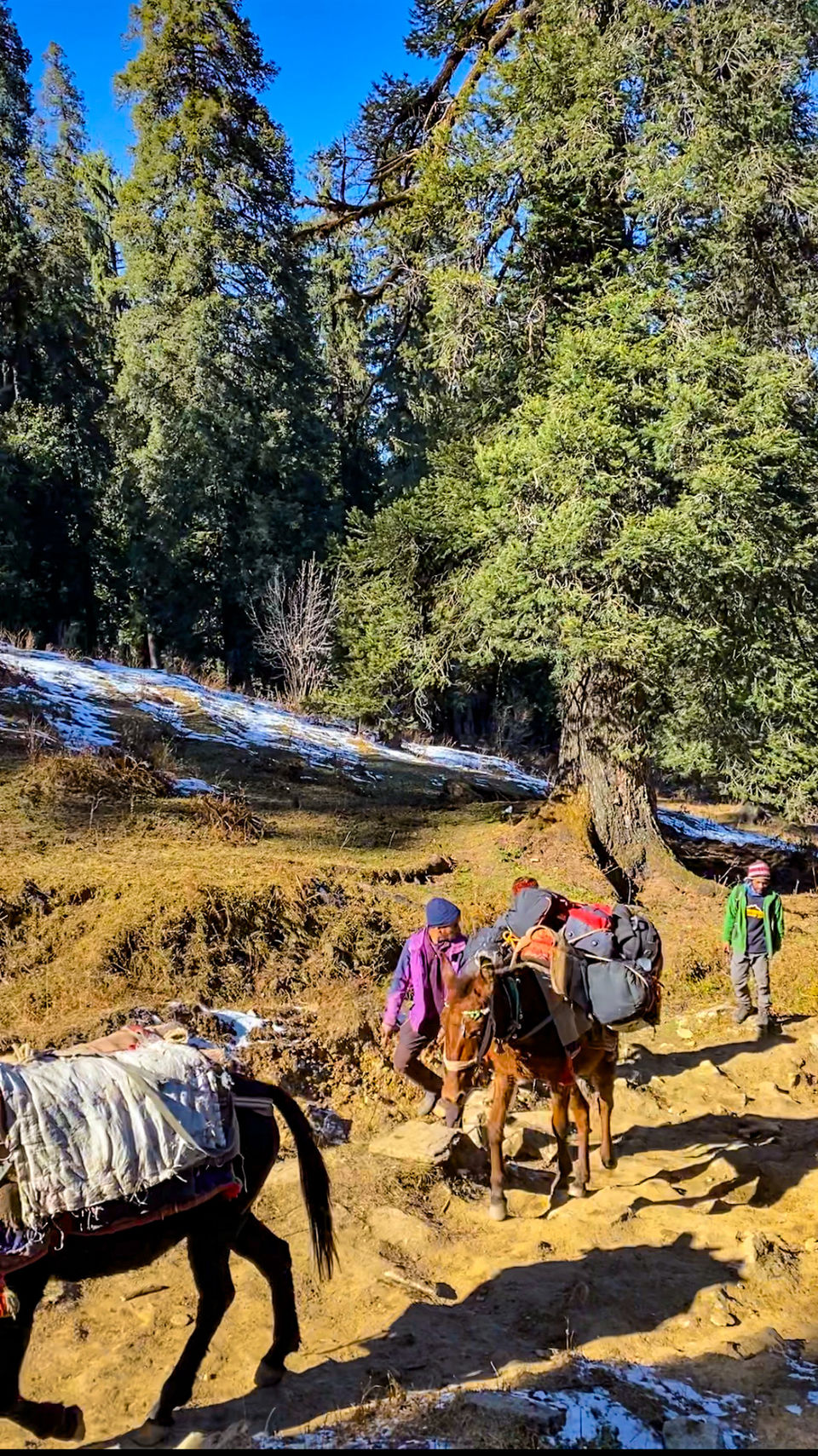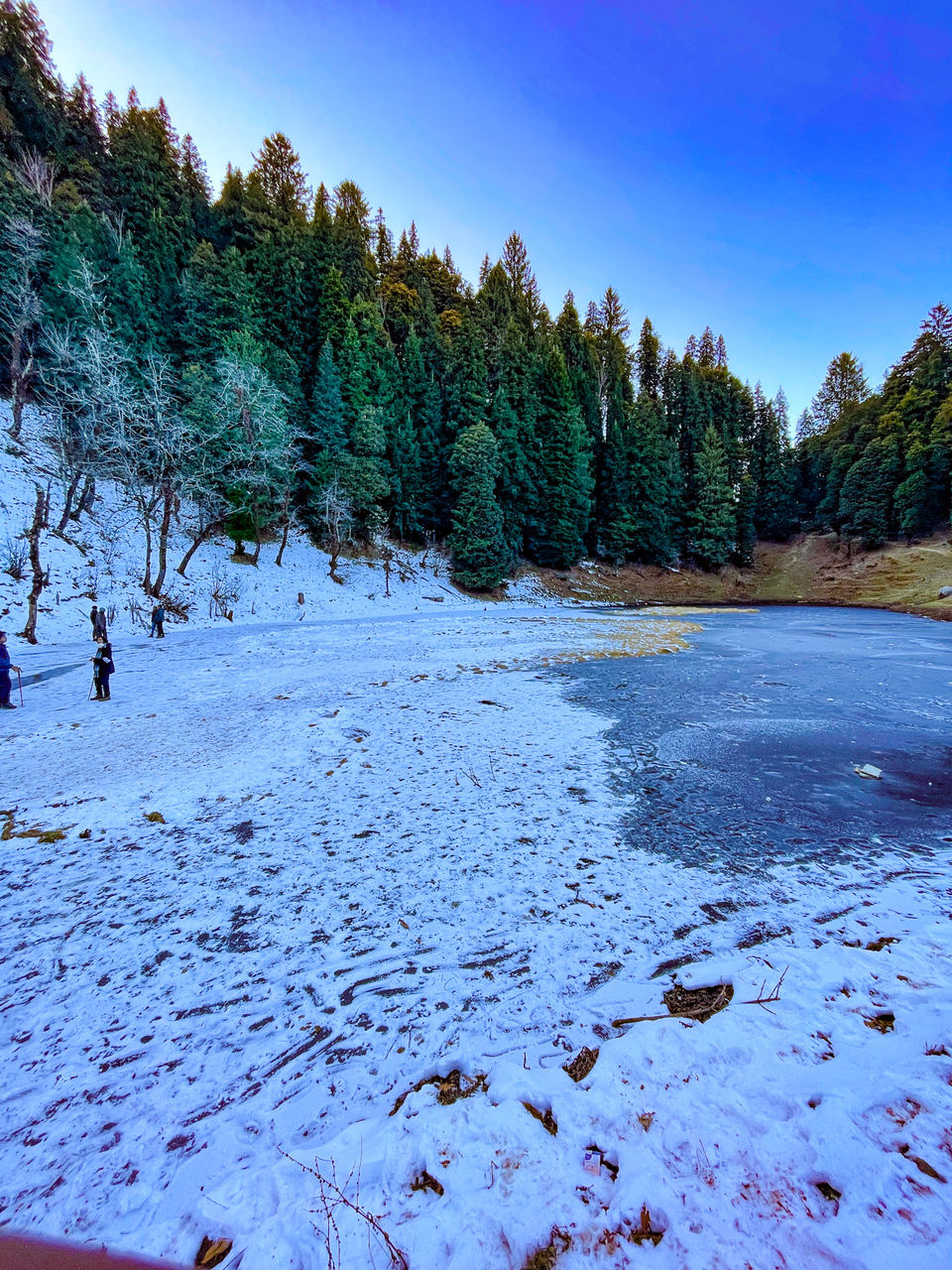 Juda Ka Talab is a very scenic campsite that's located in a national park. The lake freezes in winter, and the temperature can reach -15 degrees celsius. The campsite is quite large, and it allows for group activities. If you're lucky enough, you may see a lot of bright stars and the milky way. Juda Ka Talab's scenic location makes it the perfect location to observe star trails.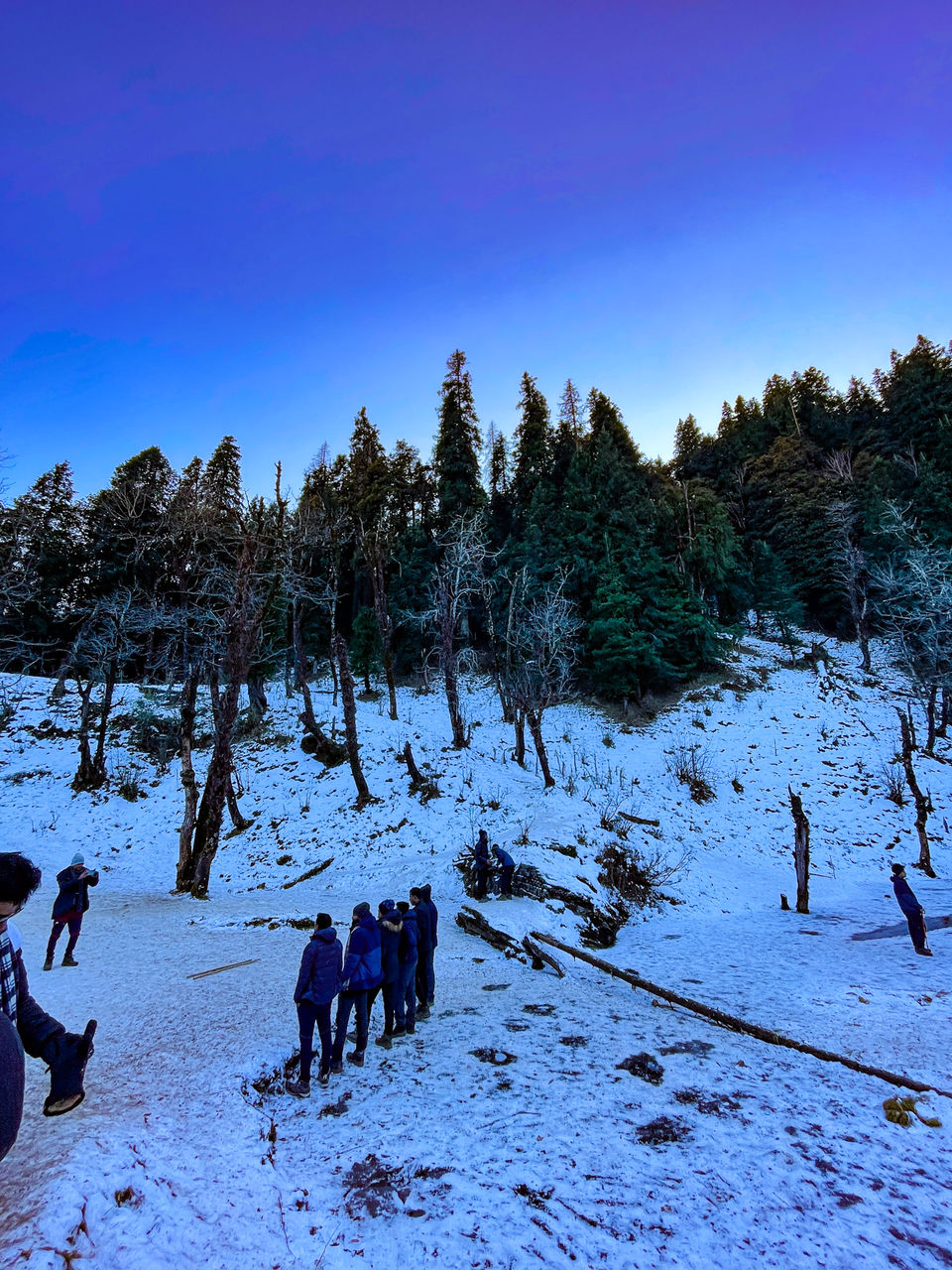 Later that night we returned back to our base camp and had dinner and got a short briefing on how to use sleeping bags inside tent. There is no better place to sleep in the lap of the Himalayas than this. Serenity and calmness describe this place. Midnight temperatures can reach -20 degrees celsius. Anyhow we got ourselves adjusted inside sleeping bags which was a really challenging task to us and then we continued our chat, played Ludo and watched Mirzapur as getting sleep at -10 seemed more challenging to us.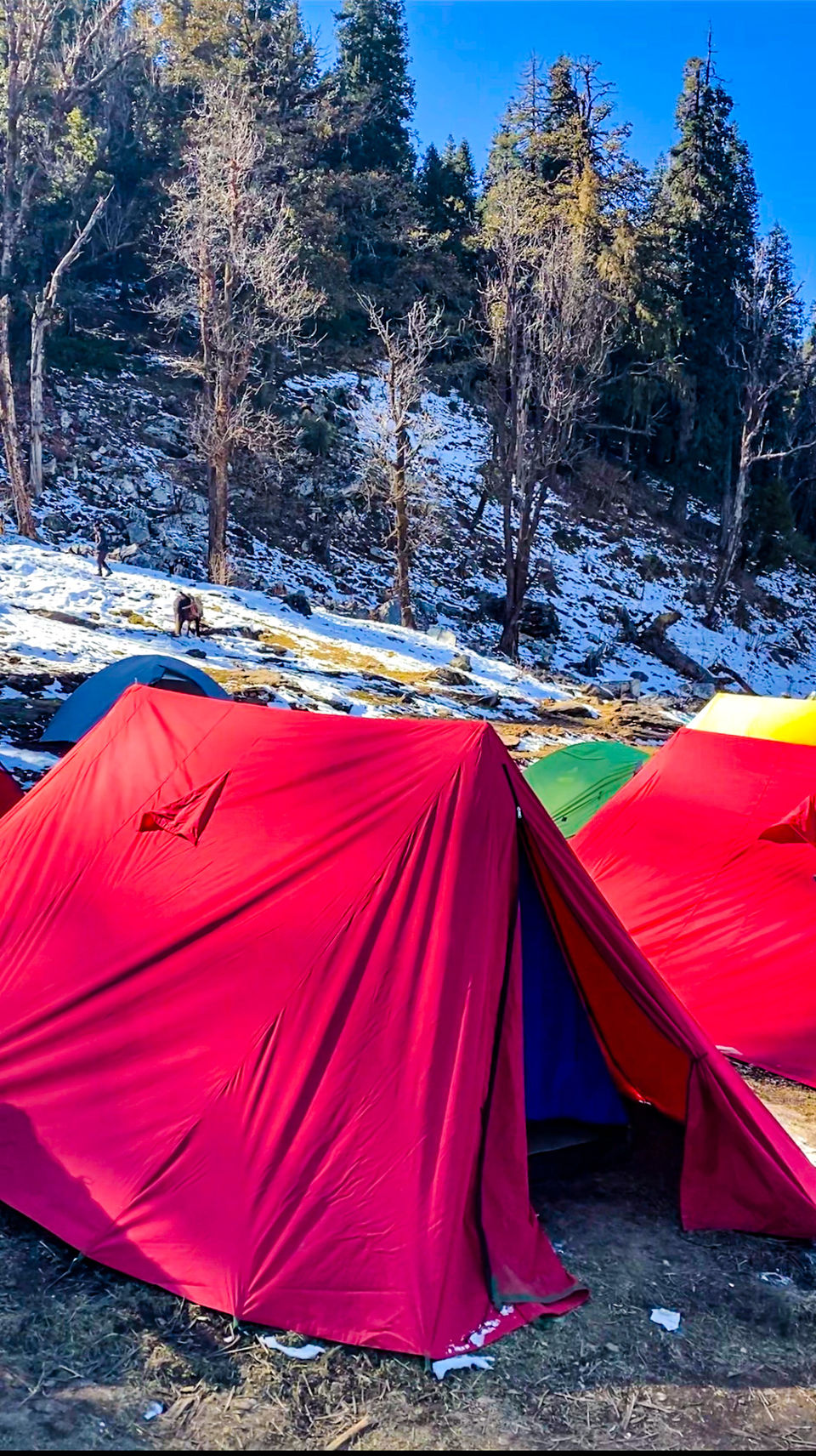 We got up at 6:30 after our morning call and getting out of that sleeping bag was again challenging. Anyhow, we got out and covered ourselves with more layers and the view outside was breathtaking, Nature's peace flowed into us as sunshine flowed into the trees in those white mountains. The winds blowed their own freshness into us.
That morning was not so good to me as it was for others. I was experiencing frequent cramps and shoe bites, and my left leg felt like it was giving up. Our trek leader told me to take rest since it may get worse during the summit, where the trail will become steeper and more slippery as we reach the 12,500 ft. height. So I decided to return back to Sankri and spend the next day exploring the little village. Nevertheless, it doesn't end here, I'll be sharing all the experiences and challenges my friends had who made it to the summit. So, whatever I'm sharing hereafter will be the experiences my friends shared with me.
This trek was very short, so the group was able to reach the next campsite in just two hours. The campsite was even more beautiful than the last. The previous batch trekkers were there at the campsite when they set up their tents. The sun came out and they were roaming around the campsite. They got crampons, gaiters and head torch for the summit trek. Everyone collected all the things, had dinner, and then gathered back to their tents for the night. The next day came out colder than the previous night, but this time everyone got their own blanket along with a sleeping bag, so they were comfy. However, they weren't allowed to sleep - the hike the next day was set to begin at 3 in the morning and so the body needed to be charged up.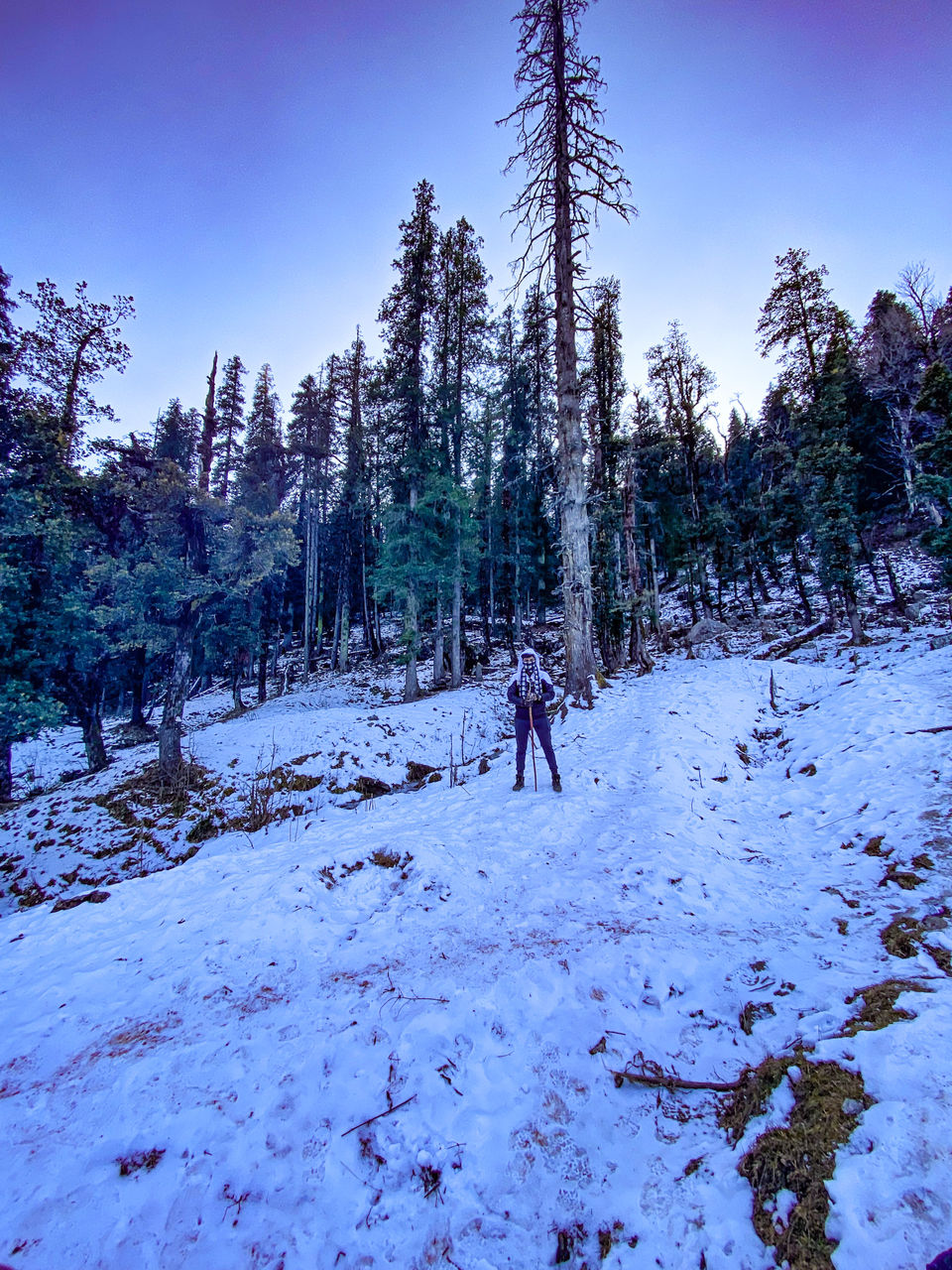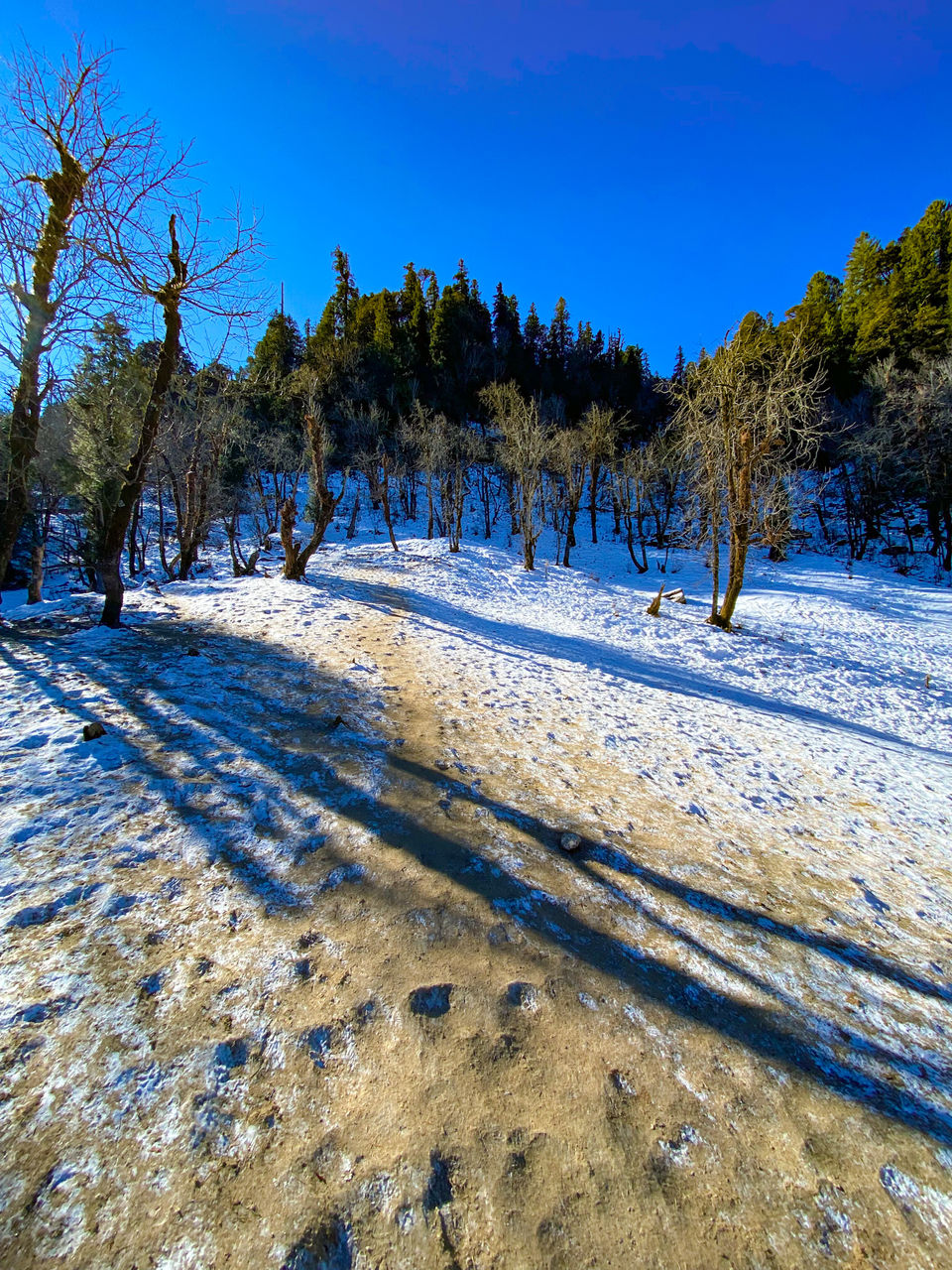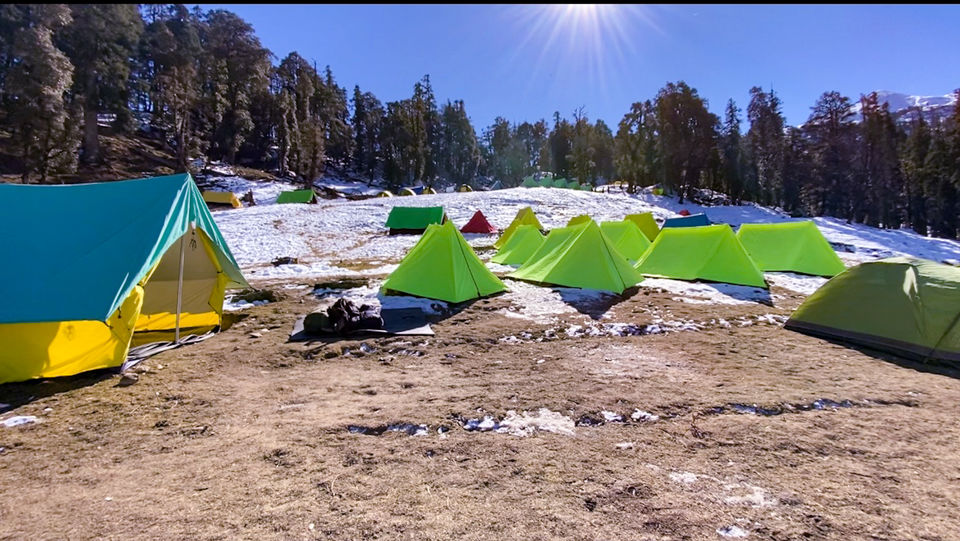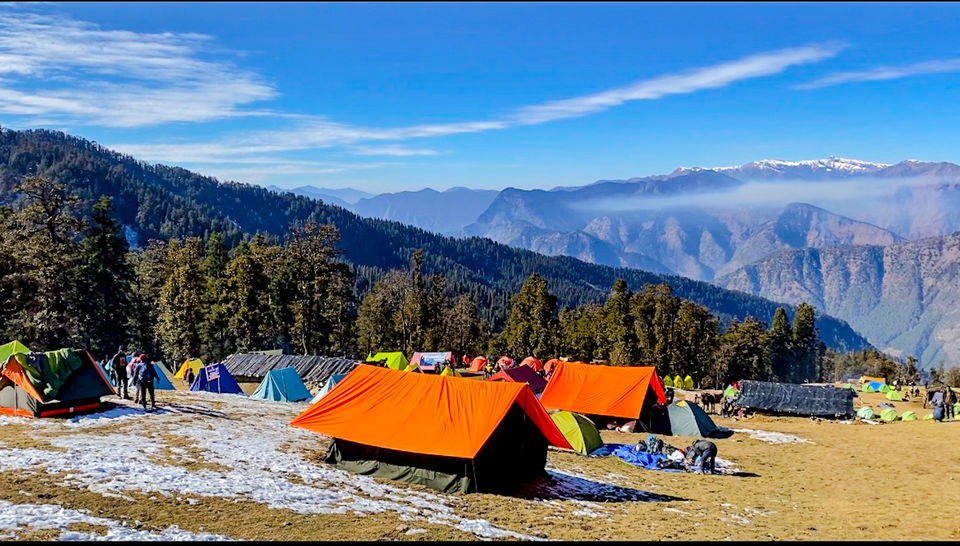 It was 2 in morning when they got their wake up call and started their preparation for all their up to summit. The previous few hours seemed very difficult due to the extreme cold but anyhow everyone managed to pack themselves up with more layers, had morning daliya and filled up water bottles with hot water. When trekking, it is most important to carry liquid items and often having them because the path becomes steeper as the elevation increases and because there is always a risk of having hypothermia and altitude sickness.
As the climb began, the pace became very slow, as many other groups shared the early morning time with them. On the back of them stood a long line of people with head torches attached to their heads since it was too dark and the weather kept changing every minute. It seemed thrilling but equally beautiful to see the white desert. They somehow managed to get to the top after many ups and downs, and the view there took everyone's attention.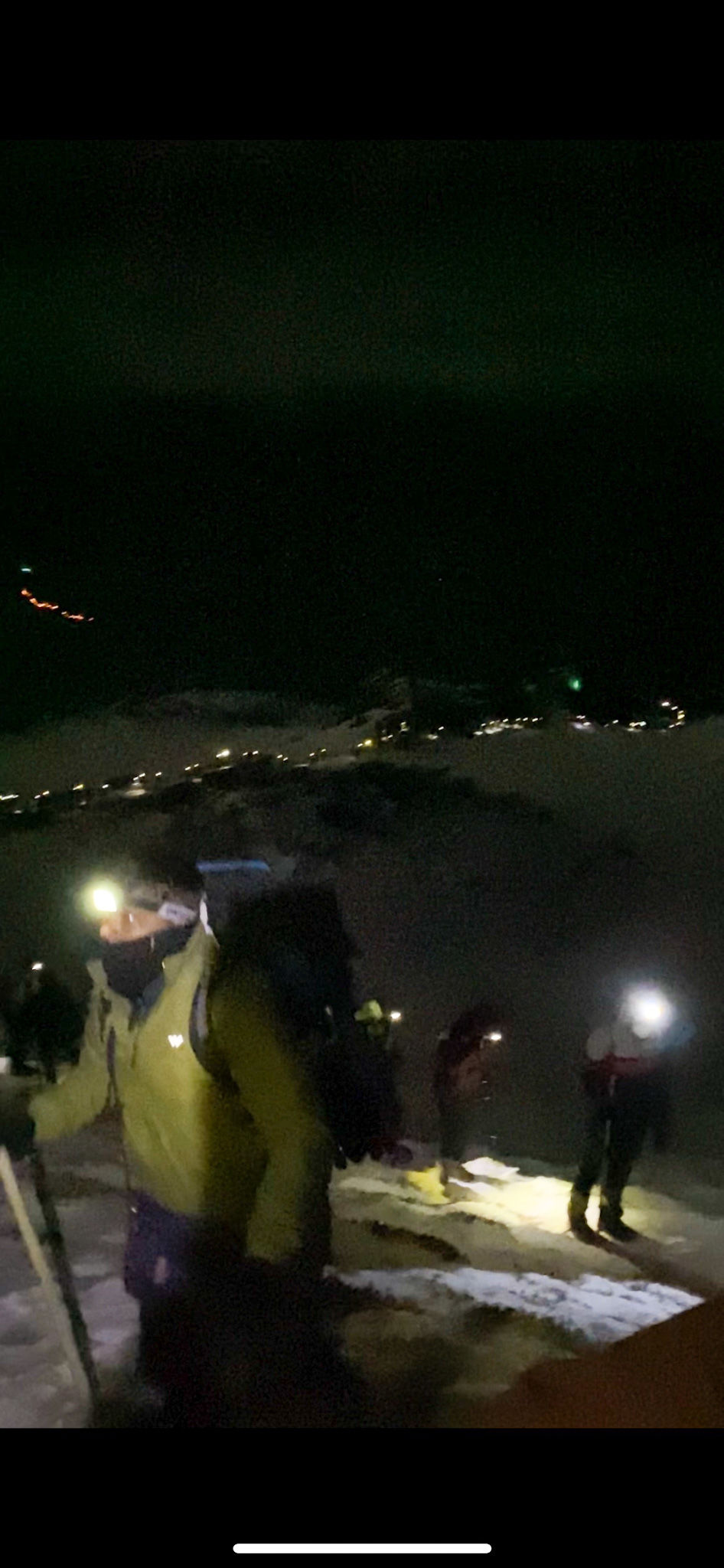 In this place, you are literally on the top of the world with a view of the Himalayas, the Shiva Trishul and winds blowing at 70 mph. Cities like Dehradun and Delhi seem like small dots. However, you have to be here to comprehend the feeling.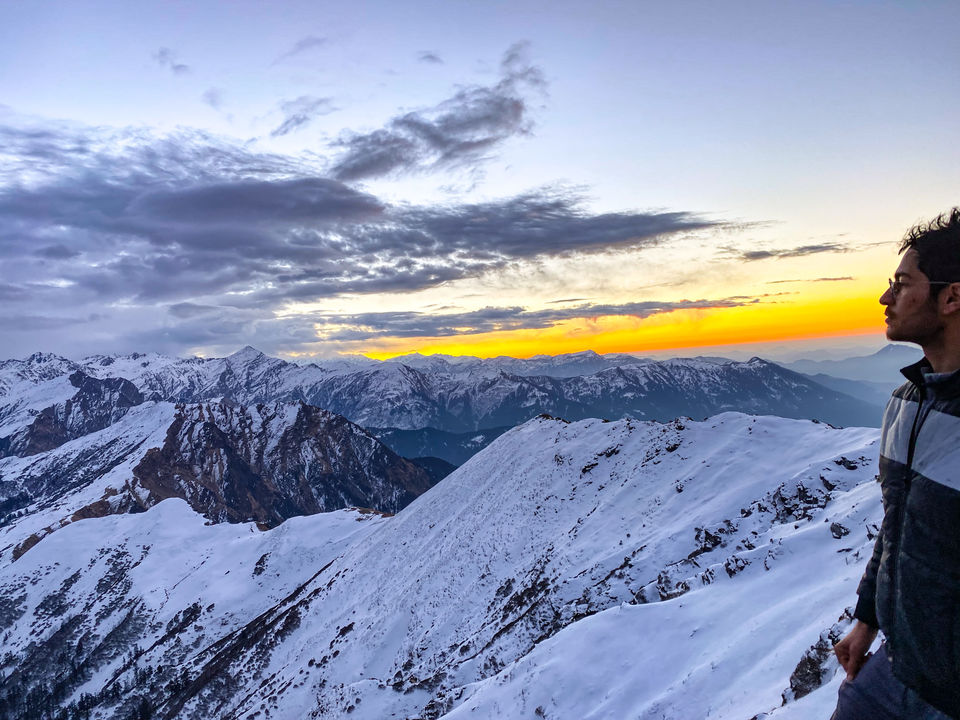 At the summit, they clicked some pictures and spent some time there. And then they started descending. Same day they decided to reach Sankri, they spent some time in between in the base camp resting and having lunch. While the day was long, the summit trek was rewarding. everyone kept their belongings in their room, drank tea and sat by the fire for a long time. It was not quite as cold as last two days. so everyone were able to sleep peacefully.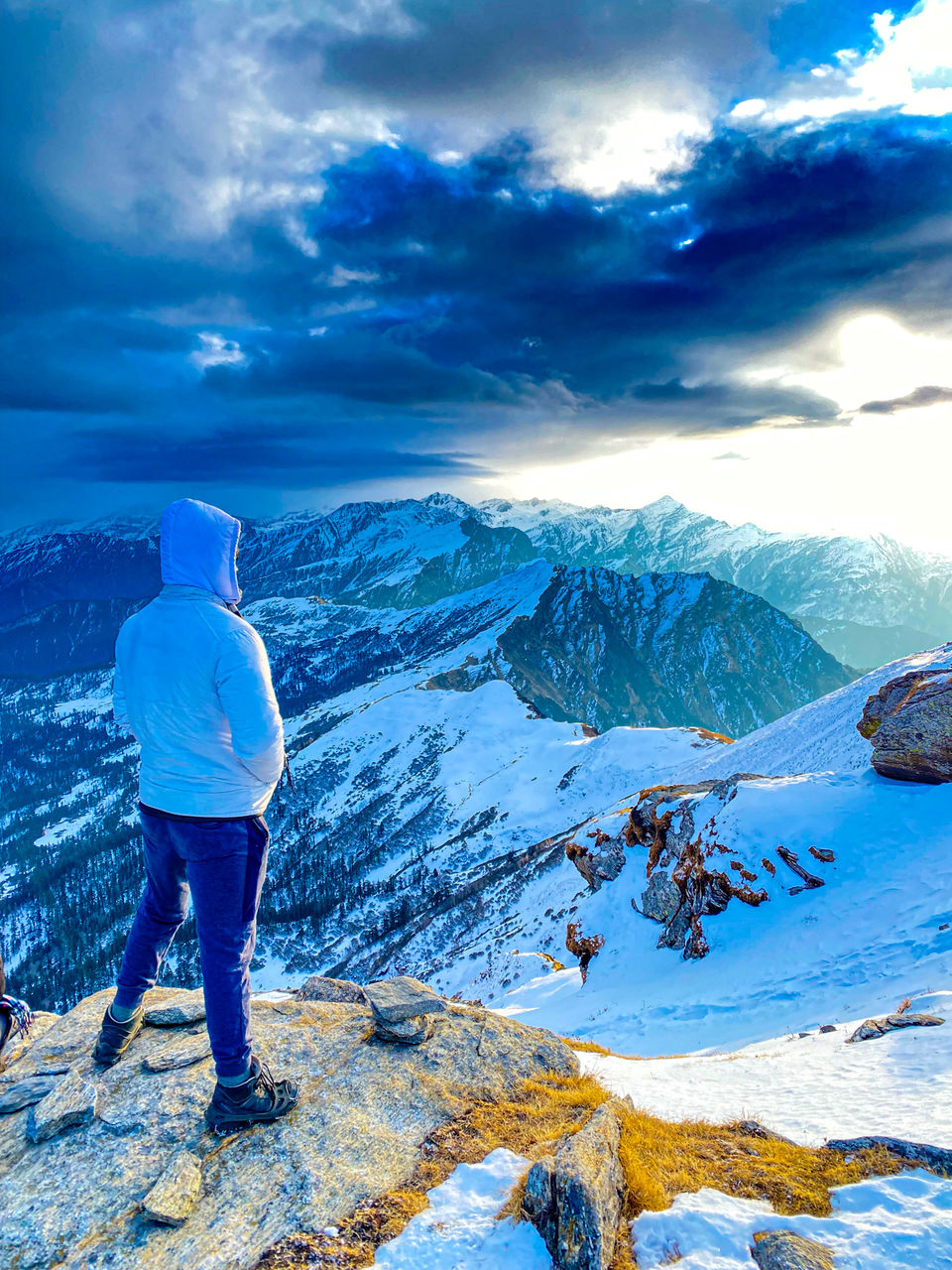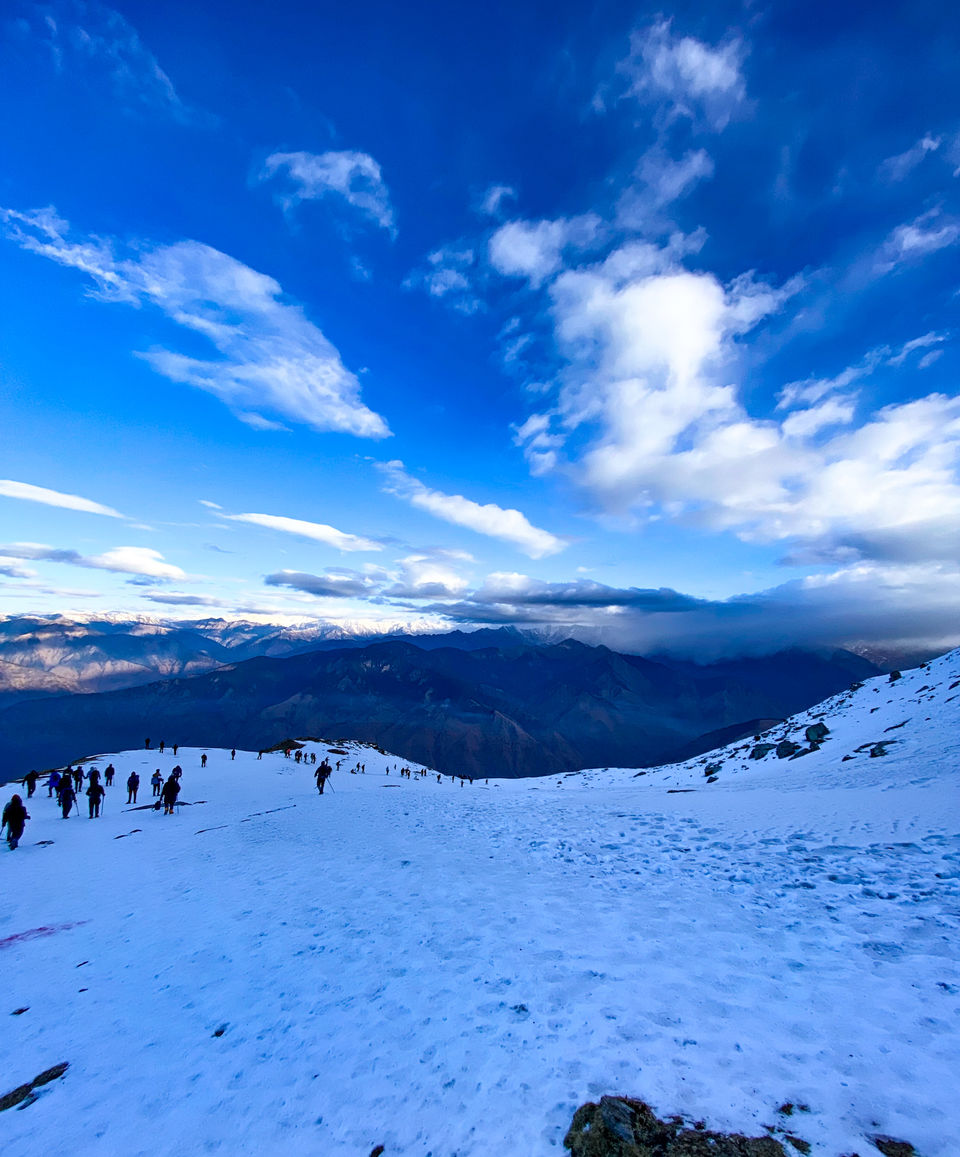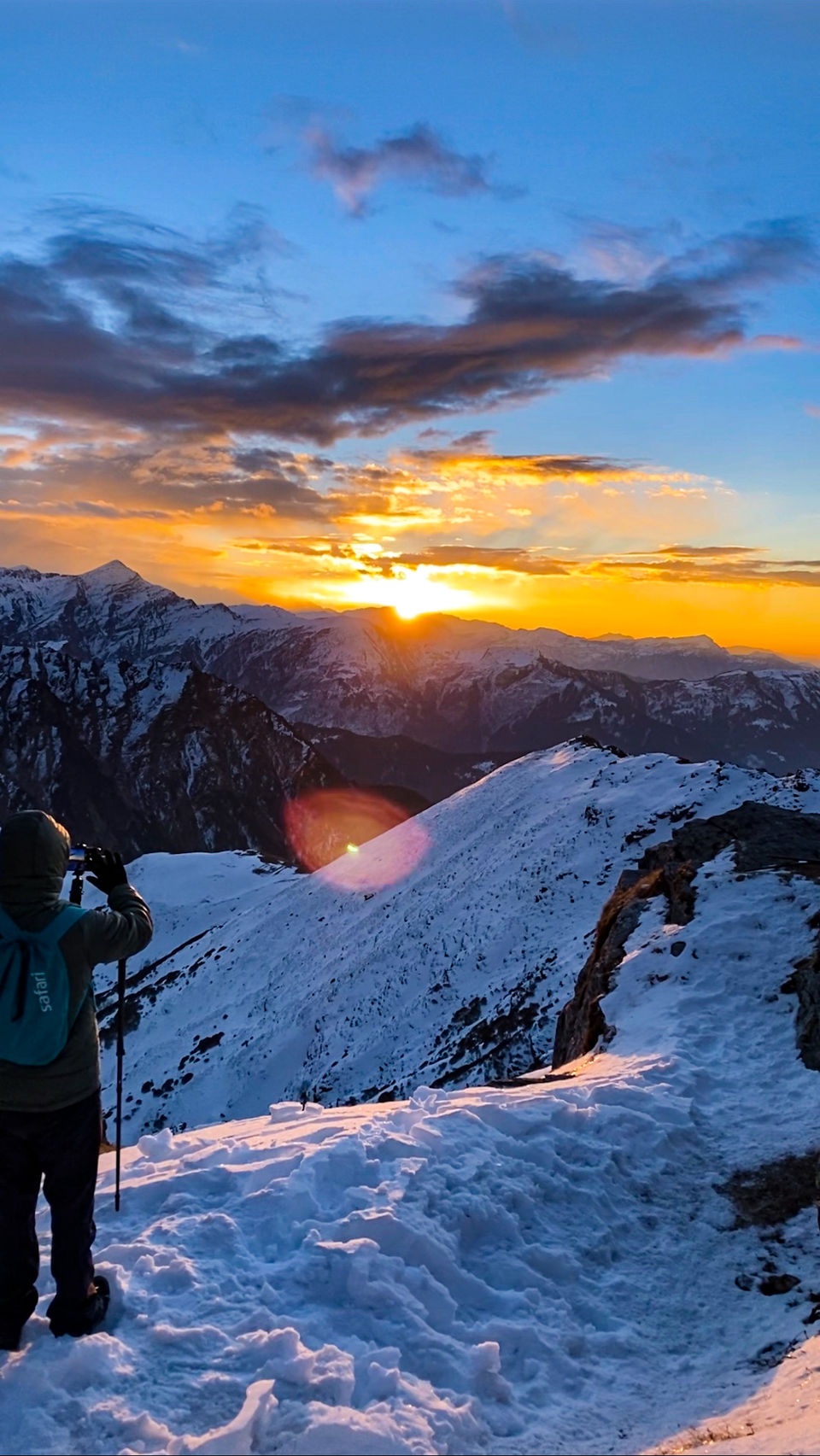 When I returned back to Sankri I decided to explore the nearby villages and market so I started early on the day 4 and started with the zipline. This zipline offers the best aerial views of Saur Village and is the highest and the longest zipline of Uttarakhand Himalayas. It is handled by experts and one does not have to worry about safety.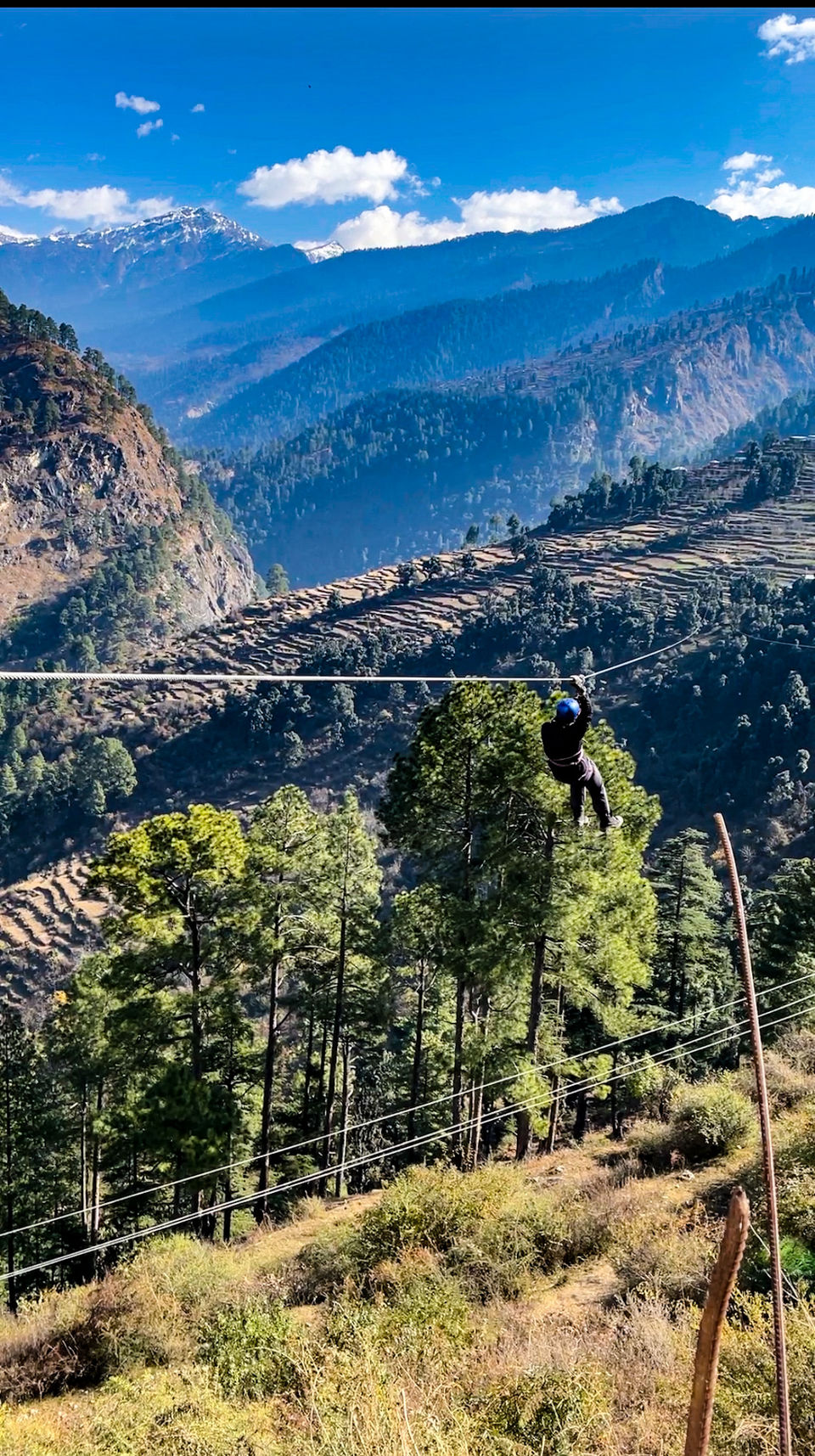 Kotgoan, a mere 10 kms delightful journey from Sankri, here also you can start the trek up to Juda-ka-talab which takes about four hours from the Kotgoan village. This village is also famous for waterfall and Someshwar Mahadev Sankri, The temple is dedicated to the Hindu God Shiva and is a sacred site for thousands of devotees coming to worship here from across the world.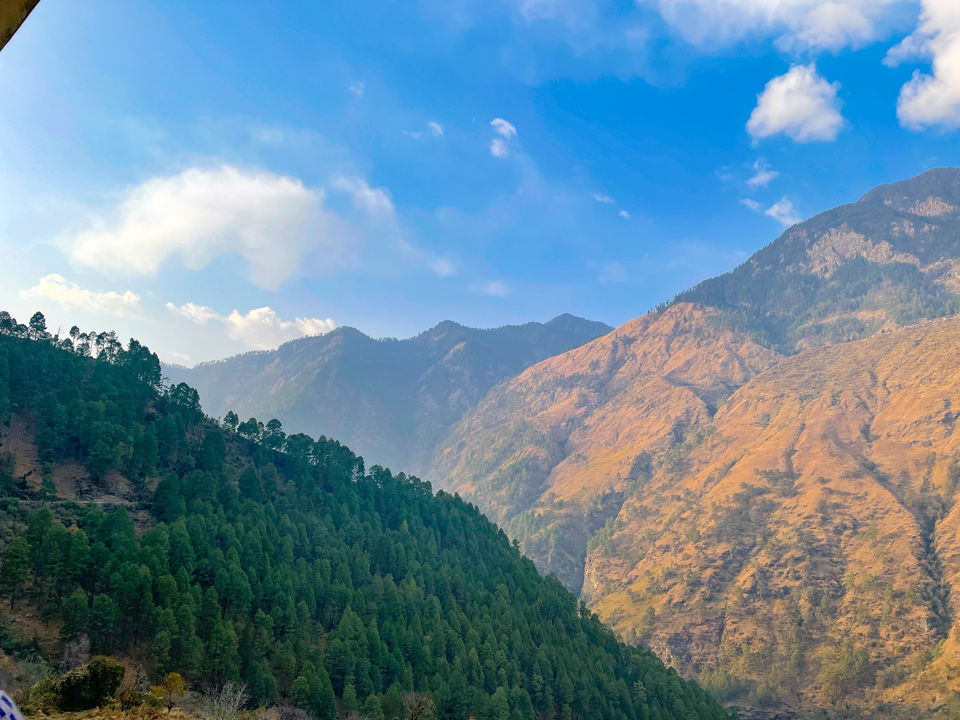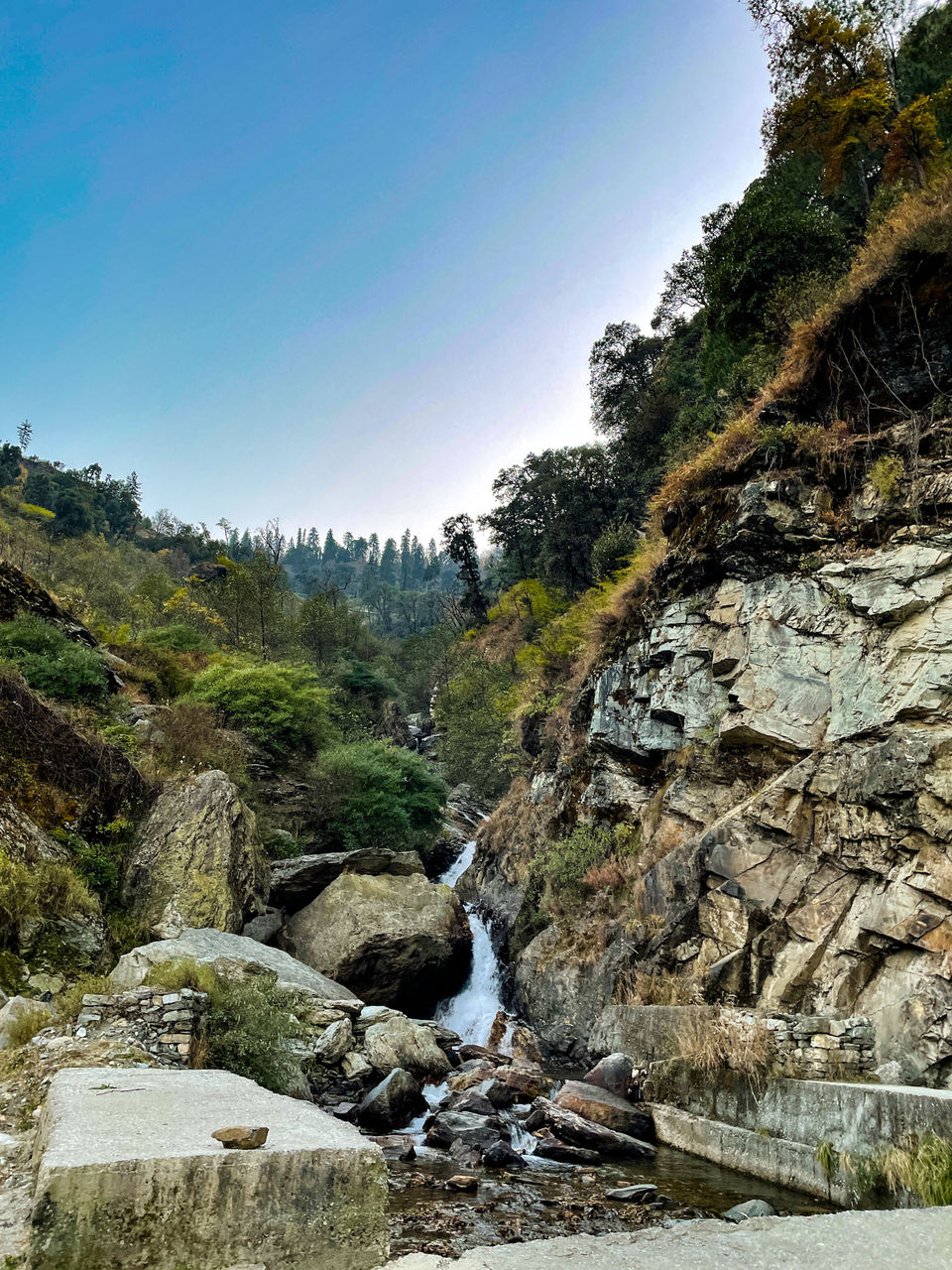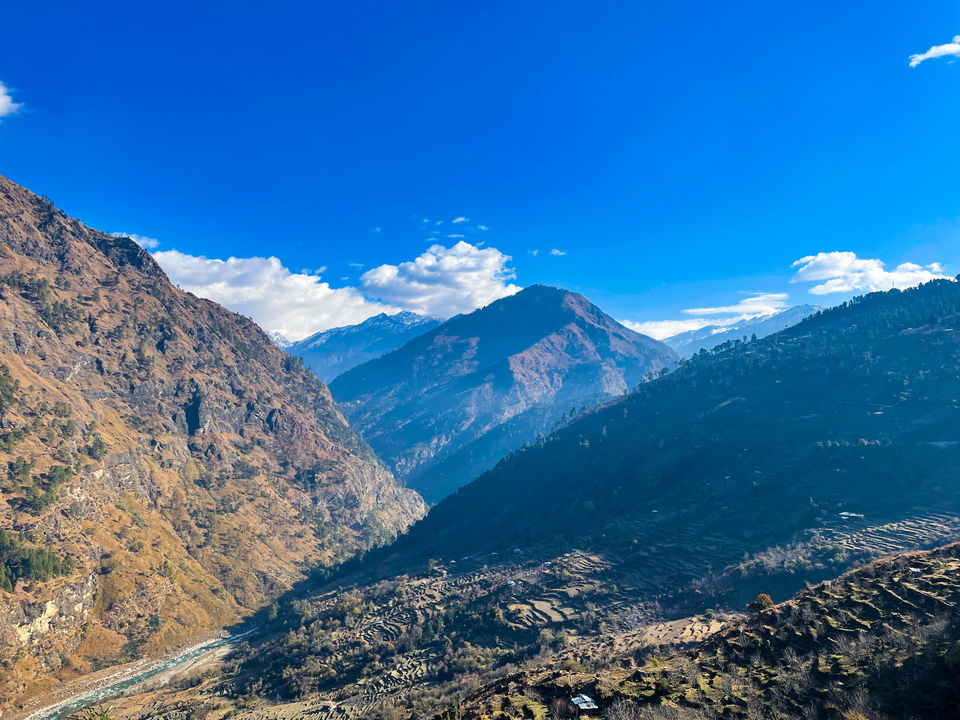 Imagine, you are standing on a field, surrounded by lush greenery, and watching the mountains standing tall against an azure sky, you can feel the nature taking possession of you and enveloping you in its poetry. This could be in a place that compels you to be pure and free from pollutants and horns disturbing your peace of mind. This is what the mountains offers to you.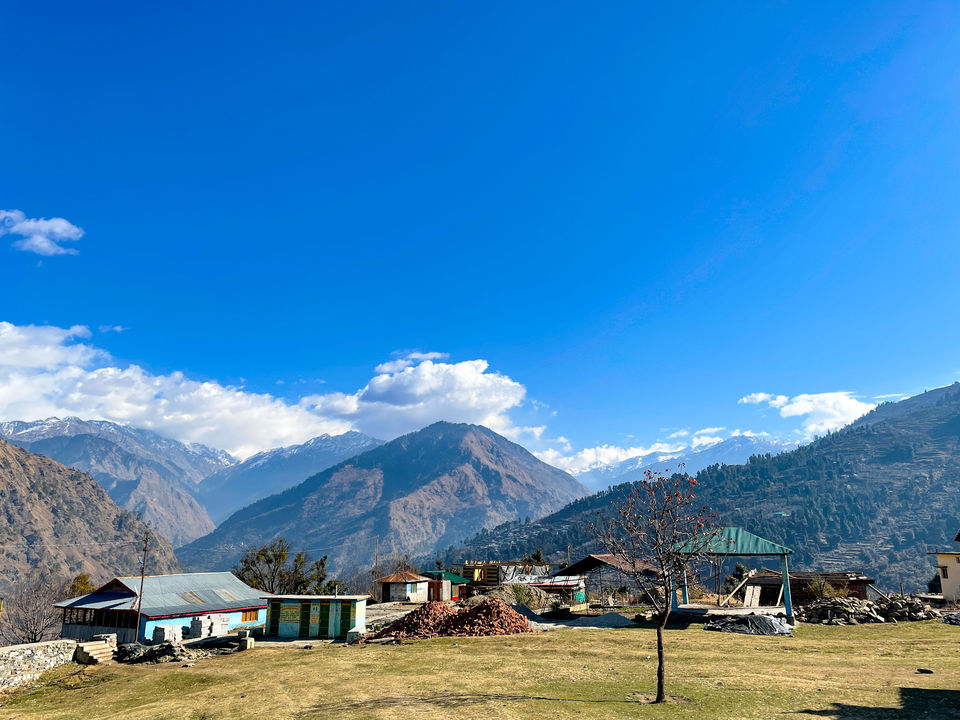 The next day, we had breakfast and started for Dehradun in the morning. After 5 days, it was finally time to inform my family back home that I would arrive in Delhi the next day.
It's been 5 days since I used internet but I have one heck of a story to tell!
They say a person needs just three things to be truly happy in this world: Someone to love, something to do, and something to hope for, but if a fourth happened to exist, I am sure it would be mountains.
Until next time.....