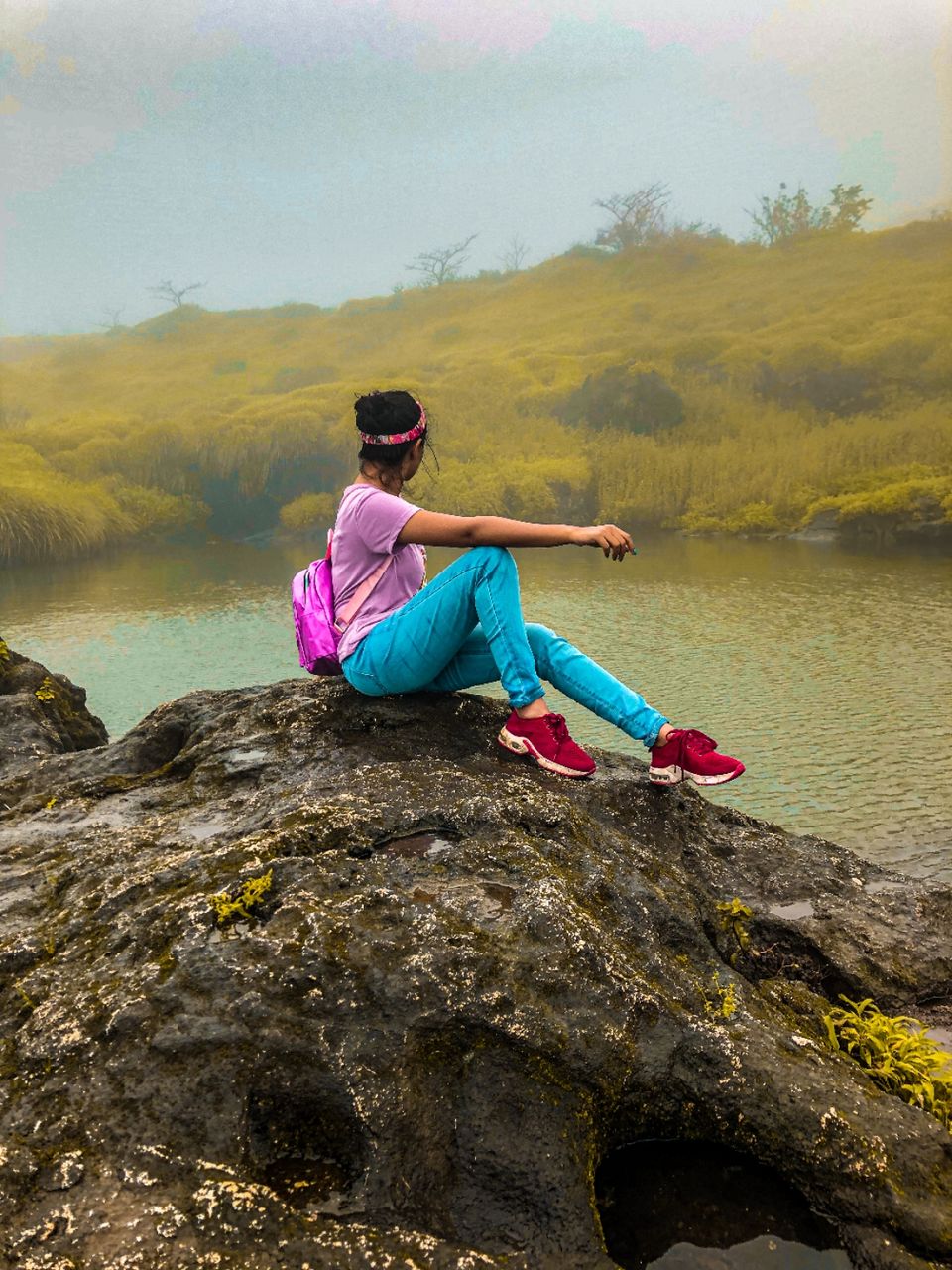 Lohagad fort-A trek to Paradise!
Hey, guys, I hope you all are having the best of the festive season among your family, friends and loved ones…
So I am back with another travel blog wherein I will arouse your inner voice and soul to let it free from the work chaos and explore your own city that is "Queen of the Deccan's" this very weekend.
So somewhere in mid-September, my mom, Avinash and I found ourselves amidst the lush green eye strobing surreal monsoons in Pune , also known as the city of Marathas.
I am romantic but I hate the monsoons-the season of love. (I am weird, i know right?)
Yes, let me mention that I HATE rains /monsoons because… (what? Are you shocked? )…
How can someone actually love rains except farmers?
It's so muddy, dirty, gloomy and wet everywhere. So irritating!
On the other hand, I was tickled pink because I have heard that"Western ghats in monsoon is the most beautiful miracle of nature"
And you know what? The fact proved to be absolutely correct, I hated rains until I met Pune in the bewitching monsoons which completely hypnotized me and changed my mind. Yes!
We reached Pune around 6;30 in the morning by a deluxe bus from Hyderabad. The distance covered was 662 km.
And according to the plan, more two of our friends also joined us from Gujurat as well.
Mk
Mom and I were staying at my mom's friend's place, whereas Avinash got split into his friend's place and so.
Lohagad trek-the easiest and the closest trek to Lonavala.
Day one was all about testing our endurance by trekking through Lohagarh fort of 300 crooked, unparallel steps and an attempt to make me fall in love with the rains of Pune city.
But you know what I was most excited for the day?
The scorpion trail of Lohargarh fort! Which my next blog post whill be about.
So we booked an XUV Mahindra from Blue Ridge, Hinjewadi( we were staying there) to Lohagarh fort which was a distance of 52 km.
How to reach Lohagad fort?
You can reach the fort if you take a train from Malavli station to Bhaja caves or Lohagadwadi stop which is the base of the fort. Or you can take a taxi from Lonavla directly to the base.
Mom decided to stay at home and spend time with her long-distance best friend or maybe they had some other plans you know
It was drizzling then, and I was already very skeptical to trek through the fort but the journey to Lohagrah left me spellbound as I could see the whole city coming alive from the indescribable joy and beauty of the monsoons.
Everything was viridescent and enchanting.
I could see small cascades of falls here and there which transposed me into a child. I started to feel elevated.
Deficient roads will test your patience out…
It took us around 1 hour and 45minutes to reach the base of the fort as the roads were very bad and bumpy and the rains just made it worse.
But fortunately, our driver was a professional one and made sure that we reach the base of the fort without any hitch.
On reaching the base, We gathered our raincoats and other belongings including water bottles, some cash, and mobile phones from our car, we banged the door and started to walk towards the uphill castle.
As we climbed one or two steps we found a few bhutta (corn) and maggie stalls scattered on either side of the route, which craved our taste buds.
So we thought of satisfying our hunger then as there were no food joints at the top.
What to do when monkeys try to attack you in the fort?
Surrender! haha yes.!
We were relishing our bhutta time, savoring the sizzling hot and soft corn, donned with the drops of lemon and salt (yum) and guess what the next moment looked like?
The monkeys were eyeing on our bhutta and trying to snatch(there were a lot of monkeys there) very aggressively and we were trying to counter them. hahaha…
A cold war rose!
Then we eventually decided to compromise on half-half corn sticks. funny no?
As we trekked the steps, we learned a little about the history and geography of the fort.
No, I am not going to put you to sleep by delivering a lecture on Marathas, but one or two lines shall not harm anyone.. what say?
Lohagad fort -a UNESCO world heritage site.. worth it?
Lohagrah fort stands tall and ineffable since Chhatrapati Shivaji Maharaj constructed it in the 18th century. It is at an elevation of 1022 meters.

It is said he used to store/keep all his treasury there.
Then as we trekked a little more, we came across four gigantic doors named Ganesh, Narayana, Hanuman, and Maha Darwaza respectively.
Out of all these, Hanuman Darwaza is ancient.
You can spot pawna lake towards the south when you peep out from the boundary of the fort.
Ahhh, serene and calm, the lake is a perfect picnic spot for the tourists, and I have heard quite a lot of quirky camping stories besides the lake as well. ooooh!
Wait, did I forget to mention that it began raining cats and dogs by then? yeah, we all got slipped into our disfigured raincoats.
I never realized that rains could make everything so dreamy, romantic and peaceful.
The steps got steeper and water was flushing from the top like a stream over the steps which made it difficult for us to climb up.
But when you look up, oh my my it was a heavenly abode with clouds at your finger touch level making the fort look float in the air.
I shall not exaggerate it, but it actually seemed that the fort was rejoicing its salvation from a curse! (whatever!).
It seemed like, the gods spelled a cast on nature and it all bloomed into green and emerald as far as the eye could see.
I never realized so fast that had I not been here in the monsoons, I would have regretted so bad.
I instantly fell in love with the monsoons.
Tip: The trek can be leveled as easy to moderate but you gotta be very careful in monsoons especially because of the slippery and mossy steps, advisable to wear waterproof crocks or shoes.
The long haul is hardly deterrent when you see the whole city put to sleep under the blanket of grey clouds!
We were all panting as we reached the top, but what we saw just blew our mind.
And this time we were levitating along with the fort amongst the clouds and mists. It was uncanny yet magnificent.
It was super windy and cold, I remember Avinash saying" tu to ud hi jayegi, catch hold of a rock and sit down". hahaha…
We spotted a few tomb-like structures in the middle on reaching the top, and a few small puddles or may be lagoons that are used to reserve the rainwater.
OK, now you would be lying if you say you haven't played pebble tossing in the pond ever.
The boys in our group were like "chal dekhte hain kiska pathar kitni bar toss hota hain "(" lets face-off -whos stone tosses the maximum times"). It was so much fun and a good time.
We left no spot to click our pictures.
And oh god! What lush flora and fauna..so fresh, distinctive and beautiful.
We sat on a rock for a few minutes and got captivated by the enthralling beauty of the Pawna lake and the dense forest at a stretch right in front of us… It was mesmerizing. We wished not to leave the place.

Thankyou Pune for changing my mindset and let me explore little of myself and you as well.you were amazing.
Next,read about the s
Trek to Scorpion trails on the other side of the fort which is thrilling, adventurous and spooky at the same time...
I hope you like this post..
Thankyou for reading.
#wanderuffles