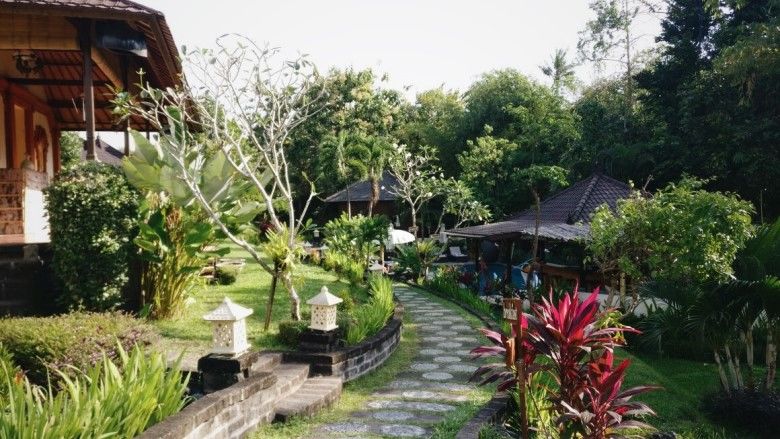 Canggu is my favorite part of Bali; I would move there in a heartbeat if I could! It is perfect for those who find Seminyak too hectic and Ubud too quaint. Canggu is abundant in the rice terraces tourists associate with Ubud, and has plenty of fun bars for those who love ending their nights at Seminyak's La Favela and Motel Mexicola. Once Bali's best-kept secret, this coastal region is now becoming increasingly attractive to surfers, digital nomads, and epicureans.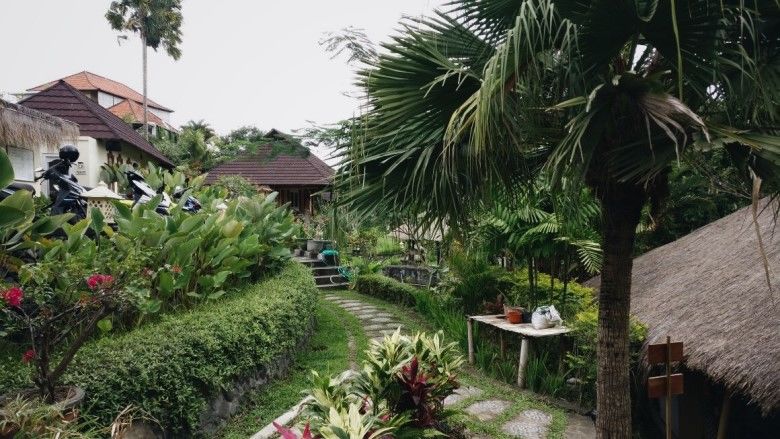 I had the pleasure of spending one night at Mondo Surf Village, a wellness resort tucked away neatly in the rice paddies of Canggu. Mondo offers weekly packages (7 nights) with the following features- SURF & SUN -7 surf lessons, 14 yoga sessions SURFIGHT- 2 Brazilian Jiu Jitsu lessons, 2 Muay Thai lessons, 2 surf lessons, 14 yoga sessions, 1 sports massage LIFESTYLE - 1 Brazilian Jiu Jitsu lesson, 1 Muay Thai lesson, 2 surf lessons, 1 photography class, 14 yoga classes SURF PHOTO- 3 photography classes, 3 surf lessons, 14 yoga sessions, 1 massage [All packages include a daily healthy breakfast.]
Google Maps almost got me to Mondo! I was about 50 m away from the resort and was dragging my heavy bag from the cab after 16 hours of travel; not the best way to start my trip. However, I kid you not, on entering Mondo, I felt an overwhelming sense of calm. Within minutes of entering this lush green oasis, I found the energy to, almost immediately, dive into a Yoga Class. The pool looked especially inviting and people often hung around the pool to cool off but I didn't get a chance to swim.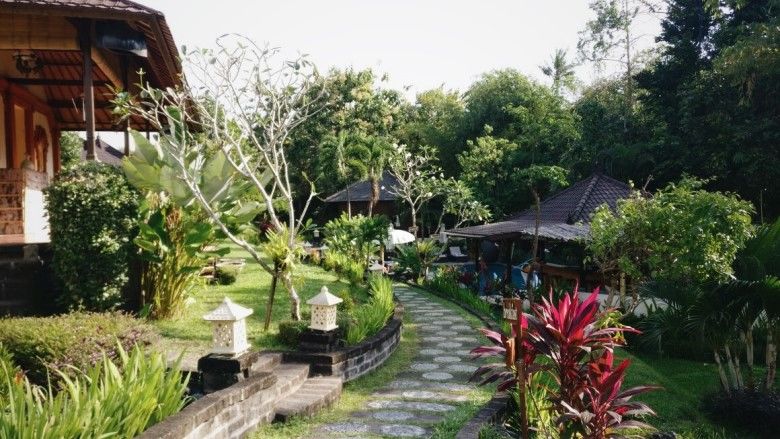 Yoga: All the yoga classes take place in the outdoors, under a traditional Balinese thatched hut/pavilion. The instructors are very professional yet warm and take the time to check your form. My first yoga session at Mondo was also my first time trying out Yin Yoga, a style of slow-paced yoga where the asanas are held for much longer than usual (2-3 minutes).
It may look relaxing, but, let me assure you, holding the postures is harder than one expects, especially if your muscles are sore from surfing. We ended our session with a relaxing meditation. Mondo offers each guest two sessions daily- early morning and evening and its the perfect way to end your day so please attend this.
Food: Having arrived at Mondo after a long journey and 2 hours of traffic from the Airport, I was pretty hungry. Since I had Yoga in less than 2 hours after my arrival, I decided to order something light. The menu as you would expect, is healthy and incorporates vegan, gluten free and dairy free choices including some indonesian staples. I loved my breakfast and we made our selection the night before and were given the choice of eggs (any style) and bacon, pancakes, smoothie/acai bowl and a jaffle. The staff was very friendly, welcoming and most of us were unaware that we could order more than one breakfast. I ordered the eggs and bacon, which were delicious but I was left wanting more since the portions were rather small! More experienced guests ordered 2 or even 3 breakfasts, all of which were included as part of their package! Every guest can also dig into a buffet of fresh fruit, toast, muesli, and fresh Balinese coffee. That's a great deal, in my opinion!
Surfing: Soon after, we left to go surfing at Kuta Beach. Just reiterating- surfing is WAY more difficult than pro surfers make it look. Pro surfers favor Bali as the water is extremely choppy and when the tide is high, the waves are formidable. Luckily, the instructors were extremely patient with those of us that were first-timers and introduced as to the surfboard on land first. In the water, I managed to get up on the board a couple of times, which was much more than I had expected to achieve. Being able to ride the wave for even a couple of milliseconds gave me a thrill like few other sports have. However, given how high the tide was, it was no surprise that I got whacked by my board (and other surfers' boards, too) more than a couple of times. Just like any other water sport, it is important to stay extremely vigilant. It was equal parts exciting and exhilarating.If you are a newbie or someone who surfs a lot back home, I highly recommend that you stay at Mondo Surf Village to interact with fellow surfers, go out every morning and learn how to get better with experienced instructors.
Room: I stayed in the Room Ijen, a Spartan room with plush white linens and plenty of sunlight. It faces both, the massage and yoga area. I slept extremely well on that bed, something I do not experience often in a bed that is not my own. The Yoga Session probably had a lot to do with that! The bathroom is very nice, too, although there is very little room between the WC and the sink for one's legs. The room comes with air conditioning, a safe deposit box, a mini fridge, as well as a TV and DVD player. Mondo offers wifi to its guests but the network could be a bit tricky when you are on the island. Some people prefer to get a local sim with data so they can surf the web freely and even work when they are in Bali.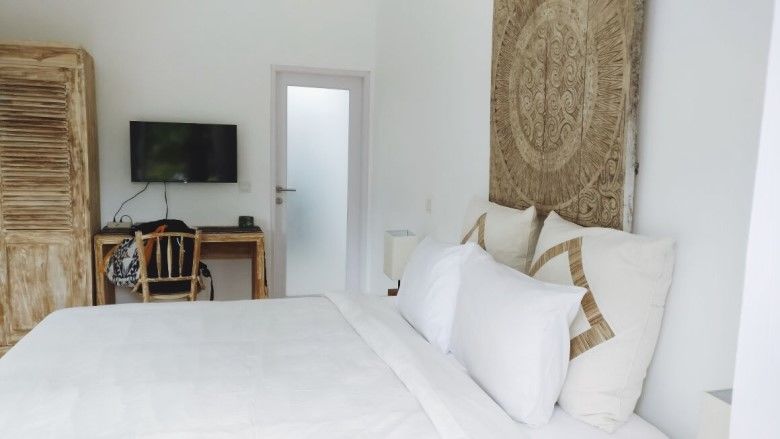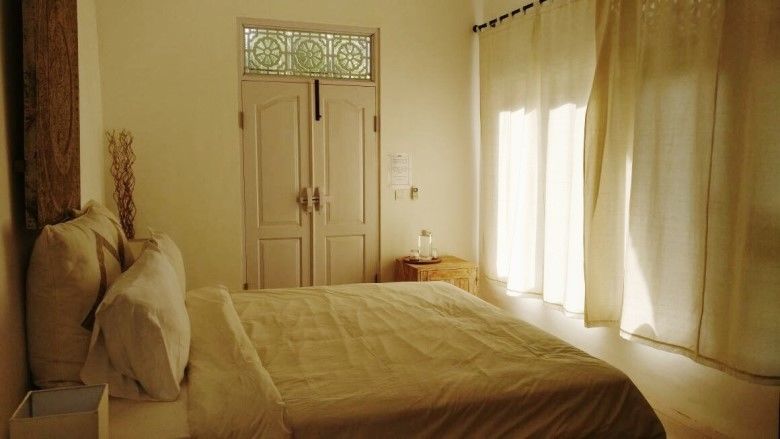 Verdict: Mondo offers some great packages to cater to everyone's tastes and preferences. The host, Antonio, was very helpful and friendly, too, as are all the other staff members. Should you choose to venture out into Canggu during your stay, Mondo is a short ride away from Old Man's and Betelnut, and only 20-minute from the stunning Tanah Lot Temple. I highly recommend Mondo if you're an adventurous traveler who is willing to wake up for early morning yoga (totally worth it, by the way!). They often organise purification rituals, cycle trips, volcano treks and day trips to Ubud so please check with them before you arrive. Mondo does have seasonal prices so make sure you keep checking http://mondosurfvillage.com/ for more updates, after all everyone loves a good deal. Just pack mosquito repellant, a few bikinis, bottles of sunscreen, Yoga pants, a nice hat for protection and head over to the village for a memorable time.
P.S- Mondo Surf Village also invites you to host your own co-working or wellness retreat where you can use their stunning location for sunset yoga, meditation sessions, and healthy cooking demonstrations. My sister, Jia and I, are very excited to host our retreat there soon. FINGERS CROSSED.
Quick Notes:
Mondo Surf Village
Jalan Munduk Batu Belah, Gg Frangipani no: 9, Canggu, Pereranan, Pererenan, Mengwi, Kabupaten Badung, Bali 80361, Indonesia
http://mondosurfvillage.com
Photo credits - Gayatri Singh & Mondo Surf Village