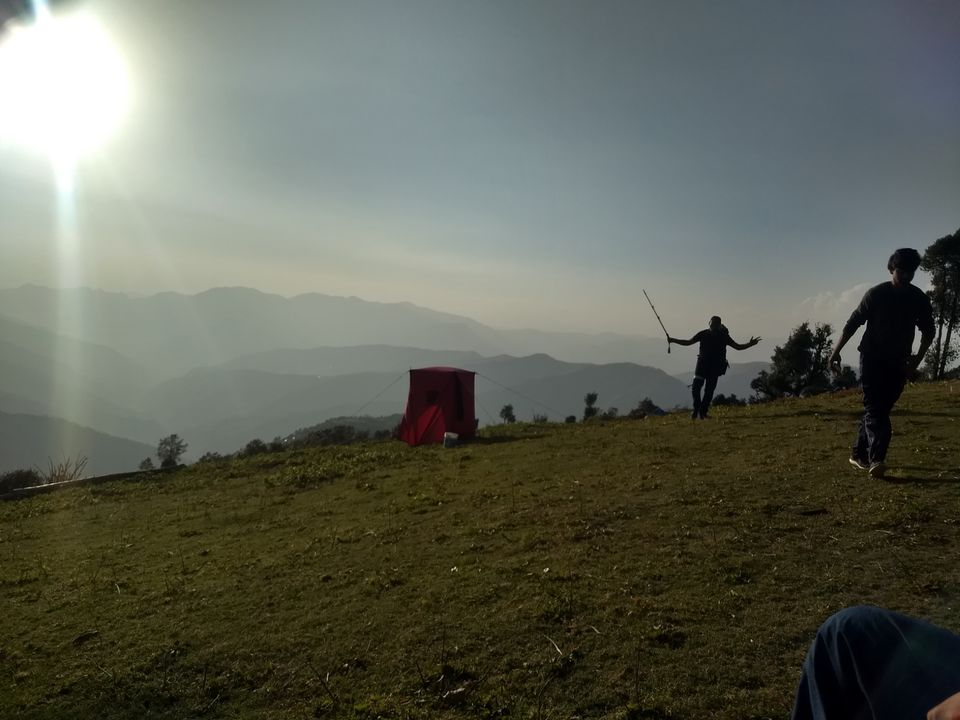 Starting at just 3 hour driving distance from Dehradun, the Nag Tibba trek is the perfect weekend getaway, or rather stairway, to the heavenly mountains. I did the trek with two friends on a long weekend so as to have a spare day to relax and soak in the experience before returning to our mundane mortal's routine.
Now there are a number of companies that provide trekking packages and they are all more or less the same so don't beat yourself up with over research, just book one, and rather spend time on the treadmill prepping yourself for this trek ( I learnt that the hard way).
So here is what happens, you take a train, bus and travel overnight to reach Dehradun early morning (aim 7 AM)
You get picked up from Dehradun railway station. The bus stop is right next to it so no problems there, however if you take a private bus from Delhi, more often than not they will come via Haridwar ( although they say they won't, but they get extra passengers in that route) and you will probably miss the deadline for pickup.
Shared cabs/traveller take you to the village of Pantwari. They stop for breakfast the cost of which is to be borne by you.
At around noon you reach Pantwari. There are a couple of grocery store shops here, some decent rooms and the last set of washrooms that you will see for the next 30 odd hours. So use your time wisely. You are given packed lunch, to be consumed on your way up (no littering, dustbins are available at your camp site) Also even in the winters, it gets very sunny, so you will need sunblock, shades and hat.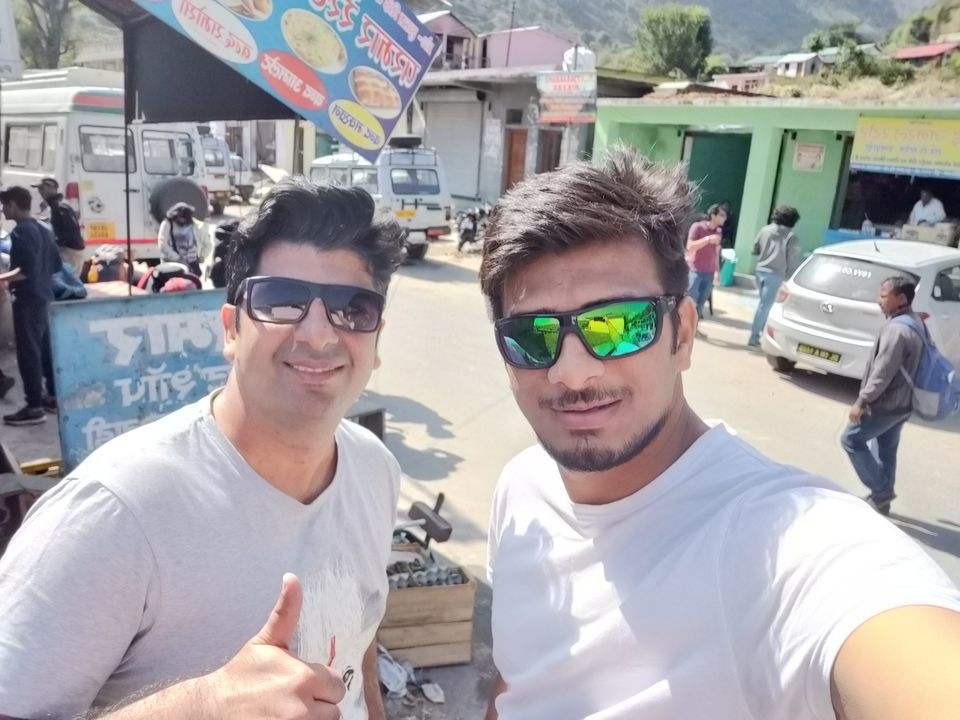 The journey on foot starts here, narrow passages cutting through the village houses soon give way to muddy and rocky trails, sorrounded by tiny fields, beautiful valley's, kids returning from school, goats going out for lunch and the humongous mountains that lay ahead of you, inspiring a challenge to keep climbing up. Now when most websites rate this trek as easy, be mindful, the terrain is easy, as in you don't need any special skills to find your way forward. But it is a long way, endurance and stamina (both physical and mental) are required. Carry some chocolates/energy bar to help you on the way, it's a good reason to take a 2 minutes break as well.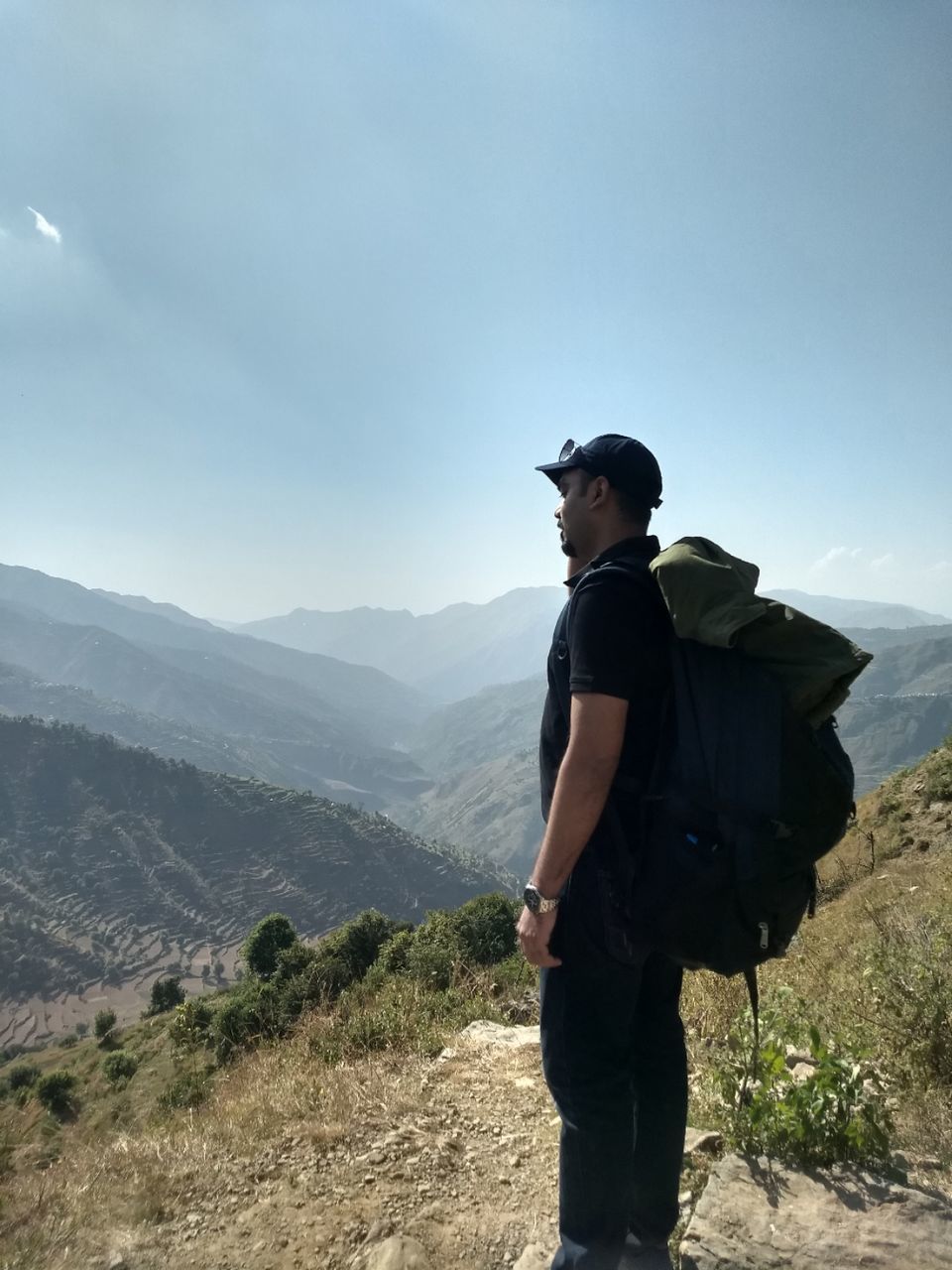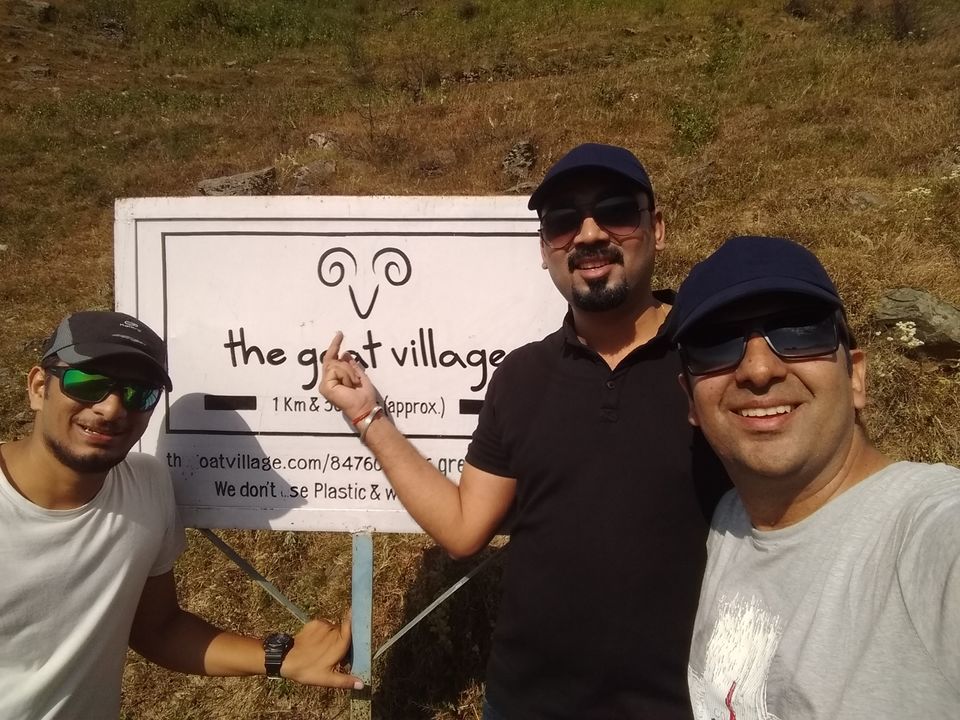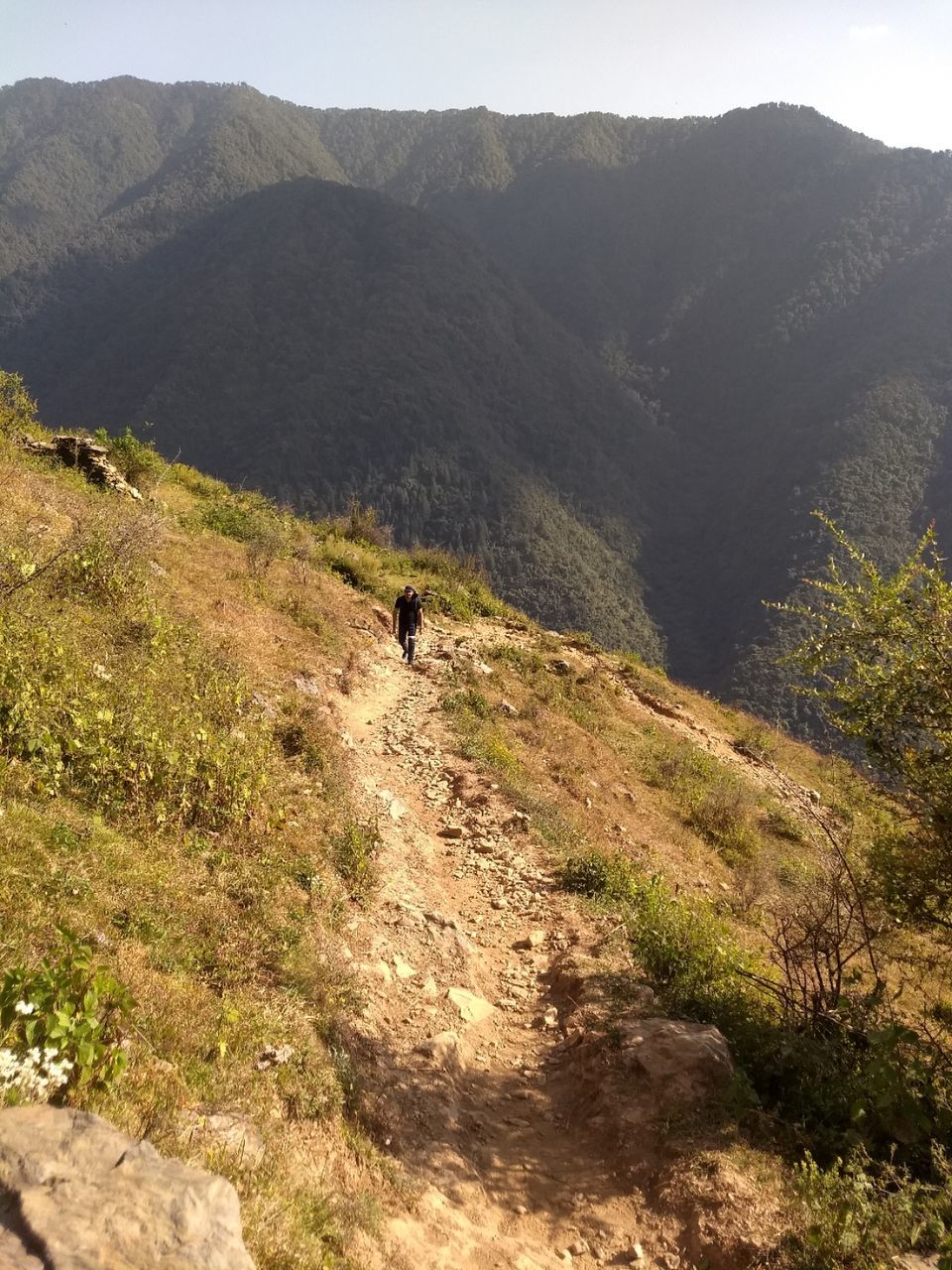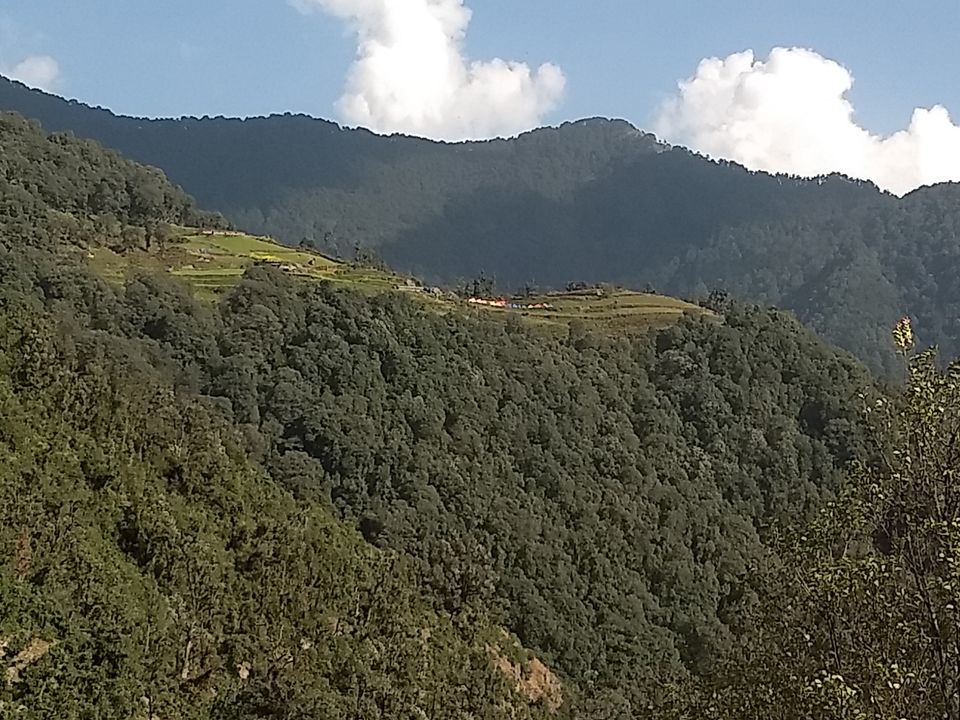 There are two spots, called water points, that make for the perfect resting spots (you will need much more than two) with shade and a pipe delivering the cold and refreshing mountain waters. After the 2nd spot you enter the forest area. From here on the climb is a bit steeper and you will encounter multiple trails, so try to stick with your group.
At around 4 PM we started seeing tents planted in the hills and were delighted, only to learn that these are not ours. There are multiple group treks organised and your camp site can be anywhere between 4 to 5.5 hours away (as ours was). However day 1 misery is day 2 boon. Finally we reached the base camps. Tea and pakoras were served.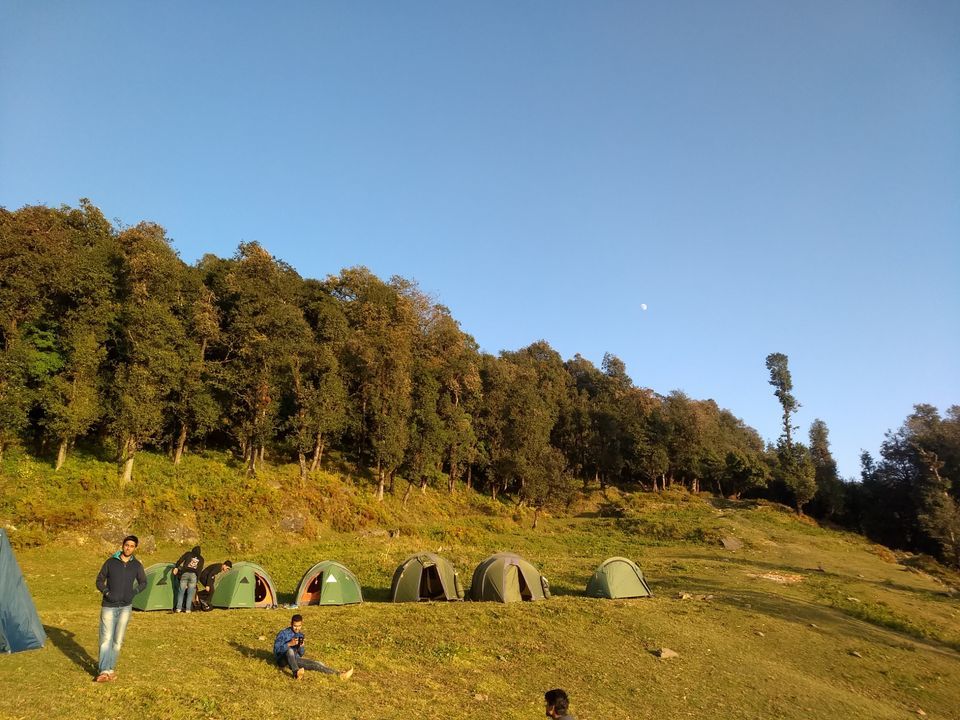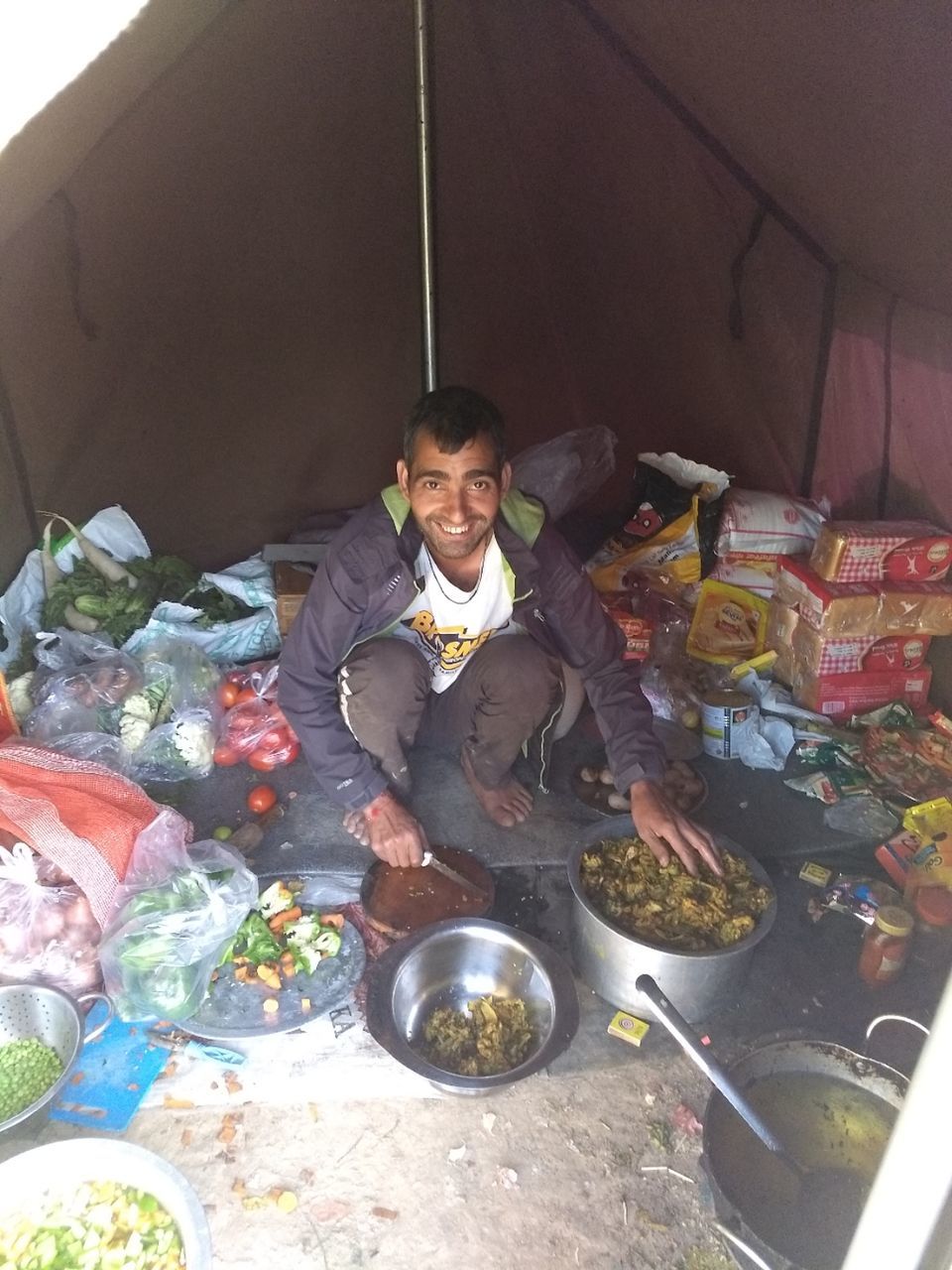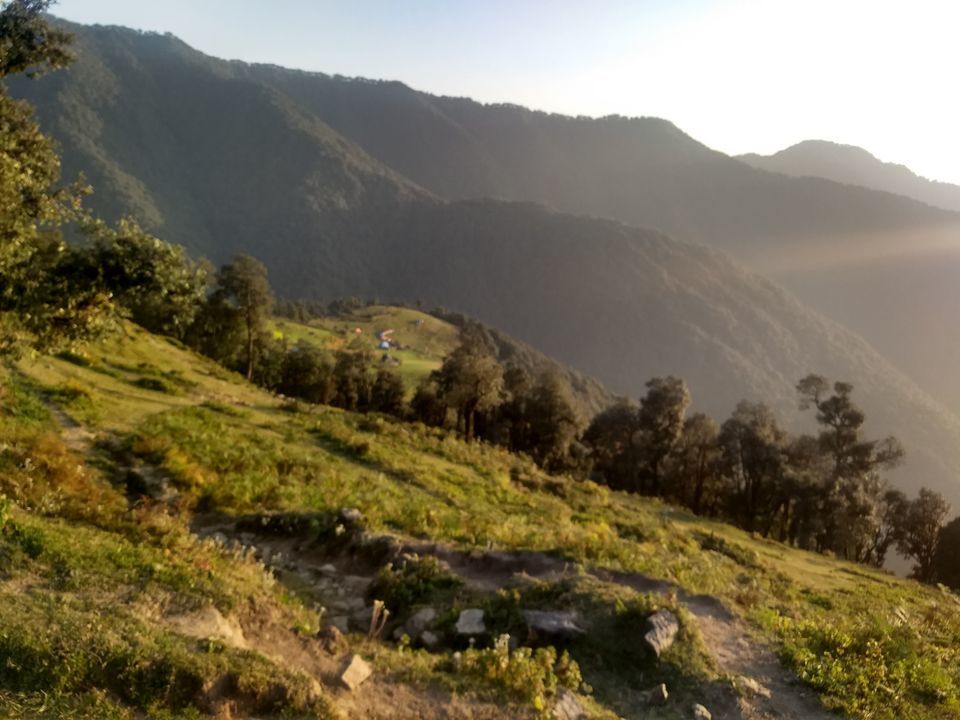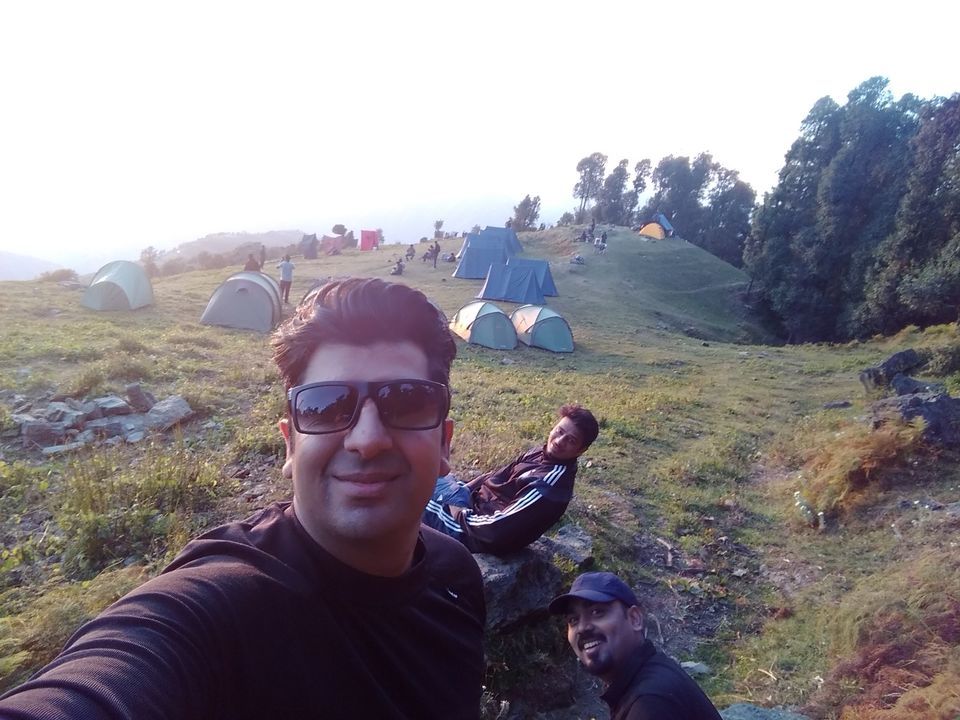 As the dinner preparations started, we were told that we would need to collect wood if we want a bonfire. These guys have a way to make every one work together, or may be it's the mountains, or maybe the bonfire :)
So much for those corporate team building events, everyone was out looking for wood and giving out lectures on what kind of wood would be best. Fire was invented (discovered?) thousands of years ago and it still makes for a decently intellectual challenge. As the evening gave way to night, all the layers that had been zipped away in the day came back one on top of another. It can get really cold in the night.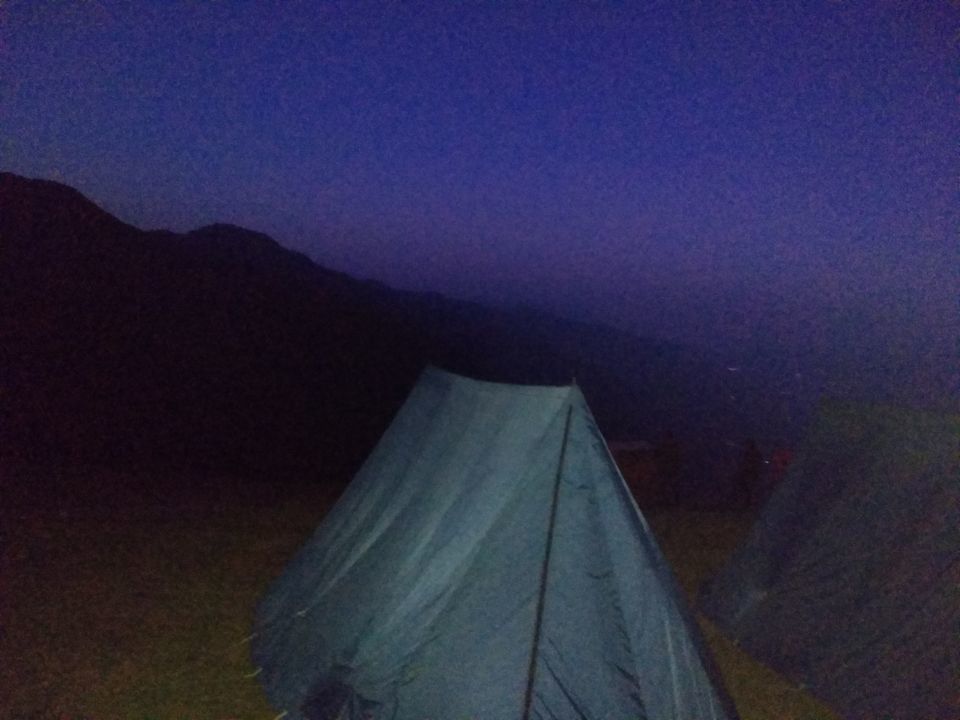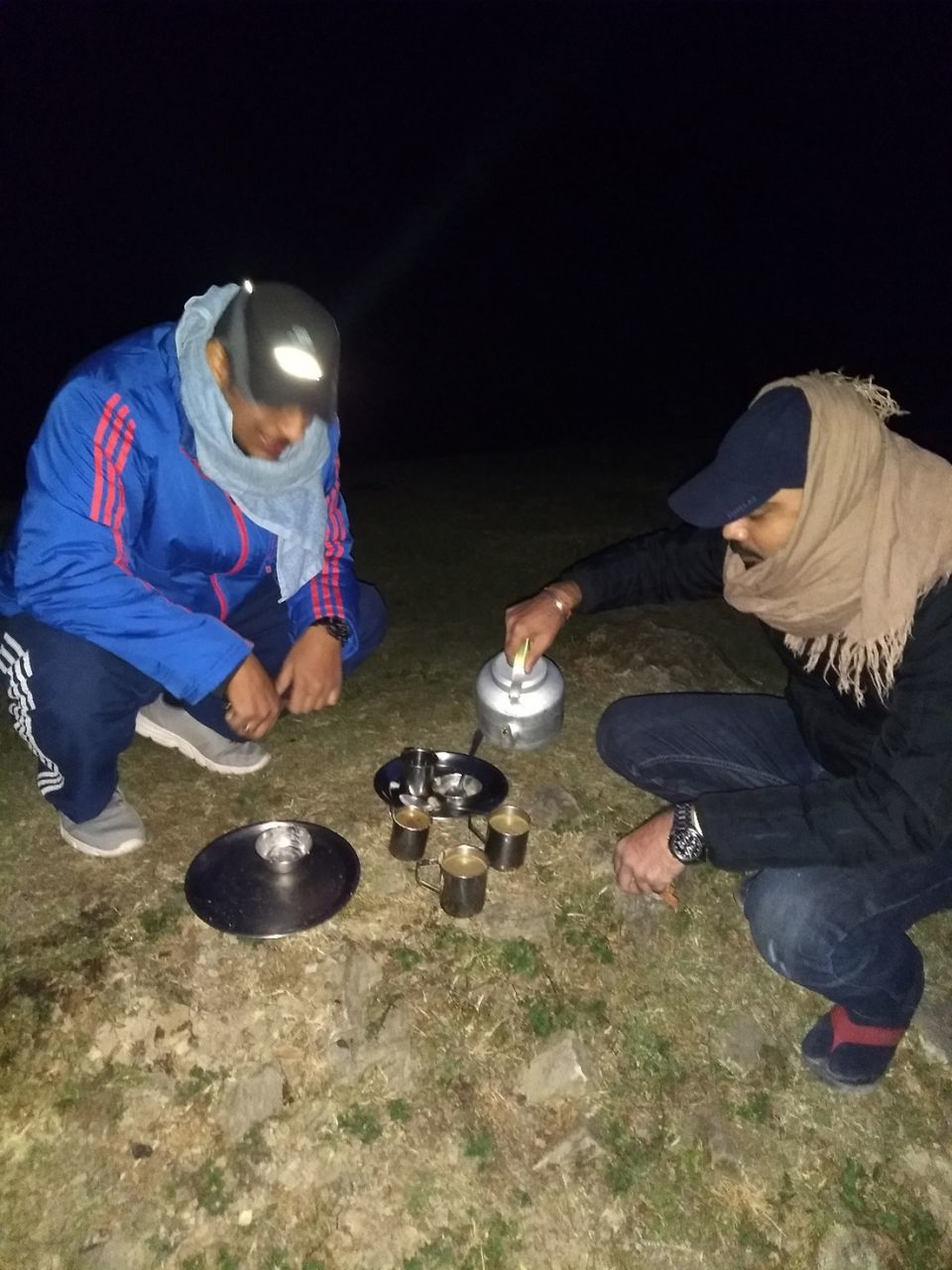 A bonfire in the hills is accompanied by customary stories of spirits and haunted places. The moon was shining bright in the night sky, so the starts were not visible. We went into our tents trying to sleep on a slanted surface, to no avail. At around 4 AM we came out. The moon had moved to a side, ready to take a dip soon, the sun was still more than an hour or so away and it was in this finite time zone that the infinite stars shone in all their glory. This where the saying "beauty lies in the eyes of the beholder" proves to be so true, imagination kicks in, connecting the dots has never been better.
With sunrise you realise how far you have come, and how much there is still left to cover. Breakfast is as basic as it gets, yet it's as fulfilling as it can be. The way up from here is almost entirely through a light forest. Mornings are so much better to trek, I thought to myself.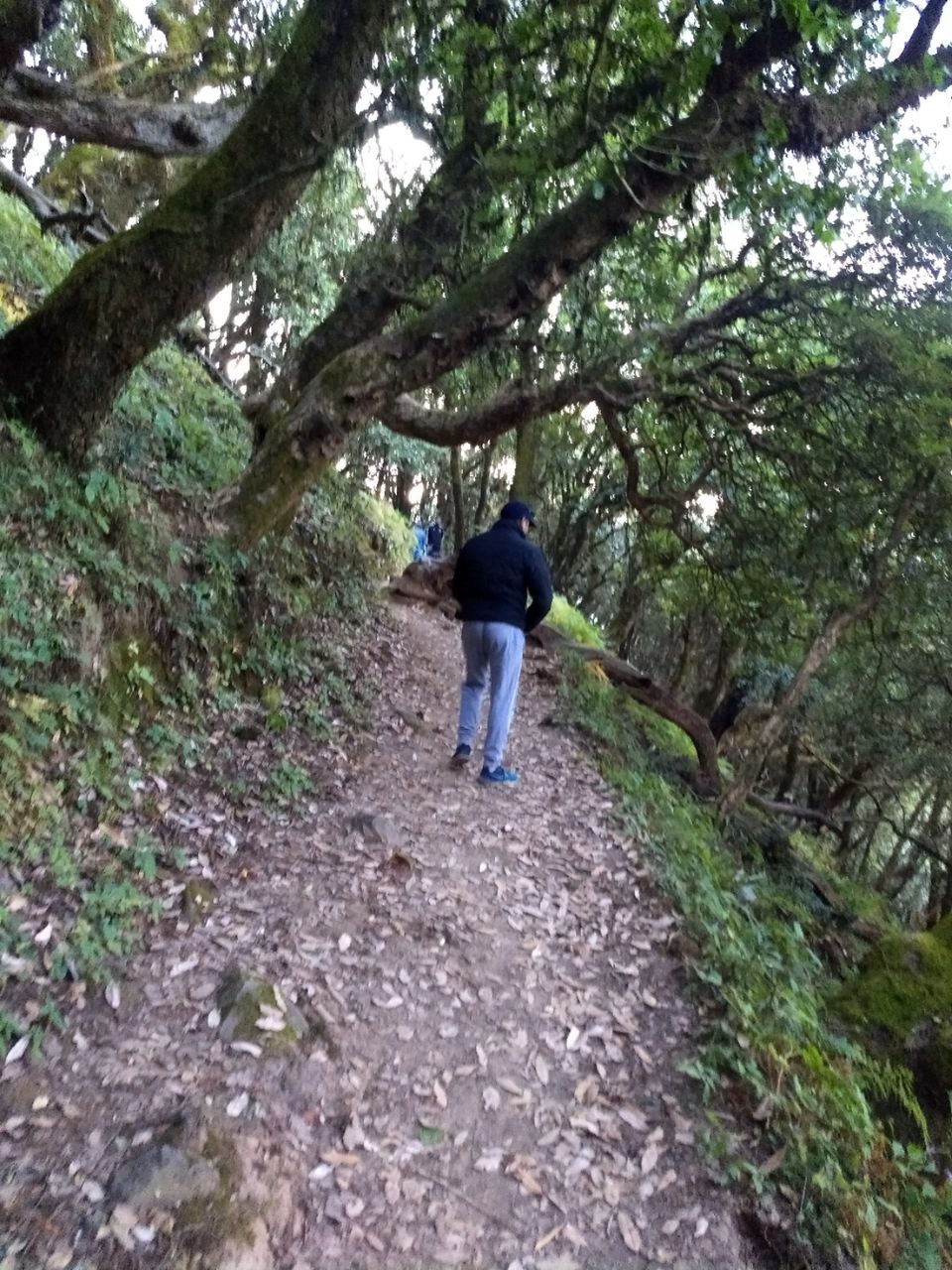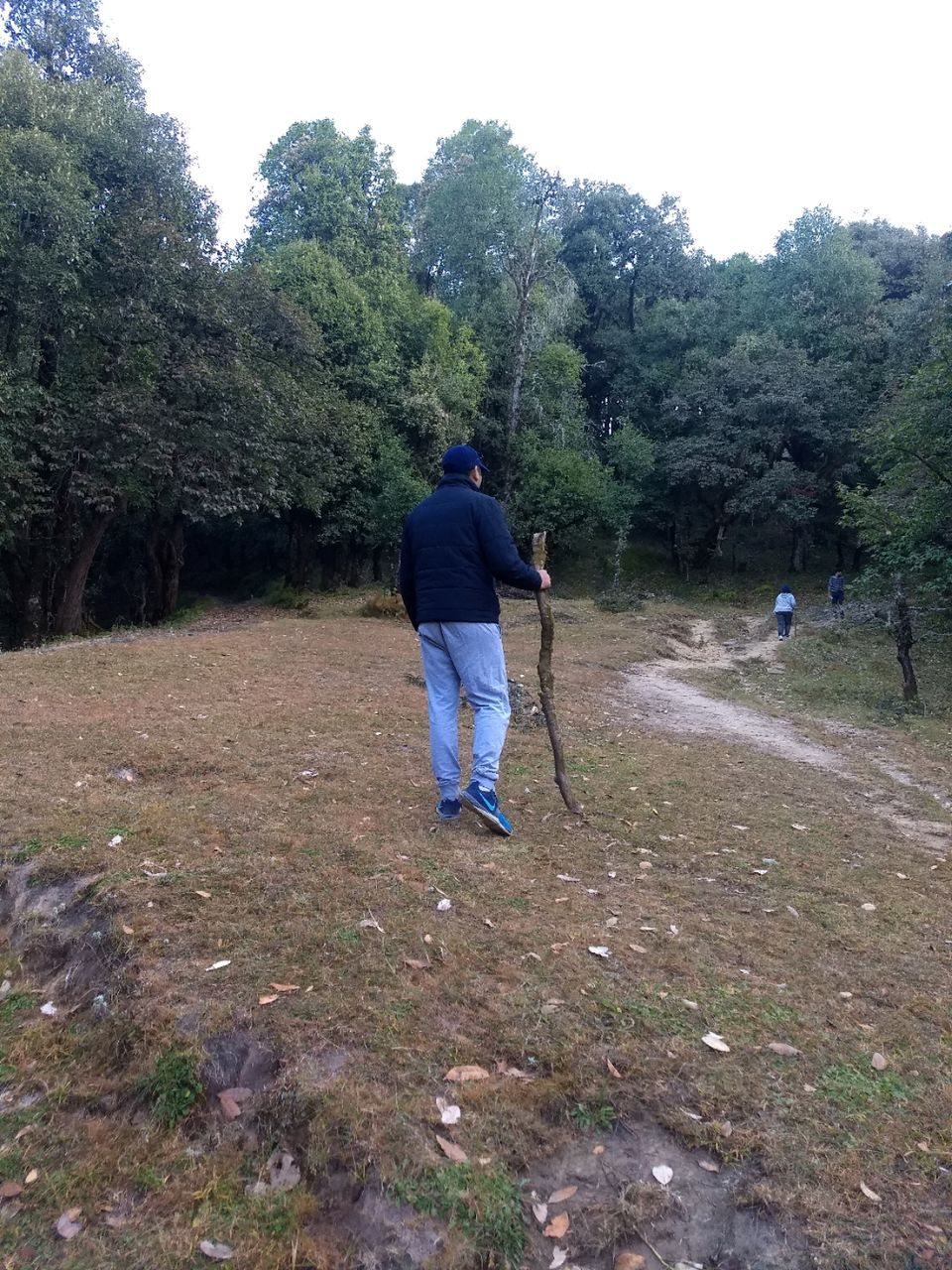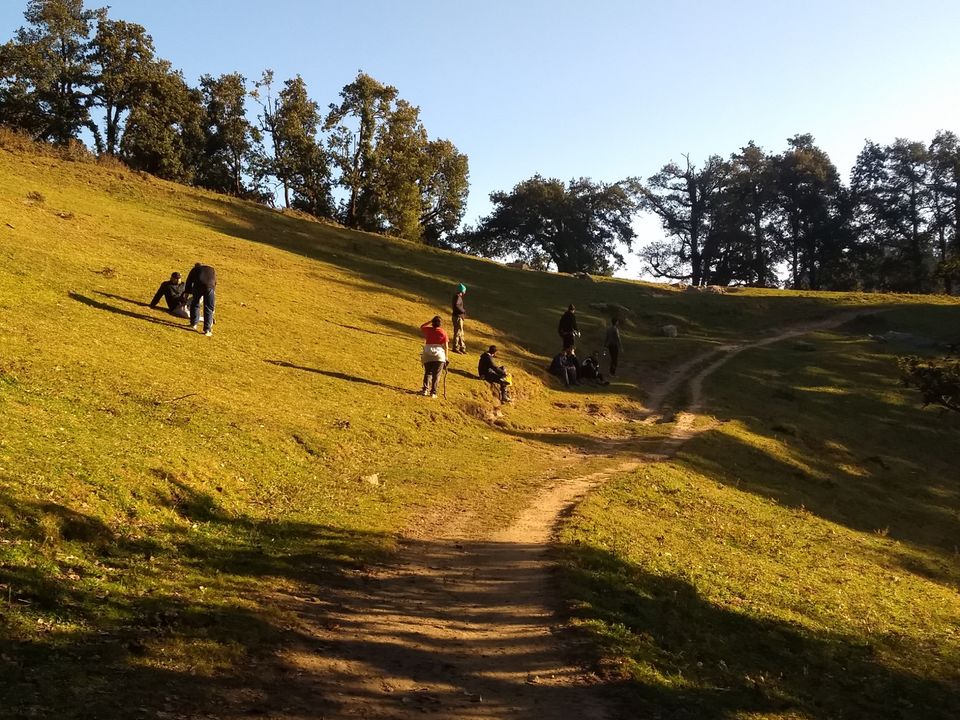 Some 3 hours later you see that the mountain has decided not go further up. It's let's you enjoy the views from its peak. There is flag post on a small platform that acts as a podium for you to stand up tall and proud of your achievements. The view is great and I won't post spoilers here, it's much more rewarding when you reach there not knowing what to expect.
Somewhere amidst the mesmerizing experience, a thought comes to your mind. All that way that you climbed up in two days, has to be climbed down now, in one go (you stop at base camp for lunch). Your backpacks can be transported down for you via a porter or a khachar at Rs. 300 a piece (practically 300 per person) and it was no brainer for me to take the deal. Sitting on a khachar is not advisable for a downhill as the animal can slip and you don't need to be told what can happen in that case.
For me the journey downhill was tough. I was tired and in pain. I was the last person in my group. Step by step I kept going somehow. Finally at around 5:30 PM I was on the road of Pantwari, where our travellers were waiting. My group was enjoying tea and Maggi as they weighted for me to arrive ;)
The dropping point is Dehradun railway station, expect to reach there by 9 or even 10 depending upon the traffic. You can get down anywhere on the way if you have further plan. The route is via Mussoorie (read Kampty falls). We got down at the market near the railway station, found a decent hotel, took a hot water bath, ate loadful of dinner and went to bed. It's always nice to have a spare day after a tiring trip :)
A lazy morning lead us to the rooftop if the hotel where we soaked in sunlight and reflected upon the minuteness of events in this vast canvass of the planet. And the minuteness of this VAST planet as soon as you look up. After breakfast, our destination was the temple "tapkeshwar", it's memories from a decade old trip still fresh in our minds. Shivling placed in caves, next to a river bed, with water dripping on the shivling, the sound of water gushing through the small but strong streams close by. As if mother earth is worshipping the gods, offering jal (water) and singing devotional songs.
However 10 years is a long time, development had set it's roots at this place too. It had been much mordernized and commercialized. So much so that the cave floors had been made of tiles and ceilings painted. No more tapkata pani (dripping water) so much for the temples name.
The footfall had increased, with it the polybags, plastic and broken idols, and all this found its way to the water stream.
It was still nice, but not for someone who has been here a decade ago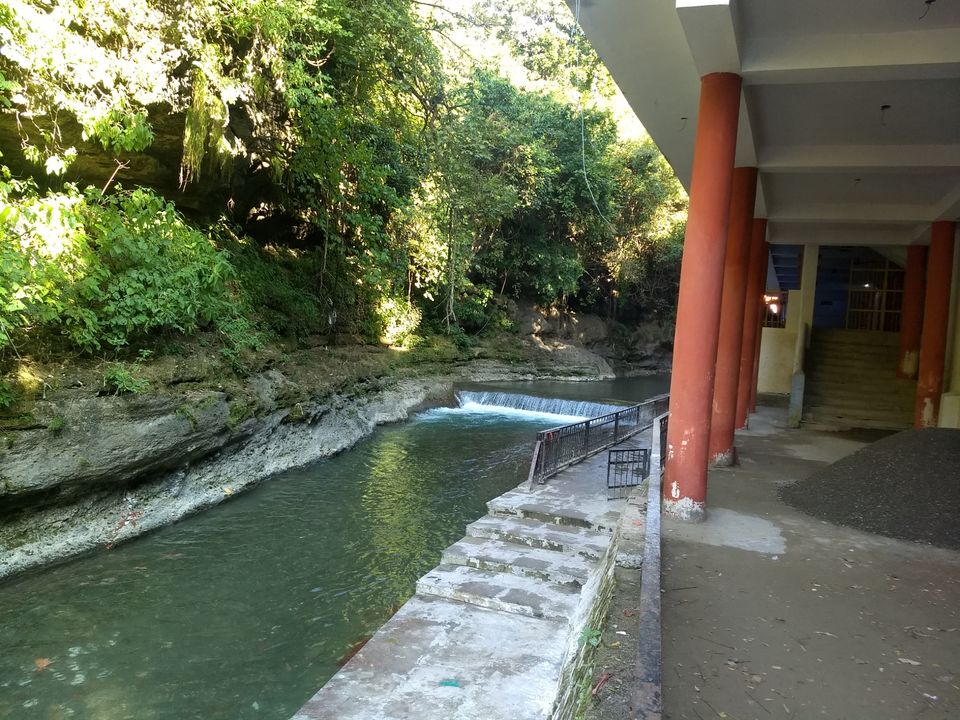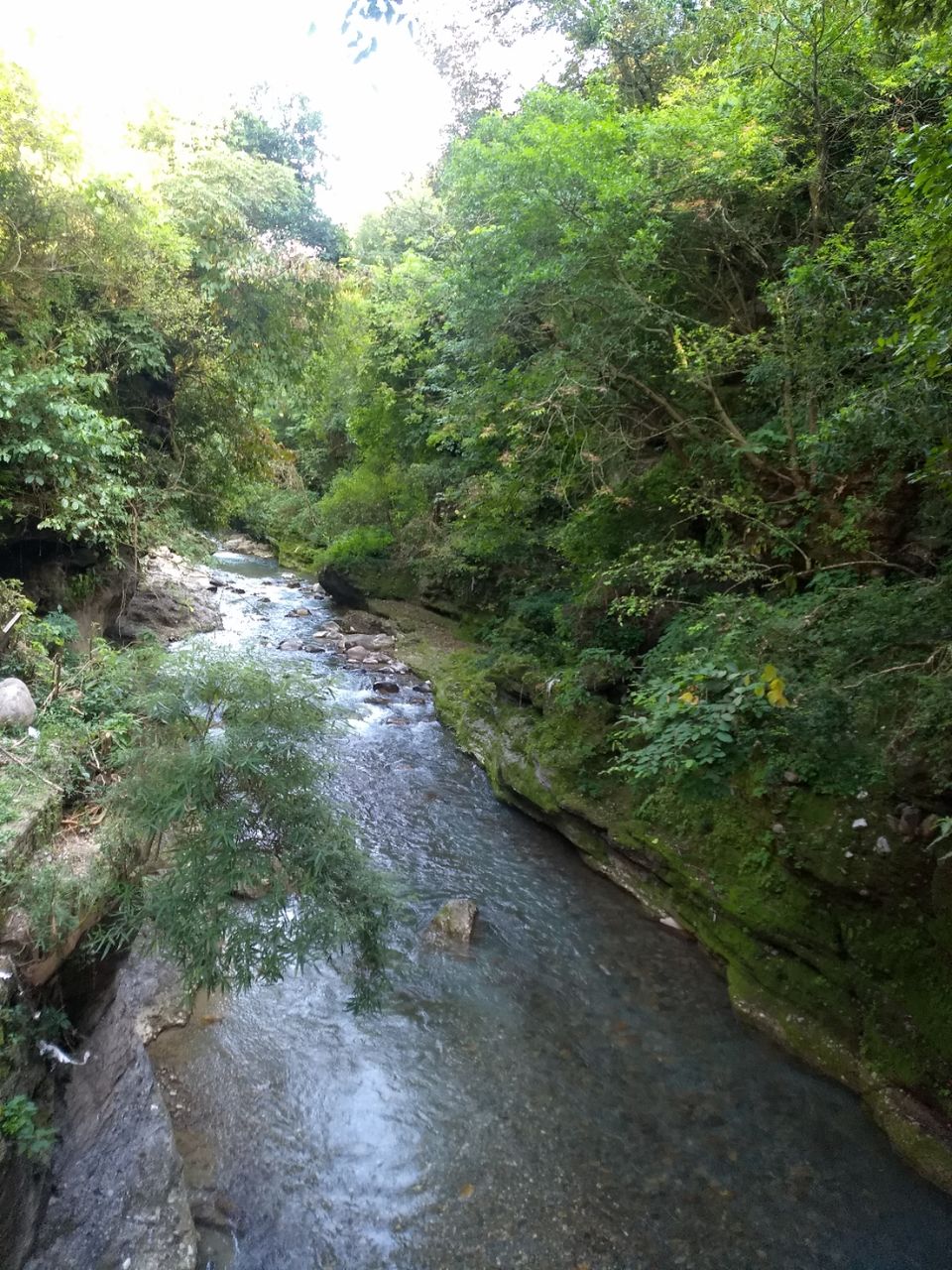 After some heartbreaking scenes, some hard discussions and a small clean up drive with the local children playing in the temple area, we came out of the nostalgia, we decided not to update the mental pictures of the place we just witnessed.
Our last destination for the trip was Sunburn Bistro. It's a famous cafe in the city and it stood true to its fame. It's a. 3 story building with a different name and ambience on each floor. Great food and great mood is how I would recommend this place. Get in early or make reservations as it can get crowded in the evening. It was here that we discovered that the train tickets we were hoping would get confirmed as the chart was prepared went into vail. We rushed to the bus stop. Taxi fares were skyrocketing. We rushed to the bus stop and found a bus with 4 empty seats (full sleeper) at 1000 a head. We bought 3 instantly. Fixated a torch to the rooftop of our compartment and played cards :)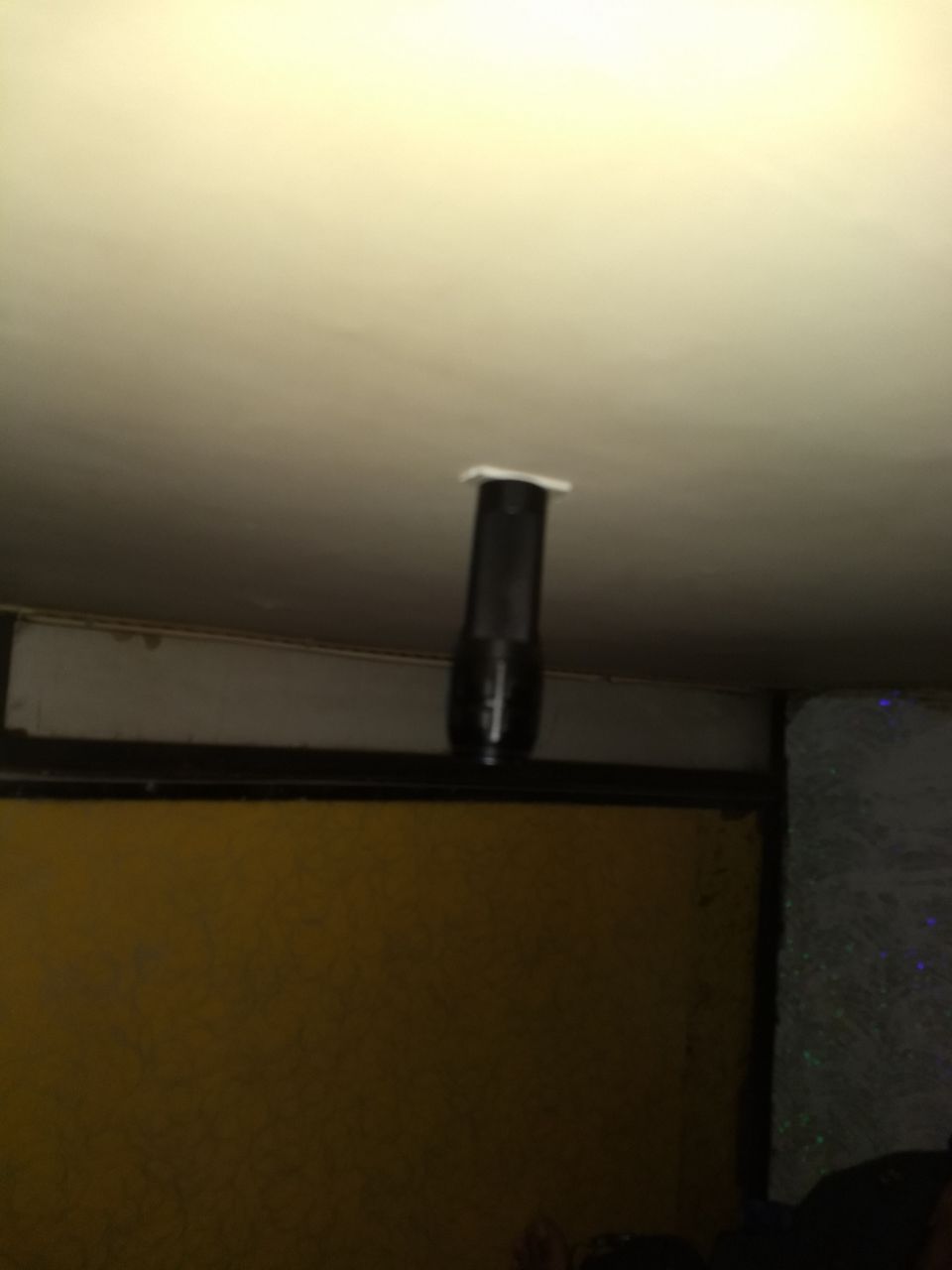 An early morning at the ISBT meant a 40 min wait to get an Uber, urban life had begun again.
Frequent searches leading to this page:-
dehradun holiday package, couple places in dehradun, best picnic spot in dehradun, places to visit in dehradun in june, nearby dehradun visiting places