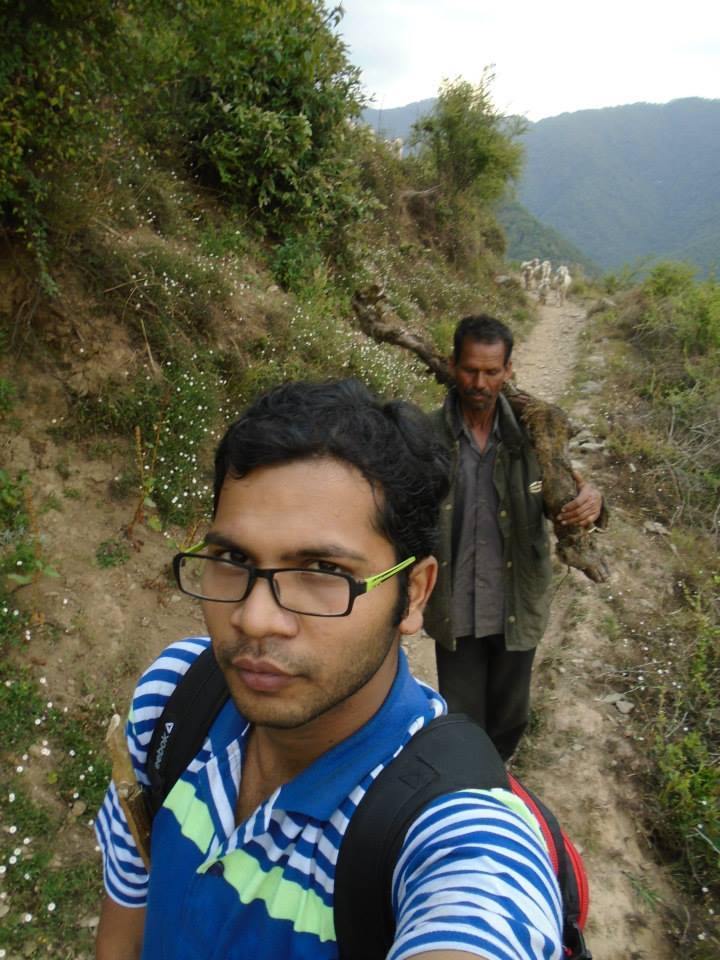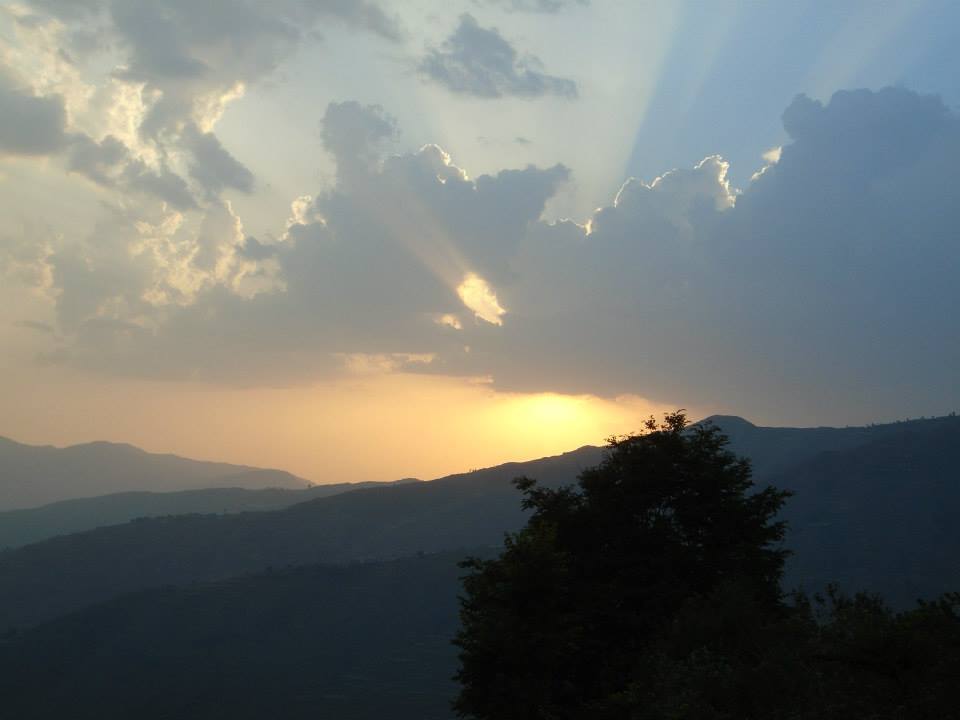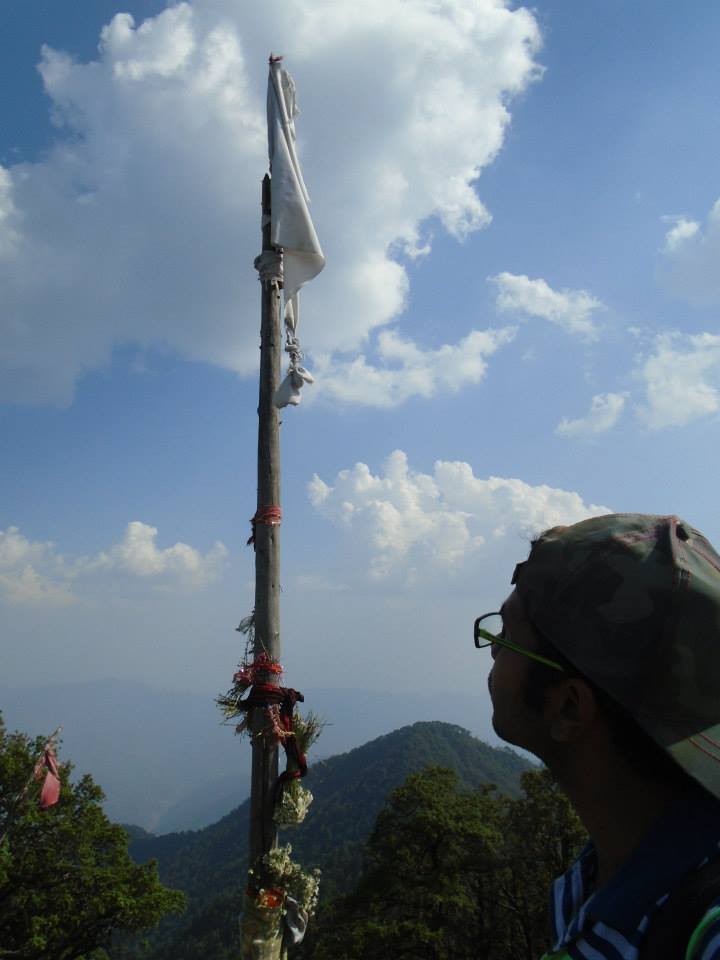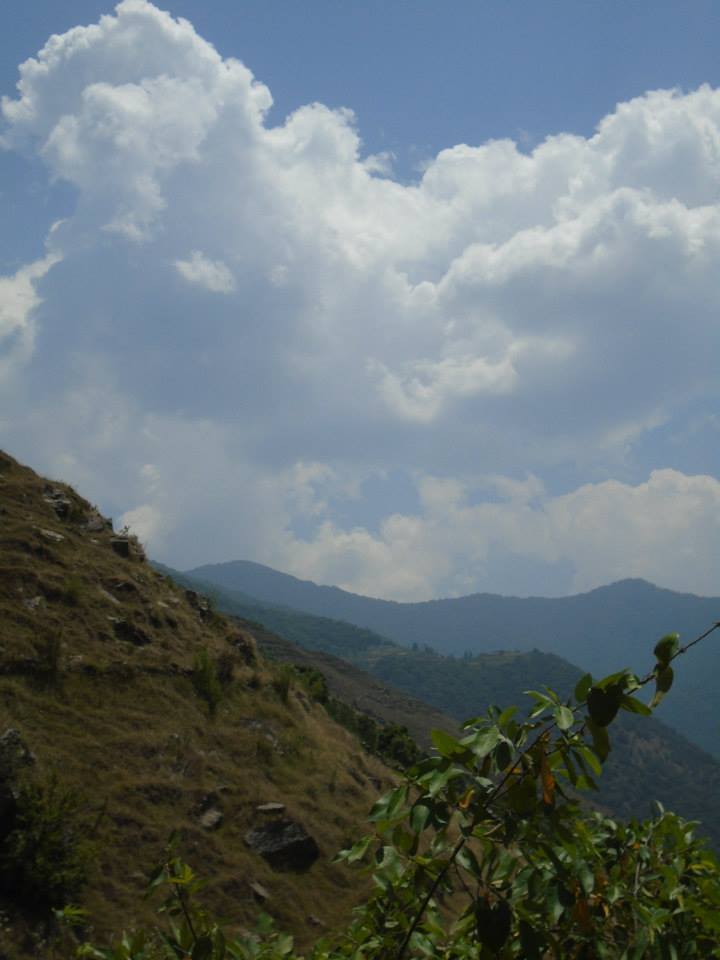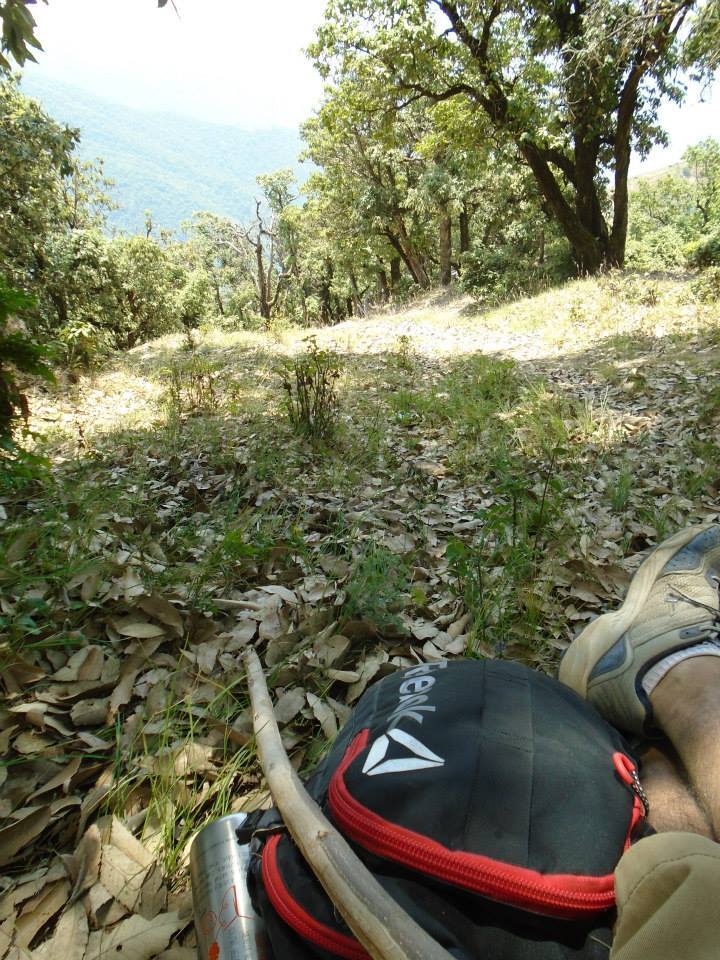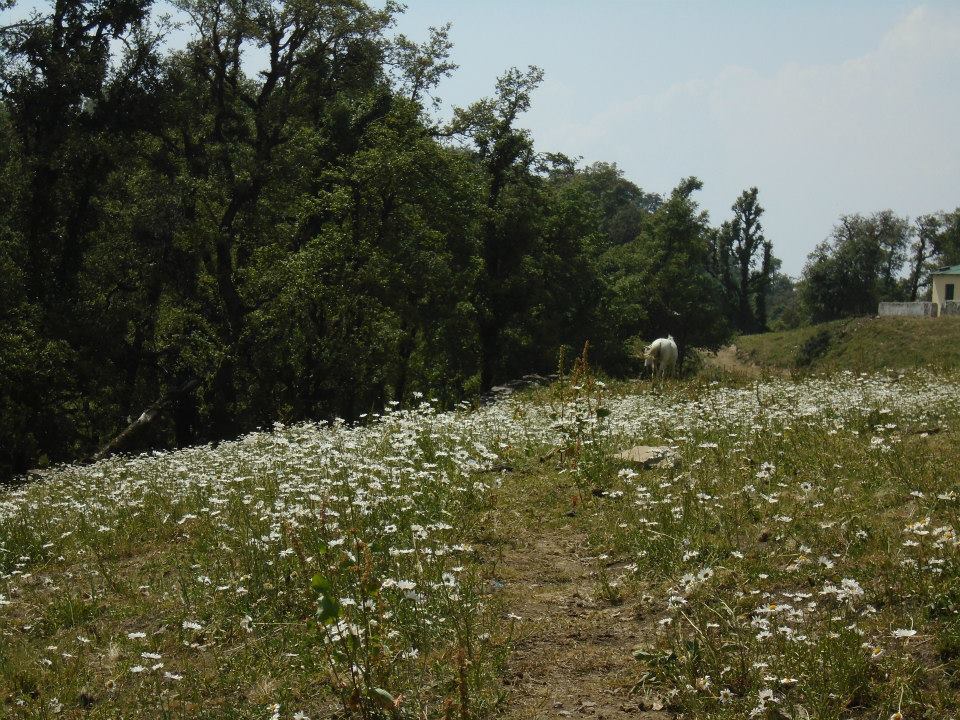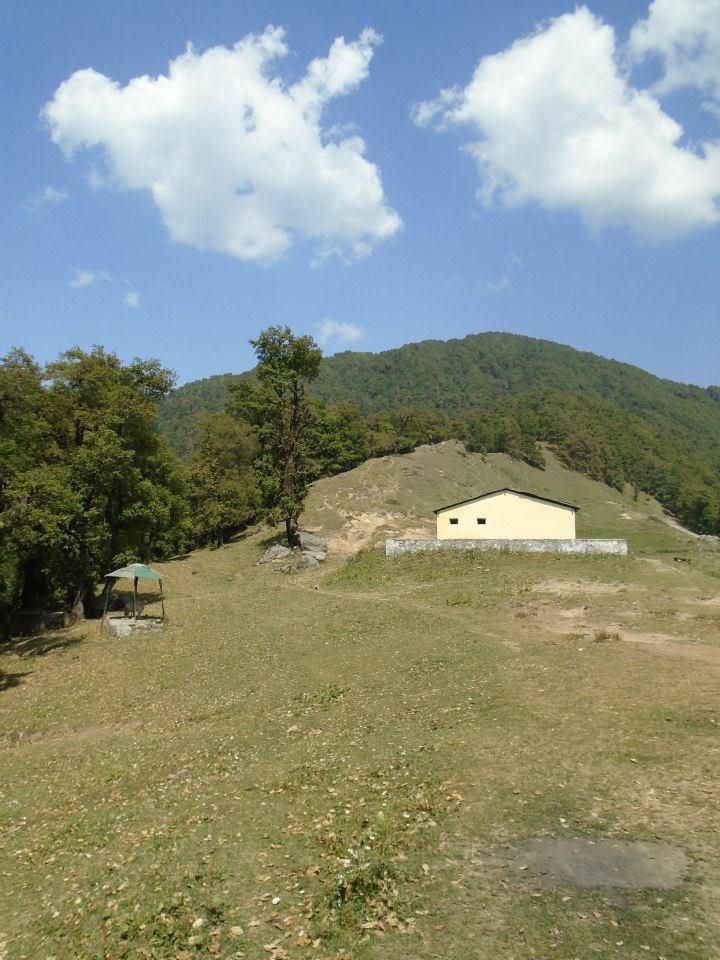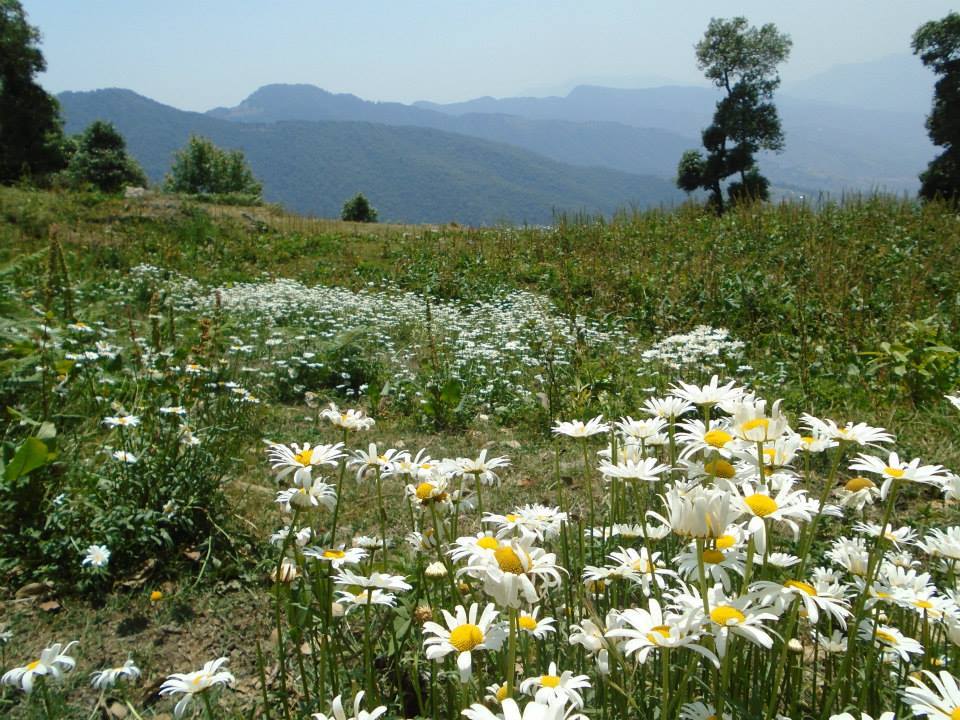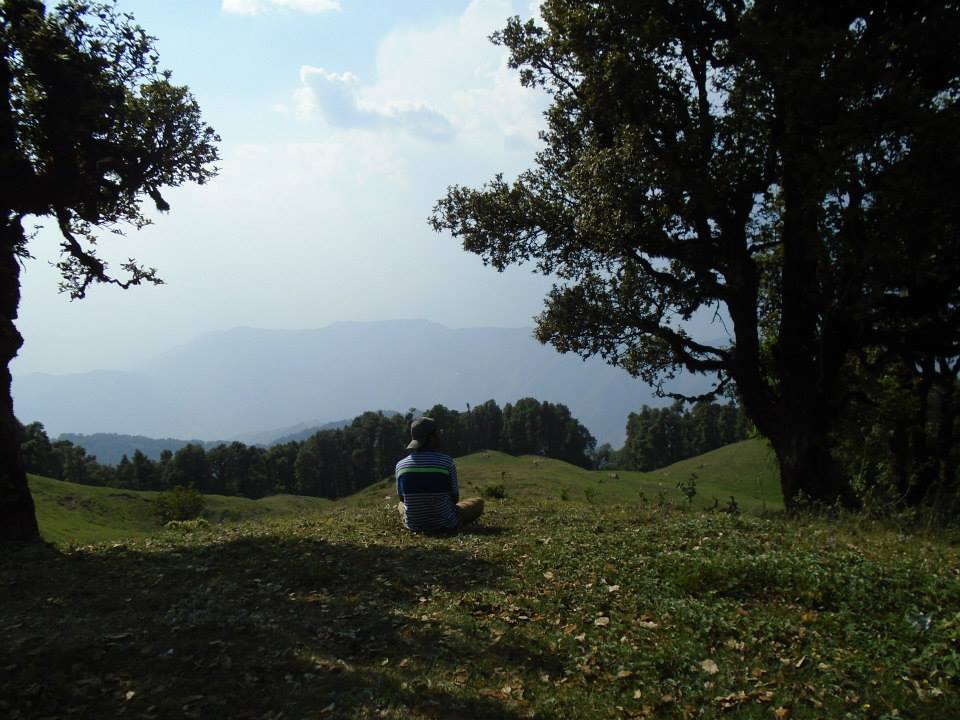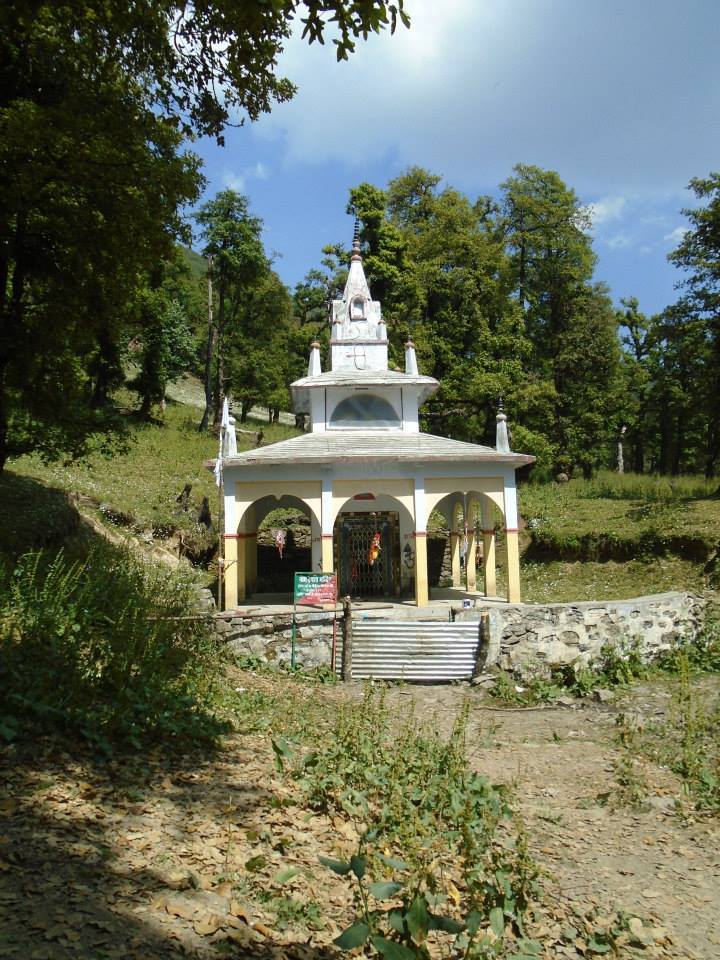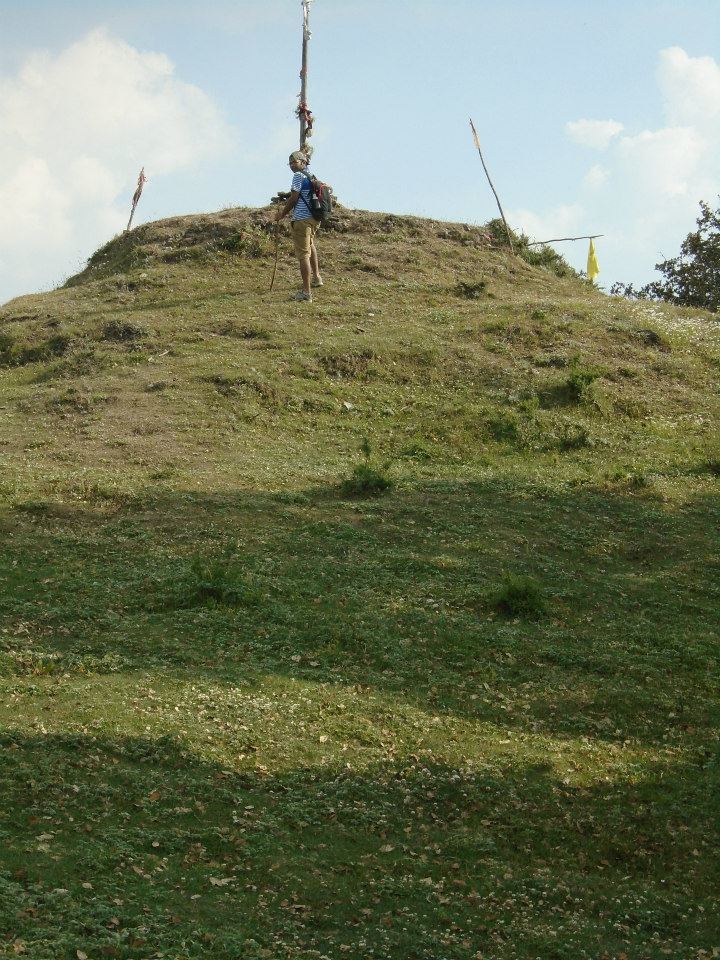 "Solo trek to unknown places is not a very great idea, if unprepared and not researched," is what I realized after this trek. Reaching Dehradun ISBT at 4:30am, I immediately left to Mussoorie bus stop in Dehradun by shared auto. The ticket collector didn't know Pantwari/NagTibba. Hence I opened google map and found that the diversion to Pantwari begins at Nainbag. Buying a ticket to Nainbag I passed out in the bus. After 3 hours of swift journey I got down a midst a market from where I could see a road going uphill. I learnt that there are only two buses that go to Pantwari in a day, but there are transport carrier jeeps that go frequently. Hence after having a brief breakfast I sat down at the junction waiting for one.
Finally I got into one such pick-up and it took around an hour for just 17km, for it stopped every few kilometres to either drop or pick something. Halfway I chose to stand in the back and feel the wind passing by my face. Pantwari is a very small village comprising of over fifty homes. I enquired about the accommodation at the top and if tents were available somewhere. No luck! They said it would take 3-4 hours to reach the tip and 2-4 hours to get down. Well, it was 10:30 in my cell phone. There was a possibility that I would make the trek on the same day, provided I push really hard. The people around were taken aback that I had come alone and had decided to trek alone.
Since there was no food source at the top, I bought 4 5-stars, 2 dairy milks, a pack of biscuit and an extra bottle of water. Stuffing these in my little bag, I began walking a midst the hot sun. Few kids who were engaged at playing started walking with me as well. They walked with me for a kilometre helping me with the direction. I was sweating like a pig and they took me near a water source. I drank from the running stream cupping cold water in my hands. I could feel my throat bobbing up and down. Relief!
As I continued walking alone, a villager who was taking care of cows was intrigued when I said I was going alone. He agreed accompany me till some distance. And hence we began our trail. After another kilometre of trekking, I could now see the tip of Nag-Tibba. It seemed miles and miles away. "Will I be able to make it?" was the first question I asked myself. Hope!
Bewitched by the dark green thick trees arranged in a perfect order, I was filled with both appreciation and fear. The body was getting continuously dehydrated and I kept sipping water. After 2 hours of rocky trek I was greeted by thick forest and dry leaves along the trail. I watched the trees blooming, bearing flowers, and shedding their leaves so that new ones can grow. Multitude of dry leaves welcomed me. I had thought that walking on snow is difficult after my Triund experience, but walking on dry leaves is equally challenging. You slip and the uncertainty that you have got a firm ground below is the same. As I was walking I remembered the line- And he alone who loses his way a thousand times shall have a home-coming, by Gibran. I was afraid of missing my way a midst all other greater fears.
At one point my body refused to move, my head was hurting and I got a sensation of fainting. I sat on a log of wood, ate the only pack of biscuit I had, drank from my second bottle and was thinking if I should return. I was left with 4 chocolates and about a litre of water. Mohanji, the villager told that we would find water on the way. After another half hour of trek, we took a diversion to a little pool of water. It was dirty and I couldn't imagine even washing my feet there. However there was another little pool just beside it where the water was fairly clean. I washed my face with it, filled my bottle and drank it. God! When you have no options! It was actually sweet and since my bottle wasn't transparent I assumed that water was super clean.
After 3.5 hours of trek I reached the base camp which had a yellow building with 2 rooms. It was locked. Few horses were grazing over green meadows. It was now fully evident that I had to return the same day. After visiting the Nag-Devata temple I sat thinking. I was short of food and water. By now I had only one quarter of a bottle of 1 litre. Was I aware of a concealed disaster behind my blind ambition? But I decided to continue to the summit point, the trail to which was quiet steep.
Halfway I finally found a person who was returning after having supplied food to four people at the tip. My joy knew no bounds when I heard that there were people at the tip. My pace suddenly doubled and I finished the rest of chocolates being sure that I would find food with them. It took about an hour to be welcomed by meadows and the sensation of achievement at 3000 meters. But I was looking for those 4 people. For some reason I began weeping, ran across, shouting for people. No response! I missed humans.
There was a severe solitude and painful lonesomeness, yet I contemplated the beauty around. A silence deeper than all silences prevailed. I saw my inner self smiling, crying, braving, fearing, appreciating and cursing. Engulfed by tremendous silence I took a deep breath and looked up in the sky. I saw an eagle hovering above, cutting the wind with its large wings. Wandering in desolate places is not easy is what I quickly realized. Yet I had a smile of fulfilment of hope and purpose, a smile of victory.
The mood of the sky was turning belligerent. I had to start back as soon as possible. At 4:30pm I began literally running downwards. I had a little plastic cover which I could use put my cell phone and camera if it rained. But the bigger concern was lack of food and water. What a duma** I was to go unprepared. My legs were giving up but I kept running with the stick despite slipping and falling. After crossing the forest I found goats grazing and sat there looking at them.
After 2 hours I reached where humans existed. Sitting by the side of the pool, I washed myself and drank. I don't know how much I drank, but I kept drinking. My thumb was bleeding. Huh! The sun was setting with its beauty and glamour. I wanted to bathe my soul in the colours of sunset. About half hour walk was still left. I had fresh energy in me now but my legs had completely given up. I sat down for a while and was drunk with dawn in the goblets full of pure air.
Reaching Pantwari, I just lied down on the road as if the world had ended. The villagers were surprised that I covered the entire trek on the same day. They had a sharp smile of appreciation. There was a restaurant open. I announced, "Bhaiya, jo hai dedo!" I hogged like I had seen food after ages and passed out in a guest house in an awkward position. After an hour I walked out and lifted my head to find that I was covered with heavens. Stars! I survived!
A true hermit goes to the wilderness to find, not to lose himself.
- Gibran