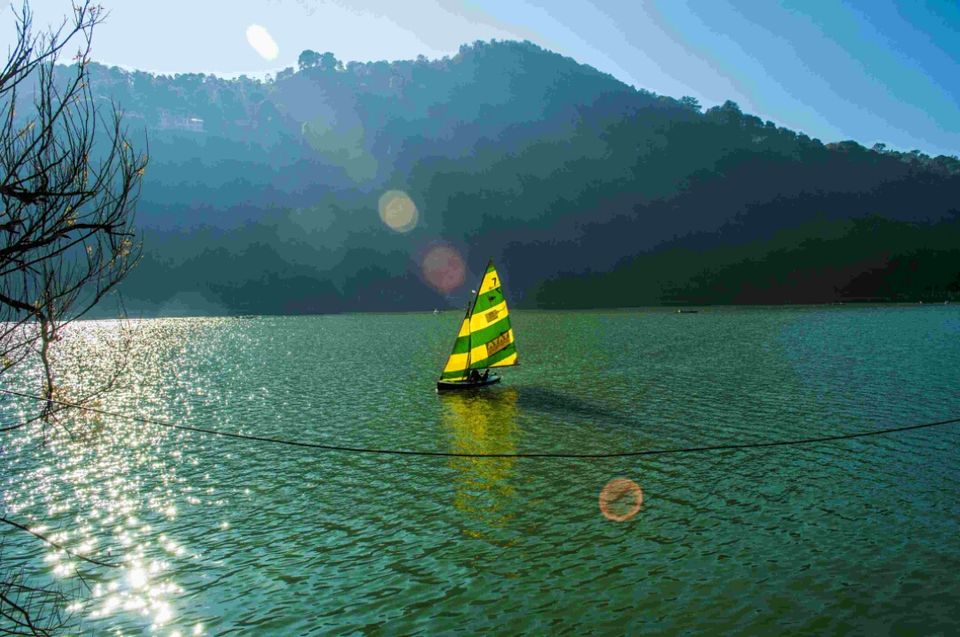 Apart from being a favorite holiday spot for couples and families at Himalayas, it is emerging as a exodus for solo travelers and adventure lovers. Here is my first blog sharing the story of my solo b'day celebration in the placid land of lakes, hills and serenity.
I board a late night train from Old Delhi which took me to clean and calm station of Kathgodam in the next morning. It was so cozy and romantic there that I regretted coming solo and missed my beloved. It is the last railway station of that zone where you can see the tracks ending in the feet of Mountains. In that pacific weather I was welcomed by the taxy drivers and I negotiated to INR80 for the destination.

Soon I was on the instagrammable way to Nainital with smoke coming off down the valleys from one sides and giant rocks, small dhabas and missionary boarding schools on other. But what bugged me off was the consistent fatigue and vomiting because of hair pin turns all the way long to 35 kilometers. After a drive of 1.5 hours I reached to the bus stand and on walking 30-40 steps from there I saw the famous Naini Lake with the chilling breeze. I board my hotel's taxi from there, which drove me to uphill. The room was going to be vacated by 10:00 AM and I had two hours to spend, I got out and enjoyed a must be needed tea to keep myself warm and walked towards the zoo on the hilly road. I sat there on a slope and figured out the small houses with post colonial structures and above my head was hanging a large bell of Indian temples, people were coming and striking it with devotion.


I was amazed as I couldn't see any temple around there and it gave me a spooky feeling coming out of loneliness. Still I continued to heat myself up in the morning sun rays, suddenly I saw a native lady there who did the same with the bell. I asked her out of inquisitiveness about it and she pointed out to the temple of Lord Hanuman on the opposite hill which is around 65 kilometers away from there, it filled me up with the eternal joy and made me take pride in Hindu rituals and their beliefs. Soon I walked back to my hotel, had breakfast and went to a deep sleep till the 4 PM.

In the evening I wandered around the Mall road, Naini Lake, Tibetian Market, Naini Temple and Mosque. Then I celebrated my evening with a pizza party with Solomons on the banks of Naini Lake (yes! It was my birthday that day and I felt extreme composure while celebrating it with one and only me). Walking opposite to the Mall road around the Naini Lake will give you an eerie feeling because of dark, long trees and dense bushes with no men around but it was worth going there. I had my dinner at one of the good food offering restaurant at mall road and came back to hotel around 10:30-11:00 PM.


Next day I woke up early and rented a bike from the Petrol Pump near to the Naini Lake. Riding a bike on outstations, especially on some ravishing roads like mall will give you a feeling of being a proud localite guy. Police and administration were very strict there and always on round, localites were very friendly but the addition done by school going beauties in the grace of Naini lake was impeccable and inimitable. My day began with morning prayer at The Church, established in colonial period with an astonishing cathedral architecture. I had my morning tea and drove towards Sariyatal (I enjoyed Maggie there when it was banned! :D) and Khurpatal (two beautiful lakes amidst mountains) via tiffin top (I didn't went there because of parking problem and shortage of time).


Tiffin top is a view-point located on the top of hills, where you can go by riding a mule or having a trek of 1.5:00-02:00 hours. Further, the ripples of waterfall out of Khurpatal are so pleasing that you must spend some time there in the shade of trees. While going back I stopped at Land's End view point which was extremely alarming as the name suggests, it was adventurous to watch those lakes from there.


Then I went on to Himalayan View point at Pangot village which was entirely a treat to eyes. You can watch to the cantonment area around the Chinese border, a range of Himalayas with unstained white snow spread over 360 kilometers via Tibet and China border. I rode back to Nainital and visited Cave Gardens, a Gothic structured place with a personalized jungle. I had my lunch on mall road and by that time it started to become cold with wind. After taking rest at my hotel for some time I left for Sattal, Bhimtal and Naukluchiatal.
The way to these places was picturesque with passengers waiting at bus stops beside trenchs, in the way there are many view points from where you can click many small villages, valleys and forests. Adventure lovers can also go for para gliding there. All the three lakes were rich in natural beauty but they need attention of the concerned authorities for the cleanliness. Watching paleness of dusk while returning back was immensely satisfying. It was a cherry on the cake to enjoy bike riding on such twisted roads. I came back to the Petrol Pump, took some heat from the bonfire there and went for dinner.
Next morning I left for the Delhi with memories of a mesmerizing Birthday trip.
Tips : Don't forget to carry jackets and gloves if you are planning for a bike ride. If you are vulnerable to fatigue then carry necessary medicines with you because those twisted roads all over the city with delft will surely going to give you headache atleast once.