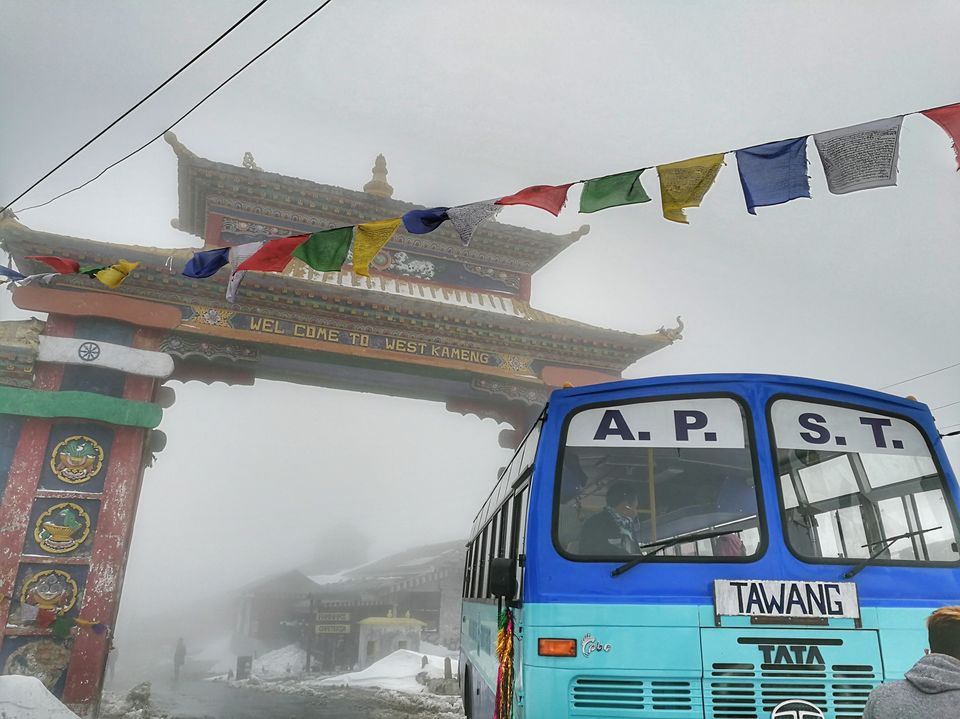 Hey friends,here is a description of my super awesome trip to West Arunachal.A trip in which apart from flight bookings and hotels at Guwahati and an e ILP for 10 days,Nothing was preplanned.Just a rough route in head existed.:)
Day 1 & 2:
After an evening flight to Guwahati,I first went to ISBT even before getting to hotel to enquire about the Bomdila bus for the next day.Just got to know to come early,and look for APST bus near the exit gate.There will be private bus dalals here, dint give in to them,I always prefer government buses for my tough terrain trips.Post which i reached hotel and got prepared for the trip to come and reached ISBT early around 4 am the next day .Found 2 APST buses,no destination displayed.And just waited in the ISBT, periodically checking the buses movement.The early morning incessant rain was not helping in this.Around 6, i saw the driver approaching towards the older of the 2 buses,the white one in fact is the one for Bomdila. The bus started in some time and i found a group of 4 people ,as well as an army guy and started talking to them .I was in full spirits and the atmosphere was quite energetic,never mind the old bus ,in an almost sorry state.The twists and turns awaited.
I started clicking and the subject was the mighty brahmaputra .The early morning sunrise provided for pics :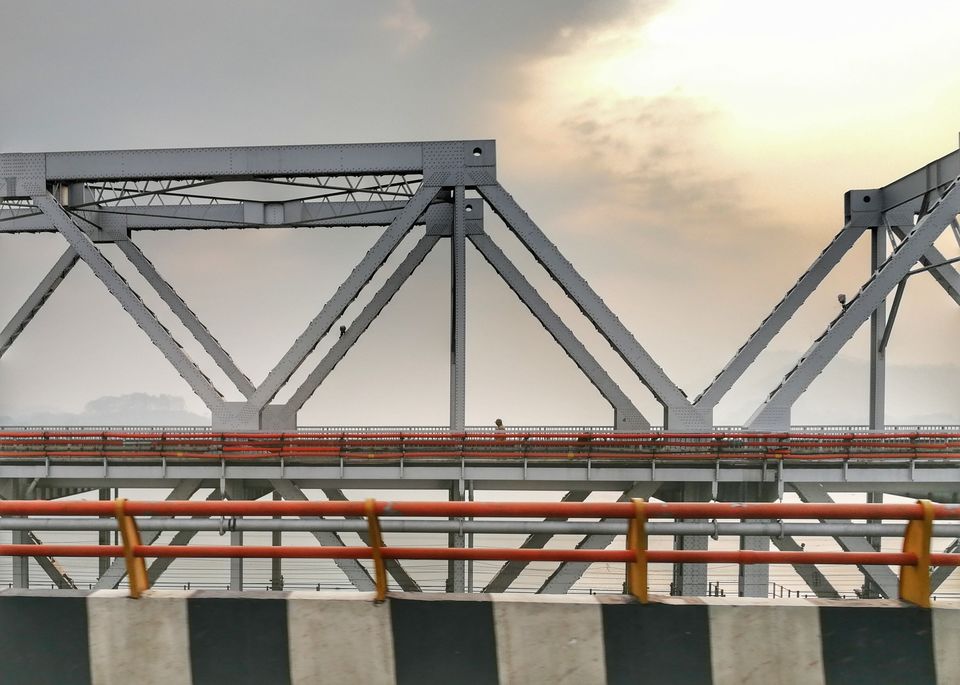 By afternoon we reached Bhalukpong,the gate to Arunachal wherein we had a super good lunch at a dhaba and clicked some epics like this: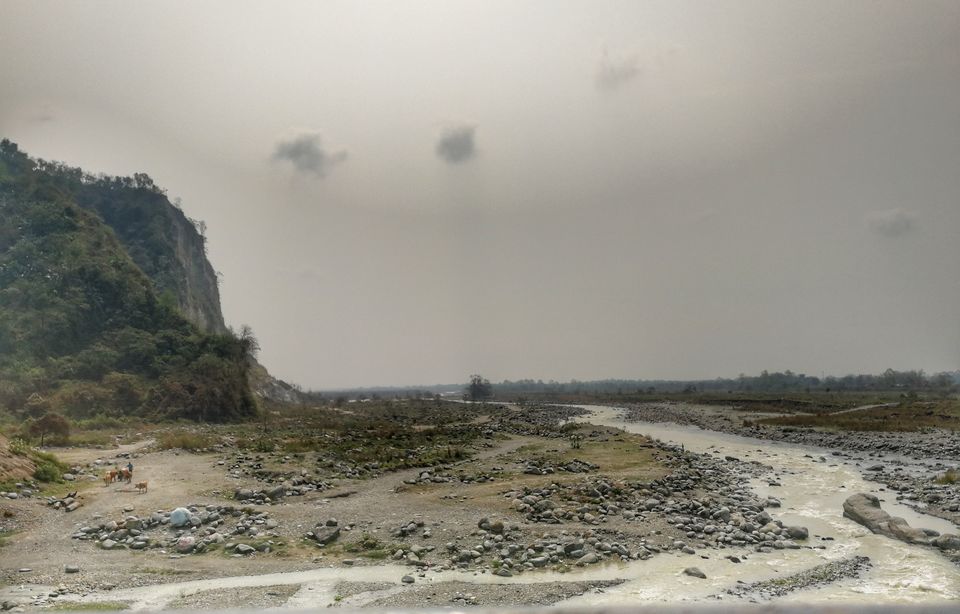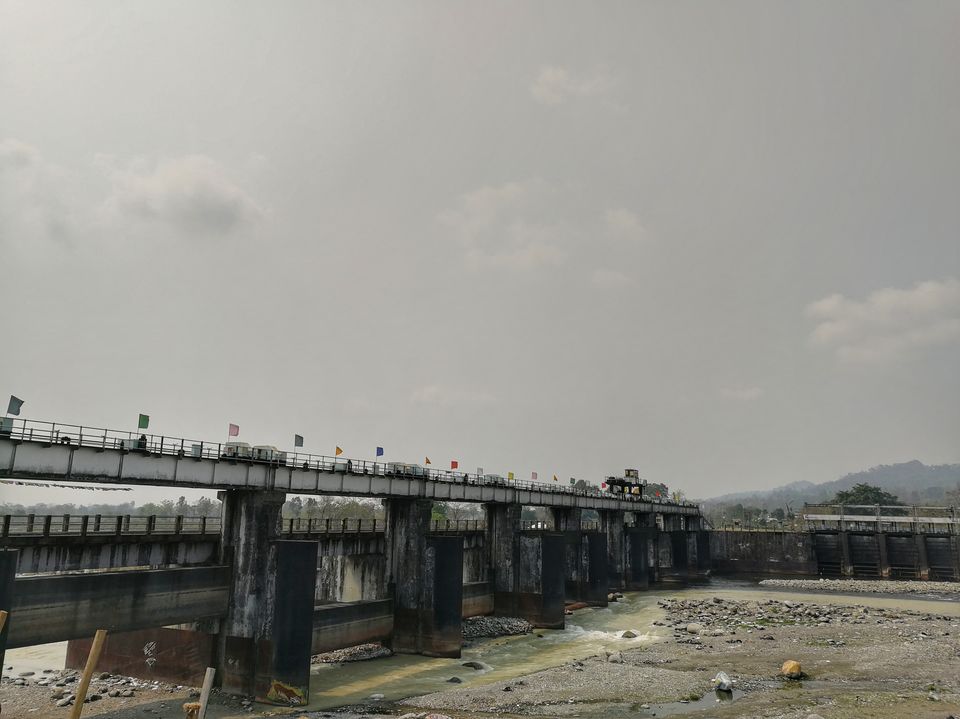 This falls very near Bhutan border as well and this is the place where ILPs were checked.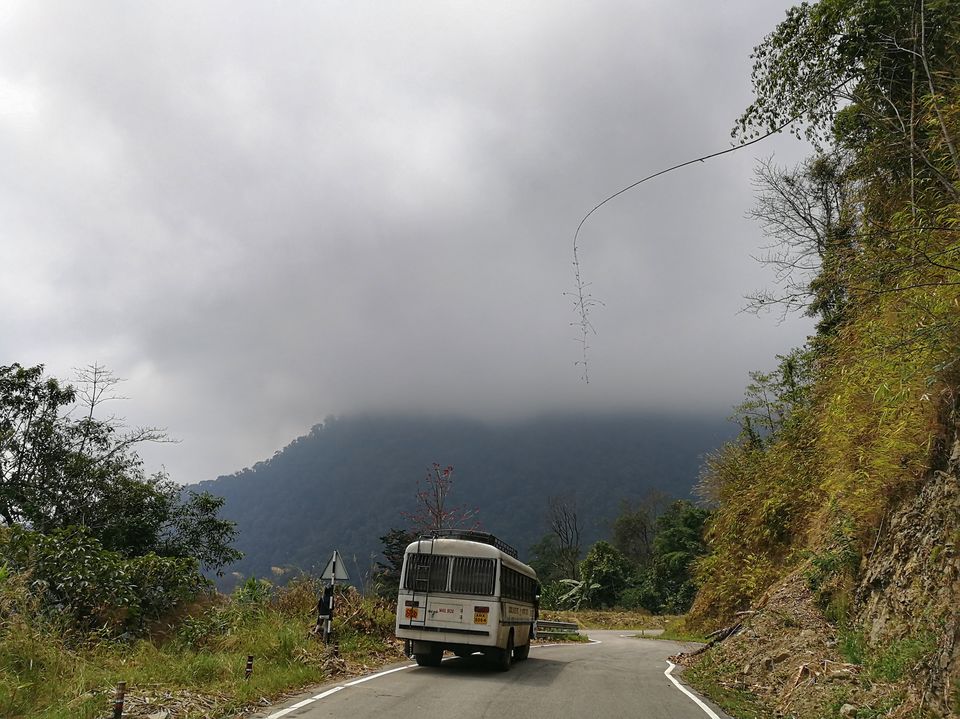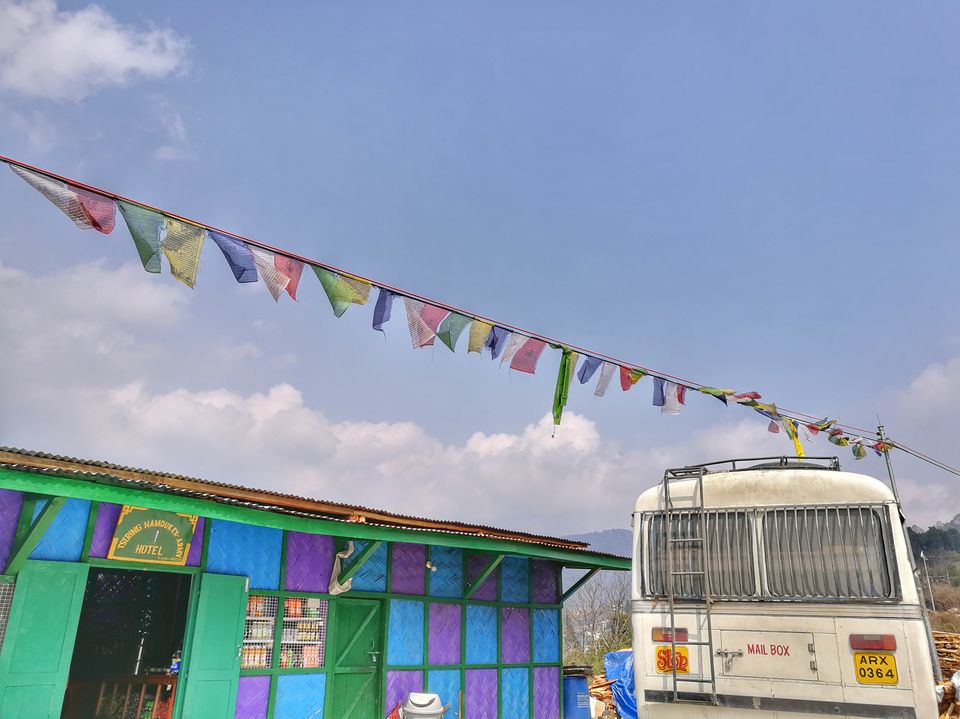 And then started the twists of mountain roads and some pretty villages passed by.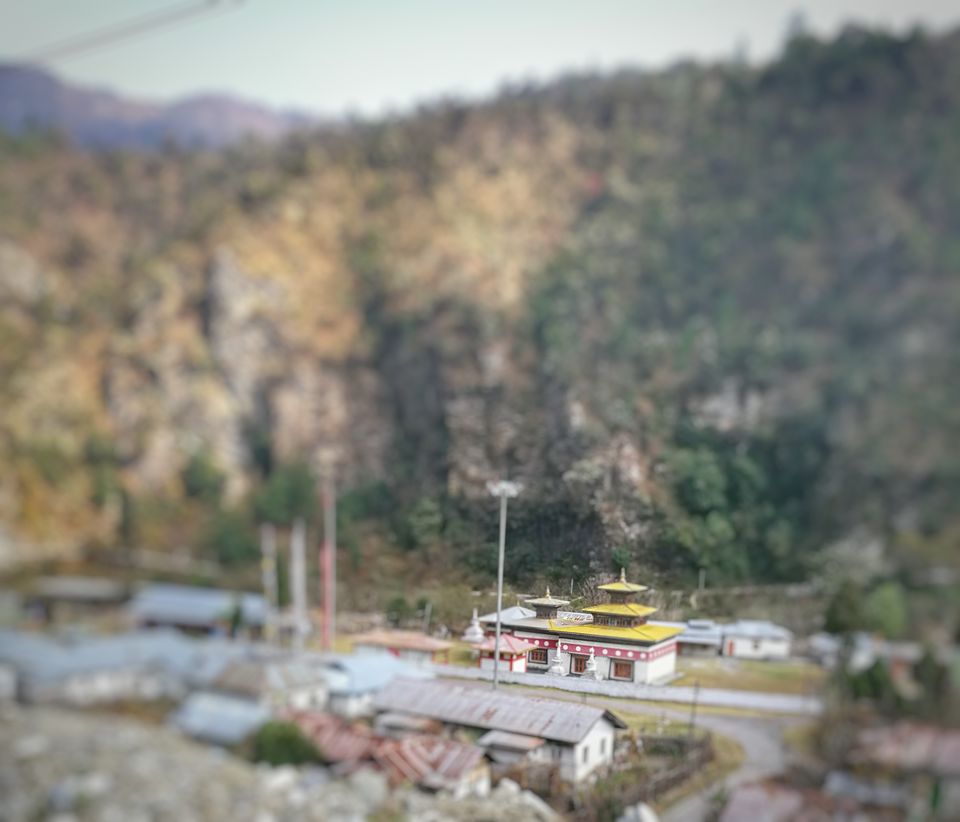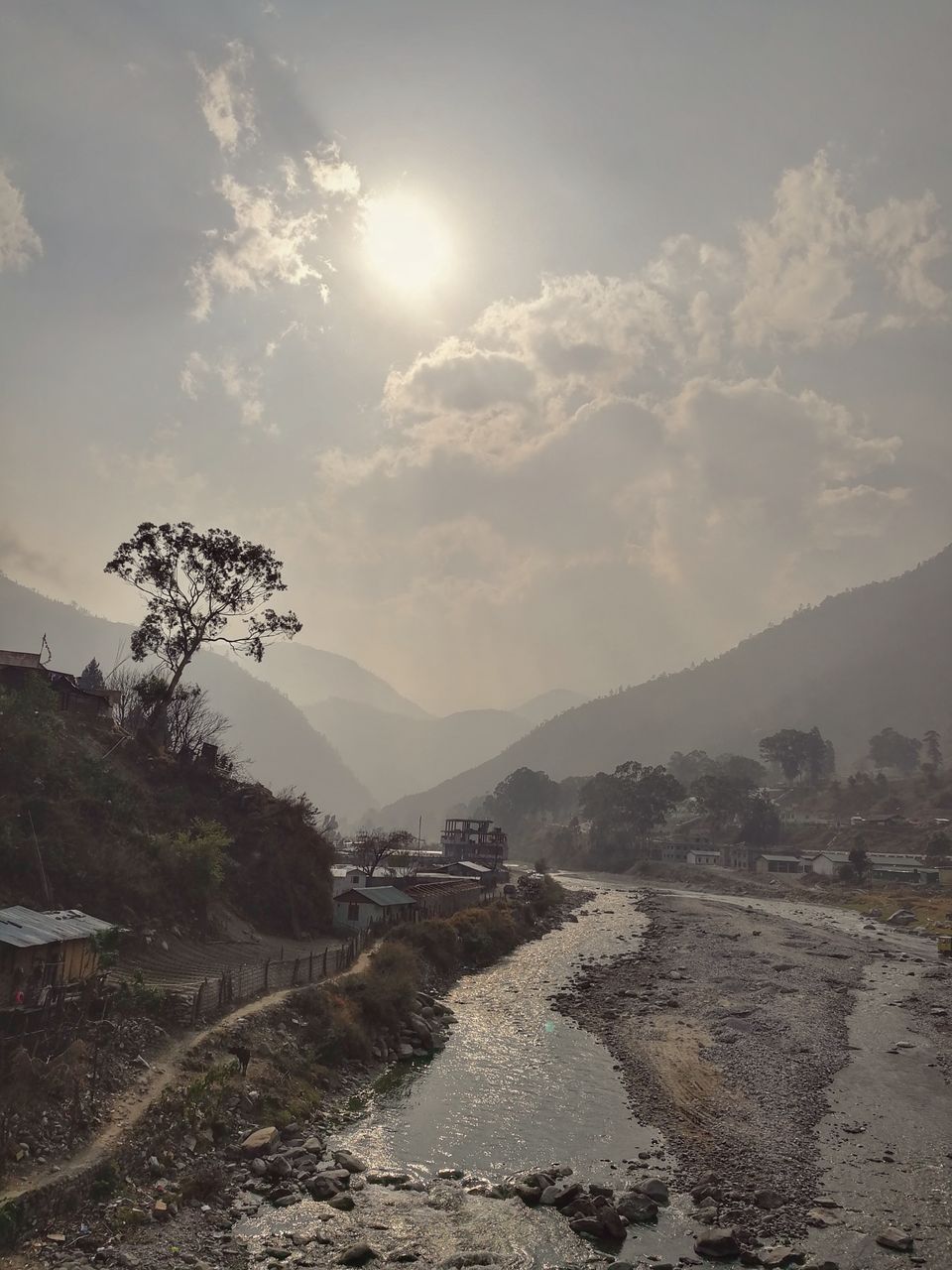 And there was a chill in the wind and the bus started the ascent and after one more food stop we reached Bomdila by 4:00 pm .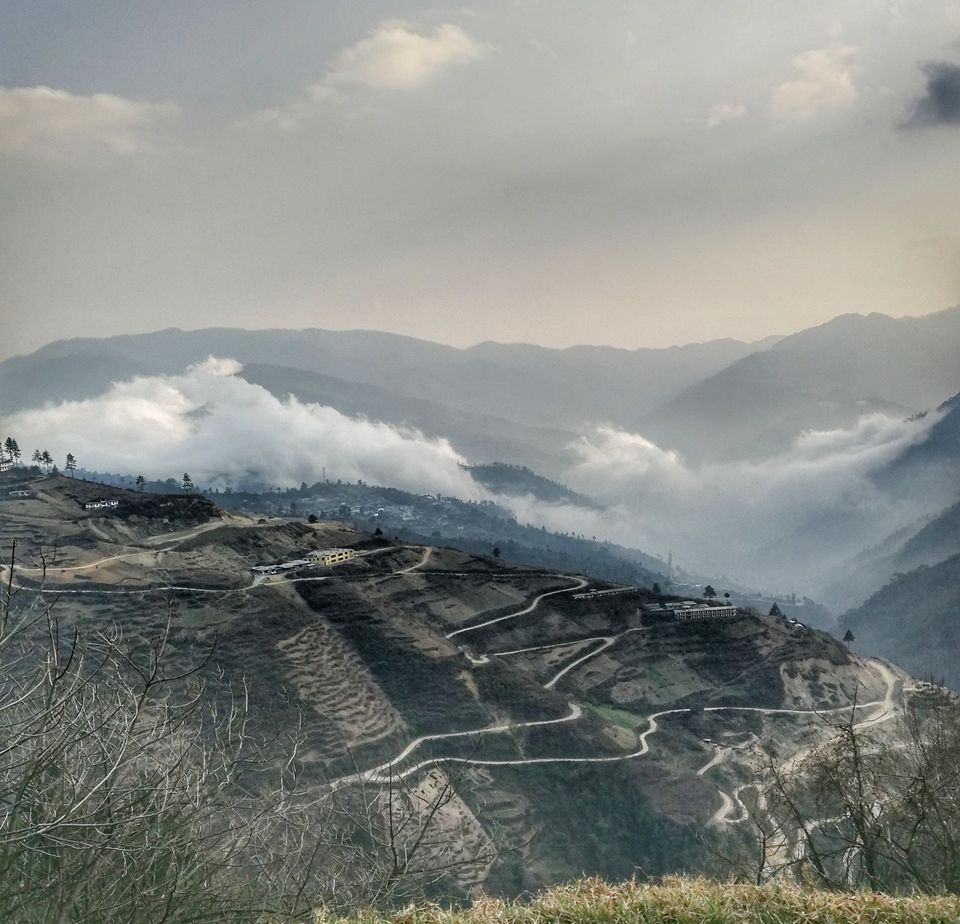 I started looking for stay.There was another solo guy that had been in the same bus and we stayed together at a room in Hotel La.This was very near to the bus stand.I was taking a bus to tawang the next day early.I just walked nearby searching for food.Bomdila was super cold with temperatures around 3-4 degress, and slept early for the epic travel that awaited the next day.:)
Stay at Guwahati:
Spring Villa Guest House
Double Bed - 700 INR
Stay at Bomdila:
Hotel La - 9402613441
Double bed- 800 INR
APST Bus Guwahati to Bomdila
460 INR
Day 3
We woke up early to catch the bus at 5:30 for Tawang. By now, we had become a group of 6, the group of 4 and my solo roommate at Bomdila. The APST Bus this time was a blue and new one and the driver was a young one as well, enough to boost up the spirit of our group. A lot of excitement was generated through discussions about the snow-covered Sela pass.
The bus started around 6 and as we bad goodbye to Bomdila, we were treated to this sunrise: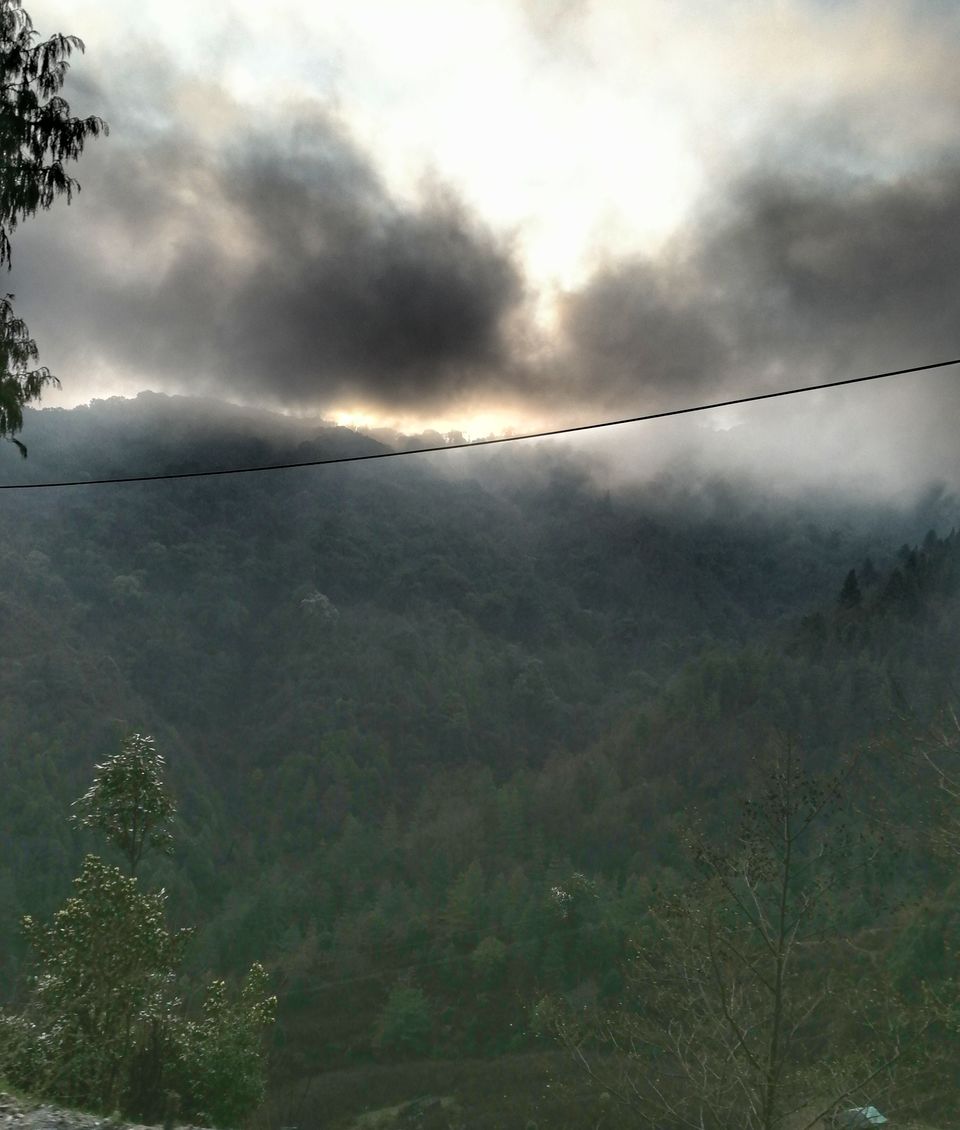 Losar festival was coming to an end and the villages and towns were still decorated with the next town being the picturesque Dirang.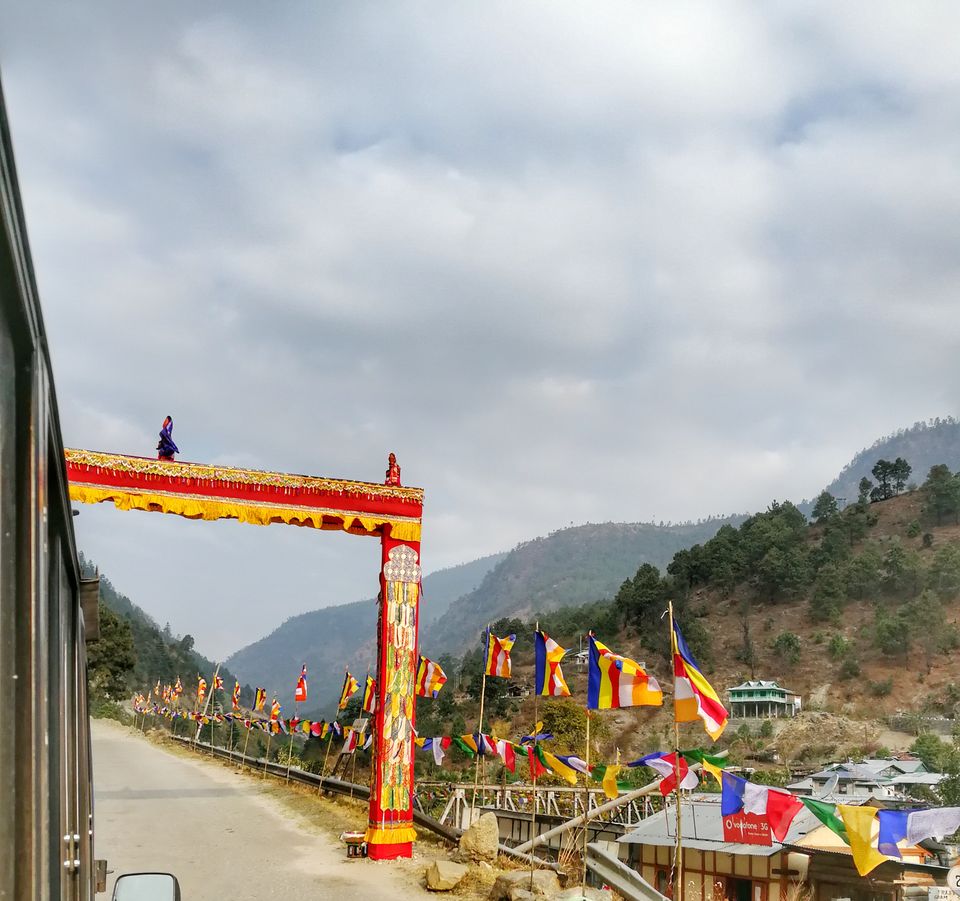 After a short food stop, the bus started again and the ascent of the roads and the chill in the wind increased. And we could start seeing some snow on both sides of the road.
Stunning views At the Sela Pass,welcomed us and we were at a height of 14000 plus feet. The driver did stop for us to click some awesome snaps.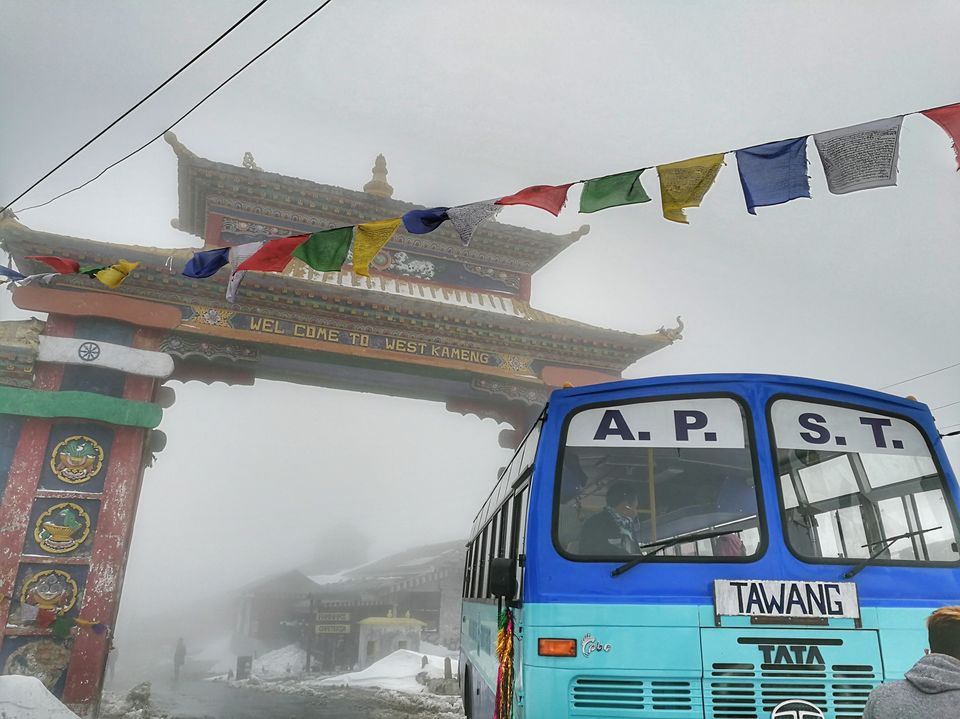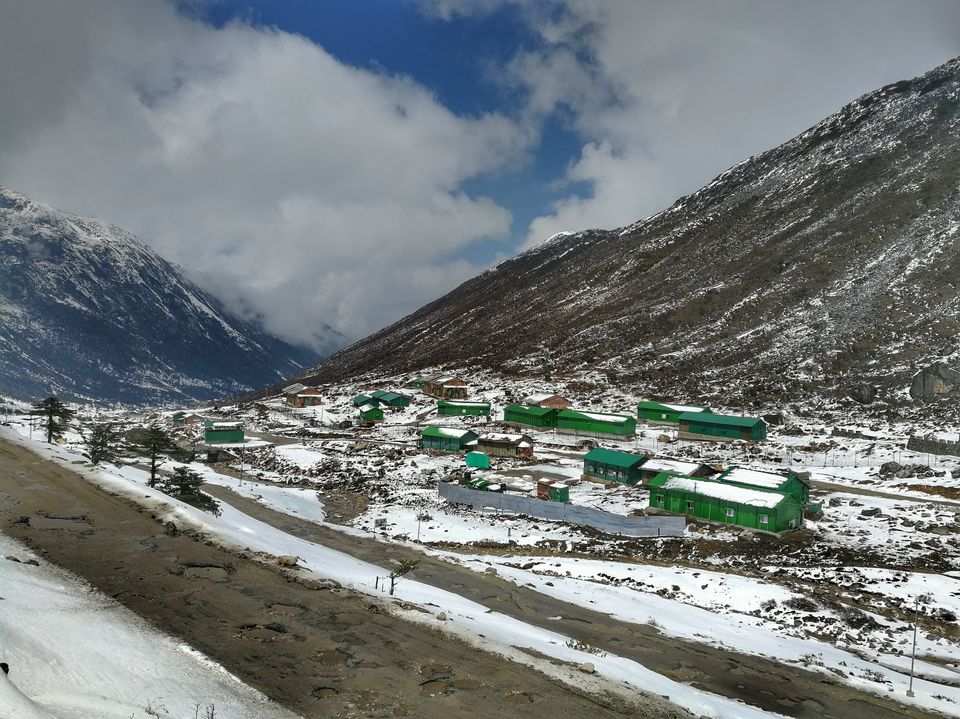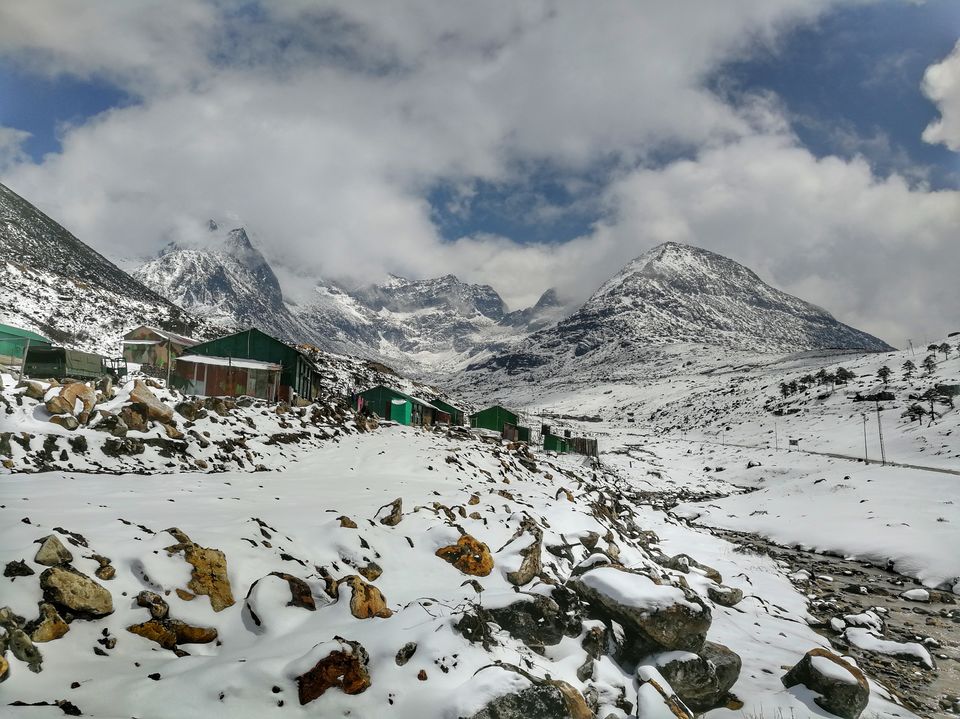 The mesmerizing snow views kept exhilarating us for half an hour. We were stunned at the beauty and the driver was quite helpful in driving at a super slow speed for us to capture moments of a lifetime.

I had missed clicking yaks the last time at Spiti. This time i didn't miss to click the majestic as well as shy beast.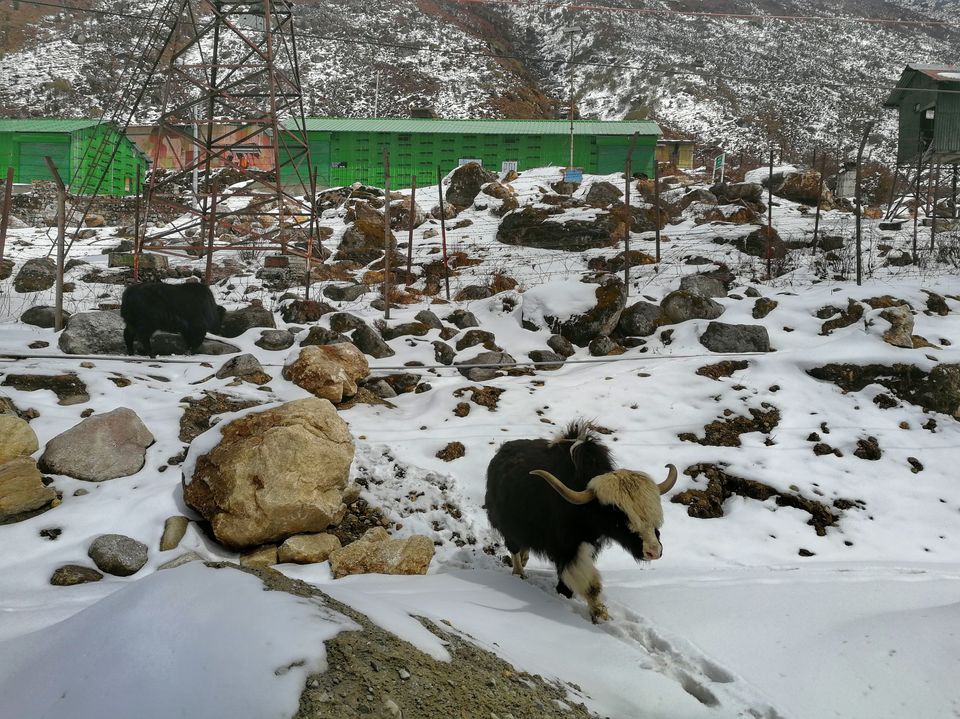 After the overwhelming experience of snow, the Jaswant Singh war memorial came and the bus started the descent and stopped at some pretty places for food again.
We reached Tawang at around 2:30 pm and then start deciding for the next day trip up to Bum La Pass.2 of us were involved in formalities to get id proofs and ILP copies. Apart from ILP, a separate pass is required to go up to Bum La pass, near Chinese border which gets done by the taxi drivers on the day of travel with both id proof and ILP copies. Meanwhile,i started looking for stay options nearby and luckily got one named Hotel Massang, near the bus stand again.
My friends also got stay in the same hotel. I had lunch and was determined to cover at least something nearby the same day.
I walked up to the Giant Buddha statue nearby. Tawang has some shortcuts with stairs leading up to higher altitude places. The stairs can be quite slippery, plus the dogs were a bit hostile as well. I fell twice while climbing these shortcuts. But all the effort put in led me to a pretty spectacle.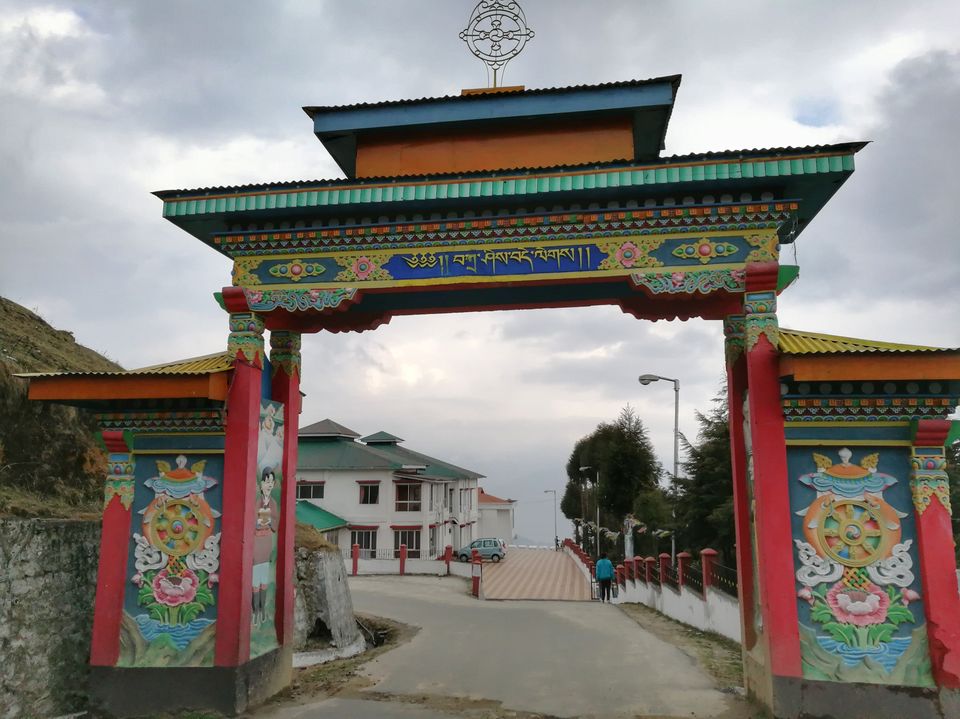 The Giant Buddha Statue overlooks the town and is quite picturesque. The ascent was worth it but made me a bit cautious of the town walks as I have a fear of dogs.
I roamed around looking for food again and found an Assamese restaurant and had a sumptuous veg meal, and walked again in the market. The town sleeps early and by 7:30 pm, most shops are closed.
Airtel and BSNL were working perfectly okay , with few inconsistencies and I was told that Vodafone works even better. After some social media show off, i slept, full of hope and excitement for an awesome next day.:)
Stay At Tawang:
Hotel Massang - 9436692465
Double Bed -500 INR,After negotiating
Doesnt have geyser,A bucket of hot water for 50 INR
Day 4
Woke up early and was all set for a journey. A journey that might take us to places literally, meaning the China Border i.e Bumlaa pass.
Getting journey ready through the snow meant extra layers ,be it clothes or warm oil.I had bought the evergreen protector,mustard oil and did apply 2 layers before covering myself in a pullover then a tee and my friend for a year, my jacket.And we were ready by 8, our group and bought some food for our way and reached the taxi stand.This is just near the monastery near the bus stand.The wait for the sumo was long and around 9 we started.I was well versed with the places to cover and sat in the front row and started bonding with the driver his helper guy and reached a check post wherein the passes as well as ill was checked.
The army there was unsure whether we would be given an opportunity to go beyond Y junction, as there was a high official movement the very day.Tawang has always been a sensitive area post the sino indian war and the land beyond Tawang upto the border is under the Indian Army control.
Still we had hopes and we started ,and again the majestic snow appeared in no time.The area was white with conifers and looked like a wallpaper and then arrived the super awesome pt tso lake, we stopped for a while, clicked a lot and then again continued our dreamy journey.The lakes were in abundance and we were getting wowed every moment.We reached y junction and were asked to return by the army.They did not give any explanations.We pleaded for a while but were unsuccessful and we had to return.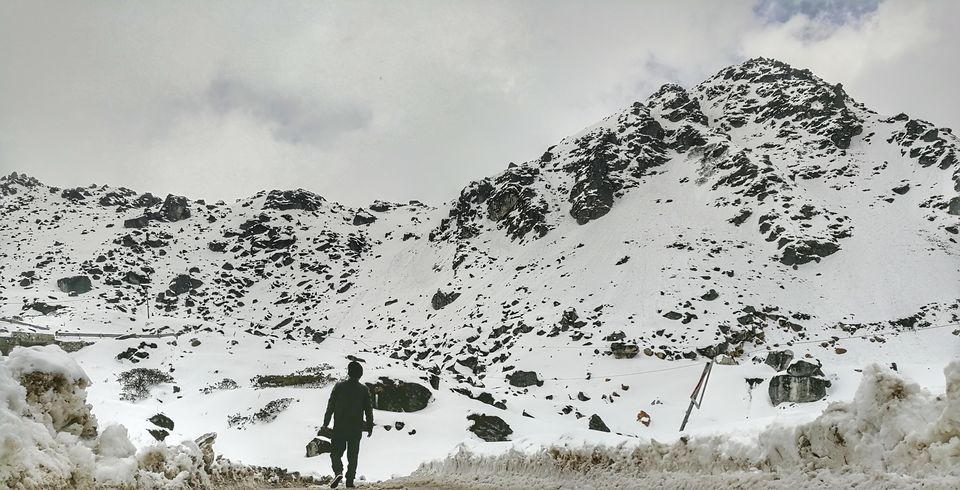 Returning time there were some dejected faces as we did miss the awesome Madhuri or Sangetsar Lake as well as the Bumla pass.But the driver cheered us up by stopping again near a pretty lake as well as pet so again where we clicked tons of pics.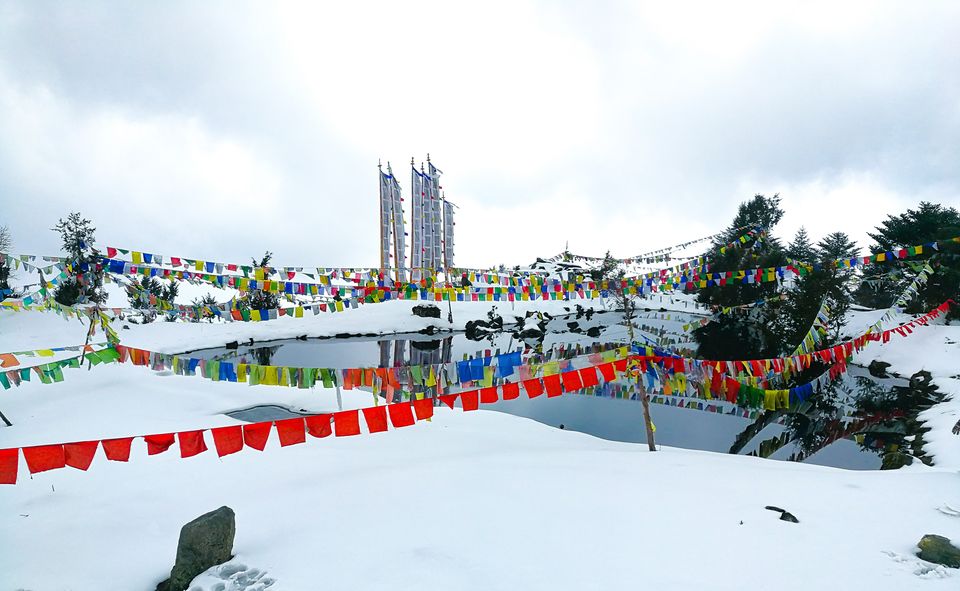 We started deliberating as to where else we can go as we had missed a major part of the journey .I knew about Jang falls and asked the driver who in turn agreed to it and we started or descend.It took us some time to reach Jang that is 24 kms down from Tawang and boy, another spectacle it was.We clicked a lot near the falls and had our lunch .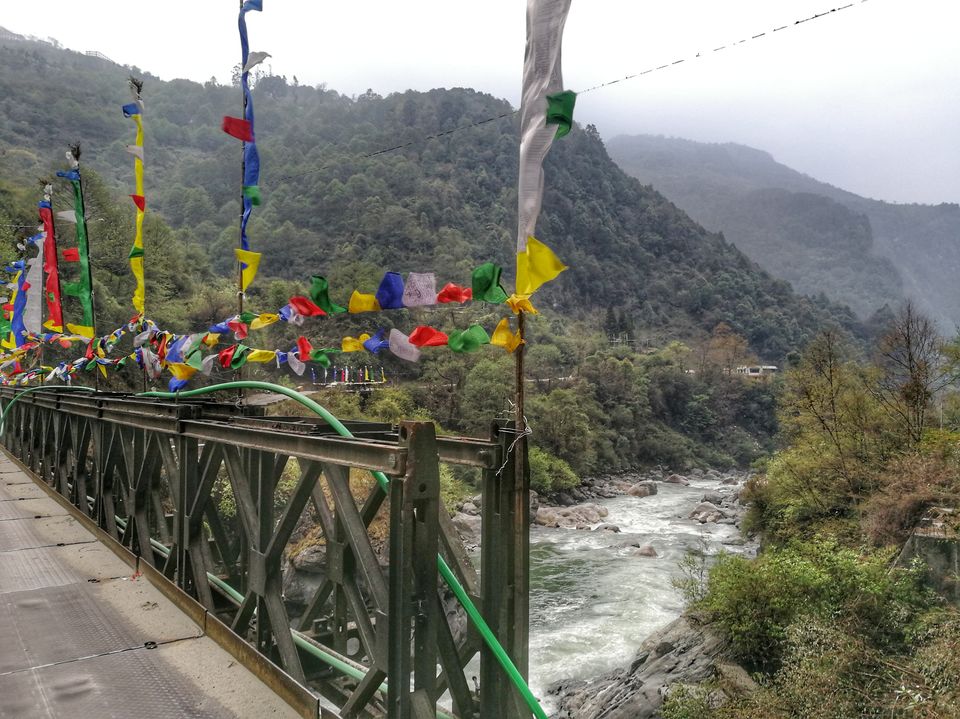 We started the return journey and me and one guy got down at the war memorial to witness a flashback of the sino indian war of 1962 where we were immensely proud post the light show and walked back to our hotel and had our dinner in some time and talked about the next day wherein he told the entire assamese gang had plans to leave the town the next day.
It was quite a stunning day and after a bit of social media flaunts, slept off, unsure of what to do the next day.
Contact Number for Taxi Driver
9774868286
Day 5
It was morning rains that decreased the temperature below 8 in Tawang.I was undecided about what next. The previous day had talked with the taxi driver about Zemithang ,8000 to and fro with an eve stay so it was a out of budget.My group had left for the early bus to Bomdila and I was checking the weather forecast of the places around and it was rains everywhere. Then i decided i take an off day with just a walk in the town after 4 days being on the move and slept again.
I woke up around 9 and then got ready , had breakfast and then walked upto the Tawang Monastery which is the second largest monastery in the world.I was treated with awesome views of The giant Buddha that towers over the town as well as the beautiful monastery during my walk.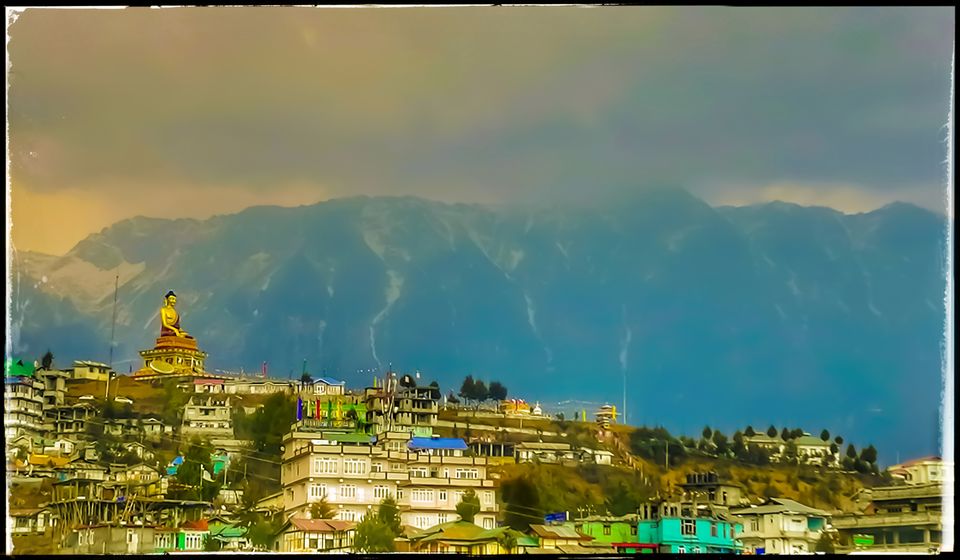 I reached the place and i was awestruck by its beauty,grandeur and vibrance.It had a centre of learning, hostels for a large number of ever smiling and happy monks,a big library and a museum.I took lot of pictures with the monks who were quite cheerful to do so and even offered me tea.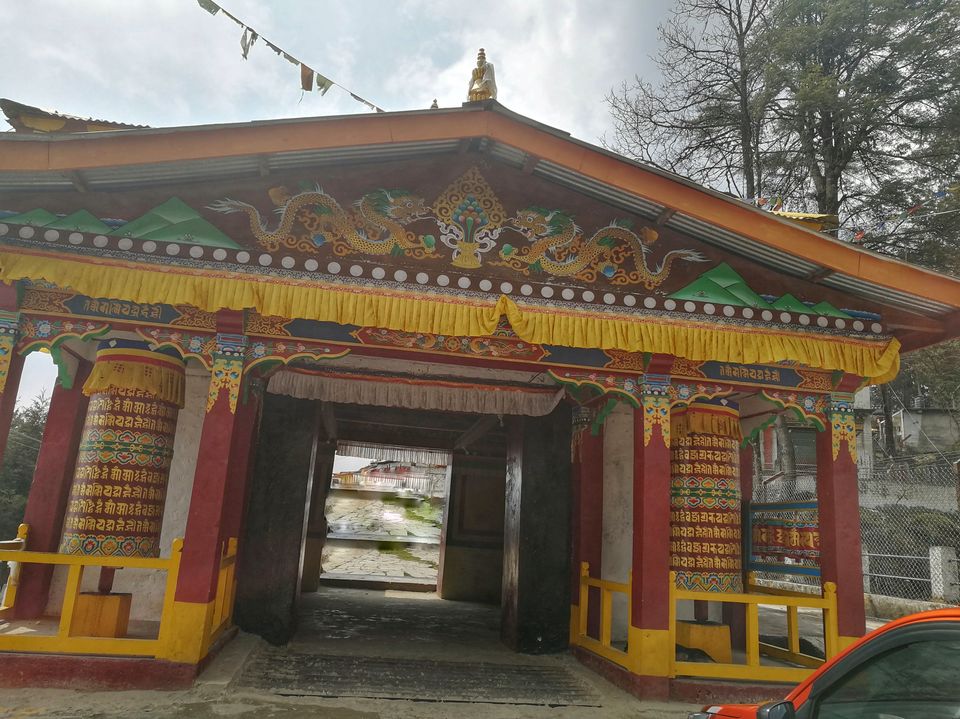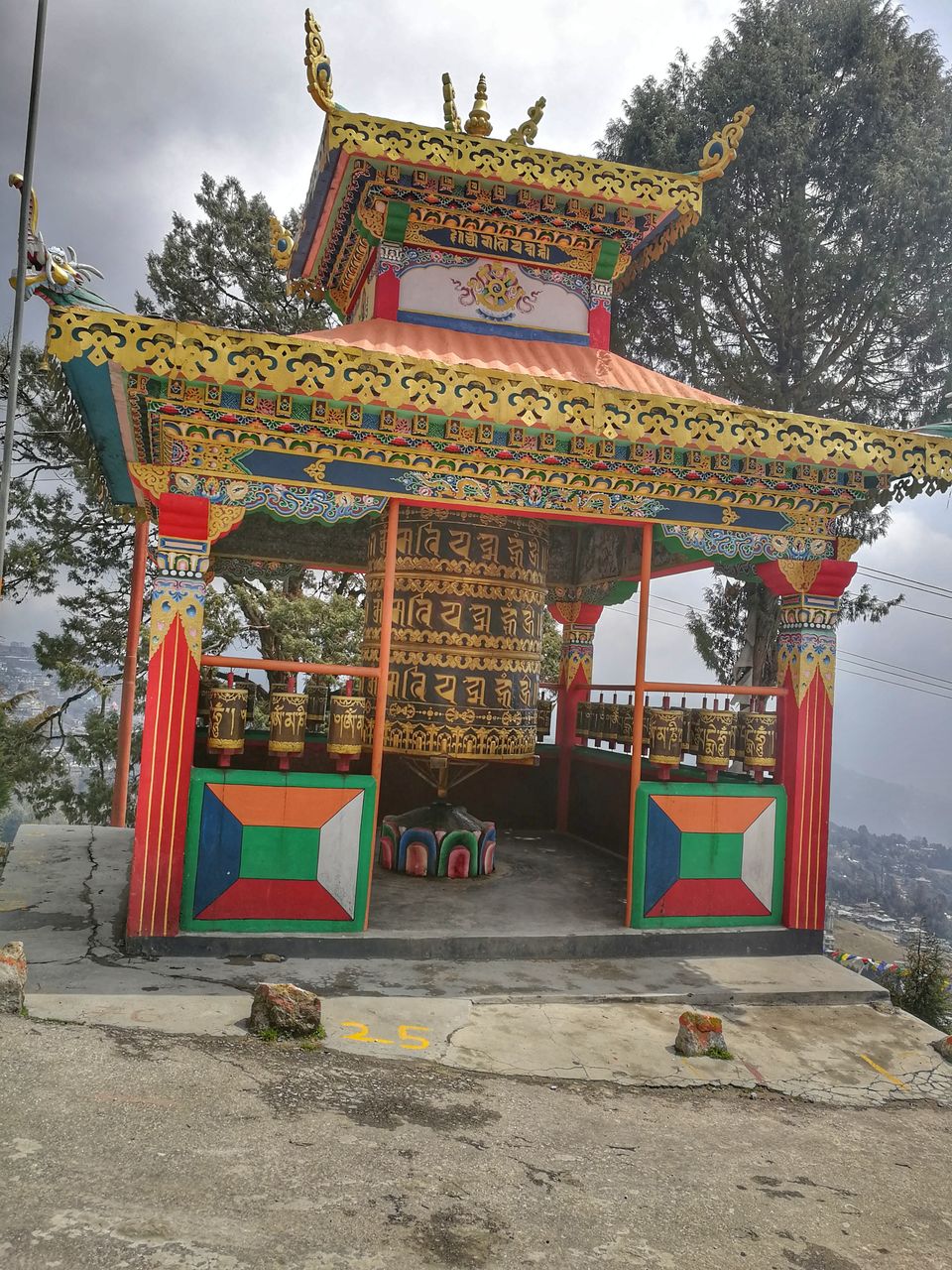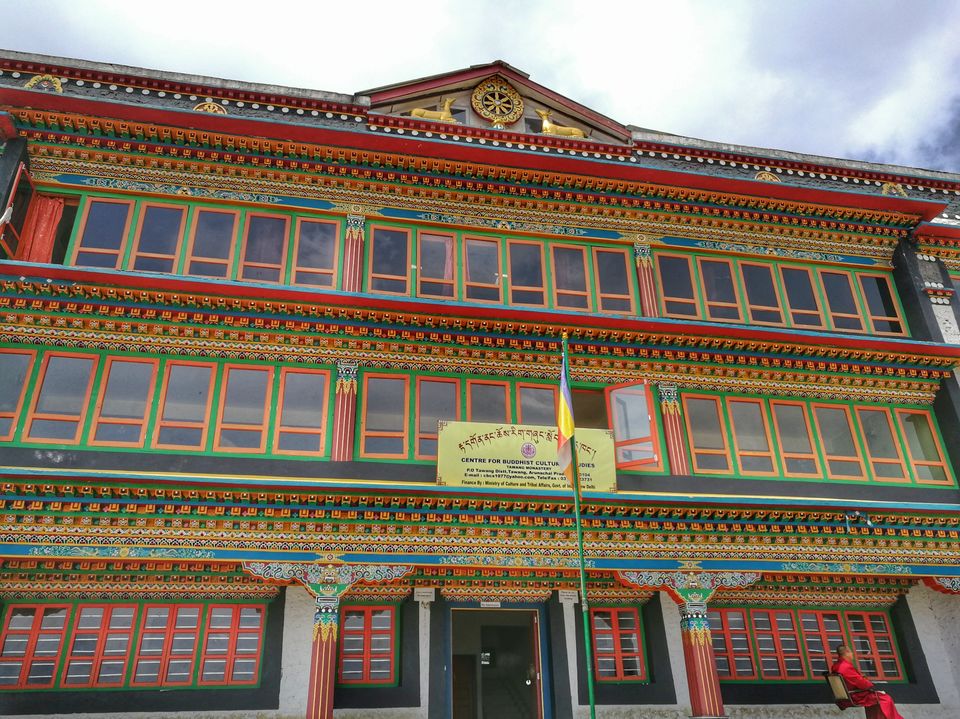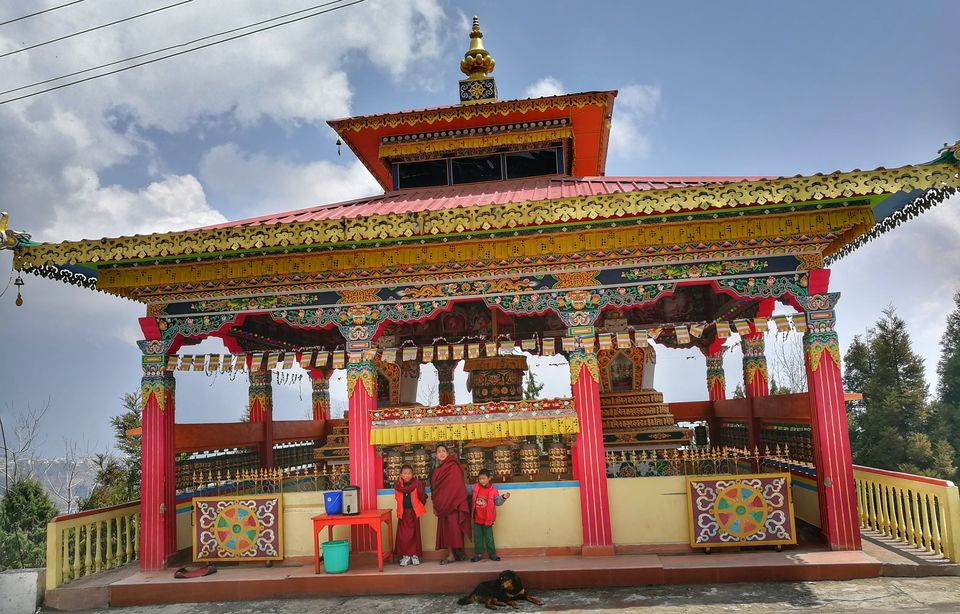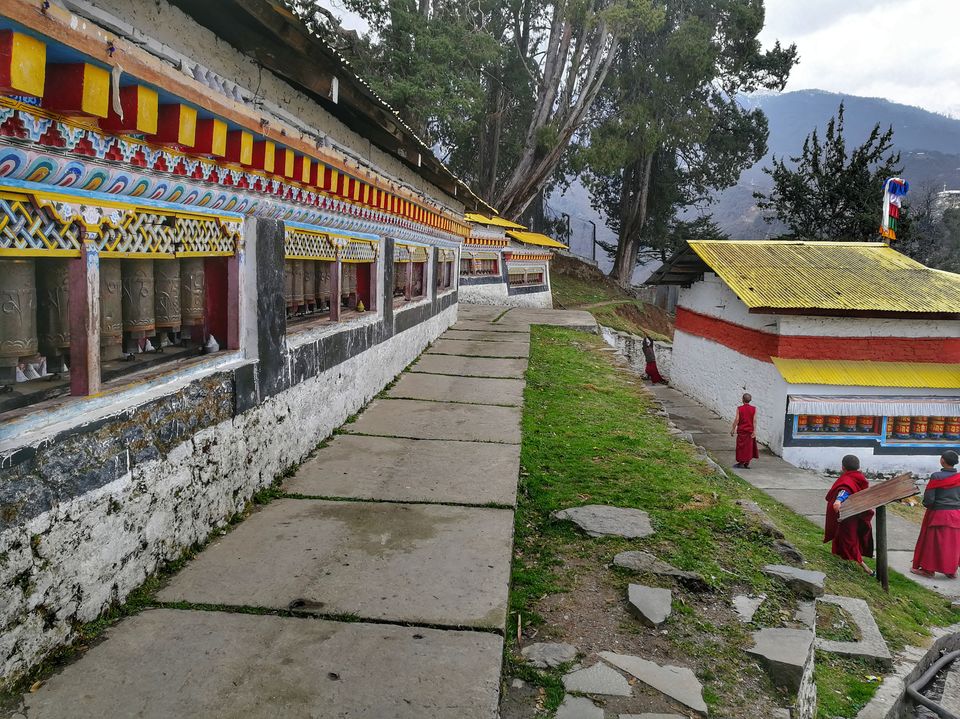 After spending some time, i walked to a nearby Stupa adjacent to the monastery and there were some pretty views here as well.On return, i visited the museum with artefacts as old as 15th century and went inside the monastery.and then walked back to my stay place. The temperatures had increased by now and it was some 15 degrees and warm.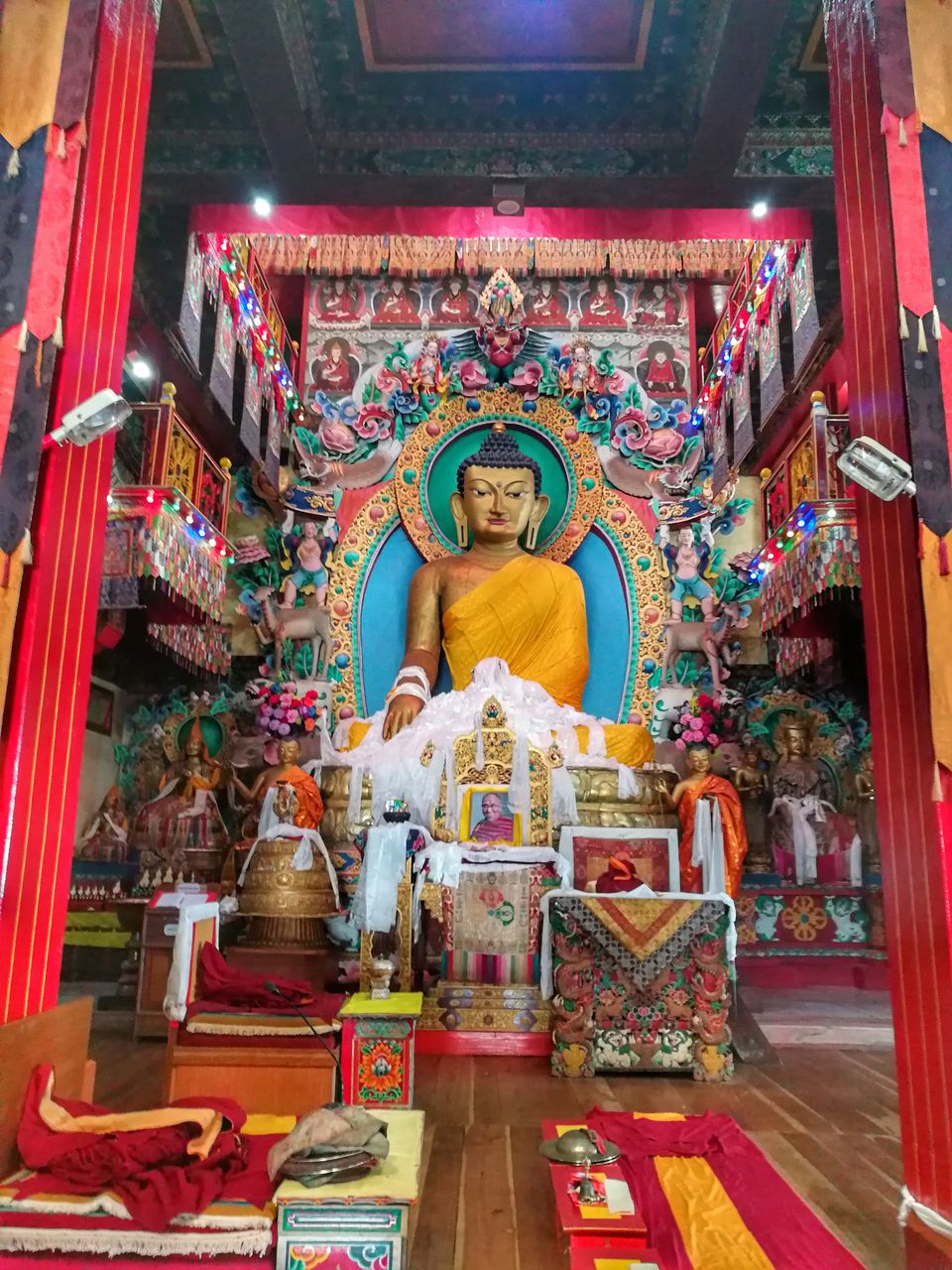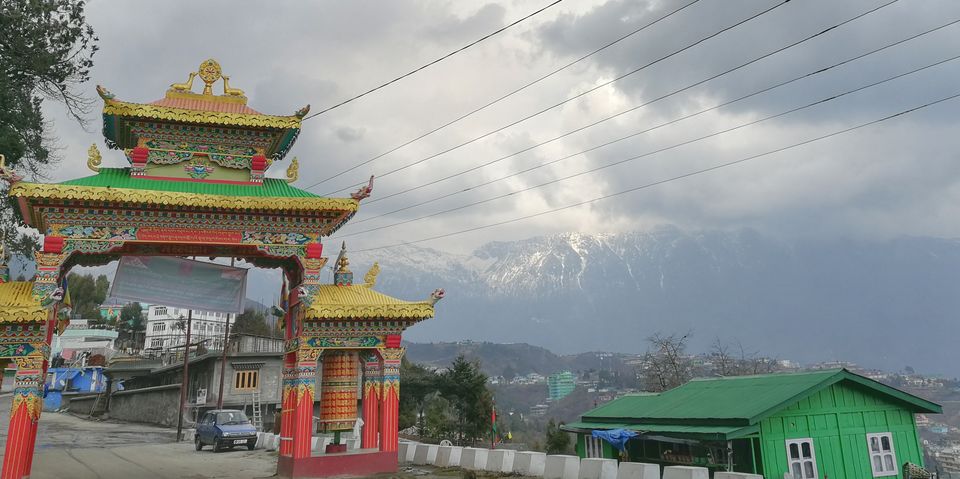 Post that i walked around the town looking for something to buy and got a key ring and a small prayer flags set.I then had a an awesome local thupka at the famous Woodland Resort.Then after having some rest, i called up the taxi guy again to bargain about Zemithang but got to know now that vehicles had been to Madhuri Lake the very day and asked him to find a place for me the next day as i was determined to visit the lake.By some time ,there was a confirmation that i will be allowed in a group of 6 for my second attempt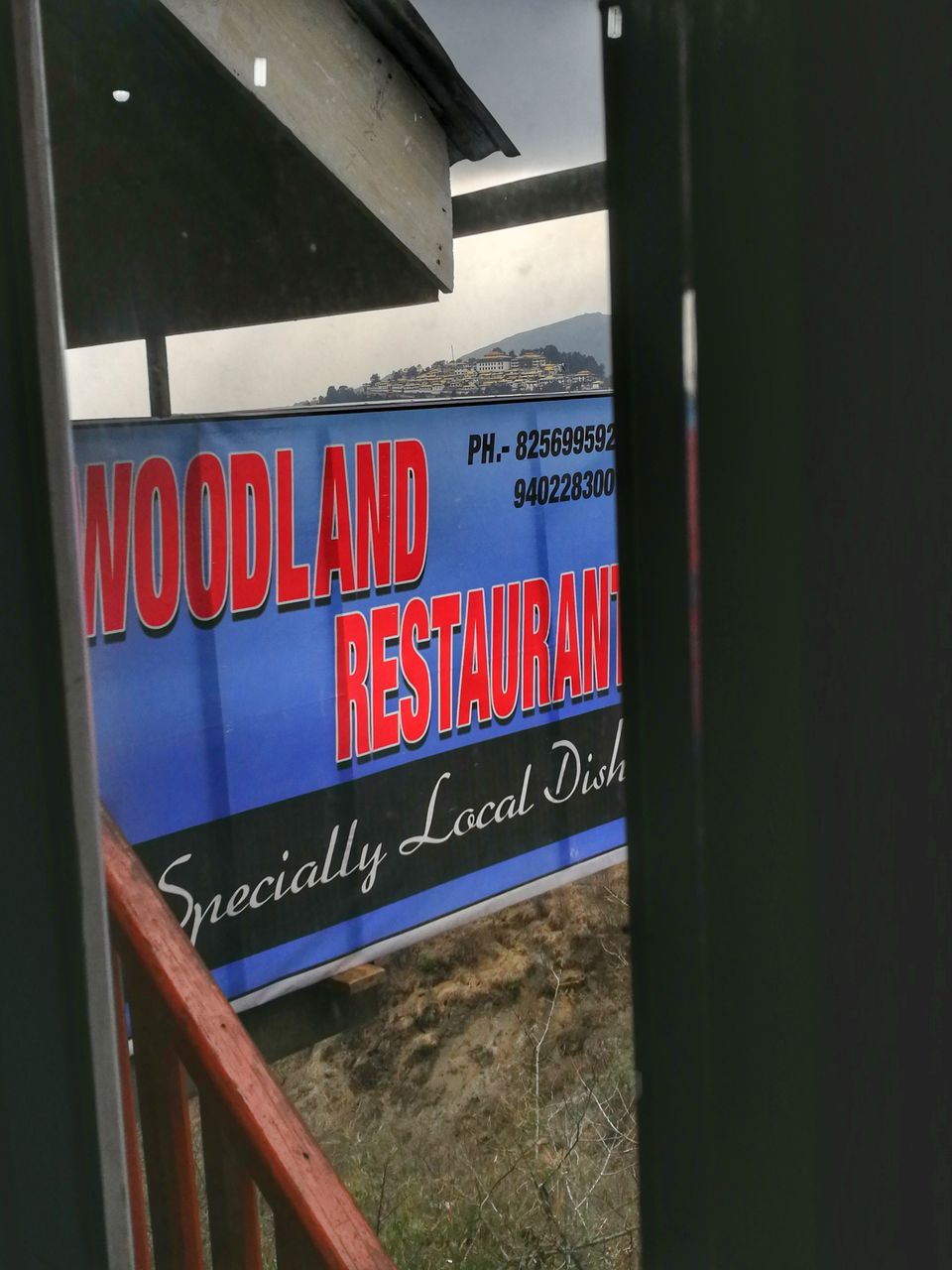 Gutted again,i had my dinner and shared my day activities with my 'close' one and slept .
Day 6
And there was a sudden increase in excitement as i met a group of 6 with whom i was going for the second attempt. All were solo travellers who had come across each other while traveling .I took a backseat this time,due to being the most unpopular one at the moment.It was the same vehicle as the first time but had a different driver.
And the majestic snow views started in no time.There was a huge number of vehicles this time around and hence movement was slow .The lake pt so was followed by Nagula where there was a halt and by this time i had gelled with one of them,Gauri and we took some pics and vids.Following this term were many stops which was delaying the journey ,but people had already been wowed by their snow experiences.We reached Y junction ,had some food and then beyond the movement became slower.There was snow on the roads and bigger vehicles needed chains in their tyre as a prerequisite.
There was a major halt and post which we had to return back as it was almost 3:30 pm and sing beyond did not make any sense.Dejected, my fellow travellers tried to cheer me up saying that i am destined to visit Tawang again. We did some photoshoot at the small lake on return and then discussed our next journey plans,some told to go Guwahati, some wanted to visit Dirang .Then we exchanged numbers and parted ways on reaching Tawang.
i did some local foods shopping and then did a town walk yet again and had my early dinner.I started thinking about the next day,had Sangti valley in my mind but was not able to reach a homestay number.I just made up my mind to take the Bomdila bus for early next day.
Day 7
Woke up early as the bus was to start at 5:30 .The bus stop does provide a pretty backdrop and i took a ticket to Bomdila and the bus started.I sat on the right side to get a view of Sela Lake and even asked the driver to slow down at the pass for pics to which he agreed.I was still trying to reach the homestay but to no avail.
The war memorial was followed by the Sela pass and i was awestruck again at the sight of the Sela lake.It was completely frozen and provided a breathtaking view.The pretty views continued for 30 mins and i just gazed in order to find an animal in the snow.
Then we stopped at a place for lunch and luckily my call was received at the homestay and there was place available for stay.I was asked to take a taxi from Dirang and now my destination had changed from Bomdila to Dirang and Sangti valley awaited me.
I got down at Dirang and talked to a young taxi guy and he agreed to drop me at 400 bucks.And we started our journey to the valley.It was quite a dip in temperatures from Tawang as it was warm now.we reached Sangti in 1 hr and was welcomed at the Letro homestay.just after getting my room and taking bath ,i went to see the tents of the same owner and the crystal clear Dirang river.There were friendly dogs here and one even accompanied me on my walk.
The valley was indeed a very pretty one,there were horses grazing around and it looked straight out of a wallpaper.I walked around and clicked a lot.
At the stay, there were two guys ,one german and an american with whom i bonded and talked about different stuff and had our delicious dinner.
The network that works here is only vodafone so i was disconnected from the world.:)
The next day needed to be planned and i thought to stay in Dirang itself and do a town walk.
Day 8
Early morning took a stroll and witness the sunrise in the enchanting valley.It was time to return back and i asked the owner Mr Letro to try the taxi guy's number.We couldn't reach the guy and i was asked to wait to see if any castors to the valley were returning that moment.
And i found a group of bong people who had come in a memo traveller and they let me in .The environment was a cheerful one ,though they seemed to be nearly forties and i was enjoying the attention as i started my solo travel tales and communicated in my bad accent.
After being a day disconnected from the world, and i texted and called and texted all my close ones of my whereabouts.On reaching Dirang, it started raining and i called the taxi guy to get me a stay and got one very soon at 650. It was already afternoon now.
Dirang is a small town and temperatures were roughly around 10-15 .There are a lot of bihari shops for normal food at a nominal cost .I though had a sumptuous assamese meal again and after freshening up, walked uphill to the nearby Thupsung Dhargye Ling monastery.This monastery being recently built,had the fresh new feel.And while clicking pics,i found Gauri from my second Bumla pass attempt group.We roamed around and started discussing about the next day. Thembang was in my plan books and i enquired the taxi driver and we all agreed for the next day trip.
I had a good dinner comprising of paratha and chole in the bihari shop and went back home and for the second time in my entire trip, i did not have to worry about the next day's journey.
Day 9
Another early rise, i called up Gauri and we were supposed to leave by 9,but after talking to the taxi driver we agreed upon 10 am as the start.I had a paratha breakfast.By this time the trip had taken a toll on me as i had dandruff in my scalp and skin peels on my face.
By 10, we started for Thembang, a fortified village that exists in the tentative list of UNESCO world heritage sites.After a 40 mins ride, we reached Thembang and it was a stunning sight.A village situated within a fort seemed to be out of the mythical stories that we read as kids.We took a walk and then reached a part of the valley that provided pristine views .We clicked a lot and then started back the next place.
The Dirang Dzong located in old Dirang .The dzong was built in 17th cenfury to ward off invasion of the neighboring states,and now the local Monpa tribes live here. The people were quite welcoming .We walked around a bit and were provided with spectacular views and then rode to another monastery , a detour from the road to new Dirang.It was closed, but the officials opened it for us.
We started back fro Dirang now and the next day plan needed to be chalked.
I decided to head to Bomdila, and Gauri decided to go Guwahati and we enquired the taxi operators to prebook our seats.I was asked to reach the taxi operators place at around 6
I had another north Indian dinner and walked back to my hotel and then after a small conversation with the owners,slept.
Day 10
I had a small breakfast and reached the stand and got a seat in one amongst the ITBP soldiers, heading towards Guwahati.We reached Bomdila in 2 hrs and then went to the same Hotel La and bargained for the stay, but couldn't succeed and got a double bedded room for 800. I took a bath,had breakfast and then started my town walk.
Bomdila had temperatures in the region 5-10 .There was a Buddha stadium and was hosting a cricket match. I walked first towards the upper gompa which was uphill. There were similar staired shortcuts.
The Gentse Gaden Rabgyel Ling Monastery is a beautiful and vibrant one and has a hostel as well. Theres the large prayer wheel, located at a distance from the main hall which is the highlight of the place.
I returned, had lunch and then again started for the lower gompa. The Thubchong Gatsel Ling Monastery and is notable for its shaded courtyard and large prayer hall. I returned and there was football match on in the stadium. The sunsets in the hilly place with football in the stadium provided a much needed relaxation post the strenuous yet incredible journey that was almost nearing its end.
I had dinner and slept early to catch the bus to Guwahati. Mixed feelings evolved wherein the thought of departure from Arunachal made me a bit sad but the prospect of storytelling once home was an exciting stuff to look forward to.
Day 11
Caught the 6 am bus for Guwahati and interacted a bit with the locals as the bus started the descent.The bus this time went the Bhalukpong route and there was a steep increase temperatures from 3 in morning to 33 at afternoon.I was sad to miss the balemu gate food which was hands down the best food in my entire journey.
After a dusty last phase of 2 hours, we finally reached the place where it all started ,ISBT Guwahati. It was quite hot and i booked a cab to my hotel and reached soon and had lunch. I did a nearby walk and slept off early owing to the tiresome 10 hrs bus journey of the day.
Day 12
Again an early rise and i had breakfast. I googled nearby places to visit. I wished to see the mighty Brahmaputra and went to Sukreshwar Ghat first. The river seemed endless and there were ferry and boat rides to a temple in an island that seemed fascinating. There was also a magnificent gateway built during the British period.
I started walking to another ghat and that was pretty as well. I reached back my hotel, had a bath and then started for the airport at 12:00 pm for my 6 pm flight.
The journey was indeed a fascinating one. The diet followed was a simple one wherein mornings started with roti sabji, afternoons were heavy assamese meals and evenings consisted of a glass milk and double egg omelettes as these were easily available in all the towns i spent time in. Nights were extreme cold and layers of mustard oil helped.
The people i met were warm hearted and not once did i feel unsafe, apart from the dog chase in Tawang.But the dogs in Sangti and Bomdila changed my perception a bit and i am not as scared as i was before.
Trips like these do let you know a lot about the lives of the mountain people who are always  happy to help. The soldiers I met were a cheerful bunch too, even in the harshest of conditions, the smiles did exist. True that tourism needed to be put under check due to the tragedies that may occur in such extremes ,which was done efficiently well. 2 Madhuri lake attempts were unsuccessful,which does make me realise that I will be Tawang bound sometime soon for attempt number 3. Hope the blog will be helpful to people who wish to visit this magical land.
Till next time,
Happy traveling \m/