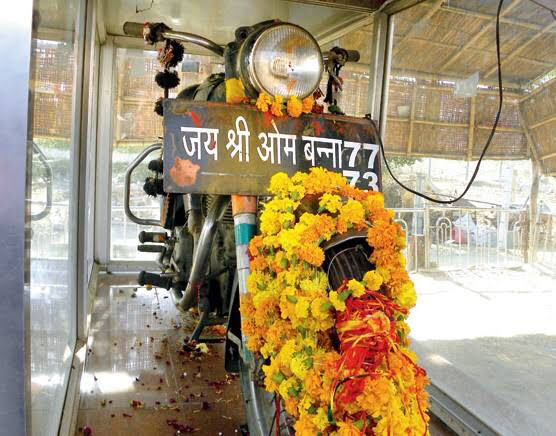 Om Banna (also called Bullet Banna) is a shrine located in Pali district near Jodhpur, India, devoted to a deity in the form of a motorcycle.
It is located 20 kilometres from Pali and 50 kilometres away from Jodphur on the Pali-Jodhpur highway, near Chotila village.
The motorcycle is a 350cc Royal Enfield Bullet RNJ 7773.
Hundreds of devotees turn up every day to pray for a safe journey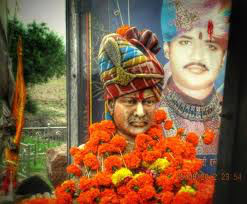 The legend states that
On 2 December 1991, Om Banna (formerly known as Om Singh Rathore)was travelling from the town known as Bangdi near Sanderao of Pali to Chotila, when he lost control of his motorcycle and struck a tree: Om Banna was killed instantly, his motorcycle falling into a nearby ditch. The morning after the accident, local police took the motorcycle to a nearby police station. The next day it was reported to have disappeared from the station and was found back at the site of the accident.[5] Police, once again, took the motorcycle, this time emptying its fuel tank and putting it under lock and chain to prevent its removal. Despite their efforts, the next morning it again disappeared and found at the same ditch.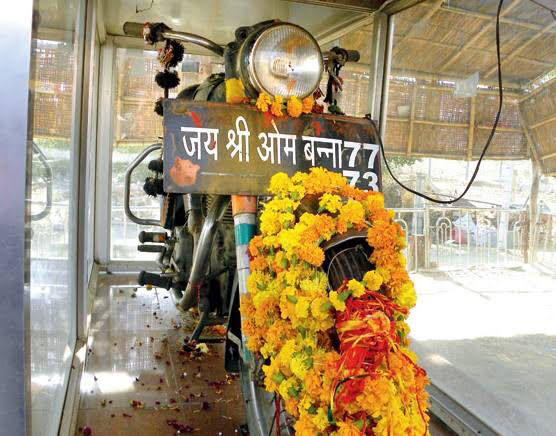 It is believed that Om Banna's spirit helps distressed travellers.
You can offer alcohol to the bike as om banna was a rajput and its a tradition to offer manuhar .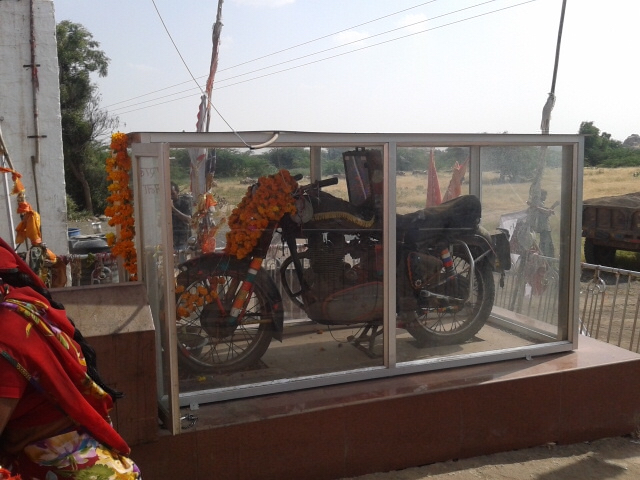 India is full of emotion and stories from floating rocks , hot water spring of Manikaran to a temple of Royal Enfield 350
Happy Riding