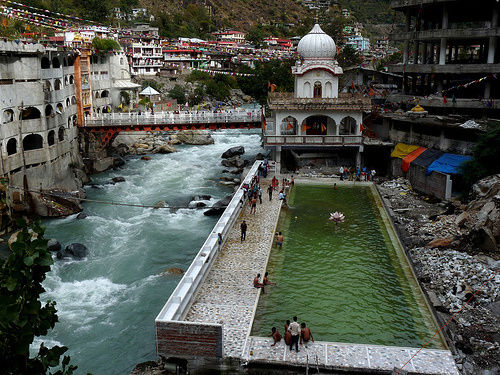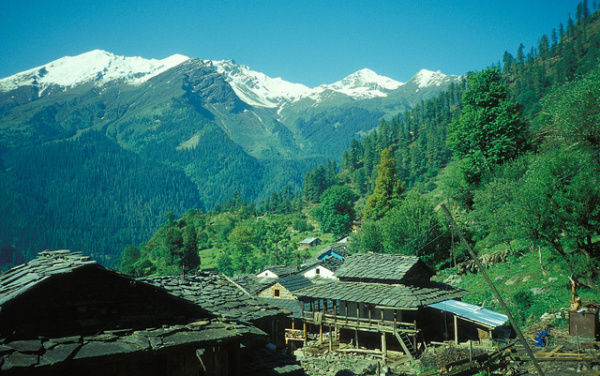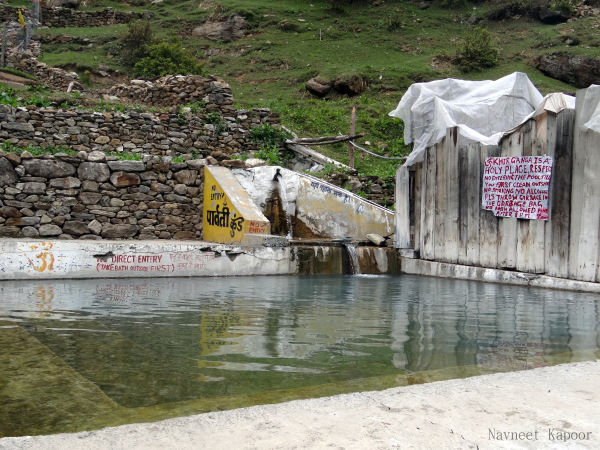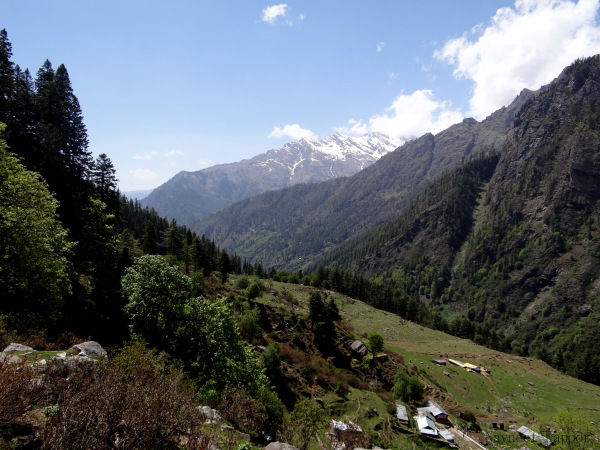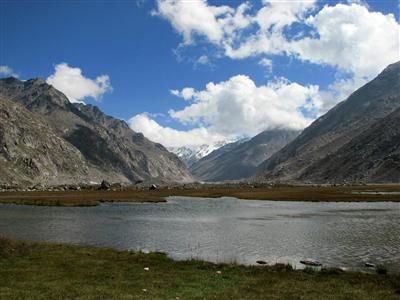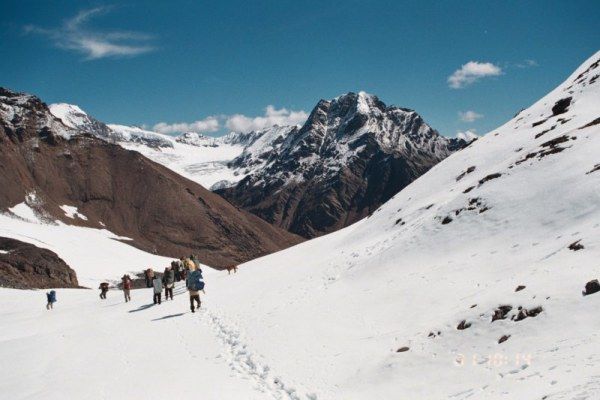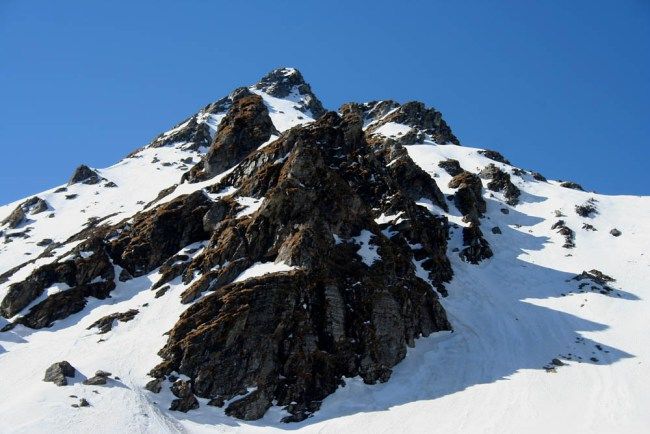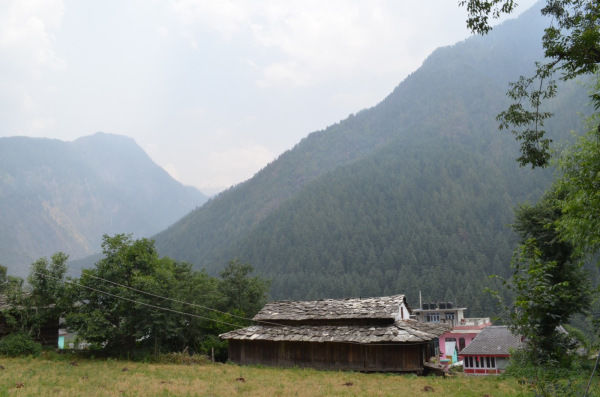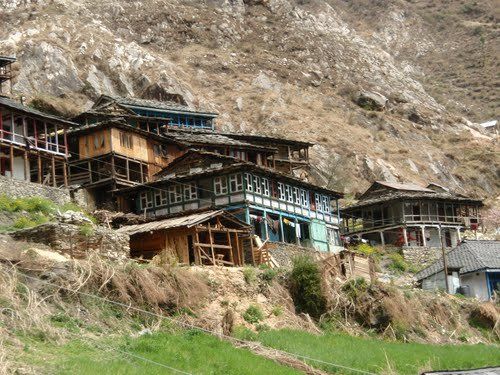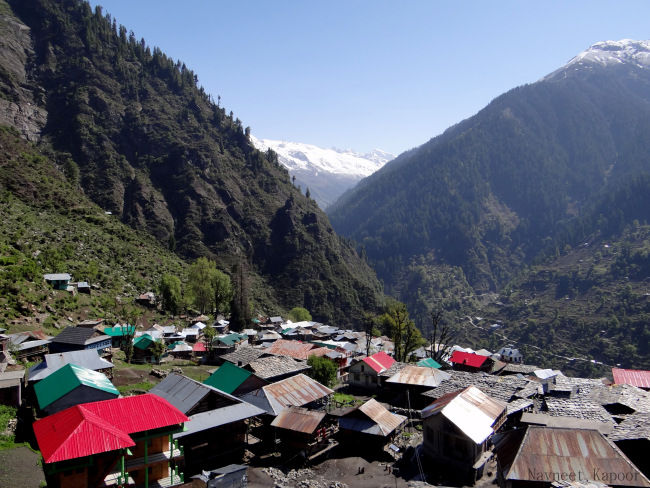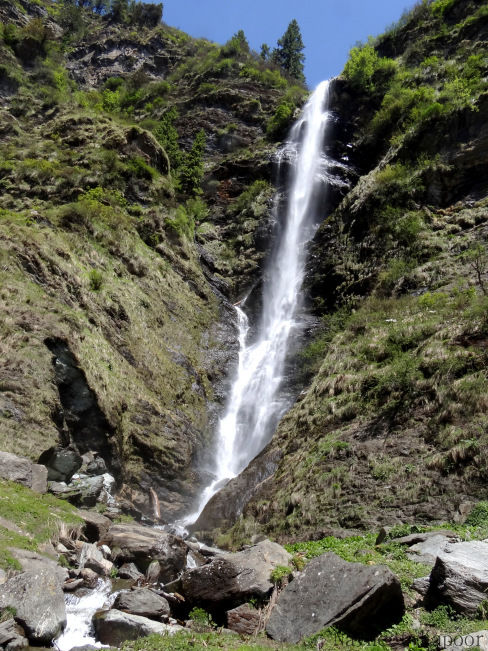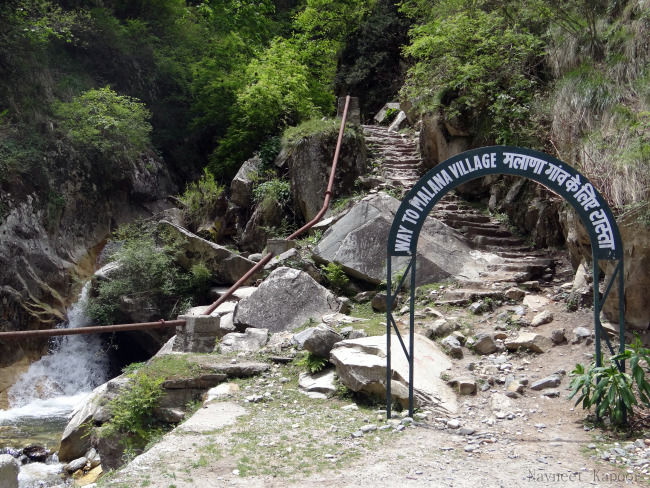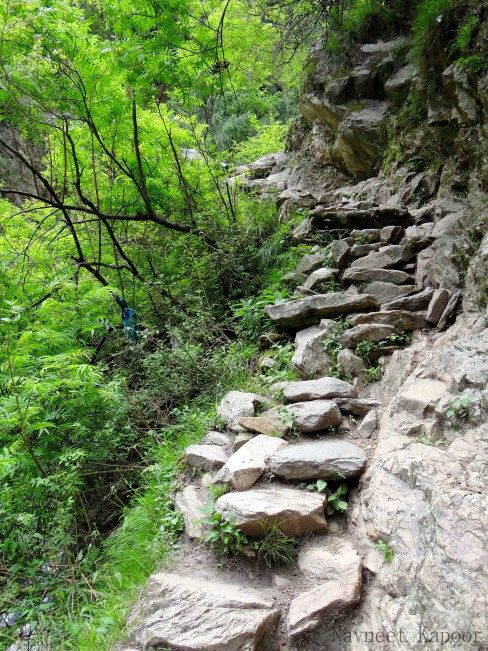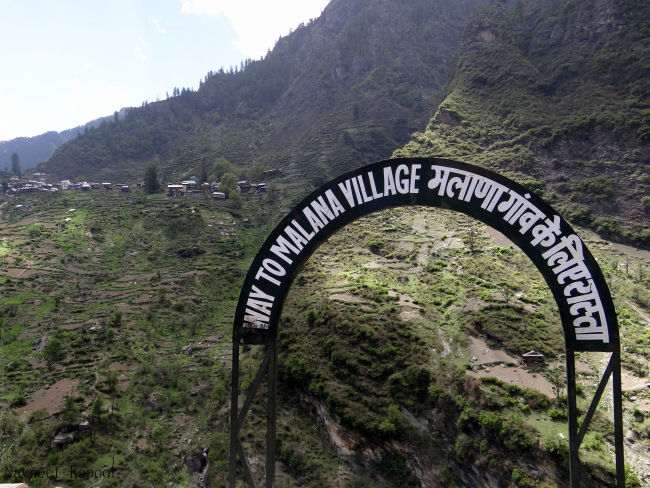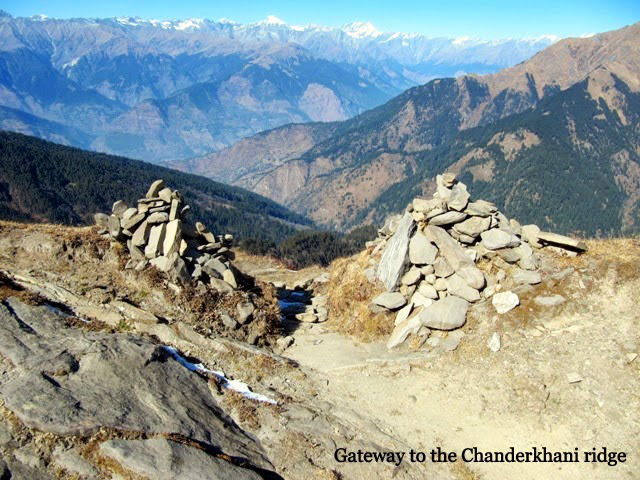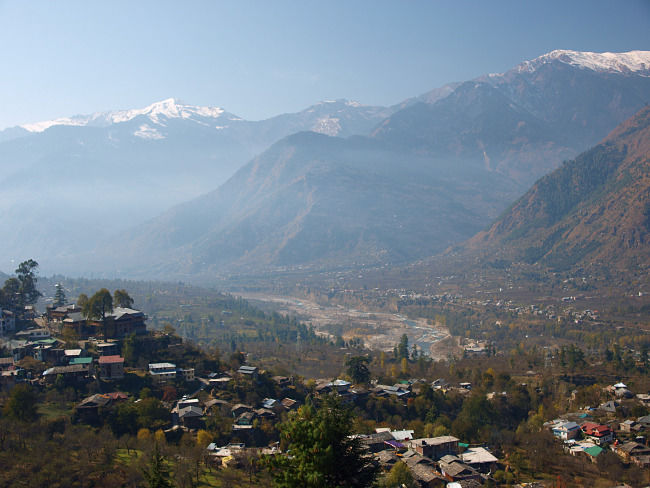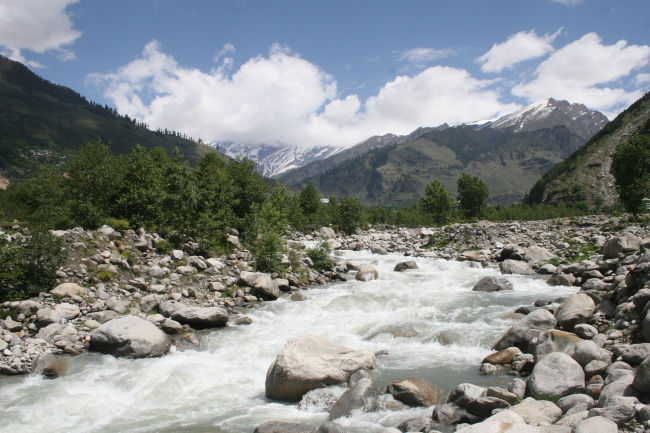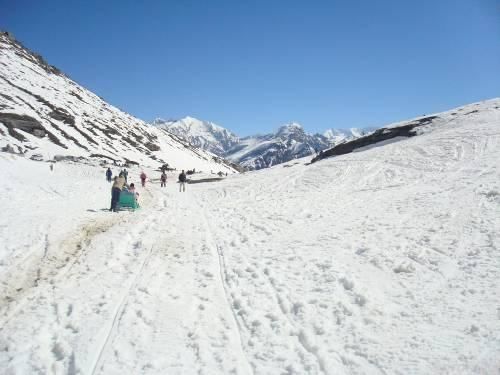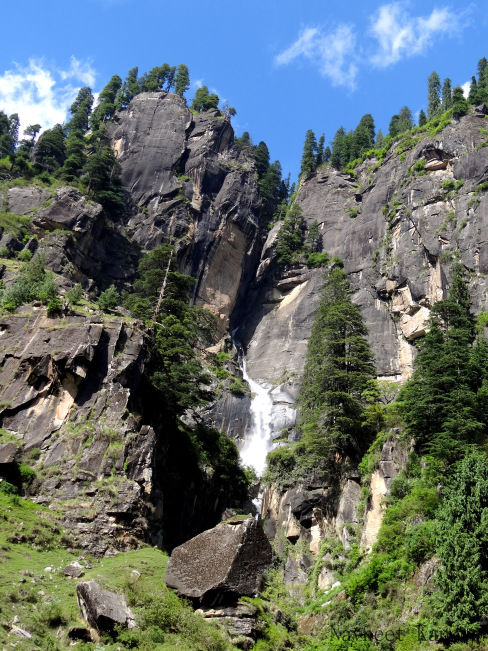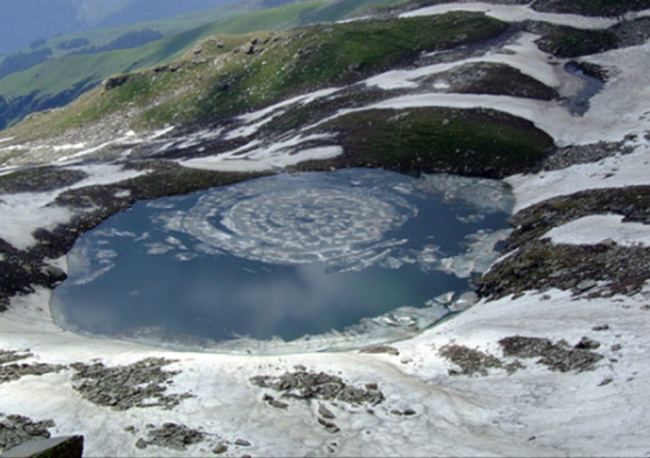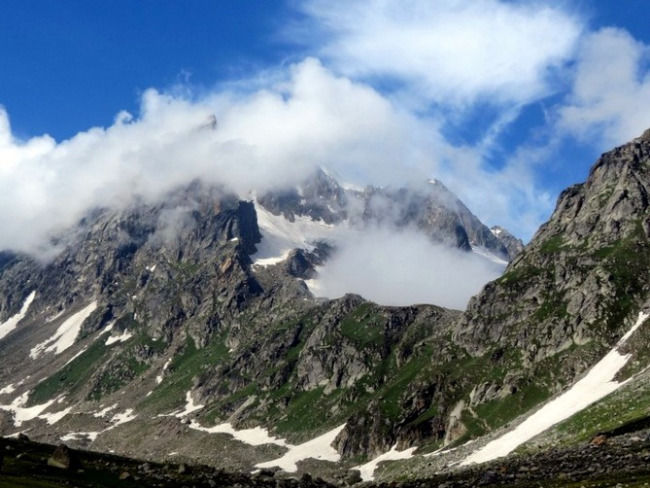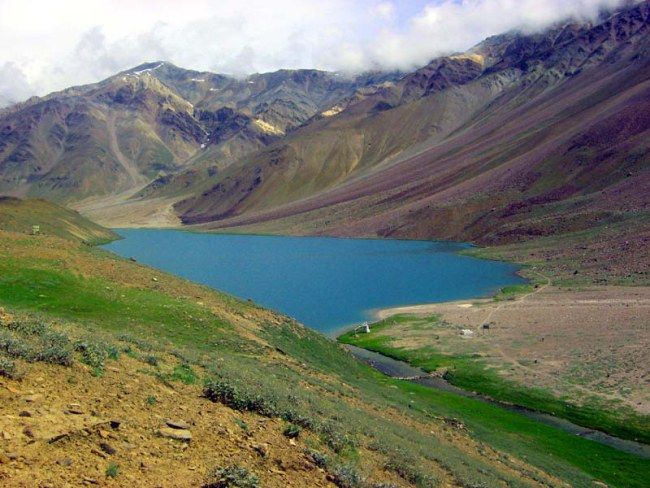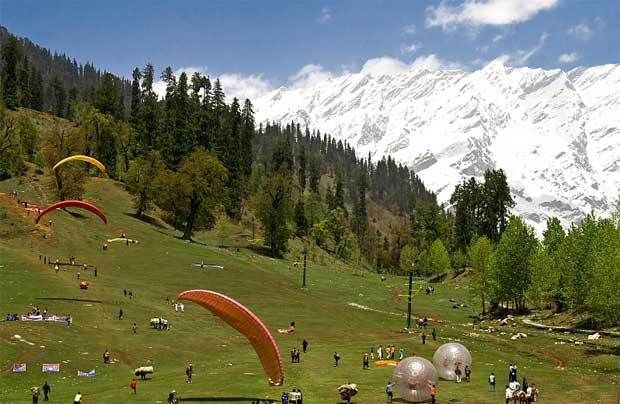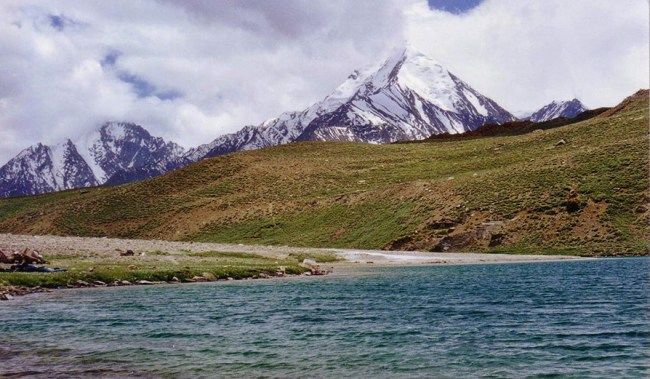 There is no happiness for him who does not travel! The fortune of him who is sitting, sits; it rises when he rises; it sleeps when he sleeps; it moves when he moves. Therefore wander!Aitareya Brahmanan in the Rigveda.
Over time, travel enthusiasts have started looking for places where they can cut-off from the world, just live in the present and enjoy the surroundings. Gone are those days for people who love mountains to visit places like Nainital, Shimla, Manali, Mussorie etc. and the modest "hill-station" is dying it's natural death. The paradigm shift in people's traveling preferences owes to reasons like:
1. Commercialization has made these places quite accessible.2. It doesn't feels like to be in mountains, just another urban city with good weather.3. So many people around, clicking selfies at 'The Mall'.4. There is no nature, only concrete and garbage all around. Technology really owes ecology an apology.5. This is where trekking comes to the rescue. Experiencing local terrains on foot that cannot be accessed by roads, travelling at own pace and leisure, striking conversations with natives, indulging in the local cuisine and getting lost in mountains because "to travel is better than to arrive".
Trek comes from South African Dutch trek (noun), trekken (verb) 'pull, travel' was brought to India by the British. It was used in mid-19th century and originally meant " to migrate or a journey with one's belongings by ox wagon."
What we do while trekking? We follow age old route in mountains, made by shepherds, that's being used by their flock of sheep to get to meadows for grazing and for connecting villages across mountains.
I traveled and trekked around Parvati valley and Manali in May 2015. What inspired me to write this blog is that most of these treks are easy and anyone who can walk, can experience the same euphoric feeling of wandering in jungles, camping in meadows and passing snowcapped mountains, that I experienced. However, there is less and scattered information available on Internet about these places. People generally go on vacation and visit places like Kasol, Manali but they miss the real beauty and experience to wander in mountains.
The objective of this blog is not to share my experience or explain mentioned treks as a poetry, but to have information of all treks around Parvati valley and Manali available in one place, so that one can plan his/her travel accordingly and not miss any-place beautiful around. I have added a map too, for you to have an understanding of all the places mentioned below and it can act as a handy guide too for your impending voyage. Wherever required, I have also added links for reference.
Go trek, before mankind ruins what's left of us!
MAP:
Marked places in map are covered in this post.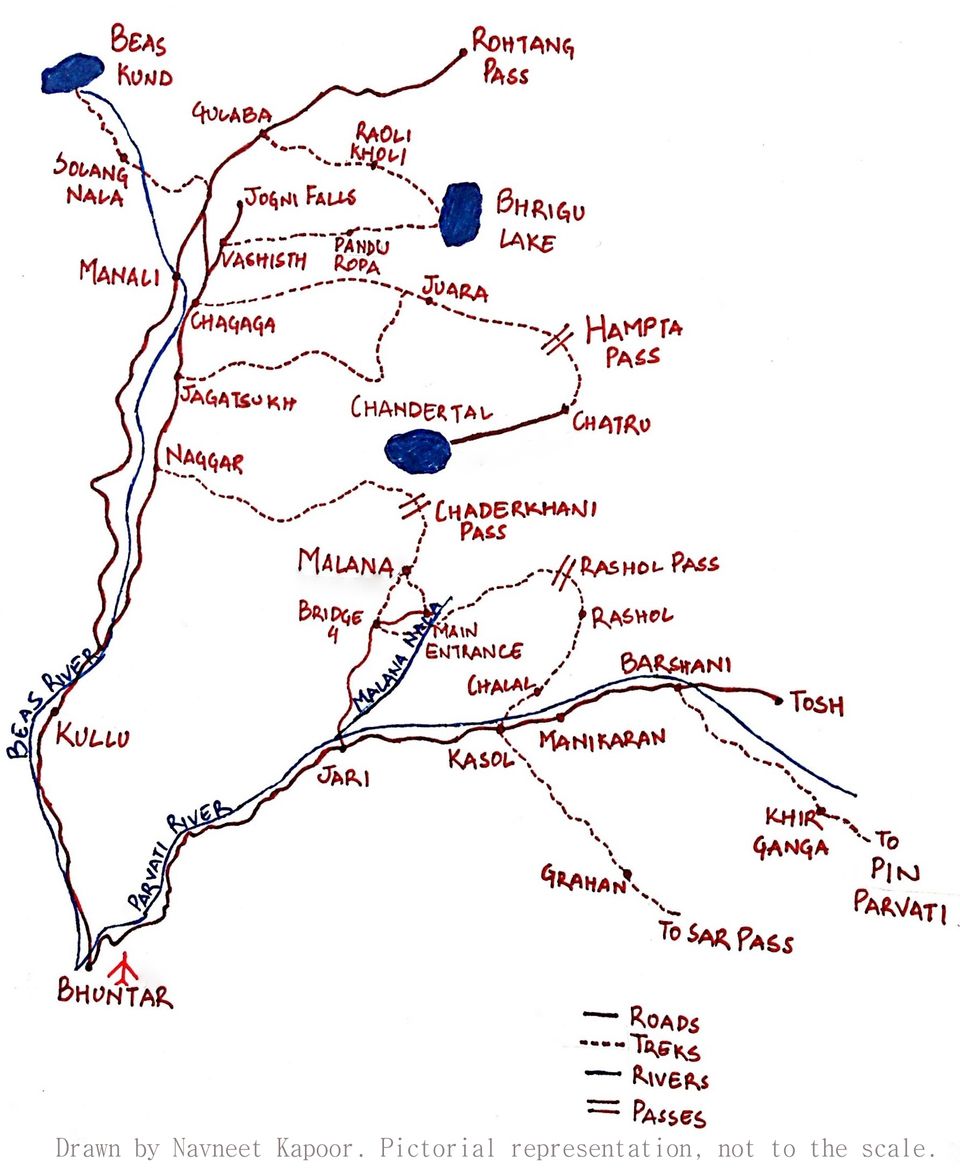 Distance: 506 km From DelhiTime taken: around 12 hours.Altitude: 1220 meters (4000 feet)
Bhuntar is a town in Kullu district and Bhuntar Airport also known as Kullu-Manali airport. This is the central point; from Bhuntar, the road gets divided in two directions, one goes towards Parvati valley and one towards Kullu-Manali.
KASOL:
Altitude: 1640 meters (5380 feet)Distance: 31 kms. from BhuntarTime taken: around 1.5 hour
Kasol is a village in Himachal Pradesh. It is situated in Parvati Valley on the banks of Parvati River. Kasol is continuously becoming a hub for backpackers, who like to visit untouched places, isolated villages and scenic beauty.
How to reach: To reach Kasol, you have to get down at Bhuntar and then either take a taxi, which will cost Rs. 950* OR can take Himachal Tourism bus, which will cost around Rs. 100. Distance between Bhuntar and Kasol is 31 kms taking approximately 1.5 hrs. to reach there. You won't find much luxury hotels there because people tend to stay longer. A decent accommodation would cost from Rs 500-800*, depending on season. Best time to visit Kasol is from March to May.
Altitude: 1760 (5774 feet)Distance: 5 km. from KasolTime taken: 15 minutes.
Manikaran is a pilgrimage centre for Hindus and Sikhs. The Hindus believe that Manu recreated human life in Manikaran after the flood, making it a sacred area. It has many temples and a gurudwara. There are temples of the Hindu deities Rama, Krishna and Vishnu. The area is also famous for its hot springs.
More information:https://en.wikipedia.org/wiki/Manikaran
TOSH:
Height: 2400 meters (7874 feet)Distance: 40 kms from KasolTime taken: around 3 hours
Tosh is a village situated at the end of Parvati valley. It offers scenic beauty of the valley, since it's high up in mountains and also a hub of trekkers, being the nearest village to famous Kheerganga trek.
It is accessible by road and at a distance of around 40 kms from Kasol. Since, the road is slim and not well maintained, it takes more than 2 hours to reach there from Kasol.
How to reach: You can either take taxi all the way to Kasol or can take a bus till Barshaini; from Barshaini you can either take a taxi or hike, as it's only 3 kms from Barshaini.
KHEERGANGA:
Distance: around 12 kms from Barshaini.Time taken: around 4 hrs for an average trekker.Altitude: 2779 meters/9120 feetNumber of days required: 2 (if you want to stay overnight)
Kheerganga is one the most popular treks in Parvati Valley, primarily because it's little challenging but also an easy trek comparatively and the fact that you don't have to carry any camping gear, make it perfect for beginners. This trek offers some exhilarating views as the landscape changes rapidly from an open valley to a deep jungle and several waterfalls can be spotted on way. You will also get to experience Parvati River in its full rage, coming down thunderously from mountains as you have to cross her on a bridge without barricades.
Kheerganga is also famous for its hot water spring, which will take all your tiredness away once you put your foot in it. There are several cafes in Khirganga, which provide good food and will pitch a tent for you to stay overnight. It is also a part of seasonal Pin-Parvati trek, which is mentioned next.
How to reach: To reach Kheerganga, you can either take a Himachal tourism bus or a taxi or get down at Barshaini. There you will see a Dam under construction and Parvati River flowing down the valley. As you start walking along the trek, take the trek that goes down and cross the river, not the one that goes uphill. From, there follow the trek and it'll take you to Kheerganga.
MANTALAI LAKE AND PIN PARVATI:
Distance: around 65 km and 100 km respectively.Altitude: 4096 meters/13440 feet and 5319 meters/17450 feet respectively.Number of days required: around 7 and 12/13 respectively.
Both of these treks are for seasoned trekkers and are open for around 2 months in a year. For complete information, you can go through the following link:http://indiahikes.in/pin-parvati-pass-trek/
GRAHAN AND SAR PASS TREK:
Height: 2350 meters/7709 feet and 4200 meters/13800 feet respectively.Distance: 10 km and 49 km respectively.Number of days required: 2 and 5 respectively.
Sar Pass is also one of the famous treks around Parvati valley. This is considered as a perfect trek for beginners, as it's not a high altitude trek and one can experience all kind of terrains. Every year Youth Hostel Association of India (YHAI) organizes this trek in the month of June.
Grahan is a small village, situated at 4-5 hours walking distance from Kasol. On first day of Sar Pass trek, you stay at Grahan overnight. If you don't want to do Sar Pass, you can do Grahan trek yourself and come back the next day.
Complete information:http://indiahikes.in/sar-pass-trek/http://www.yhaindia.org/program-participate-now.php
CHALAL AND RASHOL:
Distance: around 2/3 km and 8 km from KasolTime taken: around 45 minutes and 5 hours respectively.
Chalal is a village where you can reach in around 45 minutes from Kasol. It's just a walk and not a trek, a perfect one for your visit around Kasol.
How to reach: To reach Chalal, you have to go on the way towards Manikaran and cross Parvati River on a foot-over bridge. Once, you reach Chalal you can have ample options to eat or to stay there overnight.
Rashol can be reached in 4-5 hours from Chalal. It is a steep climb at certain places because you have to gain altitude quicker.
Nicely written blogs on Rashol:http://travellingslacker.com/2015/04/rashol-trek-rhododendrons-and-wandering-pilgrims/#.VYbtJ0bBYs4 http://www.wackywanderlust.com/2013/01/charas-changed-lives-of-malana-and.html
Make sure you hire a guide to go with you!
Height: 3029 meters/ 9938 ft.
Malana is small village situation on the North-East of Kullu Valley. Considered to be the producer of one of the finest hash in India, this village is still isolated from the rest of the world, because of its geographical location. Though commercialization has laid its hands on this village too and a road has been constructed, but to reach there you still have to atleast walk for around an hour. A few years ago, you had to take permission from an office in Jari to visit Malana, but now it's open to all, so go and experience the enchanting isolation of this village.
History:According to a story from mythology, Jamdagni Rishi is the father of Parashuram, one of the 10 incarnations of Lord Vishnu. After his intense prayers, Shiva appeared before him. Jamdagni Rishi asked for a secluded place, full of nature's bounty. Shiva told him to go to Malana. The Rishi's two brothers followed him. In order to avoid them, he created a mist in the valley and told them that the place was not good. His brothers left his company and one went to Lahoul and the other to the Banjar Valley. Malana was already in the control of a Rakshasa when the Rishi reached there The Rakshasa Banasura resisted him. The conflict between Jamdagni Rishi and Banasura ended with a peace treaty, according to which, administration and justice were to be handled separately. While administration was with Banasura, justice was kept under the preview of Jamdagni Rishi. In case of a dispute in the administration, it was to be sorted out by the judiciary. The Kanashi language was made mandatory for those living in Malana, as also the customs and traditions prevalent there. During the festivals, the first sacrifice was to be made to Banasura. With the passage of time, Jamdagni Rishi gained superiority over Banasura, but the village retained its traditions, which are still followed there.
There's a beautiful waterfall located at a distance of around 45 minutes hike from Malana. I strongly recommend visiting this one; for its beauty will sure take your breath away.
Trek routes:
Per my research, there are 4 ways that you can reach Malana. Depending upon your location, preference and the will to trek, you can choose either of these:
1- From Jari to Bridge 4:Distance: around 25 km till Bridge 4 and 3 km of trek.Time taken: around 1.5 hrs. till Bridge 4 and 2-2.5 hrs. of trek.
This per me is the best way to reach Malana, as this trek is small but beautiful and challenging at the same time. You take a taxi or a bus and reach Jari from any place in Parvati valley. Once you reach Jari, you can take a taxi till Bridge 4, from where the trek to Malana starts. This is part of an old trek to Malana, when there wasn't any road constructed until Bridge 4. Trekking part is short, around 2-2.5 hrs. but it's steep and challenging as you have climb the whole mountain. This is probably the smallest and most beautiful trek I've ever done. The way you quickly ascends to the mountain and when everything around you starts becoming so small is beyond explanation.
It can become really challenging mid-way, but don't worry about it, setup a timer for 2/2.5 hrs and keep walking without any second thought. You will be in Malana before that timer stops.
2- From Jari to Malana's main entrance:Distance: around 2 km of walk.Time taken: around 3-3.5 hrs. from Jari. 1-1.5 hrs. of walk.
This is another way to reach Malana. The road goes beyond Bridge 4 and you can hire a taxi which will drop you at Malana's main entrance. From there, you just have to walk on a paved cemented road. There's a little hike too, as first you have to descend, then cross Malana River and then ascend to reach the village. It shouldn't take more than 1-1.5 hrs. from entrance to reach village.
3- From Kasol via Chalal-Rashol Pass:Time take: 2 days to reach Malana.Highest altitude: 3180 meters (10433 feet)
If you are a trekking aficionado, then you can choose this way to reach Malana. On first day, you trek from Kasol to Chalal and then to Rashol; camp there overnight. Next day, you cross Rashol pass and descend towards Nerang; from there you gradually climb towards Malana. From Malana while coming back, you can either choose to trek until Bridge 4 or walk till main entrance and take a taxi to Jari.
It's advisable to hire local guide from Kasol who knows about this path.
4- From Manali via Chanderkhani Pass:Time taken: 2 days to reach Malana.Highest altitude: 3600 meters (11811 feet)
This is another popular trek to reach Malana. First, you need to hire a taxi from Manali to Naggar, this is the place where the trek starts. On the first day of trek, you trek until Chanderkhani peak base and camp there overnight. Next day, you cross Chanderkhani pass and reach Malana. From Malana while coming back, you can either choose to trek until Bridge 4 or walk till main entrance and take a taxi to Jari.
Advisable to either hire a local guide or go with a trekking group. For more information:http://indiahikes.in/chandrakhani-trek/
References, some wonderfully written blogs about Malana:http://www.aheadofdemocracy.com/story-of-malana.htmlhttps://mysterioushimachal.wordpress.com/2014/07/17/the-untold-story-malana-indias-cannabis-country/http://ignca.nic.in/nl002401.htm
KULLU:
Distance: 9.5 km from BhuntarTime taken: 20 minutesAltitude: 1220 meters (4000 feet)
Kullu, or Kulu, is the capital town of the Kullu District in the Indian state of Himachal Pradesh. It is located on the banks of the Beas River in the Kullu Valley about ten kilometres north of the airport at Bhuntar.
Kullu is a broad open valley formed by the Beas river between Manali and Largi. This valley is famous for its temples, beauty and its majestic hills covered with Pine and Deodar Forest and sprawling Apple Orchards. The course of the Beas river presents a succession of magnificent, clad with forests of Deodar, towering above trees of Pine on the lower rocky ridges. Kullu valley is sandwiched between the Pir Panjal, Lower Himalayan and Great Himalayan range.
Direct buses are available for Kullu from major cities nearby.
For reference:https://en.wikipedia.org/wiki/Kullu
MANALI:
Distance: 48 km from BhuntarTime taken: around 1.5 hrs.Altitude: 2050 meters (6726 feet)
Manali is a hill station nestled in the mountains of the Indian state of Himachal Pradesh near the northern end of the Kullu Valley, at an altitude of 2,050 m (6,726 ft) in the Beas River Valley. It is located in the Kullu district, about 270 km (168 mi) north of the state capital, Shimla. The town, is the beginning of an ancient trade route to Ladakh and from there over the Karakoram Pass on to Yarkand and Khotan in the Tarim Basin. It has become a tourist attraction in recent years.
Direct buses are available for Manali from major cities nearby.
For reference:https://en.wikipedia.org/wiki/Manali,_Himachal_Pradesh
ROHTANG PASS:
Distance: 51 km from ManaliTime taken: around 3 hrs.Altitude: 3978 meters (13050 feet)
Rohtang Pass (Bhoti: Rohtang , lit: pile of corpses, due to people dying in bad weather trying to cross the pass) is a high mountain pass on the eastern Pir Panjal Range of the Himalayas around 51 km from Manali. It connects the Kullu Valley with the Lahaul and Spiti Valleys of Himachal Pradesh, India. Manali-Leh Highway, a part of NH 21, transverses Rohtang Pass.
The pass only remains open for around 5-6 months depending on the snowfall during last winter.
For reference:https://en.wikipedia.org/wiki/Rohtang_Pass
VASHISTH:
Altitude: around 2200 meters (7200 feet)Distance: 3 km from Manali.Time taken: 30 minutes in a taxi.
Vashisth is a village located across the Beas River. It's famous for its Rishi Vashisth temple (who is one of the 7 sages mentioned in Hindu literature), a hot water spring and Jogni falls located at a walking distance of around 30 minutes from the temple.
How to reach: To reach Vashisth, you can either take or taxi or can go on foot too. Starting from Manali, after crossing the Beas river and going towards Rohtang Pass, you will see a petrol pump; near to that there's a trek that take you directly to Vashisth. You will find ample guesthouses to stay and some great cafes to eat. People who like secluded and low budget places, choose to stay in Vashisth over Manali.
From Vashisth, you can take a 30 minutes' walk to Jogni falls. Sit there, read, eat, meditate or just enjoy the view. There are several Yoga schools in Vashisth, where you can do morning/evening classes.
BRIGU LAKE:
Altitude: 4267 meters (14000 feet)Distance: 29 kmTime taken: 3 days
Brigu Lake is situated east of Rohtang Pass and is one of several glacial lakes in Kullu valley. It's a 3 days trek from Manali, to and fro. Advisable to either take a guide or contact any trekking company for this trek.
Complete trek information:http://indiahikes.in/bhrigu-lake-trek/
HAMPTA PASS AND CHANDERTAL:
Highest altitude: 4419 meters (14500 feet)Distance: approximately 26 kmTime taken: 5 days
Hampta Pass is one of the most beautiful treks around Manali, also a perfect one for beginners. The terrain changes from narrow valley to snowcapped mountains around, by the time you reach pass. If you do it in a month of June-July, you can experience snow on trek too. One of the highlights of this trek is that you can visit Chandratal (Moon lake), which is just 70 km from Chatru and is one of the most scenic and an appealing high altitude lake. You can hire a taxi, go there and camp overnight. On return, you can either take a jeep back to Manali via. Rohtang Pass, which is an experience in itself; or can go on to visit Spiti Valley and come back via Kinnaur-Shimla, as you pass through one of the most dangerous roads in India.
Complete trek information:http://hamptapass.com/
Solang VALLEY AND BEAS KUND:
Highest altitude: 3690 meters (12106 feet)
Beas Kund is the origin of river Beas, which flows through Manali and is also one of the popular treks around Manali, because it's an easy trek and you get to experience camping in mountains too. It is located North-West of Manali and on your way to get to experience the beautiful meadows of Dhundi and Bakarthach. Once you reach top, you get to have a view at Pir Panjal range. Some important peaks of Pir Panjal range are Indrasan (6221 meters) and Deo Tibba (6001 meters), which are quite famous among mountaineers.
There are two ways you can go for this trek:
1- Manali- Solang Valley- Beas Kund:Distance: approximately 48 kmTime taken: 3/4 days
If you want to have a longer trekking experience, you can trek to Solang valley, stay there overnight and start trekking towards Beas Kund the next day; follow the same route while coming back. From Old Manali, start walking towards Manu temple. You will see a trek route just before Manu temple, with a signboard and it takes you directly to Solang Nala.
2- Solang Valley- Beas Kund:Distance: approximately 28 kmTime taken: 2 days
How to reach: Hire a taxi from Manali to Solang valley and start your trek towards Beas Kund from there. Solang Valley is famous for its summer and winter sports like paragliding, skating etc.
More information:http://indiahikes.in/beas-kund-trek/
FEW RECOMMENDATIONS:
Please do no litter anywhere, show your love for nature. Carry a bag to keep all non-biodegradable materials; you can bury biodegradable materials near your camp site but don't leave it in open. A strict "no trace" policy should be followed. There's a saying, "take nothing but photographs, leave nothing but footprints".
Try to trek in trekking shoes, as it helps in avoiding ankle twists, provide cushion to your heels and they don't slip as much as running shoes do because of rubber sole.
Keep your backpack as light as possible and don't overdo it; pack only necessary items and avoid if-and-but packing. If you wish to travel far and fast, travel light. The way you pack your backpack is also important, as the weight has to be properly distributed. You can go through the following link to have an understanding of backpacking:
http://www.mec.ca/AST/ContentPrimary/Learn/Packs/IntroToPacks/BackpackPacking.jsp
Keep a first aid kit and basic medicines.
Always start your trek early and try to reach your destination by afternoon. In mountains, weather changes too frequently post noon. This is the reason why all mountaineers start climbing in night on their summit day, so that they can be back to the base camp by afternoon.
Afterword:
I hope my hard work pays-off and your love for trekking increases day after another, just the way it happened for me. Trekking is challenging, exhausting, intimidating, but with the destination in sight, it feels no less than climbing Mt. Everest. As landscapes change, so does the way you look at them. Travel far, travel often, since it is not the mountain we conquer but ourselves. Feel free to add comments about your experience or about this blog.
Trek safe! Always remember, mountains are not going to go anywhere, there's always a next time.
This travelogue was first published by TrekAroundParvatiValleyandManali
Frequent searches leading to this page:-
parvati valley trek, parvati valley trek distance