More than half of Taiwan boasts natural wonders, yet all we hear about is gadgets. Rathina Sankari travels to some of the deeper corners of the country to unearth its greenish hues.
"Taiwan is all about electronics and technology."
I opined when Francis Hu, my 60-year-old Taiwanese guide argued, "I shall take you to places that you wouldn't have imagined ever existed in Taiwan." Perplexed yet centred on his words, I had boarded the bus from populous Taipei. One hour down, I had to eat my words like little dumplings, as the concrete jungle gave way to gorgeous green and blue vistas, like I had gone through some wardrobe and entered a Narnian world of glassy lakes, blue skies, and emerald forests.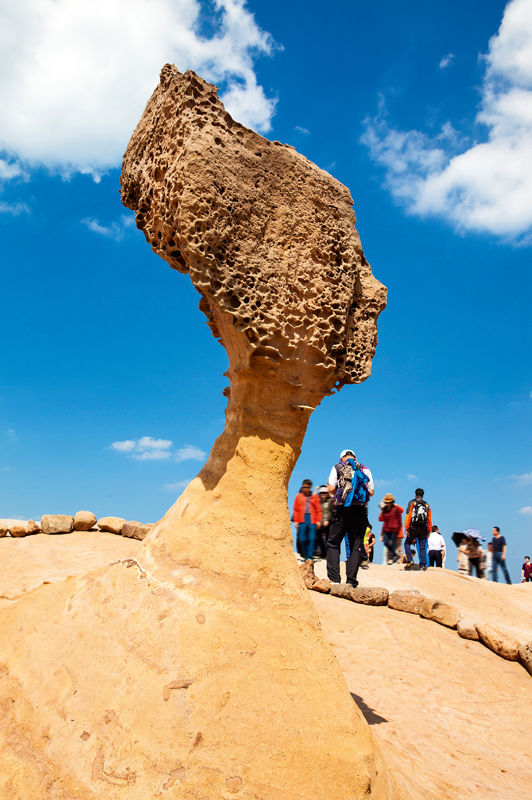 Above: SPOT The most spectacular formation is a 4,000-year-old 'Queen's Head' which is said to have an uncanny resemblance to Queen Elizabeth.
The Yangmingshan National Park is set on the Tatun Volcanic Group of mountains, a volcanic bed from millions of years ago. Today, the twenty volcanoes here are theoretically dormant. We got off the bus at Xiaoyoukeng to an overwhelming odour of rotten eggs, which Francis informed was sulphur, pointing towards sulphur fumes that were escaping from the steaming vents and fumaroles. Hot springs and yellowish green sulphur deposits are found across these mountains here, making the area a popular tourist spot.
The North East coast of Taiwan is home to the Yehliu Geopark. When the sky bursts to pelt in sheets, the beauty of the cape reaches its peak. Rocks lining the coast of the Pacific Ocean have assumed different forms over the years: shapes like mushrooms, beehives, ginger, candle sticks, and tofu are an absolute delight to watch.
A bus to central Taiwan takes you to the beautiful Sun Moon Lake. Surrounded by rolling mountains, vast sailing curtains of mist, the lake is shaped like the sun and a crescent moon with cherry blossom trees lining the shore. The cobbled streets in the town on the edge of the lake and the views from there of turquoise waters make it seem like a picture from a piece of Chinese tapestry.
TRIVIA The lake is separated by Lalu Island, a place where aboriginal tribes talk to their ancestral spirits.
Arrow bamboo found in surplus at the Yangmingshan National Park is used by aboriginal tribes to make weapons for hunting. Shop for arrow bamboo writing materials, and traditional musical instruments and mah-jong tiles made of bamboo, and follow the arrow bamboo trail at the park running through a thicket of canes on either side.
Taiwan is a popular holiday destination with the Japanese and the Koreans. The Yangmingshan National Park has sulphur springs known to have medicinal qualities, and a lot of resorts have water from the hot springs flowing into their pools for guests to take a dip in.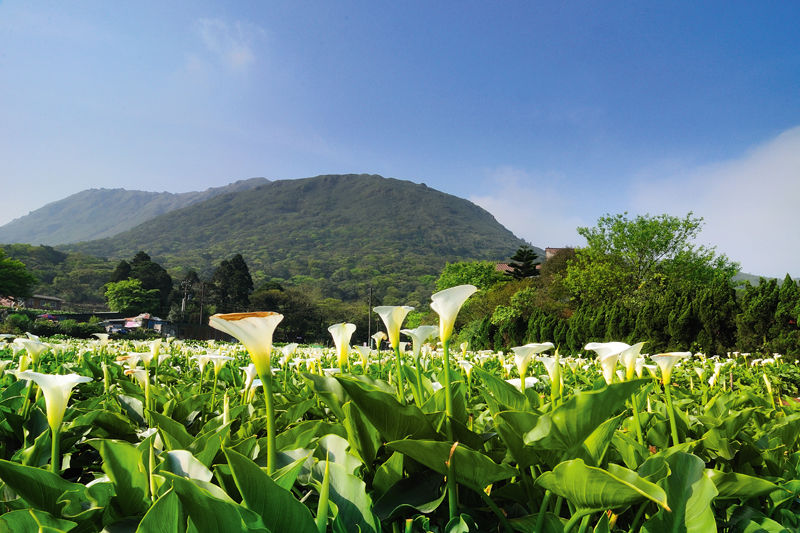 Above: DIG DEEP This part might give you an insight into Taiwan's history. Earlier known as 'Formosa' (beautiful island), it was first sighted by Portuguese sailors in 1544.
Zhuzihu is a farming settlement in Yangmingshan. Its entire expanse is like a green carpet with snow sprinkled on top, the 'snow' being large Calla lilies in full bloom spread as far as eyes can see. You can walk through the neighbourhood to watch farmers sell fresh farm produce and sample juicy guavas, peaches, oranges, and tomatoes on the way.
STAY: The Tien Lai Resort & Spa (tienlai.com.tw) is set against the backdrop of mountains.