Disclaimer: Please do not read if dieting! 
Gather around, foodies and travellers, your dream tour that fuses your two passions is finally here! Culinary tours are the latest out-of-the-box travel trend in India these days. If you're someone who has a passion for cooking and wants to learn from the rich culinary traditions from around the country, you have to plan a culinary tour right away. Here are some of the companies with whom you can take a culinary tour of India. Let's see the tastes of India that they have to offer.
Food Tours India
This company provides culinary tours in various cities of India. Food Tours India believes that a culinary tour helps one explore a city like a traveller, not a tourist. You get the chance to interact with locals and their lifestyle, all through a plate of food. Food Tours India organises 6-9 hours of food touring in a city, and the package can be customised according to your interests. With a food tour, the company also offers city exploration options where you can visit offbeat locations and experience the place like never before. All this, while you'll be guided by a local professional chef who will lead your food tour. You can also customise and create a multi-day food tour in cities across India.

Available in: Delhi, Jaipur, Udaipur
Cost for 1 starting from: ₹2,500 
Delhi Food Walks 
Delhi Food Walks seeks to redefine the culture of food. A day with them is sure to take you to some of the most interesting places in Delhi, that are rich in culture and history, along with introducing you to the most typical food of Delhi. Your walk will cover every aspect of a food walk with utmost precision. You can opt for a breakfast trail, street food tour and even a tea trail! Whether you're visiting India for the first time, or have been living here forever, this is an experience that you must try. It's a great way to explore places of Delhi in a completely unique way. Be it Chandini Chowk, Daryaganj, Kamala Nagar, CR Park, Nizammudin or Paharganj, Delhi Food Walks can take you everywhere.
Available in: Delhi, Jaipur, Varanasi, Agra, Bangalore, Lucknow, Amritsar, Kolkata
Cost for 1 starting from: ₹3,000 onwards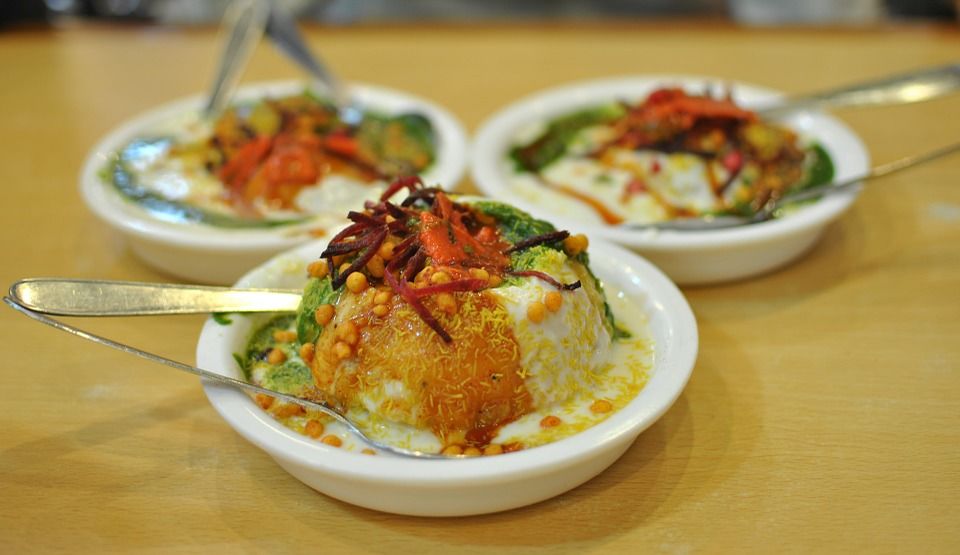 Agra is one of the most visited towns of India. Think back to the time you went there, didn't see anything apart the Taj Mahal. Well, a visit to this colourful city is incomplete without experiencing its local culture; the best way to do it is by a food walk of course! Agra Food Tour will take you through the hidden gems of Agra– the best sweet shops, restaurants, street foods and dhabas, making you taste the best flavours of Agra. In a day you will be taken to 7-9 authentic places where you can experience the food of Agra under the guidance of a professional chef. In addition to this, you can also enrol for cooking classes with Agra Food Tour.
Available in: Only in Agra
Cost for 1 starting from: ₹4,500
Rajasthan Food Tour
Rajasthan Food Tour organises culinary tours, cooking classes, desert safaris, play time with elephants, jungle safaris, cultural events all across Rajasthan. You can choose from a gourmet holiday package with a chef, culinary tours, cooking classes or kitchen tours. Rajasthan's cuisines are the most unique, from a wide range of vegetarian meals like dal baati churma and an equally rich non-veg counterpart – lal maas, Rajasthan is the perfect place for a wholesome culinary experience. Not only will you learn how the food plays on your palette but also its history and the importance of each food item.
Available in: Jaipur, Udaipur, Jodhpur
Cost for 1 staring from: ₹3,000
India Detours
The Hyderabad Old City Walking Tour, a culinary experience under India Detours, takes you through the choicest of nooks and corners of Hyderabad whose excellent food preparation has made the city a foodie's Mecca. This tour will take you along streets around Charminar. From the best biryanis, haleems and iranian teas of the town, to experiencing the food ethos rife in the city's busy streets, a food tour in Hyderabad is what every foodie must experience! In addition, taste Hyderabad's warm, local baked goodies and sought after breakfast food.
Available in: Delhi
Cost for 1 starting from: ₹2,500
Kolkata Food Walk
Kolkata is yet another exciting city is India that has an extremely vibrant culinary tradition. Kolkata Food Walk is created to provide you the ultimate foodie experience by taking you the best places that many would not even know about. Be it roshgulla, biryani, bhetkir paturi, shorshe ilish or kabiraji, this food walk in Kolkata covers it all. As you let your senses take over with every plate of a hot meal, open your mind to the magic that goes into creating that speciality. With Kolkata Food Walk, any boring weekend can become a day of gluttony and absolute happiness. Moreover, being part of the food walk group is free, so all you have to do is eat with like-minded foodies.
Available in: Kolkata
Cost for 1 starting from: FREE, except expenditure on food.
Jugadoos
With heavenly choley bhaturey, butter chicken, dal makhni and butter naan that are god's blessing to mankind, Amritsar is the place to be for all those who live and breathe only food. A food walk with Jugadoos is short and sweet (3-5 hrs) but promises to introduce you to 100% real, authentic and legit Punjabi food. You will be guided through a 6 kilometre leisure walk through both old and new areas of Amritsar, stopping to taste famous Amritsari food along the way. You will be introduced to 20 different dishes from about 7 different places where you can savour the Amritsari flavours at your own pace, and even learn tips on how to cook these dishes the Punjabi way.
Available in: Amritsar
Cost for 1 starting from: ₹600
Food walks are a shortcut to happiness, your ticket to getting all the food that you love along with travelling to the hidden gems of a city. Next time, don't just overlook a mysterious crowd surrounding a food cart, get out and try the dish for yourself! You can start practicing food walks by yourself, purely by observing. So what are you waiting for? Stop drooling, and get enrolled for a food walk already!
Have the perfect itinerary for a food tour around your city? Create your own story and share it with the world on Tripoto today!