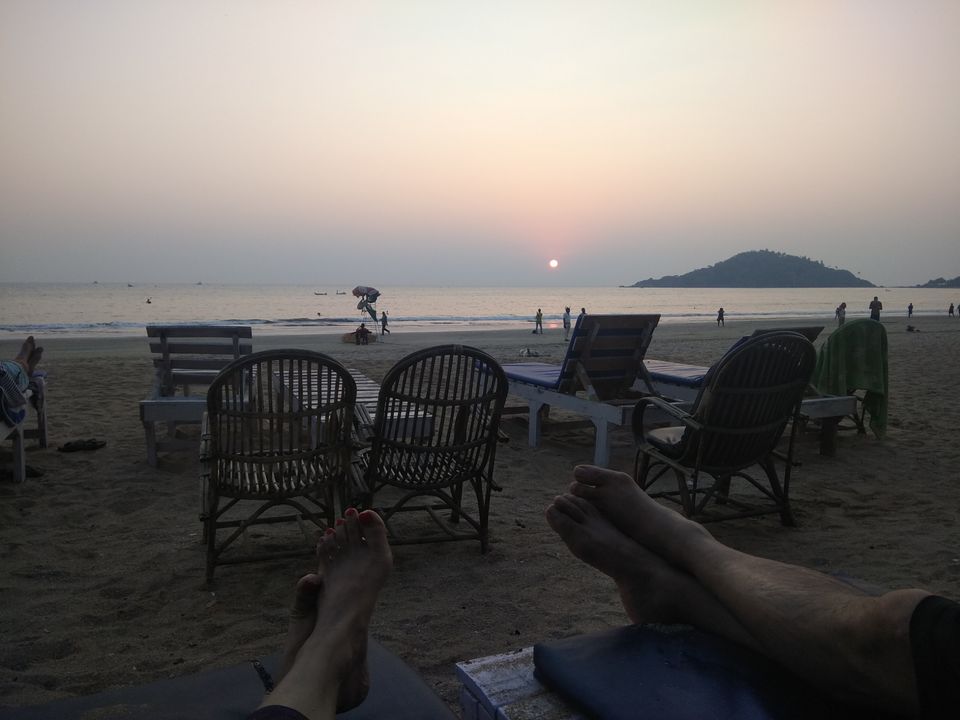 Hiee Friends!
Hope you enjoy reading my blog as the information that I am going to share will certainly get you to visit one of the online hotel booking sites and you are literally gonna end up planning you next itinerary.
Anyway, even if you are looking to plan a Beach Vacation at Goa especially South Goa, this blog is definitely for you, my friend.
Also, if your are considering whether to plan your stay with friends, family or ahem..the special someone too... don't worry this blog will I believe will help you out in a way or other.
Starting my journey of South Goa, believe me, it was NOT A RANDOM PLAN, it was full planned family trip where we literally juggled a many places to finalize where we are going to spend our beach time. And , yes it was the most awaited family trip and everyone was excited to enjoy the vacation. And since it was a family trip, you have to make sure to choose a place that is quiet, peaceful and has lots of scenery. So it was exactly done in that way itself.
We landed at Goa Airport, went to the booked hotel and enjoyed 2 days in Panjim and a day in Sinquerim for Water Sports. The day was very hectic and the time when we were having our dinner, my father ( who was literally not in favor of the trip), used the well-known Google Search Engine and made a change in the plan as, I believe , Goa can bring back " Young " days back in each and every one's life. So here, we were, scrapping our booking for next 2 days ( the planned schedule) and trying all the booking sites to search for the hotel near the beach that my father wanted to go.
Anyway, to our surprise, he was very excited to see Palolem Beach...as it has some most amazing and fascinating pictures at Google. Thanks to Google- you changed our plan in nick of the time bro!
Next, the children in the house started looking for all offers and discounts that one can avail at 11.45 pm at night to book a hotel for next 2 days at Palolem Beach.
And, guess who saved us??? Woilaa!
Booking.com- And yeah the hotel we found out was * RoundCubeGuestHouse*
Again, to our luck they had one family room and beach house as we say, and yes, we Booked it...Whoho!!!
Yes, here comes the most awaited day! Once we reached at the beach house- we all were awestruck! It was the best feeling....staying by the beach!
Always, I always , had seen this in movies, this was one of those luxurious feeling that I had gotten here.
Here we go, first look of RoundCube ...see below....
After literally, gazing the entire place again and again, we just headed towards the beach...... infinite beach.....big so big...(Sea, I told you)
I think, this is one of those beaches where you could find a lot of shells, probably get a chance to see starfish ( hardly any, but only if you are lucky enough). The water is a little more salty then what you could have experienced at Baga, Calangute beaches. And yes, the one strange thing was, that we saw more foreigners here than Indians.
So, for a moment I literally got the feeling that I am in some FOREIGN land and not in India since I could hardly find Indians there.
Anyway, back to my story, Sunset at Goa is the most beautiful thing and here, unlike in North Goa where you pay ₹50 for half an hour to watch sunset by sitting at the shacks, you don't have to pay any additional amount. Your hotel booking covers that and you can just lie down at your shacks, chill, order food, eat , relax and watch Sunset!
Infact, you can enjoy peace at your shacks till midnight! Yay.......
Picture 1 below: Is the place where we lived
Picture 2 below: Shacks, eat, sleep
Picture 3 below: Capturing beautiful Sunset at Palolem beach, South Goa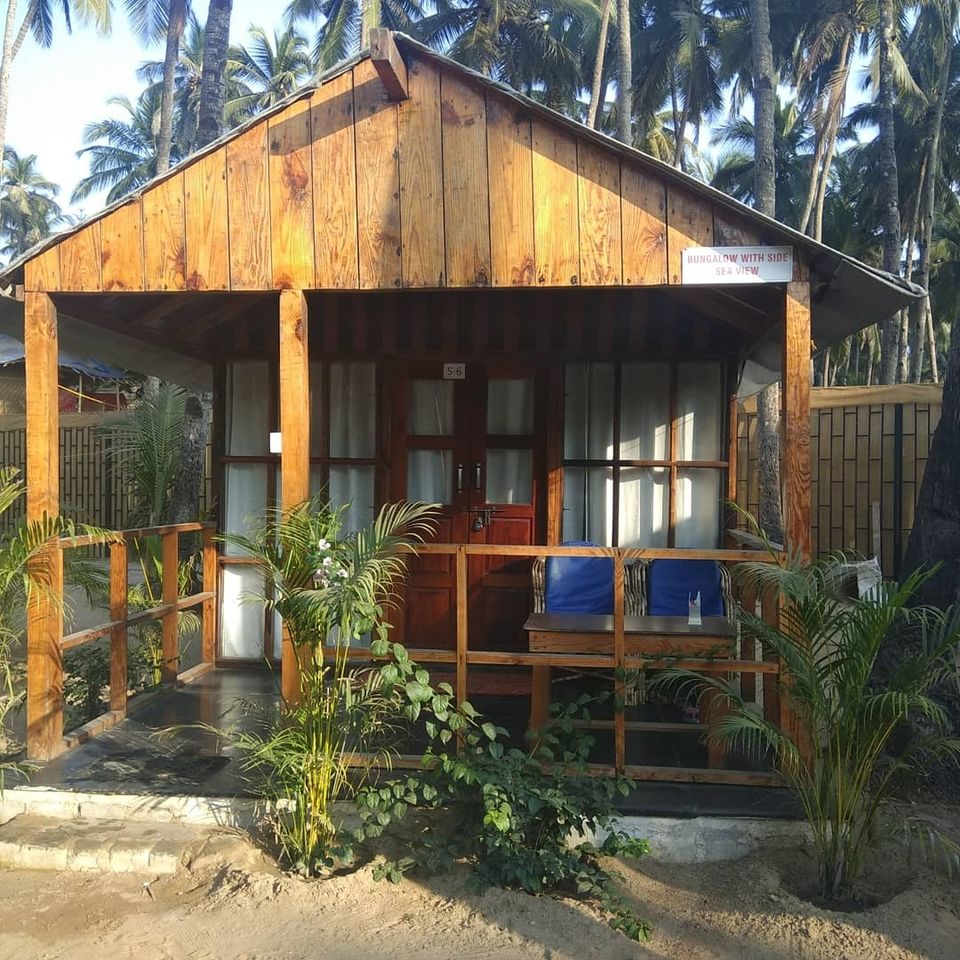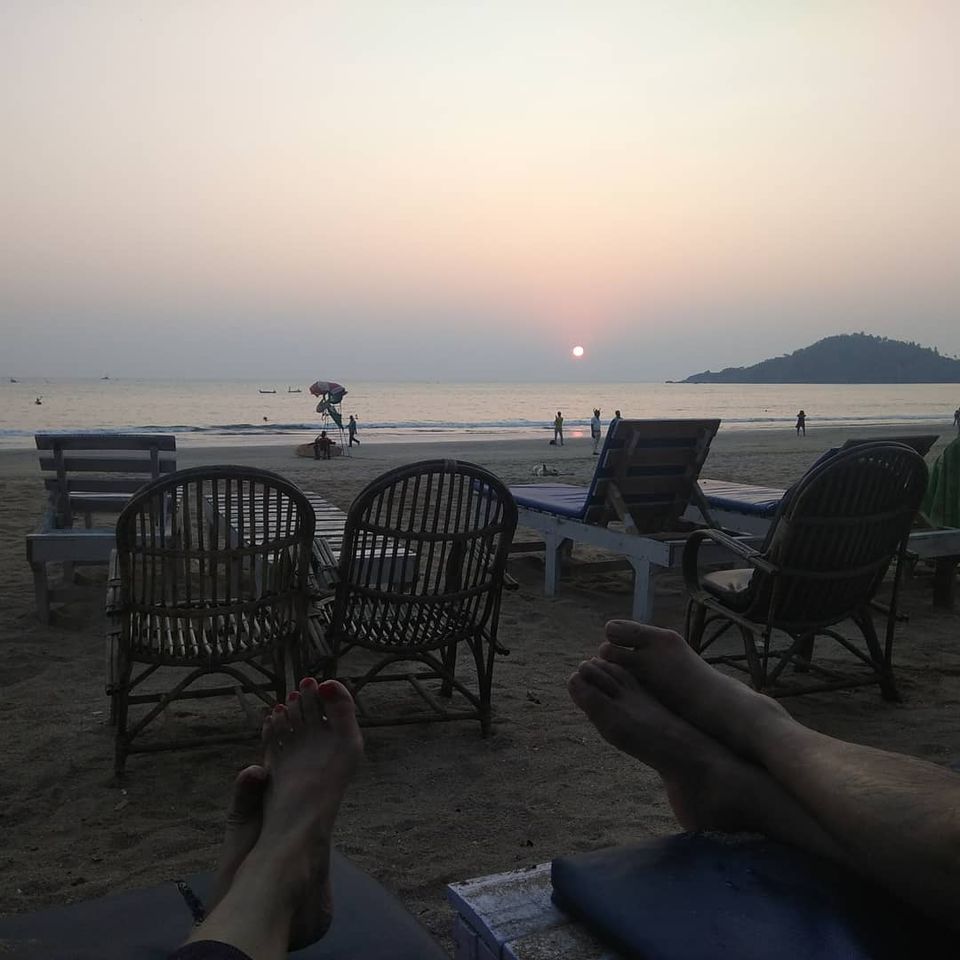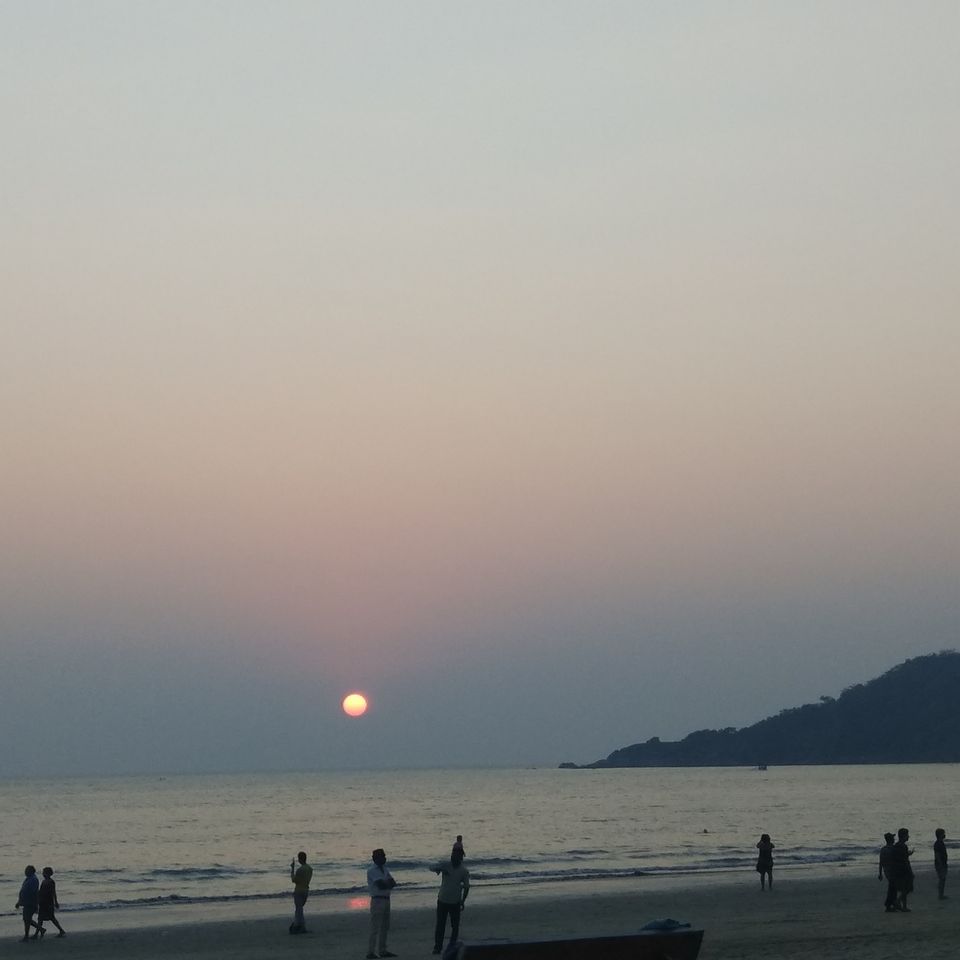 Well Well! After spending night near the sea,we had a sound sleep!
The waves were so noisy at night, that we literally felt , that the sea is one foot away!
Nevertheless, my friend, since it was the second and the last day at this beautiful place, we woke up at 5 am in the morning and headed towards this beauty!
Foreigners were practicing yoga by the beach, few were jogging and I? I was just sitting quiet and enjoying the noise that the waves were making, and it was calm and placid.
Check out my photos that will help you understand better- what I was doing at this time in the morning. Capturing the beauty, that's it!
I have recommended it to all of my friends and I can assure you , you will love it! You can count on me for this!
Book your stay for 2-3 days and this place will love you back!
For more pictures browse my Tripoto Profile or just follow my Instagram handle : tsaystravel