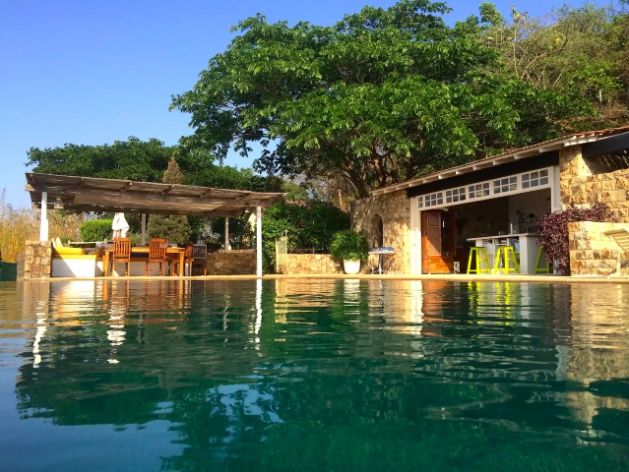 Alibag is a scenic coastal town located just 100 kilometres away from Mumbai, known for its sandy beaches, serene waters and peaceful environment. It makes for the best getaway from Mumbai and Pune. Alibag is also famous for its coconut groves and there are many beaches here which are relatively less populated and relaxing. Alibag also has many historical temples which can interest the spiritual traveller. The villa, Firefly, is located just under 30 minutes inland from Alibag town.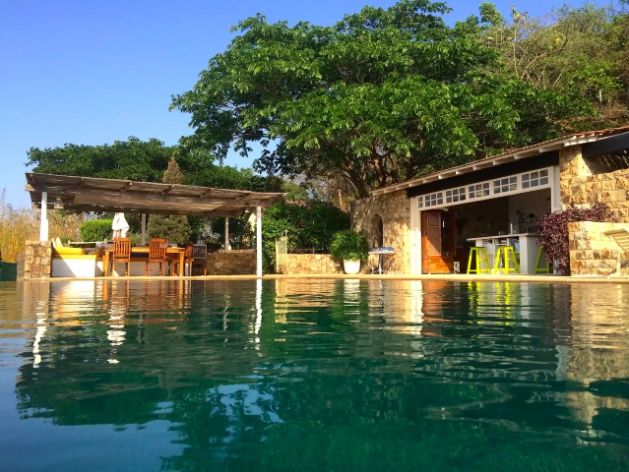 Made for
If you want to relax in luxury and soak in nature with your family or friends, this is the place to be. The swanky pool villa, infinity pool and the hill views all make it the best villa you would ever want to live in!
About the property
The property, named Firefly, is set on a 4 acre hill overlooking the Revdanda river and estuary. They have a 12.5 metre infinity pool with a view over the valley and the creek to the river. It's a tastefully done family home by Martin and Sagarika who shuttle between Mumbai and Rome. The open spaces, the colours and naturally lighting make it one of the most beautiful villas ever. No wonder it was covered by The Vogue!
The villa includes three air conditioned cottages with a total of 5 air-conditioned rooms. There are different cottages on the property, the Poolside Cottage with two rooms, the Glass Cottage and the Gatekeeper cottage. There are also three dogs at the property, so if you're a dog lover; yay! They have an Alsatian, Cocker Spaniel and Great Dane. The owners and the dogs are all very friendly with kids as well, so no worries!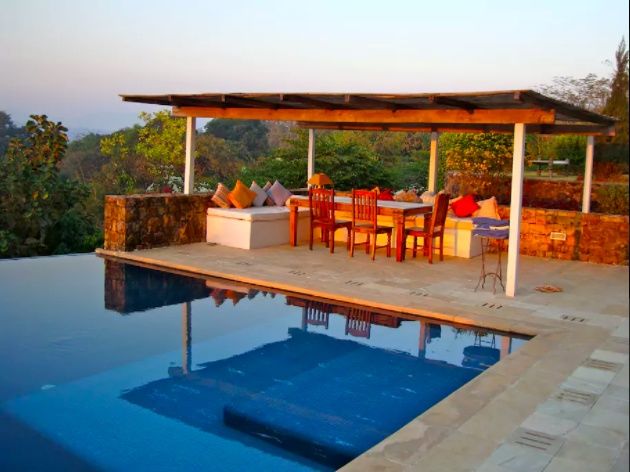 Cost
The cost to stay is ₹ 27,531 per night, meals are not included. They can arrange for two local cooks as well, which is ₹ 2,500 per night.
Food
For the cooks and the food they need a week's notice to organise cooks from the local village. The food is quite basic: rice, dal, roti, local vegetable, fish and chicken curries. They do keep beverages like Coke, milk, bottled water, milk, butter and other basics which are chargeable. The kitchen is also stocked with usual basics like olive oil, herb, spices, etc. which the guests are free to use.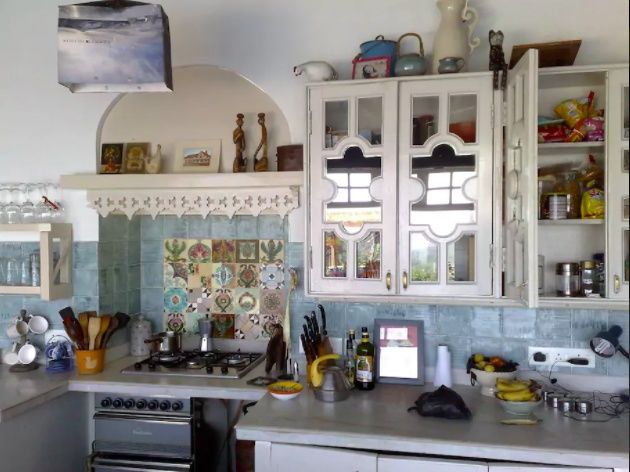 Best time to go
November to July is the best time to visit Alibag, as it's relatively cooler here. You can also go between August and October you can enjoy some rainy days as well!
How to get here
The nearest metro city is Mumbai.
By road
Alibag is best reached by road, as its 100 kilometres away from Mumbai. From the main town, the property is 30 minutes inland from Alibag town.
By boat
You can also reach here by driving from Mandwa Jetty which is an hour away from Firefly.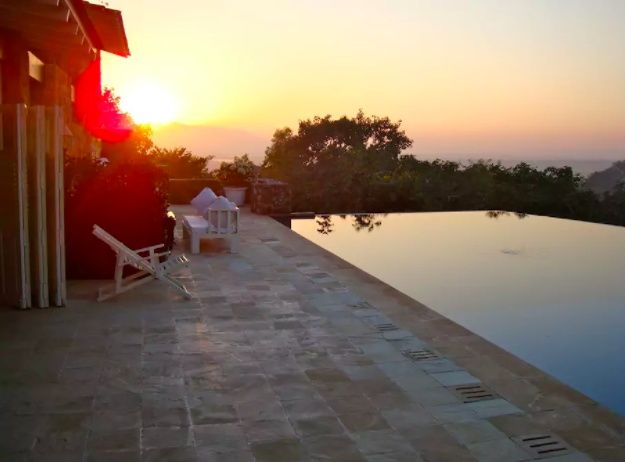 What to do here and around the property
Apart from lazing around in the infinity pool and enjoying the view; there's plenty more to do here. If you're a book lover there are over 300+ books here along with games, satellite TV, Sony PS3 and plenty of DVDs. You can even enjoy a great barbecue session with your friends as well! The poolside terrace includes an open wood fireplace for December or January nights.
You can also visit the Kashid beach which is just 30 minutes away from the villa. There are 16th century Jesuit Monetary ruins as well and of course the main town of Alibag is just 25 minutes away!
Kolaba Fort, Alibag is a old military fort where you can explore the remnants, enjoy the view and also explore temples that are situated inside the fort. The fort should be visited during the low sea tide timings.
One of the cleanest beaches in Alibag, they have exciting water sports and many restaurants which provide really good sea-food around the beach. Nagaon beach is natural and beautiful due to coconut, betel and suru trees.
Book this Villa here.

Know of a hotel, homestay or resort that made you fall in love with the destination? Write about it on Tripoto and help the traveller community discover something new.