The bustling blue city of Jodhpur is an epitome of "Old is Gold"! A perfect amalgamation of bravery, grandeur and royalty, the city serves as an ultimate escape from the hurly-burly of a metropolitan to a calm, peaceful and slow-paced life. There are a couple of places, one must visit in Jodhpur. Mehrangarh Fort, built in 1460 by Rao Jodha, the fort is in the heart of the city. Jaswant Thada, a cenotaph built by Maharaja Sardar Singh of Jodhpur, in the loving memory of his father Maharaja Jaswant Singh. Umaid Bhawan Palace, built by Maharaja Umaid Singh, is one of the world's largest private residences.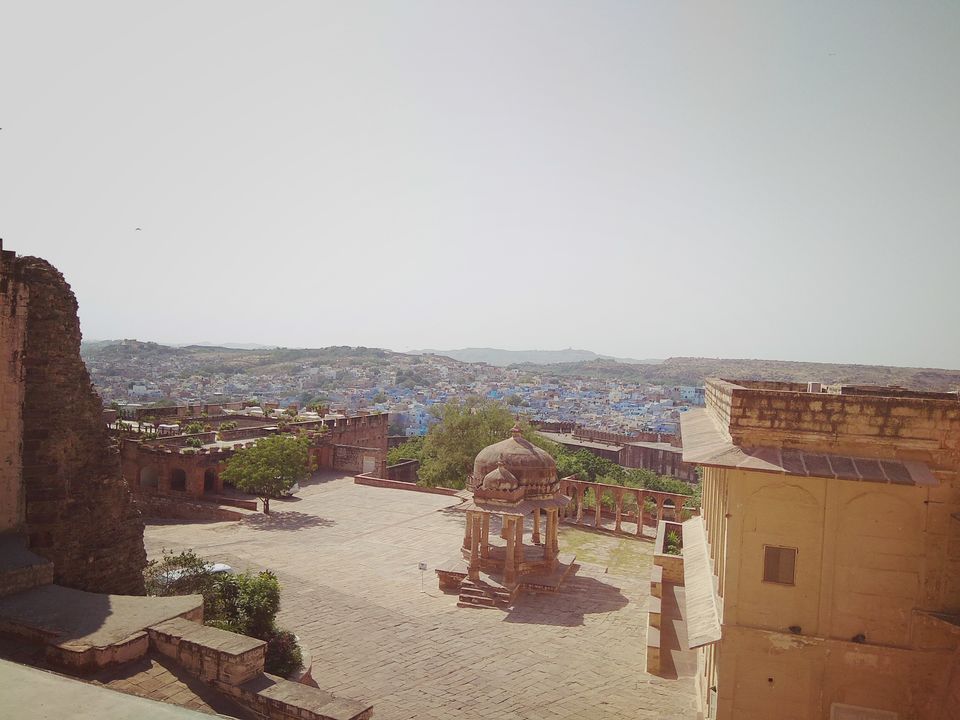 THE TRIP
It was a long weekend during Dussehra this year and me and my friends decided to spend it in Jodhpur. We embarked on our journey on Thursday (18th October 2018) around midnight from Gurgaon. Cheers to the well-constructed Delhi-Jaipur highway, the drive from Gurgaon to Jodhpur took roughly around 9.5-10 hrs. A couple of tea brakes in between, some light-hearted music, good company and a smooth drive is all you need to reach your destination in time, pumped up with energy. We reached Jodhpur at 9.30AM, Friday morning (19th October 2018). The city upon entering gives you such pleasant vibes, chaotic and buzzing with activity, a walk through its narrow lanes—created to shield people from the harsh sun— do complete justice to small city feels. The classic architecture – knitting together traditional artwork and archaeological ruins – seems to take you back in time, to when Jodhpur was a city of royals. The vintage and rustic look of buildings and houses painted in soothing blue color wins your heart at the first glance itself.
THE STAY
We had our reservation at this place called Hotel, The Blue House. This beautifully built blue colored house, right at the heart of the city is situated close to the Mehrangarh Fort and dates to 500years. We were warmly received by the owner of the house and were served with hot and refreshing cinnamon tea. Parts of the house have been restored over time, but it still holds a peculiarly attractive and beautiful structure. The antique furniture ornated with ancient showpieces of art and the walls decorated with murals exhibit the characteristics of ancient era. Besides the extremely congenial and hospitable owners and mind-boggling interiors of the place, the highlight of the house was a rooftop café with a direct view of the Mehrangarh fort. We were lucky enough to get accommodation in two rooms with a private passage and view of the fort. This little corner of ours is what all of us cherish the most. Living in the heart of the city, we are all used to city cacophony. This was silence that we couldn't recall experiencing before – one that was almost absolute. The place was characterized by soft susurration of the leaves, the orange glow of the fort, the soft talks littered with smiles and the relaxing notes of the music swimming through the night sky.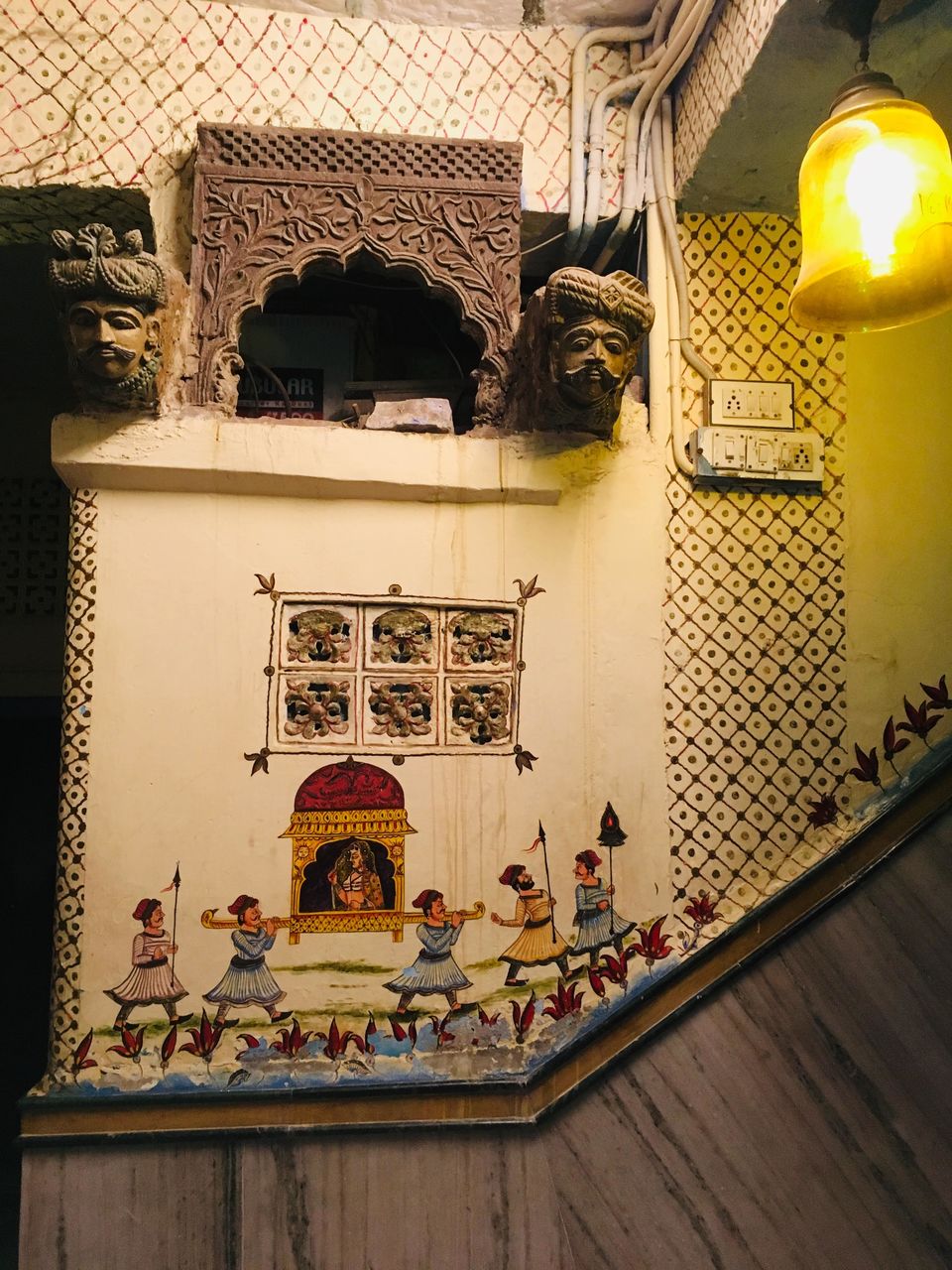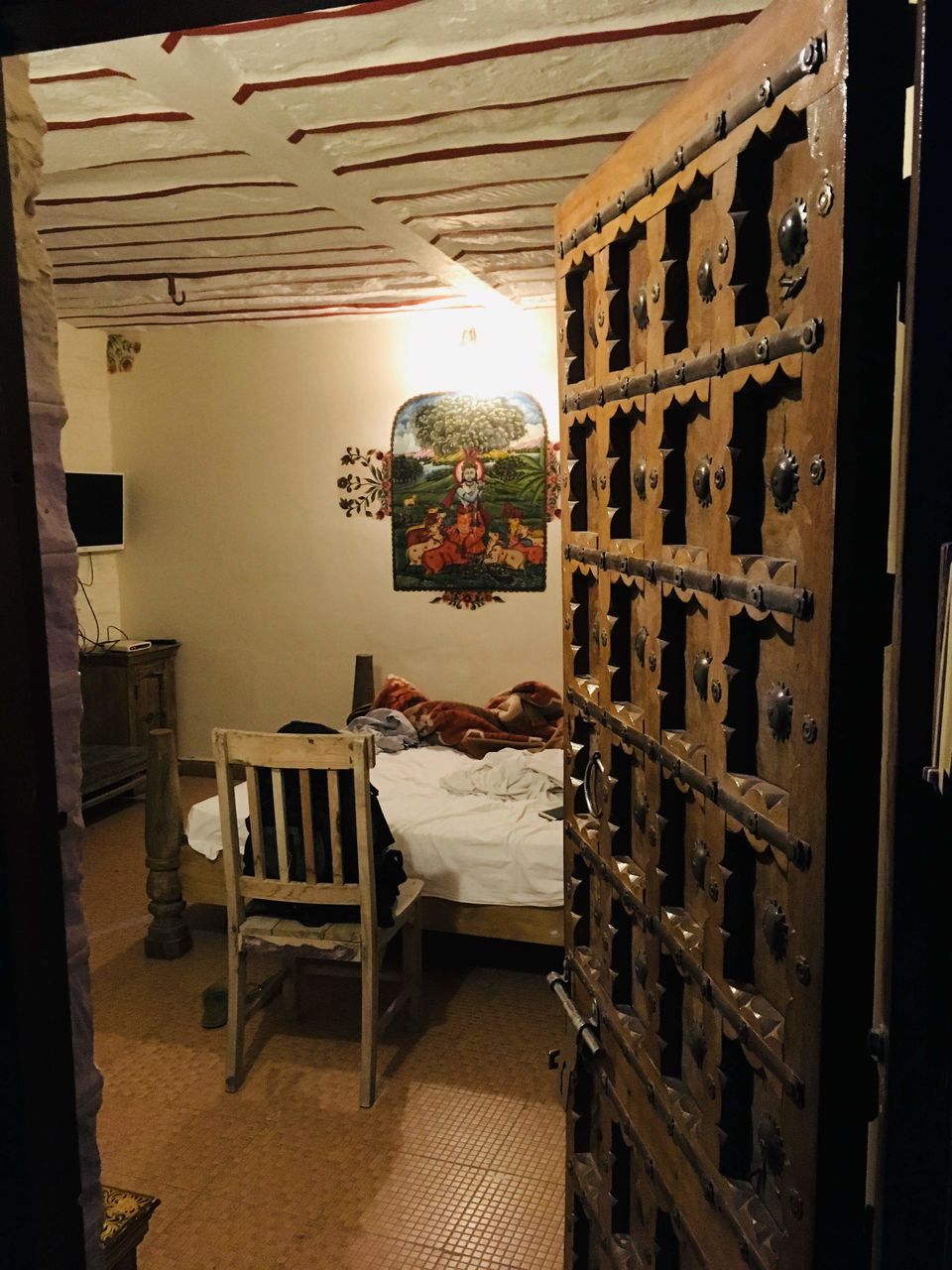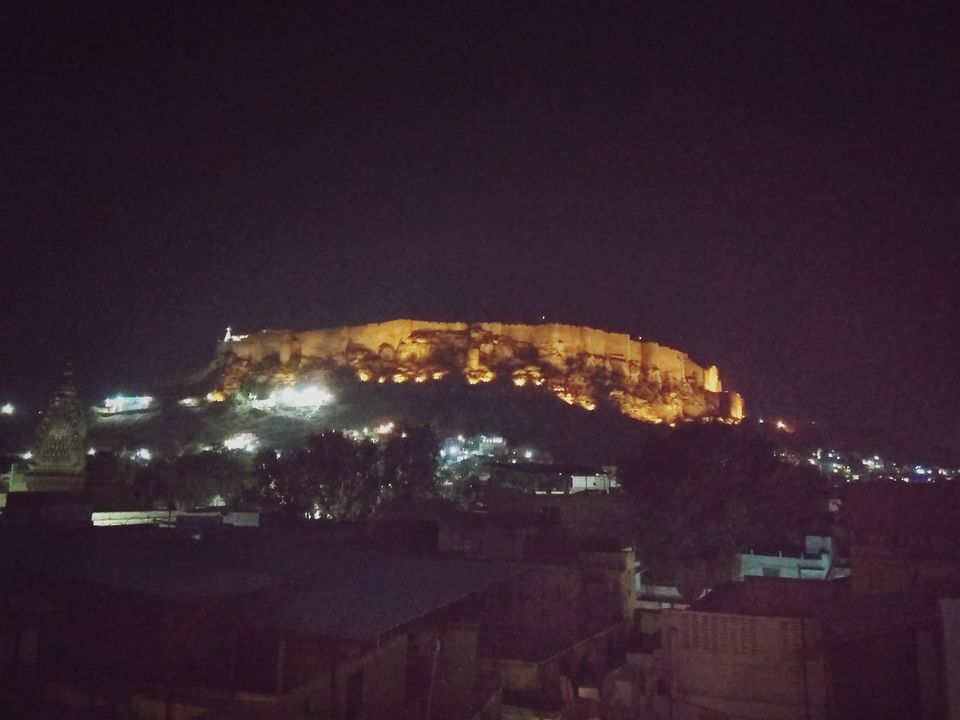 KALYANA LAKE

We spend our day roaming around in the city, exploring the local markets, drinking the colors and aromas like an elixir and paid a brief visit to Kalyana lake in the evening. The lake, situated in the outskirts of the city, is an artificial lake built by Pratap Singh in 1872. It was completely dark by the time we reached there but the place is worth a try. We stopped our car uphill for a couple of minutes and a frisson of excitement shot through us. The place was eerily quiet, and a sliver of moonlight spilled the surroundings turning the blackness of the night into a shadowy grey-scale milieu. After having a fair share of our tour for the day, we decide to go back to our hotel, have dinner and rest for the night since we were scheduled to have an extremely busy next day.
THE MAJESTIC MEHRANGARH FORT
Saturday (20th October 2018) was swamped with "Places to Visit" list. We started with having a princely lunch at Gypsy restaurant where the authentic Rajasthani Thali is served with an elaborate menu of 31 different dishes. It was an absolute delight to have these exquisite spreads of preparations served to us in beautiful Rajasthani plates and brazen bowls. One needs to be either famished or have a giant appetite to finish off this entire thali. We were peckish since we had skipped our breakfast to have this meal. It was around 3PM after lunch, when we set our GPS to Mehrangarh fort. All of us were so excited to finally visit the most talked about fort in Rajasthan but fate had some other plans for us. A piece of advice for all who visit Jodhpur in self-driven cars – Do not follow Google maps for local sight-seeing. Always prefer to ask locals for directions. We followed Google and got stuck in one of the narrow lanes of the city just 900m away from the fort. It was labyrinth of little streets each smaller in width than the previous one. The continuous juggle between directions, constant hurl of abuses from locals and our desperation to get out of the street brimming with vehicles and humans, left all of us completely exhausted. We ultimately managed to reach the main road after 40-45mins of turmoil and took another route after consulting locals and finally arrived at our destination.
The Majestic Mehrangarh Fort, from where you can see the city sprawl out beneath, smearing its blue tint into the horizon. The fort itself is a stunning example of asymmetrical and organic Rajput architecture combined with the elaborate geometry and floral decoration of the Mughals. Starting from the entrance, embellished with bullet marks, to the view of the blue city and the breath-taking architecture, the impregnable fort leaves you mesmerized. We took an audio guided tour that takes the visitor on a veritable treasure hunt through the Fort which includes a museum with magnificent collections of silver elephant howdahs, gilded palanquins, carved ivory, weapons inlaid with gold and jewels, rare pieces of textile, and some of the world's finest miniature paintings. The Maharaja Gaj Singh II, who ascended to the Gaddi of Jodhpur in 1952 at the age of four, also shares his memories of the moving Raj Tilak Ceremony at Mehrangarh.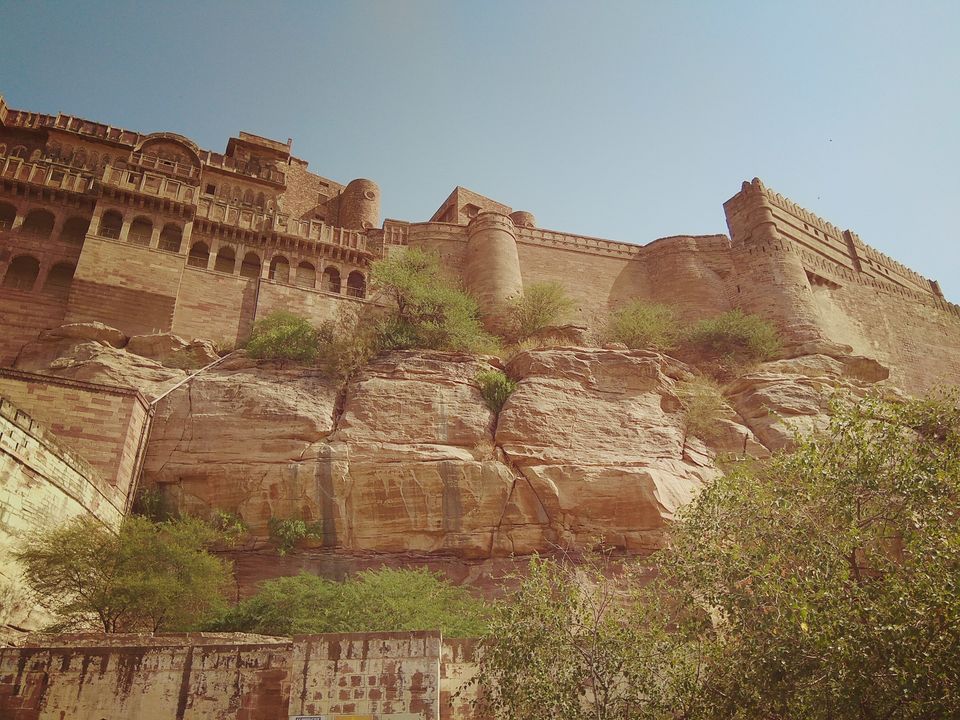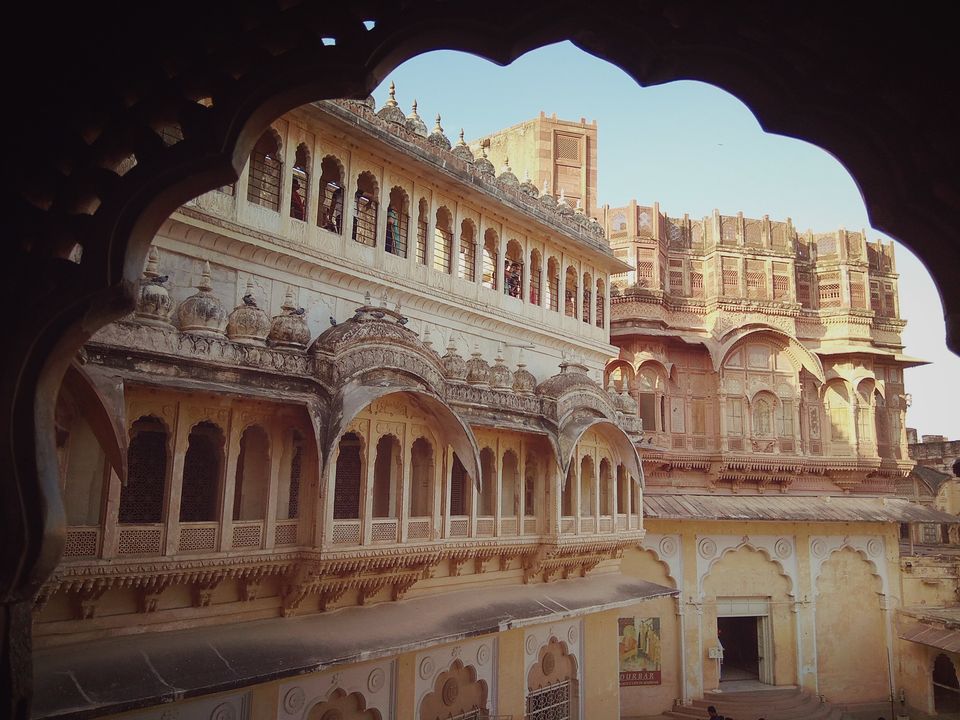 We took approximately three hours to finish the fort tour along with small stops at the art and handicrafts shop within the fort, followed by a visit to Jaswant Thada. This place is at a walking distance from Mehrangarh Fort and is used as a modern-day cremation ground for royals of Marwar. We reached the place around 5:30PM, when the mausoleum built out of intricately carved sheets of marble was reflecting orange hues, intensified by the golden rays of the setting sun. Me and my friend did our customary photo shoot on every location, possible and went on to do what we like the most – Shopping. National Hand-loom located on Nayi Sadak is one of the best places to shop in Jodhpur and have a fusion of articles to buy from, starting from vibrant clothing to indigenous artwork, showpieces etc. An hour or two in the shop and one will realize his/her wallets draining out money like crazy.
We ended our day after making a final stop for dinner at The Curry's, which is a rooftop café in Zostel Jodhpur. More than the food, the ambience of the café and the interiors of the Zostel intrigued us. The rooms, gaming area, wall murals and every small little thing with a tinge of heritage, culture and ancient art were extremely beautiful. On our way back, we realized how close Zostel was to our hotel (approximately 1km) and that we could have enjoyed a nice, little stride back to our place.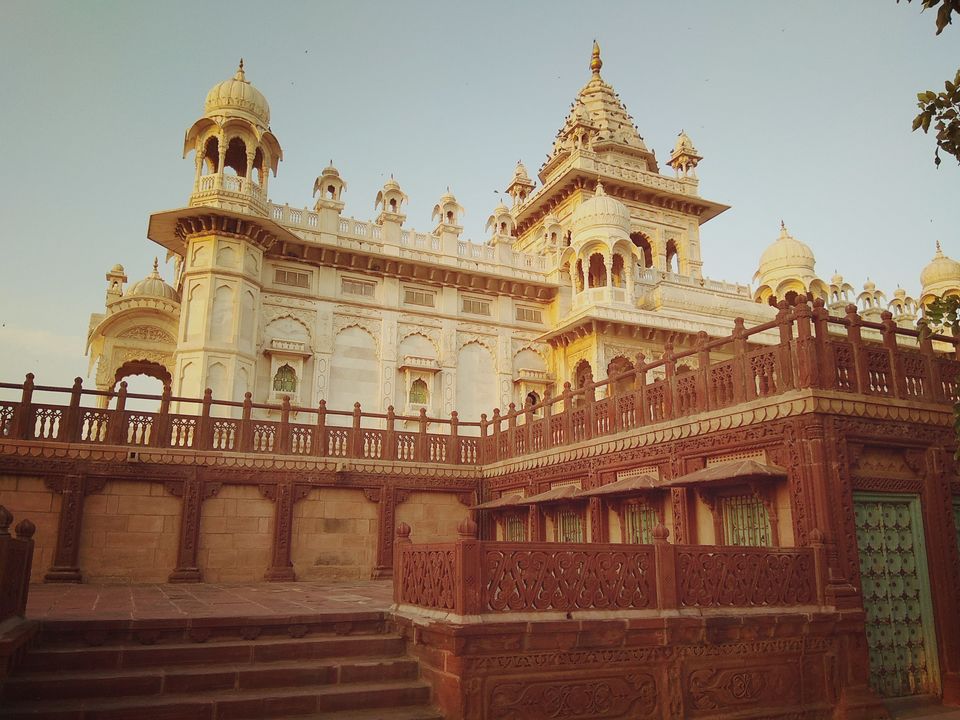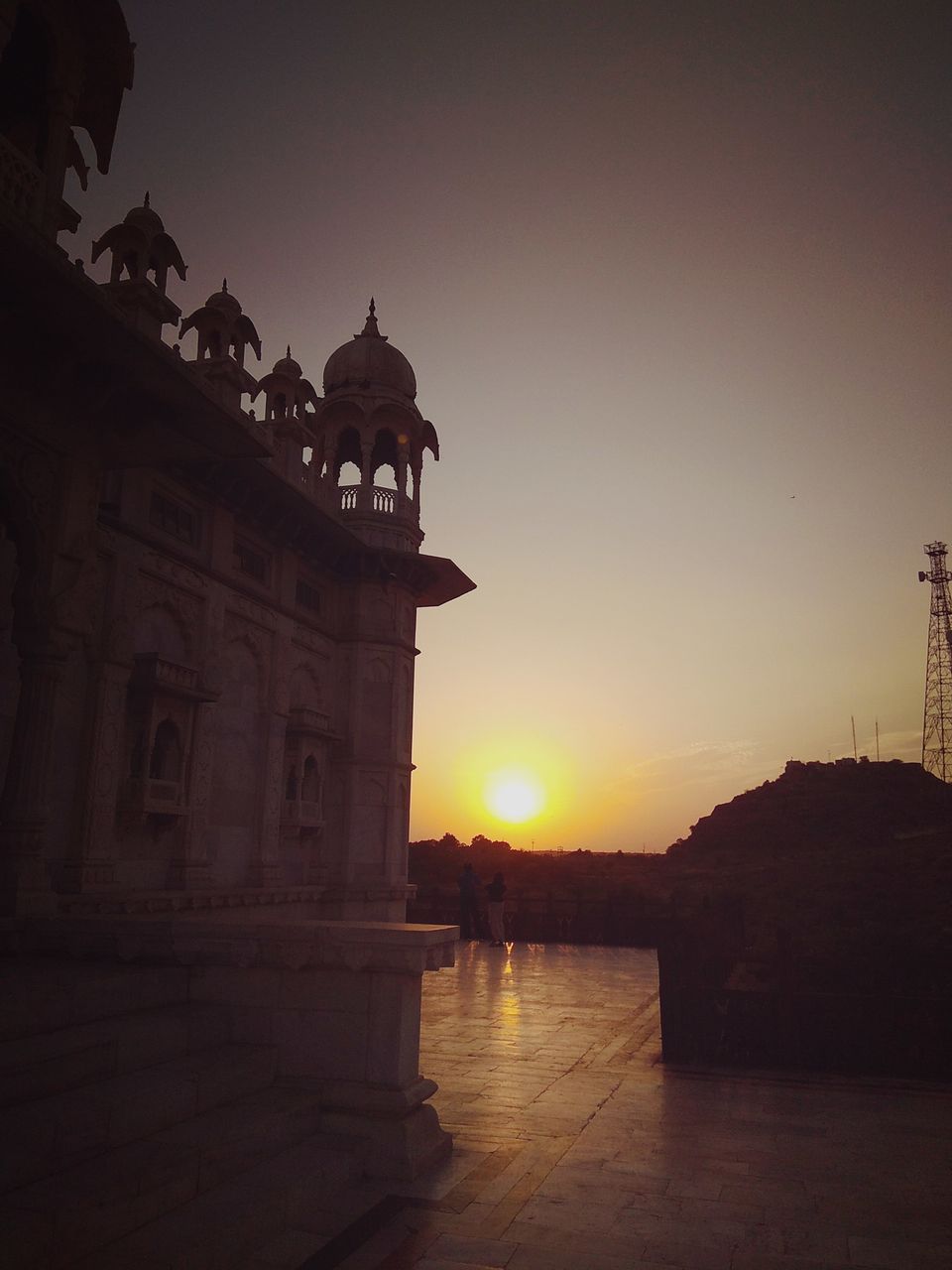 THE ROYAL UMAID BHAWAN PALACE
Finally, the last day of the trip. We packed our bags, bid adieu to our jolly owners and the heavenly abode and set out to visit the Royal Umaid Bhawan Palace. Food is something, all of us are particularly enthusiastic about. Hence, we decided to have an epic lunch before our visit to the palace. Zomato suggested a place called Kalinga restaurant, located close to the city railway station. Moments after we slid into our chairs and ordered, an enormous platter of food was served. Paneer gravy served in an earthen pot melted in our mouth, kadhi had an apt amount of salt and sour texture to it while daal tadka served sizzling hot with desi ghee was very tempting. Heavy-eyed yet utterly satisfied with our afternoon meal, we gathered energy to go one last mile.
Home of the erstwhile Jodhpur royal family, Umaid Bhawan palace is a magnificent piece of Rajasthan's heritage and houses a fascinating family museum. Its location at the top of Chittar Hill provides guests with phenomenal views of the city of Jodhpur, while its golden edifice (it was constructed from Indian sandstone) and huge acres of gardens leave the visitors flabbergasted. For an even more memorable experience – and one that's certain to appeal to car lovers – there is spectacular show of vintage cars outside the museum. Simply put, there's no other place quite like it.
Jodhpur, has its share of craziness and calm, experience and unfamiliarity, heritage and modernism which makes it all the more special and unique.
We started our journey back to Gurgaon around 3PM, a hub of engrossed and pre-occupied lifestyle, racing cars, restless and anxious personas. However, this serene city will always be cherished in our memories!!