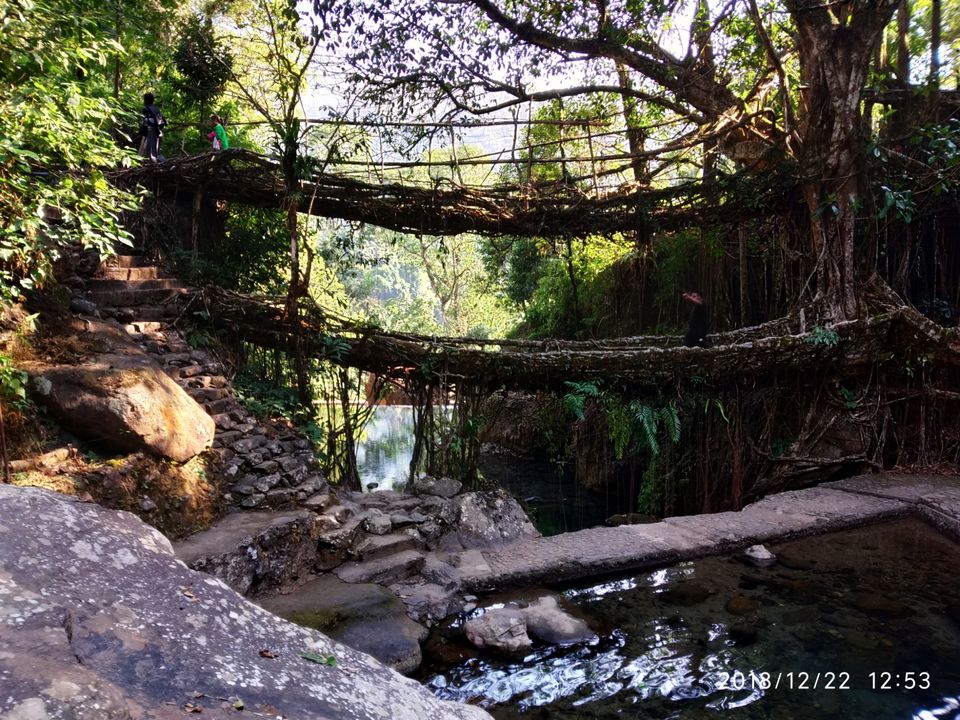 4 years back I saw the living root bridge on a travel show & I thought I got to see this and I did last year.
Basically a root bridge is formed by the tangled roots of rubber fig trees as a natural pathway.
There are 3-4 root bridges in Meghalaya but the best was the Nongriat Double Decker root bridge.
We started our journey from Cherrapunji @8 in the morning (if you can leave early, less crowd will be there). It took us 2 hours in a cab to reach to the parking area of Nongriat from where the trek has to begin.
You will find kids who give 'laathis' or poles on rent just for rs 10 which makes your trek easy while climbing up.
There were around 7000 steps. The first half was in descent and after crossing a rustic and shaky bridge we had to climb up. We saw beautiful village and church on our way to the root bridge. There were 2-3 tea stalls where you can have tea/coffee if you feel enervated.
During the trek we were sweating though It was winter but it was sunny too.
Before crossing the root bridge we had to pay for entry fee which was just 20 per head.
Then there was the Double decker living root bridge. It was blissful. Touching the tangled roots makes you realise that the ultimate mother of creativity is the nature itself.
There was a small waterfall in which the fishes were doing the foot spa for free. Though we did not dare to put our feet into the water because some of the fishes were really big.
They say that the journey is more important than the destination but for this there is no comparison between them. The destination was as beautiful as the journey.