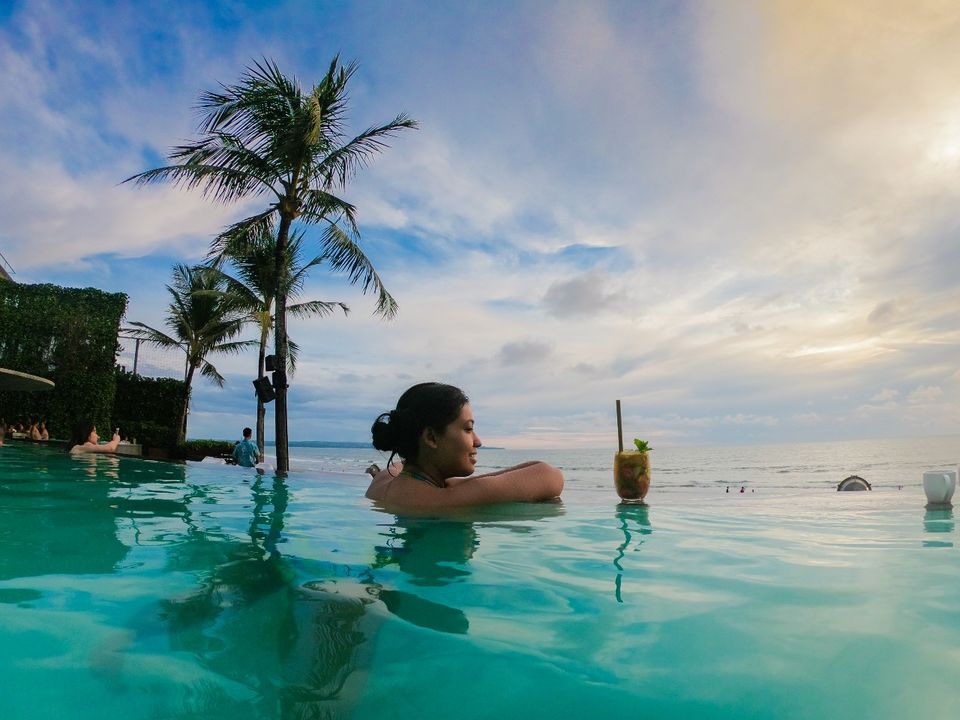 Well, this trip was planned extremely last minute and without any research. In 2018, Bali became one of most popular tourist destinations. So we planned a week long vacation immediately after our wedding. Most people call that a honeymoon, we called it a "Rehab" trip after the crazy wedding.
We took Air Asia for their pretty lucrative deals only to realise that there were tons of hidden costs like Baggage charges, food, water and even blankets.
We reached Seminyak at around 2pm and checked into our gorgeous villa with a pool. So Bali has some gorgeous villas listed on AirBnb which are very affordable and truly unique. Do ditch those hotels and try a couple of these!
Our first stop of the day was Potato Head. It is one of the most popular restaurants of Bali. Honestly, when i walked into this perky restaurant I thought it was slightly overhyped. But once we sat down, swam and had a couple of cocktails in the pool bar, I was floored. The vibe was so amazing!
Couple of other places we liked in Seminyak are:
1. Mexicola for their INSANE party (perfect place after dinner and drinks)
2. La Favella (Its just so gorgeous and you can spend hours exploring it)
Apart from a few restaurants and boutiques, Seminyak can be slightly commercial and crowded. So we kept just 2 days there.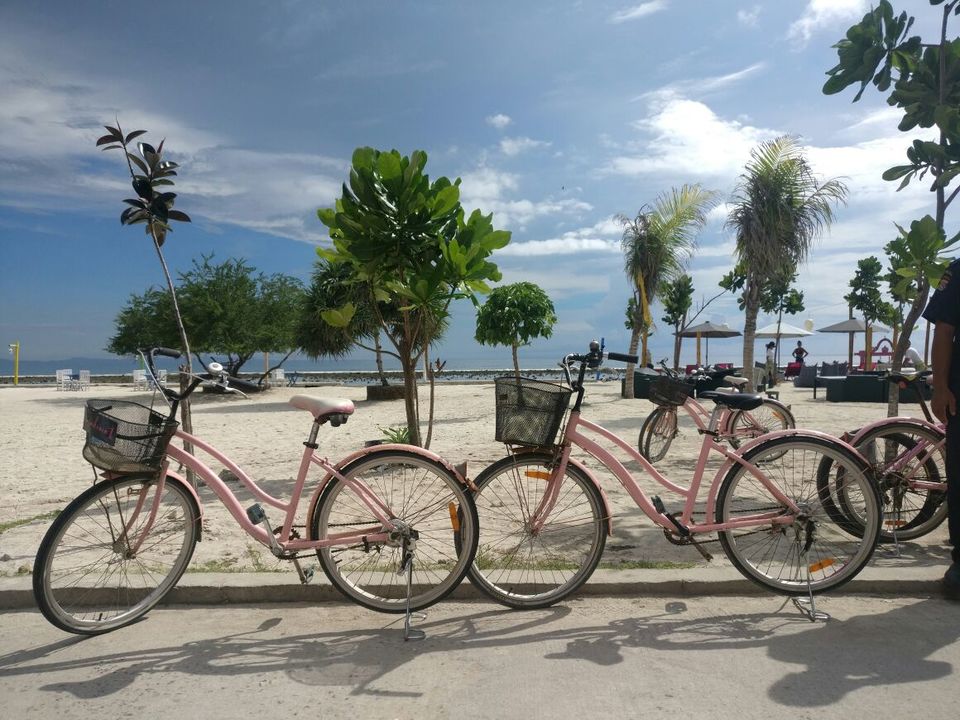 We left for Gilli T the next morning by ferry. We reached the tiny island in a couple of hours. The ride was so much fun with servers performing on the deck and serving chilled beer.
Gilli T is super chilled out island with no restrictions! We stayed her for 2 nights and loved every second with cutesy restaurants serving insane Nasi Goreng and Mee Goreng. The whole island can be covered on foot in an hour. No cars/ bikes are allowed. The only mode of transport allowed are horses and bikes!
Gilli T has tons of photo ops and you just can't stop clicking the perfect picture with the gorgeous blue backdrop.
A must do in Gilli T is the Jiggy Boat Party. Imagine a ship full of friendly strangers, potent cocktails, shots on the house, dancing and a few dips in the sea. It was just so much fun. We left from the island at around 2pm and landed back at around 9pm.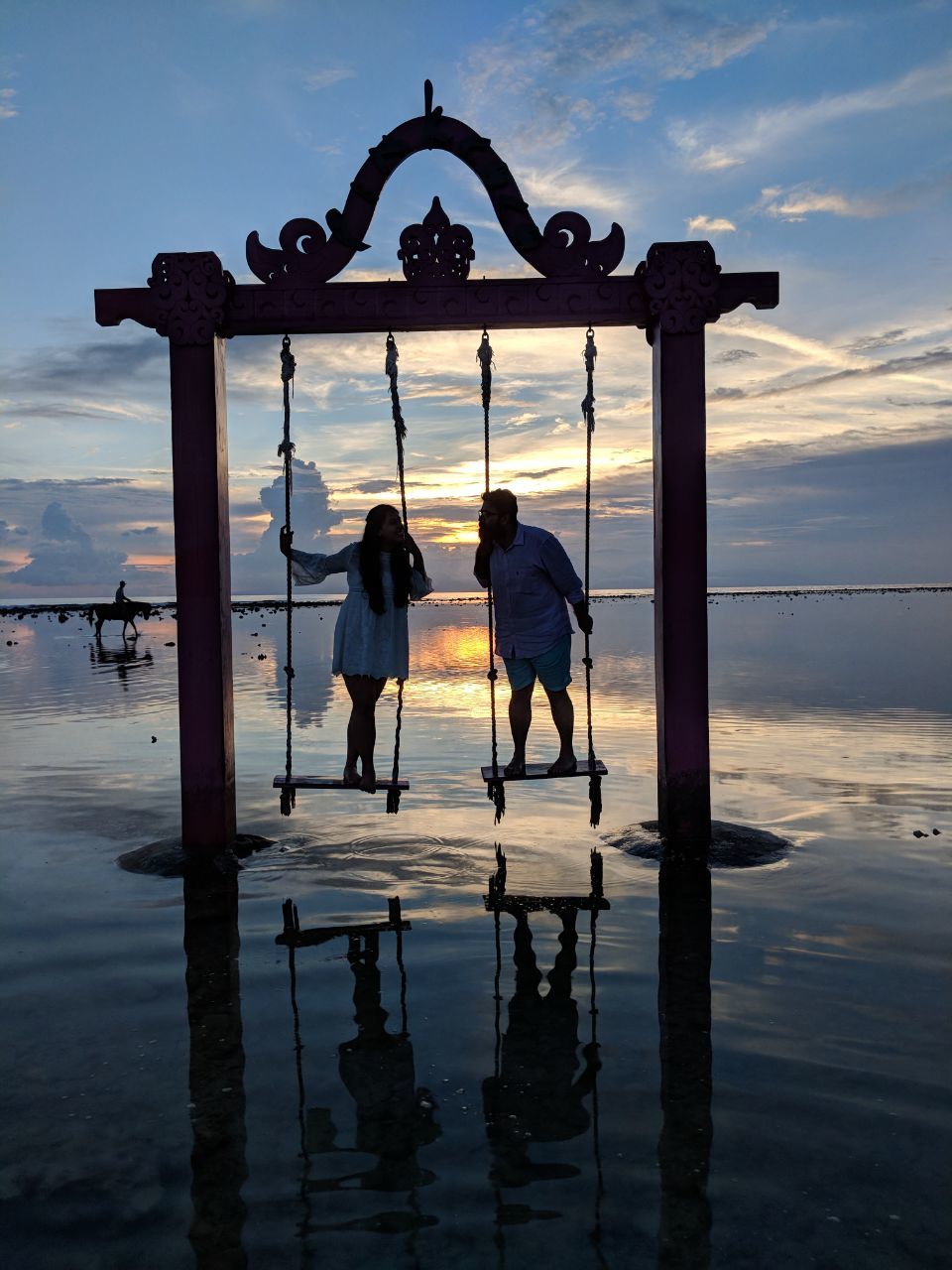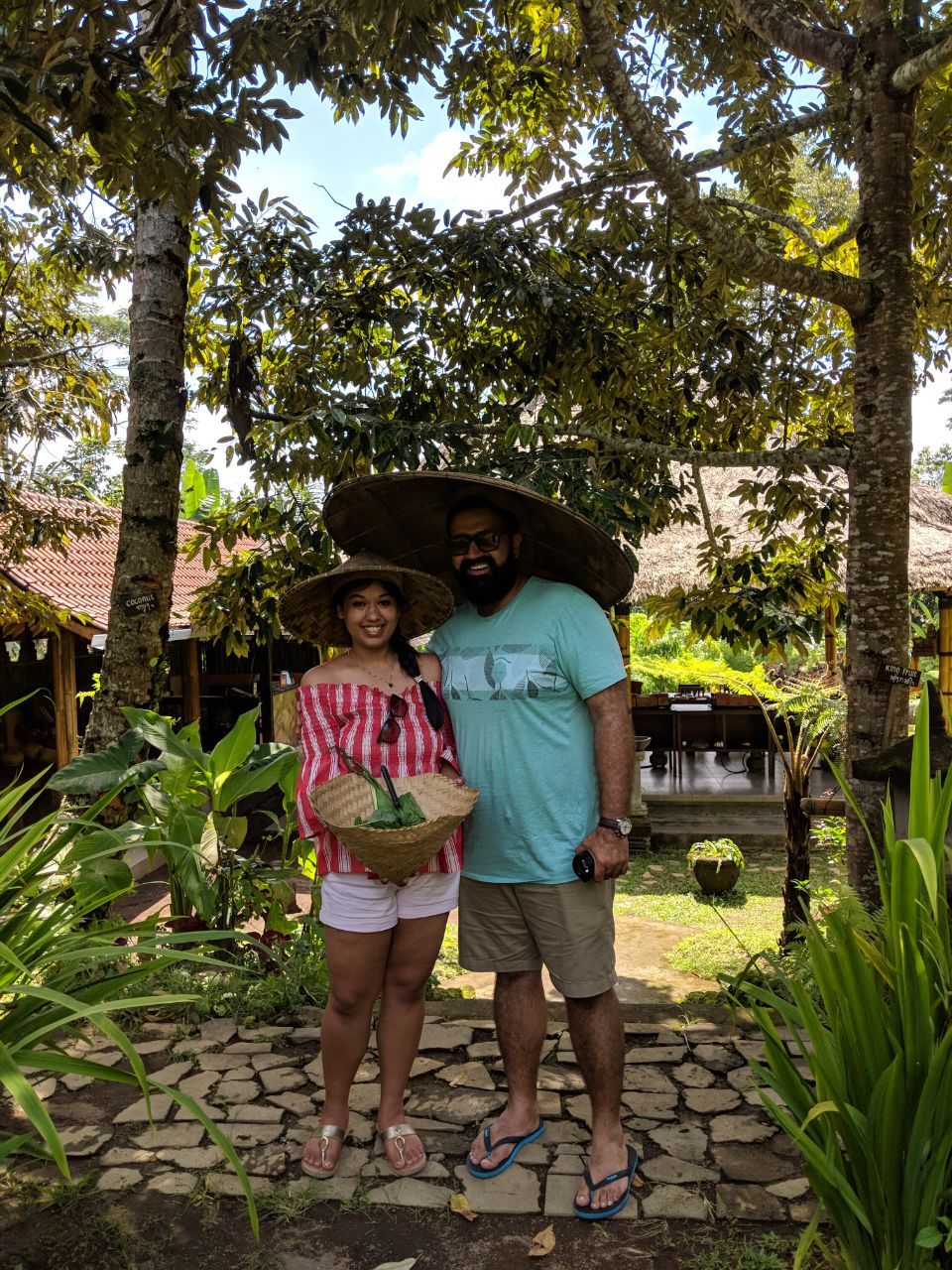 After 3 days of lazing around in Gilli T, we went to Ubud next. We stayed in a vegan resort and enjoyed a healthy-ish vacation. Ubud is lush green with lots monkeys and history to look at. We had a packed itinerary with cooking classes, tour of the art market and the iconic midnight hike to Mt. Batur.
We really enjoyed the cooking class which was basically a farm to table kind of a concept. We plucked vegetables and herbs for the garden and then cooked local dishes in their open air kitchen. It was a very soothing experience to cook in the middle of a lush green farm with people from various parts of the world. We cooked 5-6 dishes from scratch under the guidance of our 23 yr old instructor who was working on his fluency in English.
This trek was one of the most surreal experiences of my life. We started the trek at around 3am from the base camp. We were fed banana pancakes and coffee by our guides. Then we got our kits with mosquito repellents and torches. I rented 2 jackets as I was freezing! Then we started on our trek under a blanket of stars. As we walked, all we could see was a queue of yellow lights coming from torches. Thats it. We trekked along the narrow path diligently watching out for loose stones and maintaining our pace. The path was so narrow that only one person could fit.
The trek is around 3-4 hrs long depending on stamina and pace. We took 4 hrs to cover the distance as very walked at a leisurely speed.
Once we reached the top, it was an unreal experience to see the sky change so many shades over a span of 15min. We enjoyed our modest eggs and bread breakfast while witnessing the magical sunrise.
Bali is a perfect destination for couples, friends and solo trips. There is so much to do and there is so much diversity in terms of terrains, activities and temperatures. Our 7 day holiday had it all- binge drinking, eating, swimming, trekking, and even meditating!
P.S. : Check out a short recap of my trip on Instagram Stories.
Frequent searches leading to this page:-
Bali honeymoon package cost from India, Bali honeymoon packages with private pool, 4 days 3 nights Bali honeymoon package, best places to visit in Bali Indonesia for honeymoon