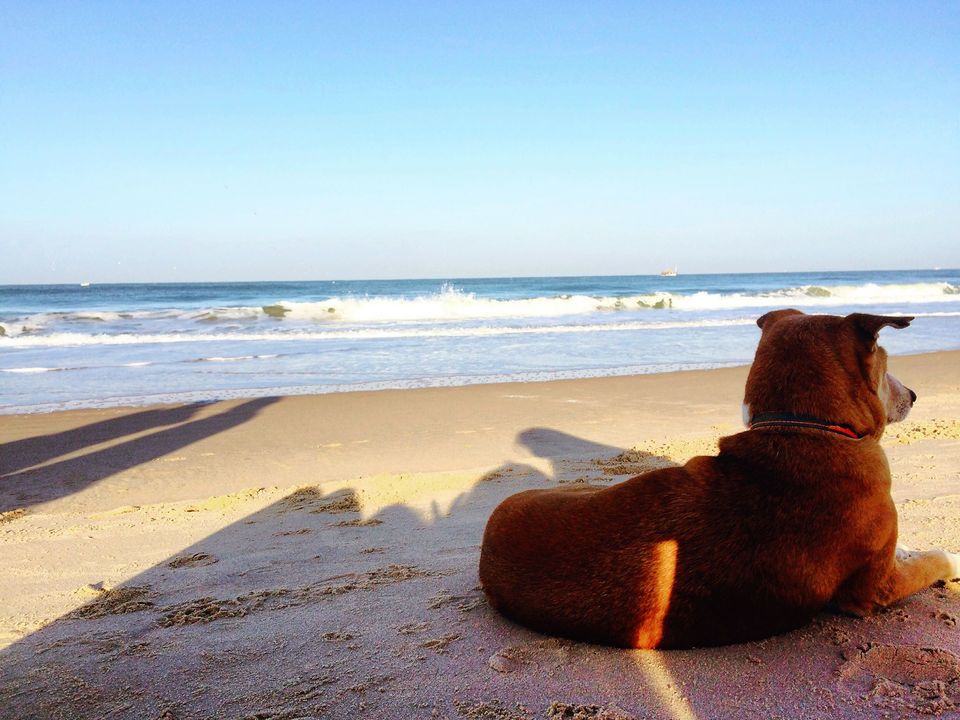 It was the month of November when my cousin cum my best friend called me up and gave me the idea of a girl's trip to Goa. As I have always loved mountains, I asked her to plan for Leh instead but she refused. Unlike others, I wasn't much fond of Goa. But I agreed and asked few of my friends to join. The plan was decided for the March 2017 Holi weekend. Six girls agreed to the plan including me and my cousin. We booked our air tickets from 10th March 2017 to 15th March 2017. After the tickets got booked, all of us got so excited.
But we still had four months left. Whatsapp group got created,endless discussions about the trip got started. Meanwhile in December I took two trips, one Rishikesh and other Manali.
Now it was January and the excitement was even more as we were left with only two months. We booked a family suit for us in North Goa. We started our shopping in February. But.... but... one of our friend has to cancel the plan due to some personal reasons. So we were left with only five. Sad for all of us but Okay it happens.
March started and so did our sleepless nights. It was finally 10th of March. We had our flight from IGIA T3 at 8.15 P.M and the Boarding time was 7.30. All of my friends reached the airport by 6-6.30 but I was late. They kept calling me and I was very late. They shouted and screamed like hell. I reached airport at 7.25 P.M. When I reached,what welcomed me were angry faces and lot of abuses from them(which was expected :D) After going through all the formalities, we ran as fast as we could to board our flight. But to our surprise,we boarded the flight on time. The flight took off timely and we reached Dabolim Airport South Goa at 10.30 P.M.
Because of some prior arrangements, we stayed that night in Navy mess south Goa.
We woke up at 6 A.M and walked towards the exit of the mess. Then took two buses for Bogmolo Beach. Man! what a view it was when we reached the Beach. We started shouting with excitement as none of us had ever been to beaches except my cousin. The view from far was so mesmerising that words can't express.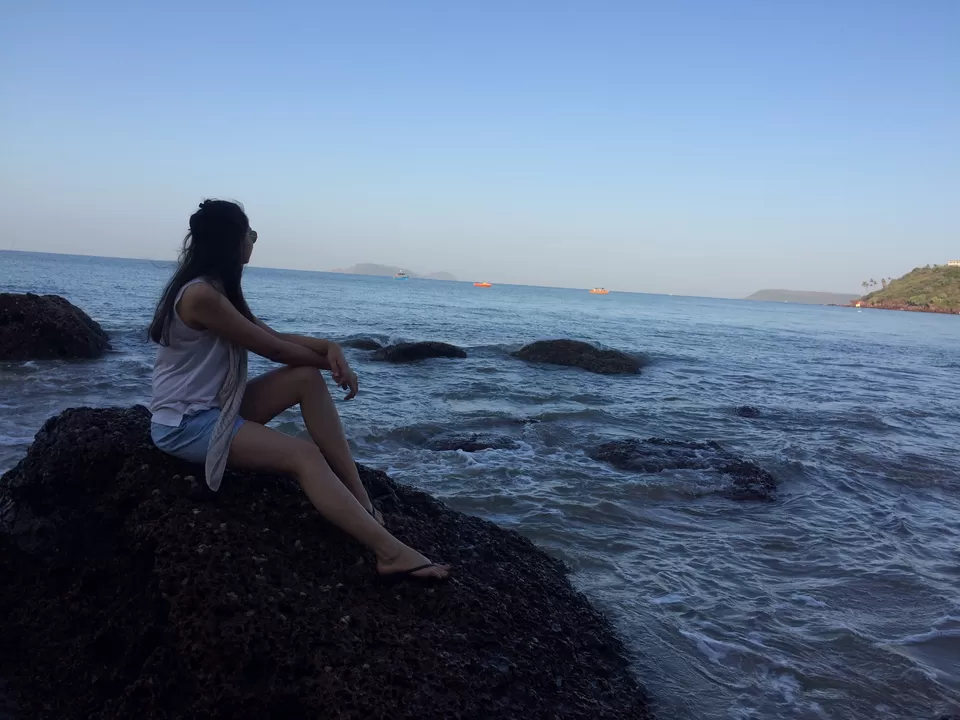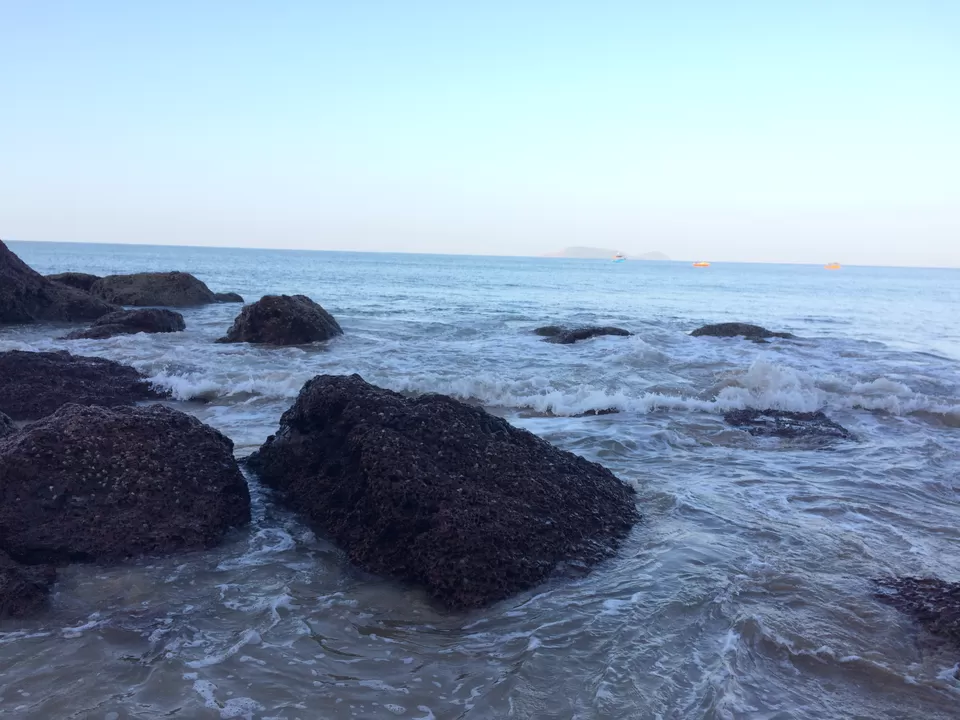 We started clicking pictures and sitting on the rocks and enjoying the silence and the bliss it offered us. The water was very soothing as it touched our feet. We sat there for almost one and a half hour. Many of the shacks were closed as it was the election results day. Moreover it was a dry day :( We had a light breakfast and we left for our room.
After reaching the room we got ready and left for North Goa. We had coconut water on our way.
After reaching our resort,we took some rest and left for candolim beach(it was the nearest beach to our resort). On our way, we enquired about scooties or cars on rent but due to large amount of people roaming on Holi weekend, they were not available. We continued our walk towards the beach. As expected,the beach was not less than a dream. It as 8.00 P.M and it seemed as if it was a daytime. People sitting, relaxing, dancing. Superb shacks,superb music. We took few drinks from the shack and sat on our couches.
Candolim Beach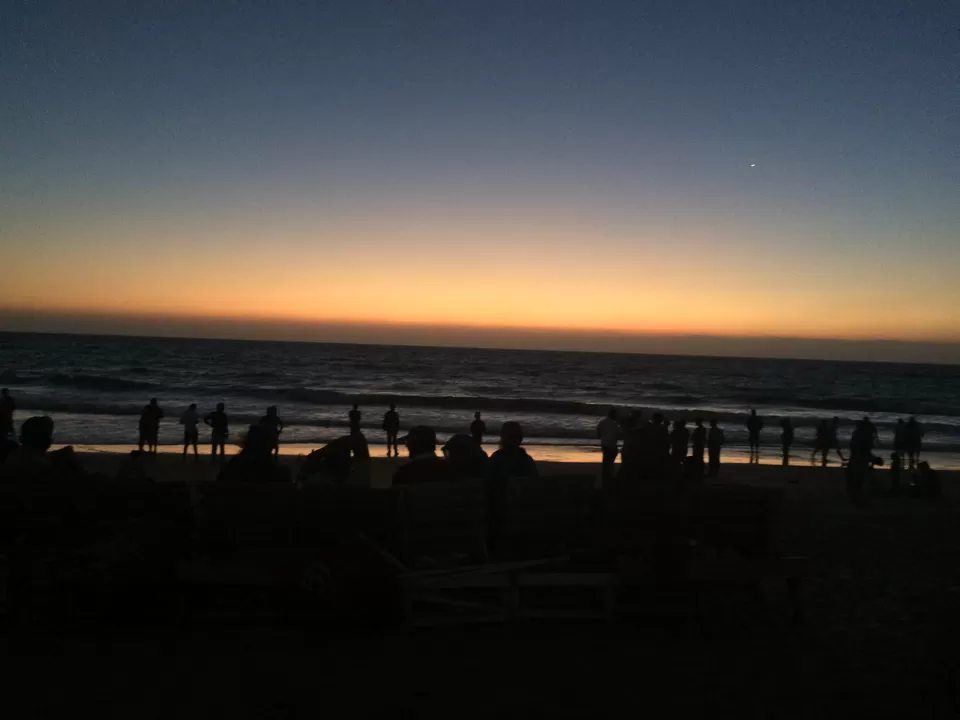 There were punjabi and english songs being played there and we started dancing on the beach. Laid on the cold sand,gazed at the stars. I mean yes! this is what I had always wanted to do. That moment was so damn special. You are with the people you love, enjoying the silence, looking at your life, listening to the sound those waves were making gave me goosebumps. We were laughing, dancing, chilling. It was 9.30 P.M and we left the beach. Had our dinner at the candolim beach road. Roamed around in the market and left for our room at 11.00 P.M as it was night time and we did not have any mode of transport with us. We reached our resort and sat for few hours,had a few drinks and slept.
Woke up the next morning at 6.00 A.M and decided to go to the candolim Beach again. Got ready and left for the beach. Again it was so beautiful in the morning. The sound of the waves, the sun, the sand everything. We laid on the beach for few hours and me along with my friend decided to have a bath. Looking at the waves scared us so much but we gathered courage and move towards the waves. Woah! The waves when touched our whole body drifted us to the shore in nano seconds. We started laughing and enjoying. It continued for 20-25 minutes. The saline water and the sand scratched our knees so badly. Our body started getting tanned. But who cares.
Sunrise at Candolim Beach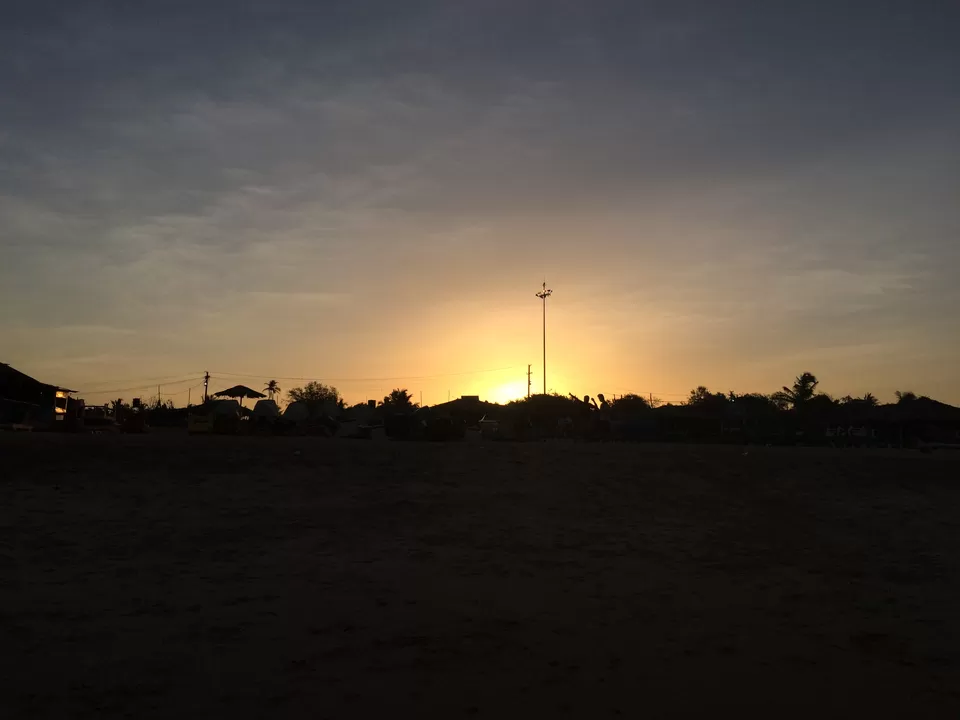 We left for our room and arranged a Car on rent for us. Thankfully we got a car. So now we could roam around for as much hours as we wanted to. Had our breakfast and left for Fort Aguada(Fame Dil Chahta Hai)
The fort was nice but it was very sunny that we could not stay there for long.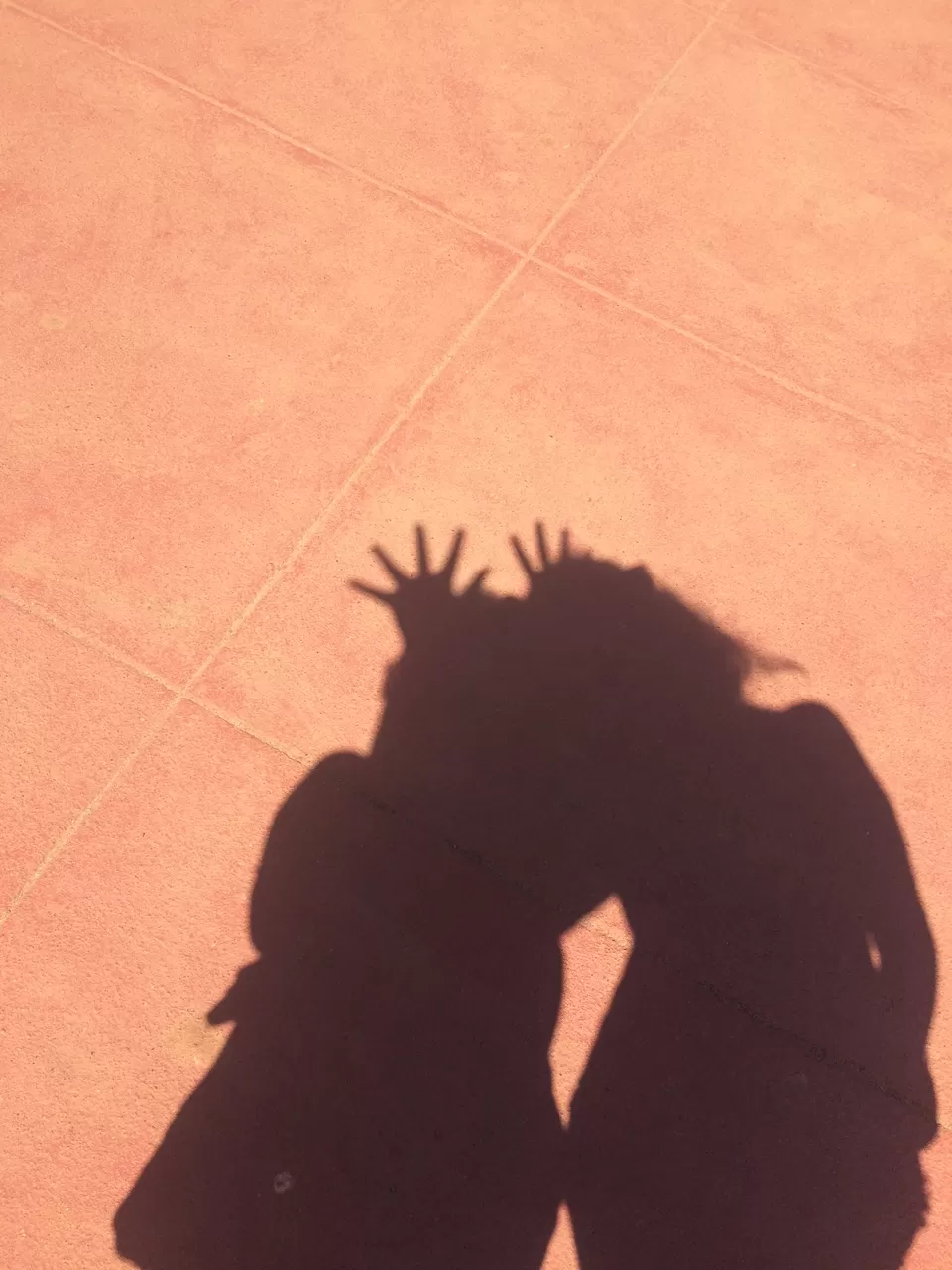 Finally it was no more a dry day. So we filled our refrigerator with all the stuff we needed. On the same day,we left for Anjuna Beach in the evening. It was an average beach with a very troublesome way to reach. Went to curlies,had a few drinks and danced and came back to our room.
It was holi morning and we all were excited for the Holi. We had two options for Holi. Either Arambol Beach or Calangute Beach but keeping in mind the level of traffic, we decided to go to Calangute. On our way we saw people celebrating holi with all the stuffs they could play with(Daaru,Weed etc etc). We reached calangute and played holi with water, colours and beer ofcourse(good for hair you see :D). Me and my friend again went towards the waves and played with them. We were head to toe wet with saline water. We were hell tired after playing holi, had our lunch at the shacks and took rest on the couches.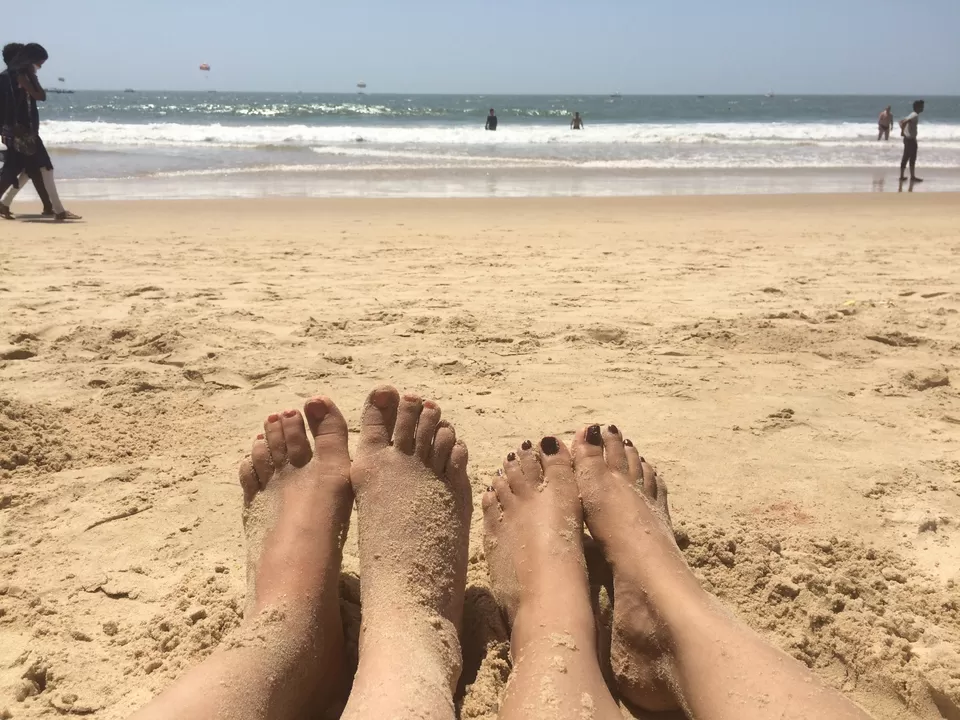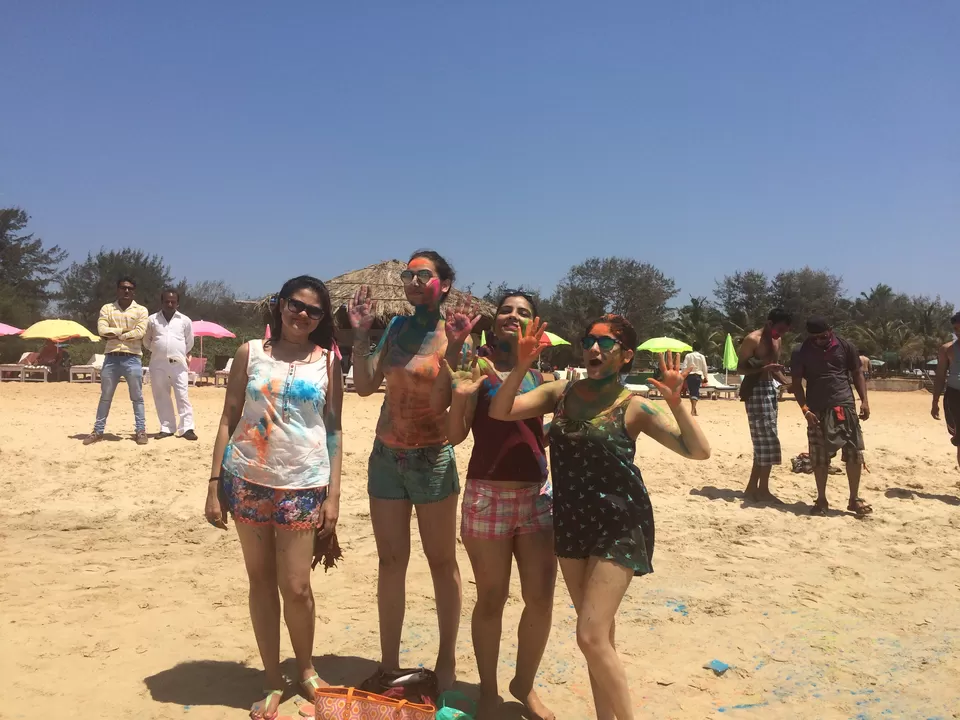 As I am very fond of sunsets and sunrises, I have already searched for the best beaches for sunset and Sinquerim Beach was one of them. So we headed towards Sinquerim Beach. It was so clean and the water was so cold. We played with some mud. Few hours were left for the sunset so We bathed again at the Beach. Finally it was the time for sunset and my God it was the most beautiful sunset I have ever come acrossed in my entire life.
Sunset at Sinquerim Beach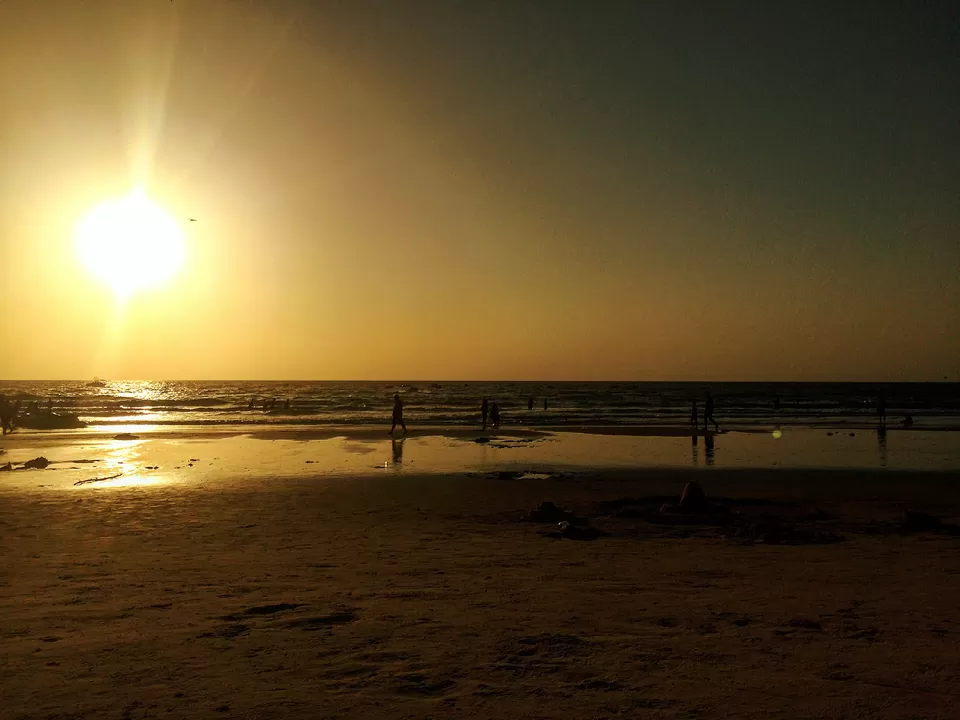 After reaching our room we got ready for dinner and left for candolim Road. There were so many restaurants ,pubs, bars which had Karaoke going on. We went to a restaurant which had a pub as well. We had our dinner and few drinks and went to the pub. Danced till 1.00 A.M then the pub got closed. Then we went to our rooms. Me and my two friends sat at the balcony,played some soft music, had our drinks till 3.00 A.M.That was such a wonderful time. Complete silence,just the three of us and our deep talks. Gosh! Then we went to sleep at 3.30 A.M.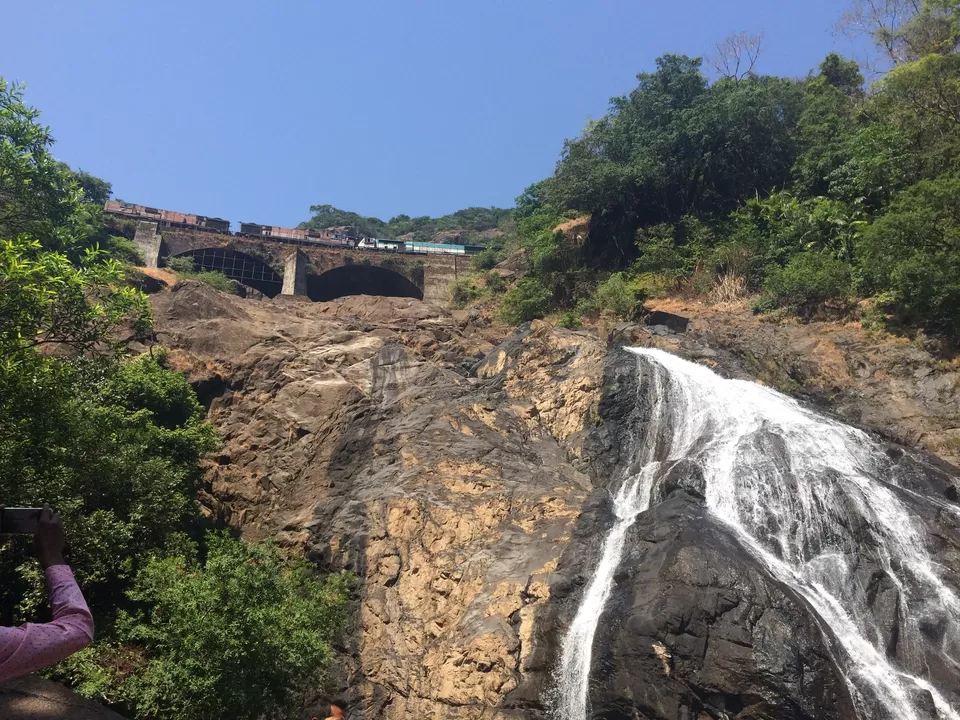 The next day we had already planned for Dudhsagar. We booked our cab and it took 1.5 hrs to reach at the point where one can buy tickets for Dudhsagar and can board the Cars which were exclusively used to reach Dudhsagar Falls. It is located at the border of Goa and Karnataka. We boarded a safari and headed towards dudhsagar. The way to it was entirely through jungle. Water scattered oddly on the way,surrounded by wild trees and animals. It took 40 minutes to reach dudhsagar by car and few minutes of trekking. We reached there at 2.00 P.M and we were alloted one and a half hour to be at the falls. The waterfall was enthralling. You could clearly feel as to why it is named as Dudhsagar(pure white and crystal clear water like milk). The stream was so voluminous and noisy. We wore our life jackets and went inside. The water unlike the beach was so cold and deep. We felt like drowning. We slowly went inside and let our body float in the water. It was such a heavenly feeling especially for a person like me who enjoys water. Then we changed our clothes and went back to the place where the car was parked at 4.00 P.M. From there we reached our resort. All of us were hell tired. Went to the room,had a fantastic tea(which we hadn't since last three days).
We got ready for the evening and went to candolim road. Had our dinner at sher-e-punjab at 8.00 P.M. Then went to Candolim Beach again. We felt like home at the candolim beach. Same waves, same couches, same stars but different us. We were quiet and low as that was our last night in Goa. We sat at our couches for hours, had few drinks(as always),cheered ourselves up and talked and laughed. Then Roamed around in the market, did some shopping, got tattooed(temporary)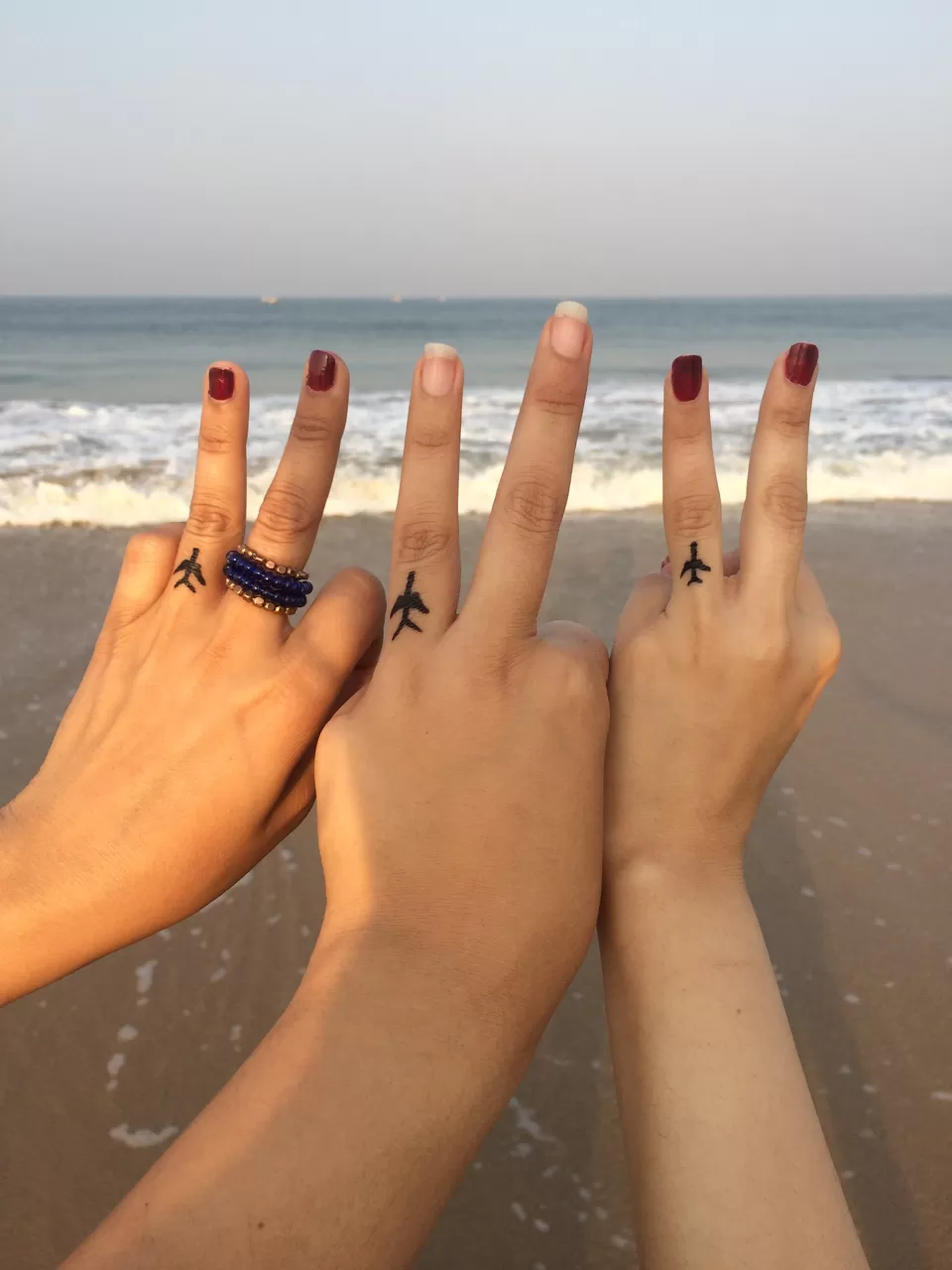 At the room, we started doing packing as we had our flight to Delhi the very next day. It went on till 1.00 A.M then all of us started feeling hungry. We called few restaurants but they denied home delivery. Then me and my friend went to a restaurant near our resort and got some chinese food packed. We had it and went to sleep at 2.00 A.M.
Next morning we woke up at 6.30 and headed towards candolim again(We knew we all will be missing candolim the most). Spent a quality time at the beach and went back to our rooms.
Checked out from the room at 12.30 A.M, had our lunch and went to Dabolim airport and took aur 4.30 P.M flight to New Delhi.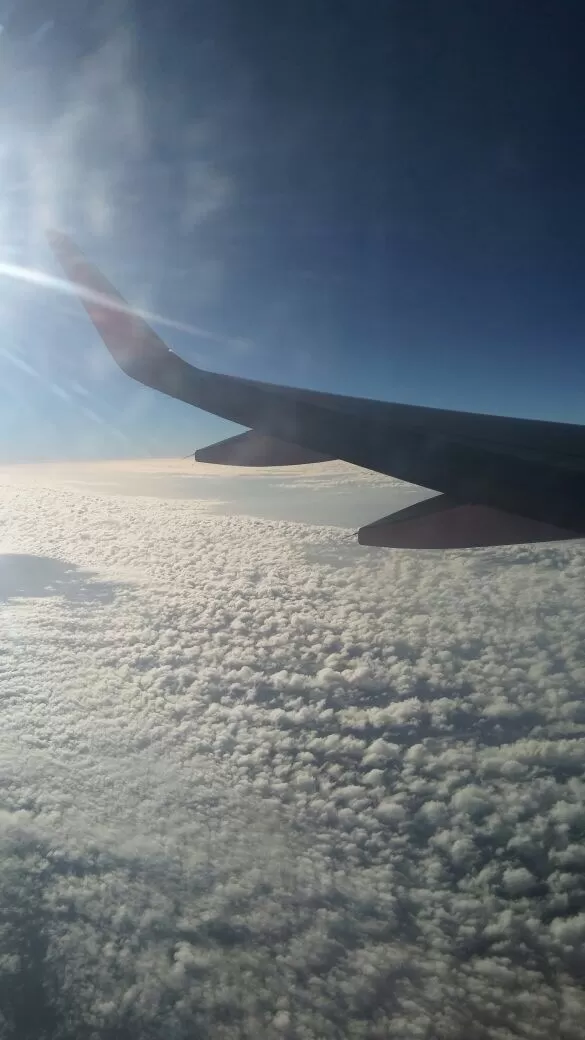 Till now I have taken around 12-13 trips but this was definitely one of the best and my most memorable trip. I did not expect this kind of love from Goa. These five days in Goa changed my perspectives towards it.
First of all Goa isn't always about rave and alcohol.
Secondly it's not about to be in a rush to see all the things(beaches,forts,churches), by doing this you would reach nowhere and would end up frustrated.
Thirdly it is addictive. The beaches, the waves of water, the sounds of the waves, the stars, the shacks, everything.
So, for all the people who plan for Goa just to see the raves and the night lives:-
Do not restrict your trip to a certain things. Goa has a lot to offer, it just depends on what you want to extract out of it. Whatever is left, let it go. Explore and enjoy. Find your peace. Love the people around you and most importantly love yourself.
Do's and Don'ts in Goa:-
- Try not to go during a long weekend, you fill find hell lot of crowd everywhere plus jammed roads.
- Rent a two wheeler instead of a car(traffic in goa is pathetic) as there are narrow roads . Two wheeler will let you easily reach your destination.
-Do not waste the morning time of 6-8 by sleeping. Wake up and go. Goa has the best mornings to offer.
-Stay hydrated.
-Avoid forts during afternoon.
-Do not argue much with the locals. They hike the price unnecessarily for anything and if you ask they will start fighting.
-Have enough ointments for sunburns.
-Visit must to Dudhsagar Falls.
Keep travelling,keep living :)