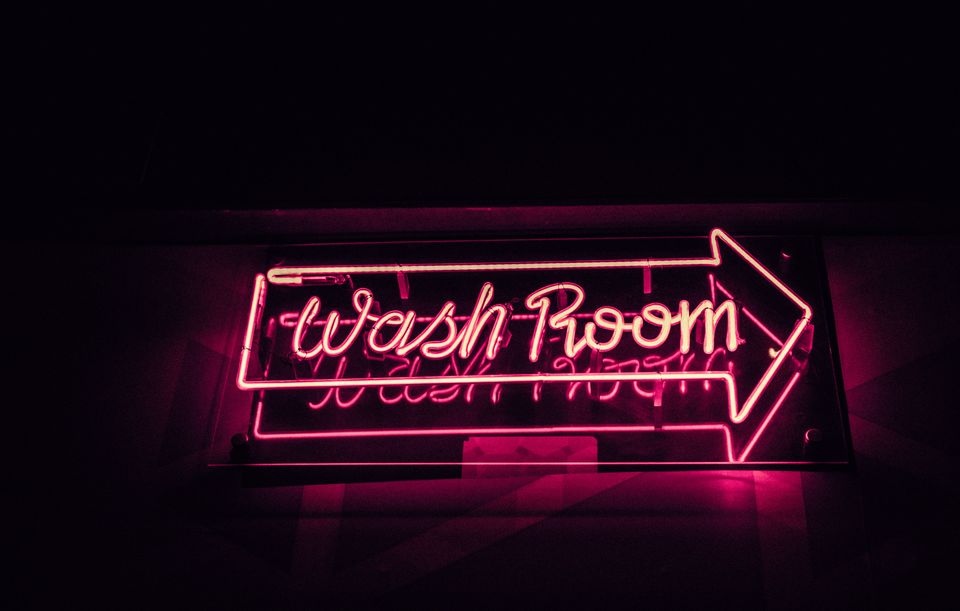 Of all the things we do while travelling, few are as uneventful and mundane as taking a leak. And while we don't mean to undermine the feeling of utmost relief we get once we are done with attending the call of nature, none of us is really like, "Wow! I am really looking forward to pee at 5.00 pm at that restroom in City Square".
But what if we tell you that there exist some unique types of toilets in the world where dropping a deuce could be an experience to remember? From giant mouth-shaped urinals to the most beautiful structures with exceptional views of the surrounding landscape, these washrooms are as Instagram-worthy as those iconic landmarks where everyone wishes to get clicked once in their lifetimes.
Here's the list of eight unique washrooms from around the world you must pay a visit, even if you don't feel the urge to relieve yourself.
1. One-way glass public toilet
What began as an art project in London and Switzerland by the famous architectural artist Monica Bonvicini, soon turned into the concept of a fully-functioning bathroom facility encased in one-way glass at a busy street in Basel, Switzerland. This means, you can see everything happening outside when you are inside the restroom, but no one outside can see what you do inside.
Miss Bonvicini seemed really interested in knowing how people would react to 'seeing but not being seen' while they get done with their business inside these types of toilets. It would make for one funny experience, wouldn't it?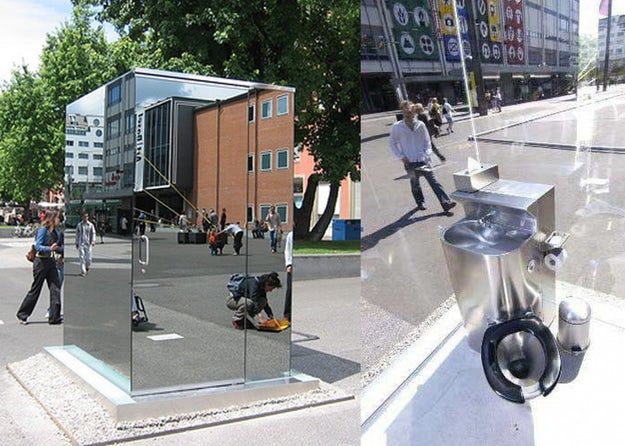 The architectural concept of this strange washroom may have already seemed quite offensive to some, but found in the Rolling Stones museum in Mönchengladbach, Germany, the Giant Mouth Urinals are already gaining popularity on various social media channels including Instagram for all the weird reasons you can think of. As you can make out from the picture, the intriguing thing about this washroom is that it features mouth-shaped urinals.
But as we all can imagine, a major controversy erupted back in 2012 when a group of women's rights activists filed a complaint against the design of the washroom deeming it sexist. However, the museum operator turned down the request to remove the urinals and they remain in place to this day.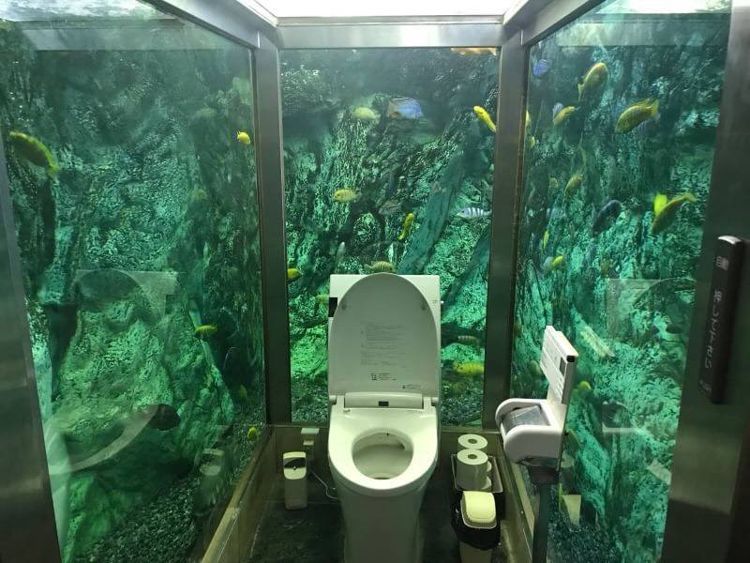 This one's nothing less than a superb example of taking customer service to a whole new level. Built in Hippopo Papa Cafe at Akashi in Japan, this female-only bathroom (sorry, men) is the world's only aquarium toilet and is accessible via an elevator. It is encased within a huge three-walled aquarium filled with fish, turtles, stunning coral reef, and a wide variety of other marine life.
It is reported that the owner of Mumin Papa Café in Akashi, Japan was so intent on getting this uniquely-designed washroom built that he went on to spend a whopping US$263,000 for the visitors. So if you're comfortable with these beings staring at you while you do your business, you're in for a tell-all peeing experience at one of the strangest yet not-so-boring types of toilets.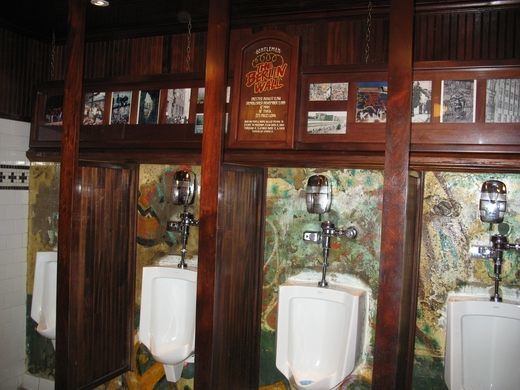 If you have any idea about the extent to which the Cold War affected people's lives, you might also know how significantly liberating was the day when the Berlin Wall came down in 1989, for it was the symbolic end of the Cold War. It is claimed that the pieces of the Berlin Wall were sent to all corners of the globe and were installed for public display as a grim reminder of the horrific past when the world narrowly escaped third world war.
One such piece of the wall is inside the men's washroom of the Main Street Station Hotel and Casino in Las Vegas where visitors can pee on a 10-feet wide piece of Berlin Wall, even though it's enclosed in glass casing. Nobody stops you from taking it out on the Cold War here!
5. Mid-lake floating restroom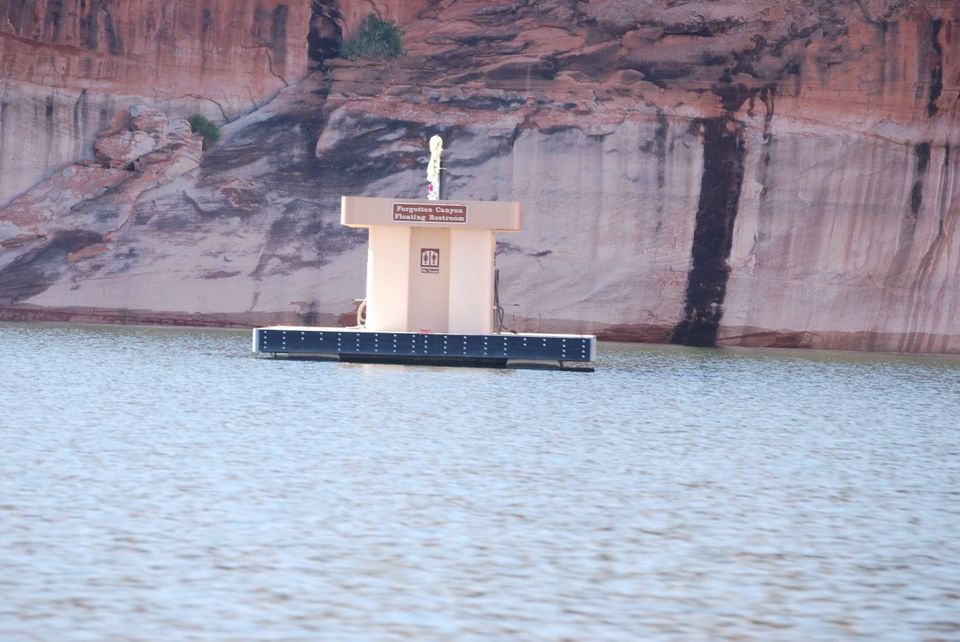 Have you ever been in a situation wherein you felt the strong urge to take a leak while swimming or fishing in a lake? So you hold it like a responsible traveller until you get to the shore and find a restroom.But not all of us can be trusted with this behaviour.. And that's exactly why the officials who are tasked with managing Lake Powell in Utah came up with the idea of getting a floating bathroom constructed, free for all to use.
Now that's a perfect example of promoting responsible tourism right there.
If there were an award for the most beautiful-looking washroom in the world, Uredd restroom in Norway would be the winner. Built along a section of the Norwegian Scenic Route, the spectacularly designed Uredd rest area overlooks magnificent fjords and the open sea, with imposing snow-clad mountains forming a wondrous backdrop. And guess what, this wheelchair-accessible restroom also makes for a famous spot for tourists and locals who visit Ureddplassen to witness the northern lights in winter and the midnight sun in summer.
Well, where else in the world would you find a public toilet which is quite a tourist attraction!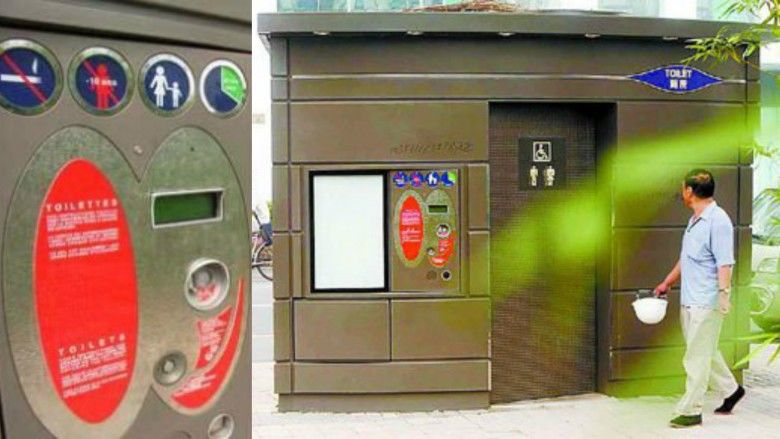 Imagine you are holidaying in your favourite destination, leisurely exploring local attractions and relishing street food when you suddenly hear a deafening noise, followed by loud screams, blaring sirens, and frightening scenes of people running frantically here and there on the streets. "We are under attack. Take cover, everyone. This is not a drill", relays a voice on PA, but you don't know where to hide. That's enough to scare the crap out of anyone.
However, you'd be lucky if you happen to be inside the Indestructible Lavatory of Doom at Zhong Guan Village Plaza in Beijing, China. Designed keeping in mind the security of people from terrorist attacks, this restroom is bulletproof and can even withstand explosions!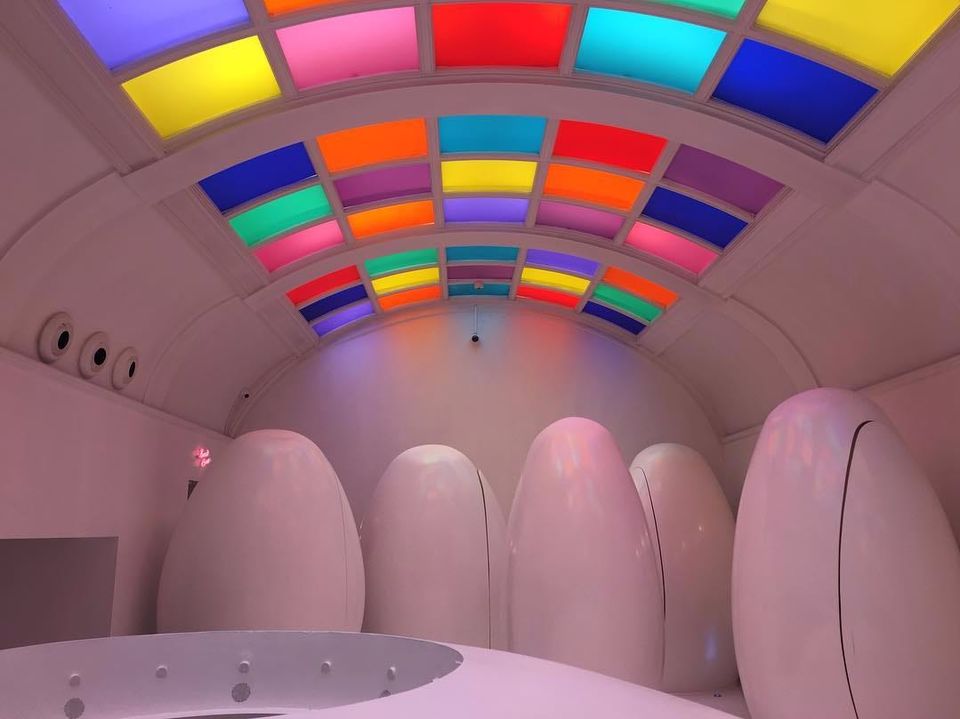 Think of the weirdest types of toilets and you are more likely to recall a scene from that Hollywood sci-fi which left you wondering how in the world do the astronauts manage to attend nature's call in those cramped pod-shaped restrooms. If you are still intrigued with such a concept whenever you think of it, the pod-like cubicles in the washroom of the famous restaurant, Sketch, in London will give you a deja vu for sure.
However, doing your business in one of those pods may not be as difficult as it may seem, for each pod has a sleek design, soundproof walls, and fantastic LEDs that vibrantly light up the casing. Wouldn't be a bad idea to click a picture, of course after you are done with the thing that brought you there in the first place!
Frankly, theme parks, zoos, and markets were heard of, but never did we ever think there could be such strange but out-of-the-box structures already in place for something as basic as going to the loo! Well, the next time you feel bored and happen to be exploring the place that's home to any of these quirky washrooms, you know what to do.
Have already been to any such type of toilet before? Let us know in the comments below.
And remember, you can also create your own travel blog and share it with travellers all over the world. Start writing now!
Subscribe to Tripoto on YouTube and watch exciting travel videos.
Get travel inspiration from us daily! Save our number and send a Whatsapp message on 9599147110 to begin!