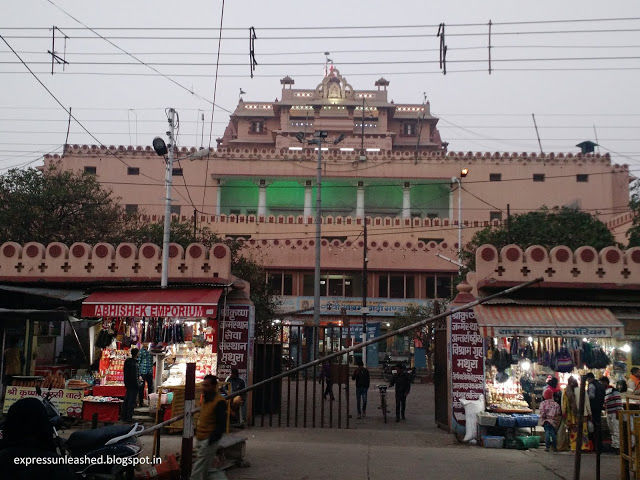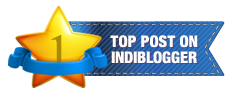 Day 2: Sri Krishna Janmbhoomi Temple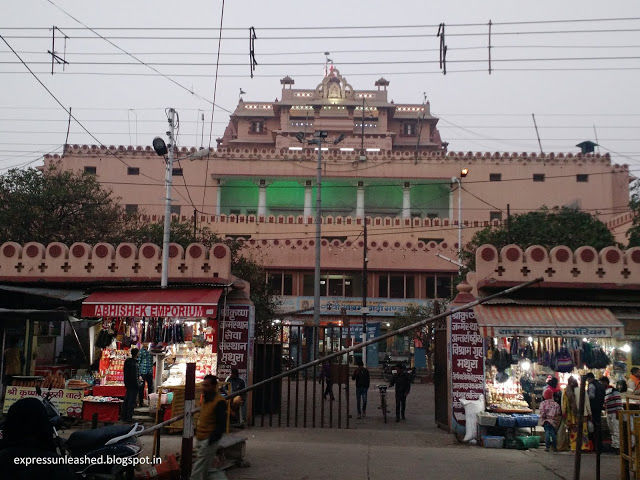 So what if Mathura has bad roads and a serious traffic problem; that could not dampen my spirits to see the holy town. Mathura, the birthplace of Lord Krishna, holds high significance in the books of History and Mythology, drawing lot of tourists and devotees every day. The first of my three day trip comprised a visit to Govardhan Temple, Sri Krishna Janmbhoomi and market hopping.
Read my post on Govardhan Temple here. I utilized the second half of the day in Sri Krishna Janambhoomi Temple.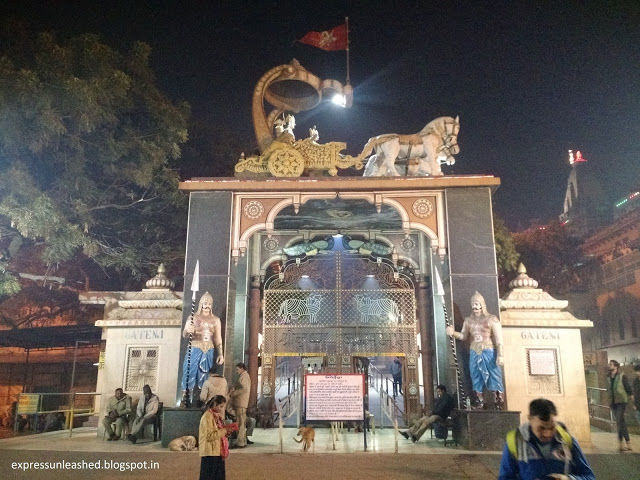 Sri Krishna Janambhoomi is the very spot where Lord Krishna was born to Vasudev and Devaki in Kansa's captivity. The temple has parts of that historical jail, open for visitors. The huge temple premises is on a raised platform, which you can reach via a flight of stairs.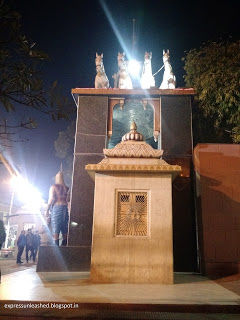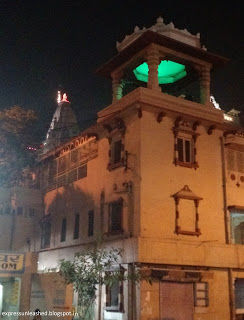 Heavily guarded by CISF, the temple has a mosque in its close proximity. The main shrine of the temple is dedicated to Lord Krishna. The walls have beautiful paintings depicting the life of Krishna and his various avataars. Everything inside is extravagantly pretty and outstanding. Even the roof walls caught my attention where Krishna Leela was painted in vibrant colors. You can spend time meditating or singing bhajans at the main shrine. The first level of the temple has a prayer hall where the ISKON group sing and dance to Krishna Bhajans. The rhythm of the mridang and manjeera takes you to trans! You end up feeling elated and full of positive energy.
The market within the temple complex boasts of sweets, colourful gift items, idols of God and lovely embroidery work on accessories.
The most interesting and visit worthy place in the temple is the artificial cave that exhibits Krishna Leela at different stages of his life. The dark cave echoes with a combination of sound and light effects to compliment the atmos.
Entry Fees for cave- Rs 5 per person
Tips for first time visitors
-Photography and carrying bags is prohibited inside. Cloak rooms outside the premises charge Rs 2 per item to deposit your bags, cams and mobiles.
-You would be frisked by security personnel twice. You cannot cheat them by hiding your mobile phones in your clothes.
-Though the temple has not mentioned any dress code, it would be wise to dress modestly covering your bare legs at least.
-Footwear is deposited at the shoe stand on ground floor for free.
-Monkeys and dogs are found in large number. Do not bother them, they would not bother you. Do not feed any animal inside.
-Temple opens at 6 am and shuts at 12 noon. Reopens at 4:30 pm till 8:30 pm. Plan your visit accordingly.
Outside the temple, do visit the local market. It turned out to be my best experience here.
Needless to mention, my eternal bond with sweets, brought me here to have the best peda of North India.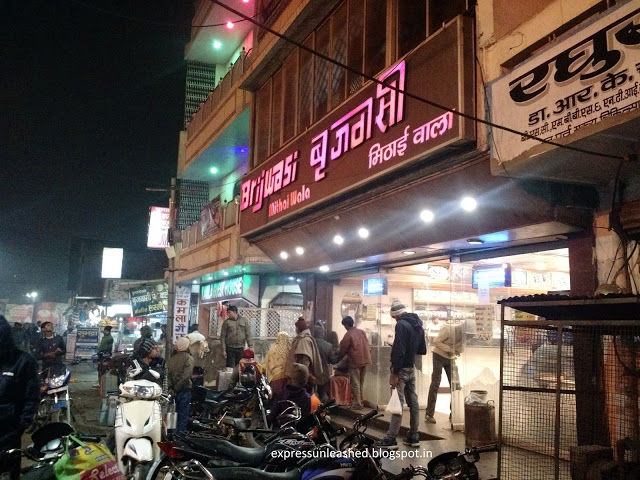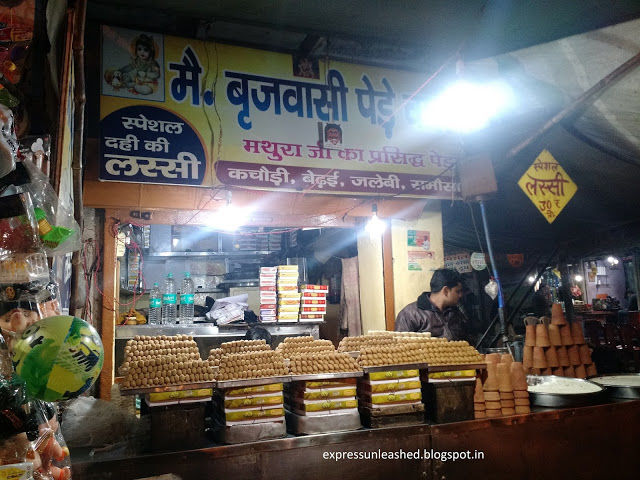 The little brown sinfully indulgent pedas which melt in mouth make me feel they were made for me. Infact every third shop I saw was named Brijwasi, one of the oldest sweet shop in Mathura. Leveraging the legacy, even the local vendors have renamed their shops to the same.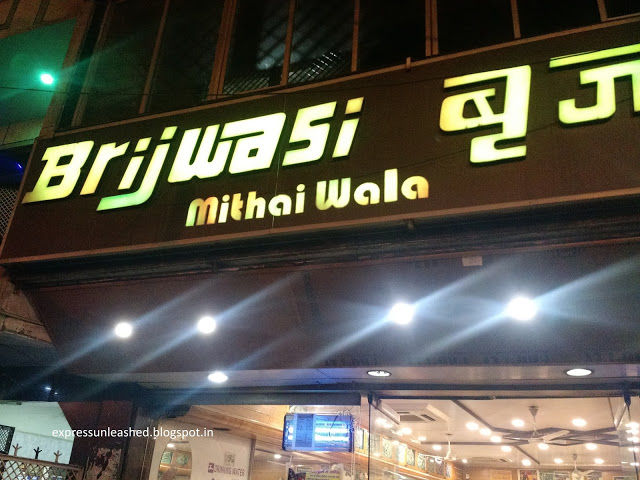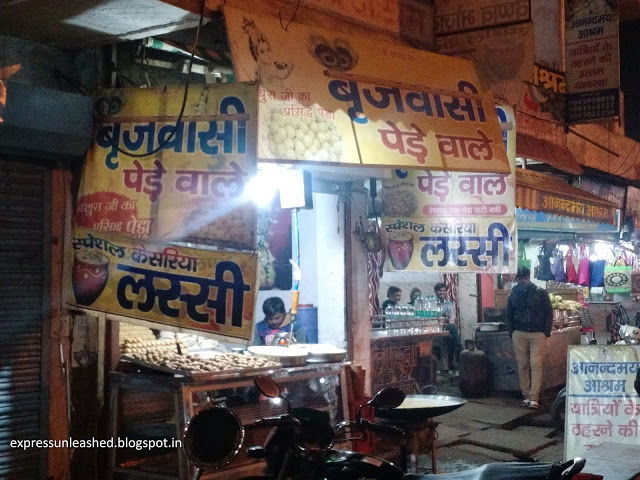 Stroll in the market for the best chaat and tikki. We had a plate of golgappa and dahi vada each at Rs 20 from Paras Chaat Bhandar. The gentleman is the most humble vendor I ever met. Do give his stall a try when around Krishna Janambhoomi.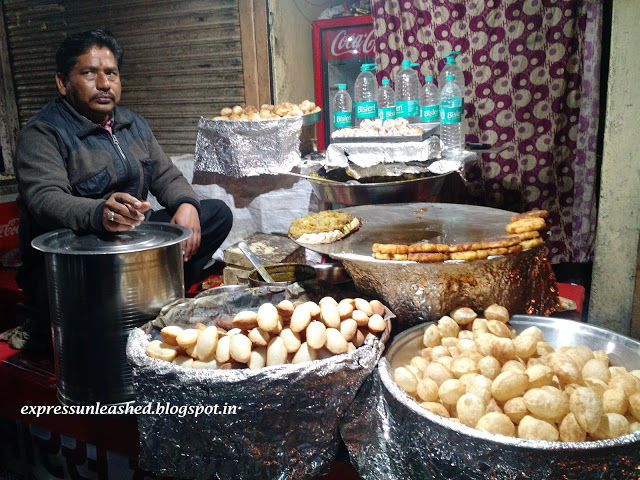 Our dinner was from a small eating joint named New Madrasi where we had rawa masala dosa at modest price of Rs 60 each. I ended up complimenting the owner how much I liked the dosa.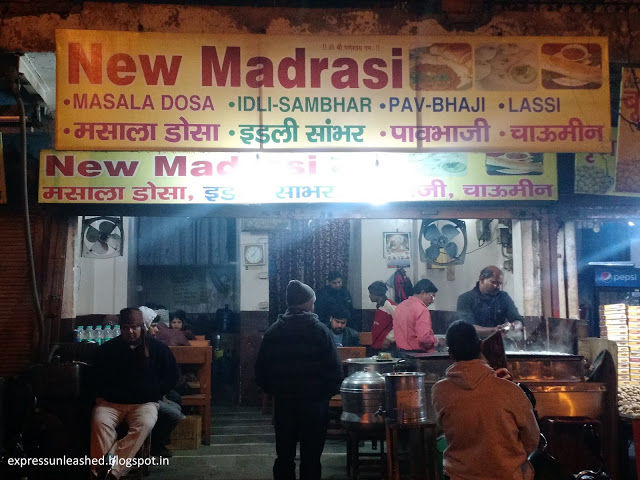 Around 8pm, we walked back from Sri Krishna Janambhoomi premises to our hotel (Ganpati Palace), which was less than one kilometer, and the streets had started to bear a deserted look. It is advisable to head back to to your hotel and avoid strolling on roads after 9 pm.
How to reach Mathura from Delhi-
By road-
Mathura and Delhi are 180 km apart. Take Noida Expressway for a smooth uninterrupted journey. The highway is good with thankfully no potholes or repair work. An alternate route via Palwal is a shorter distance but the journey would be uncomfortable and bumpy due to pathetic road condition.
Trains are also available from various stations of Delhi till Mathura Junction and Mathura Cantt.
Check the website for trains' time table-schedule:http://www.indianrail.gov.in/enquiry/TBIS/TrainBetweenImportantStations.html?locale=en