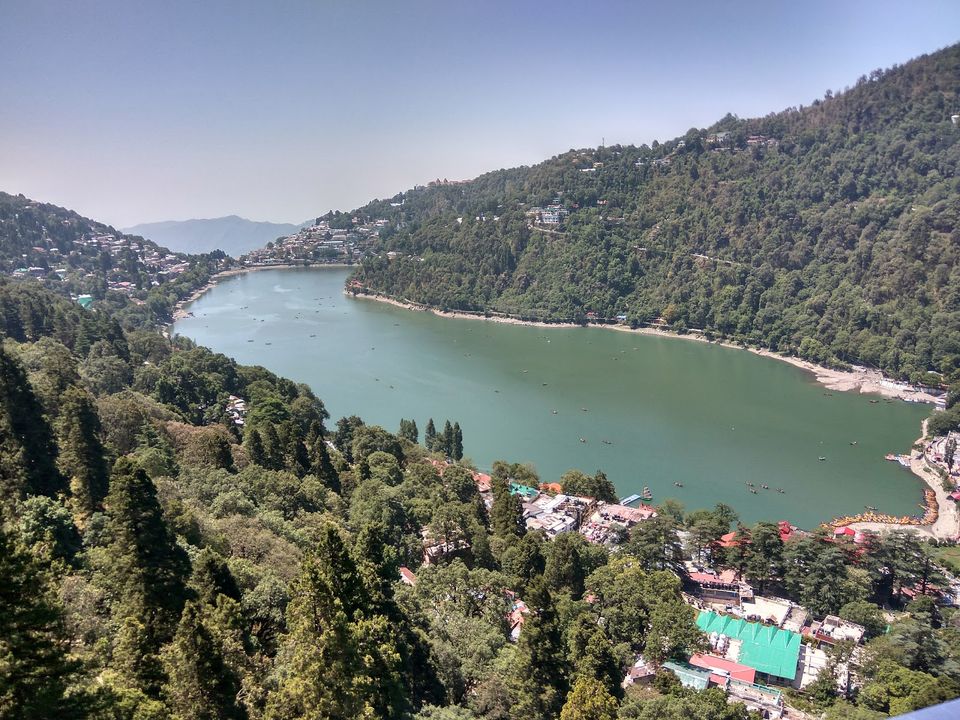 "Life was meant for great adventures and close friends." And, this is a story of a blend of both! It all started when 5 college friends started to panic that their college days are almost over (we've all been there :P). With a thirst for one last epic adventure on a budget that won't leave a hole in the pocket, we started looking for a destination. Now, if you take anything from Bollywood - Goa plans and Euro-trips, doing skydiving and playing Tomatina is where we needed to be! But none of us fancied sleeping out of our homes because we pissed our parents off. So, we decided on the budget-friendly trip to the hills of Nainital. This might be a mainstream destination but our adventure there was definitely not!
We started our journey in an over-night sleeper bus, which would drop us to Kathgodam and from there a smaller bus was to take us to the majestic hills of Nainital. We booked our bus from Red Bus and everything was fine, except for a piece of advice I would like to give is - Carry your own food, a light dinner perhaps because the restaurant they stop at serves very stale food. They may serve better food during the day but at night they probably have only one person cooking or they serve the leftover food from the day.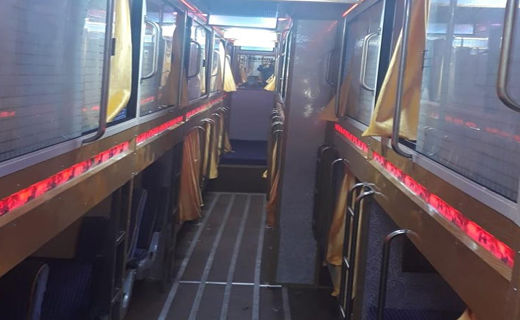 Amidst playing bluff, UNO, and singing songs, we didn't realize how the night vanished and soon we were greeting the morning sun. With the sun piercing through the window and a canopy of trees proudly guarding the mountains, we were on our way from Kathgodam to Nainital. We saw some sheep and goats on the way and were greeted with the smell of fresh flowers and morning trees as we entered the land of hills and lakes - Nainital.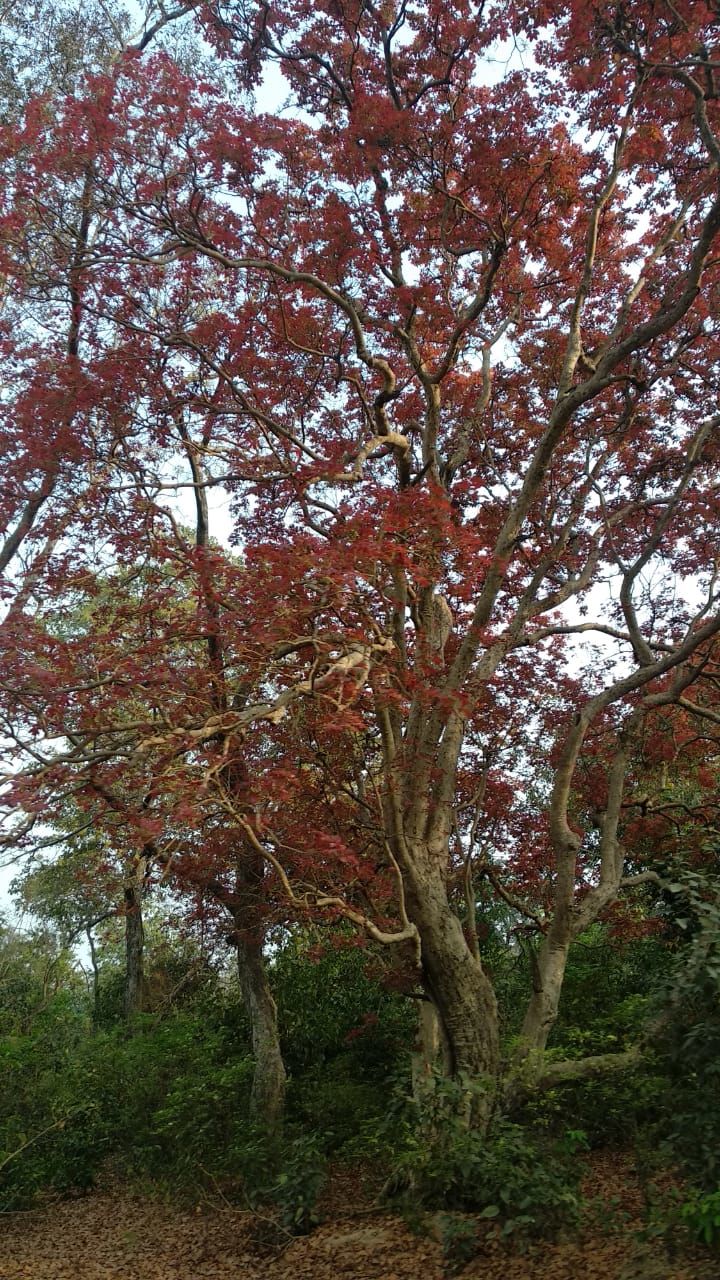 Adjacent to the bus-stand are a lot of tiny shops from bike renter to hotels to little breakfast cafes. We had already made our booking for renting 2 bikes and 1 Scooty which were waiting for us at the bus stand. The owner of the vehicles also has a shop near the bus stand where he welcomed us and gave us the keys and helmets to complete our travel gear.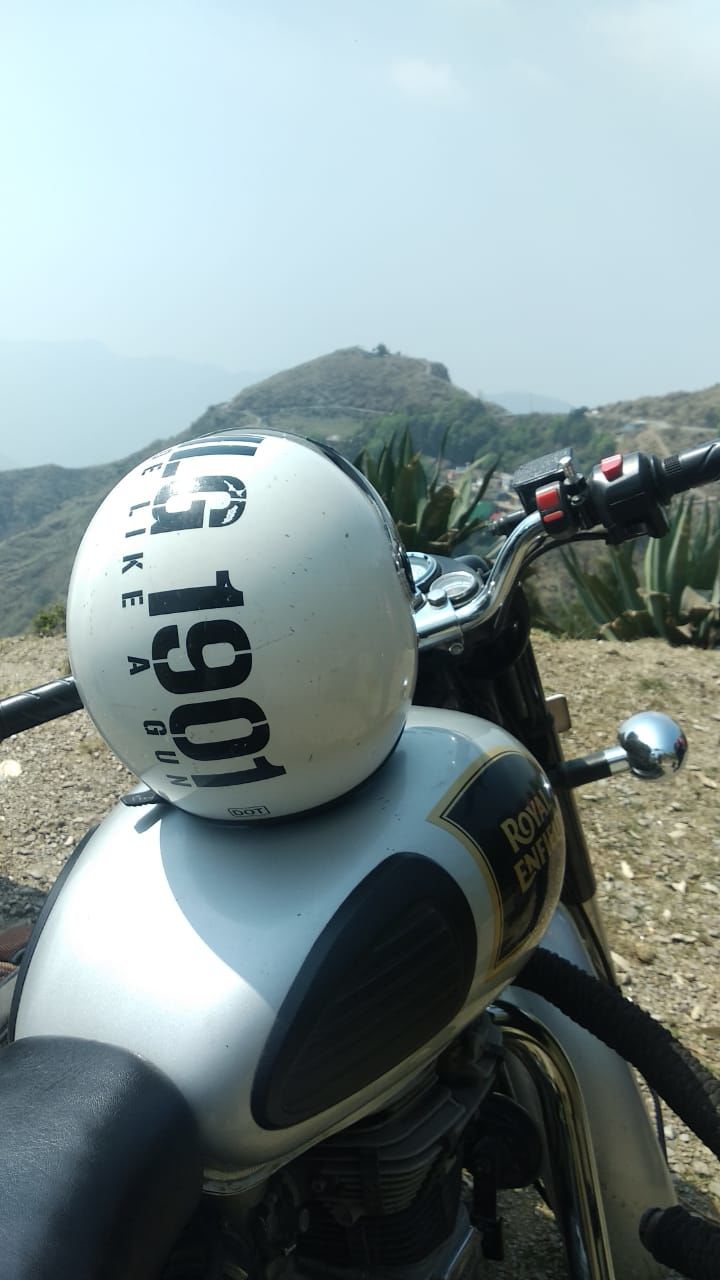 With helmets on heads and bags on our back, we five were off to our hotel. We booked our hotel through OYO and due to some last-minute technical glitch by them, our new hotel was a big apartment with three rooms, a kitchen, a hall, and a dining room. The only problem was - it was on the Haldwani road near Pilot Baba Ashram. So we had to leave the main city of Nainital to reach our hotel.
The route that Google maps showed us to reach the place was something that was used by the locals to travel on foot. The roads were very steep and narrow and on every turn we took, there was a big ditch on at least one side of the road. We held our breaths through the muddy, uneven roads, holding our vehicles for dear life. We were all screaming and asking each other about did we survive this steep and that slope.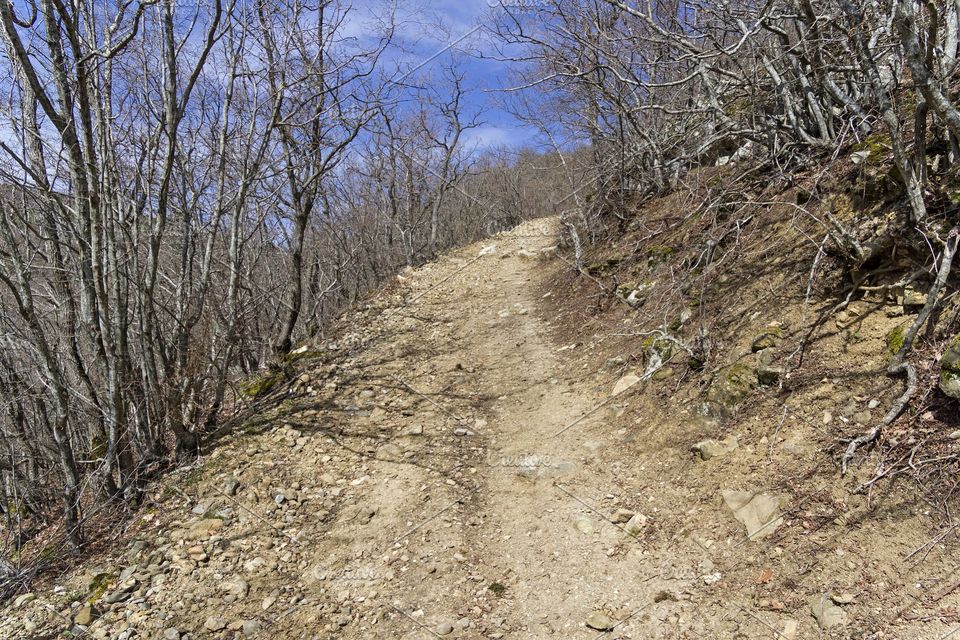 After our very bumpy and scary ride, we made it down the hill alive.
We finally reached our oh so awesome apartment with a balcony in every room and the Pilot Baba Ashram visible from the top. It was surely a room with a view!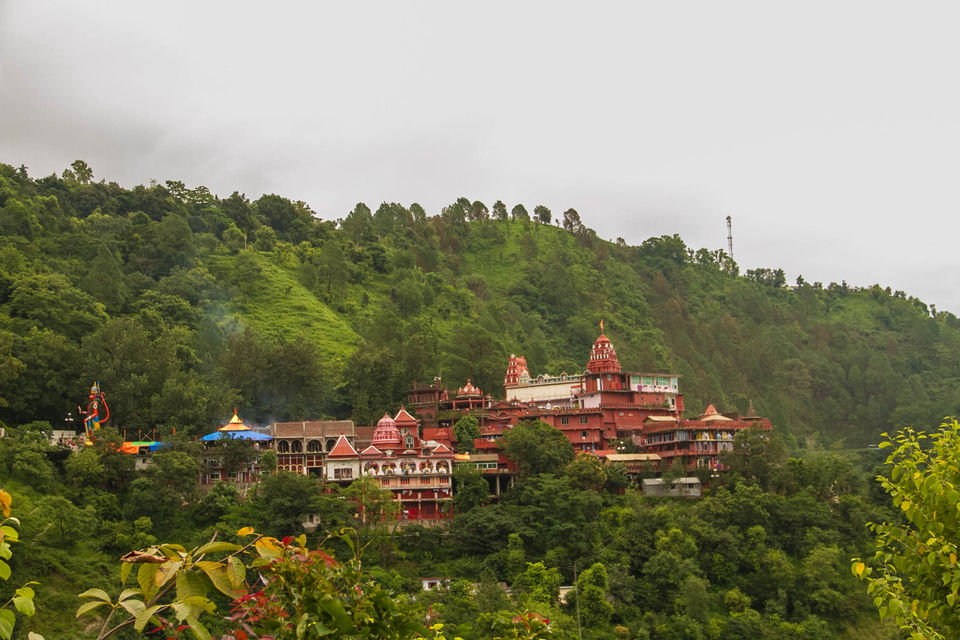 On our first day, we went off to see the Sattal lake. We had all seen it in pictures but couldn't wait to see its true beauty but not before some breakfast. We grabbed ourselves some greasy paranthas on the way to the lake.
The road that leads up the lake is decorated with fruit-bearing trees and also lets you get a sneak-peak of the beautiful lake from one side.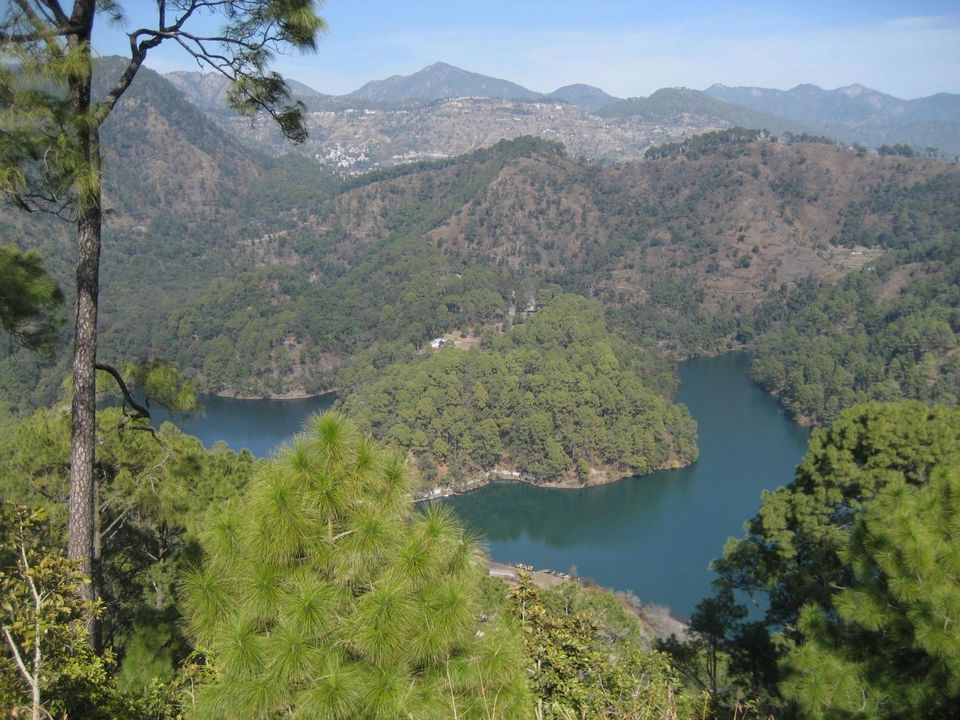 The lake appeared green when we saw it from the top as it is guarded by lush green trees and from the looks of it, it seemed that there was no one at the lake. For a moment there, we did question if it will be safe to go there because we couldn't see anybody at the lake but there were a few cars driving in front of us and we couldn't resist the beauty that was this lake. So we kept driving!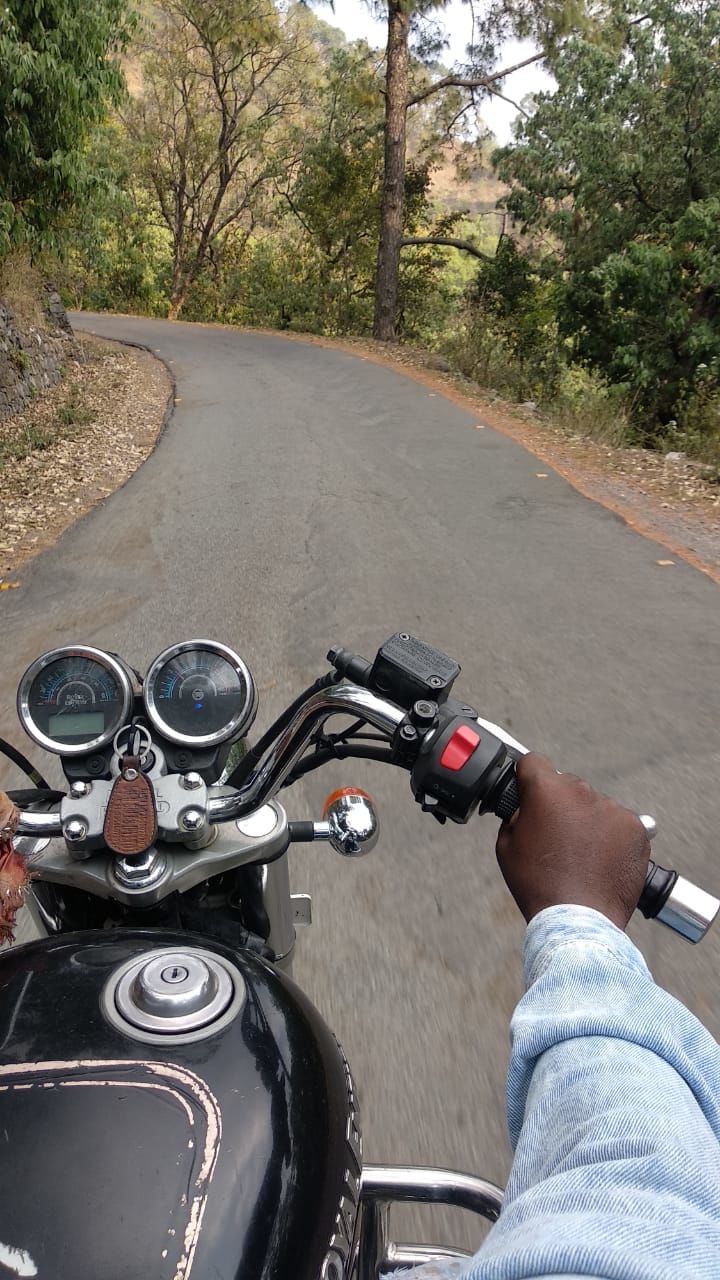 I do suggest taking a bike if you are driving down to Sattal because the feeling of the fresh (pollution-free) breeze hitting your cheeks and flirting with your hair is something that city life fails to offer. Amidst some breath-taking views and the serene environment, we reached the lake!
We saw a lot of people at the lake who were not visible from the top, kayaking their way through the lake. The lake offers multiple activities like zip-lining, bridge crossing, and of course kayaking. We choose kayaking and were quickly seated in a boat that could house two people.
We were handed ores and with minimal instructions and our guide in the next boat, we were on our way! The thing about kayaking is, the boat because of its narrow shape moves a lot! Half of the time you are wondering - okay it's gonna turn over and we'll be in water but the of fun of screaming at the one sitting behind or in front of you (depending on where you sit) and at your friends about rowing and racing from one point to another is something you wouldn't want to pass. Once you are a little away from the shore you can truly admire the beauty and the calm of the mesmerizing Sattal Lake.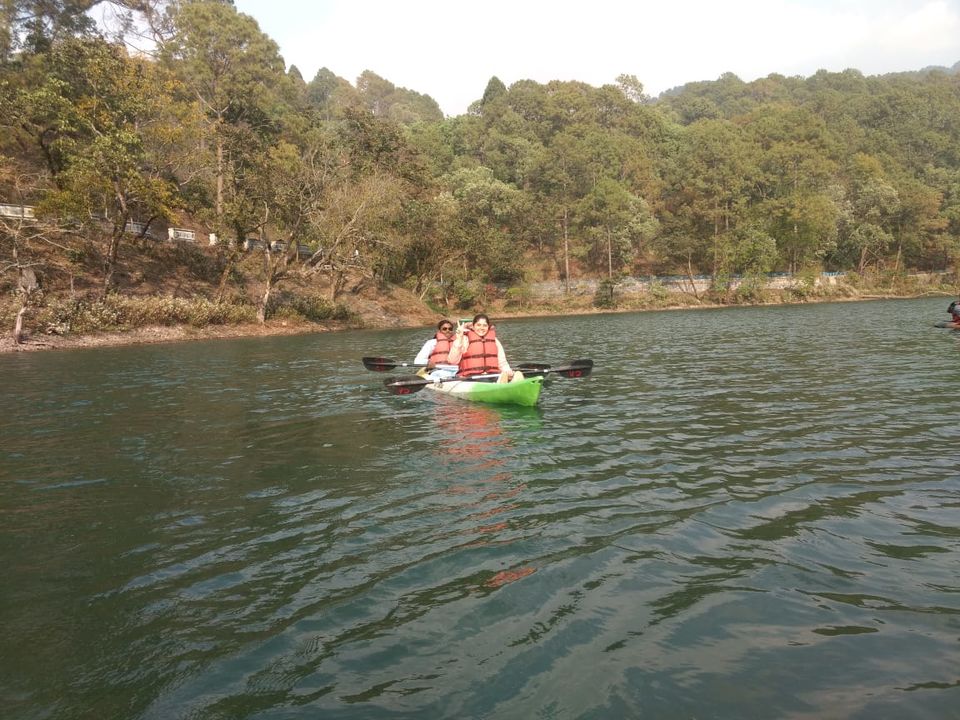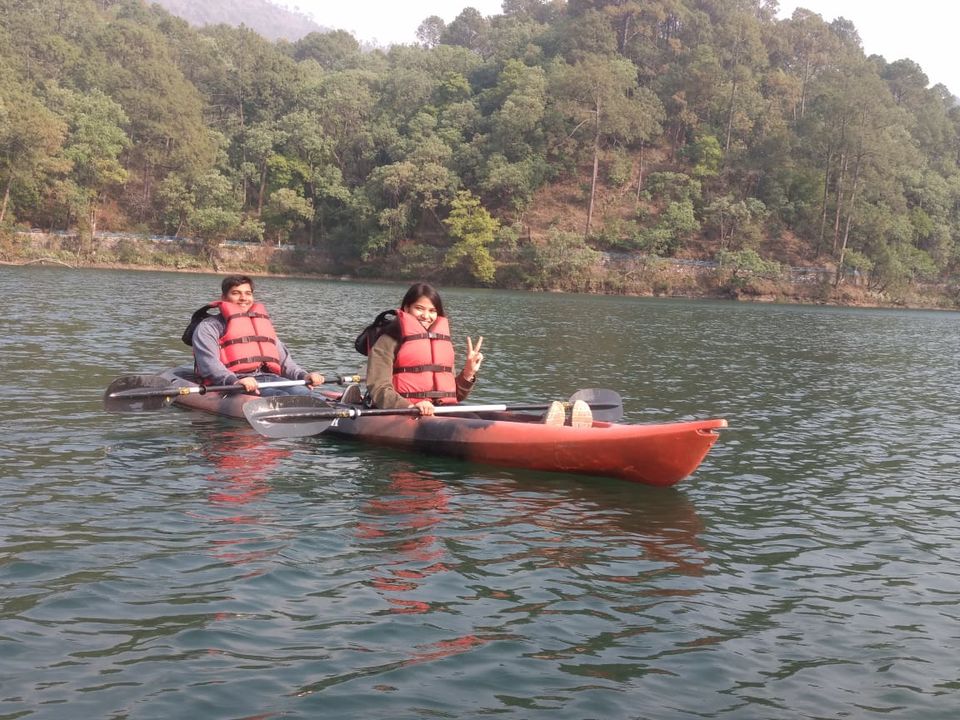 Sattal lake rests in the lap of high mountains and is guarded with dense trees. A Kayak ride through this crystal blue lake is sure to give you the captain feels!
Later at night, we visited the infamous Nainital lake and went for a boat ride, no rowing this time! Just relaxing and admiring the view of the mall road on one side and the tall lofty mountains on the other. The boat rowers in Nainital are super friendly and you can ask them about local tourist attractions and famous food places to try. (Google, who?)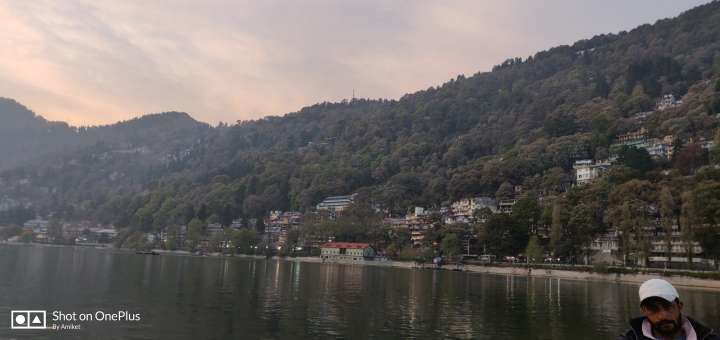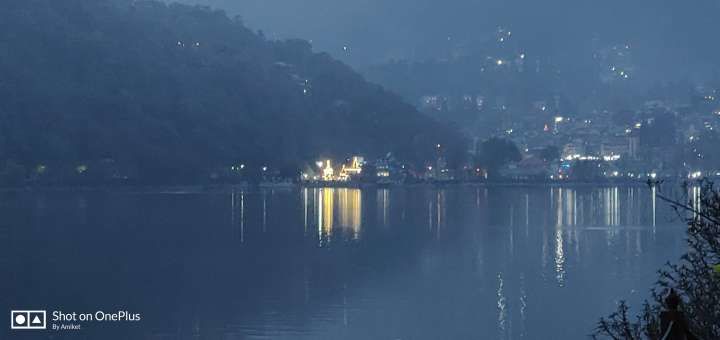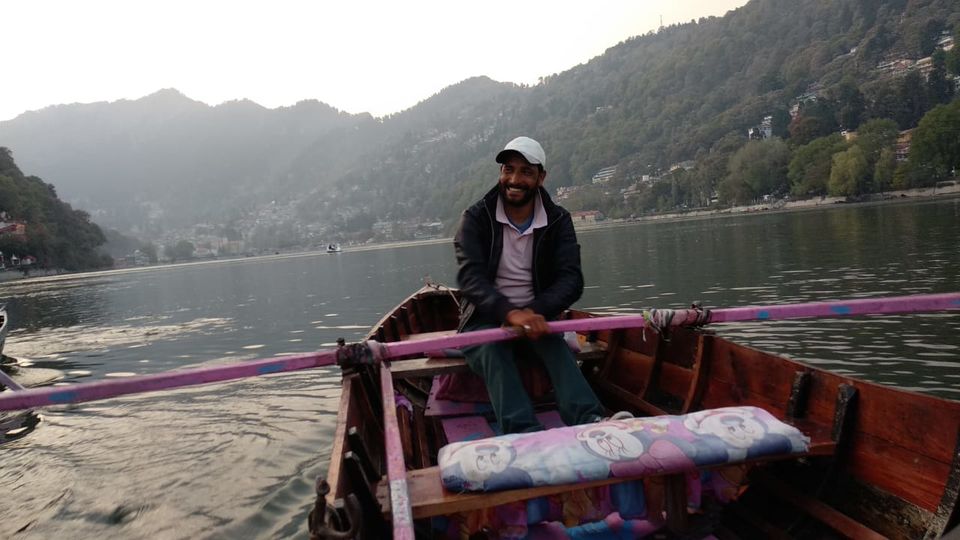 One thing I would recommend everyone to try from the mall road is the hot chocolate. It is a lip-smacking treat available for just Rs. 40. Best enjoyed at night, overlooking the mesmerizing lake! :)
It was dark when we realized our hotel was not in Nainital but a long drive down the hill. We started driving down but couldn't bring up the courage to take the steep roads that we had taken in the morning. So instead, we decided to take the National Highway, thinking all will be fine here (or so we thought).
This adventurous tale is just getting started because the road here had no street lights and we were the only ones driving through it. When they tell you, that - in the mountains, the night comes quickly and people go to sleep early, it is, in fact, all true! With no one in sight, we clenched our hearts and started driving through the midst of darkness. On the way, we passed a big graveyard and the air around that area started to feel thicker. The matters got worse when....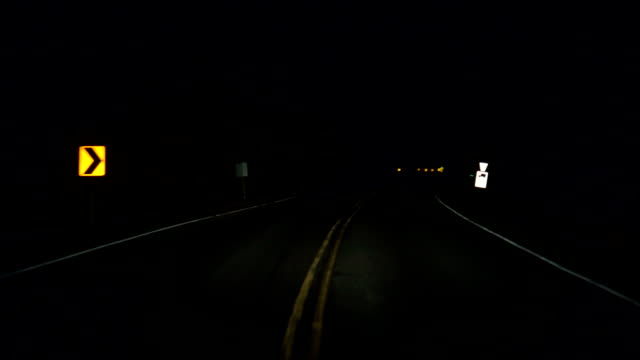 One of the bike's headlight stopped working! We moved in a group to share the only light that was visible in the darkness - the headlights.
We almost thought this will be farewell when we started seeing some lights and after about 45 minutes of riding through the lights, we reached our hotel.
Our second day was jam-packed, so we woke up early, filled our bellies with food and started driving to Jim Corbett. We were so excited for our safari through the woods that the unkempt roads of the way didn't bother us. The area near the parks boosts tall trees and the road leading from Nainital to Jim Corbett houses various farms, gardens and offers a relieve of fresh breeze.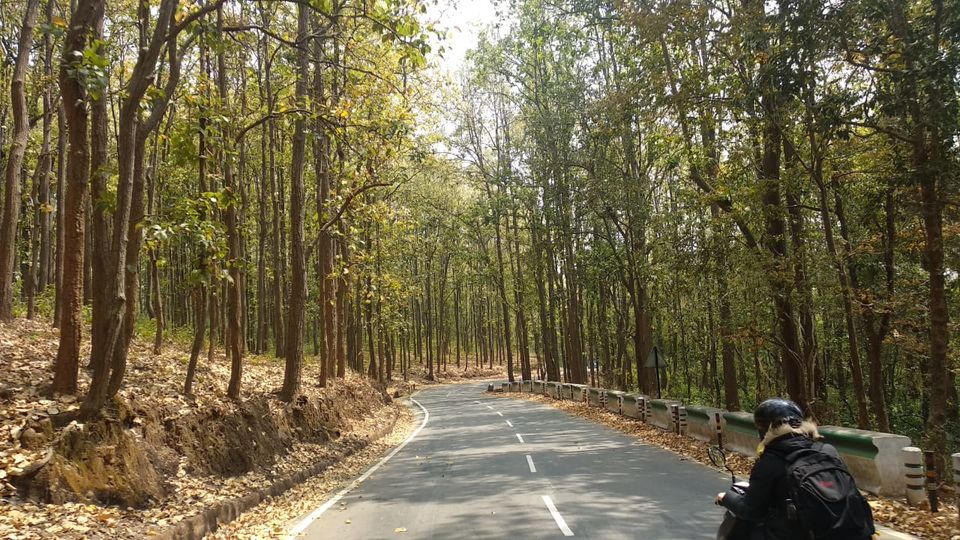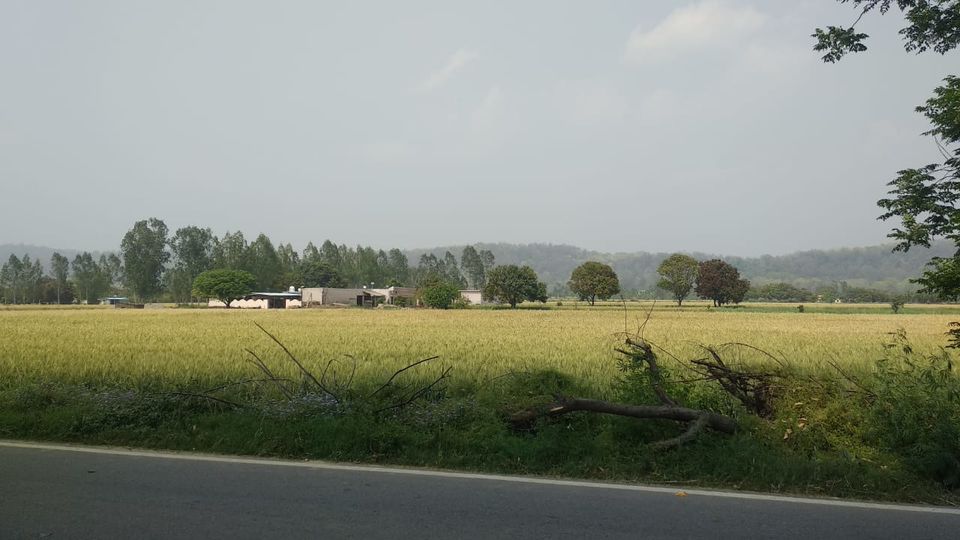 We parked our bikes at the Tiger Den Resort from where we had booked our safari. The resort is beautifully built with a pool and a canopy of trees. I would recommend this resort if you are planning to stay in Jim Corbett. The manager there was waiting for us and offered us welcome drinks as we reached. The resort had also prepared a feast for us before we went for our safaris.
Our safari started around 3 pm. They asked for Ids at the gate before assigning us a guide. Our guide seemed like someone who was super high on life. He was a witty gentleman who knew his way around the park. We saw a heard of elephants - some bathing and others migrating, countless peacocks, and deers.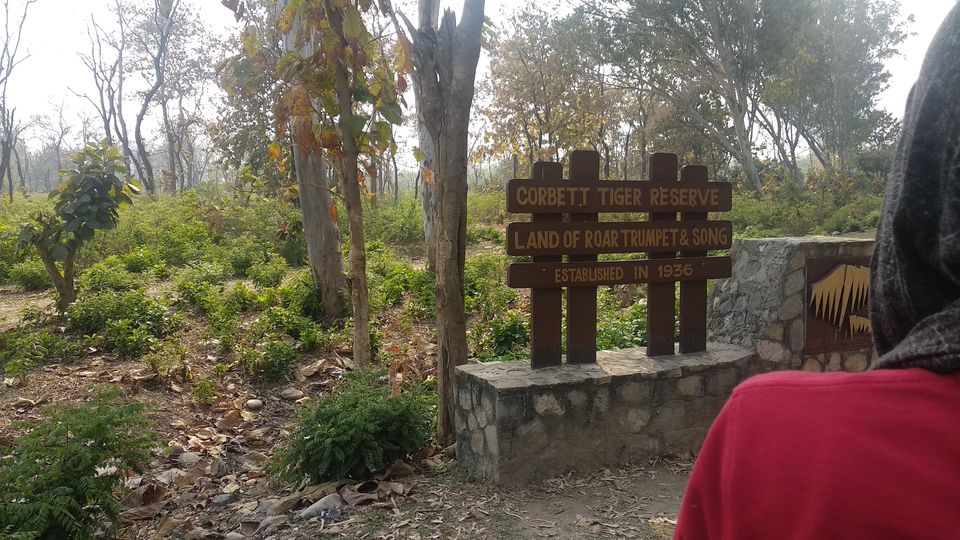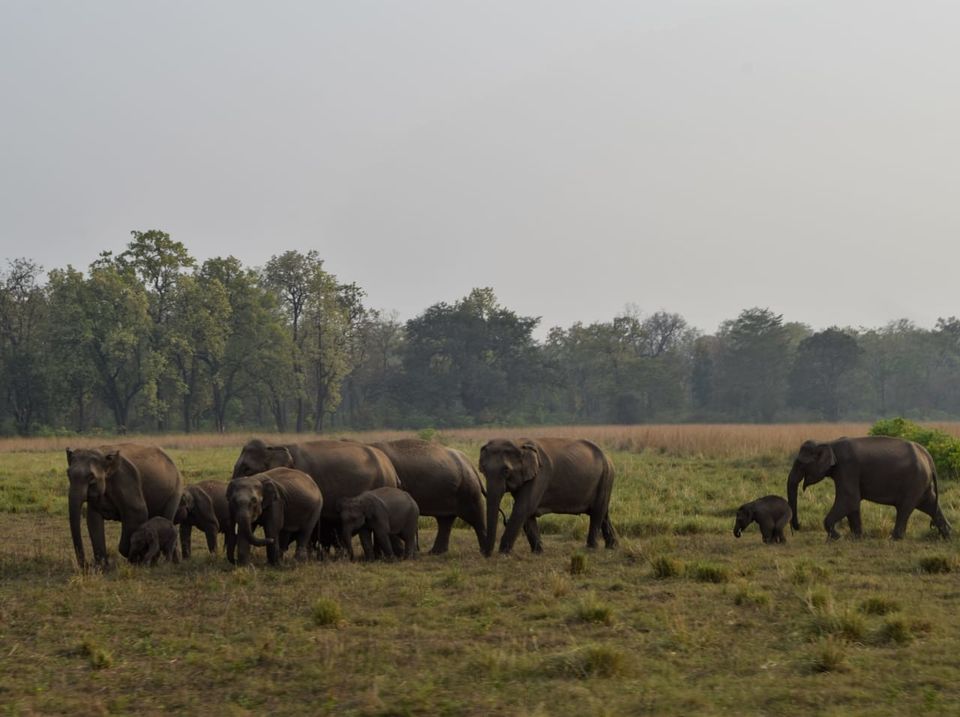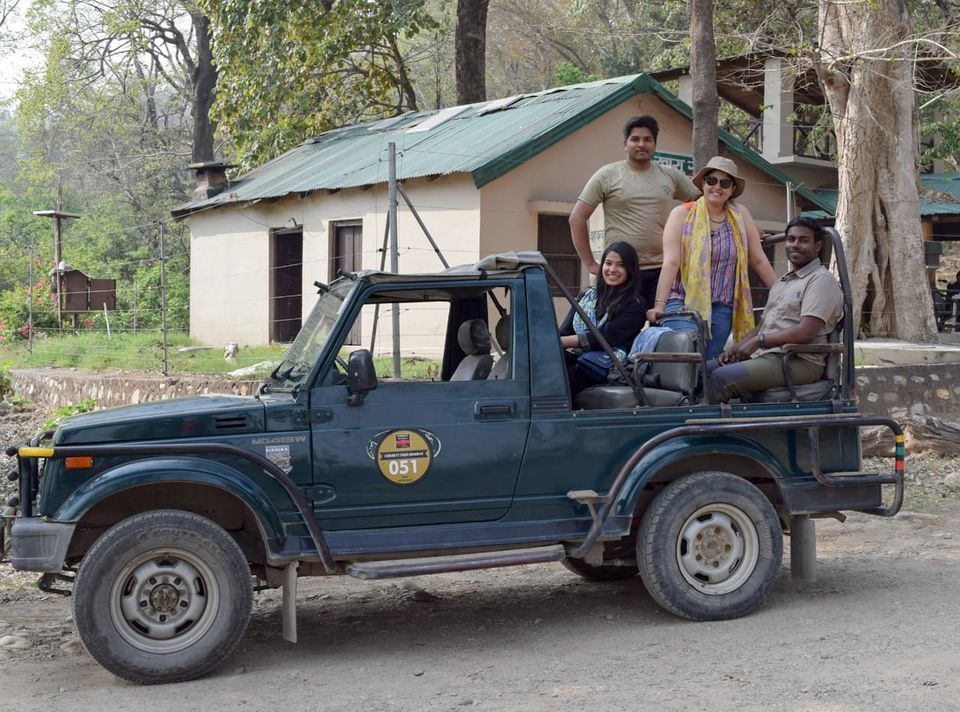 Obviously, the park is famous for tigers and even though a pool of jeeps including ours waiting at the place where all the guide heard the 'call' (a type of noise that animals make when there is a tiger around), we didn't get to see any. We returned back to our resorts with memories of magnificent elephants and the footprint of a very large tiger.
On our way back to our hotel in Nainital, it started raining heavily but it wasn't raining on the highway on which we were driving but we could see proper thunderstorm and heavy rain afar. We were heading towards it, instead of away from it!
With the motto - the rain cant slow us down, we decided to take a short cut. The thing was, this short cut was not exactly a road. We drove through rough mountain terrain between pebbles and small streams (Ladakh, you are next!) guiding each other through hand signals, through the rocky terrain.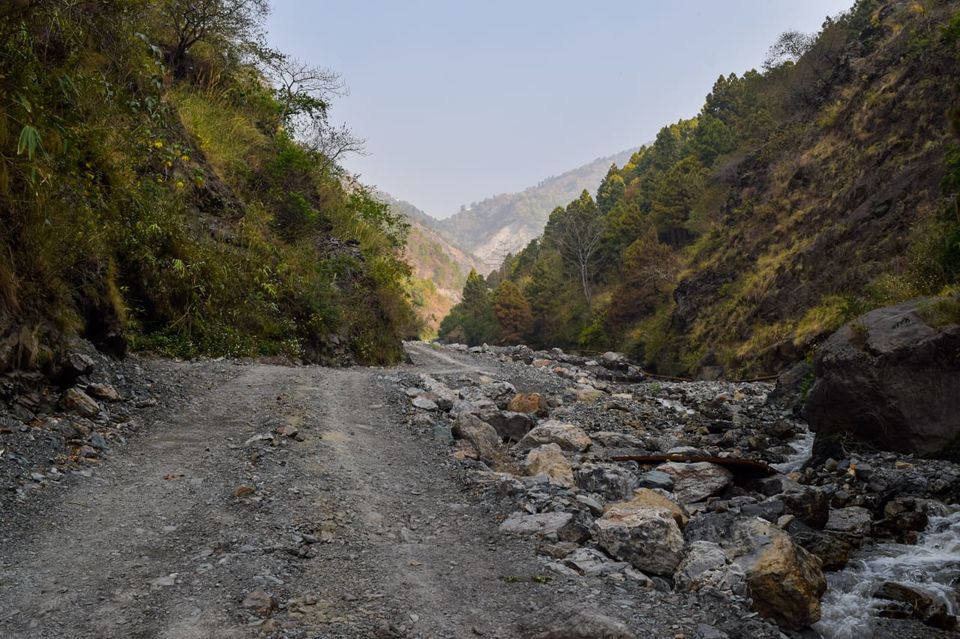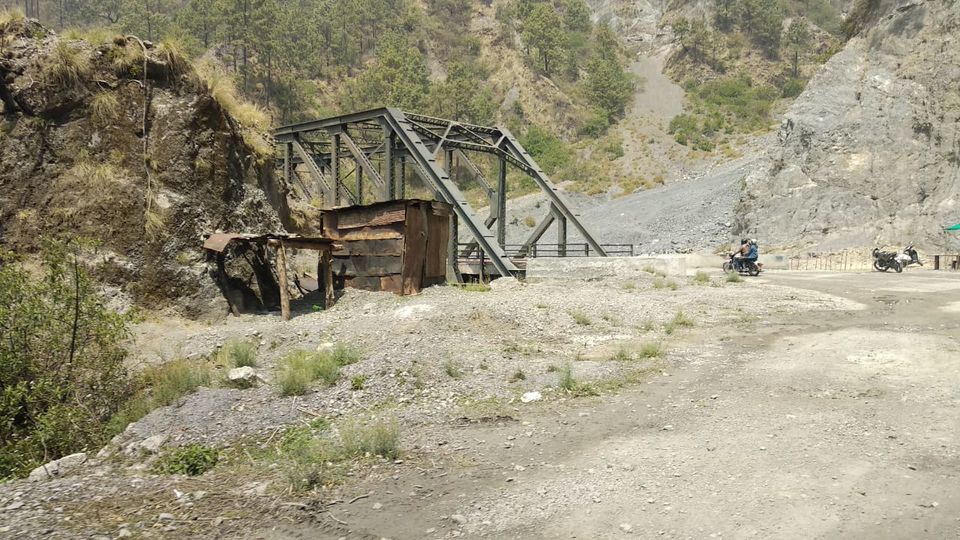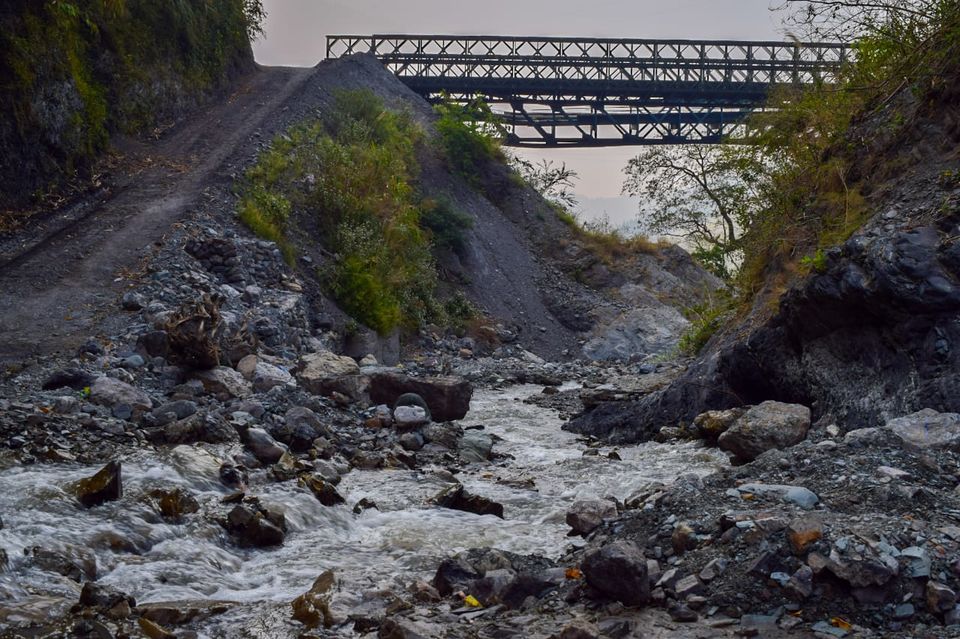 We reached our hotel quite late at night, enjoying the twinkling city before us. We changed out of our wet clothes (the rain didn't spear us after all!) and warmed ourselves in front of the bonfire, set by out hotel care-taker. Finally, with a starry night and some whiskey, we surrender ourselves to our beds.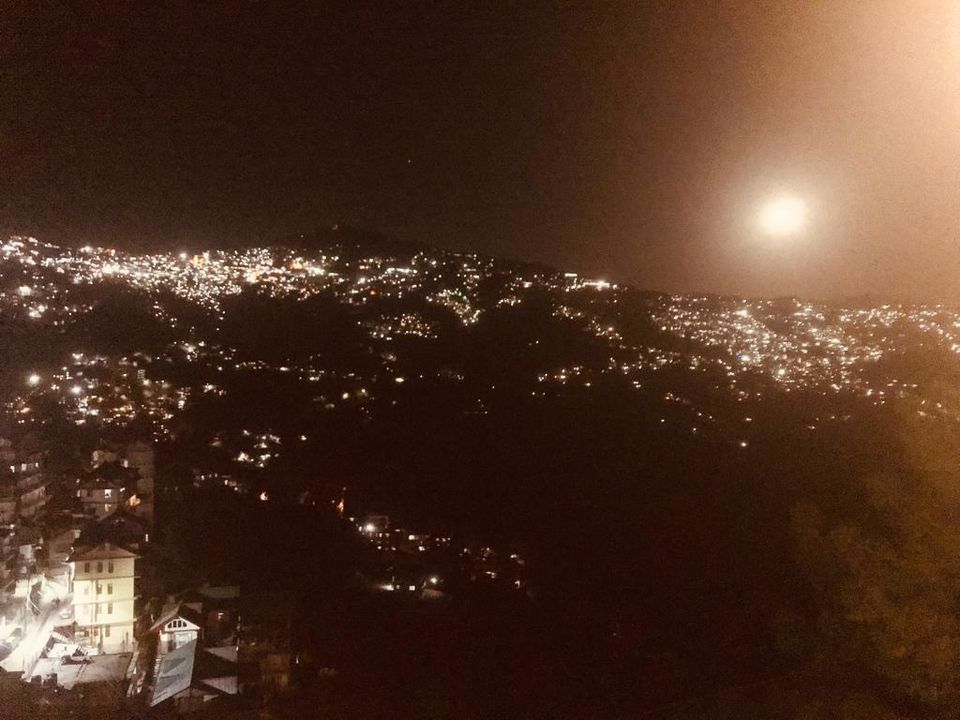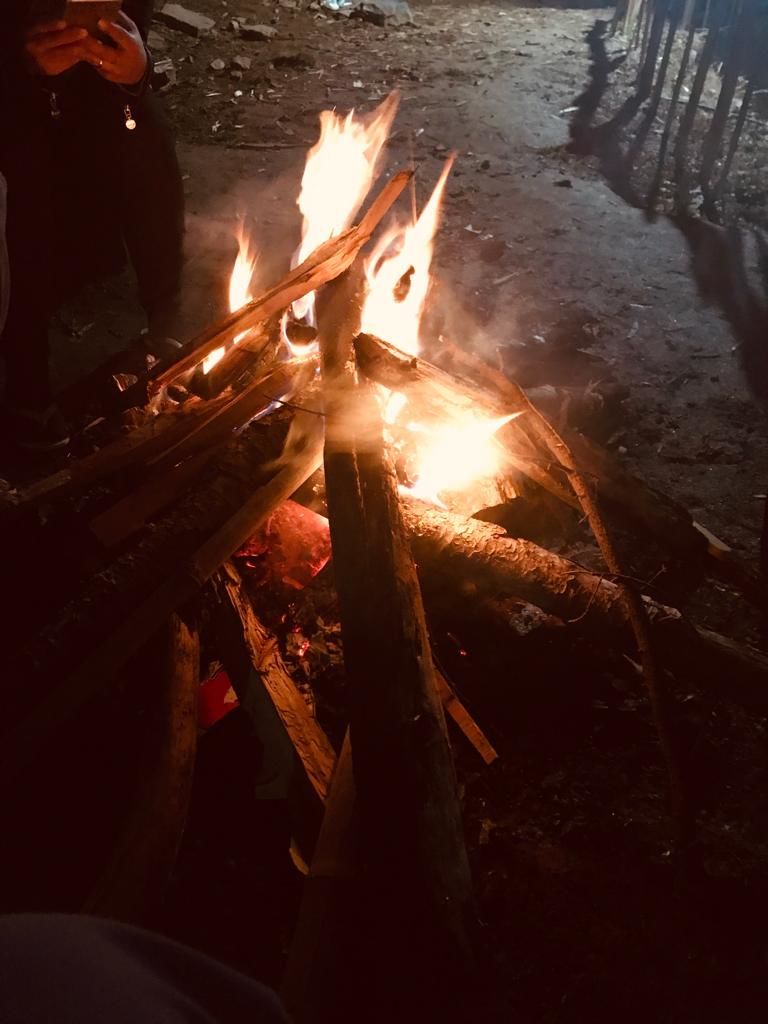 Our last day was spent adoring the beauty that is Nainital. Our first stop was the infamous Snow View Point. We took a cable car up the mountain top. The view from the top is of the entire city of Nainital with the lake shaped like a mango. The place houses activities like shoot the bottle, darts, etc. and is a shopping paradise. From clothes to antique wood work to lip-smacking food, it is like a mini-city up the hill-top.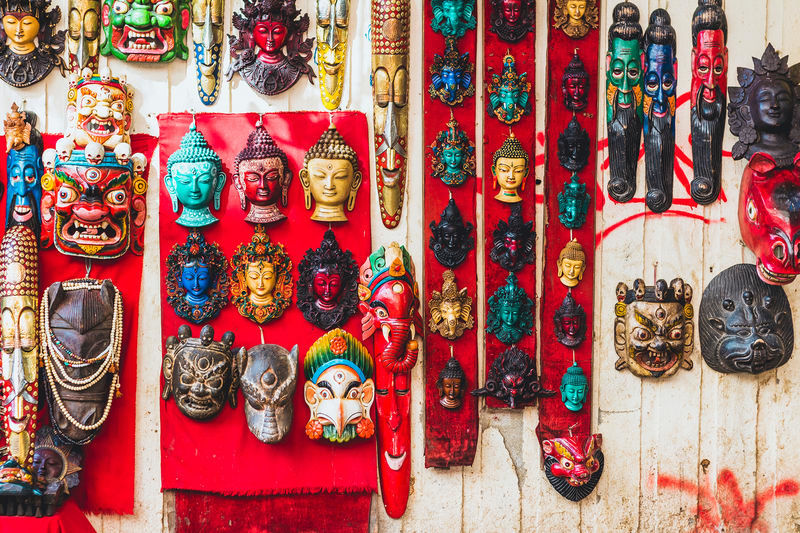 Next, we went to the cafe 'Pots and Pans.' It was suggested to us by our boat rower from the first day and the cafe does not disappoint! This cozy cafe offers Italian, India and Chinese cuisine. They also do a wide variety of sweet dishes like pies, tart, cheesecakes, etc. which are a must-try!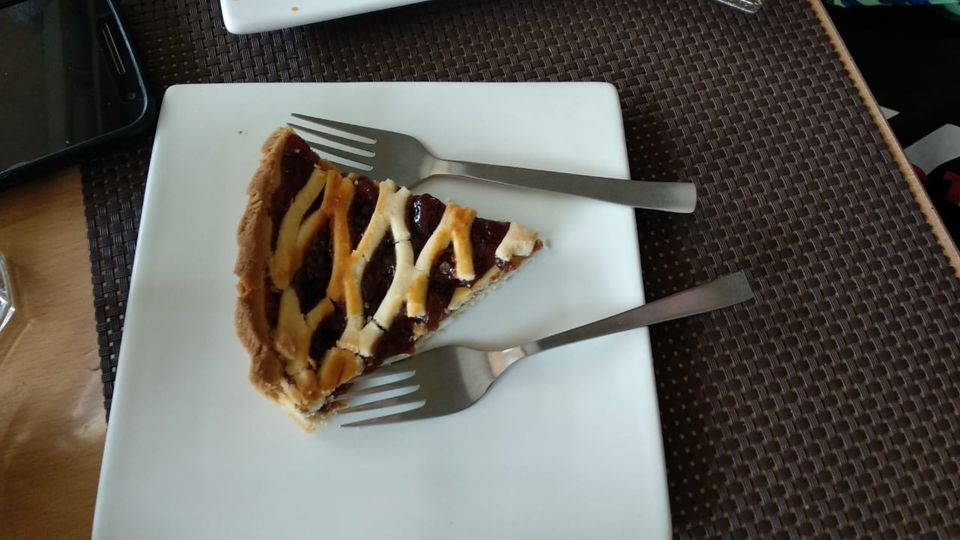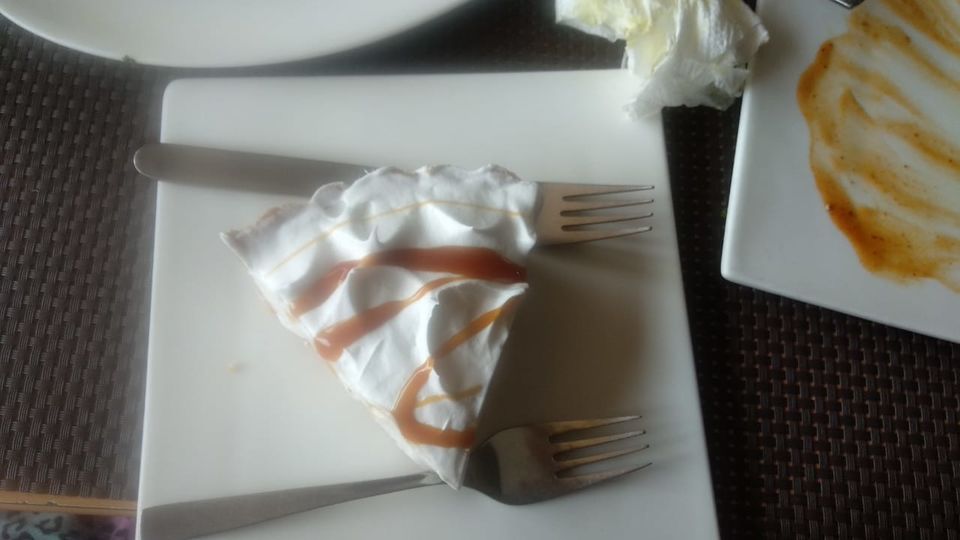 With scrumptious food in our belly, we were off to say hi to some wildlife! The Nainital zoo houses some of the most unique animals. We might have missed the tiger in Jim Corbett but we got to say hi to the majestic Red panda, the mighty cheetah, Jackal, a lazy bear, and numerous pretty birds amidst the zoo.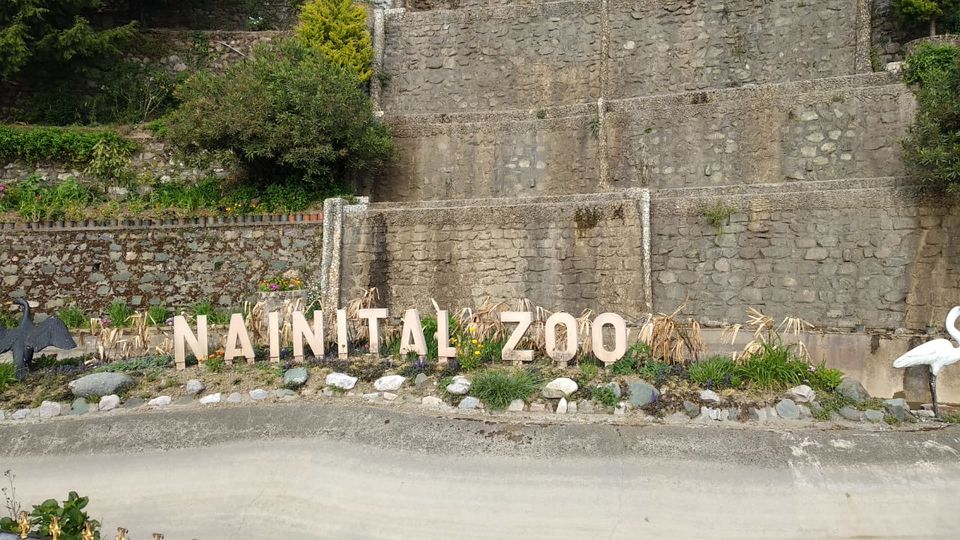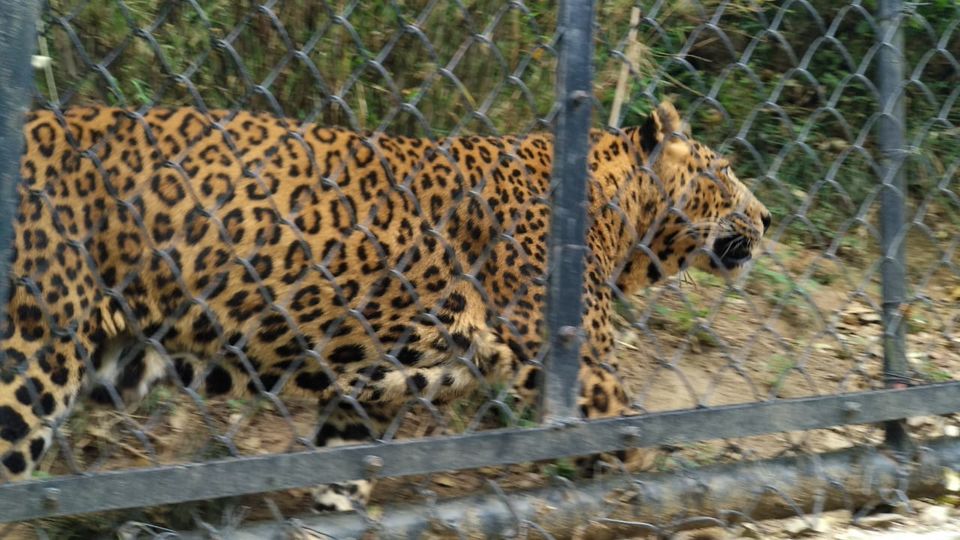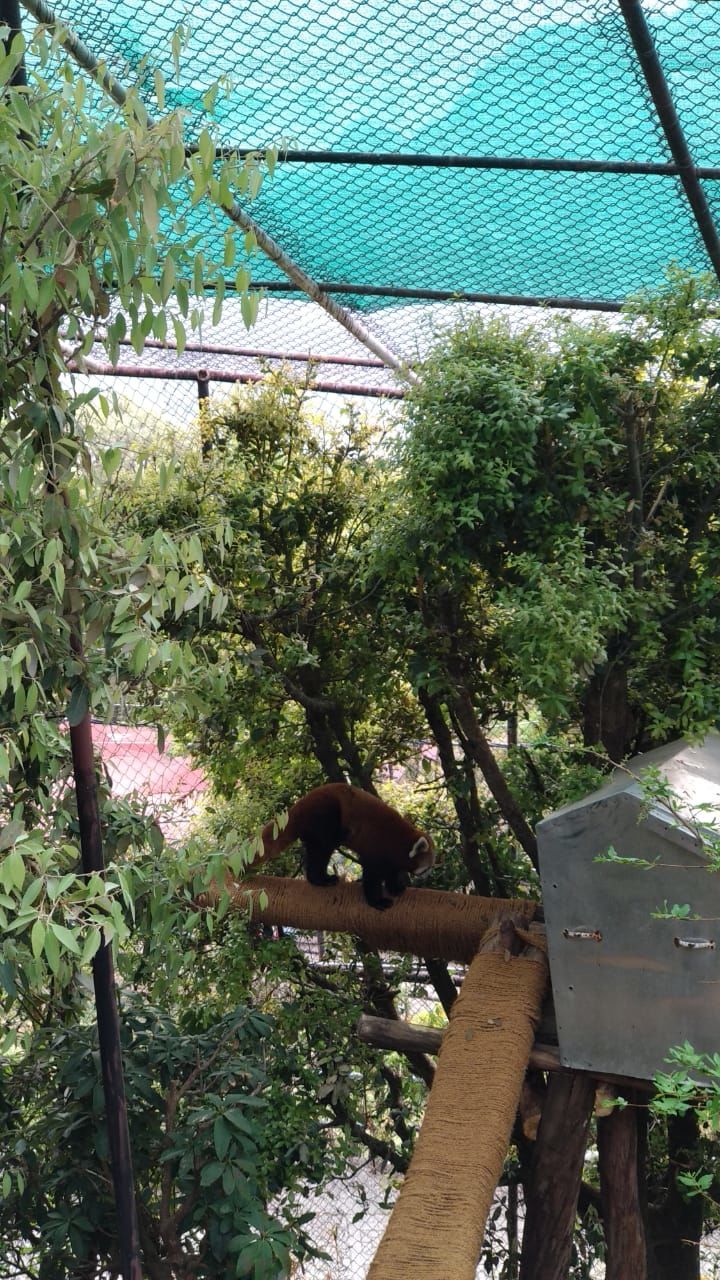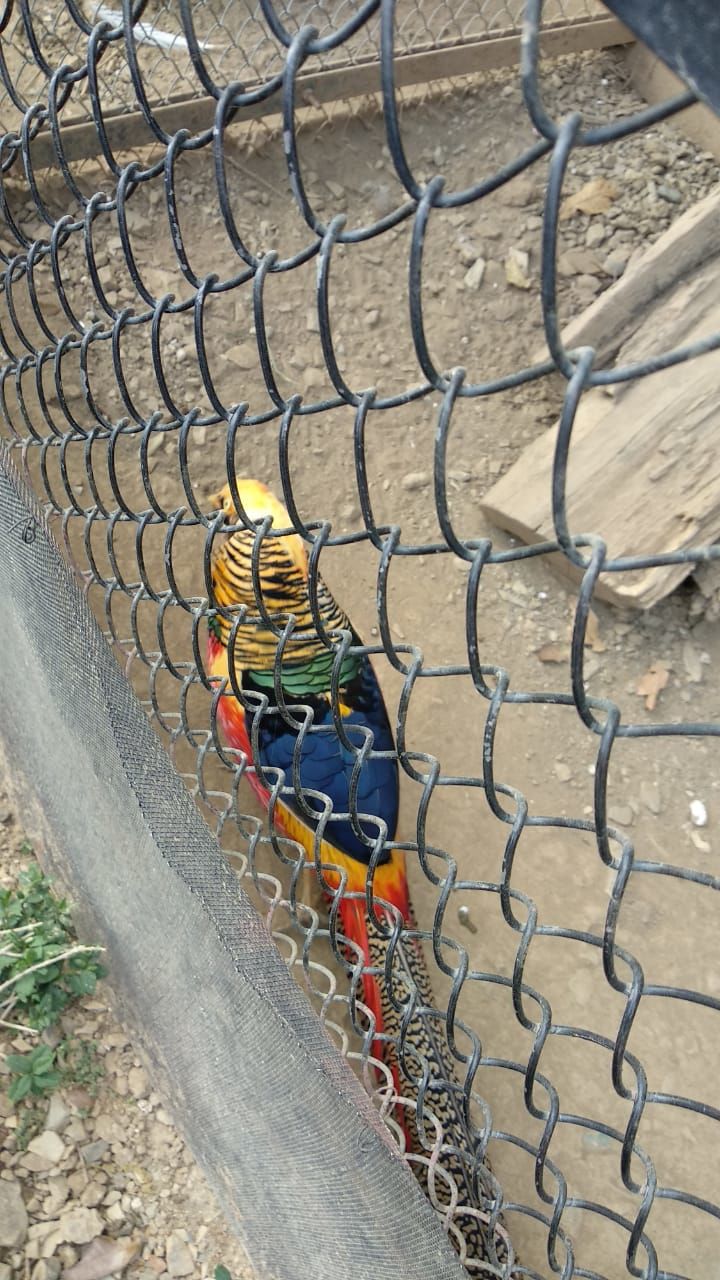 The Nainital zoo also houses the story of two lovers guiding each other through the cage. Our guide told us that the two deers in one of the cages where star-crossed lovers and one would not be captured without the other. The female deer was blind and the male guided her through the cage and helped her in everyday life. The story had our heart filled and we came back to the mall road with a sweet warmth in our hearts.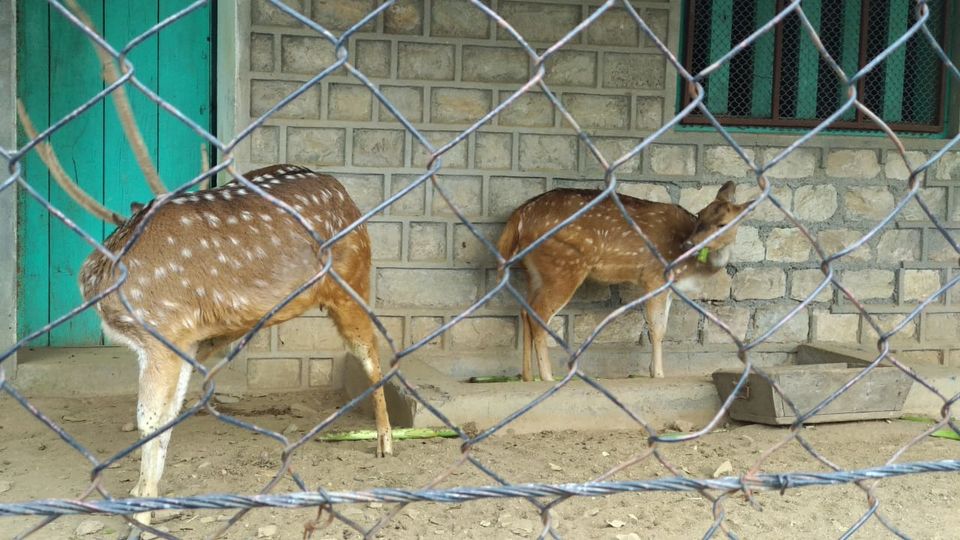 Our last stop was shopping through the Tibetan market and visiting the holy Naina Devi Temple. The Tibetan market is a must-visit as it offers great bargain deals and lip-smacking food. The famous momos shop is a must-visit!
The market is beautifully decorated and is perfect to shop for antiques, for your loved ones. You can also check out the adorable candle market on the Mall road which houses everything from scented candles to glittery candles to candles shaped like wine bottles. If you can think it, the folks there can make a candle out of it!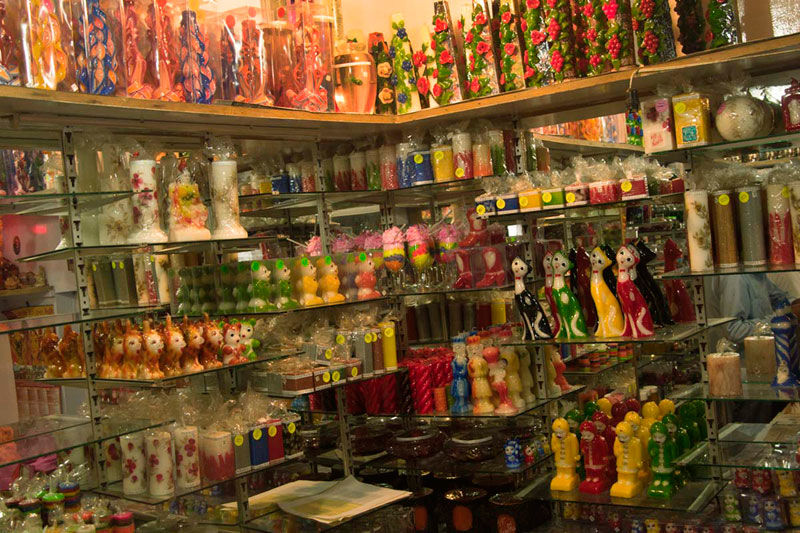 Our last stop for the night was the bus-stand which would take us back to our city lives. We picked up some good old Domino's (there is a store on the mall road, itself) for the bus journey and we were off to home.
With a bag full of memories, a heart full of adoration for the beautiful hills, and the amazing company we enjoyed it with, we bid adieu!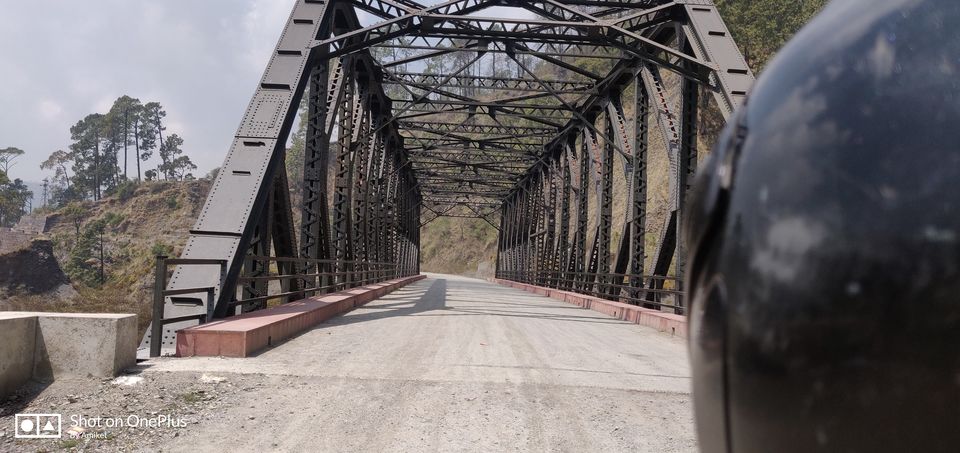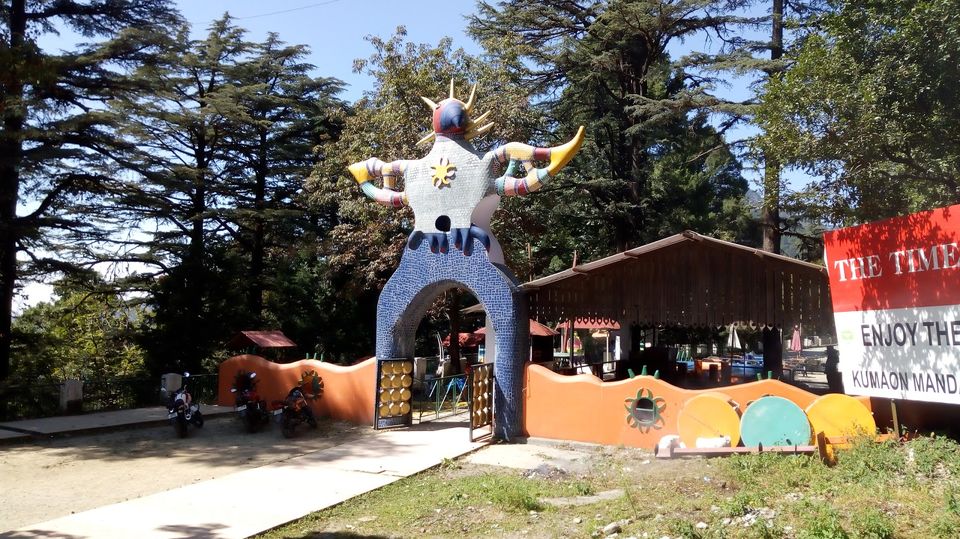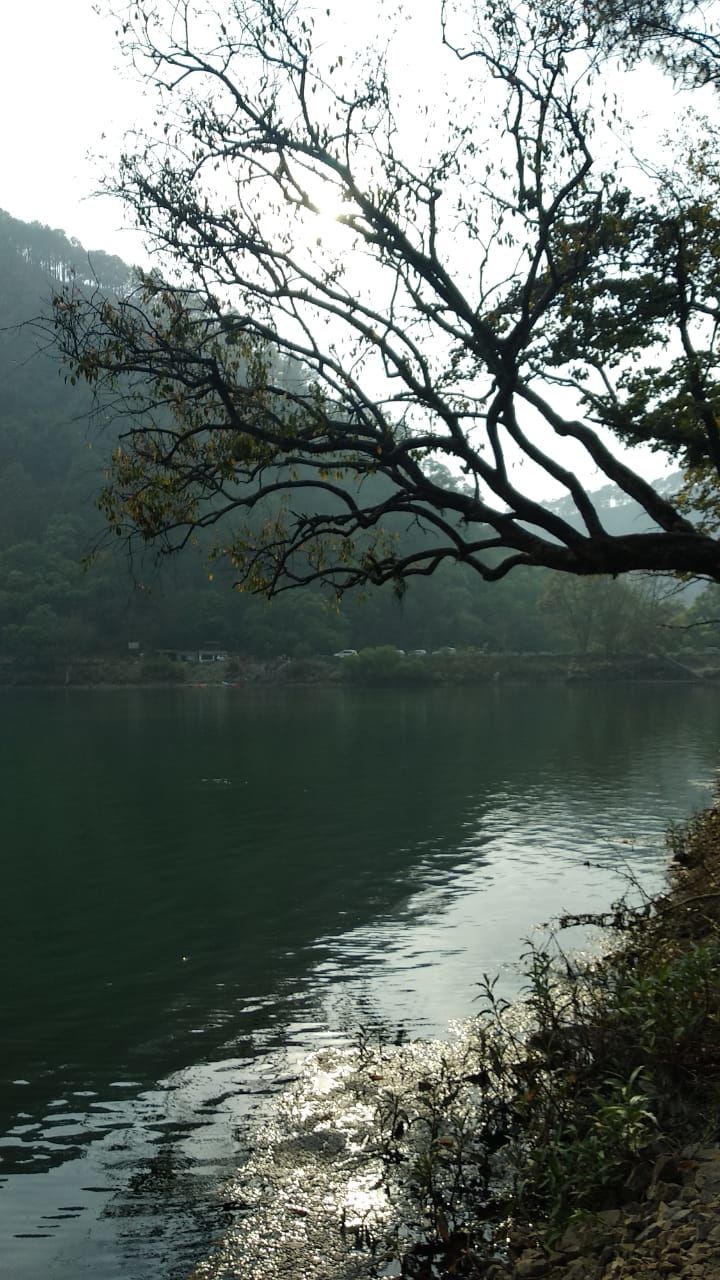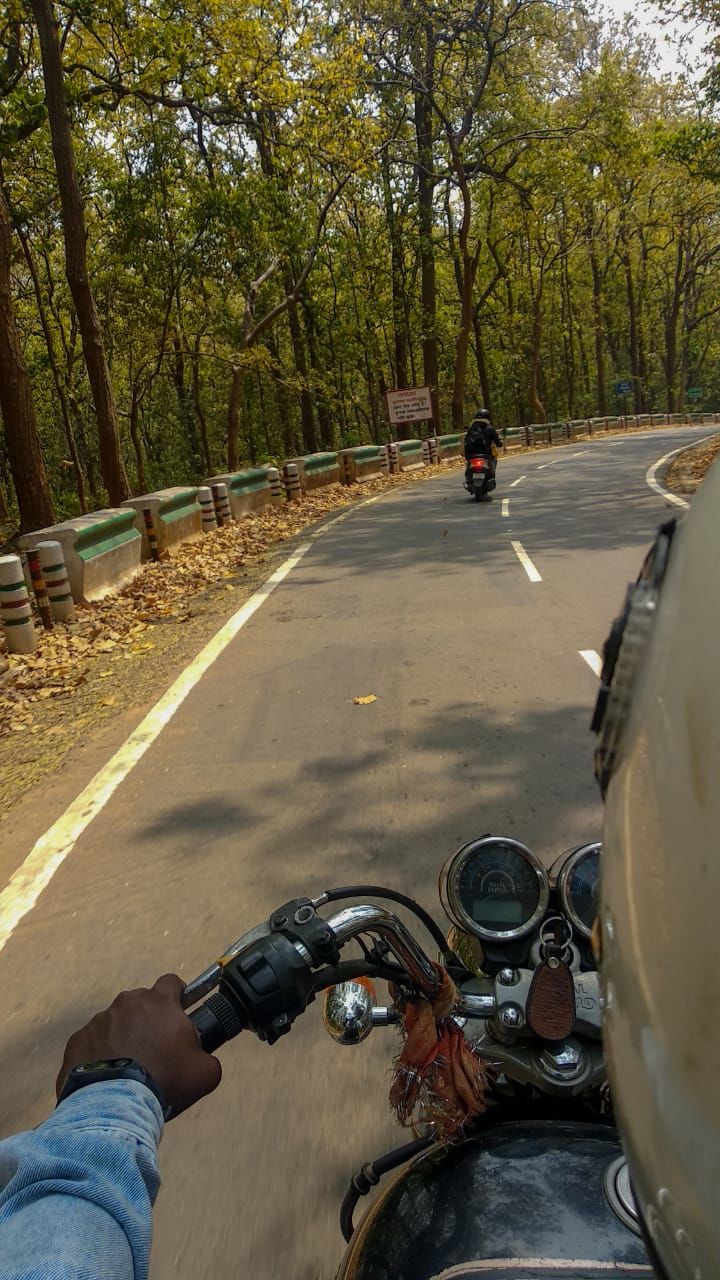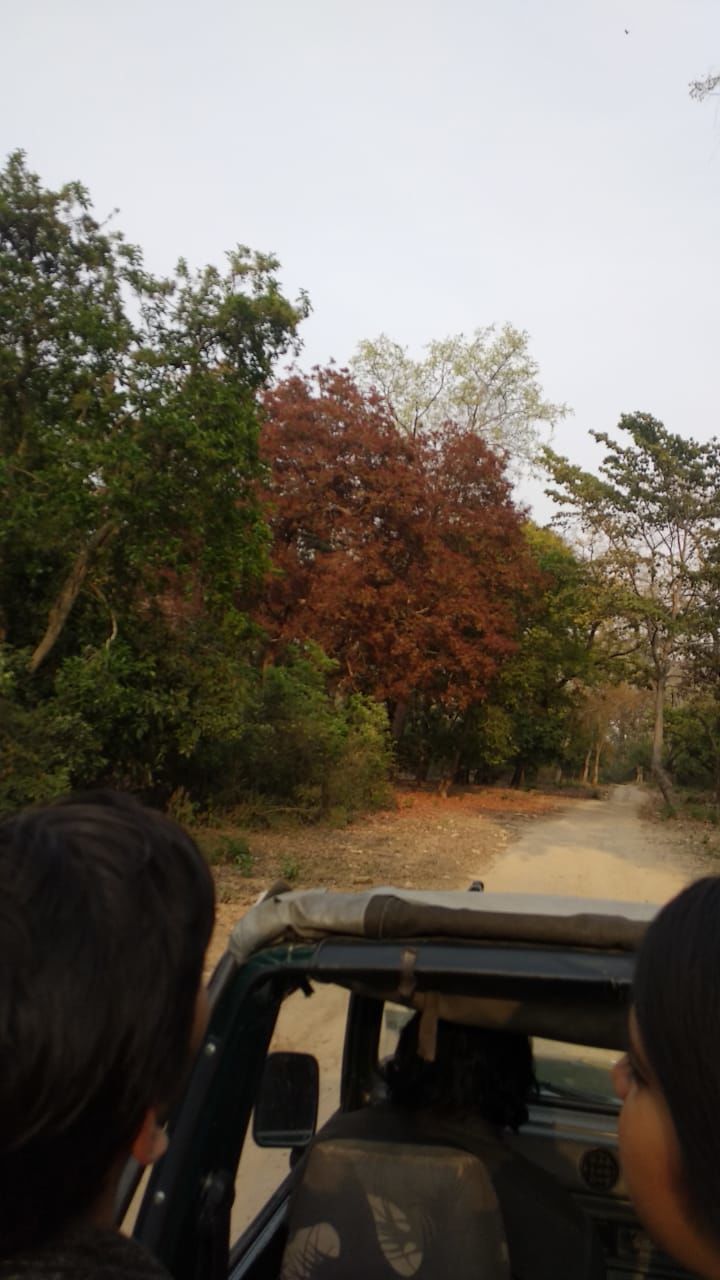 Frequent Searches Leading To This Page:-
Nainital Mussoorie Honeymoon Packages, Tour And Travels From Delhi To Nainital, Nainital Tour Package From Delhi For Couples, Nainital Tour Package For Couple From Delhi, Delhi To Nainital Tour Package For Couple, Best Nainital Tour Packages From Bangalore