Continued from Day 2
Post continuous rains on second day, our plan for the third and last day in Nainital was to cover rest of the places, including boat ride. Holy cow! Who does not go boating when in Nainital? We headed to the lake at seven in the morning. The vast expanse of blue pristine water was stunning. As we stood staring at the fish and empty boats, a boatman approached us offering a thirty minute ride for 200 INR. (Rates are fixed, so no point of negotiating).
Since it had rained, pedal boats were not operational leaving us with the only option to board the row boat. Boatman Naveen Joshi, a smart educated gentleman, shared a lot of stories about Nainital. The boat floated on water like a little mermaid, wading through the gentle waves as Naveen skillfully oared it. Expressing his concern over ecological depletion coupled with corruption and politics, he said there is a dire need of saving all natural resources for the world to survive. We could not agree more. A graduate from Nainital College, Naveen is also a part time trekking and swimming coach. The talented man really impressed us.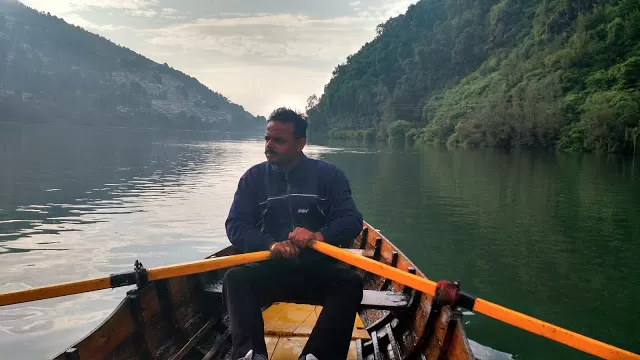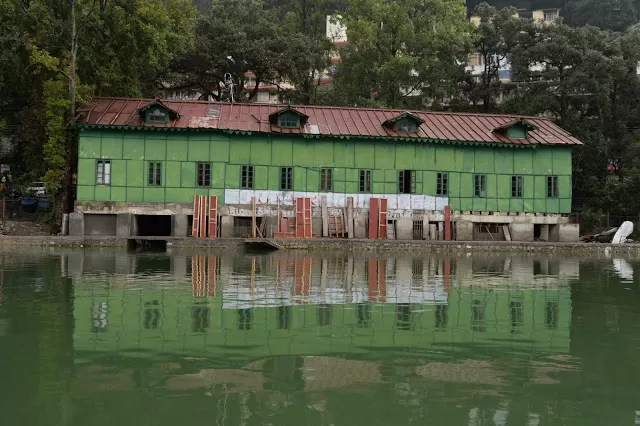 The round of the assigned part of lake was a beautiful journey. Watching the clouds blanket the hills and Sun peeping through them was sheer delight. Naveen showed us exceptionally big sized fish. Scary but harmless, they get your attention easily. The surrounding lush greenery and fresh morning air rejuvenates you, as you sit in the boat listening to the temple bells. Naina Devi temple right on the bank of the lake is a spectacular view.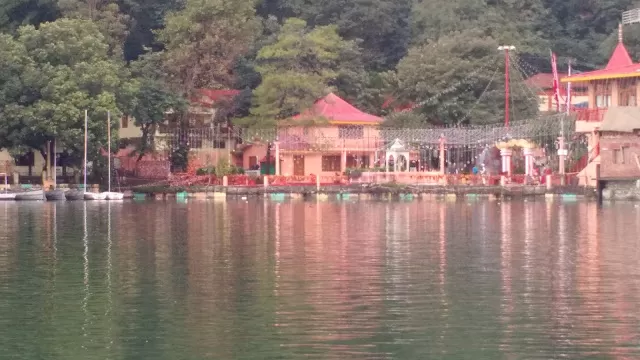 You would also see Thandi Sadak dotted with three temples. The huge lake seems a gorgeous eternity, with so much calmness and beauty. Ah, I am falling short of words here. The boating experience is beyond words. So peaceful and serene we felt.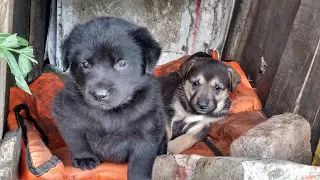 The animal lover within me spotted two little pups safely tucked in a shelter. Their mum came to check on the pups and left them in my company. The wooden shelter was covered with an old life jacket for the pups to keep warm. Nainital is indeed an animal friendly place. No body harms or chases stray dogs. See how these strays huddle on the street to bask in the Sun.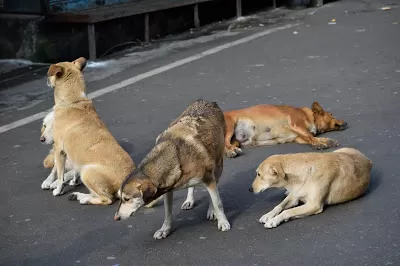 We walked back to our hotel, negotiating with a taxi to tour us around Nainital in 1300 INR. Post a yum heavy breakfast of aloo poori on the hotel terrace, we packed to check out. While loading our bag packs in taxi, husband forgot his camera at the reception. The manager came running after the taxi to return the valuable asset to us. Lest the trip should have costed us 60k.
Moral of the story- Check everything while checking out from hotel.
It started pouring again as the driver drove through the cloudy roads. Nothing was visible outside.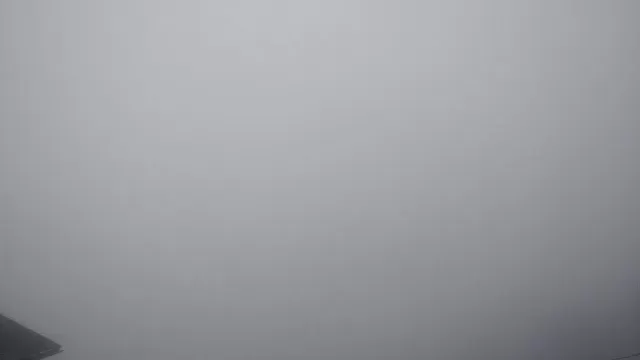 It started pouring again as the driver drove through the cloudy roads. Nothing was visible outside. The itinerary for the day was Saattal- Naukuchiataal- Hanuman Garhi- Bhimtal- Haldwani. Within an hour we reached Saat Taal.
The approach roads to Saat Taal runs through a forest across a long stretch. Advisable- Not to get off your car/taxi on the way. You run the risk of being looted or encountering a wild animal. No CCTV or street lights here, so you are on your own!
The driver lent an umbrella for us to de-board the taxi. (We were keeping the camera safe from rain). The place is famous for Rajma Chawal and kheer, which we tried in lunch at Mandakini restaurant. Gradually it turned sunny and we were able to move towards the lake.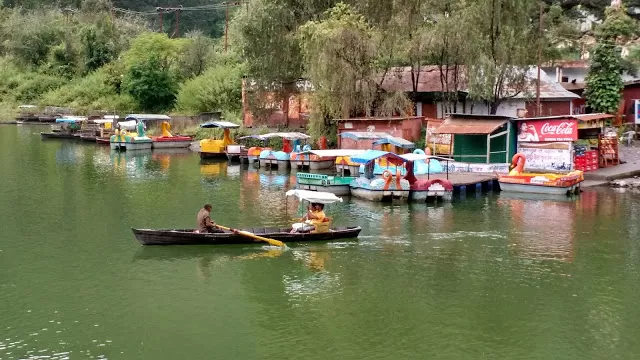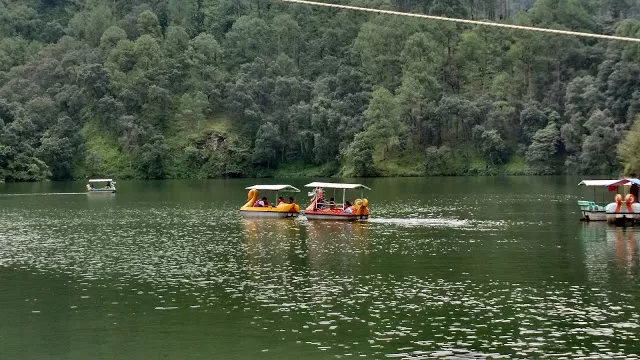 Saattaal is quaint little place with several small lakes combined together. Water looks greener here. Every boat ride is above 200 INR. Apart from boating and kayaking there is no other activity to do here.
A small bridge across the lake makes a nice spot for photography, besides the Ram Temple which is believed was visited by Lord Ram during his exile.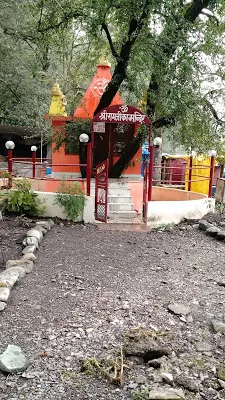 Few resorts have recently opened in Sattal offering an offbeat weekend escapade. If you already have had a boating experience in Nainital, you may not want to do that again in Saattal. You can spend an hour or so, unless you stay back for forest hiking, which is not encouraged here.
We left Saattaal and headed to Naukuchiataal, a lake with 9 corners.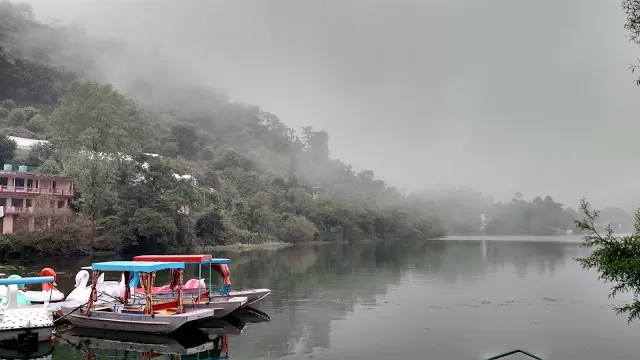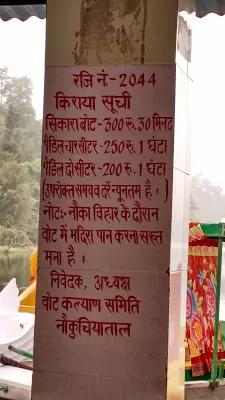 The legend goes that those are able to see the 9 corners in one go, is considered lucky. Well, viewing the 9 corners is not possible unless you are air borne. Hose riding, water walk in balloons, boating are few activities tourists can indulge in. The charges of boat rides are displayed here. Hope this helps.
You can choose any corner of the lake for activities. We chose the last and quietest corner where a flock of big ducks drew our attention, quacking loudly almost into our face. An isolated pathway ran to a resort (Of course we did not tresspass).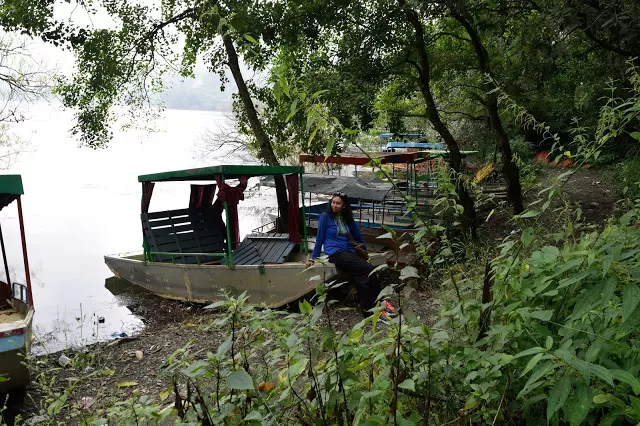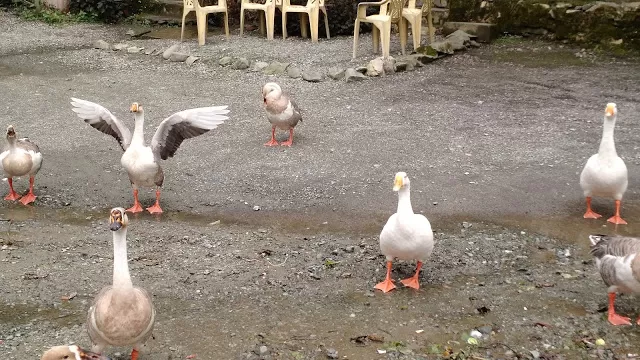 We admired the lake from all corners, took long walks around the bank, soaking in the tranquilizing beauty. Pubic toilets are a major nuisance here. They charge you 10 INR per head for using a toilet without lights, water or even door latch. There is a lotus pond as well near Naukuchiataal, which blooms with pink lotus in season. We only witnessed the beautiful floating leaves.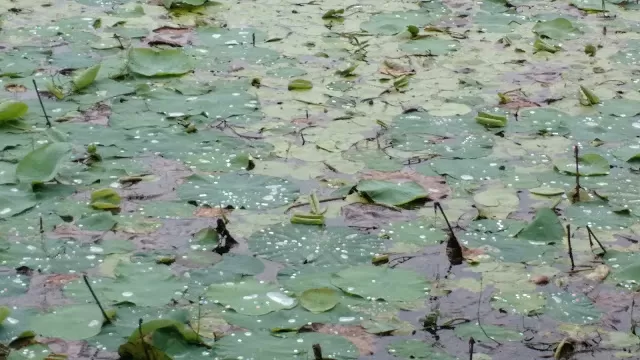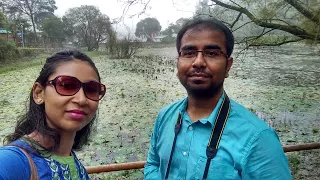 After spending an hour in Naukuchiataal, we headed to Hanuman Garhi.
Hanuman Garhi, is the place famous for 40 feet Hanuman Ji's idol. The temple attracts lot of people for Hanuman darshan. The tall statue surely holds a record somewhere. The temple premises is also famous for the beautiful sunset, which we could not witness owing to the bad weather. The temple premises has an artificial cave which looks real. Nice aesthetics it has!
Hanuman Garhi Entry fees- None
Camera charges- None
Our last stoppage was Bhimtaal. The stories from Ramayana state when Devi Sita was thirsty, her brother in law Bhima struck the ground with his mace (gadaa) and the lake oozed out. Hence the name Bhimtaal. We were tired of the day long travelling and seeing several lakes. Bhimtaal was no different.
The few attractions include a Shiv Temple, an island in the lake that houses an aquarium, a dam and same water activities. Boating no longer interested us. Shops and stalls selling fast food is quite popular among tourists there.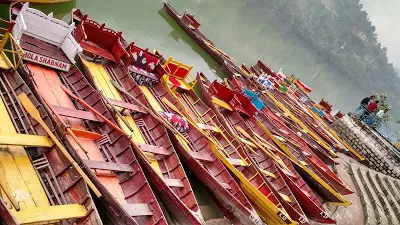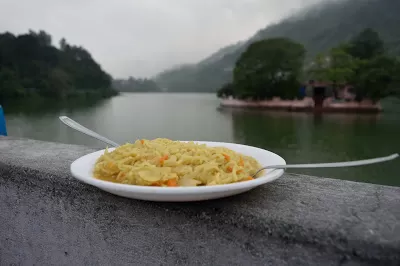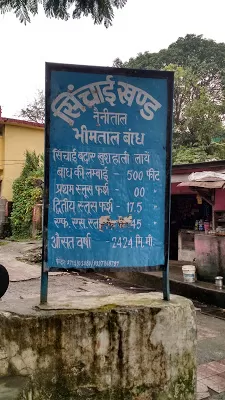 Gorging hot Maggie beside the lake was the most enjoyable moment for us. We spend about an hour and a half with long walk on the bridge and watching the serenity around for the last time, before we departed for Haldwani.
We had three hours to spend in Haldwani prior to our Volvo departure.
Advisable- To have dinner in Dominos like we did and killed time till 9:30 pm without being asked to leave. Hehe :)
P.S- My trip to Nainital and around was in September 2016
Frequent Searches Leading To This Page:-
Things to do in nainital in December, what should i buy from uttarakhand nainital, places to visit in nainital in 3 days, map of uttarakhand and nearby places, tourist places in nainital district, hotel in lansdowne uttarakhand