Quite accidentally, sometime in August 2017, I found myself standing outside the famous town gate of Mana. The trip to Valley of Flowers and Badrinath should have ideally ended that day but blame the magic or the mayhem of the monsoons in Garhwal, that we found ourselves stranded in Badrinath due to a landslide at Lambagarh. Just to make something out of that day, that we would have otherwise spent inside our hotel rooms, we decided to venture out. We left Lambagarh behind and proceeded 3 km further up north from Badrinath, there we were at The Last Indian Village, Mana.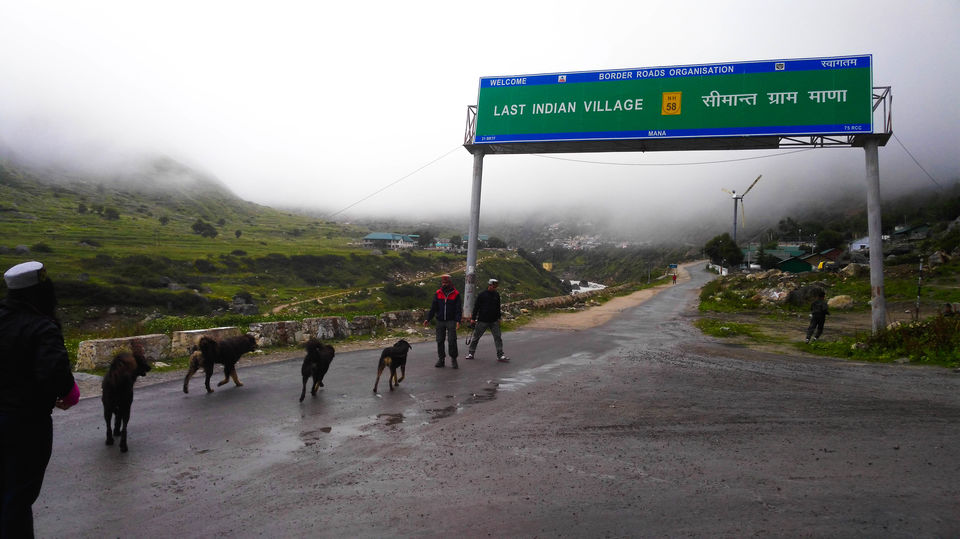 Mana, A Village Where Divinity Lives Next Door
A 10 minute drive on a well-kempt tarmac road from Badrinath led us to Mana. Sight of the well-bred mountain dogs running towards us, the noise of the gushing Saraswati, rows of army camps on either side of the road and that one massive village gate that read 'The Last Indian Village', everything around us seemed like an intimation about how far away we had come.
This village at an altitude of 3115 metres in the Chamoli district of Uttarakhand introduced us to divinity in a rather peculiar way. The kids of the village narrated the stories from Mahabharata as they guided us from the gate through the congested village street all the way up to Vyas Gufa, the cave where Ved Vyas compiled the four Vedas and narrated Mahabharata for the first time.
The narration of the stories of Mahabharata by the kids seemed less like a tale concerning divinity and more like a gossip about a next door neighbour. I think, the people of Mana are quite used to the fact that gods indeed were, at sometime in the past, their neighbours in this Dev Bhoomi. They once inhabited this place just like they do now. So when travellers come to this village where figures of famous myths once lived and walked, they perceive everything differently.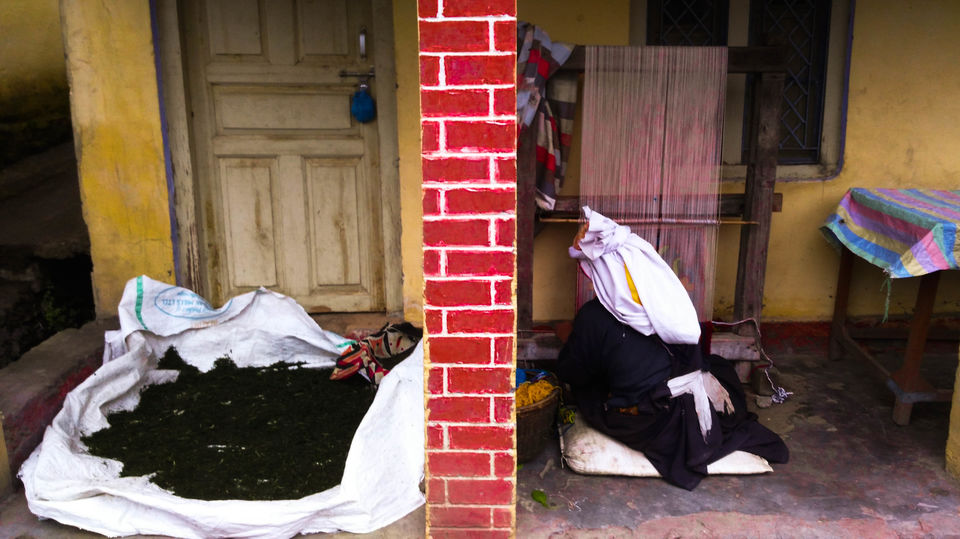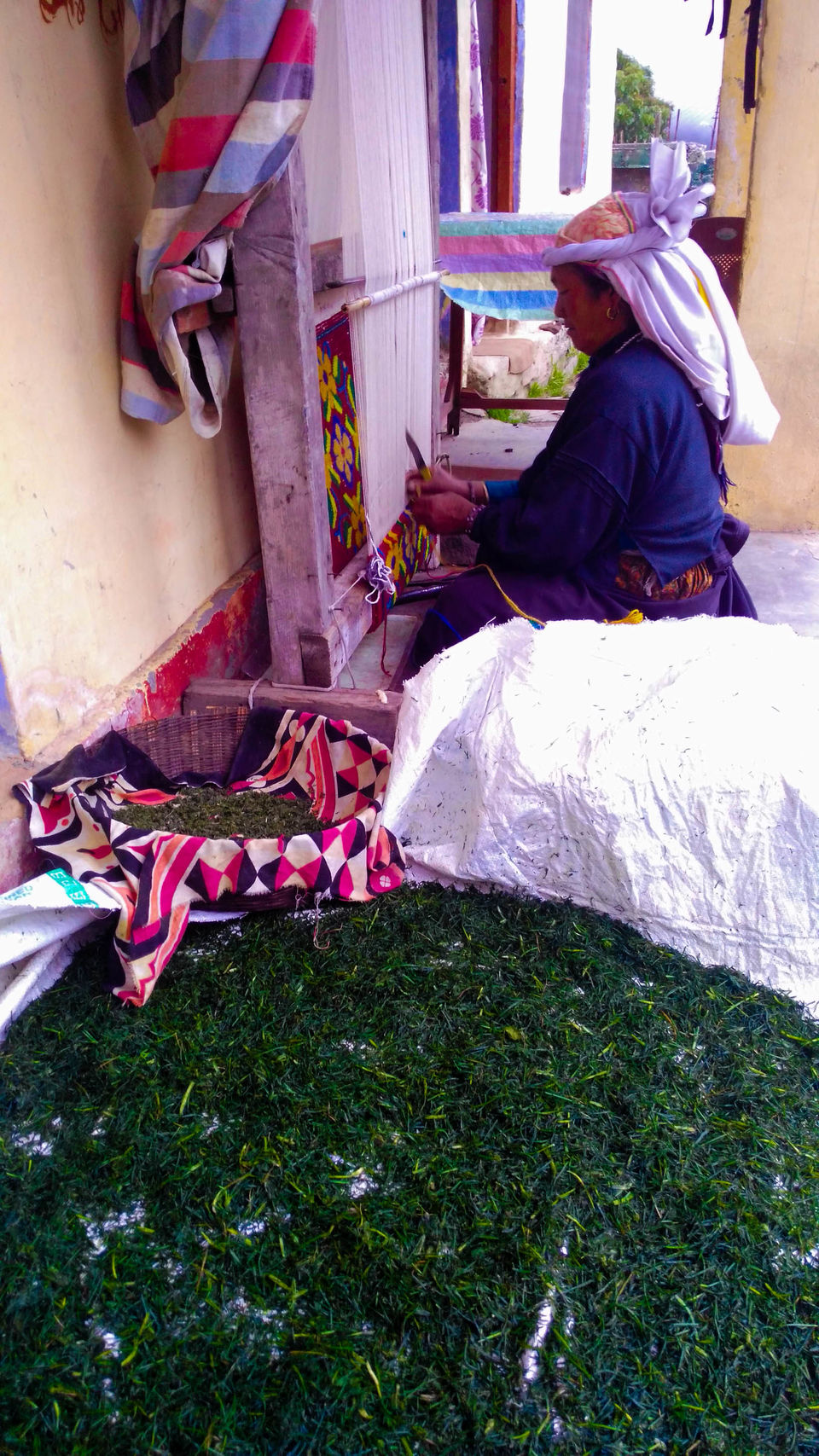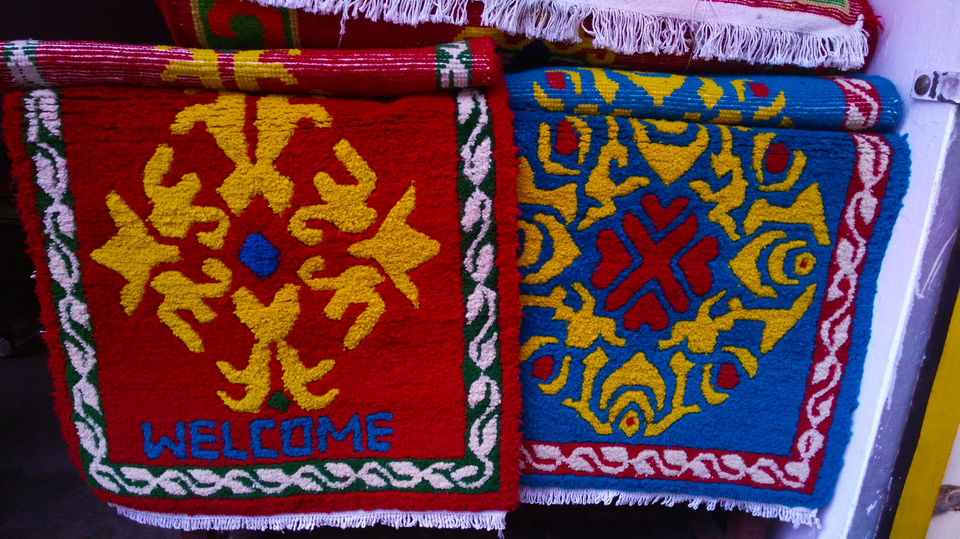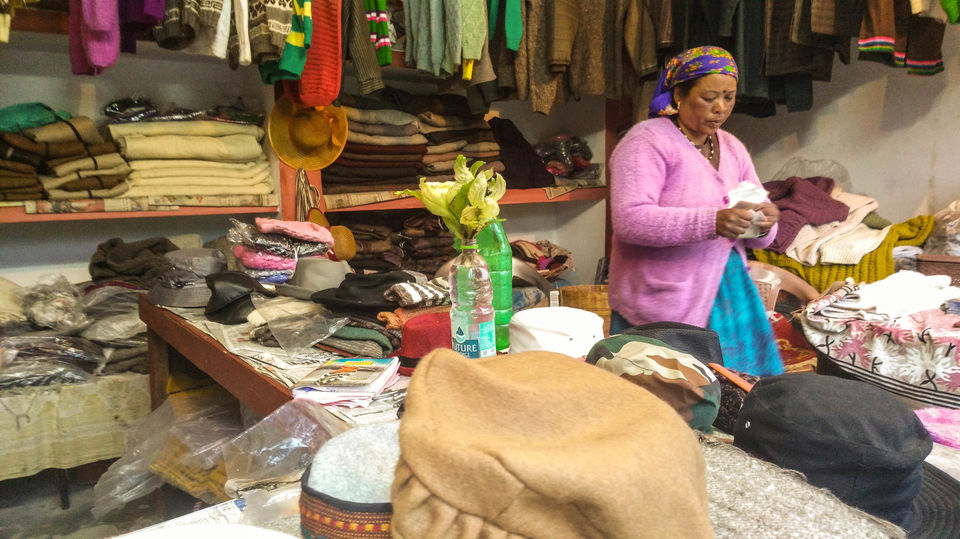 It's this uncommon experience of the divinity that makes Mana so special. A short walk away from Vyas Gufa is Ganesh Gufa where it is believed that Lord Ganesha wrote the epic Mahabharata. Oblivious to it's significance and worldwide reputation of this site, kids play cricket in the courtyard and the woman next door prepares for winters and weaves carpets all day long.
Places to visit in Mana and the myths around them
Sit by the banks of the mystical river Saraswati
The river is named after the goddess of wisdom and quite fittingly here on it's bank the greatest Indian epic was written. The river is known as Gupt Gamini or the hidden river since it flows just about 100 metres from it's origin and then merges into Alaknanda at Keshav Prayag in Mana. According to the myth, the gurgling flow of the river was disturbing Vyas to focus on Mahabharata and hence he cursed the noisy river to disappear.
Visit Bhim Pul, a site straight out of a myth
Saraswati river originates out of a rock near Bhim Pul and although it's a narrow stream but the noise of the water is deafening. There's a natural stone bridge over the gushing river here and legend has it that when the Pandavas were crossing this river on the way to heaven, Bhima lifted a massive rock and placed it here to help his wife, Draupadi, cross the river. Right next to the Bhim Pul you can also see a 20 feet tall foot shaped mark on the rock that is said to be the footprint of Bhima.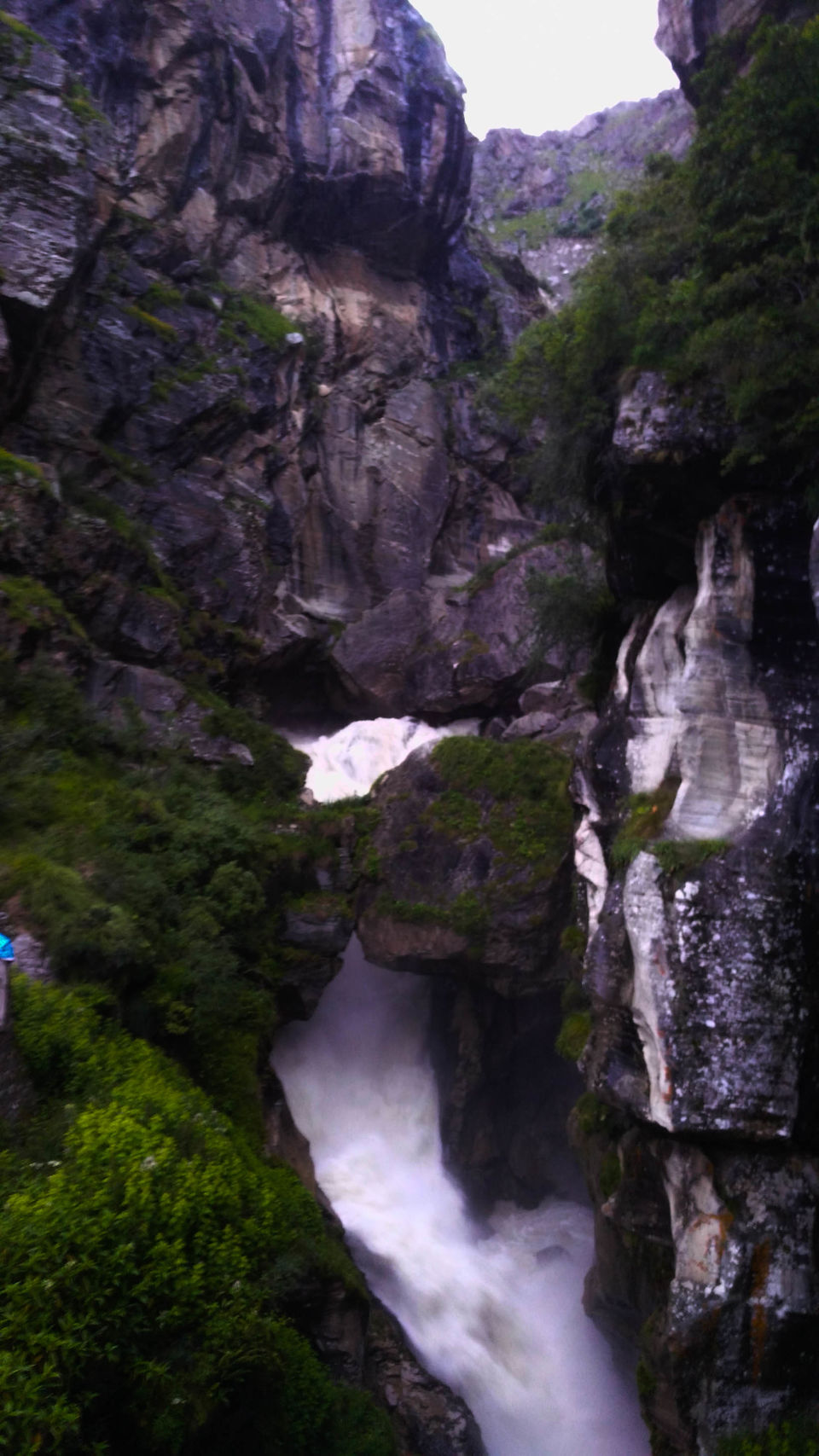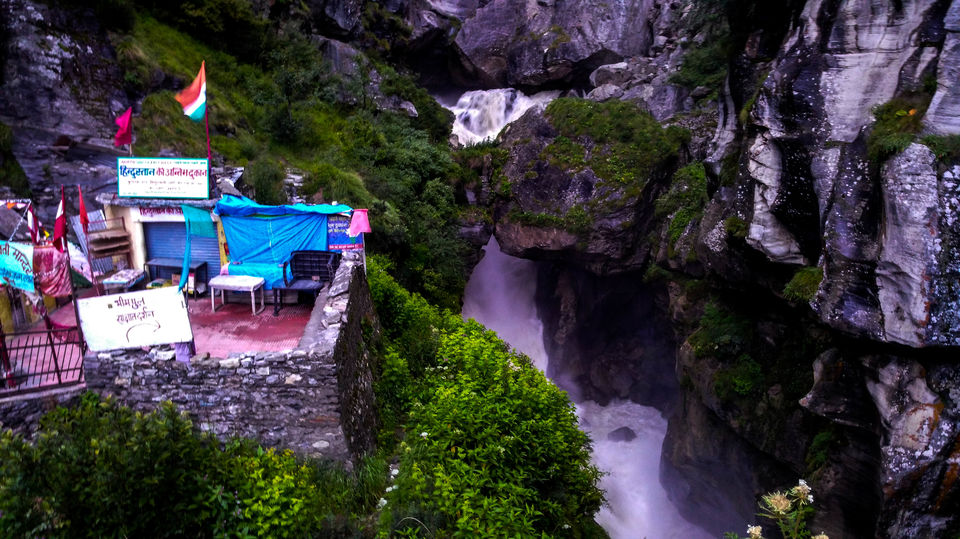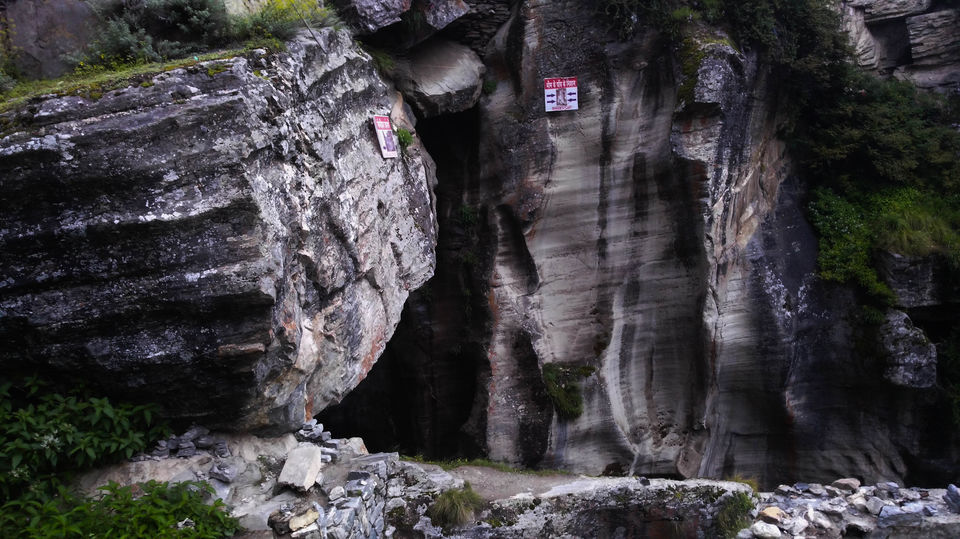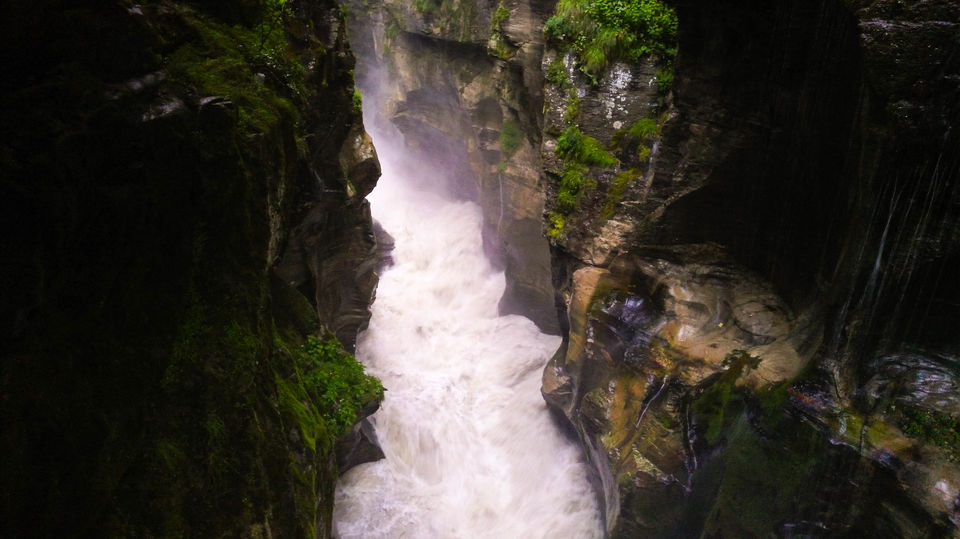 Visit the cave where Ved Vyas narrated the Mahabharata
It was here that Ved Vyas rearranged the Vedas into four parts and wrote Bhagvad Gita. It is believed that from this cave he narrated Mahabharata to Ganesha who was the assigned scribe to write Mahabharata. The roof of the cave looks noticeably flaky and does appear like a bundle of palm leaf manuscript. The rock is worshipped as Vyas Pustak or Vyas' Book which is believed to have turned into a rock over the years.
Witness the site where Mahabharata was written
Ganesh Gufa is believed to be the cave of the scribe Ganesha who was invited by Ved Vyas to first understand and then write the epic Mahabharata. Ganesh Gufa is just a few metres downhill from the Vyas Gufa and this strategic distance between the two caves does make one wonder if Vyas' narration would have been audible to Ganesha from this cave? No one can think about mythology so differently unless they are in Mana.
Enjoy a cup of tea at India's Last Tea Shop
This tea shop at Mana has indeed become a go to spot for travellers who, like it or not, see this spot as a location for photo opportunity. Tea here is refreshing but I would recommend to try out the green tea from Mana that you would easily get at this shop anytime.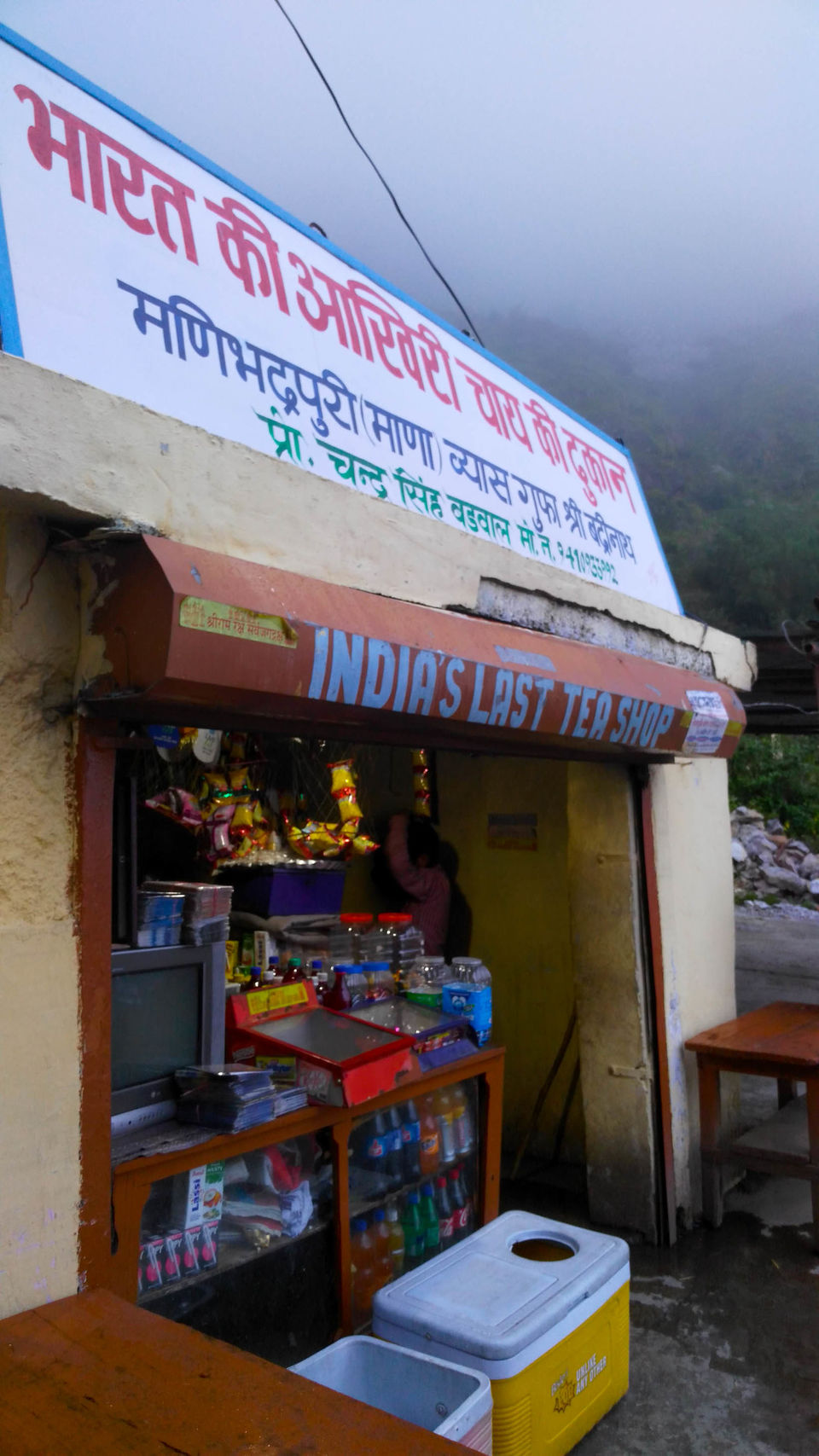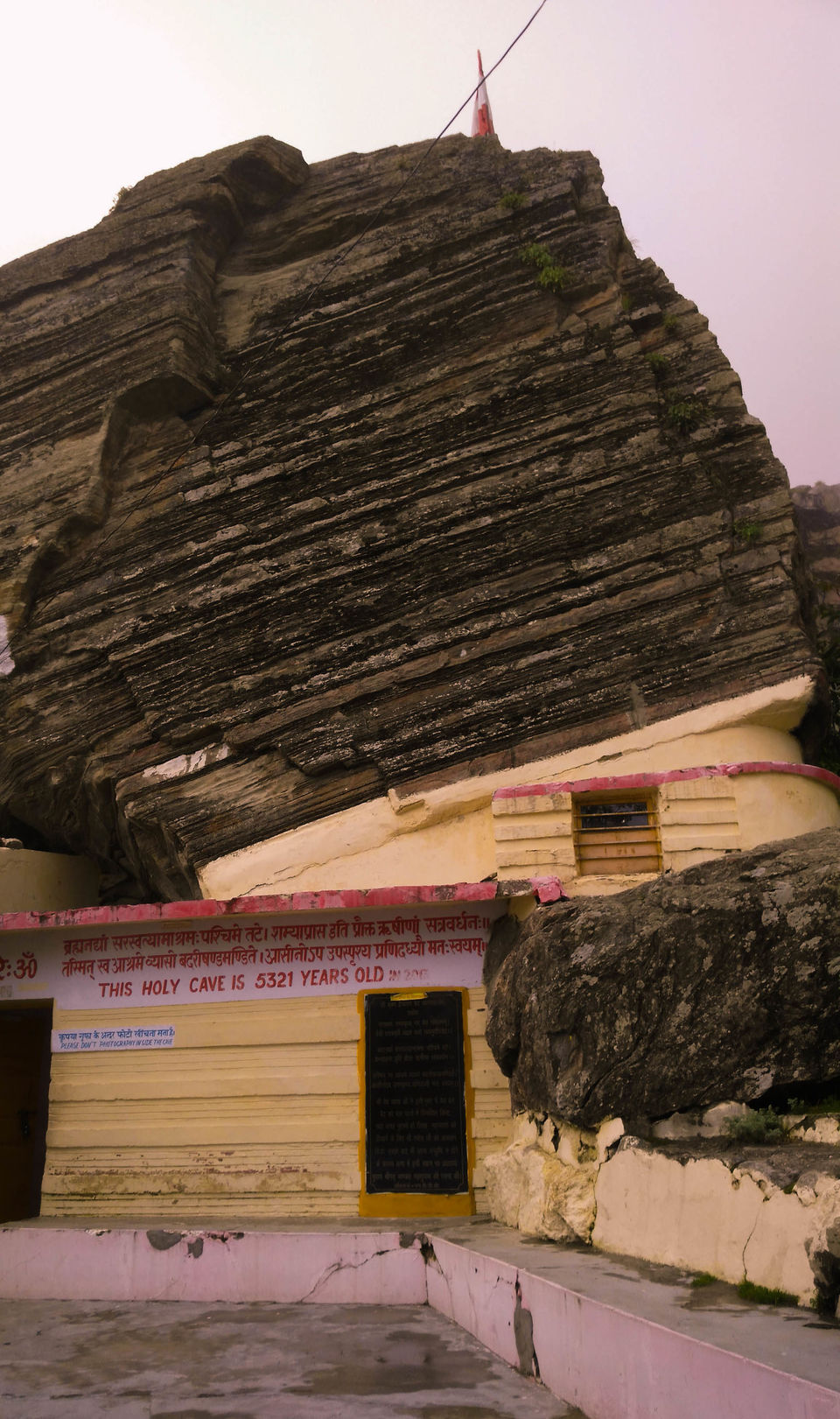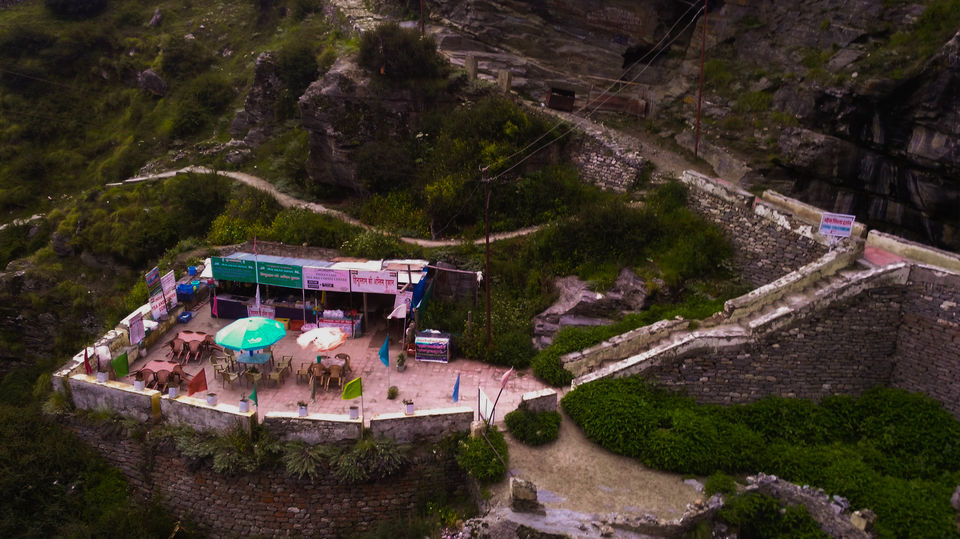 Visit the famous shrine of Badrinath
The temple town which is just 3 kms from Mana is well-packed with pilgrims from May to November when the temple gates are open for visitors. It is best to avoid the crowd to experience the essence of this gorgeous village. If you're a non-believer, visit Badrinath during the off season when the crowd subsides and you can enjoy the day sitting on the bank of the gushing Alaknanda.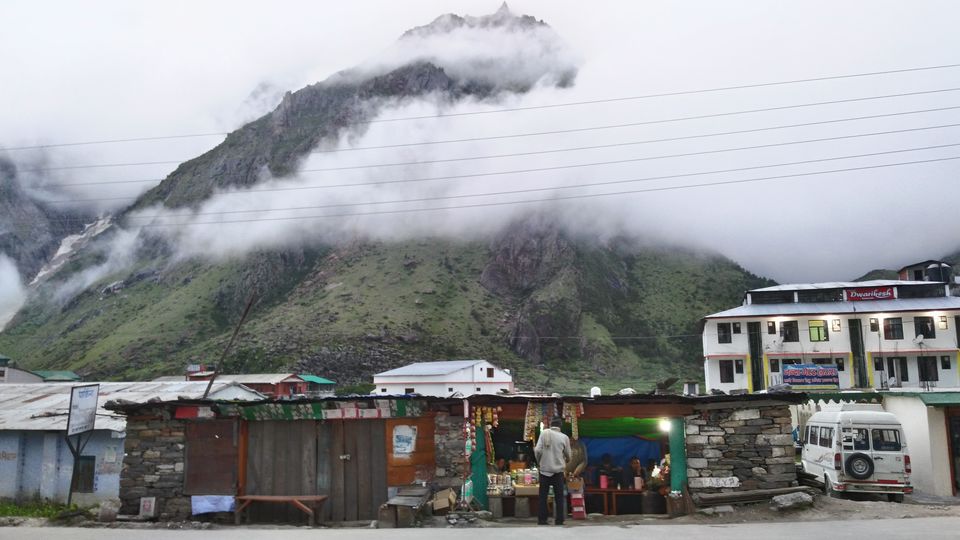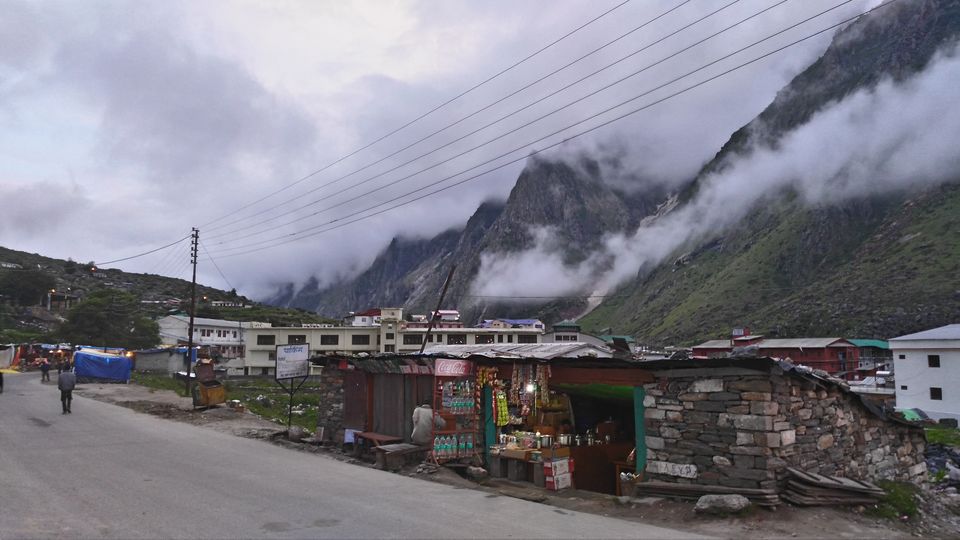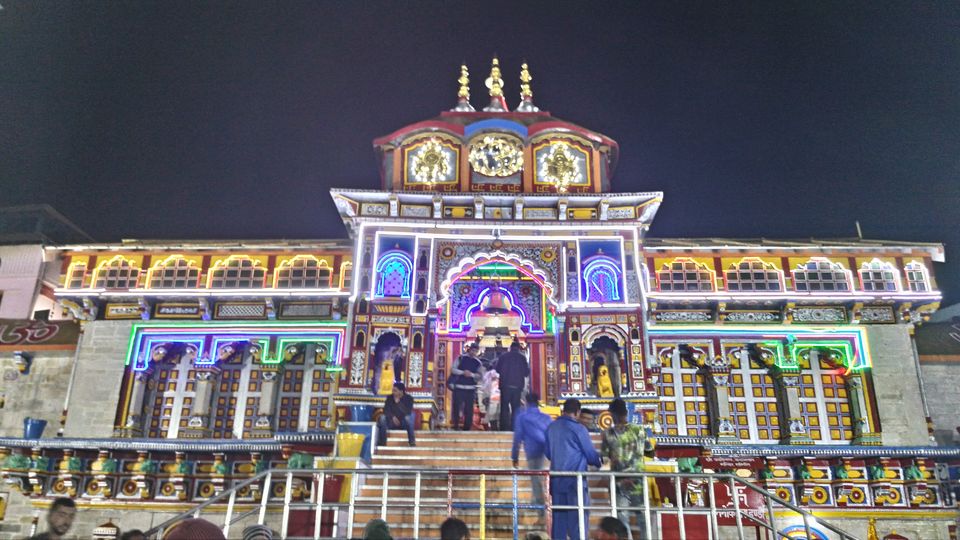 Adventures Around Mana
Drive to Mana Pass: Another extreme adventure that awaits outdoor enthusiats here is the drive to Mana Pass. 50 km ahead of Mana Village, the Mana Pass lies at the China border. Prior permits are required from the Joshimath Army Station before this trip.
Read more about the drive to Mana Pass here.
Treks near Mana: If you like to travel the distance for some extreme adventure, Mana has some offbeat trails that you'd love to explore. Swargarohini, Satopanth Lake and Vasudhara Falls are a few treks that start from Mana. There are multiple local tours operators you can find in Badrinath who can guide you along these offbeat hiking trails.
Here are some contact details for interested trekkers.
Moksh Venture: 9412524164, 9627006010
Food
During your visit to Mana, Badrinath is the nearest convenient temple town to get quick meals. There arr a few chai and snacks shops in Mana but do not rely food availability in Mana. There are multiple restaurants in Badrinath that serve vegetarian food. A vegetarian thali is an easily available healthy meal you can get anywhere here. South Indian food is also readily available in Badrinath owing to the inflow of pilgrims from the South at this shrine.
Stay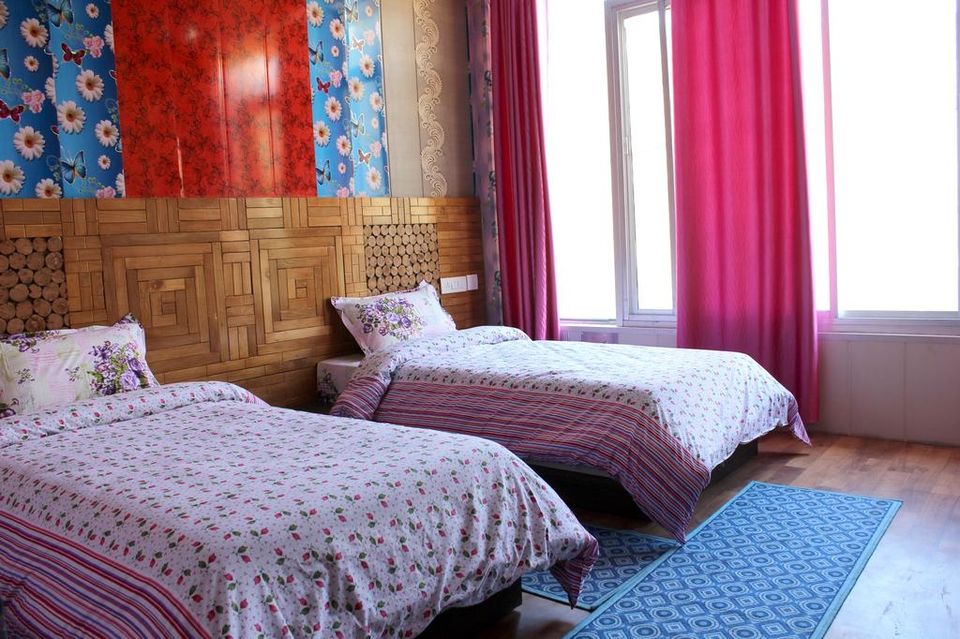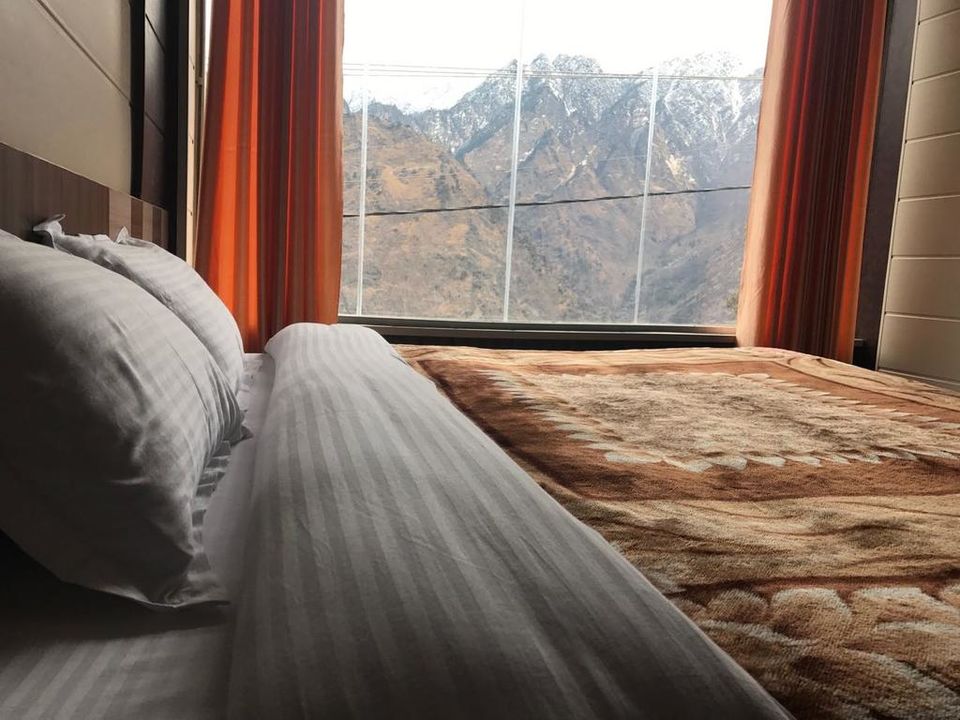 Best time to visit
Best time to visit Mana is during the summer months from June to September. Avoid the month of August when the monsoons when there are heavy rains almost everyday and the rods get blocked frequently.
How to reach?
By Air: Closest airport to Mana is Jolly Grant Airport near Dehradun.
By Train: Nearest railhead to Mana is Haridwar which is 275 km away.
By Road: To reach Mana, hire a taxi, opt for a shared cab or take a bus to Badrinath/Govindghat from Dehradun or Haridwar. The journey will take almost 7-8 hours. If the bus drops you at Govindghat, regular buses are available to reach Badrinath. You can hire a taxi to reach Mana from Badrinath.
Longing for a memorable holiday in Uttarakhand? Choose and book a customisable tour package of your choice in Uttarakhand now!
Frequent searches leading to this page:-
The Mystical Last Village Of Uttarakhand, indias last village mana, where to stay in mana village, best time to visit mana village, chopta to mana village distance, places to visit near valley of flowers uttarakhand, hotel in manila uttarakhand, uttarakhand tourism lansdowne