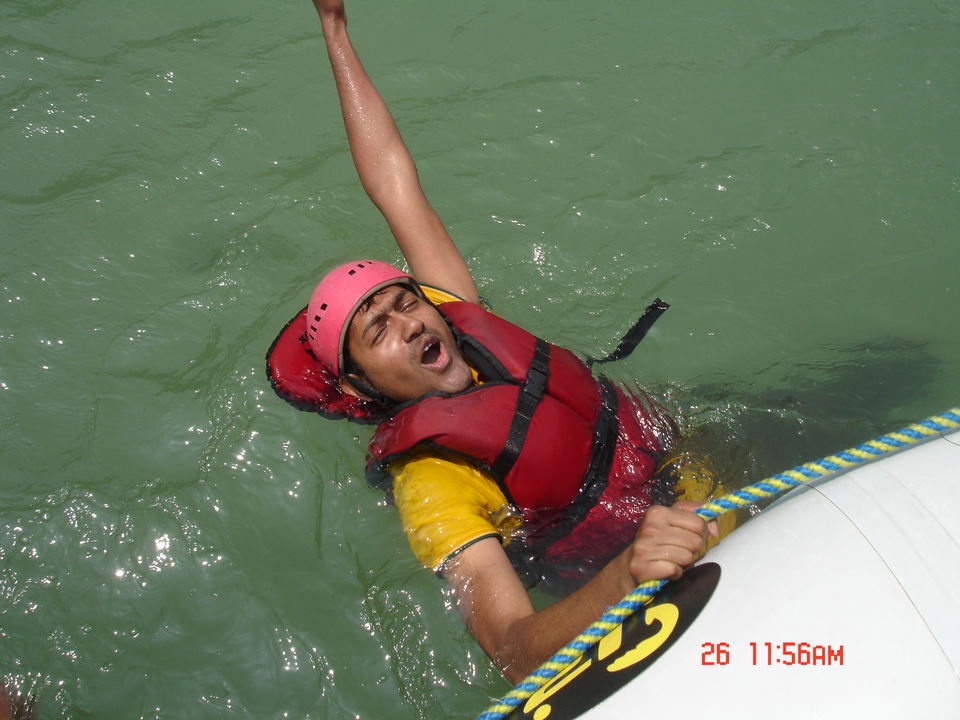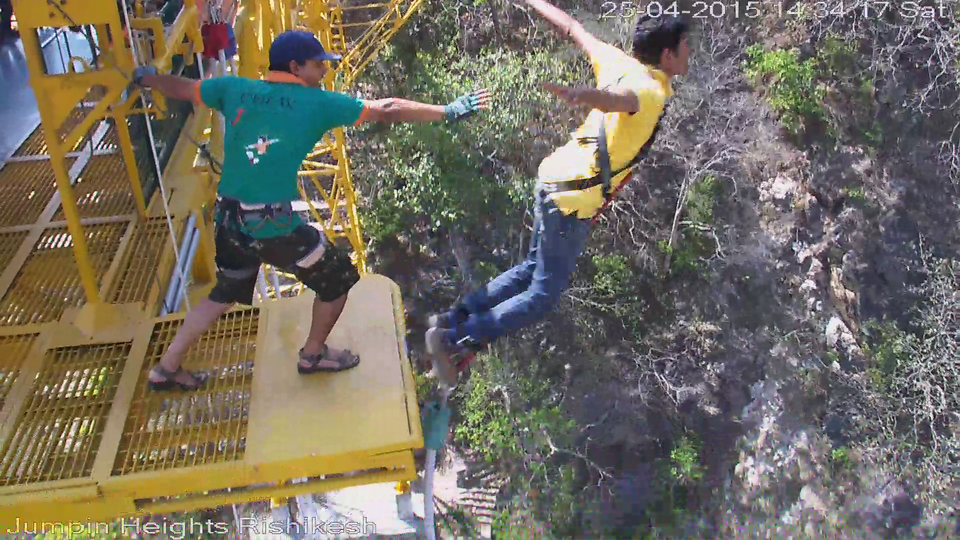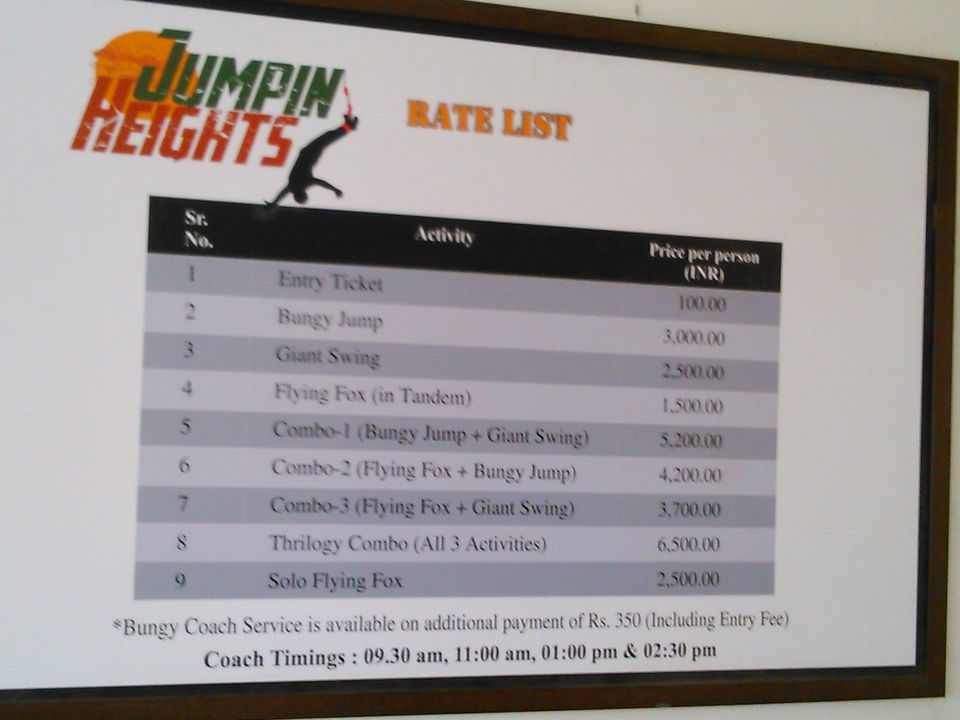 No Guts No Glory – Frederick C Blesse
Rishikesh (Uttarakhand) is a perfect place to be for those who seek out adventure with full gush. The thrill of freeness in the air hung upside down; the constant endeavor to hold on to avoid getting adrift in wild rapids; the faith in buoyancy to spring you up after jumping off from a cliff; the fear, the excitement, it's all gift wrapped here for Acro/Aqua phobics.
For our group of six people with half the strength first timers for this place, the ambiance inadvertently goes berserk. This being my first trip to Rishikesh, I intended to do both bungee and rafting.
Bungee Jump – Jumping heights is the place to go. Bookings can be done at their office by the same name in Tapovan (near Laxman Jhula) or straight away at the site. It's better to leave early in the morning since it requires a lot of waiting. Three simultaneous activities go on here – bungee, giant swing and flying fox. I considered doing only Bungee as one activity at a time will provide me reason to come back to this place.
The instructors are from New Zealand with plenty of experience and the sport being commercially originated from their country, it's all safe. With careful checks being done thrice, I was asked not to panic and avoid the fear of doubt. No second thoughts to be allowed! With slow steppings, I was forwarded towards the edge, being held by the belt. A look at 250 ft of abyss below and all of a sudden vertigo creeps in. "Don't look down, look at front, there's a yellow flag!". My heart was pounding rapidly and life as if leaving me through the stomach, chest and slowly further up. On the count of three – One.Two.Three! JUMP. Till the first bounce I was shit scared; no firm ground, nothing to hold! But after that, it all eases out. While you rebound, the excitement, the fun replaces the fear. I screamed like hell. When I got down my friends told my screams sounded rather like orgasmic moans! (Facepalm, deeply embarrassed). When you watch your video and share it with your friends, it does feel good and instills a great deal of confidence and self belief. Like they say, happiness is real when shared!
*At the start you have to sign a waiver form in which one line reads "I'm willing to throw myself….." Later on you get a certificate which ends with "PS: we didn't throw 'em". What does it look like from the picture? (:P)
Cost – Bungee – 3000Rs, To&Fro transport by bus from Tapovan – 350Rs, Video – 750Rs
That evening turned out to be a rather lively. We couldnt find a transportation way back so hitched a ride in a truck. 3 guys in the front the rest at the back. Even encountered a couple of Trans people. One of them kissed a random stranger guy. One of our guys got asked out (and it wasnt me). A big bonfire. Great conversations took place sitting by our tent, dim lit by the lantern and cool breeze flowing with the soothing noise from the river. Had beer that had been chilled by the river since morning. Smoked up a couple Malana joints, burnt my lips doing "blowback(shotgun)". Resorted to "taxi". Long casual strolls throughout the sand. I lost my specs; have no idea when did I lose them. Beer, Smoke repeat. End. Sleep.
Rafting – Our camp owners scheduled our rafting the next morning. After the routine of instructions on how to paddle, follow the forward, back and the stop commands and nothing but hold on to the paddle line(tied around onto the boat) we started off from our location in Marine Drive. 26kms (by the road distance) of rafting was something everyone was looking forward to. With a total of 17 rapids which included a few major ones (all Grade III rapids) – Three blind mice, Roller coaster, Golf course, Cross fire, Club House to name a few (that all I can remember). I have always feared water since some childhood incident so getting into water was extremely scary for me at first. But then you have safety life jackets, and all you got to do is hold onto the paddle line. Such sheets of water gushing onto the face, the roar filling the ear. The best part was sitting at the front when you have a close up with the gigantic waves. All you can wish is you don't topple off. Even better part, holding the paddle line while you are in the river crossing a major rapid, and just letting the water give you the ride (confused actually as to which one tops my list).
After rafting everyone drank 3 glasses of lime soda. Heavily tiring affair this.
Cost – Rafting was included in our camp package though ask around it's usually around 400-600Rs pax.
Special Mention goes out to our camp host – DJ and Lokesh. Such chilled out and cool hosts, they welcomed with such warmth, the hospitality they provided and the way they catered to our crazy demands and planned our activities was truly commendable. With nice tents pitched close to the river side where we had crazy fun all night by ourselves with no one intervening. The food is also a big hit. What I liked more is that they, however possible assist in improving the schooling of the poor children uphill, their well being and also organize such adventurous events for them once in a while. Kudos guys! You Rock!
Camp Beach Hideout – Located at Marine drive. Adjacent to the Rishikesh ISBT, there's another yard with fleet of private mini buses. Take any bus going towards Joshimath/Badrinath; they will charge 30Rs. Though the conductors doesn't allow easily, have to request a bit since it's a long route bus and they are skeptical of providing seats to such small distance travelers; might have to go through the 30-40 min journey standing. Tell the conductor to get you down at Gullar Bridge. Just while you are reaching there, look out for the board of River Rose Camp. From there a narrow foot trail leads to the under maintained black color steel suspension bridge. The last camp you see on your left side is the Beach Hideout.
Frequent Searches Leading To This Page:-
weekend tour to rishikesh, adventure tour of rishikesh, weekend holiday trip to rishikesh, weekend travel to rishikesh, weekend getaways to rishikesh