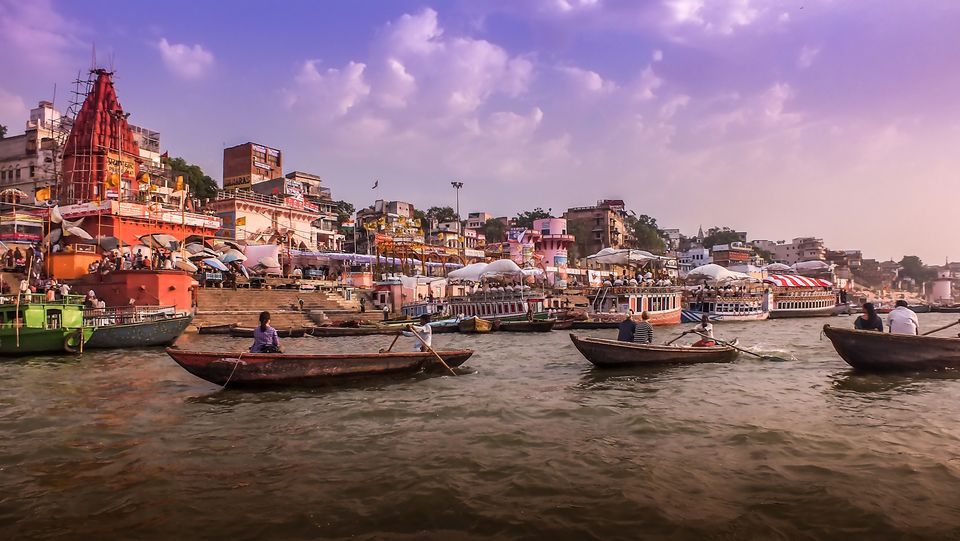 Regarded as the spiritual capital of India, Varanasi is a holy city located on banks of river Ganges in Uttar Pradesh. The city is famous for its ghats, temples and colorful lanes that make it chaotic, beautiful, and enthralling all at once. Scores of pilgrims and tourists visit this city to bathe in the Ganges River's sacred waters. The city's winding streets are home to over 2,000 temples, including Kashi Vishwanath.
But if there's something which is associated to almost every trip to Varanasi, it's a boat ride on River Ganges. Alaknanda, a brand new luxury cruise will now give travellers a chance to add a touch of grandeur to the entire experience. The ship will go around the famed ghats of Varanasi, educating tourists on the city's rich culture and history. Slated to be opened to public on 15 August 2018, Alaknanda is laden with all modern amenities and can seat up to 60 people at once. With facilities like air-conditioning, bio-toilets, a fully functional kitchen and insights into the melodious tunes of Kashi, a ride in this ship promises an experience unlike any other.
On the other hand, if you're planning to be on ground zero and explore Varanasi inside out, here is how you can have the best 24 hours on a whirlwind visit.
Morning
7am: Start your day with a boat trip on the Ganges and you can also behold a beautiful sunrise if you plan early. A ride usually lasts an hour and costs about ₹300 per person. Most rides go from Dashashwamedh Ghat to Harishchandra Ghat and back again. Paddling through the pious river, you get to witness the early morning scenes at the ghats.
9am: After your morning boat ride, walk towards Brown Bread Bakery to have a hearty breakfast at a rooftop garden. They use mostly organic ingredients and you are served fresh and healthy breakfast. Post breakfast, stop at nearby Babba Lassi and Mix Fruit Juice for a glass of lassi to fuel you up.
The city has numerous small and big temples within short distance of one another. Mostly, you can walk from one temple to another or take a taxi for a quick drop. Head to Nepali temple, a small temple adorned with intricate wood carvings. Next, walk over to one of the most famous temples in Varanasi, Shri Kashi Vishwanath Temple which is dedicated to Lord Shiva. Lastly, visit Mahamrityunjay Temple, another of the city's famous temples.
Afternoon
12pm: Take a taxi from Mahamrityunjay Temple to Shree Cafe Vegetarian Restaurant for lunch. The restaurant serves generously portioned thalis and is known for its friendly service and quiet atmosphere. Since the restaurant is located amid the lanes near Vishwanath Gali, a bustling market, you can explore the colorful stalls to buy anything from silk saris and bangles to wooden toys and souvenirs.
2pm: Post lunch, take a taxi to Sarnath which is an important spiritual site. It is one of four geographically important places in the life of Buddha. This is where he gave his first sermon after achieving enlightenment. Buddha is believed to have given sermon at Dhamek Stupa. Besides, you can also visit other temples, shrines, and monuments in Sarnath. Commuting from one place to another is not a problem here as everything is situated fairly close together. Next, head to the Sarnath Archaeological Museum, which displays ancient Buddhist artifacts such as sculptures, art, jewellery, and carvings.
Evening
6pm: Unlike other metro cities where you dance the night away amid loud music, in Varanasi the nightlife is brightened by highly-choreographed Ganga Aarti on the Ghats by the Ganges. This is a beautiful ceremony performed every night on the Ganges. Priests perform this ritual that involves a mesmerising blend of chanting, glowing lamps, and incense. The ceremony starts at 7pm in the summer and 6pm in the winter. Make sure to get there at least 30 minutes early to get a decent spot to watch everything unfold.
Following the Ganga Aarti, visit the Dolphin Rooftop Restaurant, located at the Rashmi Guest House, for dinner. The restaurant serves both vegetarian and non-vegetarian dishes and you can enjoy your meal at the rooftop location beholding beautiful views of the Ganges.
Have you ever been to Varanasi? Share your experience with Tripoto community here.
For some amazing travel videos, visit Tripoto's YouTube channel.