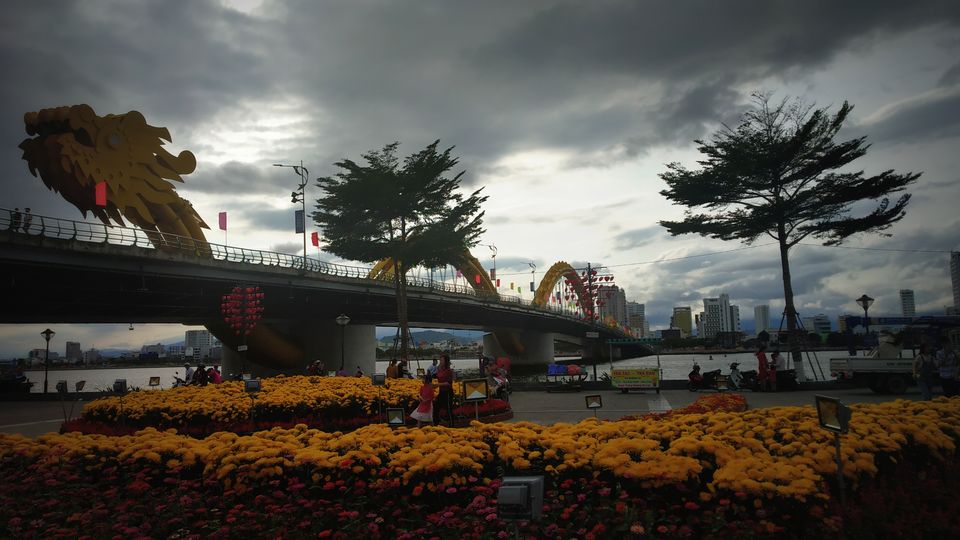 Susan Magsamen once said, "Look for chances to take the less-traveled roads. There are no wrong turns." I cannot agree with her more. While making travel plans, we tend to include only the tourist destinations in our itinerary. But what about the lesser-known places that are less-crowded and less-explored as well? That's why while deciding the places I would want to see in Vietnam, I included Nha Trang and Da Nang, which are not so popular tourist cities but are extremely gorgeous. Moreover, I found the natives of these places to be very friendly and helpful even when they couldn't understand English.
Let me take you on my wonderful journey across the two mesmerising coastal cities located in southern and central parts of the Southeast Asian country respectively.
Also known as Nha Trang Cathedral, I went to see this church on the day of Lunar New Year (January 25, 2020). I chose that sunny and windy Saturday morning to visit the largest church in the city that was constructed in the provincial French Gothic style during the early nineteenth century. Locals also call this church as Stone Church or Nui Church. Entirely made of stone, the cathedral features beautiful stained glass windows, square clock tower surmounted by a large crucifix and three cathedral bells. Outside, you can also see statues of saints as well as 4,000 tombstones mounted on the sides. Set atop a hill, this cathedral is one of the most important remnants of French architecture in the coastal town.
Also known as Chùa Long Son, this Buddhist temple is situated on the foothill of Trai Thuy Mountain. Built in the style of Taoist architecture, the pagoda features embellishment of mythical animals and sculptures of Taoist gods. It has a three-tier roofed entrance that is decorated with mosaic dragons.
The temple is popular for the 79 feet tall white statue of Buddha seated on a lotus throne that can be seen from anywhere in the town. One has to climb a total of 152 steps to reach this main attraction. From there, one can enjoy a bird's eye view of the city and the sea beyond. Moreover, on the way to the white Buddha, there is a large reclining grey-colored Buddha statue as well.
Measuring 2,185 feet in length and constructed in the shape of a golden dragon, this is the longest suspension bridge in Vietnam. No first-time visitor to Da Nang should miss it. It presents a stunning display of lights, fire, and water. A popular spot among photographers, this six-lane bridge crosses the Han River. You can visit this magnificent bridge at any time of the day, but I would recommend going there in the evening when it is illuminated with colourful lights. The dragon also spits water and breathes fire from its mouth from 9 pm onwards on weekends and annual festivities.
You can have a great time in any of the riverfront bars, restaurants, and cafes that offer terrace seats overlooking the enormous bridge.
Flower Street
Climbing down the stairs from the Dragon Bridge, you will reach the Flower Street, which showcases beautiful formations of a wide variety of colorful flowers. It is counted among the top five special New Year events in Da Nang and is a must-go destination for residents and travellers. Showcasing the theme "Spring Colours", you will see fantastic flower decorations in the north and south sides of the Dragon Bridge. Walking on the brightly ornamented road with flowers on a windy day was a very pleasant experience for me.
I found this place to be the most wonderful attraction in Da Nang. Crossing Han River, this romantic bridge is inspired by the famous padlock bridges in the world, especially constructed in France, Germany and Italy. It is a perfect place for couples in love. As a proof of their deep and undying love, they can put love padlocks with their names, initials or messages of affection on this bridge. The vibes of this bridge are absolutely lovey-dovey and it's an ideal location for lovebirds to get stunning photographs as well.
However, I, a solo backpacker, also had a great time there. Looking at people in love expressing their affection for each other always makes me happy, and this place was full of them. Also, there were cute souvenir shops and cafes where I had a good time.
Close to the Dragon Bridge and Love Lock Bridge, this night market is a great place for shopping. You can buy souvenirs, handicraft products, trinkets, bags, phone covers, shoes, wallets, potteries, lanterns, clothes, conical hats, etc. from nearly 200 pavilions that are open from 6 pm to midnight. This place is a paradise for foodies, who want to try local street food, especially seafood. This is a perfect place to shop and eat in Da Nang while listening to the artists playing popular Vietnamese songs.
And for all party animals, Ho Chi Minh City is the perfect place to have the best time. Read this to know why- Ditch Bangkok. Head to this place in Vietnam for the Most Happening Party Scene!!
If this hasn't inspired you enough, then you should check out my Instagram page strolling_shoes and follow my adventures around the world!
Keep travelling!