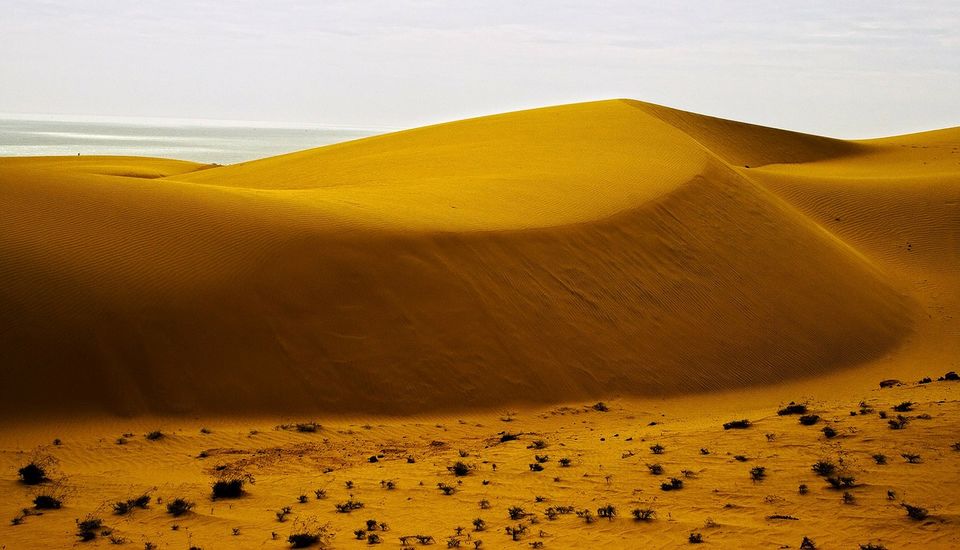 The fertile waters of Mekong River traverse through dense jungles, frolicking rice terraces and quaint riverside villages in Vietnam. Yet, one place that even the mighty Mekong can't reach nor have most travellers is Mui Ne. 215km from Ho Chi Minh City, Mui Ne has the distinction of having the only desert-like landscape in Southeast Asia. Oceanic winds from the nearby South China Sea have sculpted crimson and powdery white sand dunes evoking romance and fantasy in the onlookers.
There are actually two sandy paradises near Mui Ne - White Sand Dunes (doi hong) and Red Sand Dunes (doi cat trang). Stunning landscape, impressive formations and breathtaking views make them a photographer's delight. Very few tourists visit these natural wonders thus giving you an authentic travel experience. There are a few unique desert adventure activities for thrill-seekers as well. And, Mui Ne is also the only place in Vietnam with adventurous hot air balloon rides that provide spectacular vistas of the sand dunes, pristine lakes and swamps.
Red Sand Dunes, 20 minutes from Mui Ne's city center, are crimson sand dunes of extraterrestrial beauty. Around sunset, these dunes borrow hues from the setting sun and appear like the surface of Mars. The dunes overlook crystal blue waters of the South China Sea providing great photo-ops. Where else can you see a crimson dunes and a turquoise sea in such close proximity? You can hire plastic sledges to ride the dunes or rent quad bikes and dune buggies for adventurous rides. The dunes are easy to walk on thus it is not necessary to rent a vehicle to explore them.
The White Sand Dunes is everything you imagined a desert to be in your childhood. Soft powdery white sand sculpted into stunning formations by the forces of time and nature. The dunes are an oddity because they are surrounded by green landscape and a tranquil lake. You can explore the dunes on foot or opt for a 20-minute jeep ride to get your adrenaline pumping. White Sand Dunes are located 24km outside Mui Ne and you can rent a motorcycle (₹400 per day) or hire a taxi to get here.
For Vietnam travel ideas and itineraries, check out Tripoto's Vietnam Travel Guide Page.
Best time to visit Mui Ne
Best time to visit Mui Ne is from November to April when the rainfall is low and temperatures range between 23 to 35 Celsius.
How to get to Mui Ne
By air: Tan Son Nhat International Airport, Ho Chi Minh City (215km) is the nearest airport to Mui Ne. Round-trip flights from Chennai to Ho Chi Minh City cost around ₹15,219.
You can hire a taxi from the airport to Mui Ne for ₹7,000 one-way or you catch a bus from the city centre to Mui Ne for ₹400 one-way.
Where to stay in Mui Ne
Four Oceans Resort (₹2,632 for double), Mui Ne Hills Budget Hotel (₹1,000 for double), Mui Ne Backpacker Village (₹332 bed in dorm).
Have you been to Mui Ne? Write your own insider's guide with tips and tricks to help travellers on Tripoto's community have a better time in Mui Ne. And subscribe to Tripoto Youtube Channel for stunning videos.