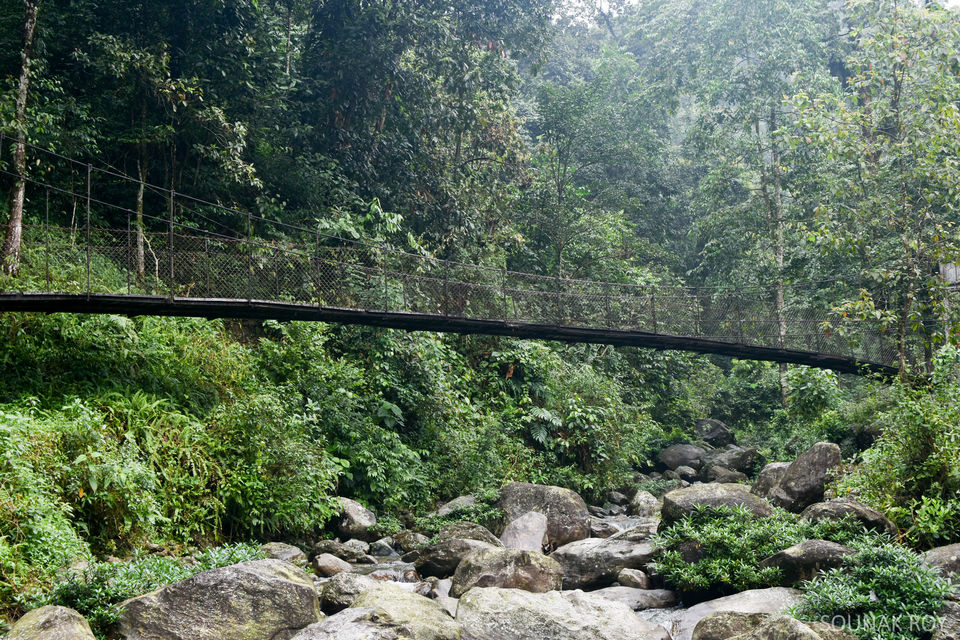 North Bengal and Sikkim are places that come into mind when a Kolkatan thinks of a compact budget trip. This blog is about two places which are comparatively remote and less known, however, the beauty and ambience of these places is unparallel which makes them a must visit then a North Bengal/Sikkim tour is planned.
Suntalekhola is a small hamlet in the Kalimpong district of West Bengal. The word Suntalekhola can be broken down into the words Suntale meaning 'orange' and khola meaning 'stream'. Surrounded by lush green tea gardens, Himalayan foothills and beautiful streams, it is definitely one of the most desired destinations if one is searching for peace and tranquility amidst the clumsy and dull city life.
The nearest rail-head is New Mal Junction, from which it is around 30-35kms (1-1.5hrs drive) via Samsing, a very picturesque village surrounded by tea gardens. Cabs are also available from Siliguri/New Jalpaiguri.
Situated at an altitude of around 3000ft above sea level, it is quite popular for short trek routes which mainly lies in the Neora Valley National Park belt. WBFDC(West Bengal Forest Development Corporation) provides luxurious accommodation at both Samsing and Suntalekhola.
Fauna commonly found includes : pond heron, black eagle, hill partridge, red-vented bulbul, ashy wood pigeon, bronzed drongo, white-throated fantail, blue rock thrush, scarlet minivet, lesser racket-tailed drongo, rufous sibia, grey treepie, spangled drongo and common green magpie. (Source: wiki)
Rishyap is a small village and hill station in the Kalimpong district, West Bengal, India. Rishyap - Ri stands for mountain peak (some say it is lofty) and shop means age-old trees in Tibetian. It is around 45mins-1hr drive owing to bad road conditions from Lava, situated at a distance of 10km.
Located at an altitude of 8500dt above sea level, it is known for the majestic views of the Kachenjunga range. A lot of homestays are available which provides decent fooding and lodfing facilities. Tiffindhara, is the highest point in Rishyap, which offers great views. It is an easy trek of around 1km, however beware of leeaches.
Photo blog :- https://www.tripoto.com/trip/monsoons-at-north-bengal-hills-5d600c1b9372f/photos/18bf56950b1c0a107db3addf9489be55
Arrive at Suntalekhola
We boarded the Sealdah (Kolkata) - New Alipurdoar Kanchankanya Express which is the only train touching Malbazar (New Mal Junction) from Kolkata.
Our cab was waiting outside New Mal Jn station and it was a lovely 1.5hr journey to Suntalekhola. Road conditions are bad in the last 4-5km of the journey, the rest of journey was quite smooth.
We booked the WBFDC (West Bengal Forest Department Corporation) rest house at Suntalekhola. WBFDC has a rest house at Samsing too.
Online booking option available at https://wbfdc.net/
The location of the resort was excellent as it is the only accommodation available at Suntalekhola. The rooms were ok having the basic amenities.
https://www.instagram.com/p/B1c9TTJnOrX/?utm_source=ig_web_copy_link
https://www.instagram.com/p/B1c9q7aHPm9/?utm_source=ig_web_copy_link
Transit to Rishyap
Our next destination was Rishyap, a small hill station around 10km from Lava, Kalimpong, West Bengal, India. It took around 3.5hours from Suntalekhola to reach. We touched Gorubathan and Lava while reaching our destination. Overall road condition was good except for the stretch from Lava. It took nearly 45-1hr to reach Rishyap from Lava.
We made prior booking arrangements at a homestay for lodging and fooding.
https://www.instagram.com/p/B1eCnCUnxR2/?utm_source=ig_web_copy_link
Details here:-
http://www.booking.com/Share-WGIQ9q
At Rishyap
This was a leisure day. We took the trail to tiffindhara, however didn't get a good view owning to the cloudy weather
https://www.instagram.com/p/B1eAJ6THNye/?utm_source=ig_web_copy_link