Today,I am going to write about a historical place which carries the ancient Indian culture through decades.This place is for those people who can feel the ancient ambient touching the walls of the ancient architecture.
I am going to write about 'Ambika Kalna' or 'Kalna' ,located some 80 km from Kolkata in the district of Bardhaman(Burdwan) beside the river Bhagirathi.'Mangal Kavya'(written in 1495), a bengali Hindu religious text,mentioned about Ambika Kalna as 'Ambowa Muluk'.So,we can easily get an idea about the ancientness of Kalna.The age of this place is almost 1000 years.As a result,this place glows with the amazing sculpture and patterns through a variety of temples.These temples were built by the Kings of Bardhaman during 18th to 19th century.By then,the name of the place changes to 'Ambikanagar'.It is believed that the name was derived from 'Ambika'-- another name of goddess Durga who is worshiped by the local people for many years.
During this period there were four different styles of construction of temples followed in Bengal-- (i)Traditional Style,(ii)Hut Style,(iii)Pinnacled Style and (iv)Flat Roofed Style. And the beautiful thing is that you will find at least one temple of each style stated above.Here lies the speciality of Ambika Kalna.
Temples of Kalna:-
A traveller should start his/her visit to Kalna with Nava Kailash Temples , constructed by King Tejchandra in the year 1809.'Kailash' refers to Mount Kailas - home of Shiva.Actually Nava Kailash Temple is a collection of 108 Shiva temples.These temples are distributed in two concentric circles.The inner one contains 34 temples with white Shiva lingams and the outer one contains 74 temples with black and white lingams alternatively.There is a covered well at the centre of of the inner circle.All of these 108 temples are At-chala(8 slopes of roofs)temples showcasing the 'Hut style' construction.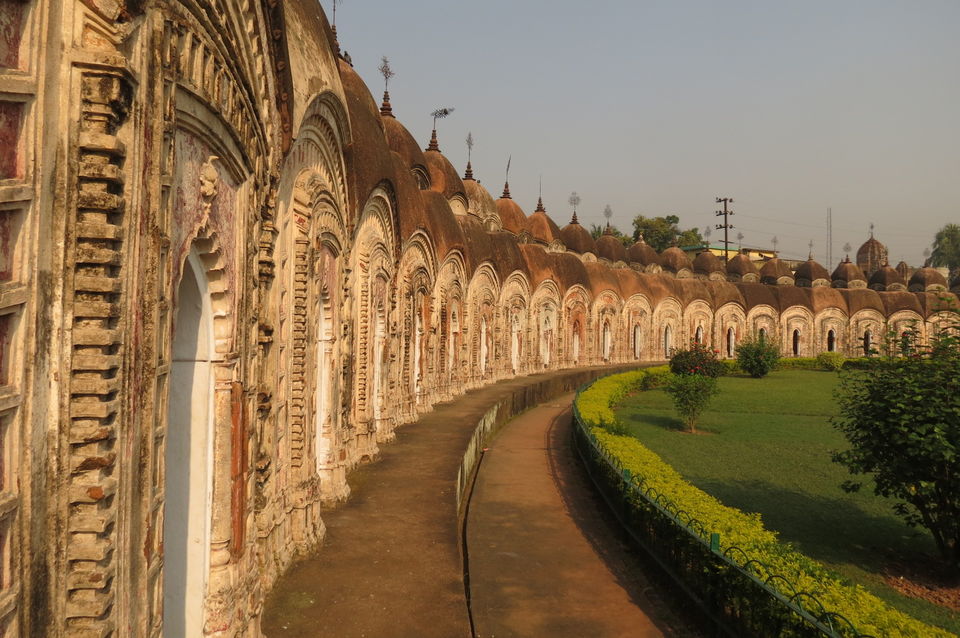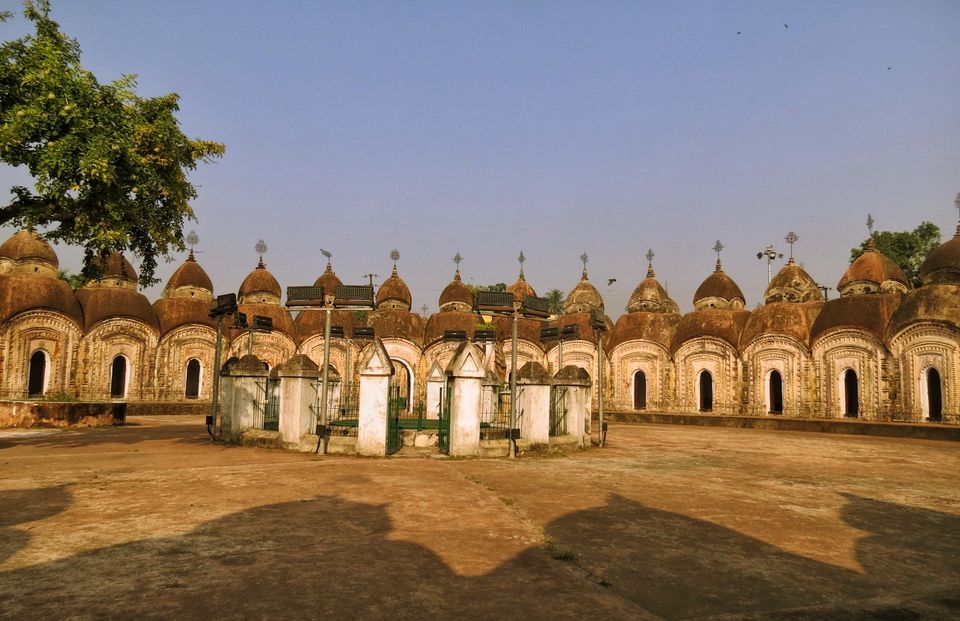 After visiting Nava Kailash Temple you have to just cross the road to find the 2nd attraction of Kalna: the Rajbari Complex.In this complex first a visitor will encounter the Pratapeswar Temple.It is a tower or 'Deul' structured temple representing the 'Traditional style' of Bengal.This temple was constructed at the time of King Pratapchandra(son of Tejchandra).This temple has unique terracotta work on its four wall which will surely mesmerised you.Someone told me that these four walls are decorated by the Mythology of four Yugas.Let's see what I have found in the walls of this temple :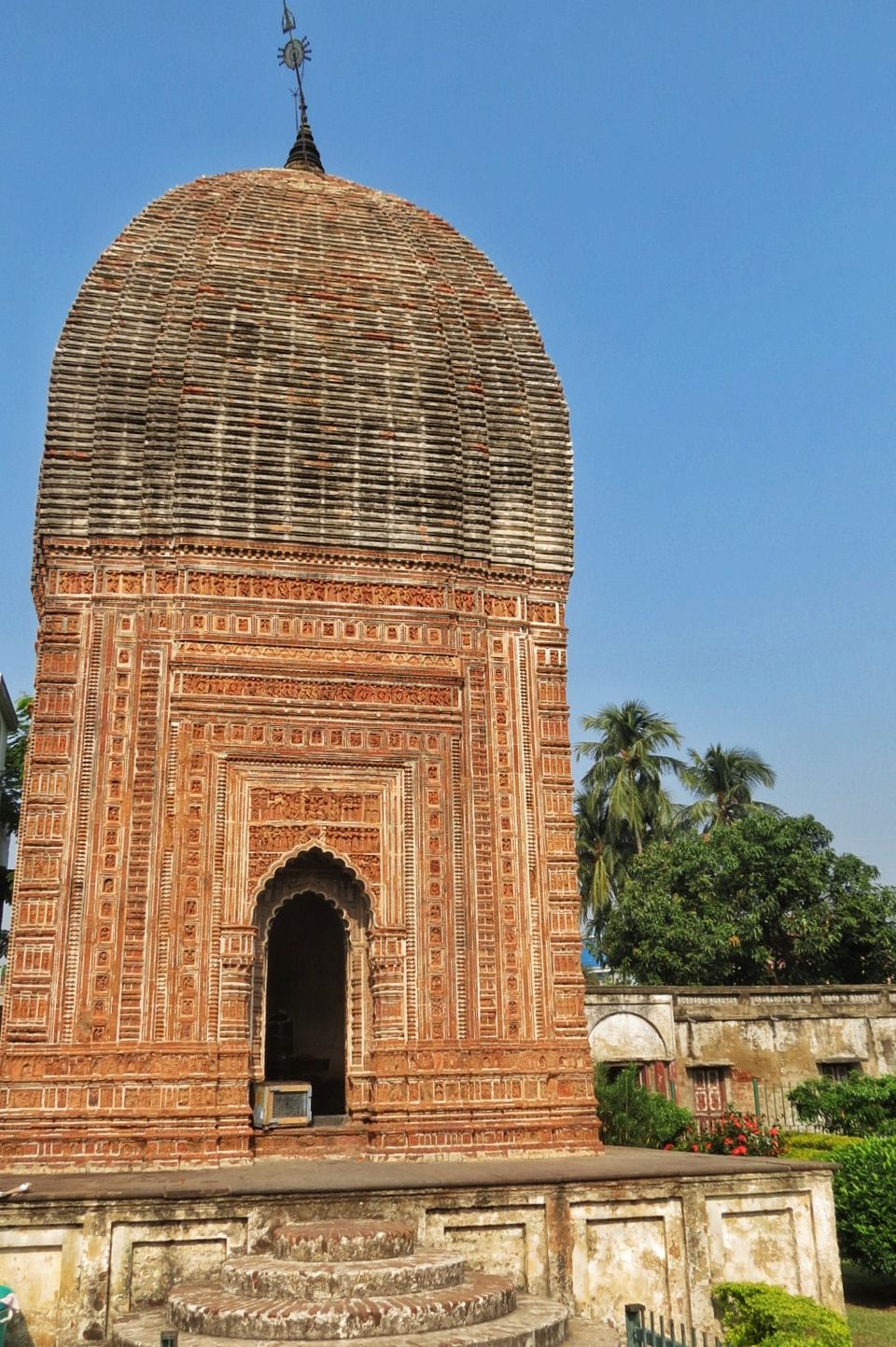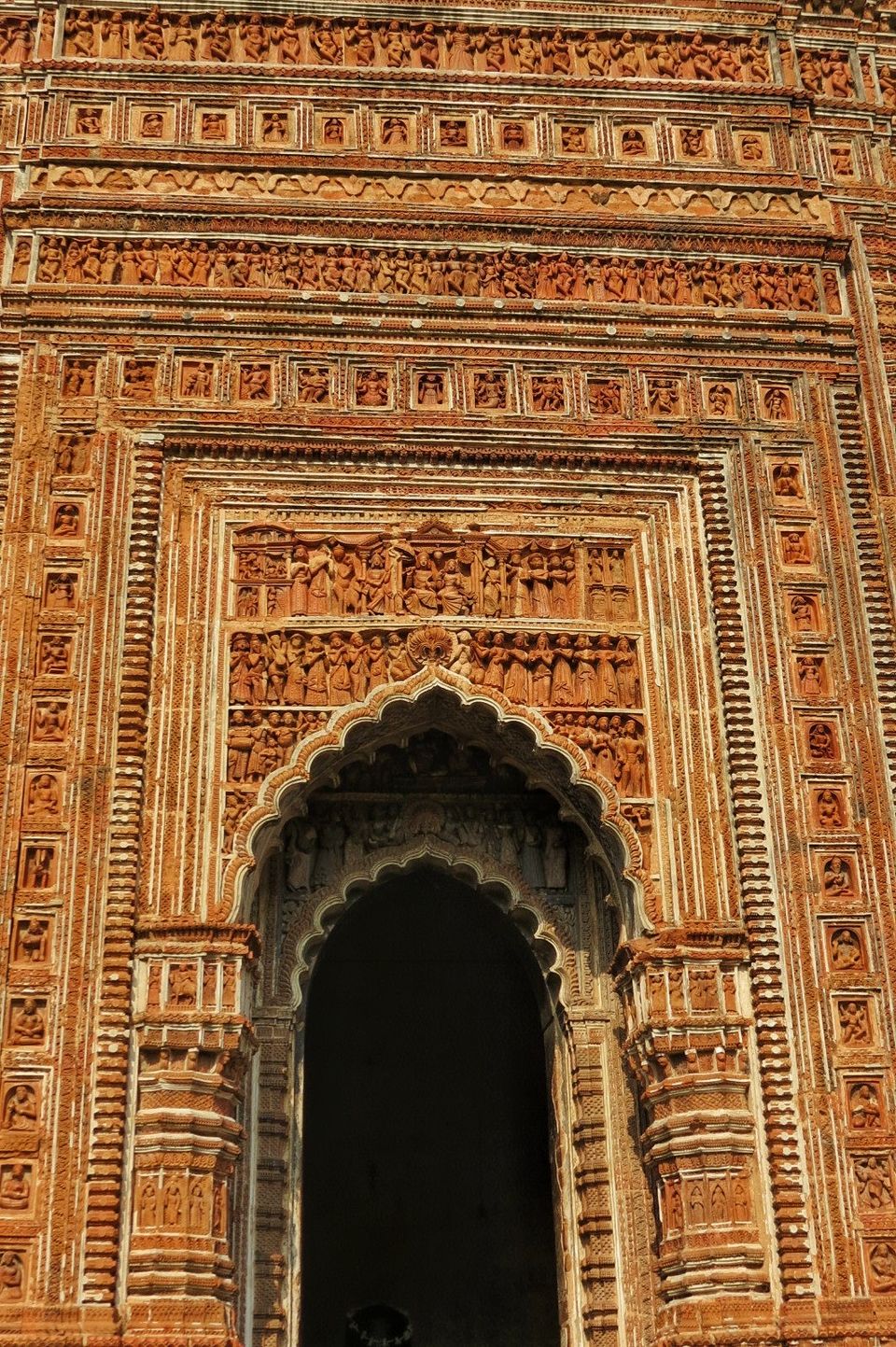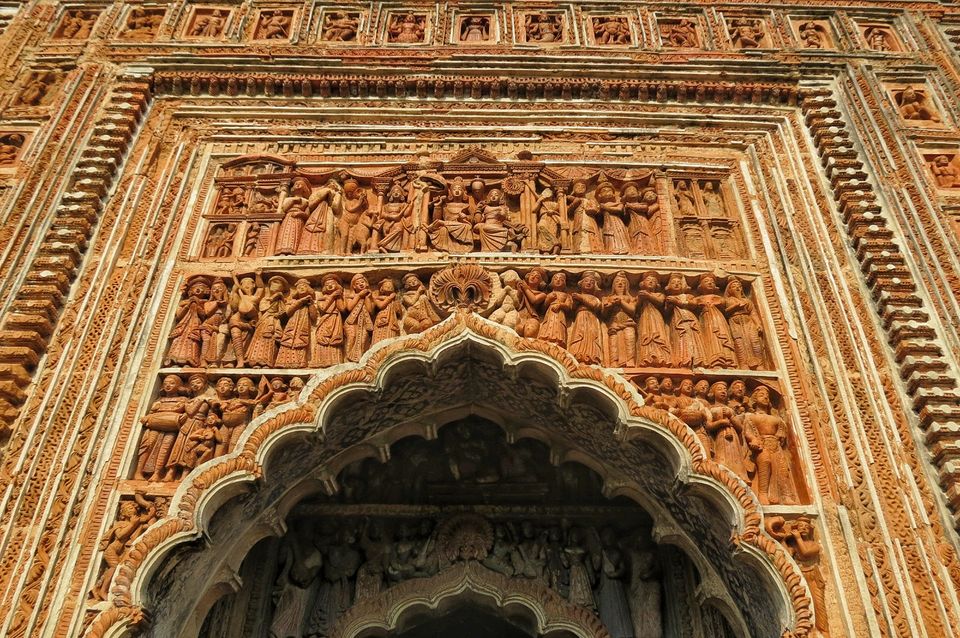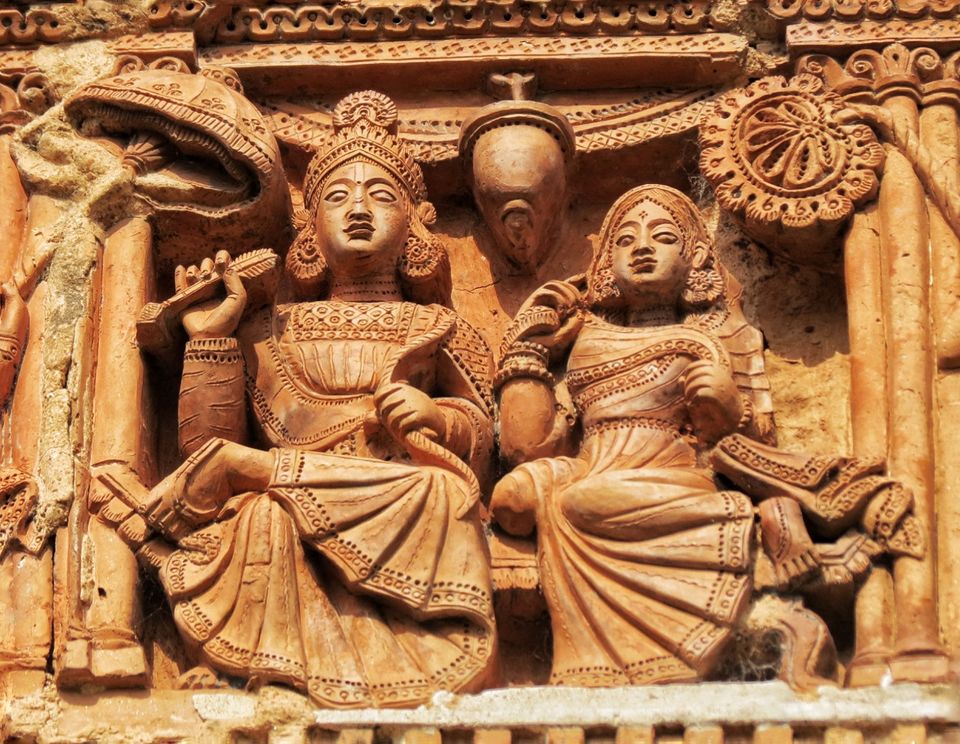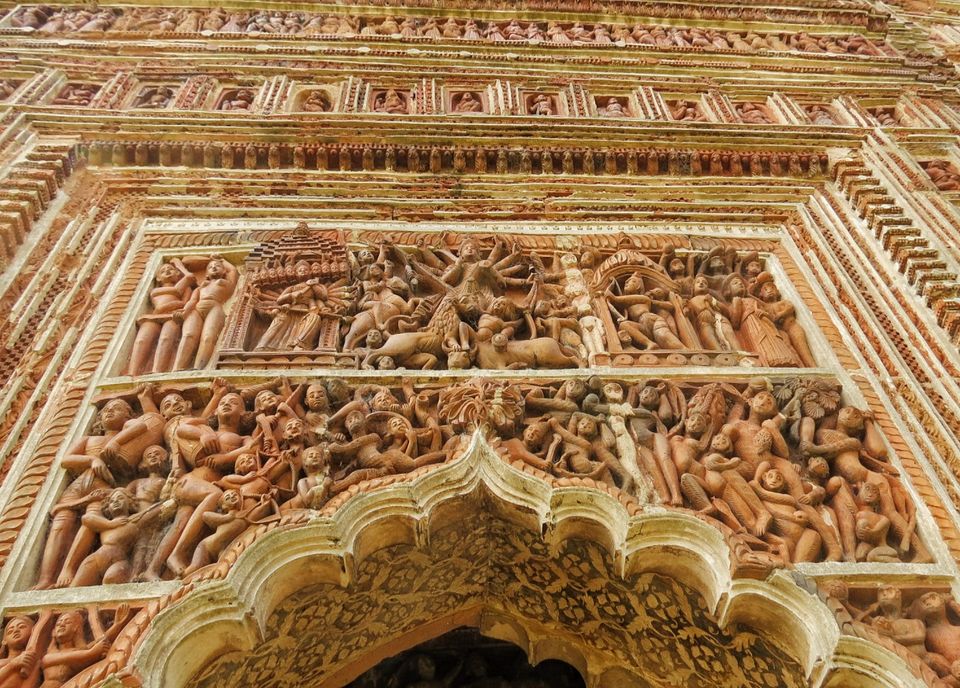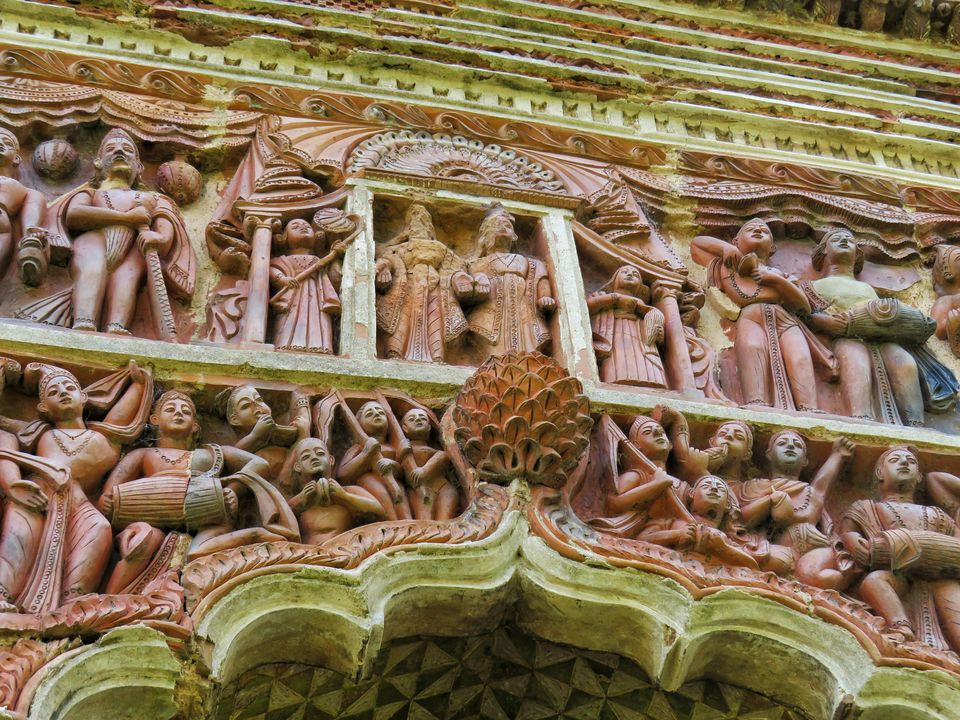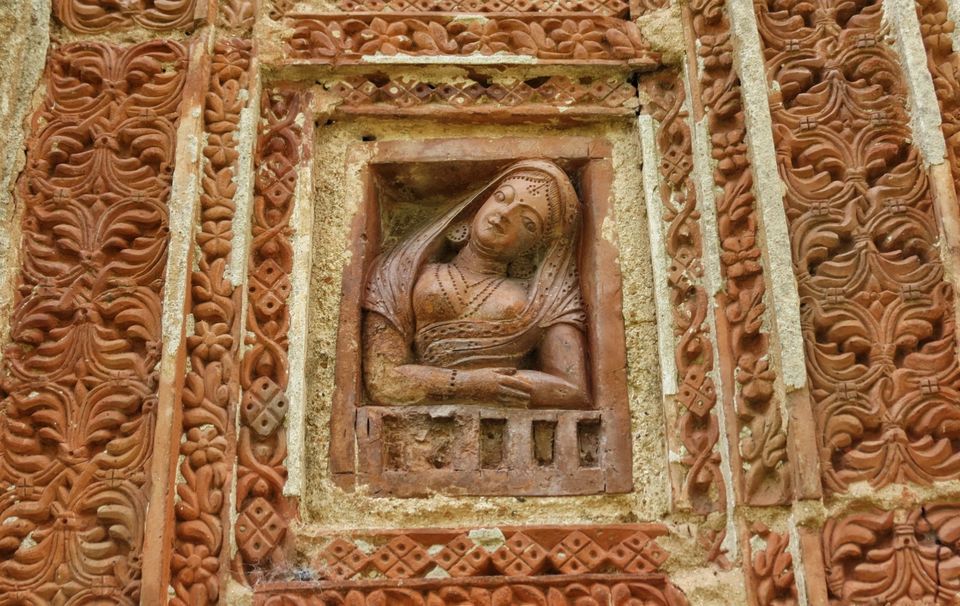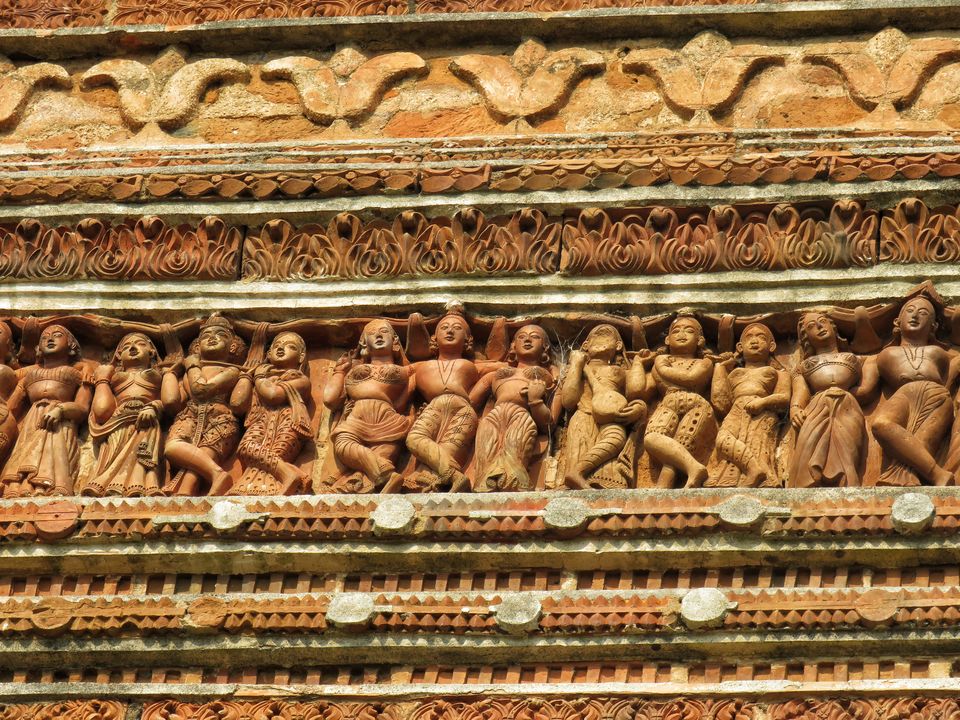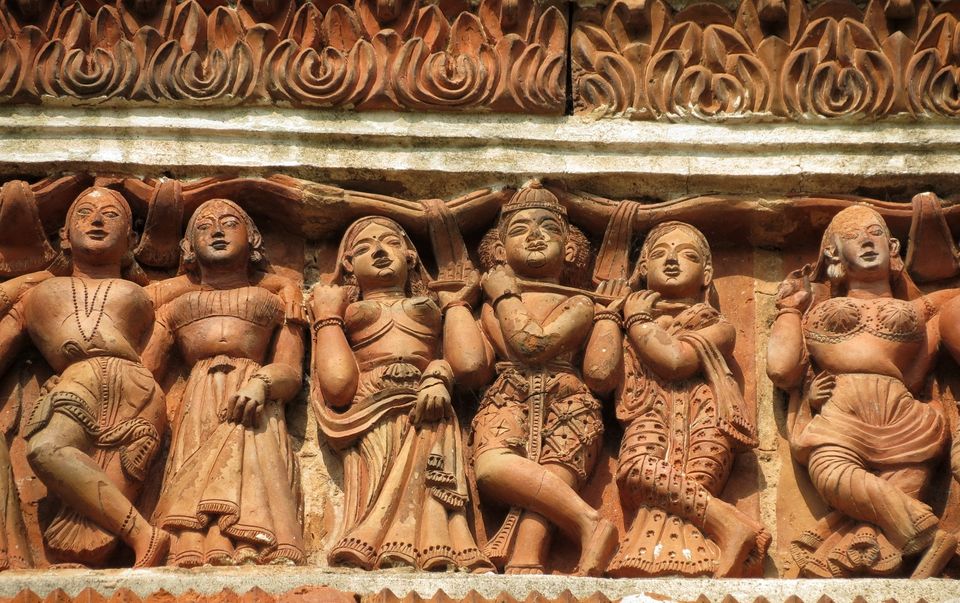 I was totally amazed seeing the sculptures.What a detailing!!Each and every idol is created with so much care and love.You can sense the dedication of the creator observing the perfect finishing of the sculptures. Later I came to know that these terracotta work was done by Ramhari Mistri. When you are inside the temple,don't forget to look up.I am not writing the reason.Just go and enjoy!
Beside Pratapeswar mandir there is a Rashmancha.It has one dome shaped pinnacle and two sections.The outer section has 24 gateways and the outer one has 8 gateways.During 'Ras' festival,the story of the deities Lalji and Madan Gopalji was acted here by the ordinary people.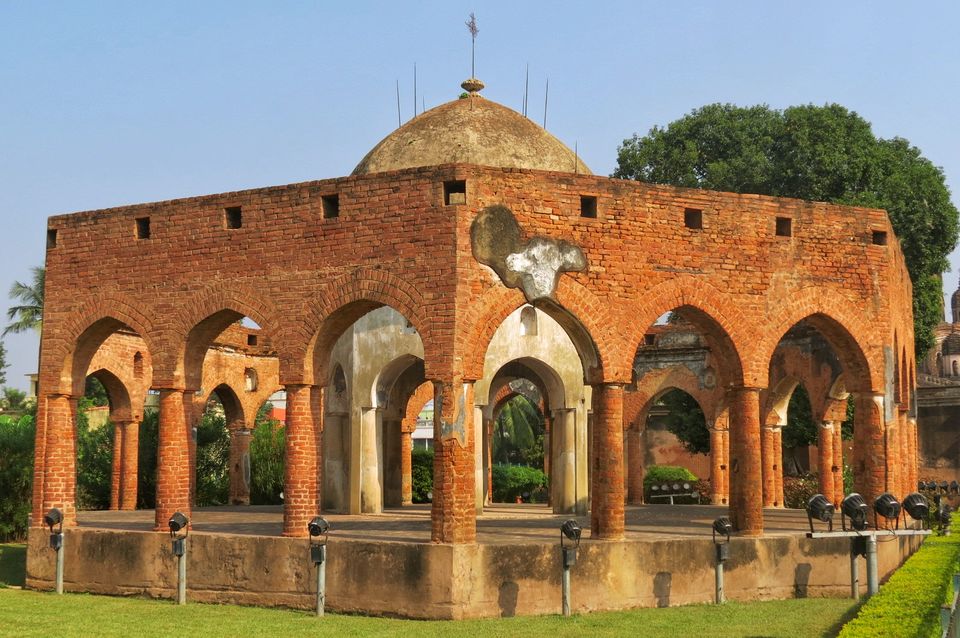 Passing the Rashmancha,a visitor walks straight to Lalji Temple.It is enclosed by a high wall. Lalji temple is an example of 'Pinnacled' or 'Ratna' styled temple. This temple contains 25 pinnacle (panchabingshati ratna) made of brick with a huge dome shaped Char-chala(4 sloped roofs) 'natmandir' in front of it.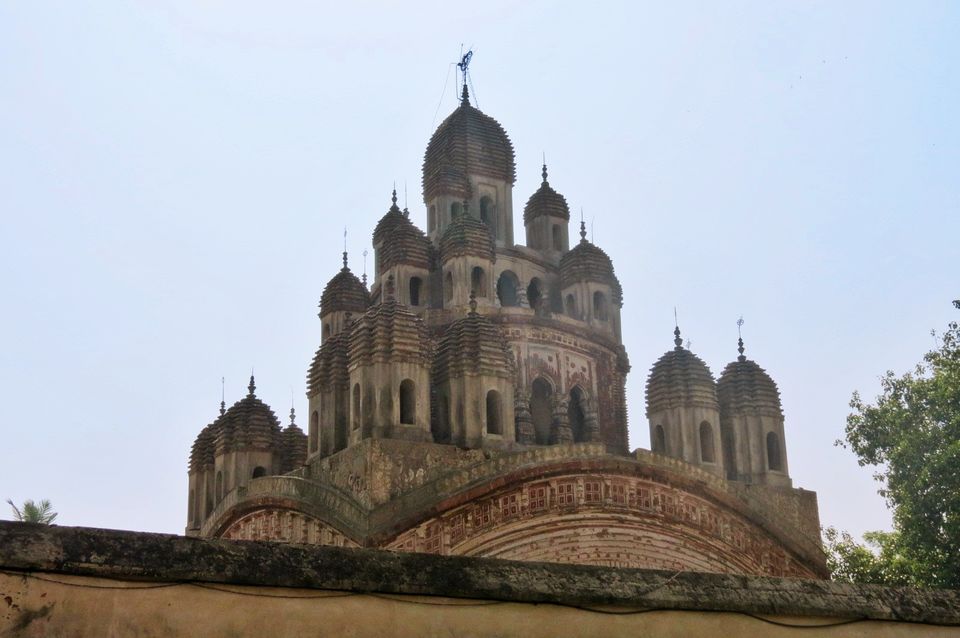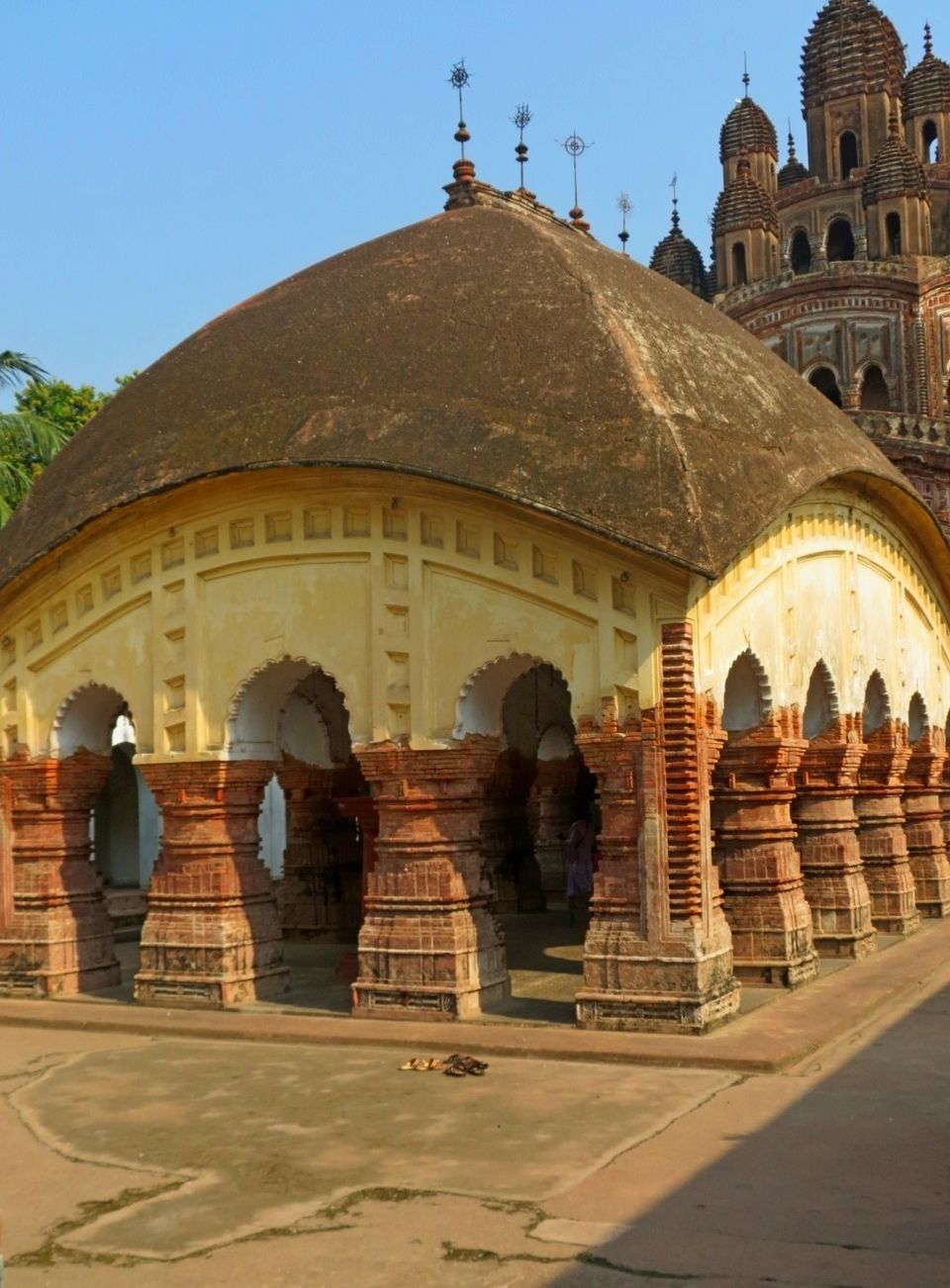 The main temple is decorated with rich terracotta ornamentation.The visitor must observe the terracotta plaques minutely: apart from krishnaleela,there are hunting scenario and many other regular life incidents described through the pannels. Actually these works on the temples represent the society of that time.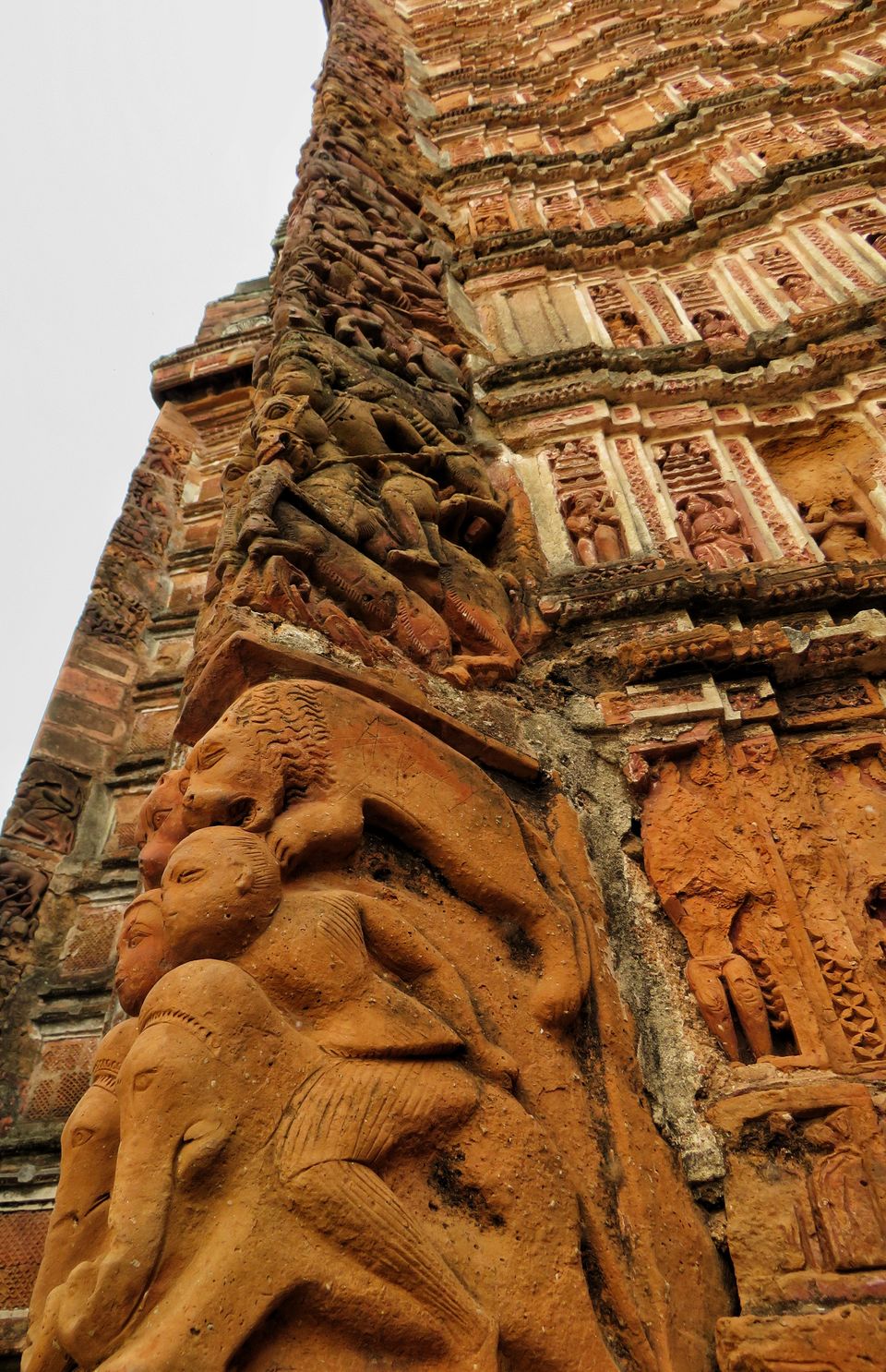 The deities of Lalji Temple is Radha-Krishna.Surprisingly,the innerside work of the temple is colourful.I was totally surprised thinking about the longevity of the colors which are still prominant.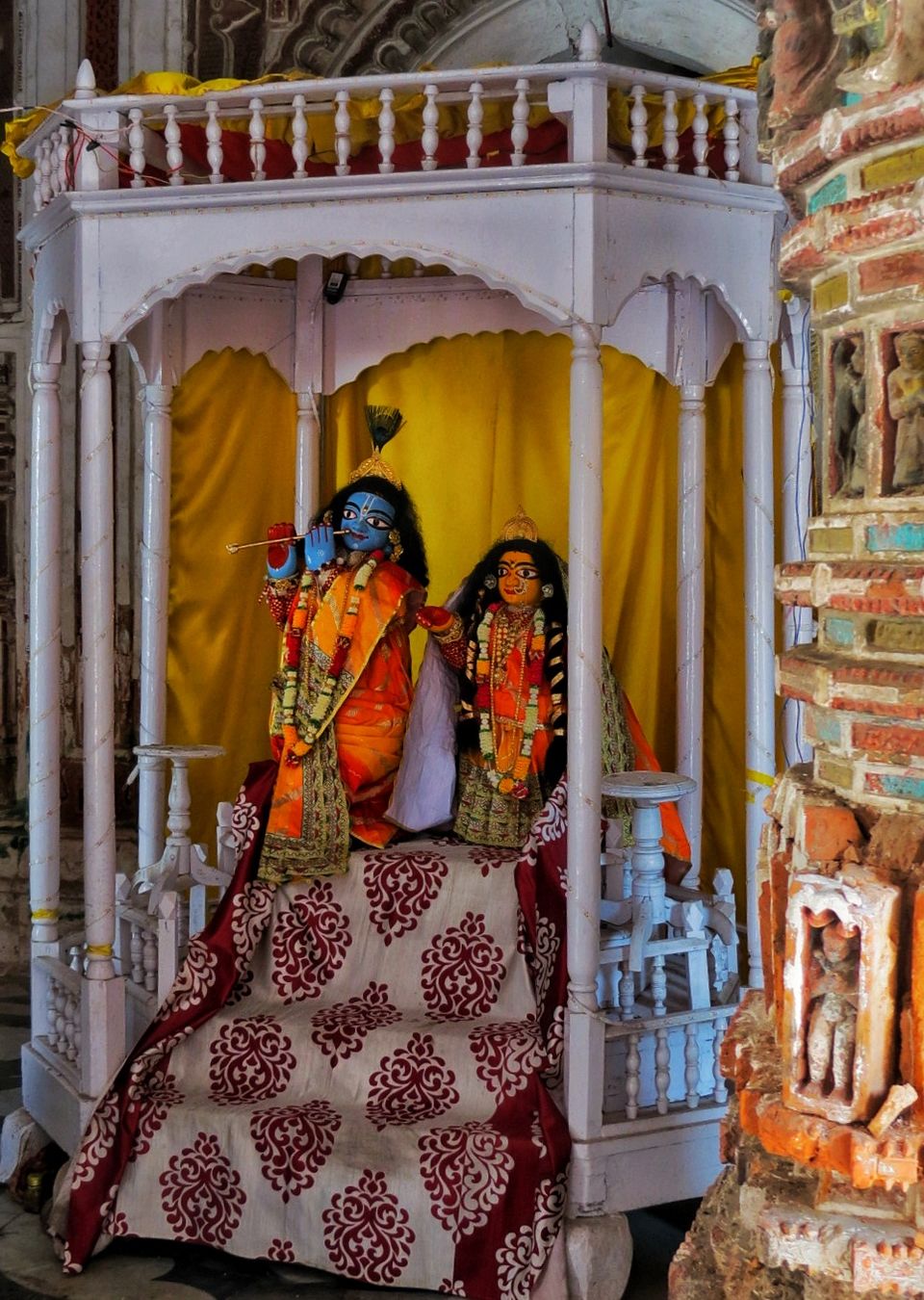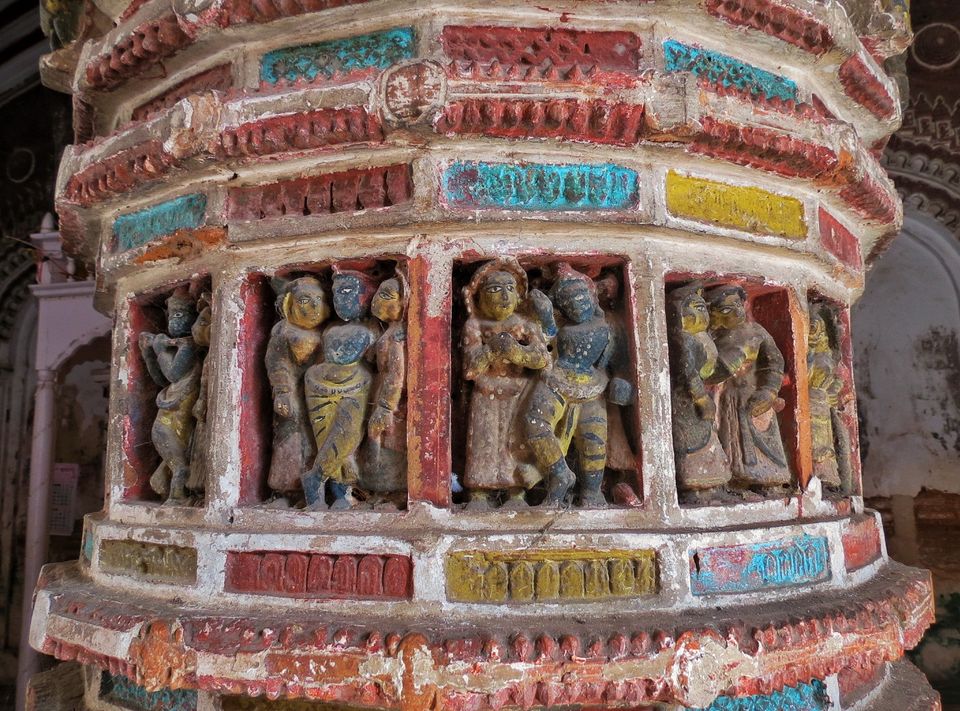 Just opposite to the Lalji temple there is another unique style temple named Giri Gobardhan Temple,most probably made of stone.I saw such unique styled temple for the 1st time.The roof of this temple is mount like and decorated with several figures of humans and animals.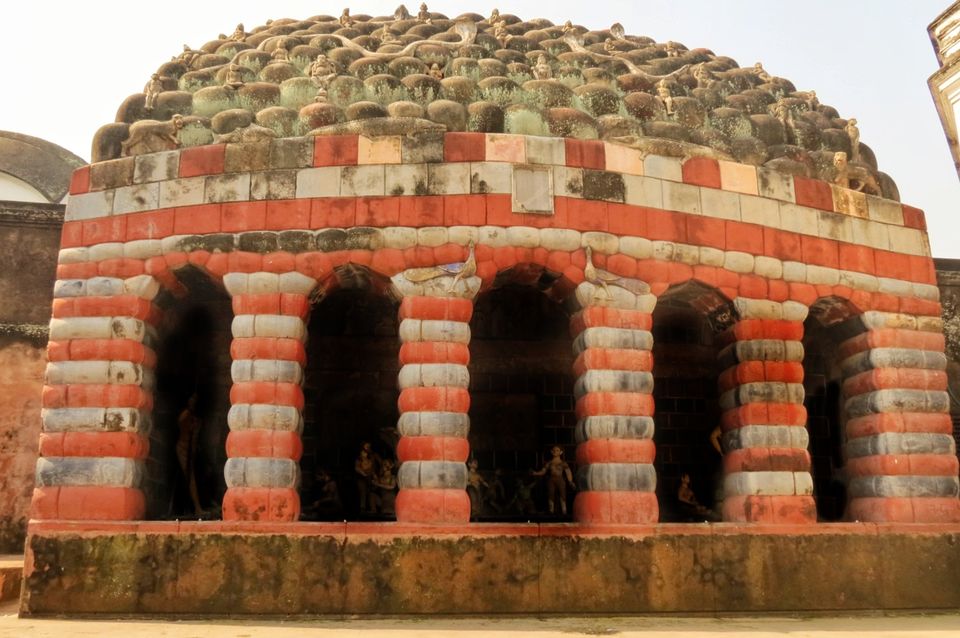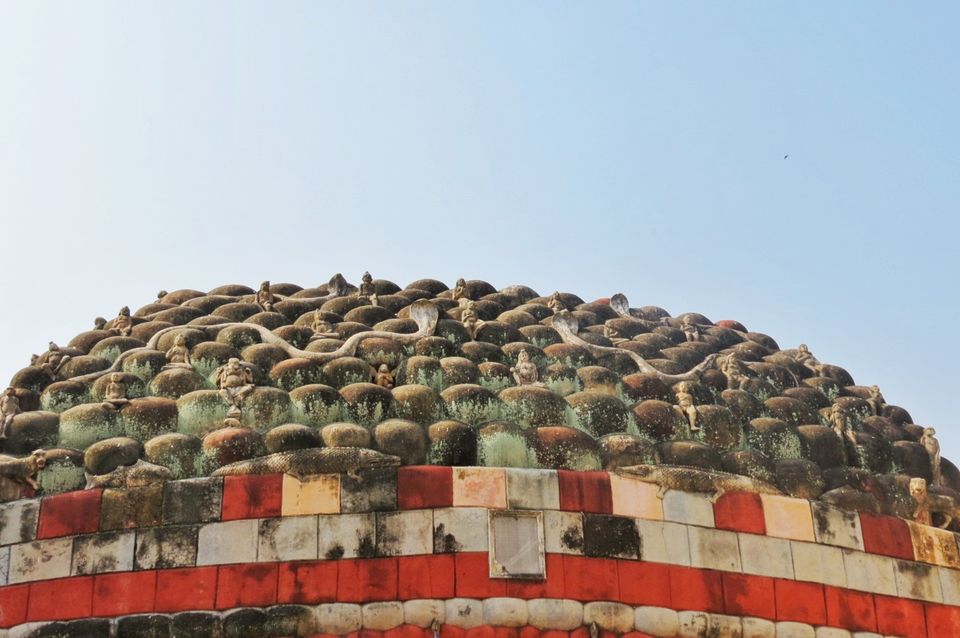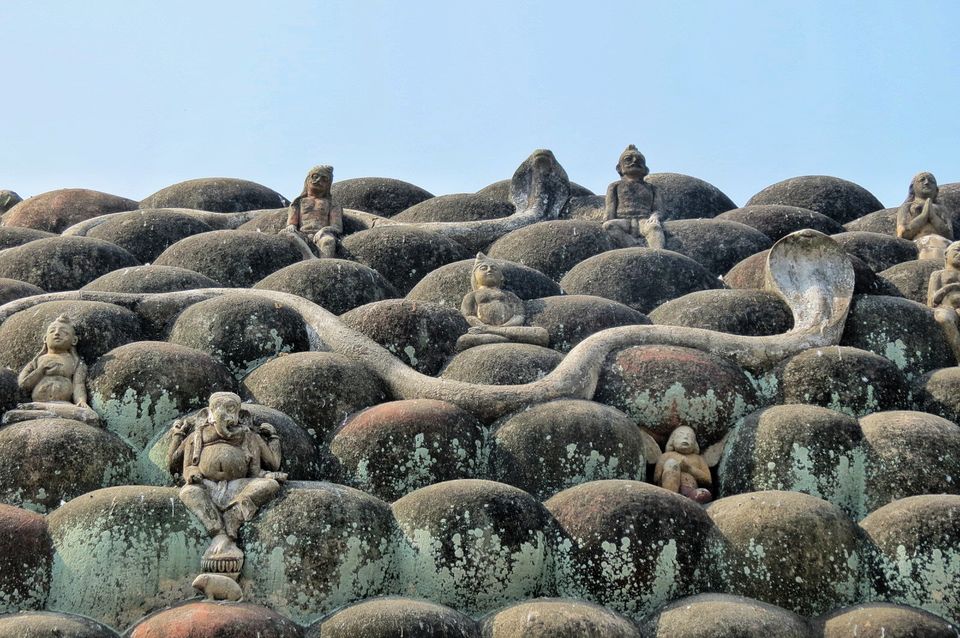 Next I found Rupeswar temple,a flat roofed temple showcasing the last type of construction which I have said earlier. There are 5 at-chala temple beside Rupeswar temple.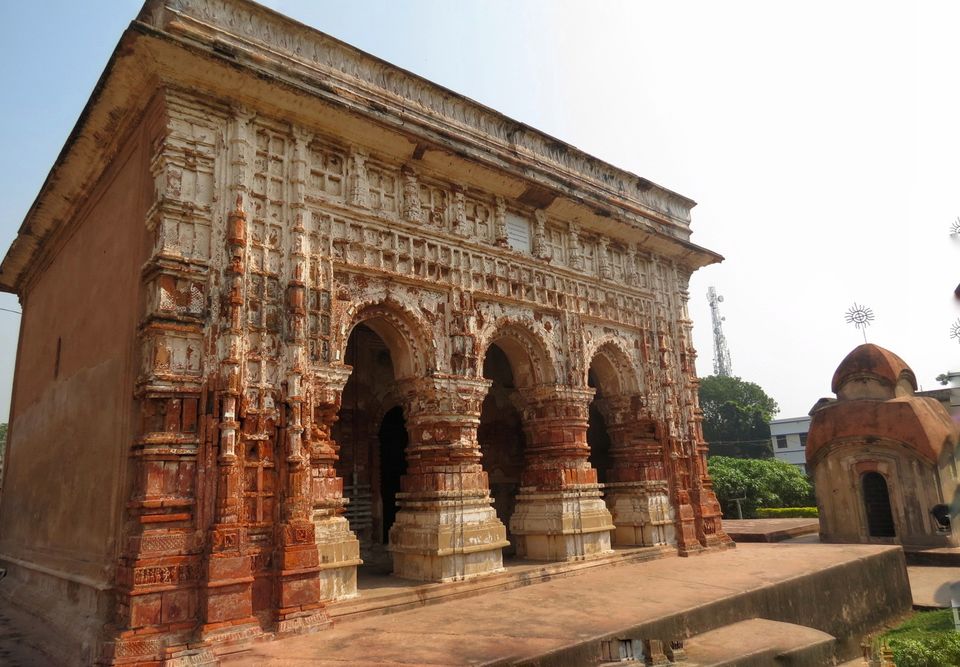 After that I saw a Pinnacled styled temple like Lalji temple.This is Krishnachandra Temple ,built by King Trilokchandra.This temple contains a 'natmandir' in front of it decorated by beautiful terracotta work.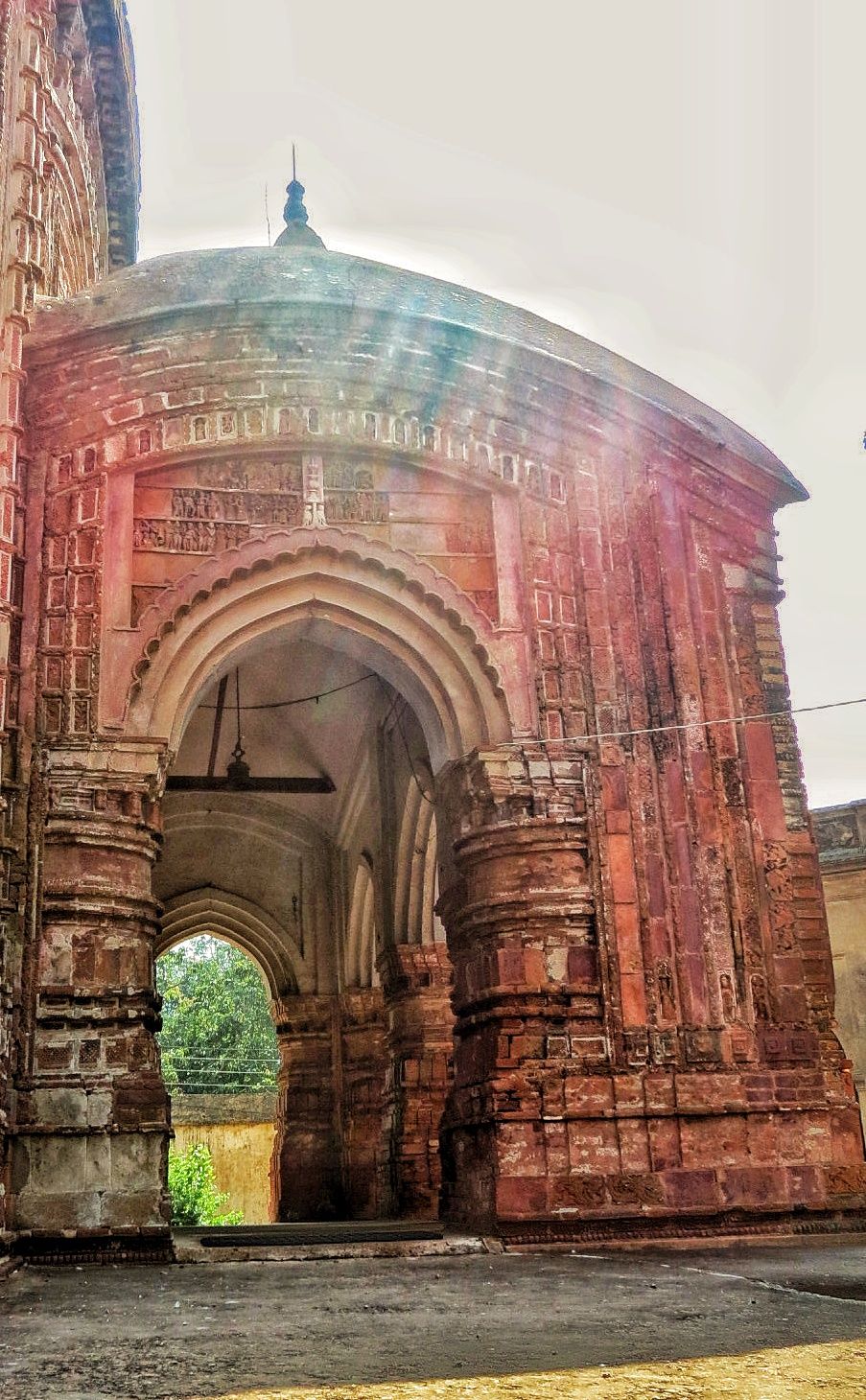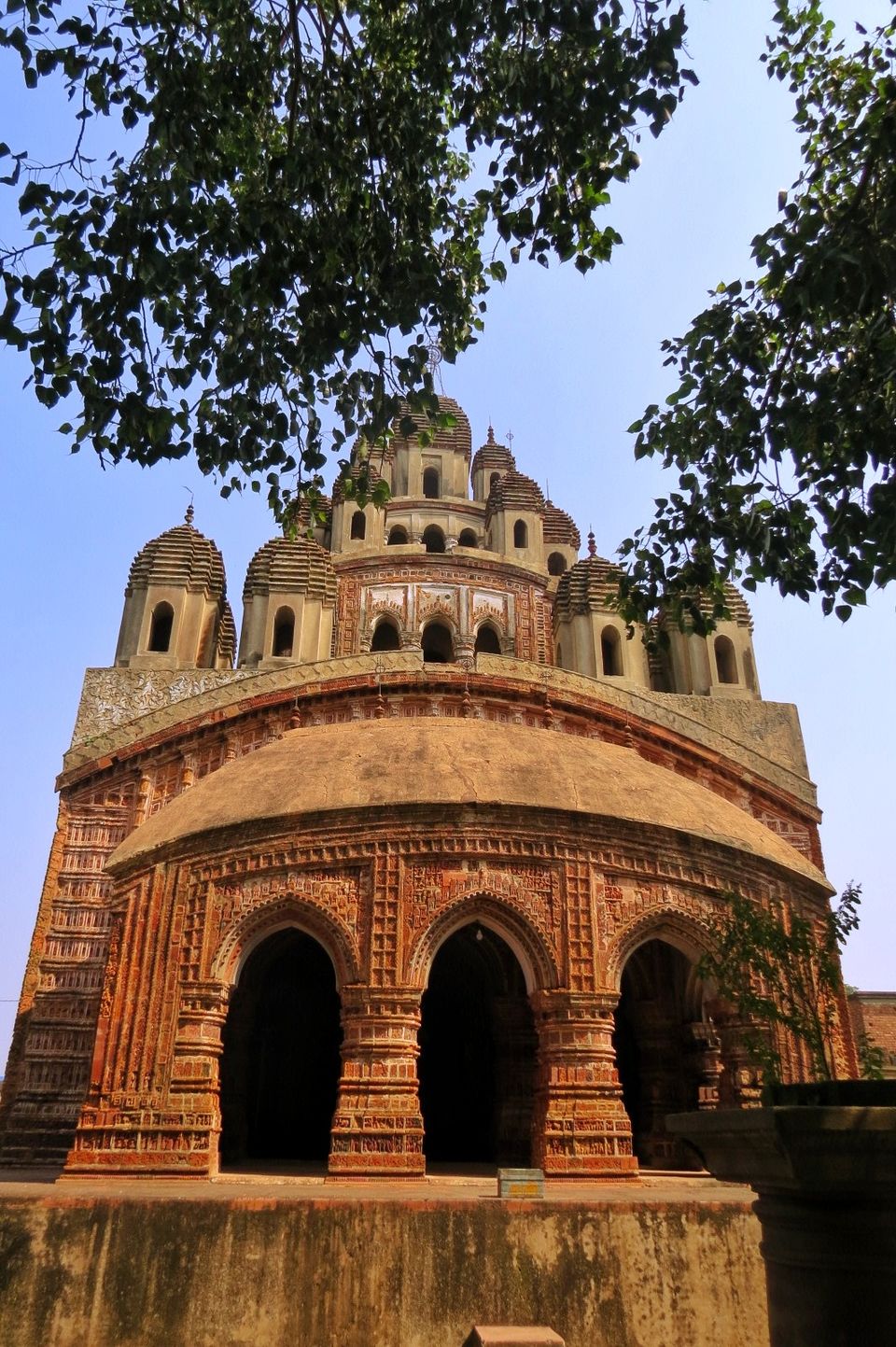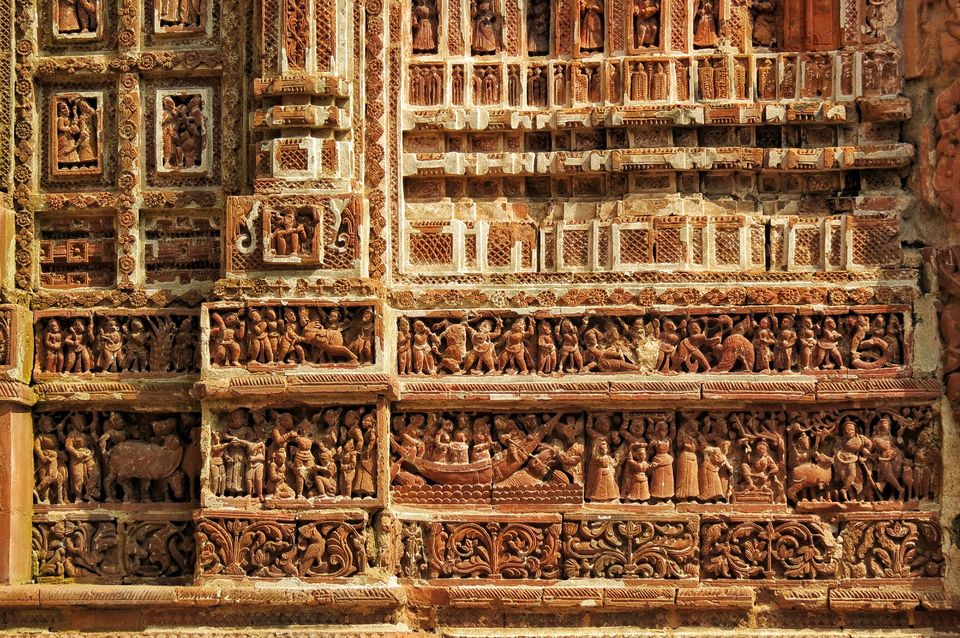 I observed that different incidents are pictured on a small plaque.As a result the idols are small and clumsy.But instead of this you can understand the posture of every idol clearly,they are so well finished!Seriously,what a perfection!I feel proud for the geniuses of my country who had such magical art sense and efficiency without any help of technology.
However,there are many more temples in Kalna to satisfy your thirst for History.
Siddheswari Kali Temple:- Next destination from Rajbari complex is Siddheswari Kali Temple.This 'Jor-bangla' styled temple is the oldest temple of Ambika Kalna.Tere are three other at-chala temples in this premises.The founder inscription tells that this temple was constructed by Ramhari Mistri.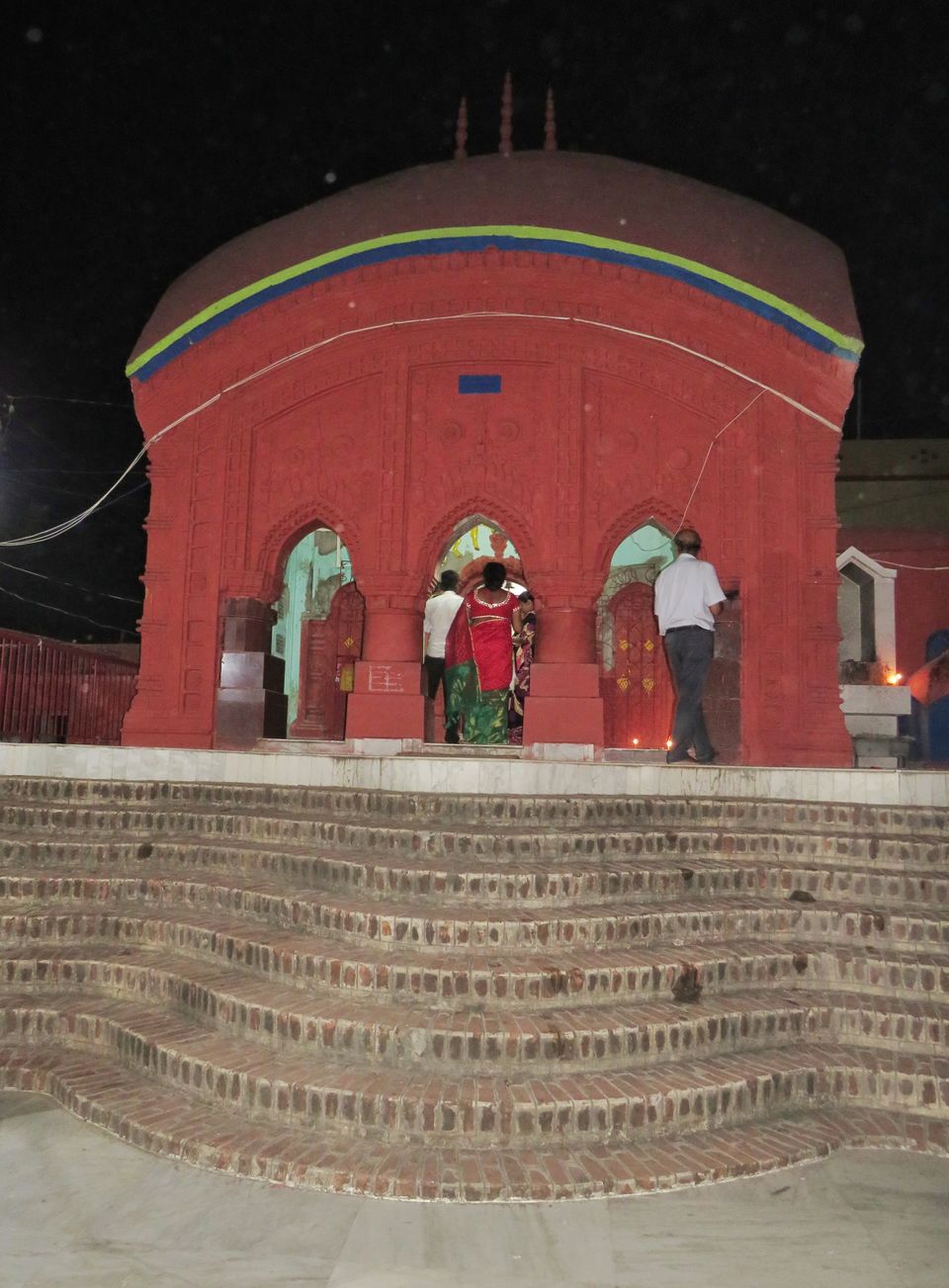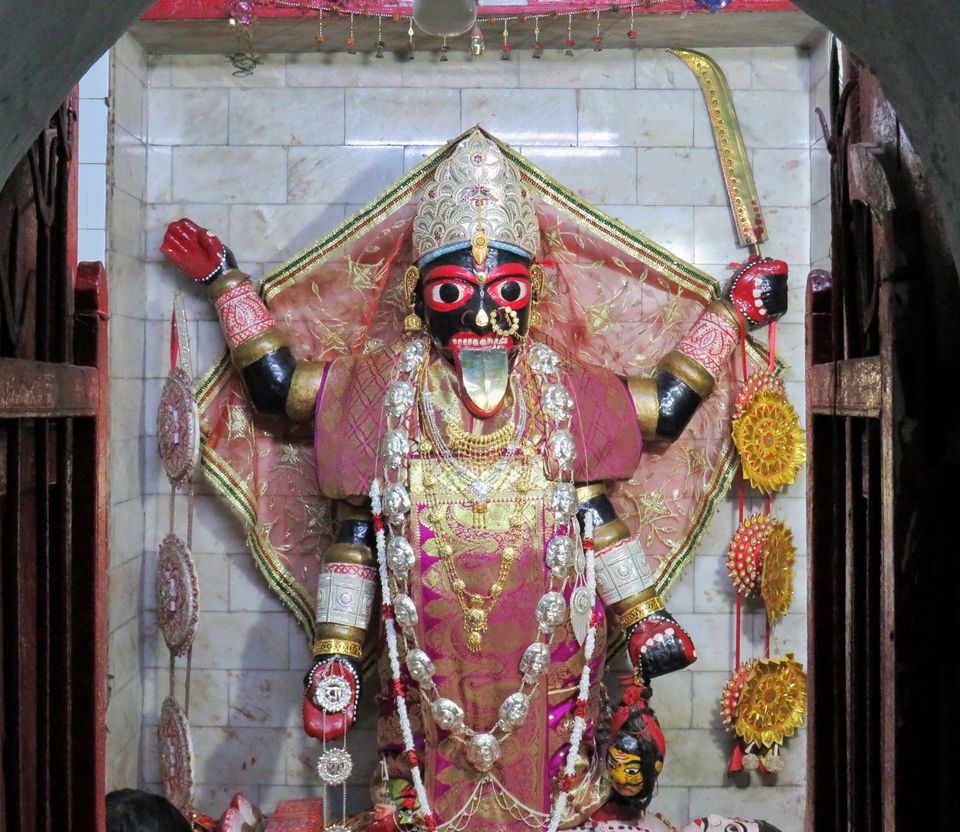 I only highlighted the most attractive temples of Kalna.Apart from these there are many more temples like Ananta Vasudev Temple, Mahaprabhu Bari,Shyamsundari Mandir etc.It is impossible to cover all the temples in one day.
How to reach Kalna:-
By Rail:- There are several local and express train that can be accessed from Howrah.You may take Howrah-Katwa local and the name of your destination railway station is "Ambika Kalna'.
By Road:- By road Kalna can be accessed from Krishnanagar,Bandel,Bardhaman,Purbasthali.
Tour Guide:- It will be helpfull if you hire a toto for whole day visit.It will take Rs.100 - Rs. 400 depending upon the places you visit and time.The drivers of toto will be your primary guide.
So friends ,Happy Journey!!