The Christmas of 2016 will always be etched in my memories.,I thought of giving the crowded churches a miss and away from the hustle and bustle of celebrations, decided to go on a solo trip to Rishyap- a quaint hamlet in the lap of North Bengal.It was special because it was my first solo trip and the first trip to mountains.With inhibitions and nervous excitement, I thought to myself why not embrace the uncertainties of the untraveled. So I packed my bags and boarded a Siliguri bound Volvo Bus from Esplanade bus terminus,Kolkata on the night of 23rd December,2016.
I roughly woke up at 5 a.m. and removing the covers from the window pane, I saw droplets of water on the pane trying to blur my vision of the orange sky through the glasses.It was ages since I woke up to such a beautiful sight.Rubbing the glasses with both my hands in a childlike trance , watching the sun rise and shine, I reached Siliguri at around 8 a.m.I boarded a state bus for kalimpong and I gazed in amazement as the bus made a lots of C`s and S`s taking turns moving uphill.Peeping through the window, was the spectacular greenish waters of river Teesta cutting across high lofty mountains.I plugged in my earphones and started listening to 'Stairway to heaven' by Led Zapplin.
After reaching kalimpong,I boarded a car for Rishyap,as shared cab services were not available. The chill in the air was like breath of fresh air,away from the dirt and pollution of cities. The sight of wooden houses tucked away on the edges of the road became scantier, as we left small settlements en-route one after the other, until all that was visible was Mother Nature`s Monopoly-open landscapes shrouded in greenery and the unending abode of mountains. Halting at a view point,I took a couple of minutes to absorb the silence- The enormity of the mountains humbled my existence, and I stood there in a daze of inexplicable bliss counting different shades of green.Moving a little head ,the sun started playing hide and seek through a mesh of pine trees amidst the royal blue skies.The roads started getting bumpier and the uphill ride became rugged.But who cared? Getting down at a shop i tasted RAKSHI- the local brand of alcohol and it had some kick.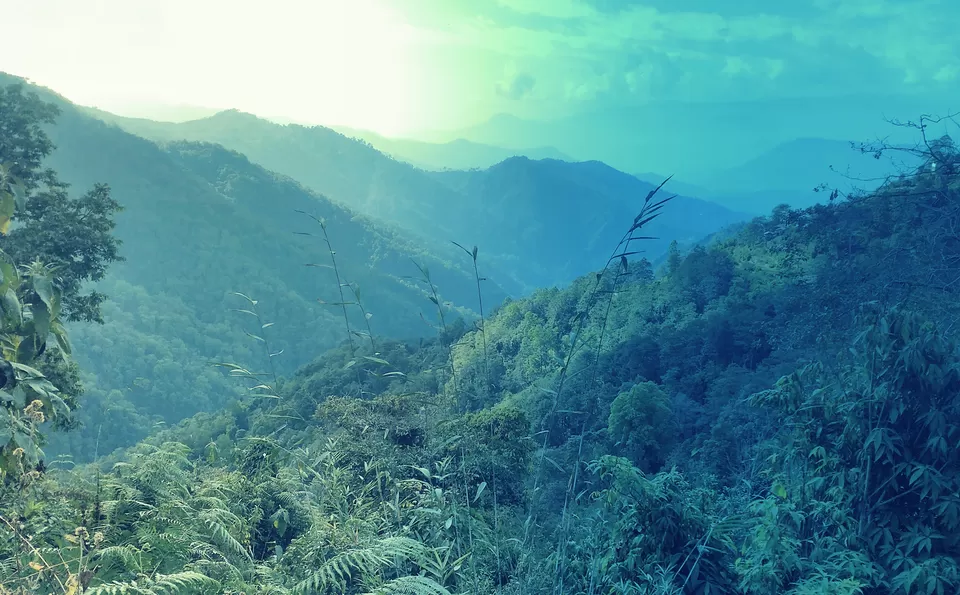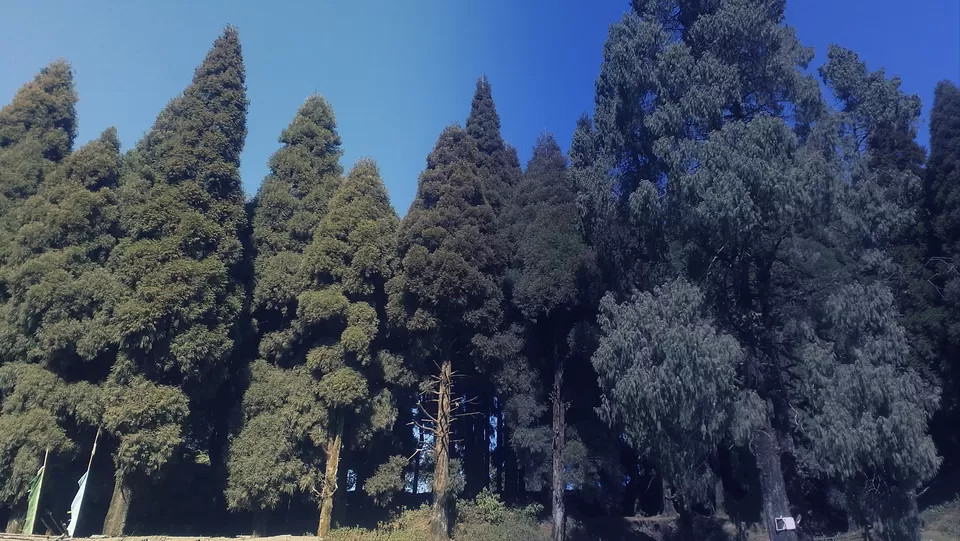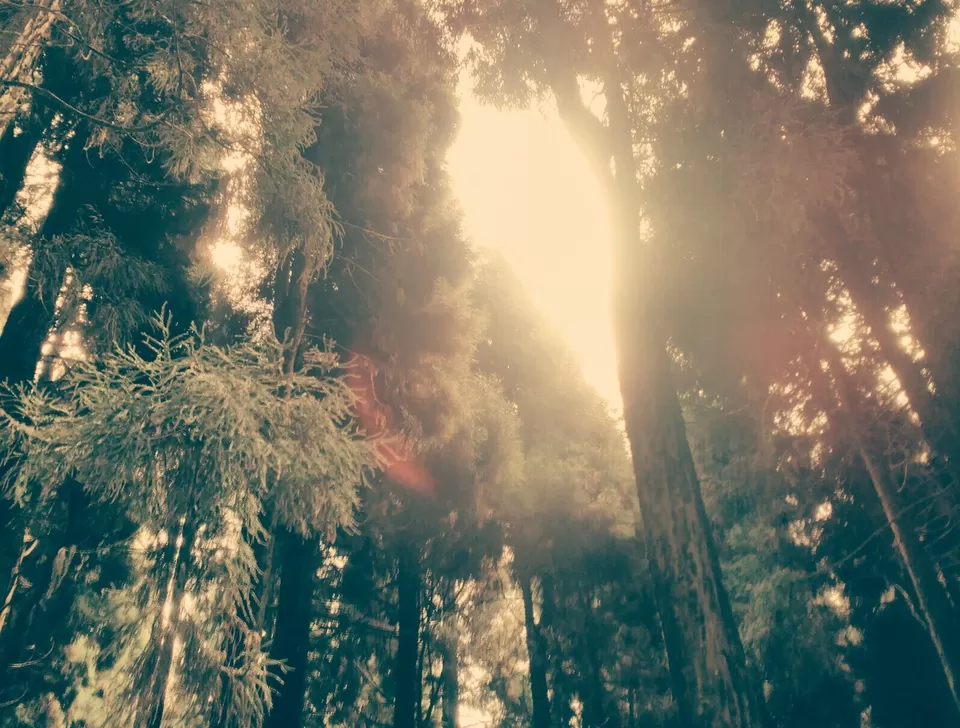 At around 1 p.m. I reached my home stay and all that visible from my terrace was a 360 degree view of mountains overlooking a few houses on the edge of the mountains.After having a soupy bowl of Maggie and a refreshing bath, I started trekking up and down through the jungles to reach LAVA, taking around 2 hours.On the way I met a family of 5 who were headed the same way as I was.As the afternoon gave away to evening, the clouds literally started descending upon us . Adrenaline was running high ,as we groped through the mist and the twilight and finally reached Lava. As per the myth goes,, we came across a point, where lovers in medieval times who were not accepted by society often jumped and died.Hence the name of the place is LAVA,derived from the word Lover. We then boarded a cab and returned to our home stay in Rishyap.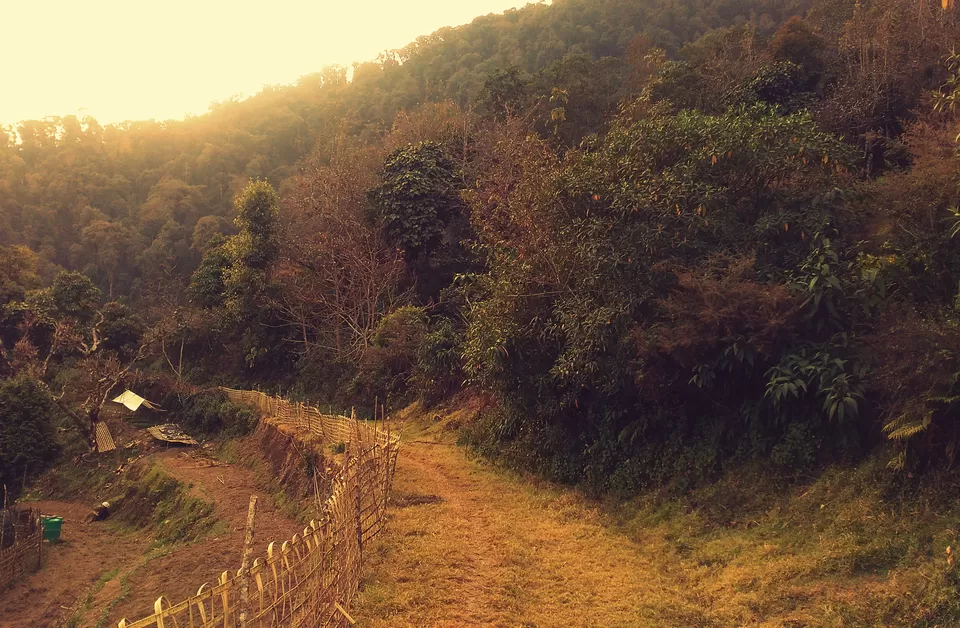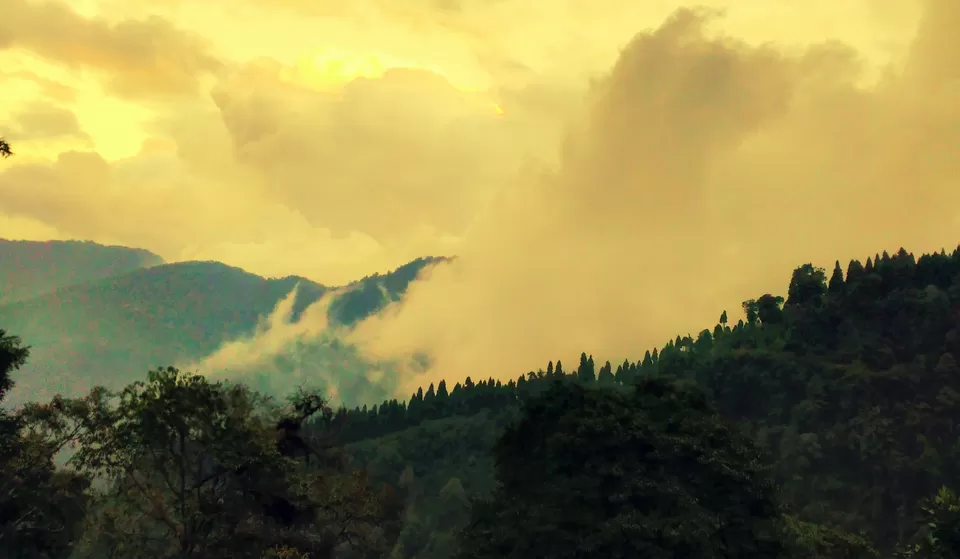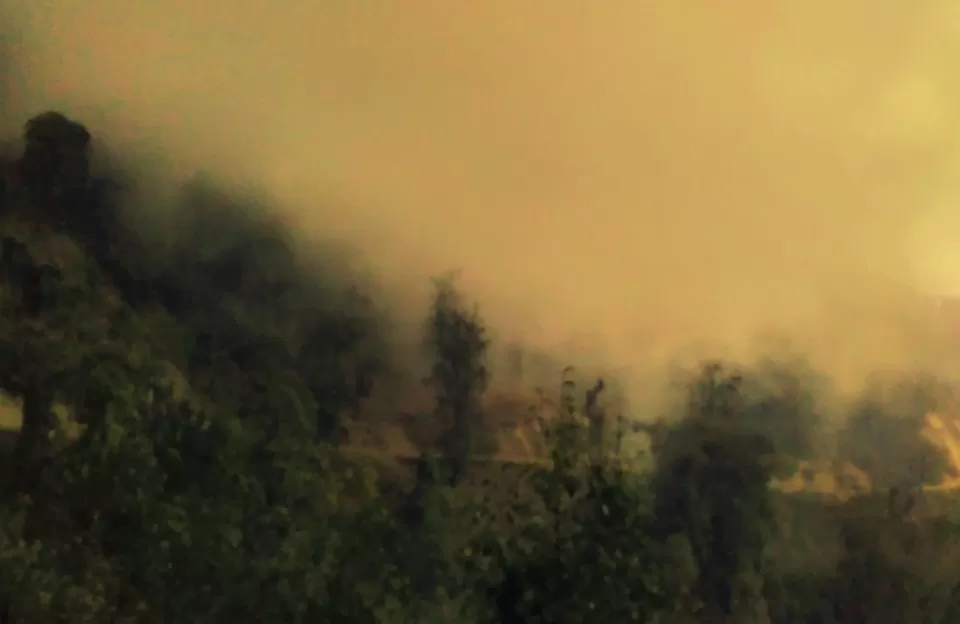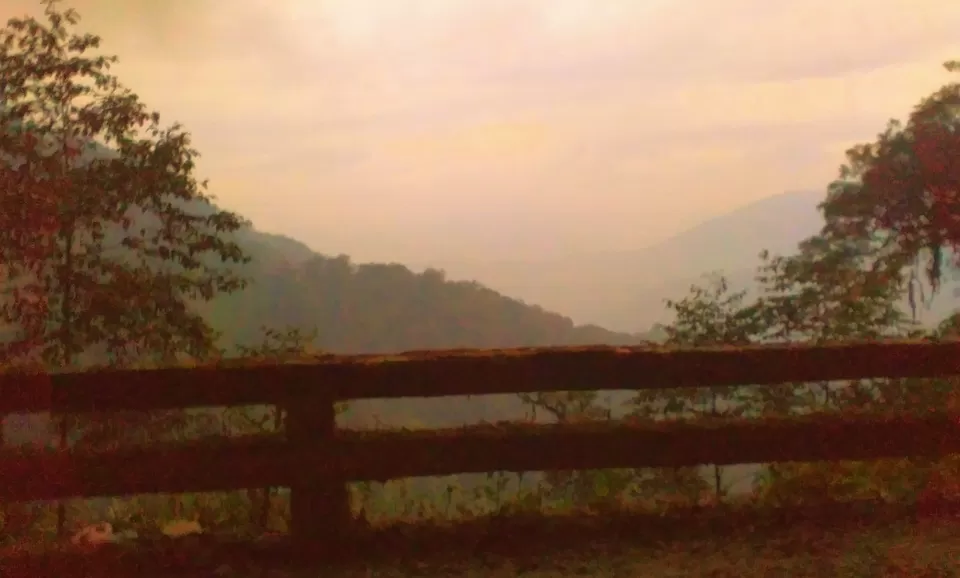 12:00 am,25th December - After a tiring day, I was all to myself to celebrate Christmas in a tribal hut . I had already arranged a cake, a candle, and beer. Listening to Christmas Carroll , I raised a toast to myself . Just as I was about to sleep , there was a knock on the door. I was informed that a bonfire was arranged outside.Smiling to myself, I wished for nothing more. Braving the extreme cold, sitting by the fire and sipping on my beer can, I became friends with strangers and everybody started singing songs and dancing. This was the best Christmas celebration in my life. Silently thanking Santa, for the surprises ,I went off to sleep as I had to wake up early for a trek to Tiffindara , 1.5 km from Rishyap, to watch the sunrise.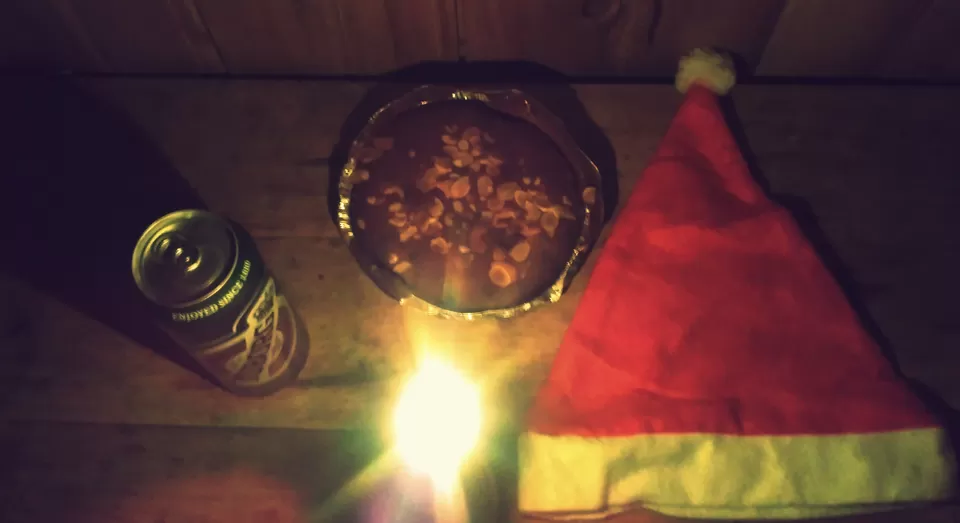 I woke up at 4:30 am in the morning. It was freezing cold outside. Starting on my own, to traverse through a jungle path in pitch black darkness,with a torch was the scariest experience of my life.But it was worth all the effort, as I literally overcame the fear of dark and what I got to see as I reached Tiffindara was till date the most beautiful experience of my life. Reminiscing the days when I used to draw pictures of the sun peeping between two mountains, it seemed surreal. I sat there for a while and basked in the warmth amidst the chilly winds, listening to 'KNOCKING ON HEAVEN`S DOOR' by Guns and Roses.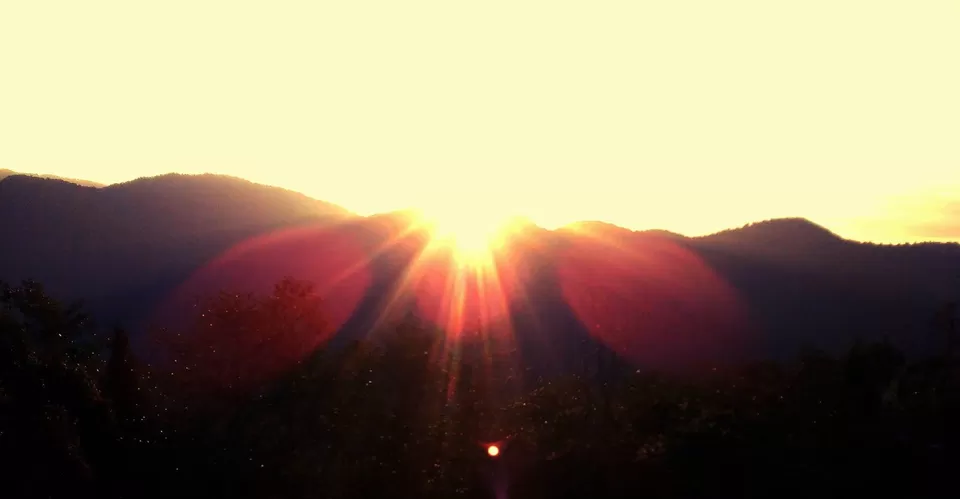 My next destination was Lava Monastery. It was very big in size and the environment was extremely tranquil and peaceful.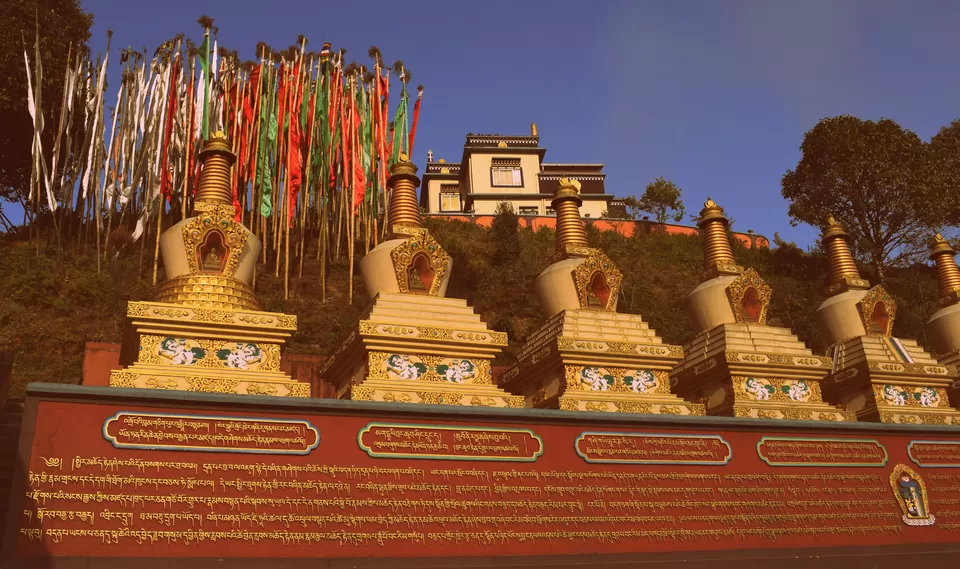 Next,I went to a waterfall by the name of Changey Waterfalls, via Kolakham which was a journey through unending mesh of pine trees and breathtaking views. The flow of water was so strong that I alost got drenched even after watching it at a distance. I had to hike 4 km up and down, which was quite an experience.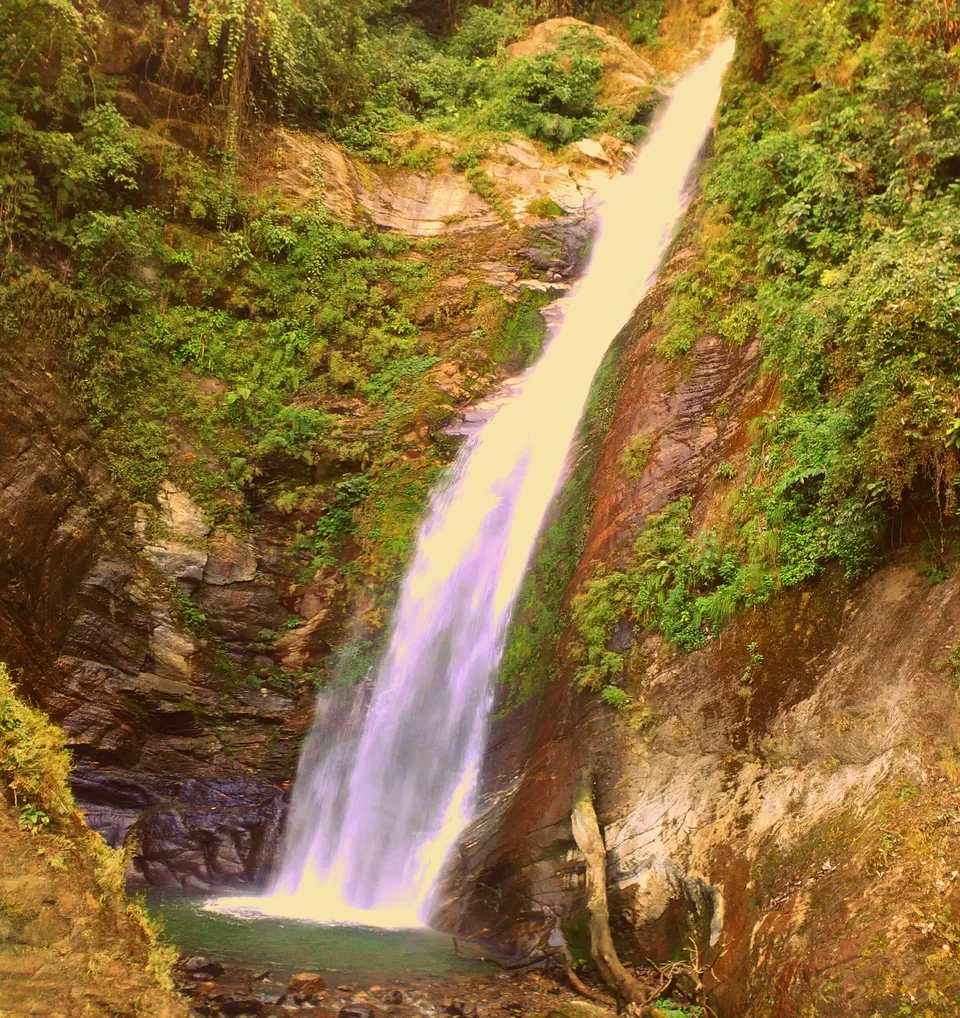 The last destination for the day was LOLEGAON, which is famous for a hanging bridge. As I reached there at the fag end of the day, the gates were closed and I was unable to experience it.
I was supposed to leave for Siliguri at around 12:00 am noon, and so waking up i had only a few more hours to spend at Rishyap. I went up to the terrace and marveled at the beauty in front of me.The sky was as clear as a daisy and the mighty Kanchenjunga was visible.I ran down and brought my camera, lest the weather betrayed me.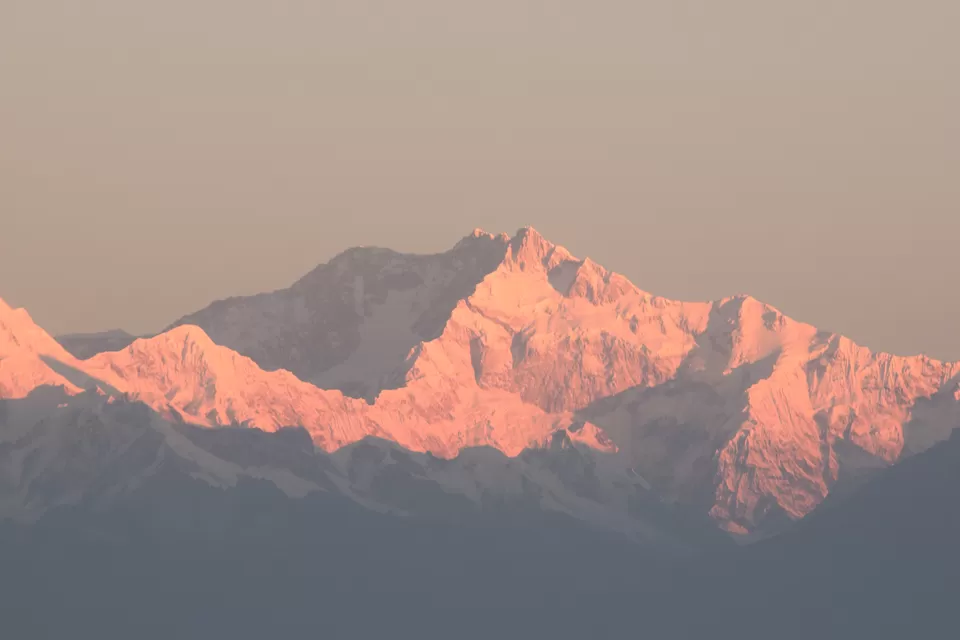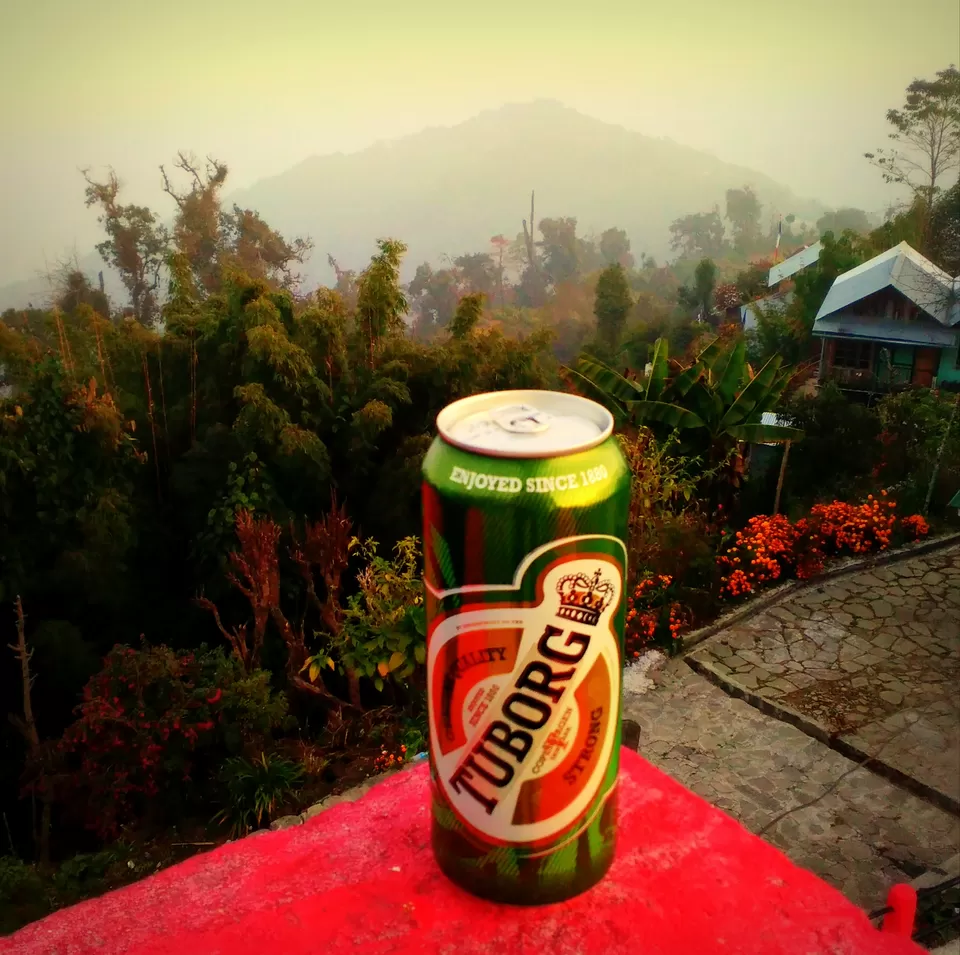 I bid adieu to Rishyap with a heavy heart. I felt i was taking some part of it in my heart and was leaving some part of mine back.It was a life changing experience for me. I have been to so many trips in this last year.But the first will always be the most special.I got to know so many facets of myself which I would have never discovered. This trip was the beginning of my coming to terms with the wanderlust within me. Rishyap will always be the Santa of my life.