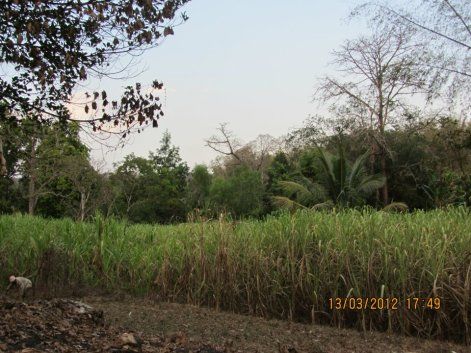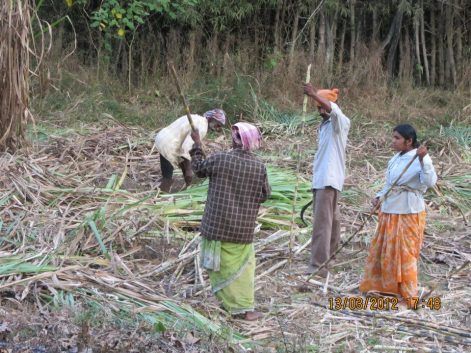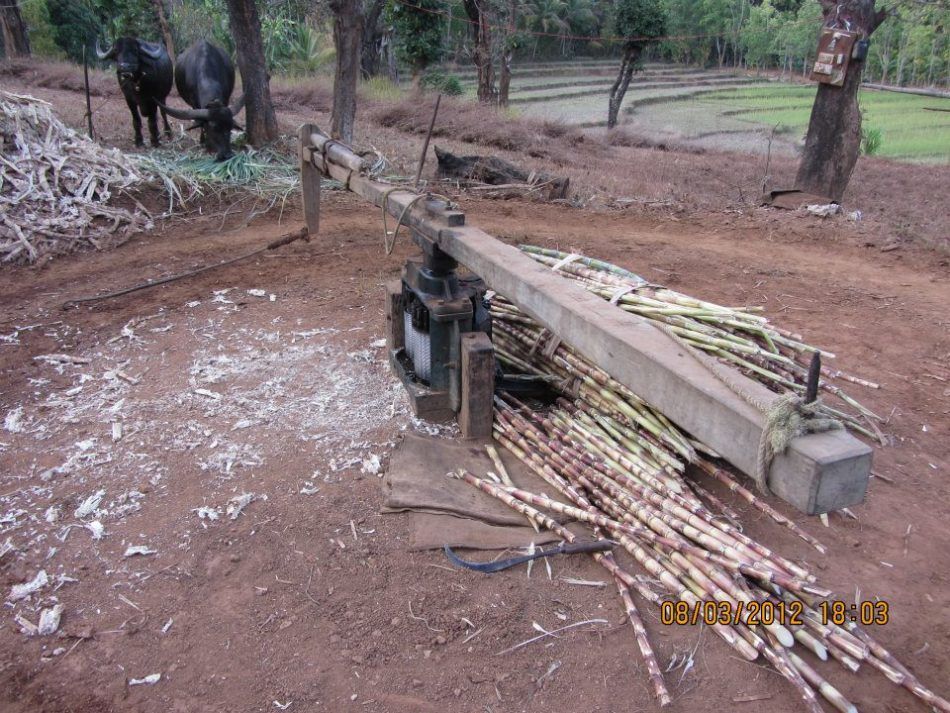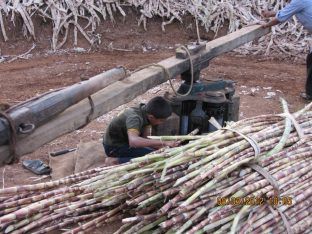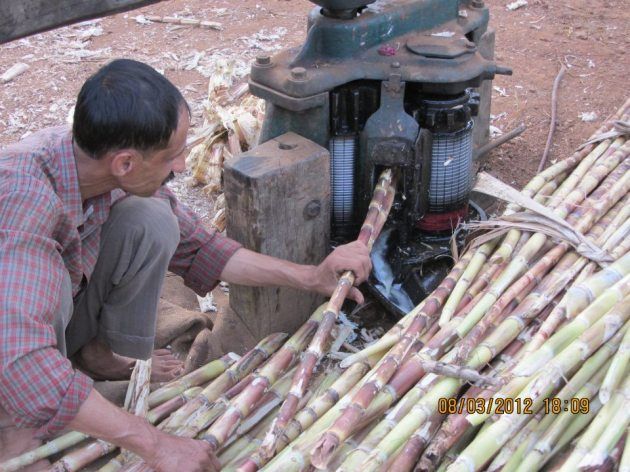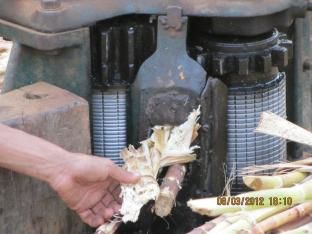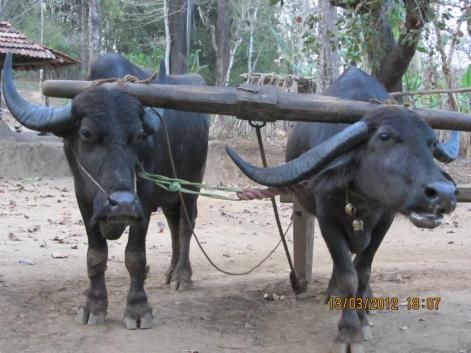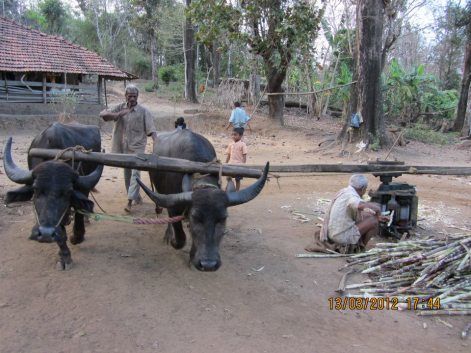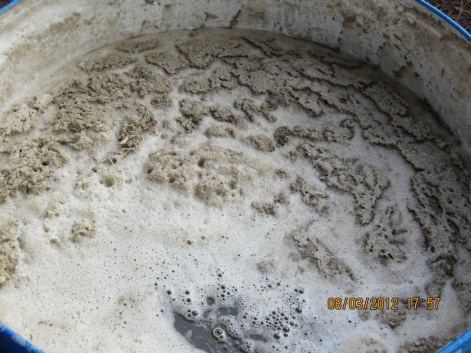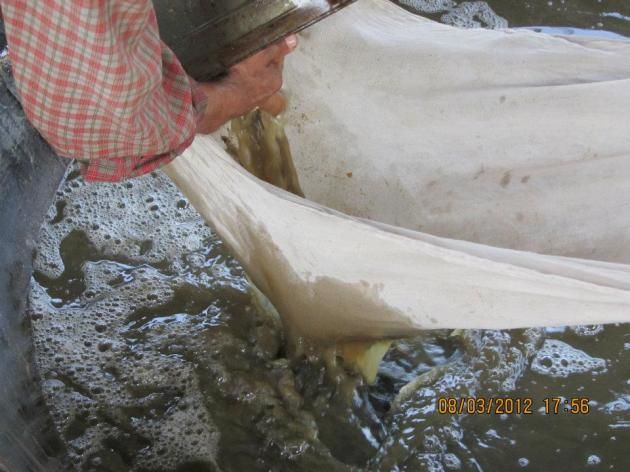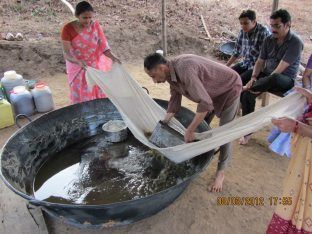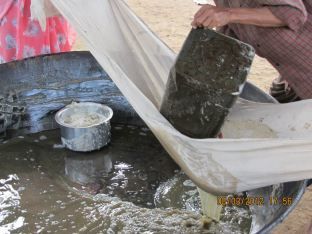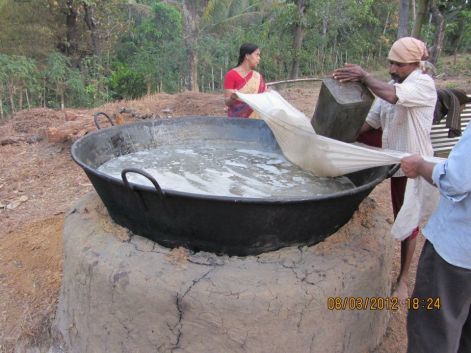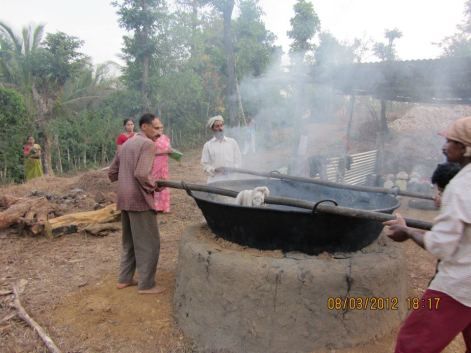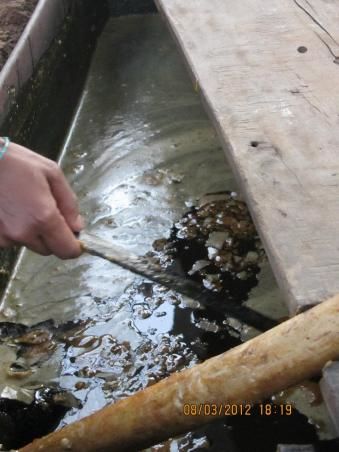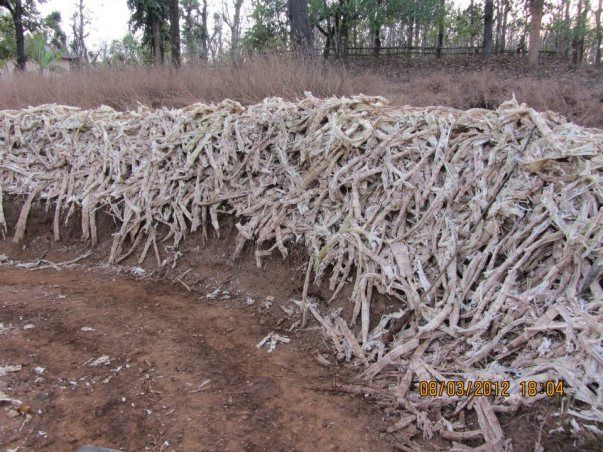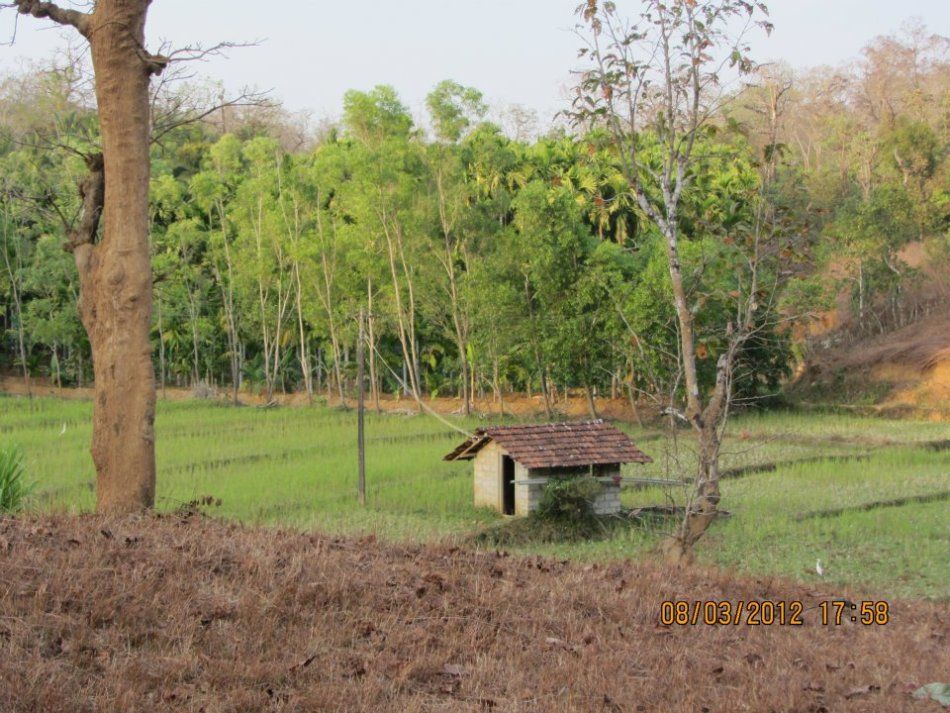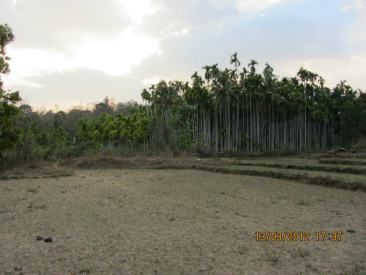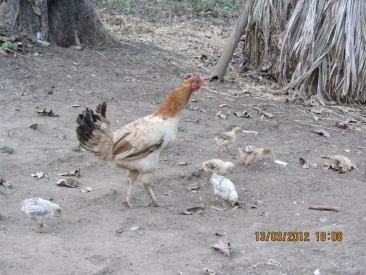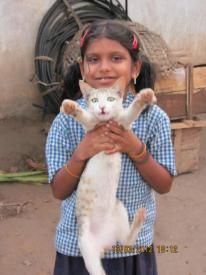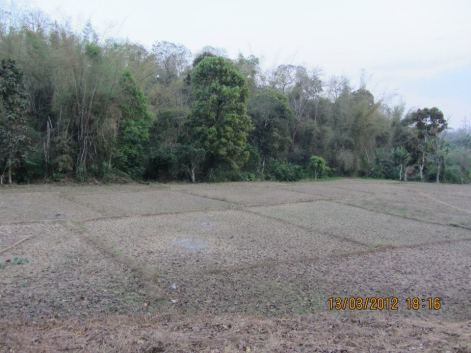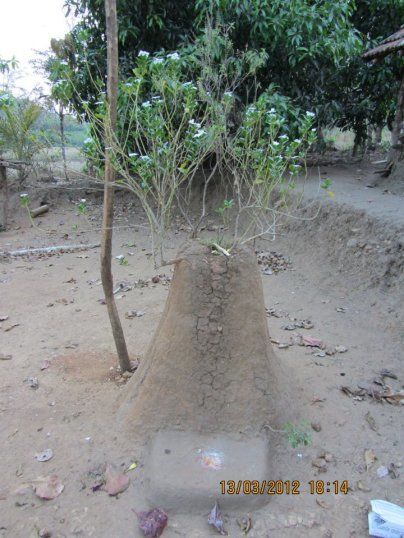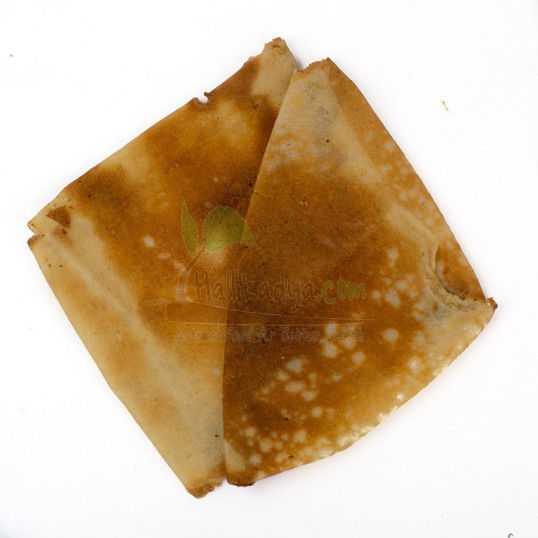 Sweet!!! Who doesn't like sweets?? Very few. Even though one is diabetic, he/she longs for it. We prepare sweet dishes during festivals, happy occasions and celebrations mainly to share our happiness. When we spot a cute kid we are like Cho Chweet or say as Tere Munh mein ghee sakkar when a friend states eagerly awaited good news. Sugar has been an important ingredient in our dishes. But interestingly, sugar didn't originate from India, but from China, hence also called as "cheeni" referring to China. So how would Indians get their sweetness sorted out before sugar came into our kitchen? The answer is Jaggery. Jaggery called as Gud/Gur in Hindi/Marathi, Bella in Kannada, Bellum in Telugu and Vellum in Tamil.
Jaggery is an unrefined healthy sweetener prepared using concentrated sugarcane juice.It is made up of Sucrose, Glucose, Protein, Calcium, Iron, Potassium, Magnesium and Phosphorous. It is believed, daily use of jaggery may increase human life span. Jaggery strengthens the nervous system, improves bones, prevents anaemia and protects the body against environmental toxins. Also, less cases of diabetes are found by jaggery consumption as opposed to that of sugar consumption. Jaggery relieves fatigue as magnesium in it helps to relax the nerves, muscles and blood vessels. Jaggery has religious significance too. Many of festivals involve offering of jaggery to deity, its eaten before commencement of any good work or new venture.
My title of the post goes Alemane. Ale-mane? Sounds strange, isn't it? So what does it mean? It simply means jaggery producing units (in a small scale). Its a festival, a sugarcane juice extraction festival to prepare jaggery in a traditional way mainly for domestic use. It's a seasonal festival celebrated during winter in some parts of Uttara Kannada district (in Karnataka) mainly in Sirsi, Yellapur, Sagar and Siddapur taluk. If you have been there at least once, it will evoke a multi-sensory experience.:)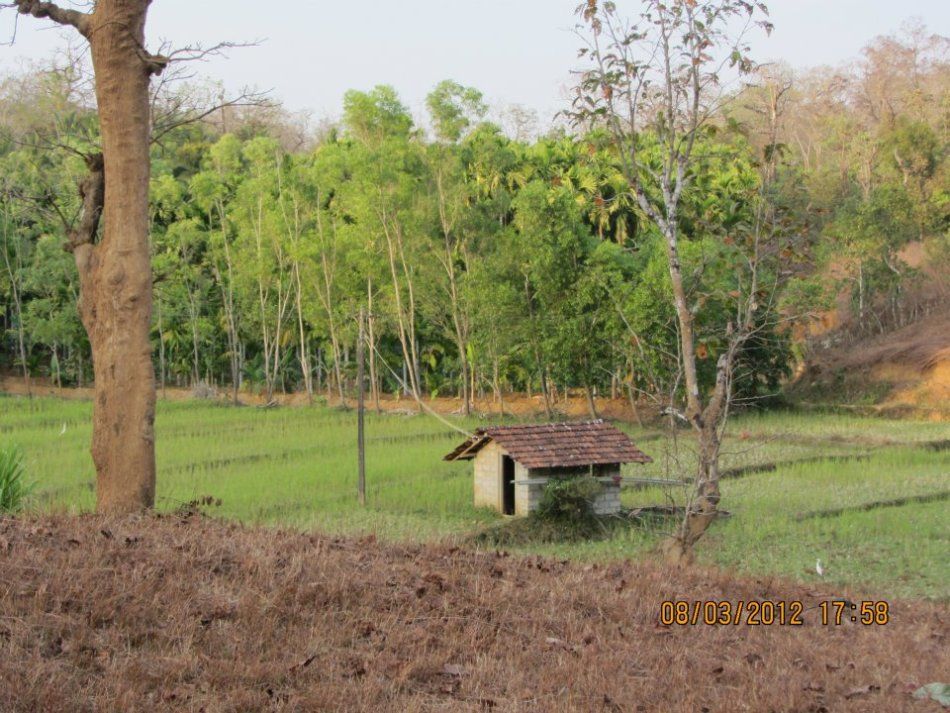 I come from a place called Sirsi and have fond memories of attending such events organized by family friends who are into farming and cultivating sugarcane. This is no ordinary event, it requires lot of planning and a mammoth effort. I remember vividly when I visited such event, back in 2012 and would like to share some wonderful memories.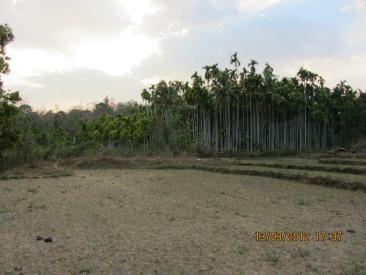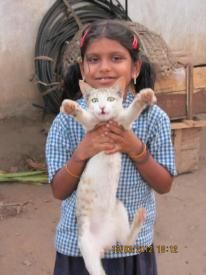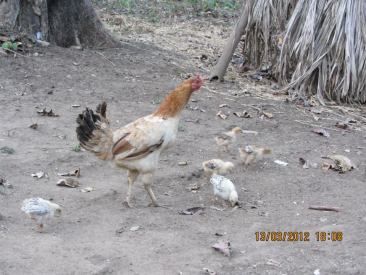 So here we go, let's take a tour of a place called Tudugani, a village, 20 kms from Sirsi. This place is ideal for areca plantation and also rice fields which is a staple food in this part of the world.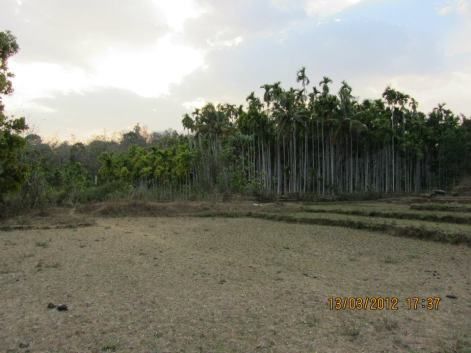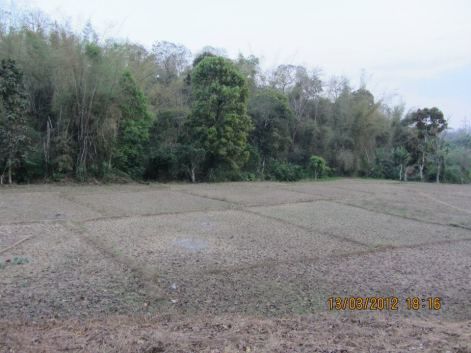 Let's go to the sugarcane field where farmers must be busy getting sugarcane.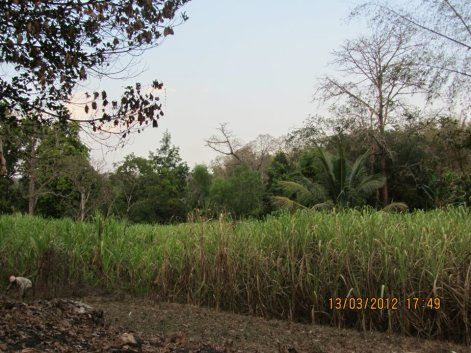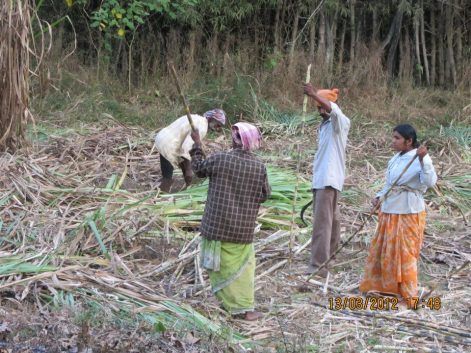 Now that we got the sugarcane, let's place it near our setup so that juice can be extracted out of it.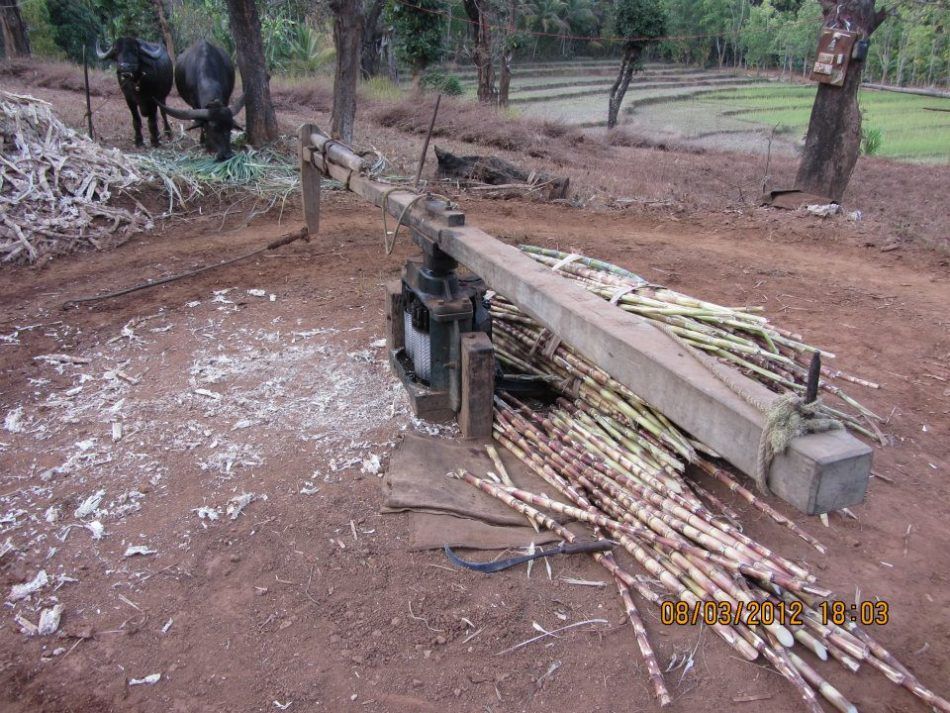 Adults or children alike feed the sugarcane into a machine.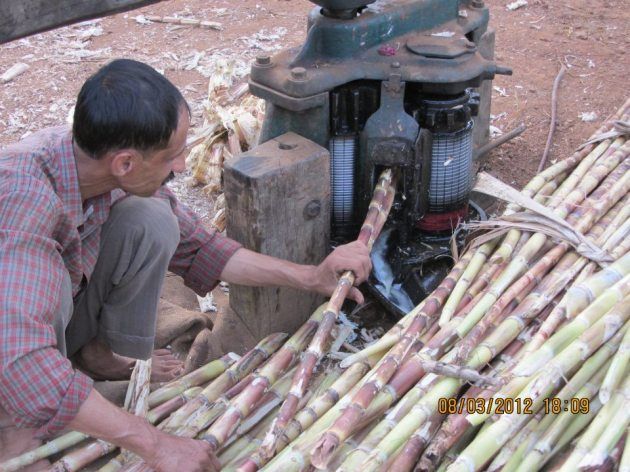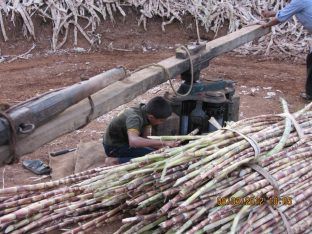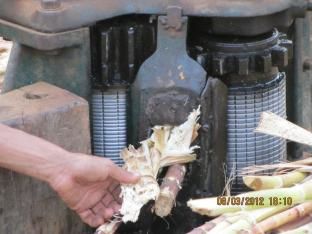 Now, buffaloes come into action as they are made to revolve around so that juice can be extracted. It's all about hard work for them as you can see from pics.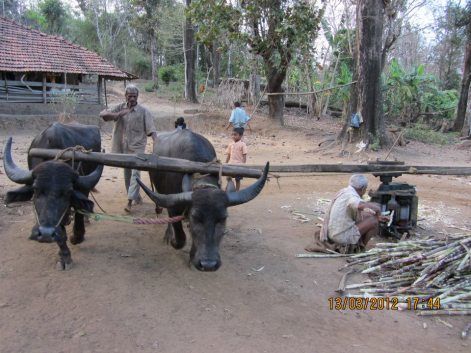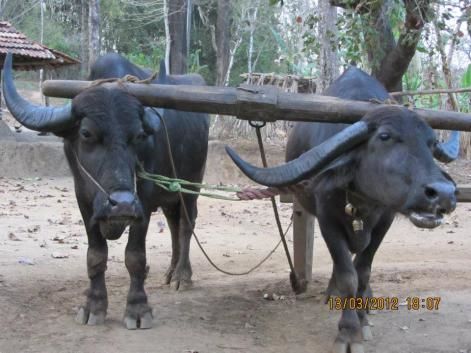 The juice is then collected and transferred to a tank through a pipe. This is the purest form of sugarcane one can ever get.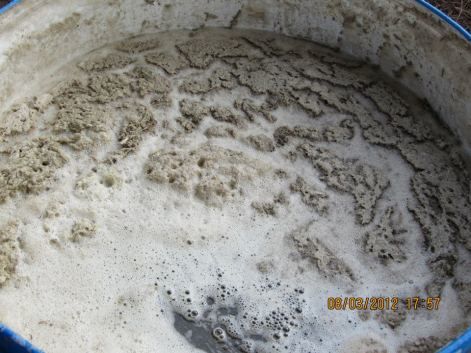 The sweetness of the juice is such that you can hardly drink a glass of it and best way to enjoy this drink is with some spicy snacks like khara mandakki (churmuri) or sev/chiwda as sides. Lime/Mint or Ginger can be added to the juice, to enhance its taste. And the sweetness can't be compared with anything we get in market these days.
The next process is to remove the scum from juice. So the juice has to be filtered which is done here using a cloth. Have a look.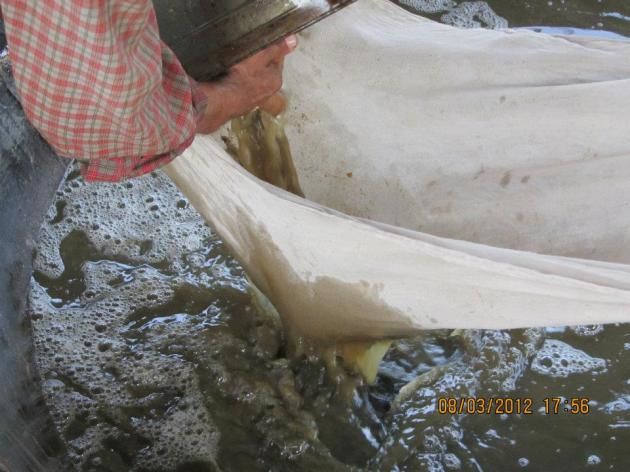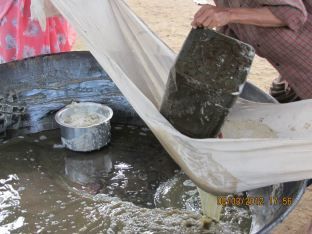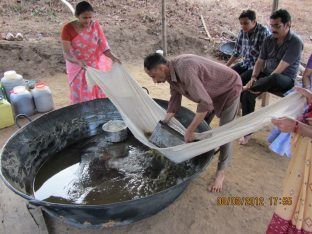 This filtered juice is put in vessel and placed over a flame which is specially created for this purpose. This mixture has to be boiled to a particular consistency, so that we obtain a semi-solid mass.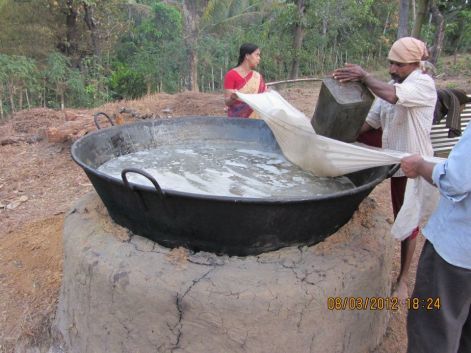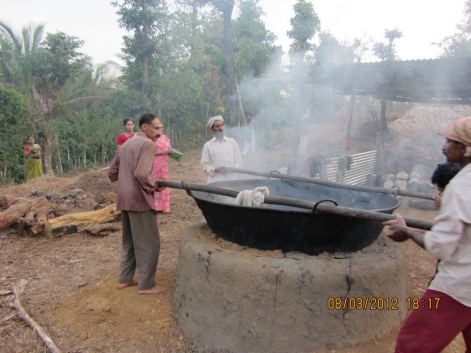 Once that is done, it is kept in a vessel for some time to dry. The waste from the sugarcane which is called as bagasse can be further used as a fuel for boiling.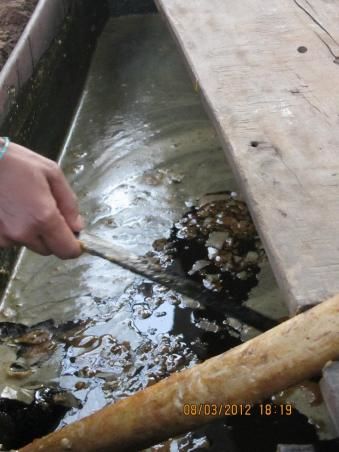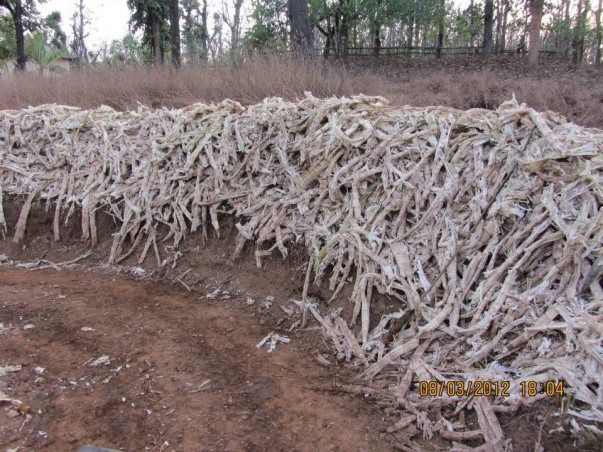 So this is the way we get our jaggery. It is mainly available in three forms- Solid, Granular and Liquid but the process to produce it remains the same. Solid jaggery is obtained by pouring the hot mixture in different moulds. Granular jaggery is got by boiling the cane syrup to thicker consistency and allowing it to cool in a vessel. Liquid jaggery doesn't require more boiling and once we get thick vicious liquid after condensation,it is cooled off, to pour it into bottles. By switching to liquid jaggery instead of sugar, we can prevent iron deficiencies, indigestion, constipation and mainly obesity.
There is an interesting custom, that farmers set a hen free to move around Alemane as a mark of prayer to God so that the whole process goes on smoothly without any serious hurdles. Such hens are not consumed by people. Once the desired end product is got, it is packaged in tin cans and transported to market for sale. Apart from various variety of jaggery that we get, various local delicacy is prepared out of it like "Todedevu" (when mixed with ghee or milk and eaten, it's like heaven) and liquid jaggery locally called as "Joni bella"(molasses) which is rich in calcium and iron.
(There's an excellent Youtube video of how Todedevu is prepared in a traditional way. Click here Courtesy Mangalamurthy Bhat)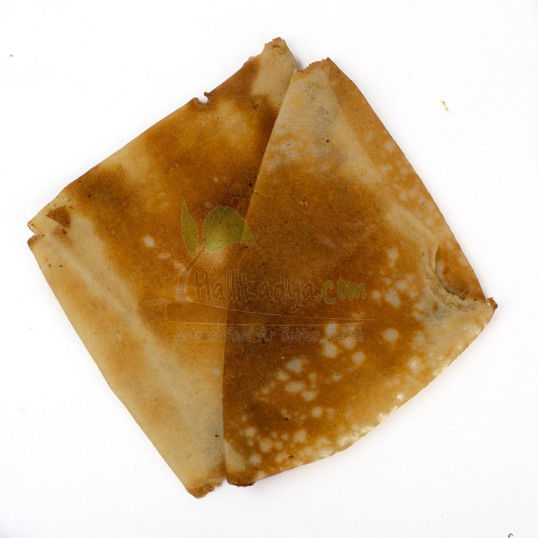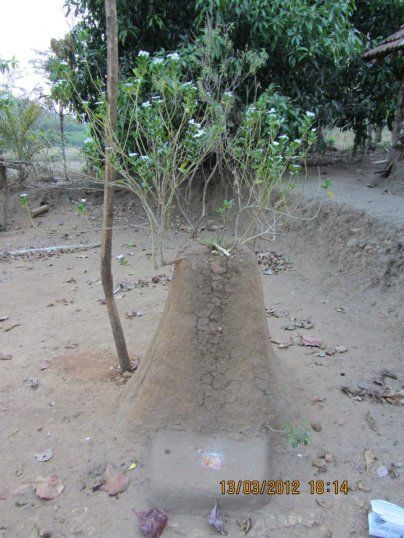 As much as it is about celebration, it is also about pondering, as this unique and interesting festival is slowly dying due to weak response which eventually leads to less profit for farmers. This being a traditional event, carried out since a long time and an integral part of our culture, it is our prerogative, to promote it in a big way.

So until next time we meet, take sweet, talk sweet and be sweet :)
P.S: Entire process of jaggery preparation is clearly depicted in this YouTube video, courtesy Prithvi Media Creations. Click here to see.