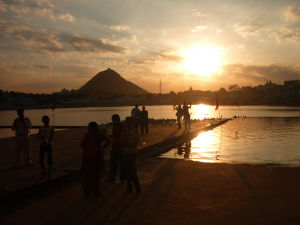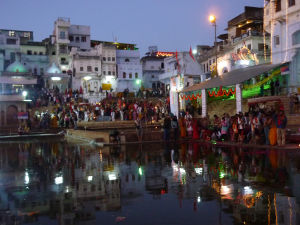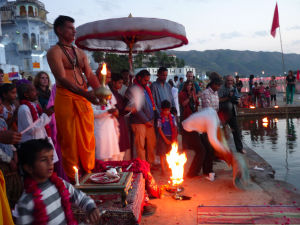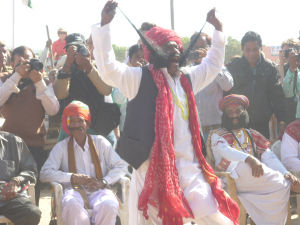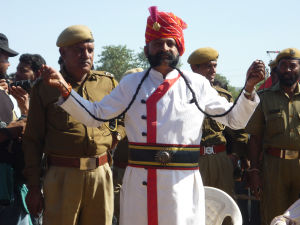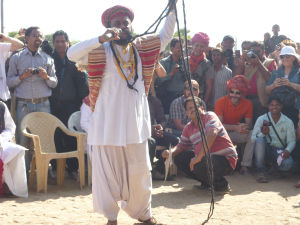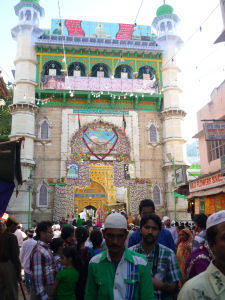 We often talk of leapfrogging development in India. We have more cell-phone users than landline connections. We have Wi-Fi connectivity in areas that don't have road connectvitiy. When it comes to our tourism as well, we're quick to attract those from overseas rather than from other parts of the country itself.
Of course it's no surprise that foreigners are fascinated by Indian culture. And Rajasthan is a quintessential tourist hub. Yet as my friends and I hastily finalized our plans to visit the Pushkar fair, I assumed there would be others who were as keen as we were for a weekend getaway, amidst the fun and festivities of the event. The mela, as we had read about, is a much-awaited event for the locals, and one of the busiest times in the otherwise relatively small and quiet town of Pushkar. For those residing in cities as close as Delhi, it's a 6-7 hour car ride. The journey is a little longer if you choose to take the bus like us, but there are plenty of options. If you're a spontaneous traveler, like the lot of us, transport from Delhi to Ajmer is easier to find, especially during the mela.
After an eight-hour bus journey to Ajmer, a short auto and local bus, we were finally in the land of Lord Brahma, making our way into the charming hotel, Kannahia Haveli. As you explore the town, you will find plenty of lanes, narrow and wide, all bustling with activity, food stalls, restaurants, small stores and as Rajasthan never fails to offer you, vibrant colours. As you make your way to the fair ground you will start to notice that the fair is full of foreigners and local Rajasthanis, mostly from Pushkar or from nearby towns. The local versus tourist kabbadi game is mainly Rajasthani versus foreigners. Though we missed the match, it seemed like it would have been worth the watch.
While some events could have been better organized, on the whole they're well publicized, and each event is given a separate time slot, whether it's the matches, competitions, events or inauguration of various handicraft stalls. There is plenty of activity happening even during the rest of the day. We happened to walk by an impromptu snake charmer-cum-magician where a huge crowd had gathered that hot afternoon. It's probably worth mentioning at this point that the heat of the desert, even in what may be considered peak winter, should not be underestimated by one. Less than an hour in the sun had me experiencing my first close-to-fainting episode! However, this also gave us an excuse to gorge on a plate of jalebis at the food stalls down the road, where there was also wide array of Rajasthani specialties. If nothing, the need for some reserve energy is a good enough excuse to indulge. There are also mouth-watering malpuas, if you venture a little further from the fair ground.
Evenings are reserved for cultural and religious celebrations. We spent some magical moments in Varah Ghaat by the Pushkar Lake for the Maha Aarti. Whether you are, a worshipper of Brahma or any God at all, you cannot deny that there is something heavenly about the sun setting over the lake, the water changing colours to match the crimson-turning-twilight sky, and temple bells ringing in the background, while the crowds gather by the steps of the temple. Needless to say, the 'no photography allowed' rule was openly flouted here and with good reason. But it's not just the lake that is so special about Pushkar. There's special lassi available too. The restaurants and tea stalls just around the Varah Ghaat area serve this on their menu, or upon request. If the winter sun is one thing that may catch you off guard, it's definitely the unnamed-special-ingredient-infused lassi that is the second. Sip slowly and prepare yourself for what I like to call 'the complete Pushkar experience.'
But be sure to keep some energy for the fair's events as well. Stock up on the sugary sweets, gorge on some pakodas and hot chai at the food stalls, before heading out to the days events. We got to see the turban tying and moustache competitions. While it is definitely amusing to see colourful cloths flying in a frenzy as the women hurriedly tied their partners what they hoped would be some semblance of a turban, it is the moustaches that are the highlight of the fair. Men travel far and wide to display their moustaches, which they have evidently been growing for a while. If these men haven't already broken an international record for the longest moustache, then they're definitely giving them some serious competition.
If you return from Pushkar via Ajmer, making a pit stop at Ajmer Sharif is very difficult. Unfortunately a plan to spend a good hour there was cut short by the Muharram processions, which we did not foresee. Nonetheless, the time we had to kill by our bus stop, spent amidst a tea stall and a small kirana store, watching the sunset, sipping chai and eating a hearty meal of bread-anda (bread and egg) was a nice way to unwind from the action-packed two days spent in Pushkar and bid farewell to Rajasthan.
This post was originally published on Saanya Gulati's website.