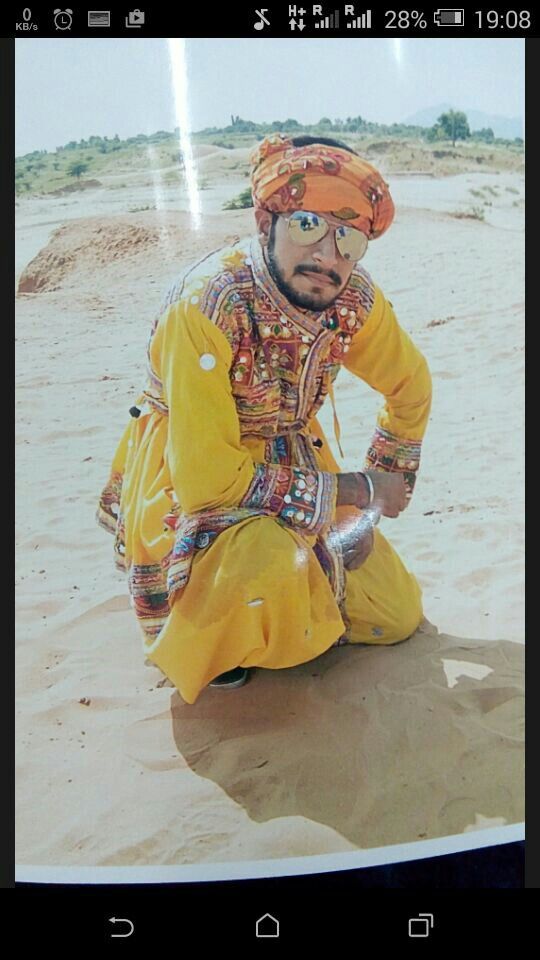 It was October 2018 and I decided to visit Ajmer for a day. Since my Grandfather used to travel very frequently there, so made my mind to explore once with one of my dearest friend (Maaz Khalid).
Since we are 9 to 5 people, so we mostly get time on weekends, so again I utilized my time in exploring. We caught the train(Yoga Express) on Saturday night(13th oct) at 9:30 pm from Delhi Sarai Rohilla Railway Station. I mostly prefer night journeys as it saves lots of your Time&Money. The ticket costs around Rs.600 for two.
We reached Ajmer at 7'o clock in the morning, since it was only a day trip, so didn't have to bother about hotel room, so we freshen up ourselves in the Public toilets and were ready at 08:00 am.
The Dargah Sharif is not much distant from Ajmer Railway Staion, so we reached by walking. It was weekend and there was heavy crowd walking all over you. I purchased that "Chaadar" and I entered inside. I could see the Langar being prepared for Devotees, which is only Sweet rice, no non vegetarian food. There was no Qawwali at that moment, since it starts after the Namaaz time. I completed my Darshan beautifully and left.
It was 10 am in the morning and we were damn hungry and we were in rajasthan so we went with Dal baati choorma amd Kachori costs Rs.100 for two. You will find the places to eat these around Dargah only. Our stomach was full and I said to Maaz,"Ab Shaam tak kuch ni khayenge". Since the trip wasn't planned much, but we knew Pushkar is around 25 km from Ajmer, and we can get our Lifetime Experience of "Camel Safari". We roamed around and asked the localides, how to go pushkar, how much money we'll be charged. It's important and wise to ask localides about the money you'll be charged, believe it saves a lot of your money. You will find only one option to go Pushkar is taxi, so after asking and bargaining, we hired a taxi for Rs.800 for to&fro journey.
Firstly, he took us to Brahma temple, the only temple of Lord Brahma in India. After that, we reached "Ana Sagar Lake" and instantly Maaz said "Are Bhai yeh kahan aa gye". The blue water surface you see, fresh air you receive is like you never want to leave that place. But after spending around 40 min, we left that place and reached our favourite Camel safari point. Again asked a few people and it is expensive a bit, they charge around Rs.2000 for two people, but we made it at Rs.1600 for two, 1 hour camel ride of 12km. So finally, I sat on the Camel for the first time and was getting Goosebumps, but the feeling was awesome, it scares you, makes you happy, an experience which everyone should take once in life and that's why I love travelling you keep doing new things and most importantly it "reduces no. of fears of your life". He stopped at 6km for a break or rest, pushkar is the point where the range of Thar Desert starts and wherever you see around, you will find only "Registaan". I tried traditional Rajasthani costumes as well to get some clicks and memories, charges around Rs.100. After that we back again for 6km and this completes our first "Camel Safari".
I said to my friend, " Maze aa gya Maazwa" and he laughed a bit. We sat in our taxi and were coming back now, left with only one point, that was Jain temple. But before that we asked him to stop at "Karni Maa Restaurant" and ordered Rajasthani thali costs for Rs.500 for two and was super delicious full of Rajasthani dishes. It was around 4:30 pm , we left and reached Jain temple at 5:30 pm, the temple is normal, but why people visit there, because of the view you see from the temple, is just awesome and since it was evening so it was looking more beautiful, we sat for 30 min and left and finally reached back to our starting point at 7'0 clock.
Now guess what, we didn't book our train tickets and there was no ticket available, so what Bus is also a nice option, especially when you get Ac chair car seats for Rs.600 for two after inquiring around 4-6 travel agents near Ajmer Railway station.
After booking our tickets, time was around 08:00 pm, and bus was at 10'0 clock, since we were little tired and were like," Thoda Dal chawal khayenge, fir Chai Piyenge". The dinner costs was around 250 for two including our chai.
The day was over and it was time to say goodbye to Ajmer, as Bus had arrived and when it started, I said in my mind, "Allah Hafiz Ajmer, Muraad puri hui toh dhaaga kholne zarur aaunga."
I reached Delhi ISBT at 7'0 clock in the morning and home at 08:00 am and back to office at 10: am as it was Monday. So if you travel like us, your trip will costs Rs.2200 per person.