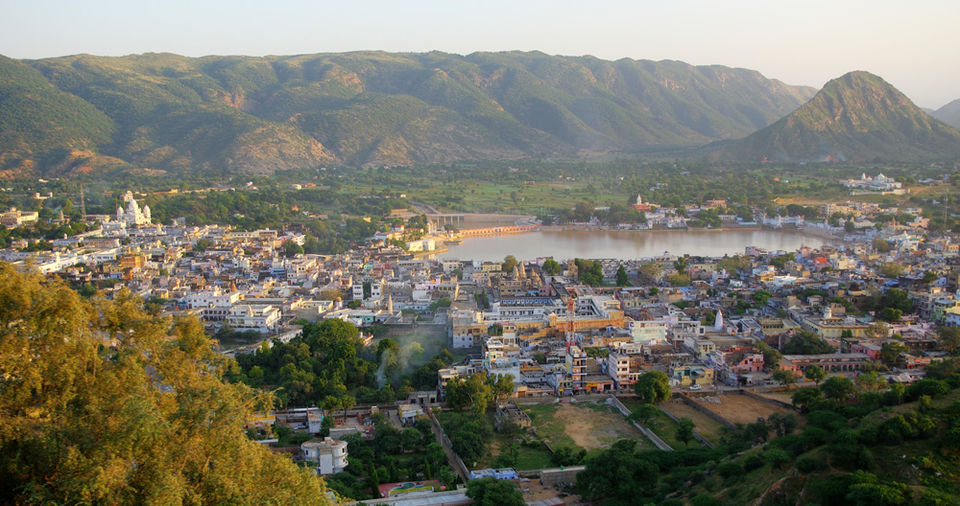 Why would an atheist traveller visit a place primarily popular for religious reasons? Probably because travellers need no god to satiate their soul; the quest to discover characteristic cultures of alien lands is what keeps them going.
Pushkar and Ajmer are great destinations for travellers and hobby anthropologists to extract spiritual emancipation from the surroundings. As an atheist, I found a major chunk of things to do and see during my recent trip to both these places over a weekend and here I am sharing the same with you.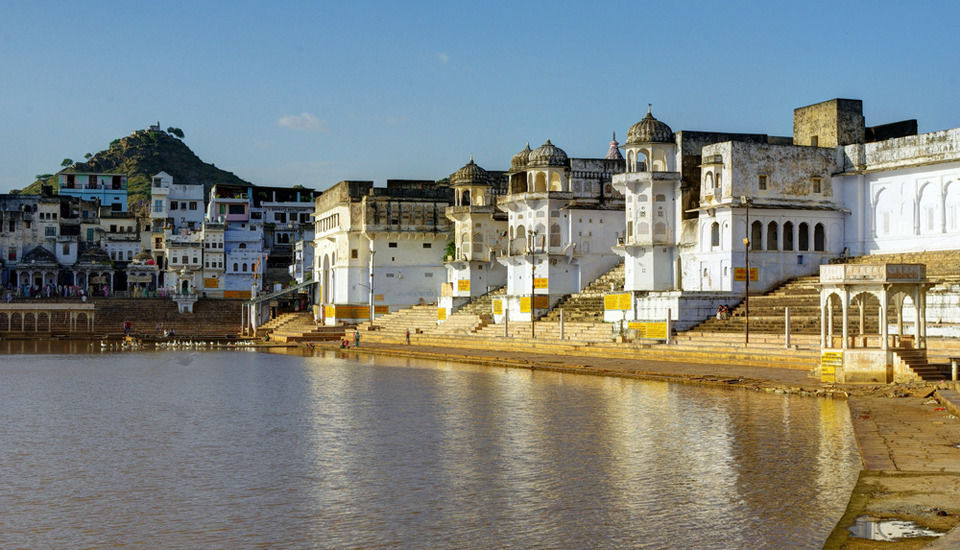 The airport closest to Pushkar is in Sanganer, which is 127km away and is not accessible from most major airports, hence if you're flying in, Jaipur will be the only viable option. You can then either drive in yourself or take a taxi or bus till Pushkar from there.
Break the fast
Once you have checked into a good hotel in Pushkar depending on your budget and requirements, head for breakfast. Since the city is frequented a lot by foreigners, there are some decent cafes serving international cuisines, and Laughing Buddha is right up there amongst the top lot. You can get a great sunny side up with black coffee by the side, or choose from other cuisine options such as Israeli, English, Continental, etc.
Where: Near Gua Ghat, Badi Basti, Pushkar
Phone: 081073 43625
How much: Rs. 800 for 2
Hours open: 11 AM – 10 PM
Chill by the Ghats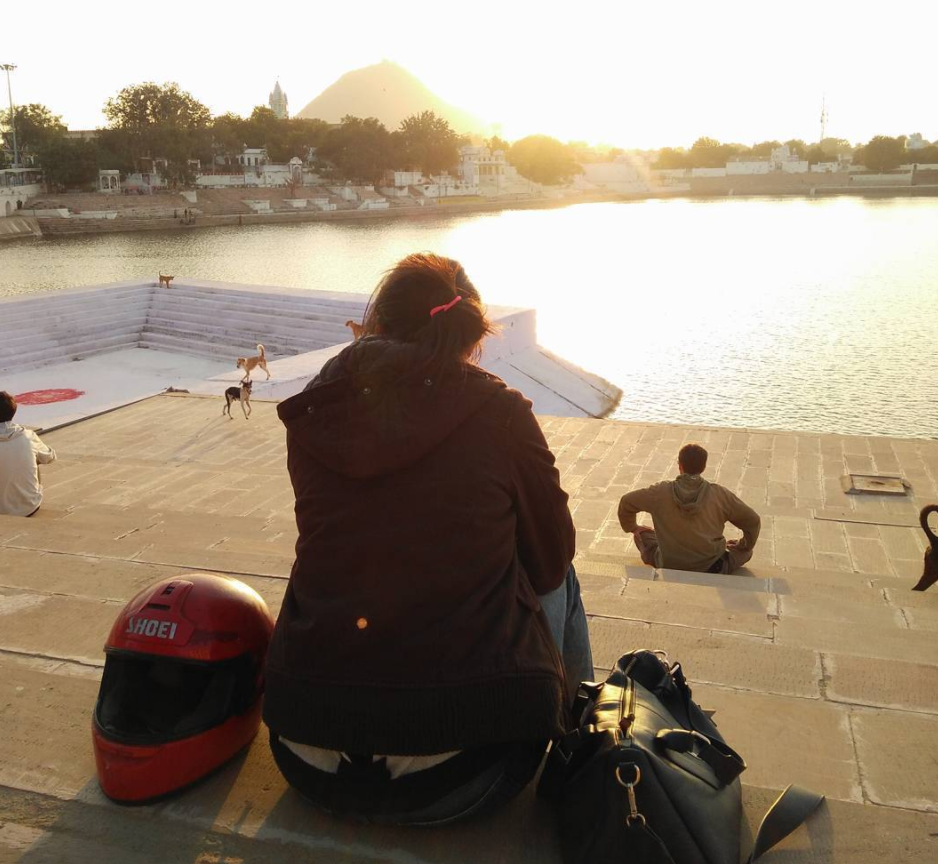 Well this is why you're here, isn't it... to chill and make merry? Step on to the semi-circular lane with 52 ghats adjacent to each other, and witness the majestic 22-sq-km Pushkar Lake. While you sit admiring the supposedly holy water body, a barrage of pandits will arrive to sell you the concept of a particular puja, which has the power to rid you of all your sins for an amount all of 20 bucks! If you're in the mood to have fun, you can hire one of the pandits to perform the puja for you; it's hilarious. Else, you can spend the afternoon gazing at the clear reflections of a hundred things on the lake's pristine waters.
Luncheon
You just can't afford to miss out on this gem, especially at a place like Pushkar where good pizzas are a rarity. La Pizzeria is situated in one of the many narrow lanes that you will encounter when you walk from the ghats towards the main Pushkar bus stand. As soon as you enter, you will be astonished at the grand courtyard, which would've been impossible to predict considering its humble facade. The place is professionally managed unlike most in Pushkar, and the pizzas come thin-crust by default. They look large, but are light on the stomach. Order a cold coffee on the side and you're set to face off with the Rajasthani sun for the rest of the day.
Where: Chhoti Basti, Pushkar
Phone: 099824 75601
How much: Rs. 700 for 2
Hours open: 10 AM - 11 PM
Rent a bike, chill around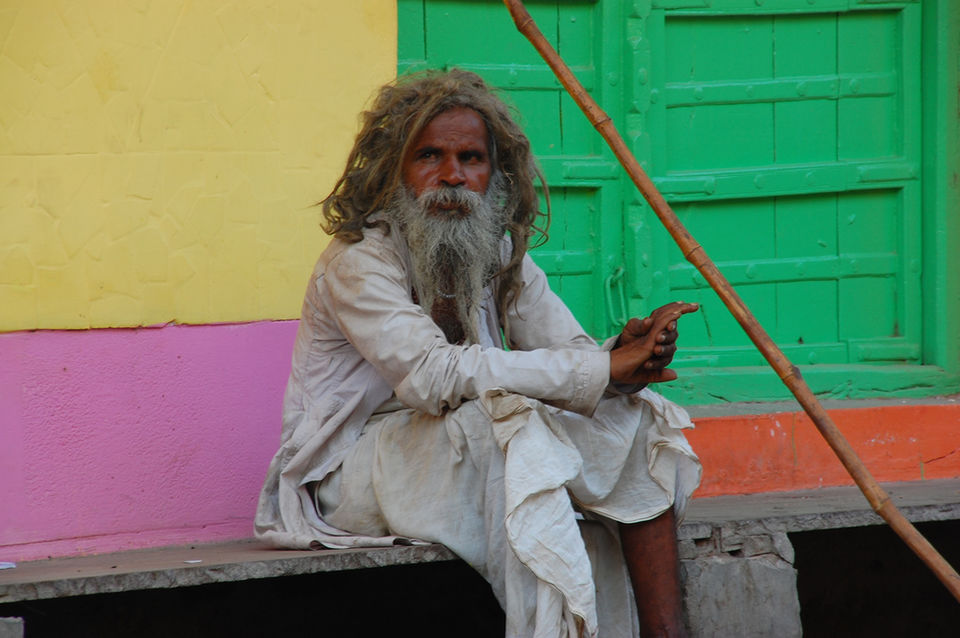 Just like in Goa, hiring an Activa or a bike is extremely easy in Pushkar. Ask anyone on the street and they will either make a call themselves or at least guide you to the nearest shop where you can hire one. It's a good idea since the Rajasthan sun can be punishing on prolonged exposure while walking and you can also go outside of Pushkar if you feel like on the bike. There are a handful of temples that you can visit to admire their fantastic architecture – Old Rangji Temple, Savitri Temple and the Pap Mochani Temple (which is located on the outskirts, but enables a great elevated view of the city and nearby mountains). There is also a market with several small shops selling all sorts of things ranging from spices to sweets, shawls to bongs, and what not. There's plenty that you can do till dusk.
Visit the Brahma Temple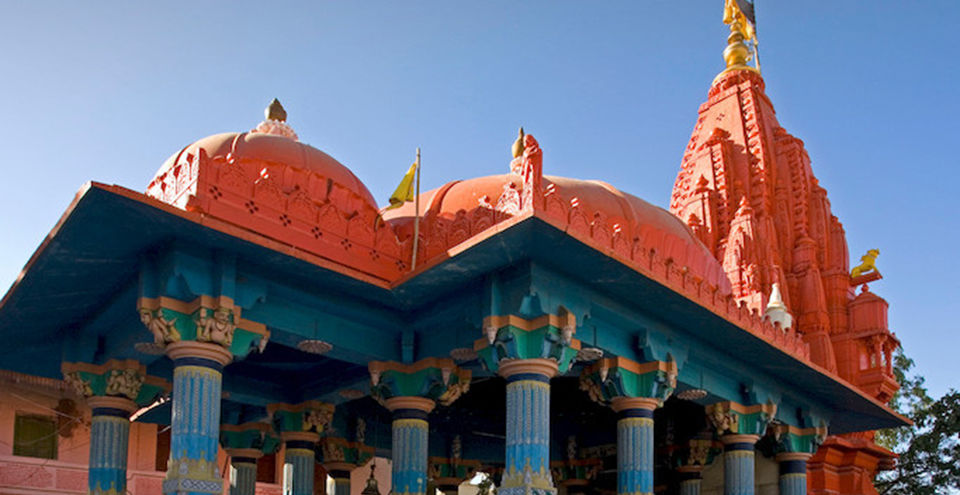 The reason why I am asking you to wait till the evening to visit the great Brahma Temple is because it becomes exponentially more beautiful when lit up by a million artificial lights. Since Pushkar is a small city, all roads seem like they are leading up to this temple at night, when one can witness the lights from miles away. The Jagatpita Brahma Mandir is one of the few existing temples dedicated to the creator, Brahma, according to Hindu mythology, but is definitely the most prominent of them. Located at an elevated platform, the temple's grand entrance arrives after taking a flight of tall stairs and the architecture is replete with canopies and pillars. Once inside, there are tiny temples dedicated to other gods as well, apart from the main Brahma idol. You can sit inside for hours observing people pray or simply staring out of the window on to the Pushkar Lake, which lights up beautifully at night.
Dinner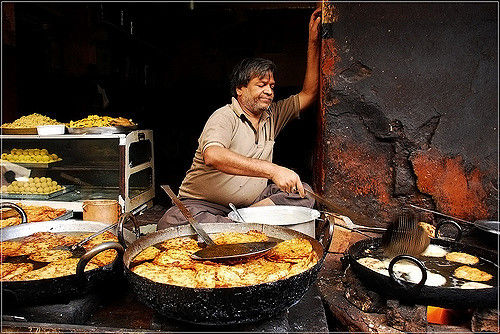 When in Rome, do as the Romans do. When in Rajasthan, do as the Rajasthanis do. If you Padharo Mhare Des, there is no way you aren't going to try the plethora of street sweets and kachoris filled with dal and onion. There are plenty of shops right outside the temple. You should eat from there and finish with either a glass of piping hot milk or rabri-jalebi to ensure a wonderful night sleep.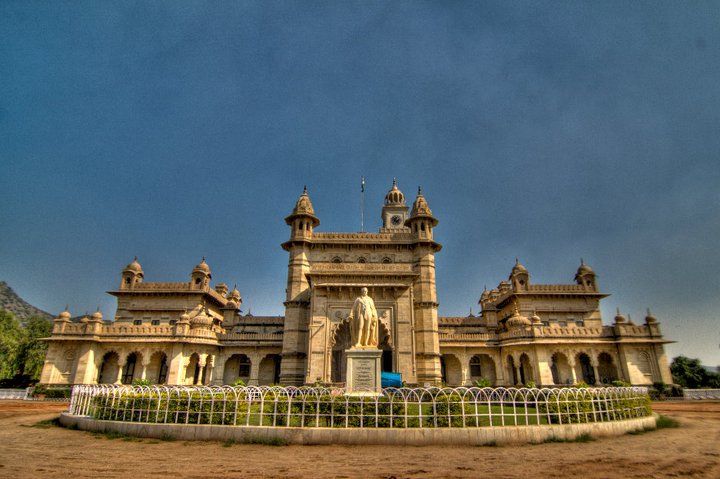 If you liked Pushkar, wait till you get to Ajmer. Since the distance between the two cities is merely half an hour long, one can easily cover the distance on a hired Activa. I recommend you start early because Ajmer gets really crowded on the weekends. You can check into a hotel before moving ahead with the day.
Visit the world-famous Ajmer dargah
If you reach early, before 9 AM, you should go directly to the Ajmer Dargah to avoid the impending weekend rush. If you manage to ride all the way to the main entrance, take a left turn just before it and park your vehicle in front of one of the shops where you plan to buy your flowers and chaadar from. It's a give-and-take. If you don't wish to spend any money on religious exploits, you should park your bike way before the road leading up to the mosque's entrance.
Once inside, you will see the crowd of people rushing towards a single room, which houses the shrine of Moinuddin Chishti, an Islamic scholar and philosopher. If you're an atheist, you will be entertained inadvertently since the guy standing right beside the shrine overlooking the proceedings will try to coax you into donating money. He does that to everyone, even women. The exit then opens up to a courtyard where the best qawwals sing praises of Chishti all throughout the day. Some of the songs are really melodious and you can spend some time sitting in the area. The overall architecture is reminiscent of the fine Mughal constructions up north.
Take a lunch break
This will probably be your first proper meal of the day and you want it to be filling. There is no place more beautiful and more capable of satisfying your hunger than the rooftop Ambrosia restaurant, which is a part of Hotel Ambassador. Inside, lovely tents provide shade, reminding you of desert camps. The restaurant is multi-cuisine and a live band plays at night, so you can even come back for a romantic dinner. They serve only halal meat.
Where: Ashok Marg, Civil Lines, Near Canara Bank, Nagina Bagh, Ajmer
Phone: 0145 242 5095
How much: Rs. 600 for 2
Hours open: 7 AM - 11 PM
Explore the city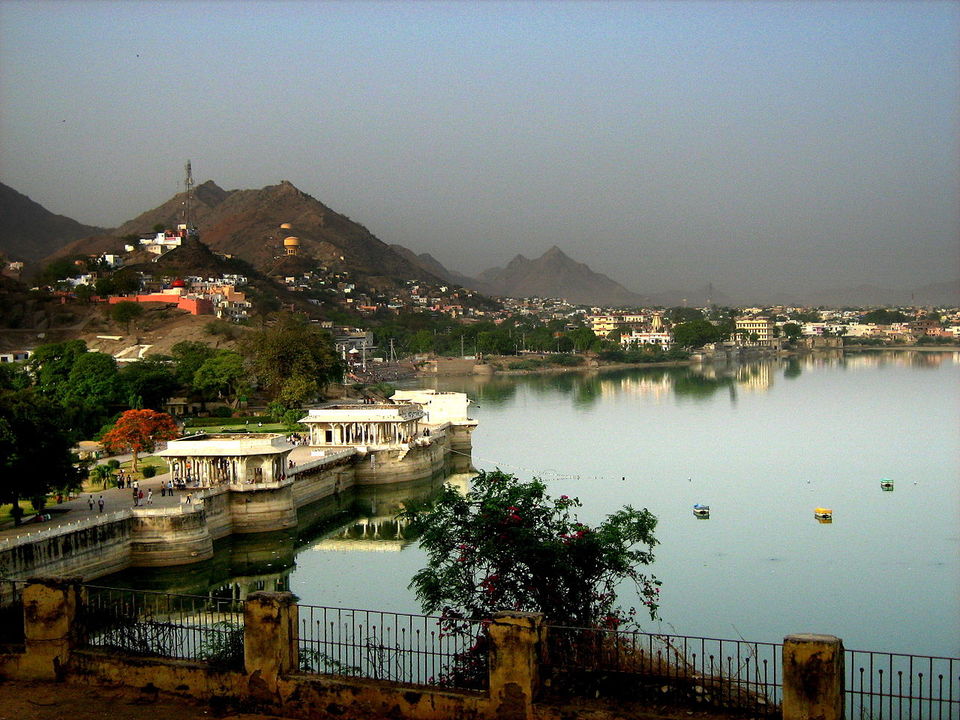 The city of Ajmer surrounds the gorgeous lake of Ana Sagar, which is visible from almost everywhere in the city. Since it's a place of terrific Islamic history and heritage, you will come across a flurry of shops selling religious souvenirs or just fresh meat. You can park your vehicle by the main entrance of the lake and go inside to relax for a while. There is also a public boat that takes you till a small island in the middle of the lake and back for a meagre ticket price. Later you can also visit the magnificent Jain Temple, which is royal golden in colour. Here you can experience the life and times of a completely different religious sect compared to the one you would have visited in the morning. Also, Ajmer's paani puri is famous far and wide, so you know what you need to try while loitering around.
Relish a Rajasthani thali to complete the sojourn
If you wish to experience the true flavours of Rajasthan, literally and metaphorically, try the delicious Rajasthani Thali (featuring the famous dal baati churma), the legendary Mango Masala Restaurant is where you should go. The restaurant is conveniently located 2km away from the dargah and the turnaround time is really quick because they serve a huge number of customers everyday. The thali arrives the quickest amongst all other orders.
Where: Kutchery Road, India Motors Circle, Ajmer
Phone: 0145 242 2786
How much: Rs. 700 for 2
Hours open: 9 AM - 11 PM
Head Back Home
If you follow the above itinerary, you will see why gods aren't necessary to find spiritual emancipation. Travelling alone can also help you attain nirvana.
And, if you've already been to Ajmer or Pushkar, why don't you also share your personal story with the world? Millions of travellers will benefit out of it.Frequent Searches Leading To This Page:-
Frequent Searches Leading To This Page:-
pushkar itinerary 1 day, top pushkar tour itinerary with price