This trip is special, rather the juncture at which it happened is special because it immediately happened after I had quit my job. I had quit on Monday and we started for the trip on Wednesday, all in quick succession so that I didn't have to think much about my decision. Add to it, it was a family trip so everyone was involved and not pissed with me going alone.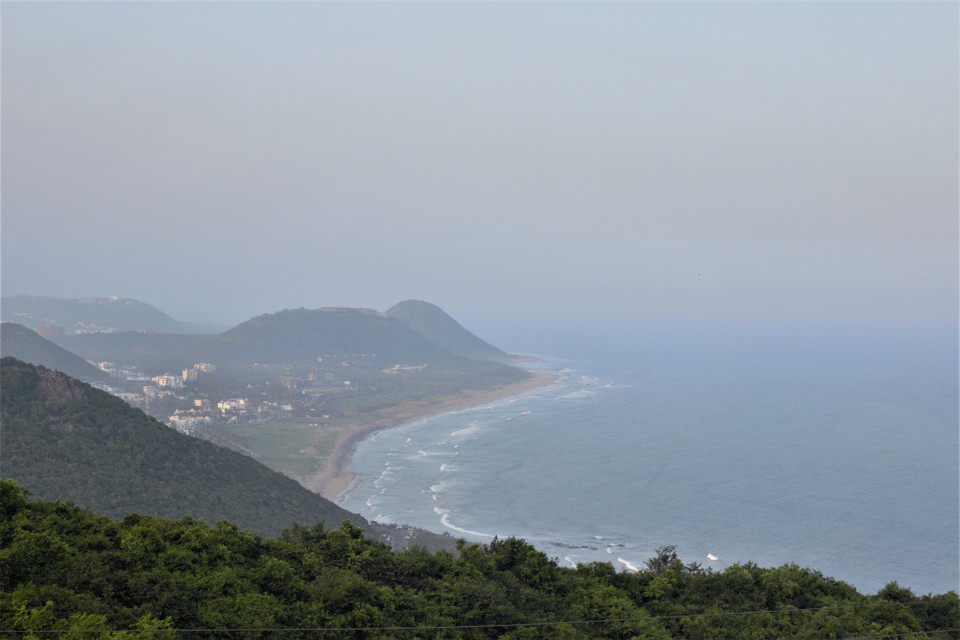 Day 0 - A Better Start
8/14/2019
Needless to say, we were all excited and as well as scared because we had booked our tickets in PDY BBS EXPRESS (12897). Any train which runs on East Coast would gives our family creeps because they had experienced the worst while returning from Puri in a train which comes from Bhubaneshwar. It was so damn crowded with literally no space to even keep our foot. But this time it wasn't, may be because it was a weekly train and starts from Pondicherry. Also, the timings were comfortably late so that everyone could reach there easily on a long weekend. Actually, it wasn't really like a long weekend, maybe it was just a national holiday and not a festive holiday.
As it was from Egmore, even that was an advantage, it wasn't overtly crowded like Central. We finished our packed dinner sitting in the platform. Thanks to the rains and traffic, I got hungry like hell and gobbled it up immediately. As we had finished dinner already, we slept as soon as we got on train.
Day 1 - Humid, Hungry yet Happening Day
8/15/2019
We reached late around noon and it took even more time to get cab. But our rooms at Hotel Amaravathi Residency was really spacious and comfortable so it didn't feel that bad once we checked in. We had skipped our breakfast and were damn hungry. So, we were quickly surfing the net to check good non veg restaurants nearby. The people in reception suggested New Satyam Multicuisine Restaurant & Takeaway opposite to the restaurant. Generally, people in hotel suggest nearby restaurants so I was a bit skeptical. But even the ratings of restaurant were good and few others too suggested the same restaurant.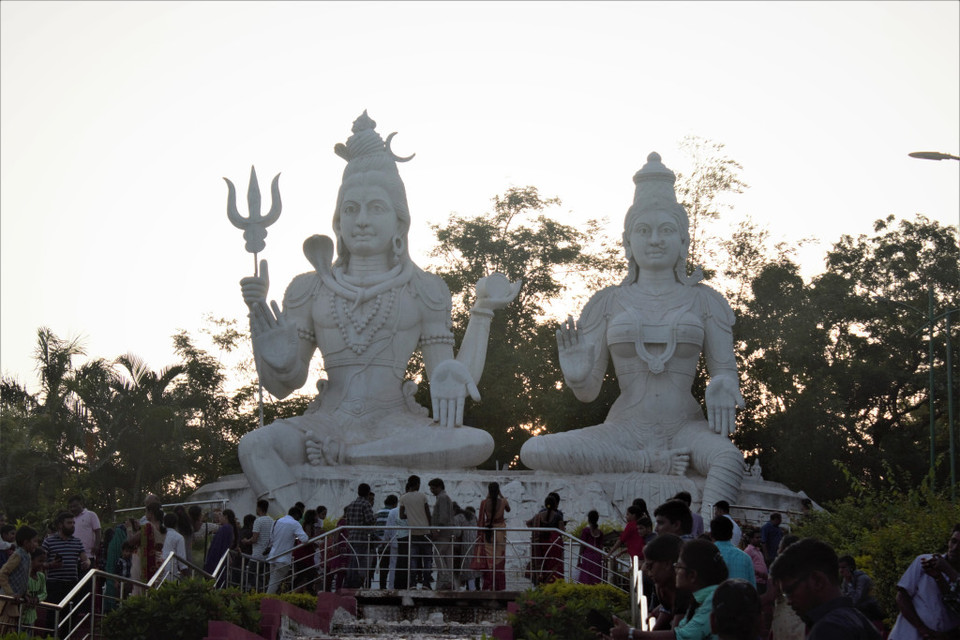 After being completely satisfied with the food we set out for sightseeing. We booked an Ola Cab in package and got Mahindra Marazzo. The car was excellent. We first went to Kailasagiri which had a ropeway to the top where there was a Shiva Parvathi Idol, a park, a toy train and few eateries. Along with it a great view of the RK Beach. It's a place where you'll like it if you are a local, to come on a weekend and relax, not when you are on a hurried sightseeing. Plus, it was really humid there. Anyways luckily, we went during sunset, so, to watch the sunset from cable car was awesome.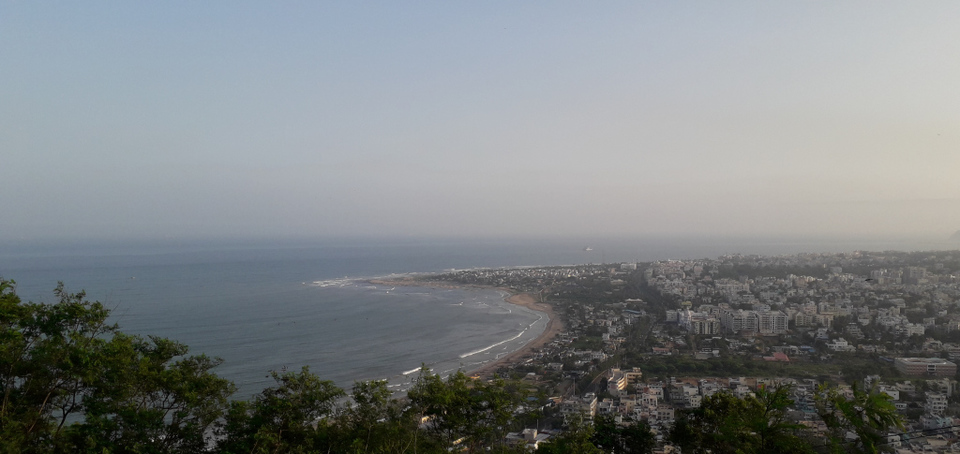 From there we saw Tenneti Park from car which was another crowded beach along the sea shore. We proceeded to the beach road from there and visited Visakha Museum almost near the closing time. It had information about naval/coastal details of Vizag, as we were hurrying, couldn't read/enjoy much. Plus, there was no AC so it was horrible inside.
We went to the much-awaited Submarine Museum and got to know that it was closed that day as there was no power. We were disappointed but went to the Tu 142 Aircraft Muesum which was a surprisingly fun museum with real aircraft. To know how the aircraft was designed like a bird and how they empty the fuel for landing was an interesting story. More than anything else, the place looked fun as it was a real aircraft. The VR zone in front of the museum too was nice. Finally, to complete the sightseeing we went to Kali Mata Temple near the end of the beach, a pleasant breezy sea side temple.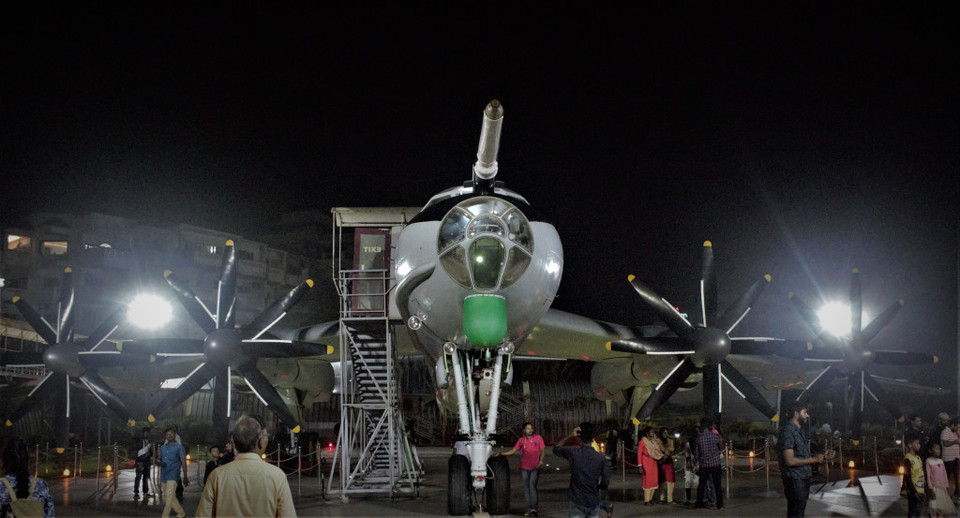 There were lots of autos and taxis around and we got into an Innova which agreed to drop us at our Hotel for just fifty rupees. He also gave his number to contact for sightseeing. But that day people there suggested that it was late already, so after freshening up we decided to go just to nearby places. We had lunch in one horrible restaurant near to the hotel and went out.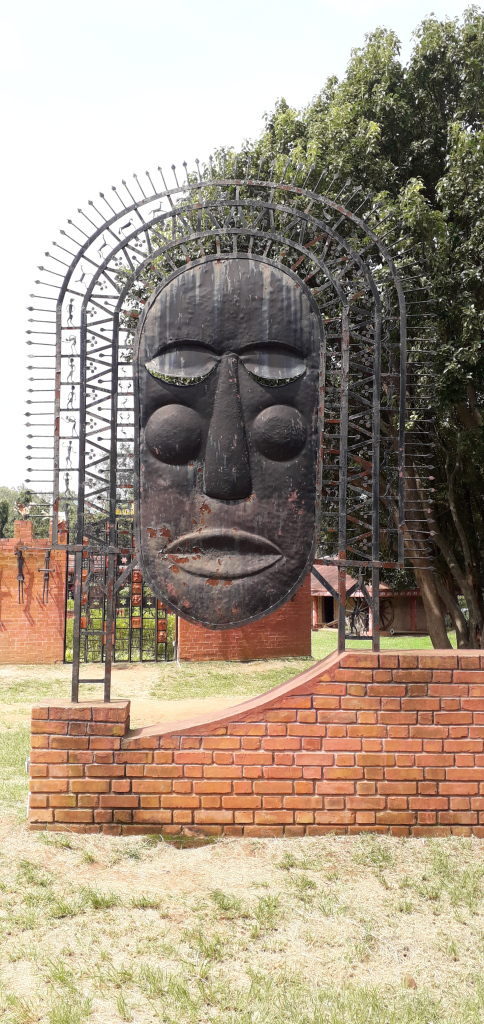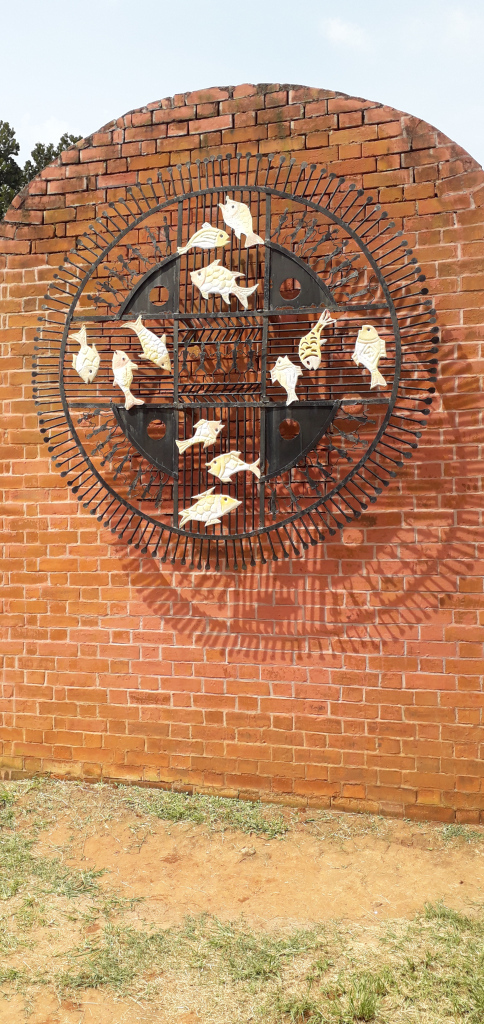 First, we went to Museum of Tribal Arts which was very near the hotel and had good collection of arts and craft, the sculptures and idols there were superbly crafted. Looked like real. Photo worthy place. Thank god it was not hot that day, otherwise it would have been very tough to check out the place. We finished it with awesome coffee inside and over the top halwa outside.
Our next stop, Padmapuram Gardens was a huge botanical garden with absolutely no crowd and also had a toy train, we took a walk around the garden which got us tired and thirsty. We came out and had tea and vada in nearby shop which was great.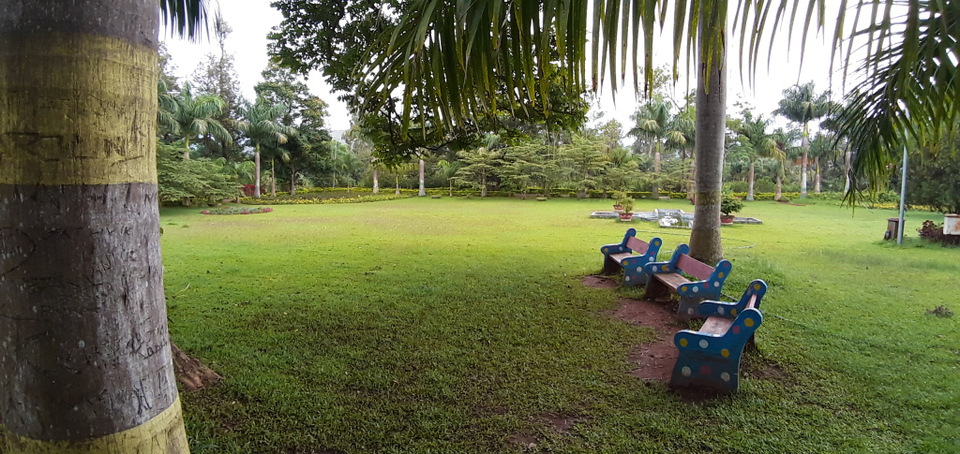 Finally, and surprisingly our day was made at Coffee Museum, looks like it was a recent museum, it was very well maintained and had lots of different types of coffee. We tasted one and it was really good. There were also a number of chocolates and other edibles with coffee flavor. Just the aroma of it made my day. A must visit for any coffee lover.
We went back to room and rested for some time before going to dinner. Parents had dinner at the same horrible restaurant as nothing else was available. We had an awesome kebab stick and jelabi and the most awaited dish of the day, Bongulu Chicken. We also had Biryani with it. It was really good but was very spicy and we ate too much to really relish. If we had ate less it'd have been still more awesome. So, if you are planning to go to Araku, going out at night and trying these dishes are the only good things you can do at Araku.
Day 3 - Boring to Borra
8/17/2019
I woke up with a headache and was very tired too. Don't know why. I wasn't in a mood to go to Borra. They cost Rs. 3000 to just visit that one place. Totally worthless in my opinion. But others were interested and we got our driver of previous day to take us there for Rs. 2500 so we set off after complimentary breakfast at Haritha.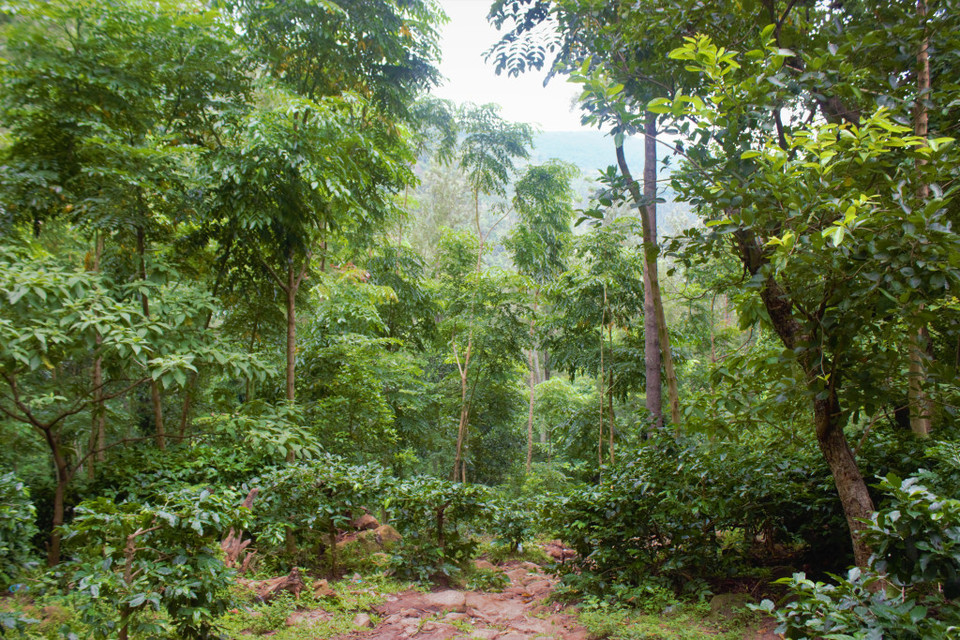 It was overtly crowded with no place to sit. Everyone was in a hurry. But none got cab on time. Food was decent. We took some photos around the resort and got on cab. En route we visited Anantagiri Coffee Plantation which was a nothing spot. We bought some spices in the road side stalls as prices seemed nominal and also had coffee which was horrible.
From there we went to Galikonda View Point where the view of the valley was wonderful but the sun was beating so it was hard to take any good photos there. Again, the bamboo chicken and stick chicken were tempting. But as I've had enough of it, I decided to skip.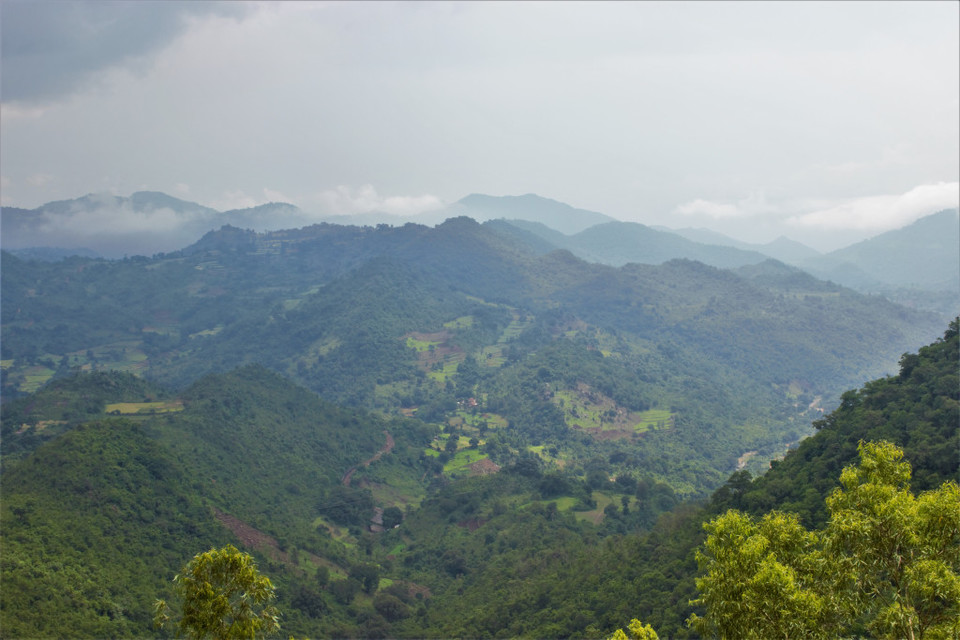 After around an hour with great views on the sides we finally went to Borra Caves, we had to take few steps down and as luggage was allowed inside and Phones, Cameras were payable, we deposited them there. Once we got all the formalities done, we went inside. It was again hugely crowded and I wasn't interested but as we went deep inside the place was awesome. Lightings were great too. We even took a family photo there and came out satisfied.
We had lunch in a nearby restaurant. Bamboo Biryani was really good but not sure whether it was made really by stuffing it inside. Meals was average. We asked our driver to stop at bus stop. He charged two hundred more and collected Rs. 2700 in total. We were pissed. He told it'd be Rs. 2700 only if we return back to the hotel but changed his word there.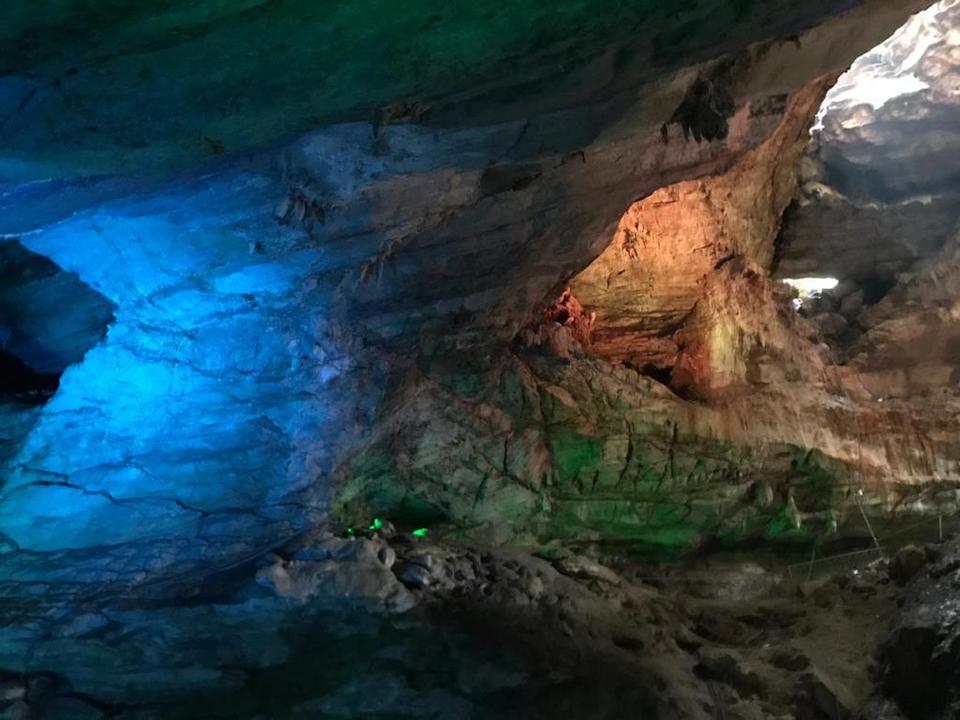 It was a really long journey and we reached Vizag around 6 PM and checked in horrible Vani Lodge. Good thing about being in bad hotels is that you don't want to stay more than some time. So immediately we got ready and went to INS Kurusura Submarine Museum, because there was some politician there, we had to wait for half an hour. But the Museum was worth it. Otherwise how we'd get a chance to be inside a submarine. As I had watched Das Boot only few weeks before I could feel how it'd be to be inside. So claustrophobic.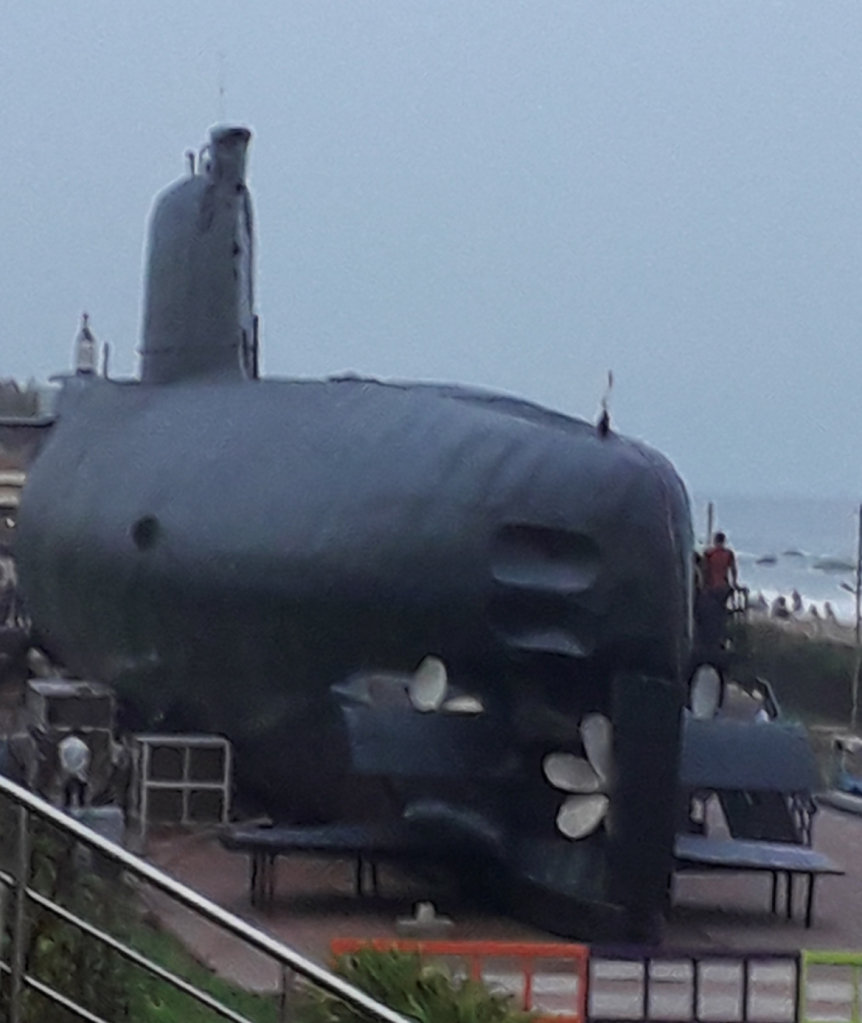 The plan for the day was to just get up, eat and get into the train but as the room was really bad, we couldn't sleep beyond a point. We asked locals out there whether it'd be possible to visit Simmachalam Temple and come back to catch the train. They were affirmative about it. So, we again booked Ola and went to Varaha Lakshmi Narasimha temple, Simhachalam. The drive was lovely, weather was good and temple was awesome.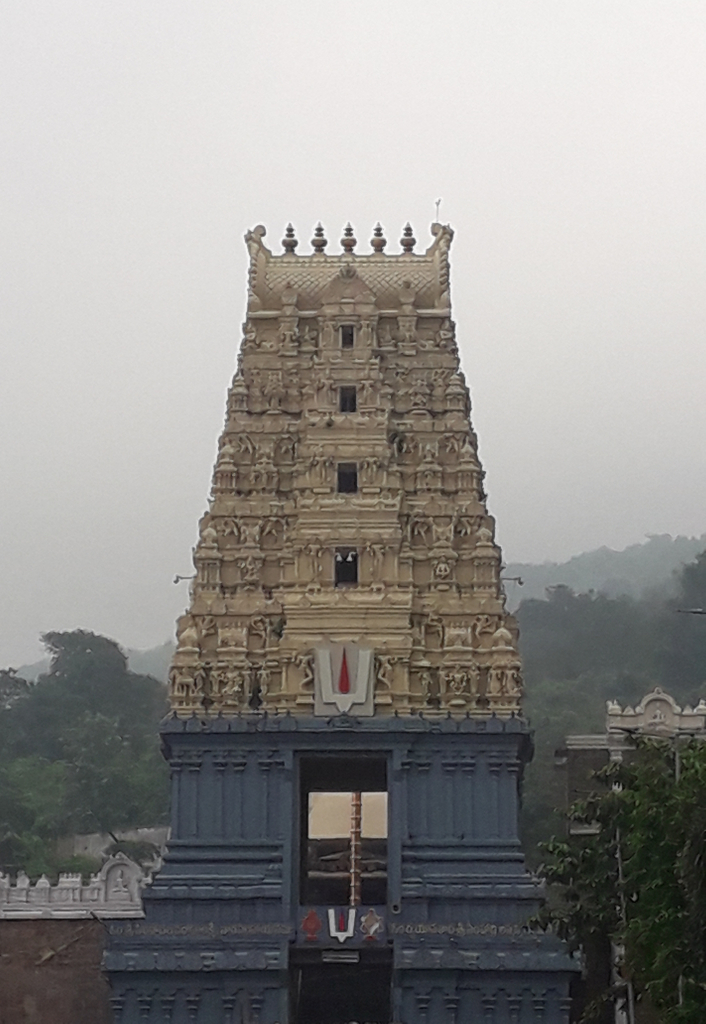 The location in map was slightly different so I had to walk to the street behind the restaurant to check. After confirming that nothing was there, we came to the front door which was crowded like hell. But had a gut feeling that food would be good there. The ambience was like a bar with dim lightings and bartenders. Only that he was making mocktails here.
In the waiting time we did some window surfing of food and also checked the menu so that we would not waste much time to order. We ordered different types of Biryani and sides. Except for Fish Pulusu we absolutely loved everything. My dad generally doesn't enjoy food that much but even he said, that specific lunch was worth the trip. That's how good it was. Especially that Ulava Charu Biryani, none in our family would forget it.
We wanted to have dinner at Sri Sairam Parlour but it was crowded beyond words so had something near our hotel where the food was horrible but the roadside Falooda and Badam Milk made for it. We also packed a Fruit Biscuit and Cheese Balls from Karachi Bakery for the next day's trip to Araku.
Day 2 - Abominable Araku
8/16/2019
I like keeping these silly rhythmic titles. Even though silly, it's fun. And this word suited to the T. Ever since watching 'Abominable Bride' I got stuck to this word. So, with lot of expectations we started for our Araku trip. Like many suggested, we took the train. We started early from out hotel and the Room Boys (read as Mens) helped us in getting auto and each collected Rs. 20 as tip. Something which is annoying in small hotels. The auto reached within few minutes and we waited in station for long for train to come. The train was late and got full immediately. Guess there were a lot of unreserved tickets too. And that was the train which had that glass opening. Guess it has been discontinued now.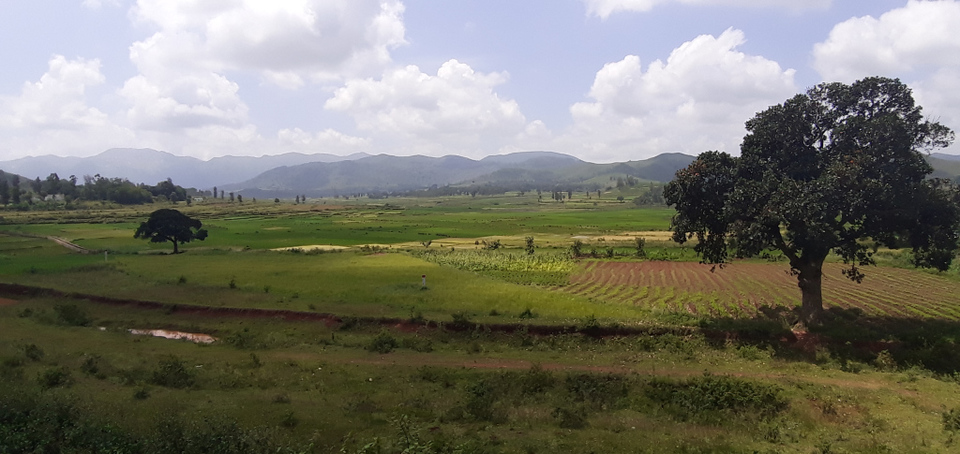 We boarded the train along with a huge Bengali family who almost took half the compartment. It was a passenger train and as it went up the breeze became cooler and space became wider. There was good scenery all around. But nothing extraordinary like it was hyped. There were various tunnels and people were enthusiastic about them. Again, nothing extraordinary as hyped. We reached there in about 4 hours.
We got the bus in few minutes and it was one hell of a ride. The driver doubled up as conductor and took care of our tickets. But to take money out of pocket and get tickets was such a herculean task. My dad took care of it. I was put into the task of loading luggage on top. After a few failed attempts I succeeded finally.
We had dinner in the dosa shop opposite the beach, food was terrific there. Guess it was a newly opened restaurant. Took cab from there and reached hotel within minutes. We were dead tired and slept immediately.
Day 4 - Spiritual End
8/18/2019
The driver tried to cheat us by hundred rupees saying that as it's on the hills we had to pay more but we didn't. We went early to catch the train. Tried to order lunch from Sathyam restaurant but swiggy/Zomato both didn't respond so had in the IRCTC canteen. Food was average. Mom bought Mango Jelly which was famous there. We loved it.
We had dinner in some station and went back to sleep. This train was crowded as expected with lot of open tickets inside but we've seen the worst so it didn't deter us from sound sleep. We reached early morning on time and reached home before sunrise.
Even though it wasn't a great trip, there is nothing called as a bad place when it comes to travelling.