A cousin's trip had always been a plan unfulfilled for me and it happened finally with another trip which I've been planning for a while. Dandeli, a place I finally decided that I'd go for rafting. Did it or didn't it, look down below...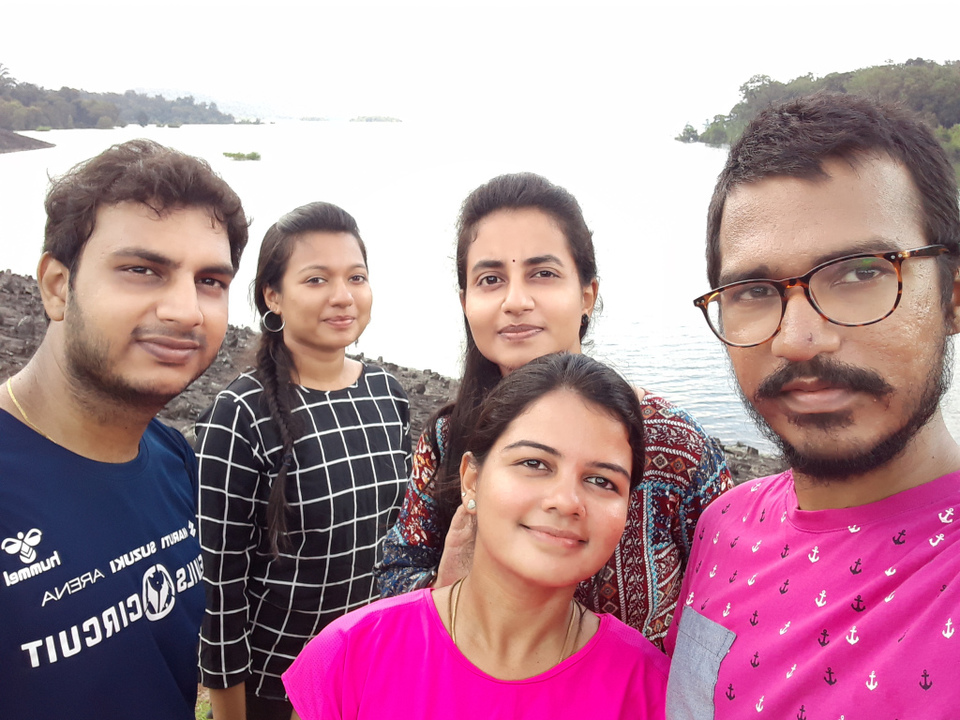 Day 0: Goan Train
We took the much-famed scenic route MAS VASCO EXP (17311) for our trip to Dandeli. I initially thought of going by my regular afternoon train to Bangalore and take a bus from there but with this train I could get even more close to Dandeli with less train and lesser strain. So, we took this train and decided to go till Dharwar. The train was at 3 PM from Central so we had to depart as soon as we had lunch, but for safer side we got packed lunch from home too along with the dinner. In spite of that, Yoga wanted to have lunch as she had come direct from office. So, we decided to get Sambar Rice and Lemon Rice from my favourite restaurant, ID. A high cost, low quantity restaurant. But that was guilty pleasure so I liked it. We reached well on time and filled all our water bottles. Within an hours' time emptied and refilled it couple of times. After having our lunch twice, water bottles filled thrice and eating ice cream, the train finally set off. It wasn't crowded at all. We had the whole coupe to ourselves.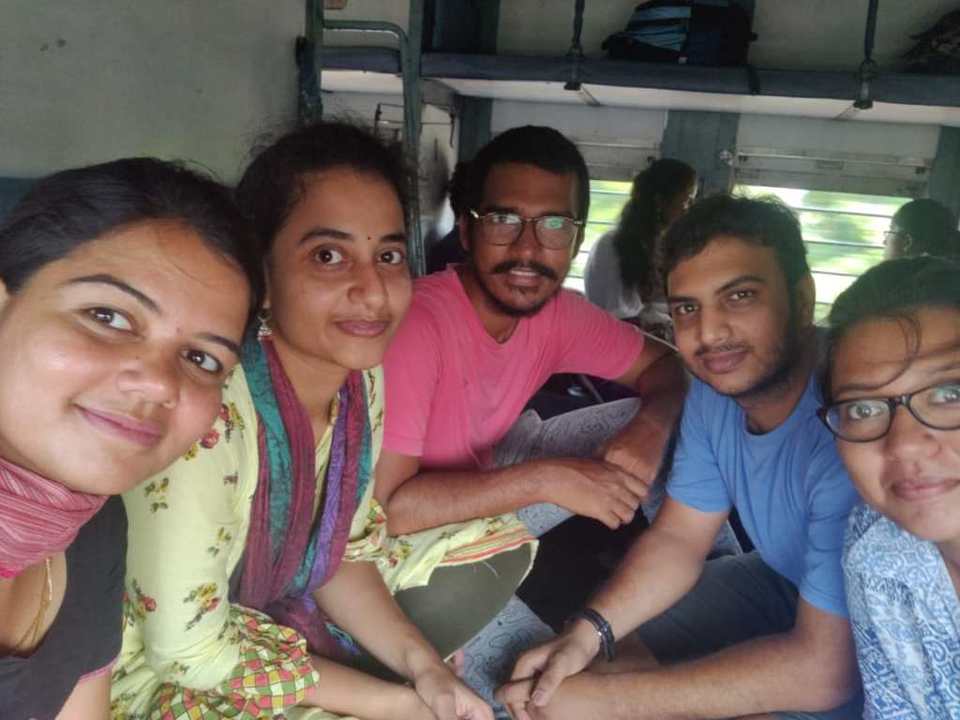 Once the train started, we were eagerly waiting for snacks but didn't get anything for a while. Only then did we know that the train doesn't have a pantry. That was a disaster. So, we started off with playing hand Uno, Discovery and various other trek games which I learnt the previous week. We obviously got bored within a while. Thanks to the Aadith's speaker, we could listen to songs during travel. That was the major time pass. Then came the snack called 'Time Pass'. It's like everything under a roof which are crunchy, spicy and highly unhealthy which means it'd definitely be tasty. We bought a few of those time passes and passed time for few minutes. I was feeling sleepy and developing headache because of the high humidity but I couldn't sleep. I tried to relax for a few minutes and then had tea (something I never have on train). But as the train didn't have a pantry and it wasn't a dip tea like usual, I risked it. It ended up to be great.
Immediately after tea I insisted on having dinner as I wanted to sleep. So had an early dinner around 8 PM after watching the Bangalore traffic through train's windows. The weather was cold in Bangalore. We got down to buy water bottles. Once that was done, I immediately slept.
Day 1: Dharwar to Dandeli
10/5/2019

I woke up around 7 AM to the sounds of Peda sold everywhere. I was doubtful whether we had reached Dharwar but it was Hubballi where the train was stopping for a long time. Had another amazing tea there. The next station was Dharwar so I woke up the remaining people too. The early morning scenery from Dharwar to Dandeli was brilliant. A couple of TTE's boarded the train at Hubballi, to whom we asked whether our plan to reach Dandeli from Dharwar was right. They replied in affirmation.
The train reached Dharwar right on time. We got down to an empty station. It was cold there too. The ladies insisted on brushing the teeth. They did. One gent used just the mouth wash and I not even that. What big deal in brushing the teeth when you're travelling?
We took an auto from Dharwar to Jubilee Circle and had breakfast in a hole in the wall shop. We just missed a bus to Dandeli and had to wait for another half an hour for the next bus. It was extremely crowded but we were lucky to get seats for all five of us. We got the last row and somehow found a place for bags too. I was having headache and slight fever from the morning which was getting worse with time. Even in the bus the sun was beating down heavily. As I was sitting in the last row of the bus, the suns rays were falling directly on my head, which was making the situation worse.
The resort owner called us to know about our whereabouts and asked us to call him once we reach a place called Haliyal. Dandeli was a good couple of hours from Dharwar. The bus was crowded almost during the entire duration. I alerted them once I reached Haliyal. They said they'd be ready with jeep near the place we get down. We got down at some circle which he mentioned and met them. The jeep was a good old one but was spacious enough for all of us.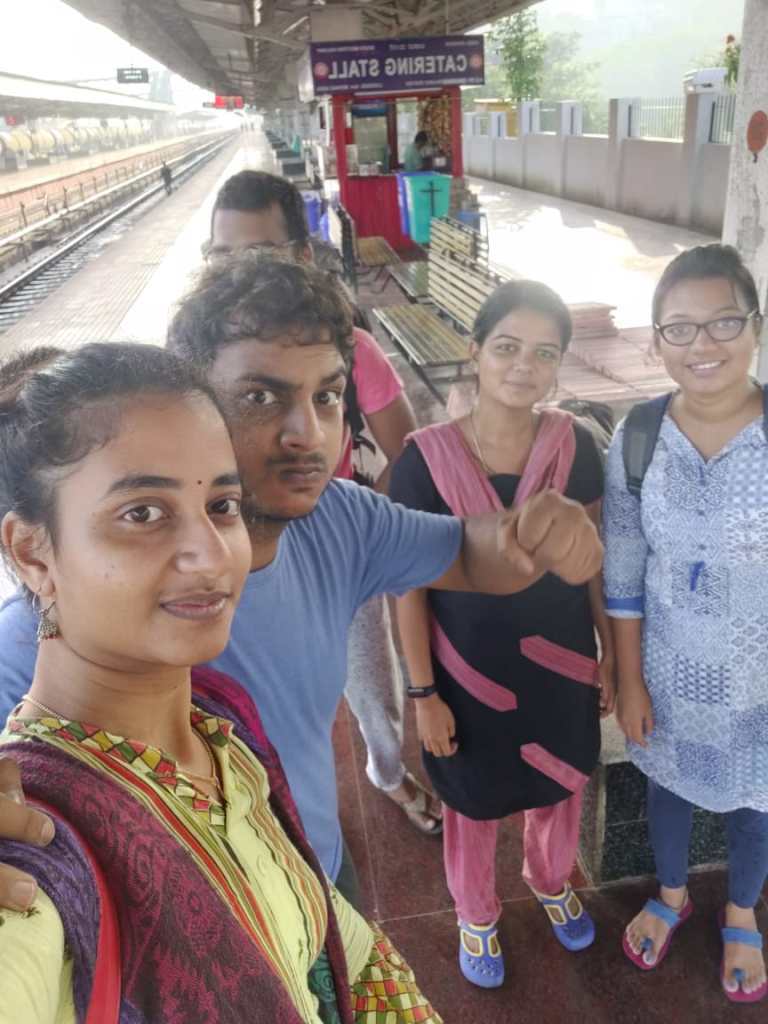 The room ( Shobha Villa) was nearer than we expected. It was like a dormitory built on terrace. Extremely spacious. It'd be a great fit for a bigger group but we had like eight beds just for ourselves and also a couple of bathrooms, both Indian and Western style.
We were told that there wasn't much we could do that day so we first started to Syntheri Rocks which was such a dud. The travel took a lot of time inside the jungle. Everyone was dead tired so we all were feeling sleepy. And to top it the place was horrible. So, it was a disappointing experience. All our thoughts were for lunch from there.
It took another half an hour to reach the lunch point, which was near a dam. The lunch was very average. We had it in a local shack nearby. Before going to the dam, we had Kokum Juice which was terrific. I'd have preferred the cold one on any other day but as I had headache, I had the hot one. It was a refreshing drink. The Supa Dam was a great place to spend some leisure time and take photos. As we had the whole dam for ourselves, everyone was busy clicking. On top of it the weather was overcast and was drizzling, so it was an icing on the cake.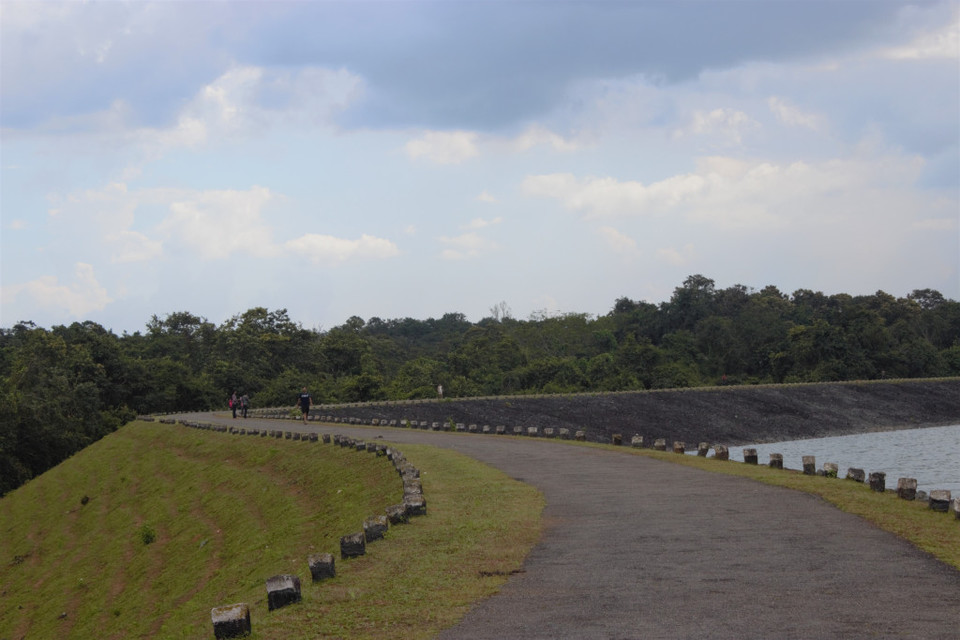 Next was our favourite activity of the day, adventure sports. It started raining heavy once we reached the adventure sports stop. So, we had to wait a good fifteen minutes in the jeep. We went inside and saw various activities like zip line, rafting, zorbing etc. After having a look at that we were disappointed with most of it, rafting especially for which we came. It was just one rock. After having seen rafting in Manali, Dandeli rapids looked so meek. They say it all depends on opening of reservoir gates but I don't think it would be good anytime. So, decided to not go for it. Aadith wanted to try Kayaking, which he did and they both went to zip line. All the while we had to avoid the guy there who was forcing us to buy tickets. So, it was a horrible experience there.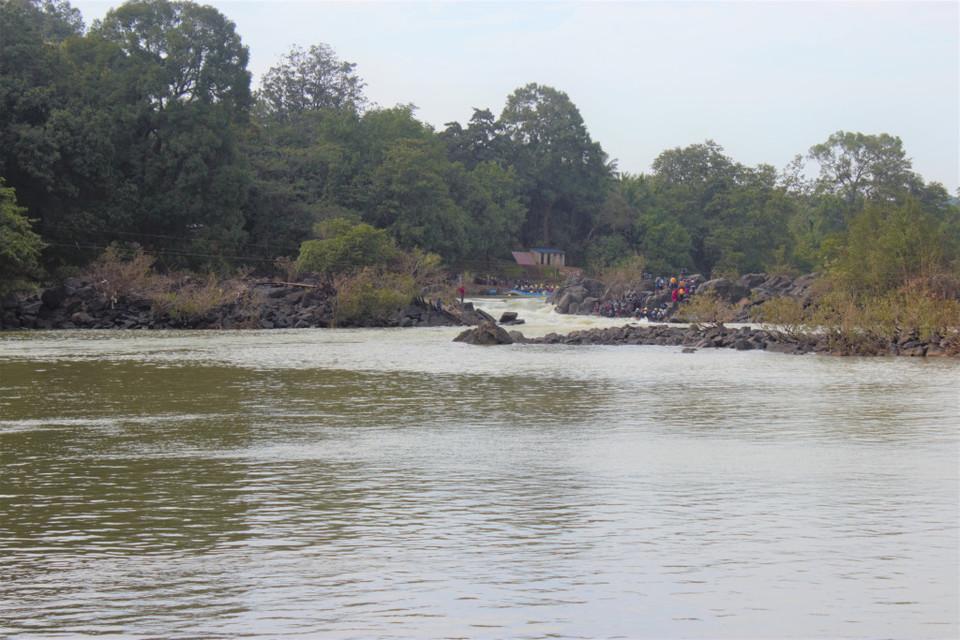 From there we stopped for a place where we had tea, Maggi and 'n' number of snacks. I started feeling better. We also stopped for photo at another view point of the dam where people were catching fish. It was great to view sunset from there. With that our activities for the day was over. With the sun setting and our jeep going through the village side of Dandeli, the setting was amazing. It was a treat to watch the place in golden hour. By then my headache was completely gone so I could enjoy the surrounding.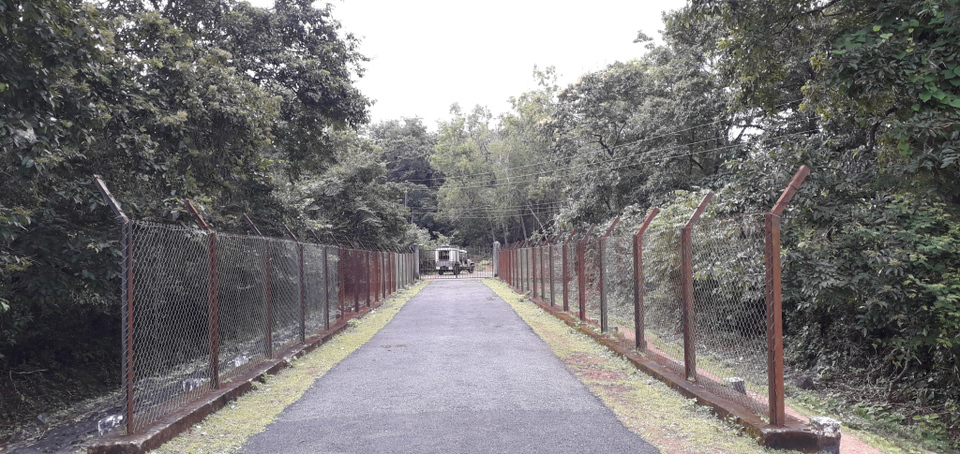 We were dropped back to the room around 6 PM and told the jeep driver to pick us up for dinner at 8 PM. After relaxing a bit, we had food at a vegetarian restaurant which was average. We came back to our room and slept tight.
Day 2: From a lazy rainy morning to an evening of adventure ride
10/5/2019
We didn't have any plans for the next day. There was one jungle safari for which we were supposed to get up at 5 AM so naturally we decided against it. All of us woke up quite late. When I woke up for loo at night it was raining cats and dogs. As it was just asbestos sheet on top of us, the sound was heavy and scary but it was thrilling too. Anyways we were all very tired to even feel scared so had a good night's sleep and discussed that only in the morning.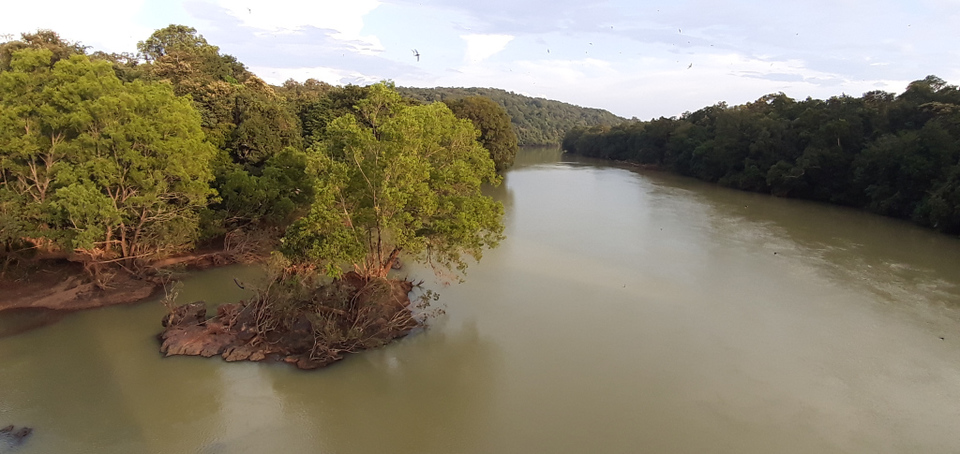 We had ordered an in-house breakfast for the day as we didn't have any plans to go out and we knew that we'd be getting up late. Dosa and chenna was amazing. Coffee was vera level. I had like five cups. Good that it came in flask. It was total VFM. With the rains lashing and pigs roaming here and there, the place was a treat to watch. We had a good view from our room as it was on terrace. By the way, I forgot to mention about the number of pigs in Dandeli, that's quite a surprise to see. It was like how you find stray dogs anywhere else in India. So many of them.
We took all the time in the world to get ready and go for lunch. We had at a place called Hotel Kalpana which was super crowded but served great non veg food. It looked like the whole of Dandeli was there to have lunch. In a way we could pass time there as the service was extremely slow. So, by the time we finished lunch it was close to 4 PM. So, all we had to do was to go back to the room, pick up the luggage and board the bus.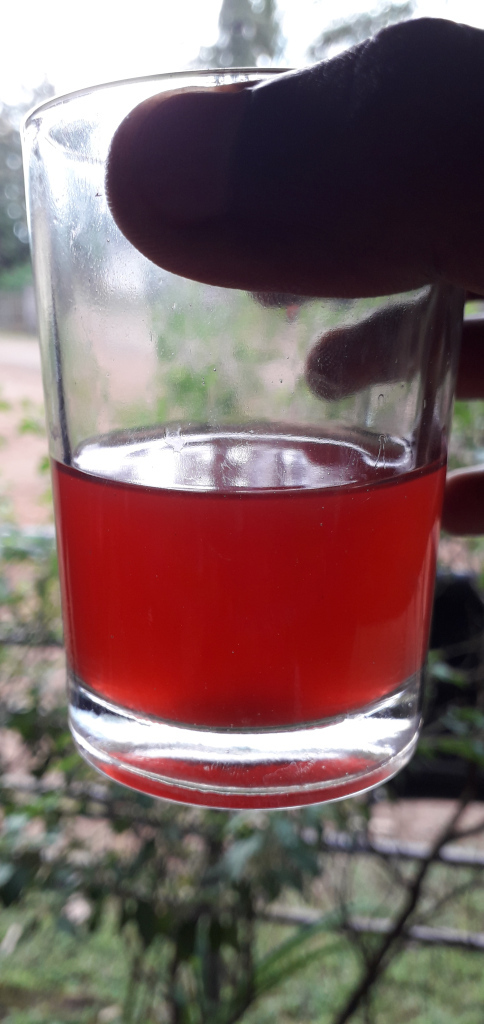 We walked all the way from room to bus stand, eating ice cream on the way, bus was super-duper crowded. It didn't even look like a reserved bus. In a while, we got to know that the crowd could be due to the fact that it was a festive weekend and people from nearby villages had come there to buy rations for the festival.
Thankfully the crowd dispersed in a couple of hours and we had place to breath. The ride from there through the jungle was terrific. There were people behind who were commenting that it was like rafting. With only the headlight views, looking at the road felt dangerous or in other word, adventurous. We loved the experience. We also spotted few deer en route.
We scrounged for dinner around the night time but ended up having only tender coconut water and some stuff from bakery. The bus freed entirely once it reached Shimoga. I remembered having an amazing badam milk there so had it again. It felt awesome at midnight. Also, there were shops in market which was still open like the Diwali eve shops which open throughout the night in Madurai.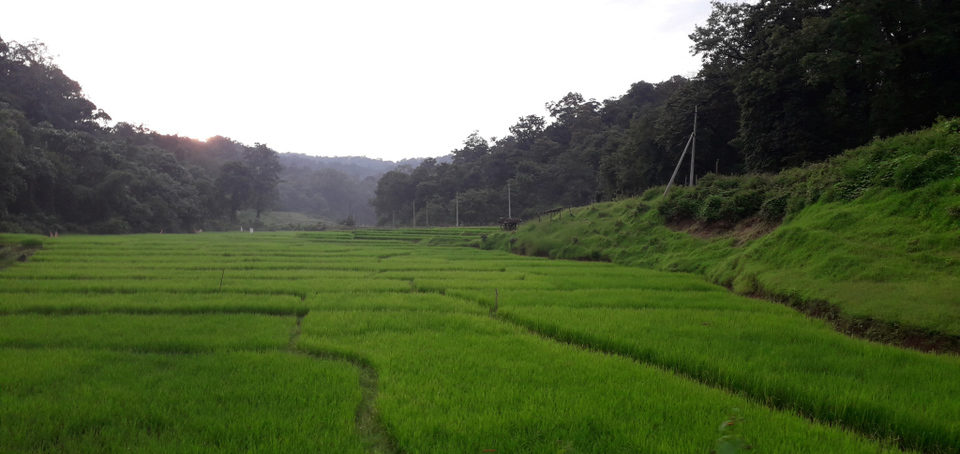 It was not a pleasant night but an eventful one.
Day 3: Bangalore Day
10/7/2019
Bangalore is one of the great guilty pleasure regions for me. Most of the last days of my treks end up there as I wouldn't be having a direct option to go to my option. So just lounging and relaxing would be the order of the day for most part.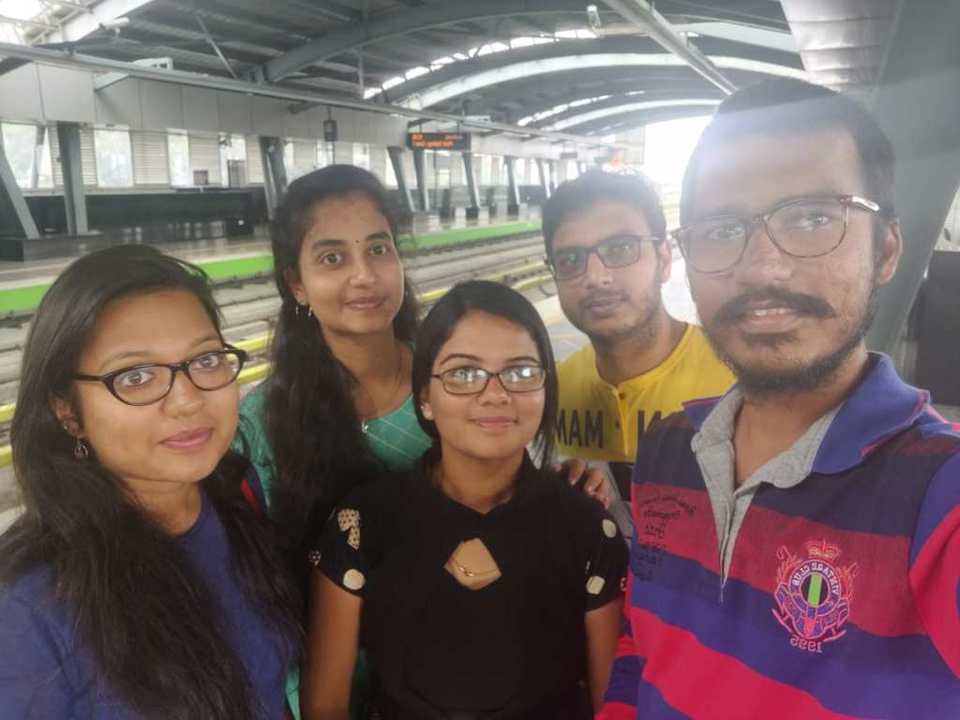 The bus arrived on time. The weather in Bangalore was pleasant. Our hotel, The Signature Inn, was at a walkable distance from Majestic. It was a suite but it didn't feel as spacious as it should have, thanks to the accommodation in Dandeli. Anyways we used the room to quickly freshen up, have coffee and get ready for some mall outing. We chose to watch 'Asuran' in Orion Mall. Supposedly the largest mall in Bangalore. I never watch movie or go to malls when I travel. I don't see any point in it. But it was a day to splurge so went with the flow. We had bad breakfast served by an even more horrible waiter. We took metro from Majestic to Sandal Soap Factory and it was just a walkable distance to Orion Mall. We had to spend around an hour before going to the movie. As it was morning time, there wasn't much crowd in the mall. The movie was entertaining so no complaints there.
We decided to not have lunch in mall so scouted for restaurants outside. It took a good one hour for us to find one and go there. It was already 4 PM and it was a festive weekend which meant many non veg restaurants were closed. But Hyderabad Biryani House came in as a saviour. The late lunch was terrific. We were completely satisfied. Chocolate Beeda was a top up.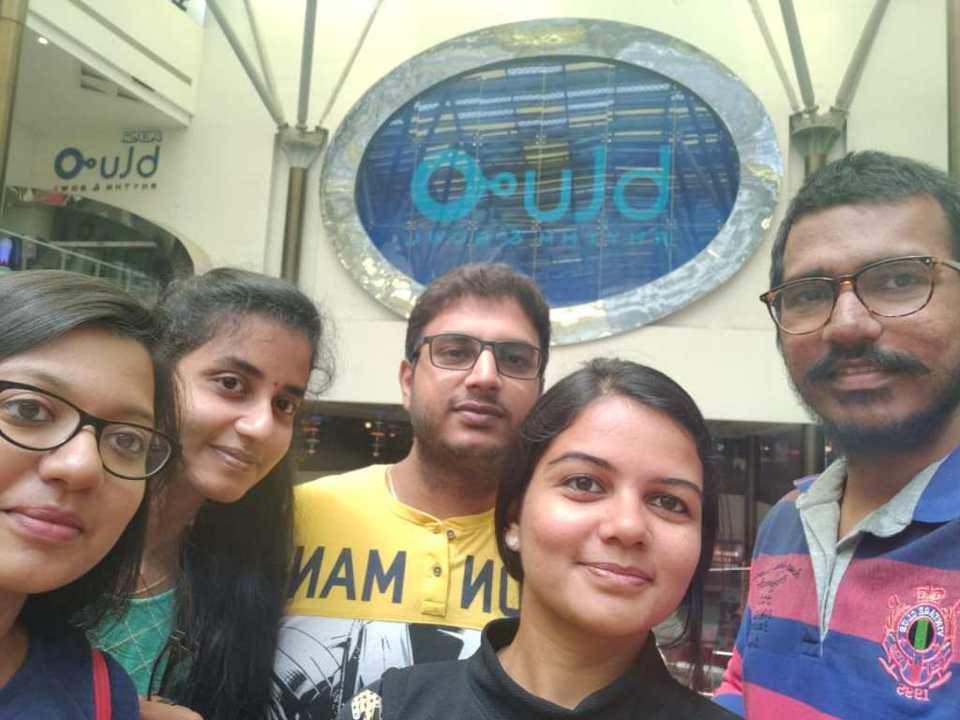 What came post that was the surprise shopping experience in Malleshwaram. When we were not knowing what to do till our train at midnight, we were pleasantly surprised by the street which was lit up. Not sure whether it was due to festival or it's a regular event there but it was terrific to be there. The shopping experience too was fabulous even though I didn't buy anything. My cousin bought a lot many things and we returned back to hotel with a bag full of goodies. Wish at least I had eaten less. I could have had lot many street side snacks. My bad.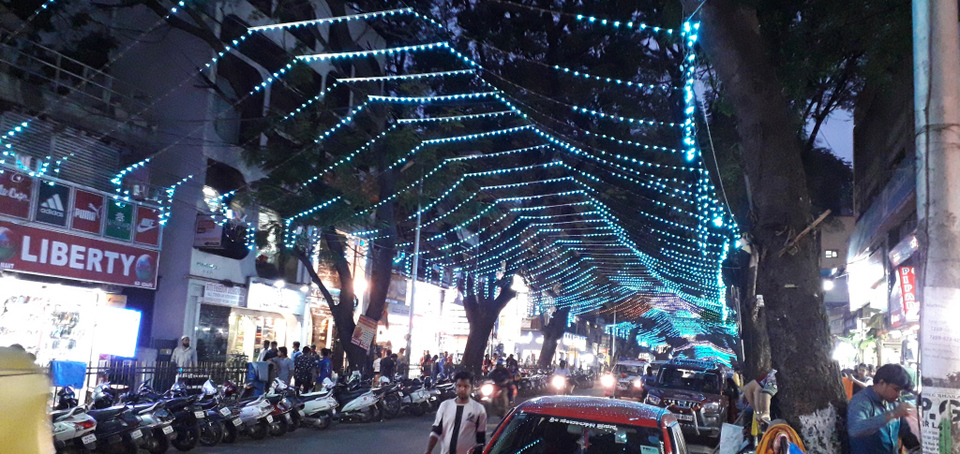 After relaxing a bit, we went to the station, none were really in a mood to have dinner. So just the two of the ladies who shopped had a light tiffin in the Pavana Restaurant, which I always visit during my treks. Even thought Dandeli was a dud, it didn't turn out to be a disaster. Any day spent out is a day well spent.