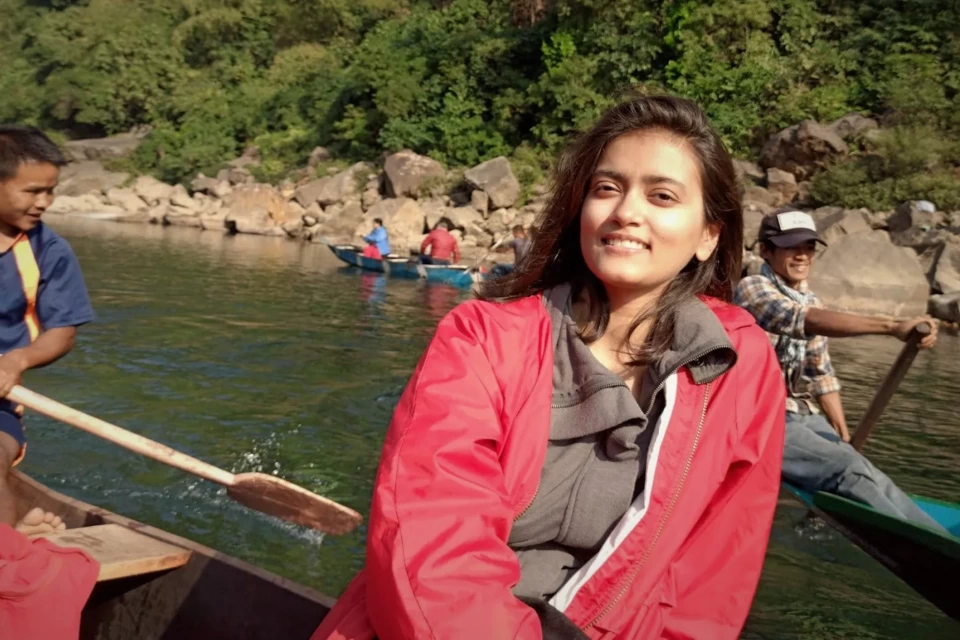 So, here we are.
We're sitting at the banks of Dawki River in Meghalaya-one of the cleanest rivers in India and Asia, according to our guide.
And you know what? It looks so good that you cannot believe your eyes. You can't even tell where the river ends and the land begins! The water is so clear and transparent that you can see fish swimming in it, as well as rocks and pebbles under the surface.
The boats look like they're floating on air! And then there's this one guy fishing right by the shoreline-he's got his net and bait out, but he doesn't even seem to notice us watching him from our boat. He just keeps casting his line into the water-and all I can think is, " Carpe Diem!"
🙂
In this post, I have written about 4th day of my trip to Meghalaya, on which we went to Dawki river and left for Mawlynnong village the same day. If you haven't read my previous Meghalaya posts, then you can read about Shillong, Cherrapunji, Double Decker Root Bridge Trek too.
So, are you ready to go on a voyage with vrinda?
Dawki is a small town situated in the lap of Jaintia hills; near India-Bangladesh border. It is famous for a suspension bridge built over Wah Umngot River AKA dawki river.
The suspension bridge was built in the year 1932 by the Britishers for export-import between India & Bangladesh; and is still used for the same. Dawki river also acts as a natural divide between two major hills - Khasi and Jaintia.
This river has the most crystal clear water and is one of the most picturesque places in Meghalaya.
The river that flows here is actually called Wah Umngot river, but it is in the town of Dawki, hence it is more popularly known as Dawki river.
What is so spectacular about it?
Not only is Dawki River among the most cleanest rivers in India, but it's also one of the cleanest rivers in Asia. Its crystal-clear water makes you want to jump in!
You'll be able to see the bottom of the river-even though it's 15-20 feet deep -and watch fishes and rocks swim around.
Boats will look like they're floating in air, because you can literally see through their bottoms. You must have seen this in pictures on social media.
In fact, this happened to me: I saw some soft drink cans lying near the river bed and thought they were thrown away by tourists. But it was only when we reached closer that I realized those cans had been put inside the water to keep the drinks cool.
Since the water was so transparent, I couldn't tell that those cans had been completely submerged inside -instead, they appeared lying there on land. You will also see some locals fishing around these riverside rocks; they have special hooks which help them catch fish out of nowhere.
If you're also planning a trip to Meghalaya, then you cannot miss this place. But before you plan anything, don't skip this post as you will get to know about some important information about the river -
1. How to reach Dawki river?
2. Best time to visit
3. Attractions nearby Dawki river