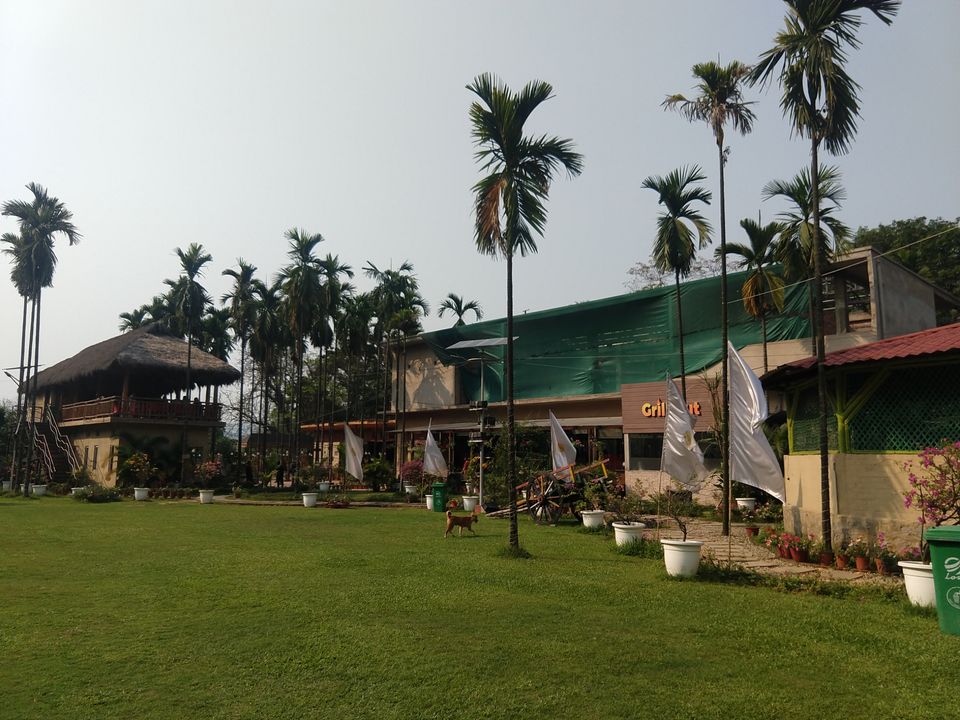 Today was the voting day in Guwahati,and after voting, my mother wanted to have lunch somewhere outside in a Dhaba ,so I researched and found out a place , actually a Resort.It was a bit tricky reaching there but Google maps had it covered and we reached there at around 1.30 pm ,went inside and it was beautiful,be it, its ambience, or the decorations ,how well they have maintained it .There were many small areas where one could sit and eat ,such as at rooftop,nearby lake,or in an AC room. We choosed the later as it was freaking 34°c in ghy as well very humid. We ordered and the prices were on a higher side but since it was a family outing it's was ok. To give you all an estimate main courses ranges started from 300 bucks and a plate of chicken biryani  was approx 450 bucks .And the quantity was good .After ordering we went to explore the resort,to our amusement it was above our expectations.The place was in a developing state not yet ready but whatever it had was good enough for us .We went walking on and on as the area was huge and nature friendly and superbly maintained as well. There was bridge decorated with flowers,beautiful gardens,cute huts ,in short it looked stunning and soon they will be introducing adventure sports such as ziplinings and all. And then after clicking lots and lots of photos went back ,had our lunch (for me it was brunch) .The food was ok ,like a 3.5 on 5, the staffs were very good  .So anyone exploring Guwahati, or the ones living here,I would suggest you all, this place for a day out and you would not be disappointed (until and unless it remains closed ,the day you visit😂).
Keep travelling and keep experiencing.
Dhoinobaad(thank you in Assamese).
P.S. this by any means ,is not a paid blog at all,this is my 100% honest blog based on my today's experience.