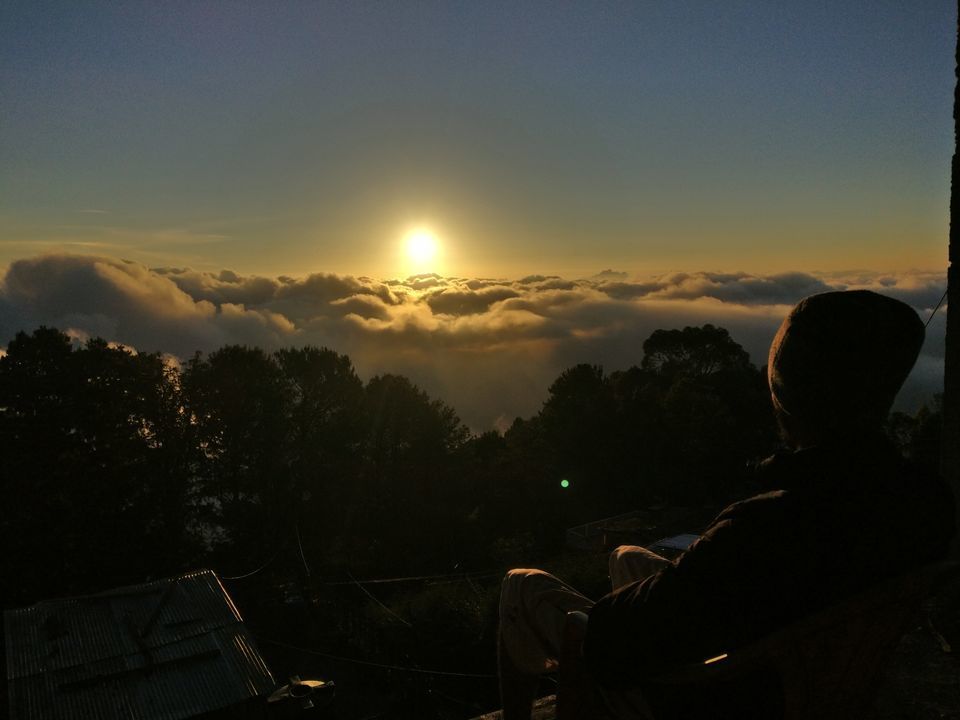 Destination is the only thing we decide and plan. We will never know what's waiting for us, may be the best or may be the worst, we Just need to accept things and handle it accordingly. Travel is all about being smart and patient in any situations and handling it in a way which doesn't affect your peace.
Highlights : Stars, The backup plan, Road Hiking, Scary driver, Lake, Coaker's walk, Church, Dogs, Unexpected paths, View from cottage, Sunrise and timelapse, Bison, Dolphin's nose and echo point, Double rainbow, New awesome friends, Mountain view dinner, Pine forest, Monkeys, Binocular view and into the fog and mist.
The Backup Plan : Started with a comfortable bus journey from Bangalore to Periyakulam. We reached so soon as the driver we got was amazingly fast. It was a solicitous welcome by the stars, indeed an amazing sight. Then we took a bus (planned to walk though) to reach Kumbakarai base from where the trek starts. Unfortunately, the trek was banned since 15 days. So we had no choice rather than returning. As we thought to walk in this silent road and it happened. It was 8kms walk back to Periyakulam. Then we had a yummy breakfast in a vegetarian restaurant called "Woodlands".
Somewhere between Periyakulam and Kodaikanal : View from a place between Periyakulam and Kodaikanal. The place where the technology is less is the place where the connection is more (with nature). Had a bus journey where the driver should have either watched Fast and furious or played GTA. The way he drove was just too scary. Amazing way to start the backup plan.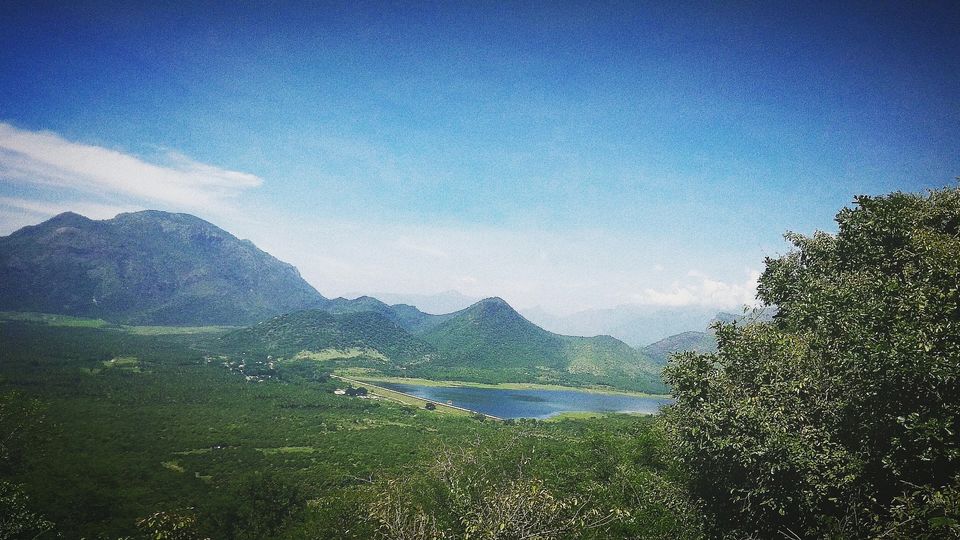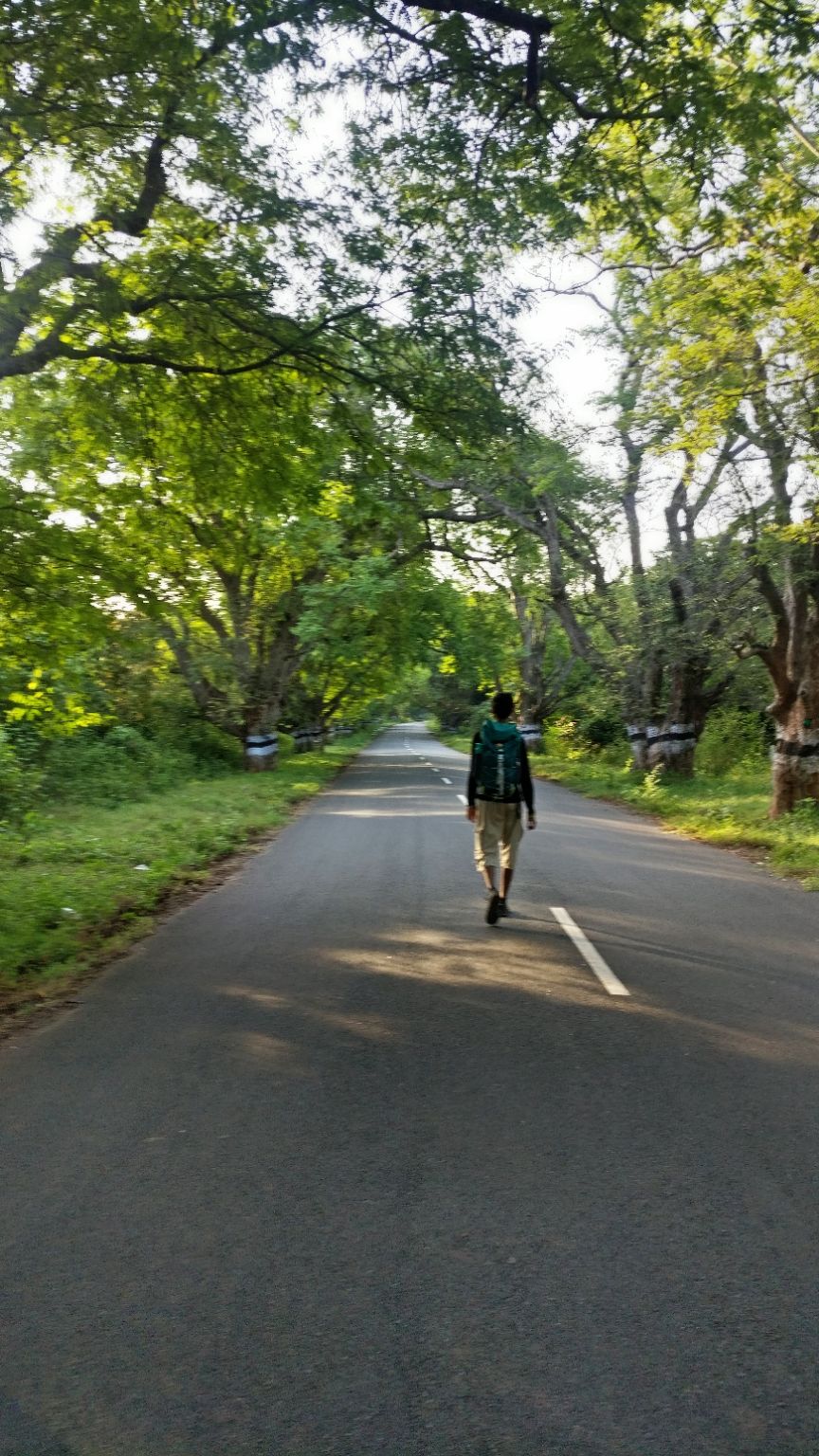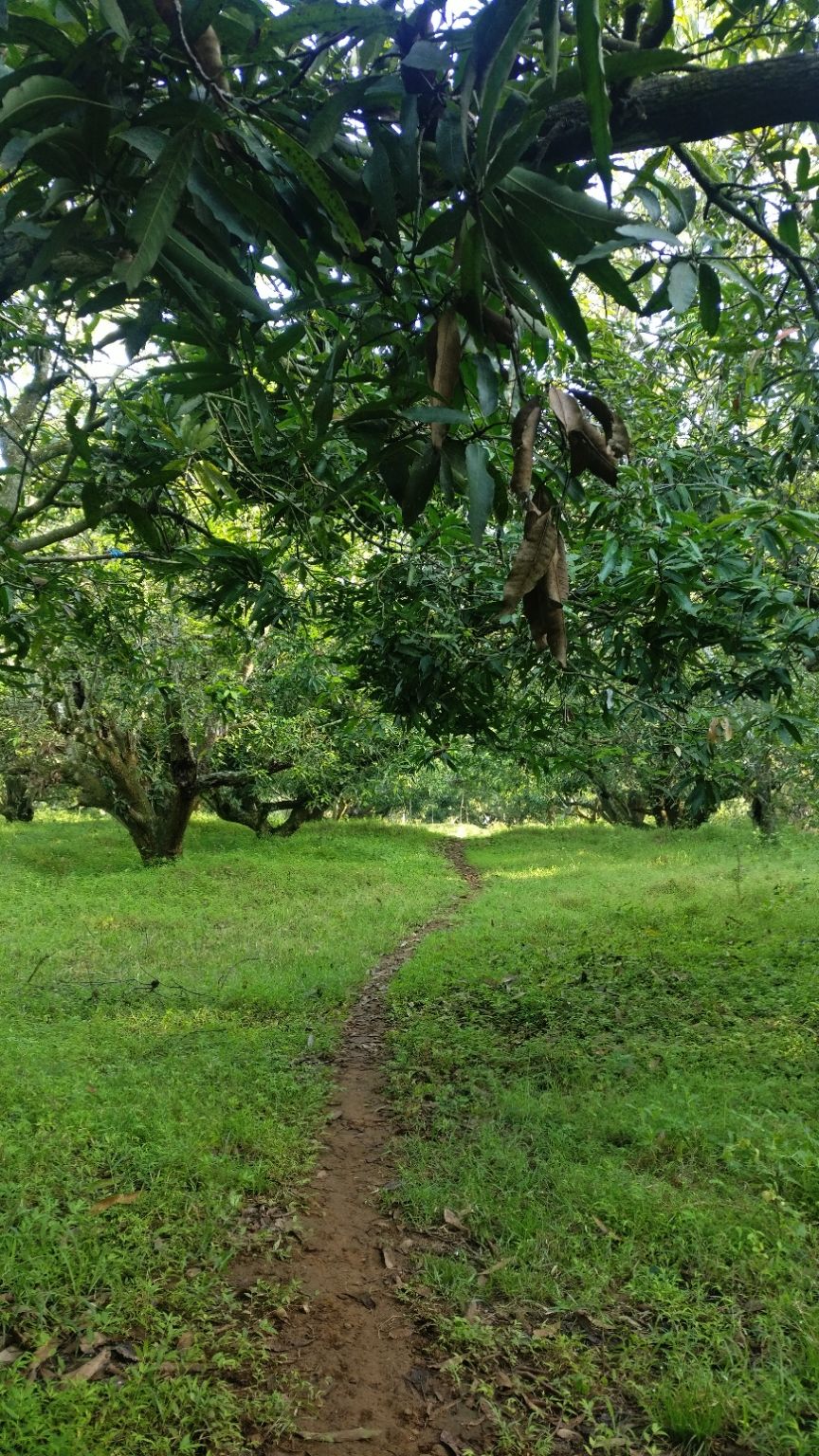 Kodaikanal lake and Boat house : This lake covers a distance of 5kms in a shape of Amoeba. There are many boats, so as to make the tourists not to wait in the queue. You can take a cycle, either single or double or triple, and roam around the lake or anywhere you want. You can also experience horse rides. You can also get fresh and yummy mangoes.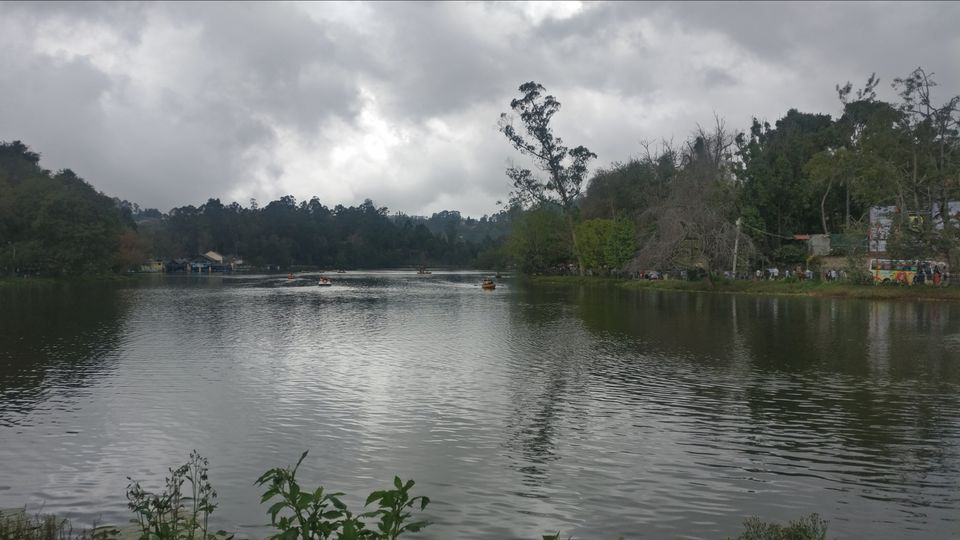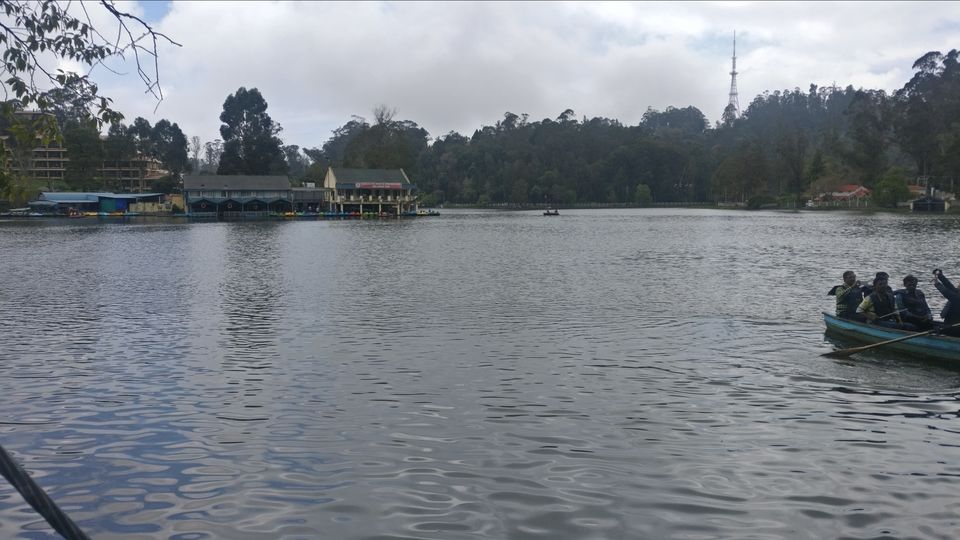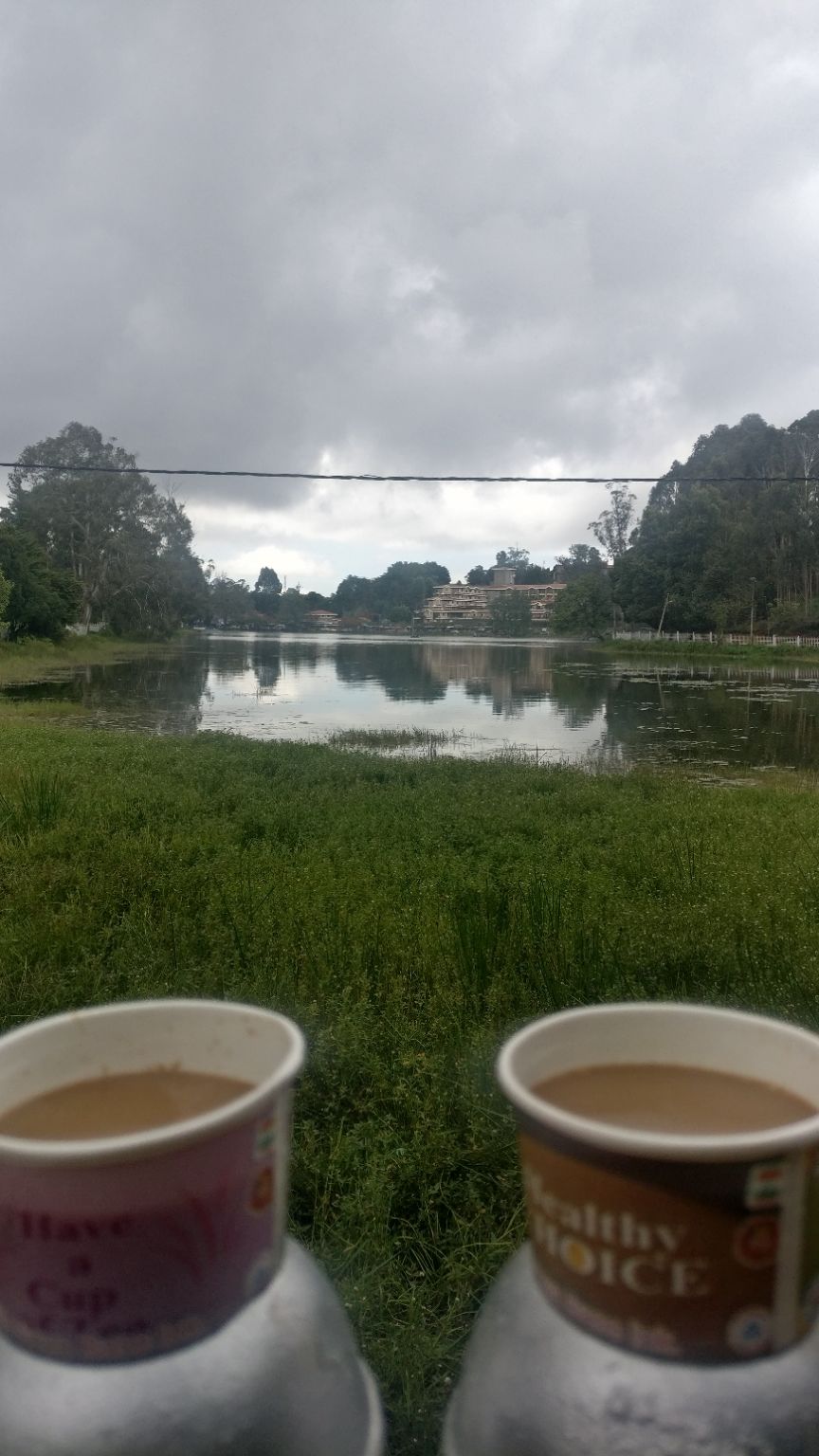 Coaker's Walk : It is a narrow pedestrian path, constructed by Lt. Coaker in 1872, a one kilometer mountain road which runs along the edge of steep slopes on the southern side of Kodai road which is 1/2km away from Kodai. The walk winding around mt. Nebo starts near van Allen hospital and joins the main road above St. Peter's Church provides a wide-angle spectacular view of the plains. On a cloudless, clear day one can have interesting sights, such as.... Dolphin's nose in south, valley of the pambar river in South East, birds eye view of Periyakulam and even city of Madurai. One must be aware of a fascinating phenomenon called 'Brachem Spectre' . A very lucky person can see his shadow on the clouds with a rainbow halo, when sun is behind and cloud and mist is in his front. Source - Internet.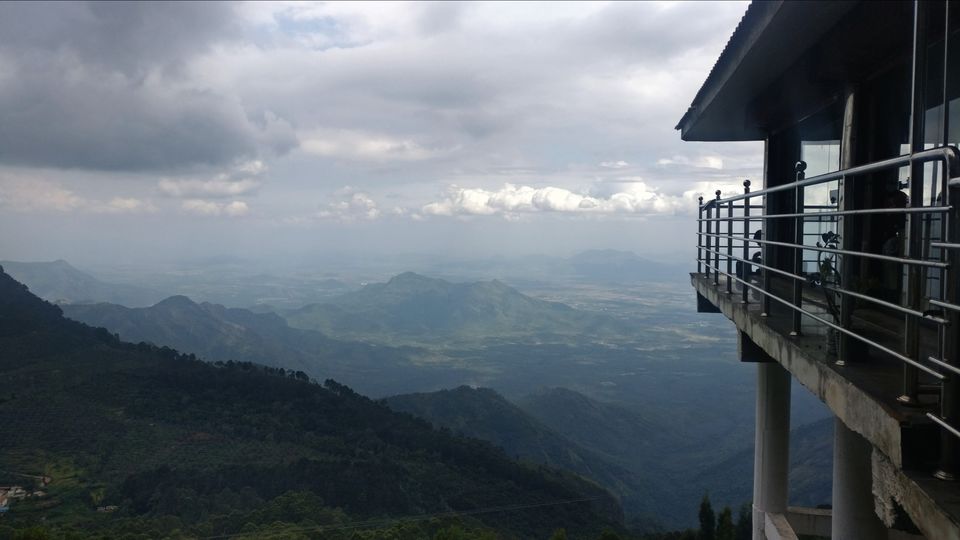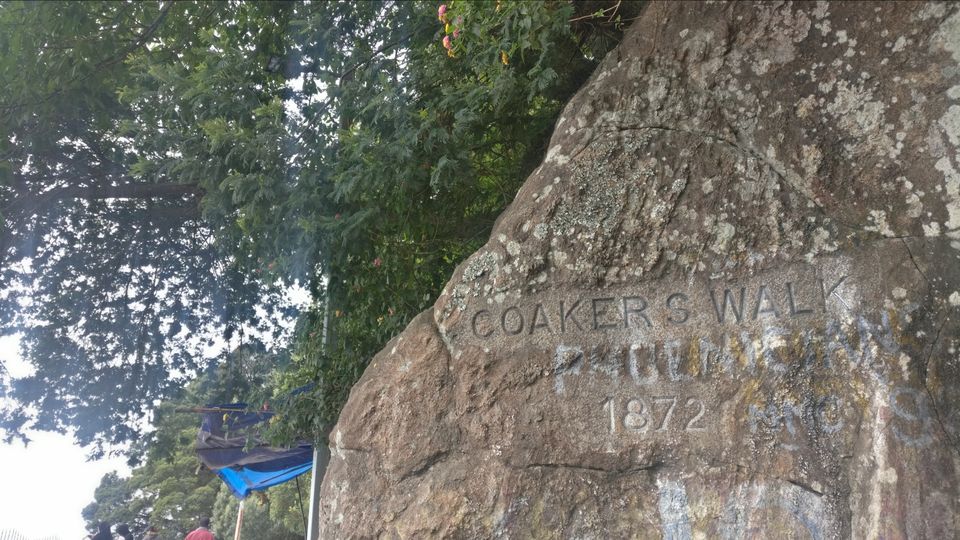 Vattakanal falls : One of the best places in Kodaikanal to visit, but unfortunately very much disappointed to see lot of plastics and the dirty water. The water was completely polluted with chemicals and very dangerous to touch it too. People suffered from cancer when they used this water, said by the locals while having a conversation with them.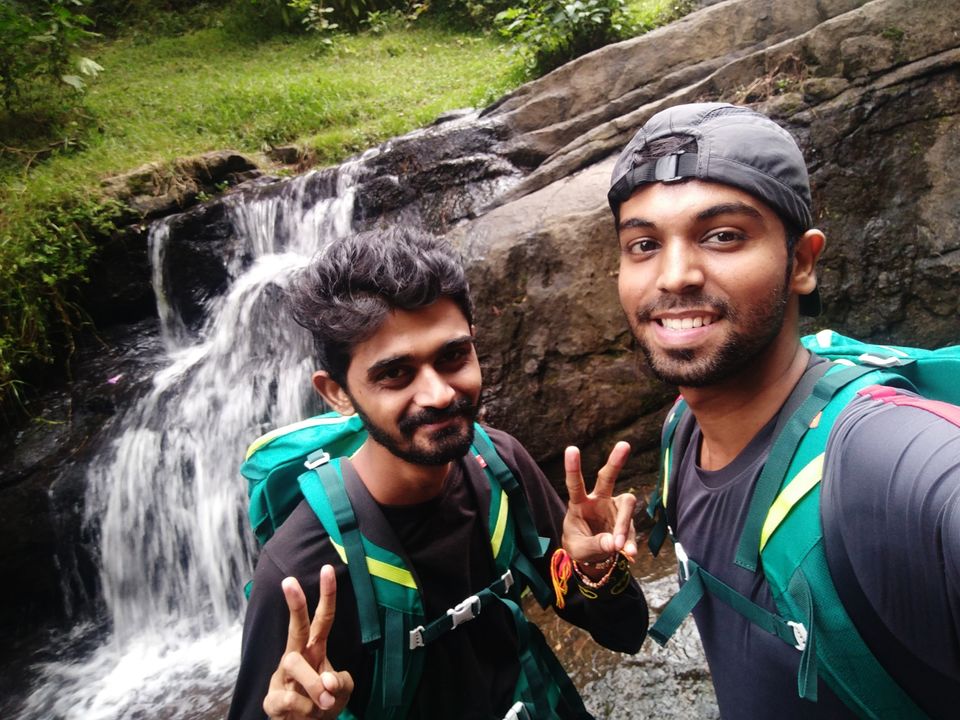 Rupan Cottage - Just awesome : The view from the place we stayed. It's just a pure blissful mornings and evenings. Never been that much lazy to get up and continue the plan. Couldn't stop talking to mountains and leave this place. Finally, got up from the chair and sat down ????. The view is still there in my eyes. Who needs a room in the city when you can get a comfortable cottage at the hills just opposite to the mountains?!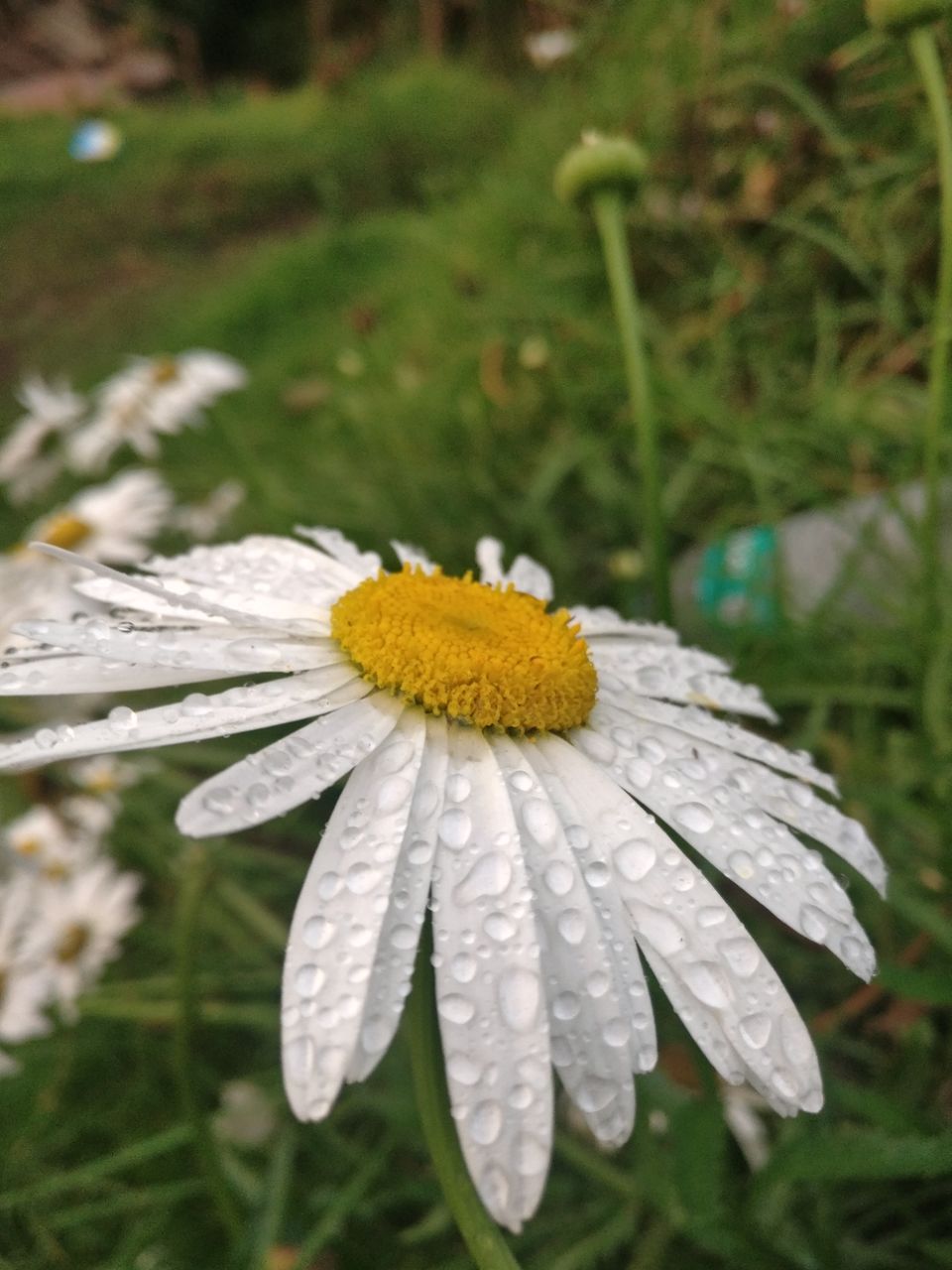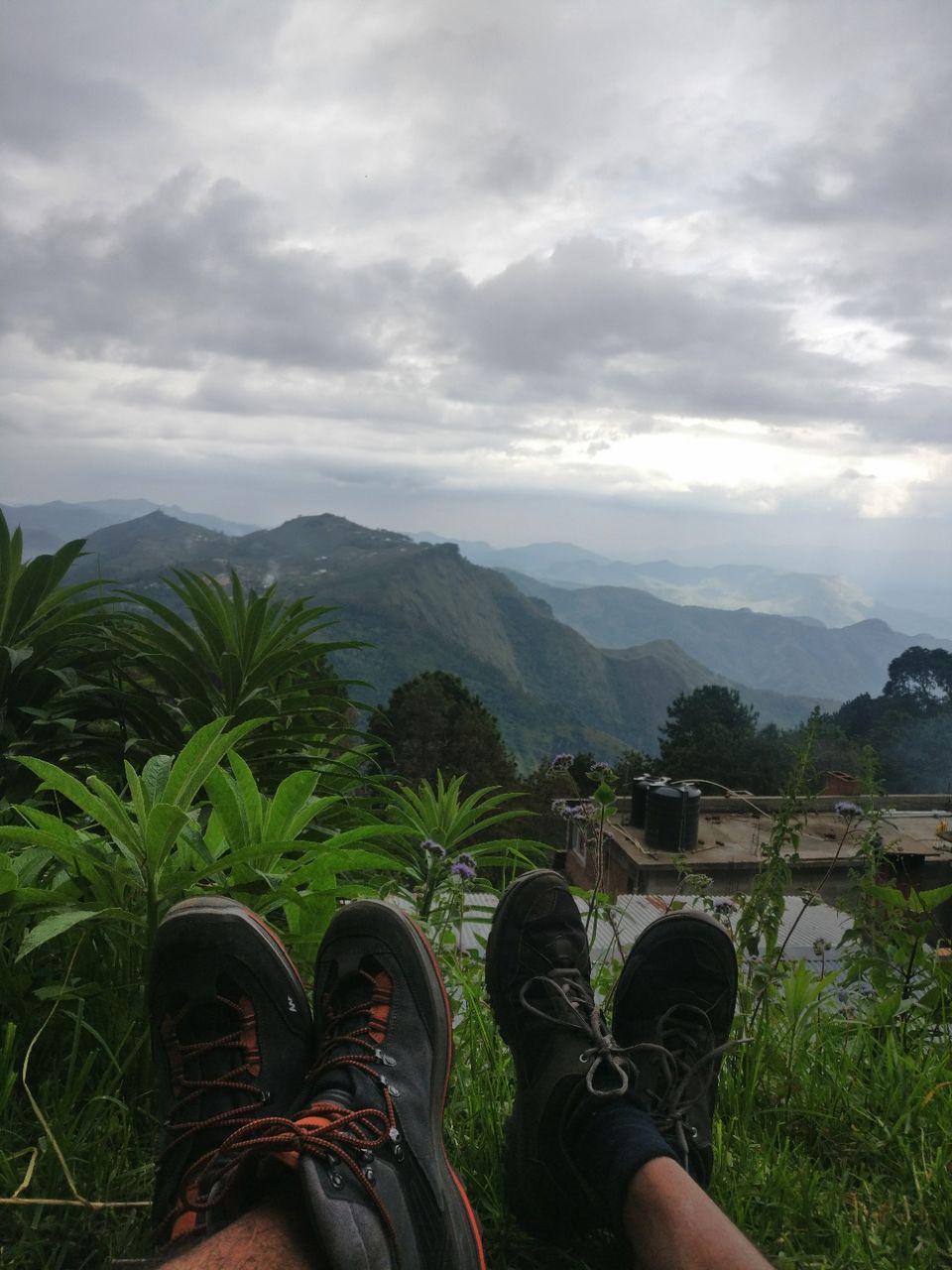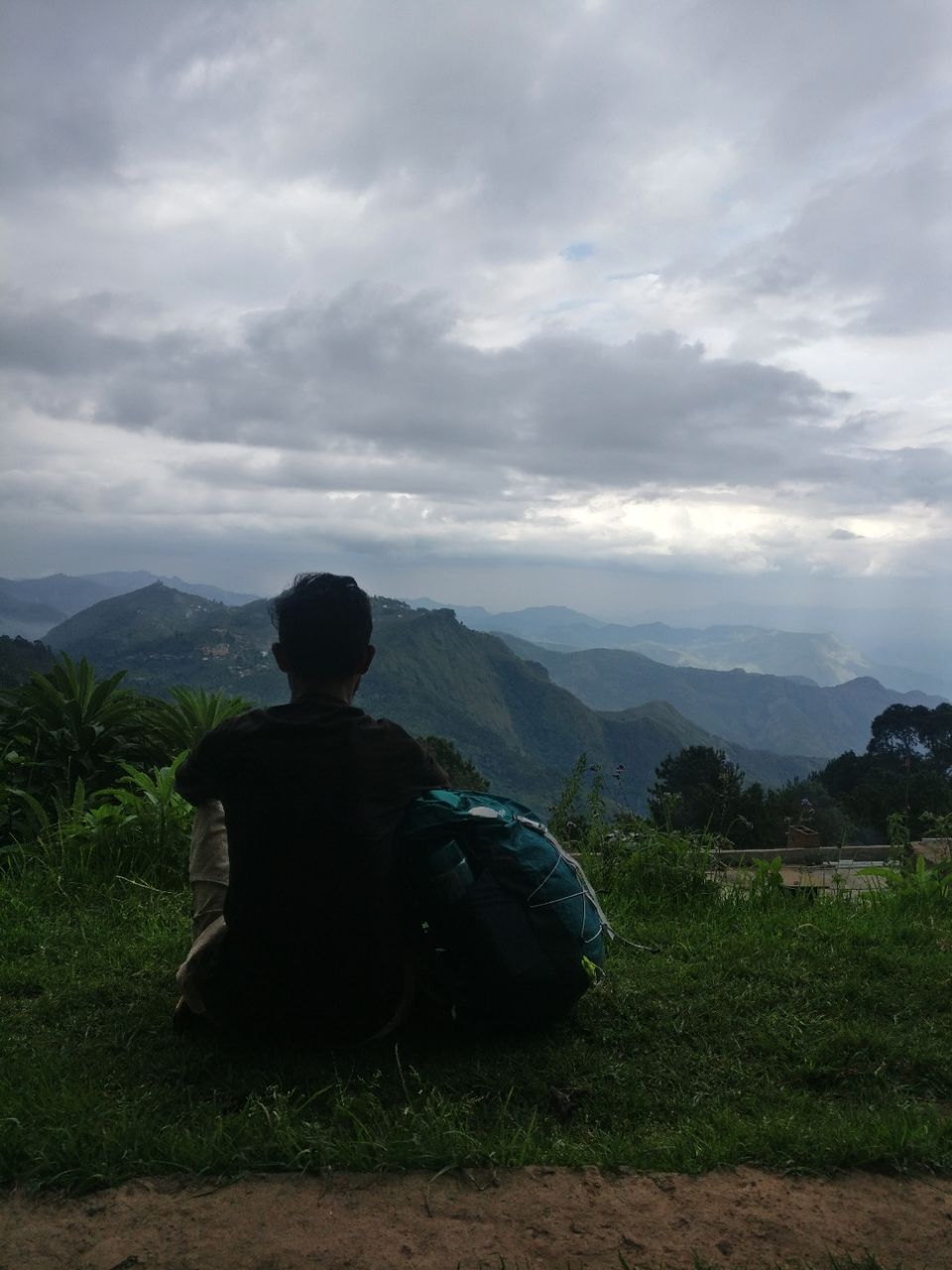 Double Rainbow - That reflection though : First the view from cottage and next this surprise. Can't handle so many surprises from nature. Who needs surprises from people when nature is ready to give you the most memorable surprises?!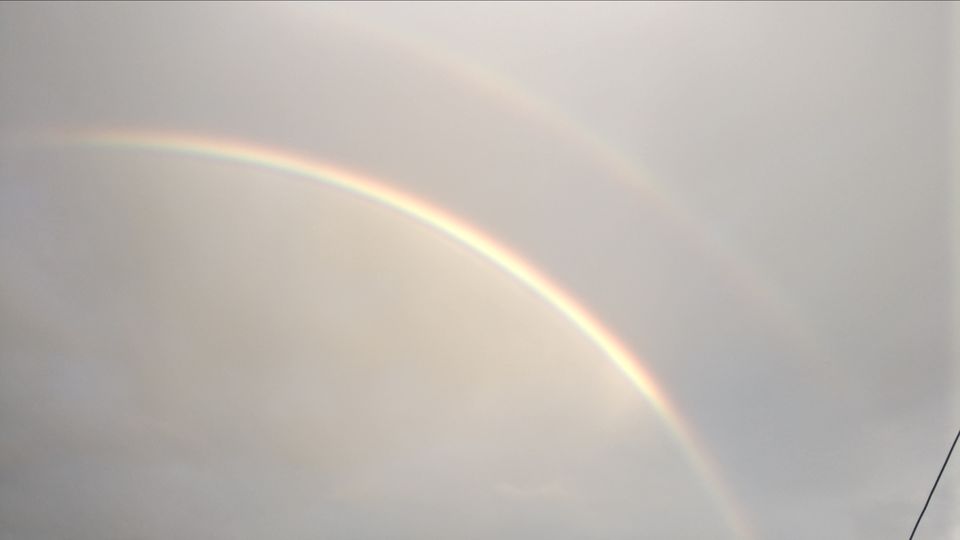 Above and Beyond : Some people love cafe only when they have a beautiful ambience. When it comes to travellers, they just need a cafe from where they can experience a breath-taking view of mountains and yet this is the one for them - The Above and Beyond Cafe.
The dinner date with hills at the hilltop ????.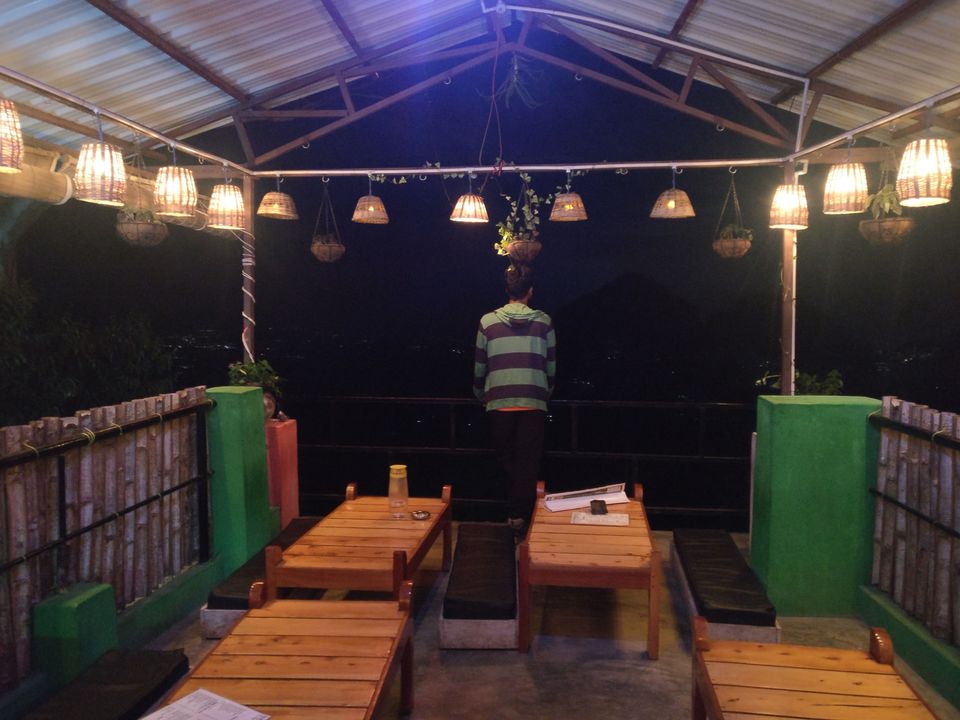 Hebron Cafe - Dinner round 2 : More than the cafe, we found new amazing and inspirational friends. Just a group of 5 simple friends with strong background after years of struggle. Meeting new friends and having dinner with them in their shop (not for free) are just simple things which travellers love to do. Started with a drink and ended up having a small party with them with all our favourite beat songs in bass speakers. Ending the day with absolutely no regrets or sadness when the actual plan was an epic failure.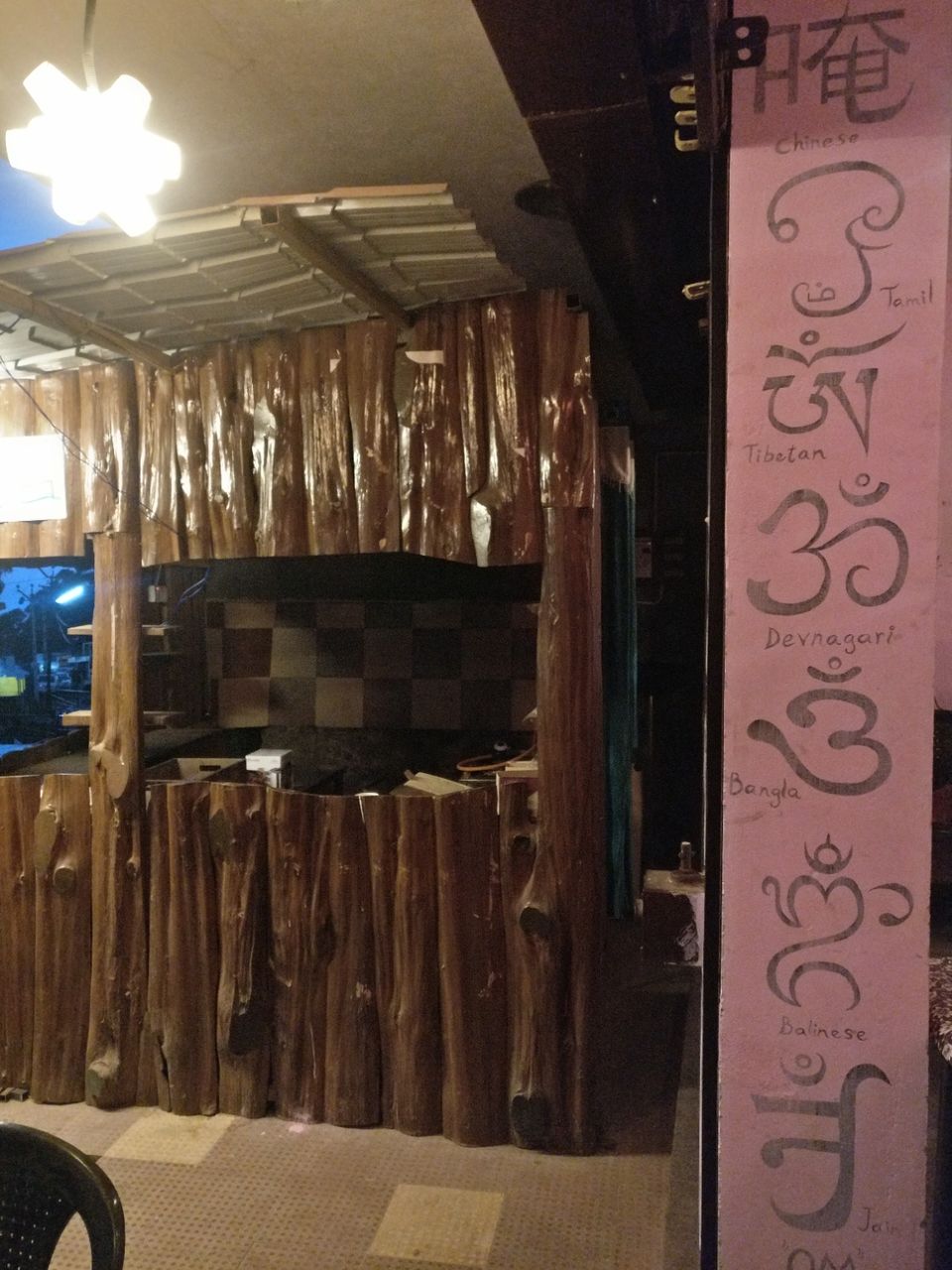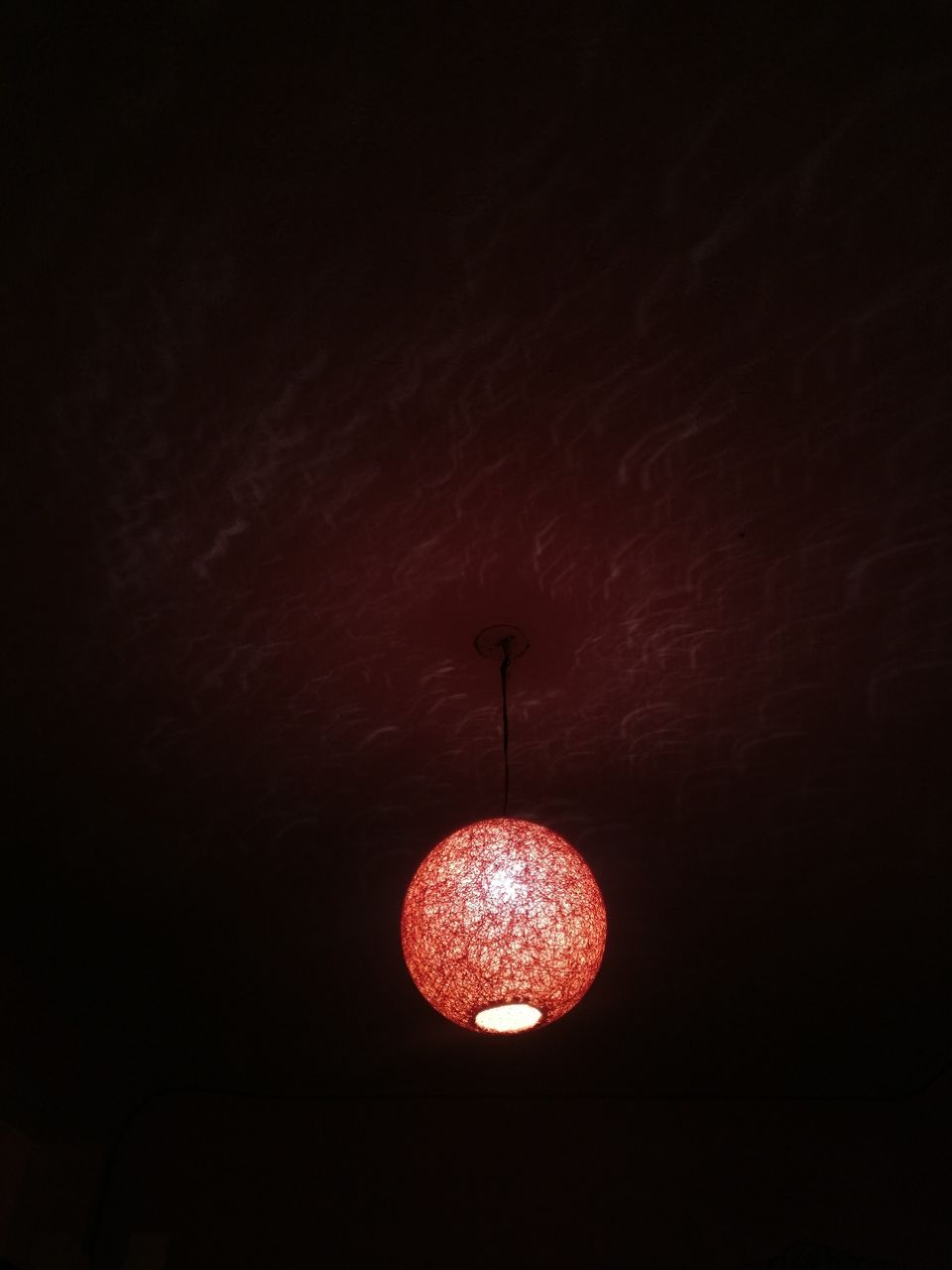 First Rays on the face : waking up early morning, in such a cold climate, to get the warmth of the first rays of the sun. It was 6.15 when we took this picture. Sun rise started at 5.35 as we were waiting from 5.30 to see the line of rays slowly turning into a sunrise. Took a time lapse video which has been uploaded in my Youtube Channel.
When Clouds decided to play the role of snow and mountain : Fog and Mist with clouds = snow. View from the top literally looked like it's full of snow covering the mountains, but it was just the mist, fog and the clouds. Breath-taking view of sunrise between two mountians(Clouds).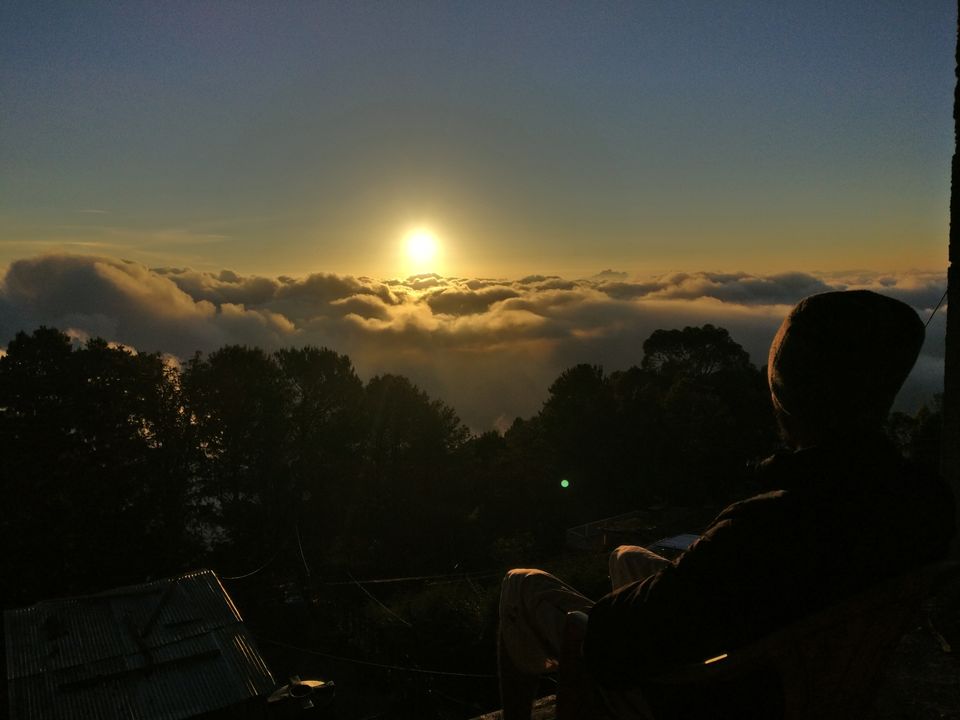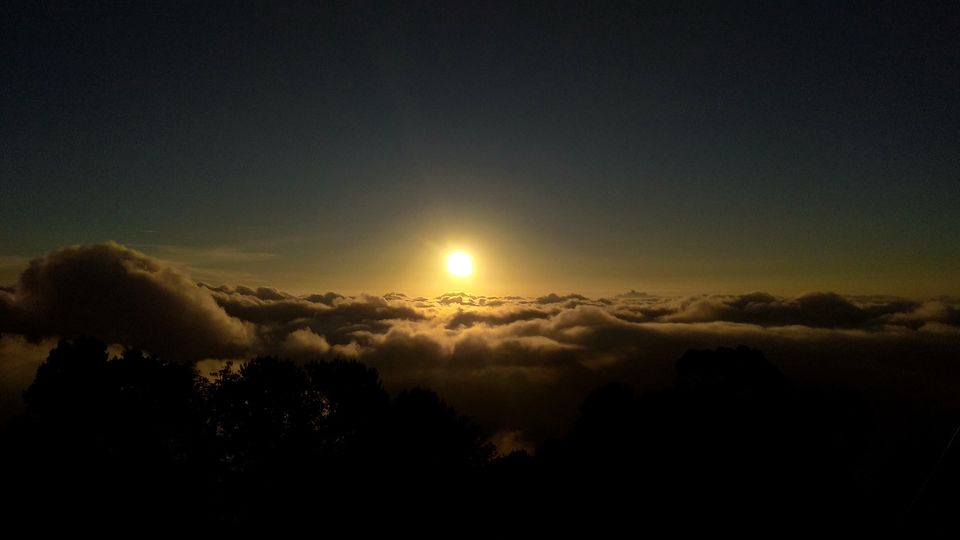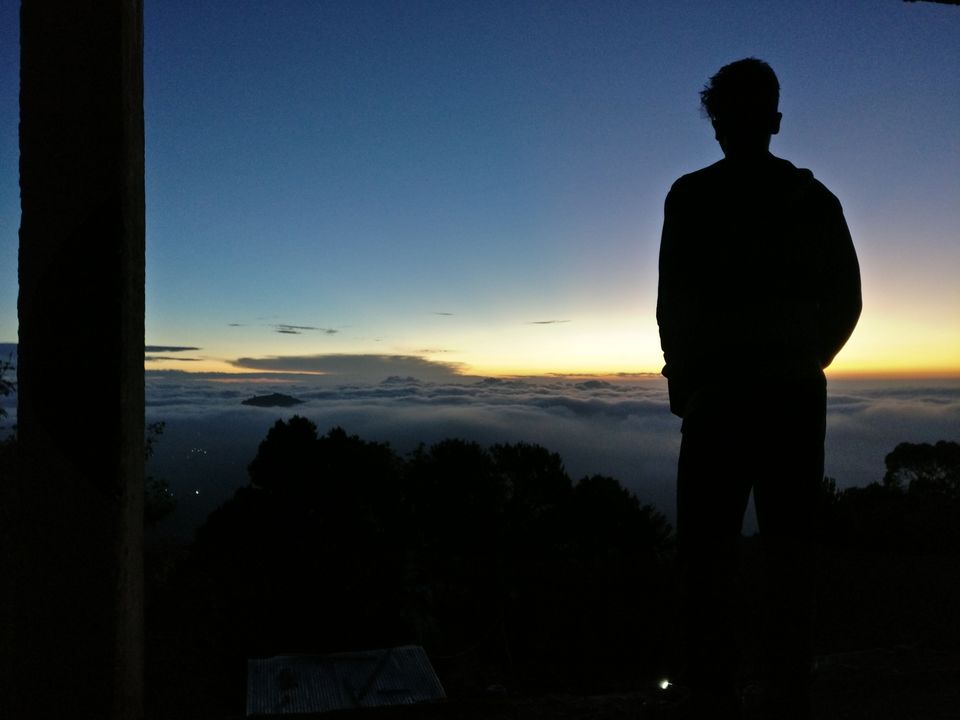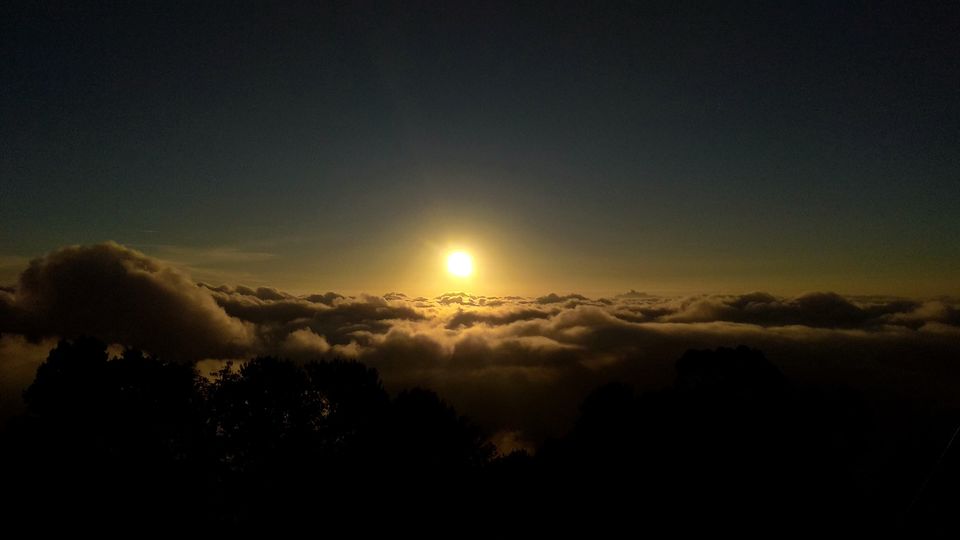 Dolphin's nose and Echo point : After a beautiful sunrise, we went directly to the dolphin's nose. It was a very short hike from the cottage. It was a slope leading directly to the dolphin's nose. It was so scary initially when I looked down from the edge of the dolphin's nose, later got used to it and was having fun. Then we went to our shop and had some beautiful conversation with our new friends and also took some pictures with them. Checked out from the lodge with a picture for one last time. The trek starts now - It's 16kms road trek amidst a forest. It's a stretch where popular tourist places can be explored.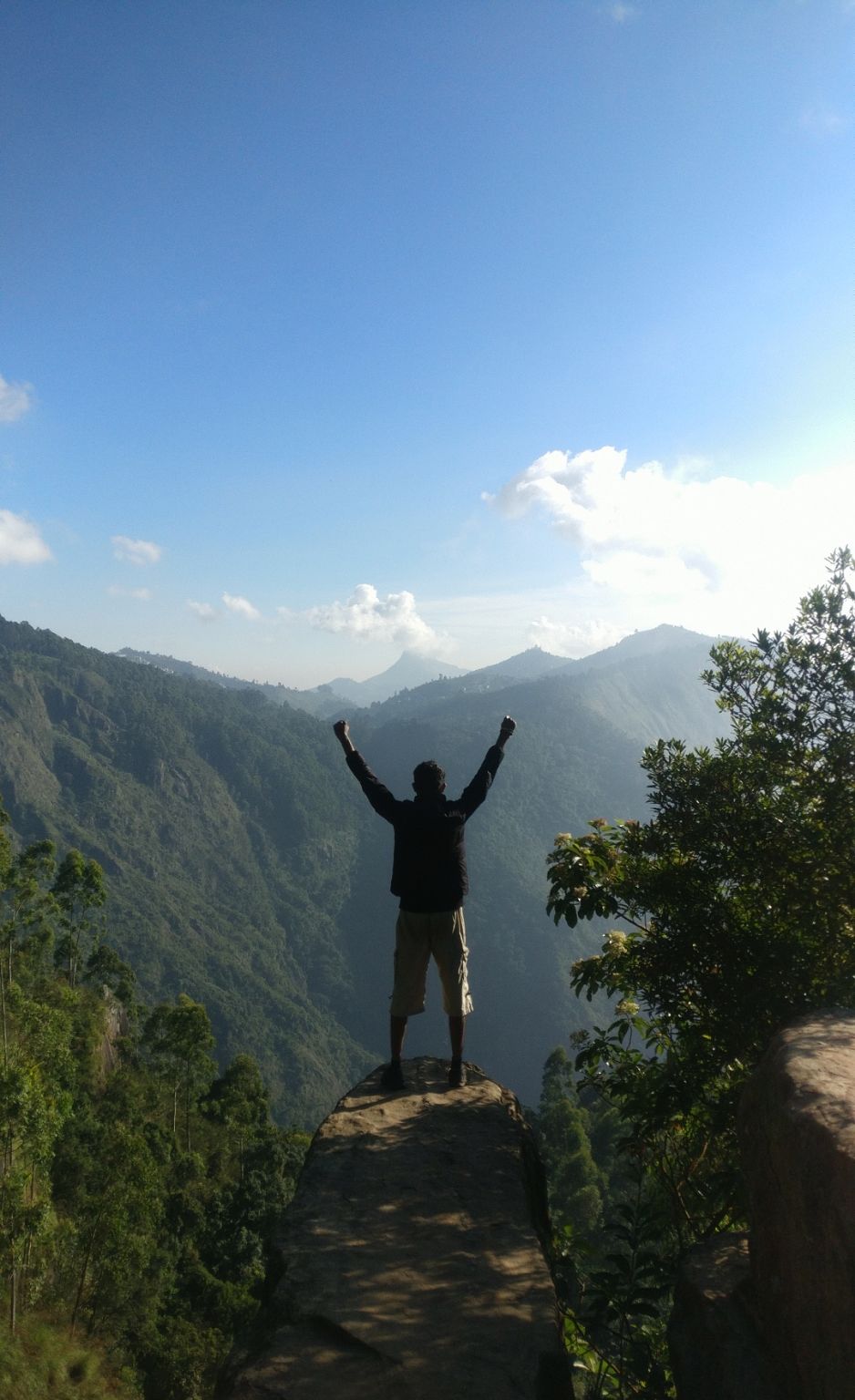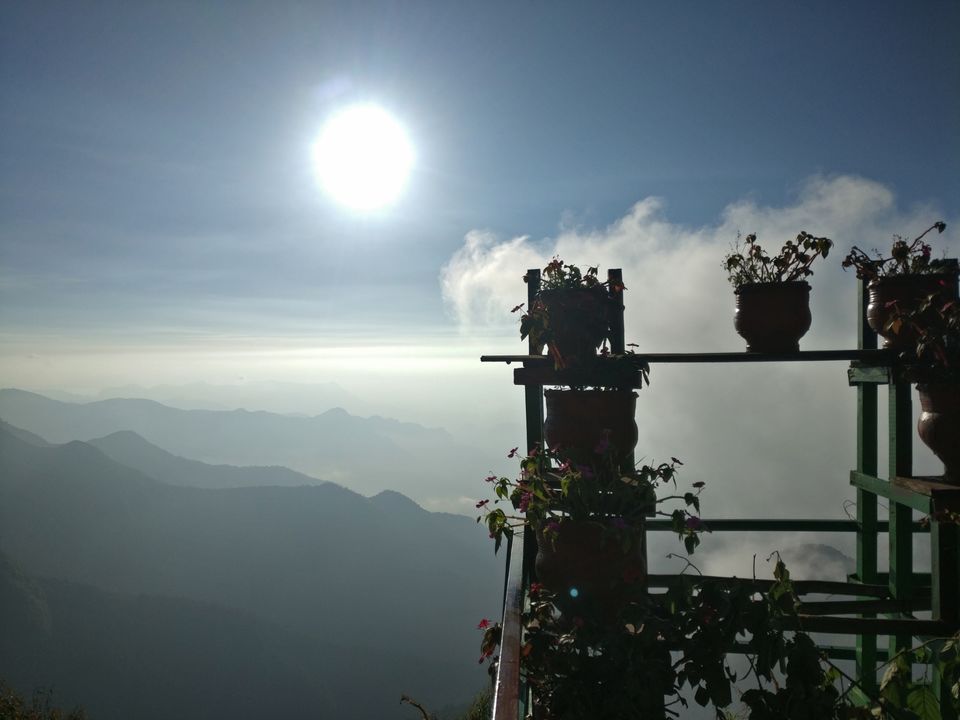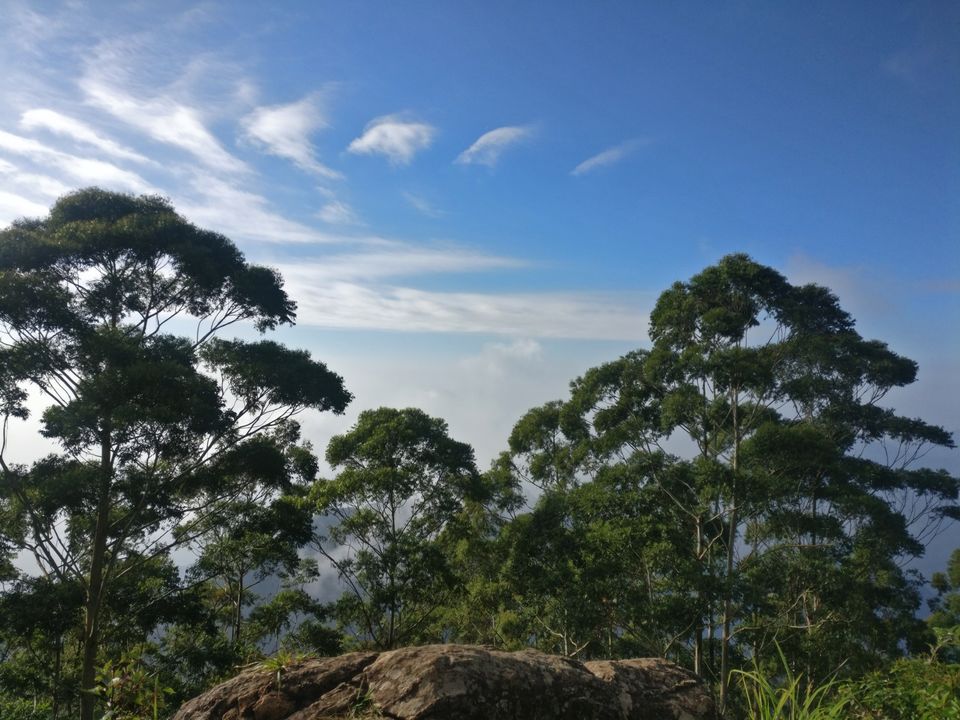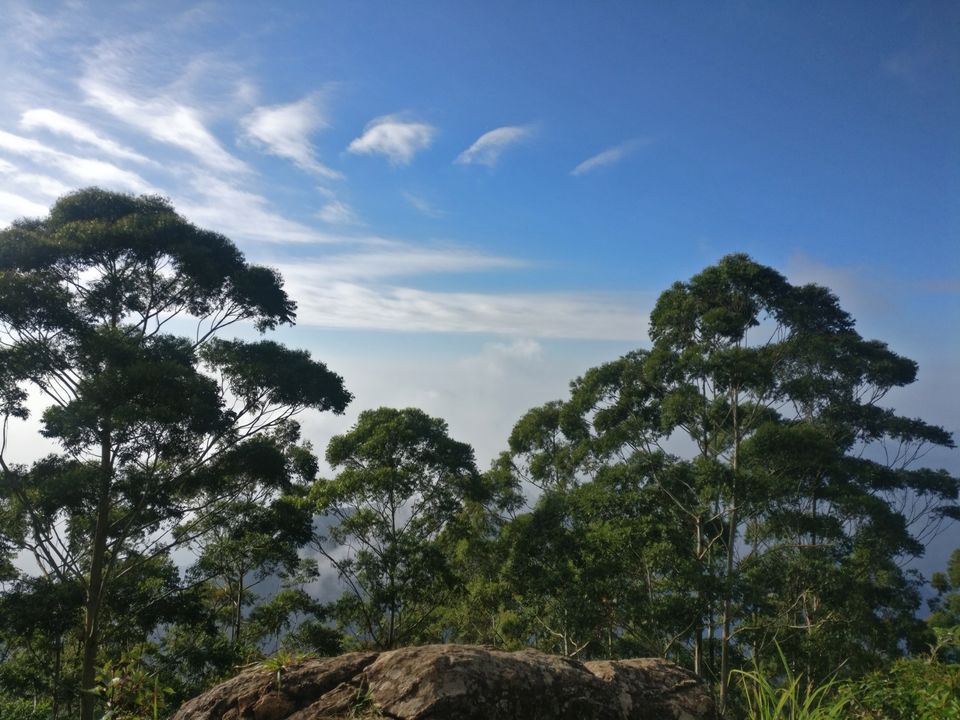 Pine tree forest : The second place in the road when the ride or walk is towards the solar observatory. First one was Suicide point a.k.a green valley, nothing much over there, just a spot full of crowd. Entering the pine forest and searching for the extreme high corners, that's where the path took us. Relaxing under the shadow of thin and tall trees and closing the eyes to feel the cold breeze and fresh air giving us energy and making us fresh is the moment you go beyond somewhere. After a nap, had a boiled egg and started to hike on the roads again.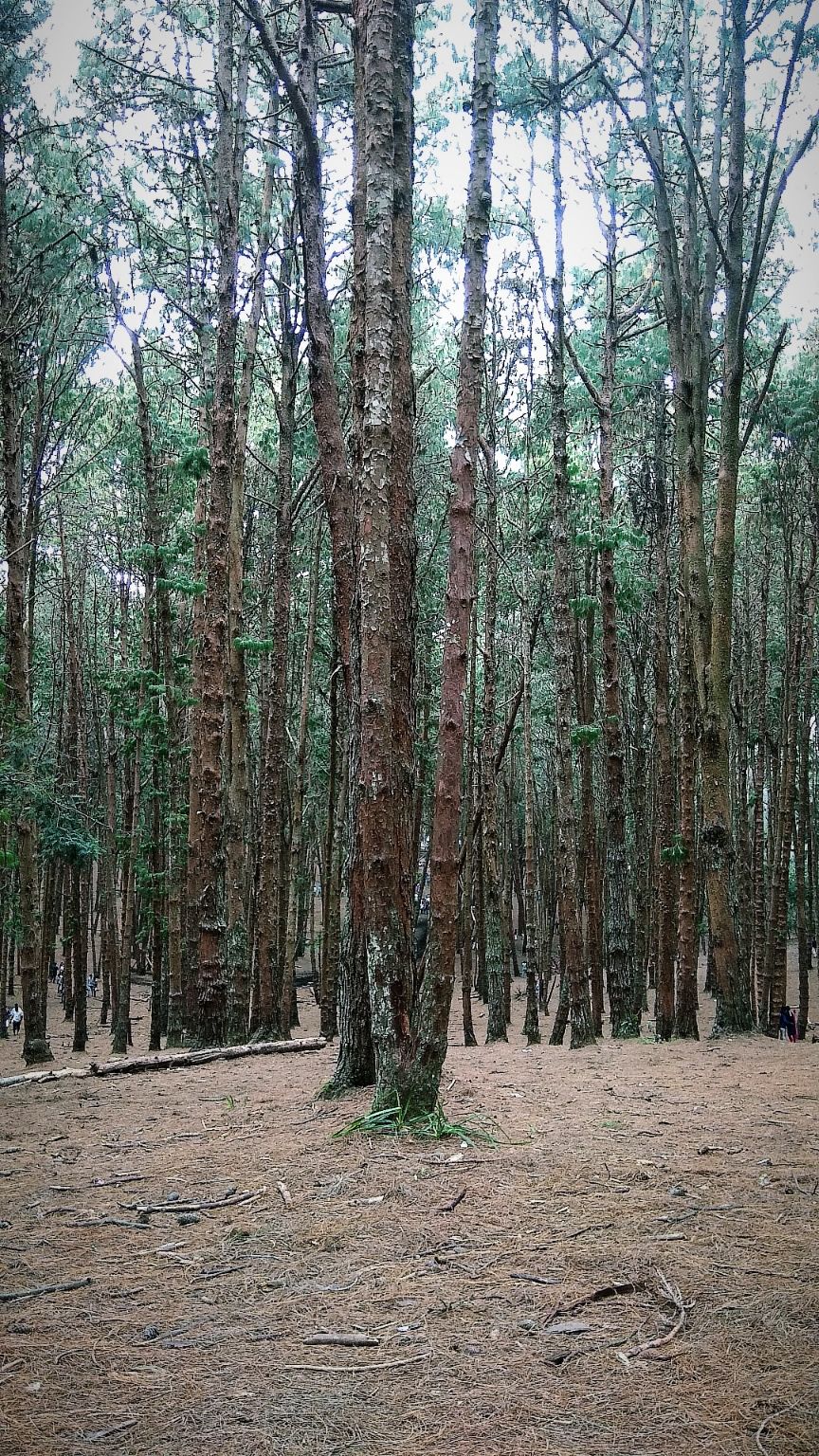 Into the fog and mist : Experiencing a rain for second time when we were about to end the trip and return to Bangalore. Literally, two days of no rain, just drizzle and cold climate. This is something we felt, nature shows love towards people who value her. Travel is beyond something which can never be expressed in words.