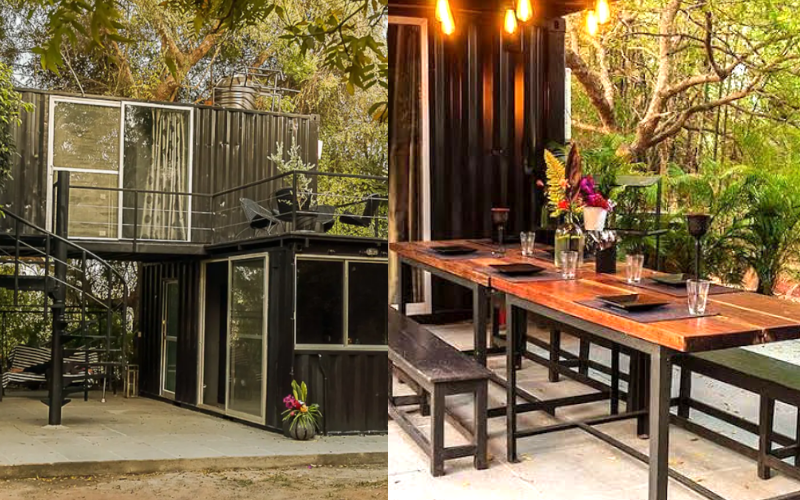 Made out of recycled shipping containers, this Airbnb is so out of the box that you can actually live in it!
Known as the Black Box, this industrial design-themed guest house is a fine example of design diversity and is also located inside a super cool horse ranch. This modern industrial-design home is located in India's spiritual Auroville community, near Pondicherry.
Nestled in a lush green paradise, this spacious and beautiful container guesthouse is also part of the Red Earth Riding School and offers grand views of horses and foals ambling along. Its clean and tasteful design is what draws people to it.
Ideal for:
Adventure seekers, nature enthusiasts, and horse lovers.
If you are a group of friends travelling to Pondy, do give this a try. Other than equestrians, it's a great option for travellers wishing to try off-beat accommodations.
Horse-riding enthusiasts and learners come to the riding school here from far-flung countries such as Japan, Spain, Ukraine and Russia, so you may spot many International tourists too.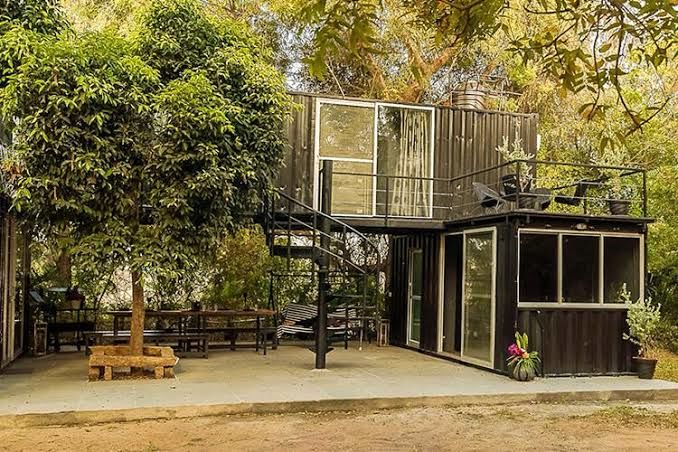 About the property:
This unique accommodation is a result of the host's fascination with containers. Two 20-foot containers and a 40-foot one, together form The Black Box – a chic two-bedroom accommodation spread across two floors, open to guests. The interiors are steampunk-inspired and furniture for the guest house is sourced from an old factory in Bangalore. The tastefully decorated place exudes minimalism and chic in the lap of nature. There are pets already living on the property, so whether it's a pooch or a kitty, you can get your pets along!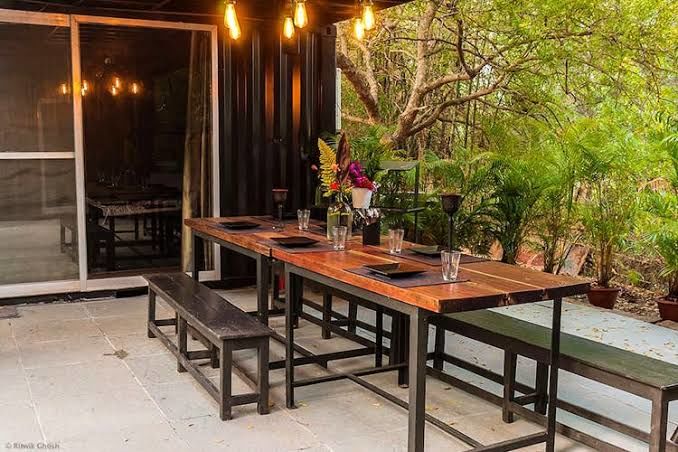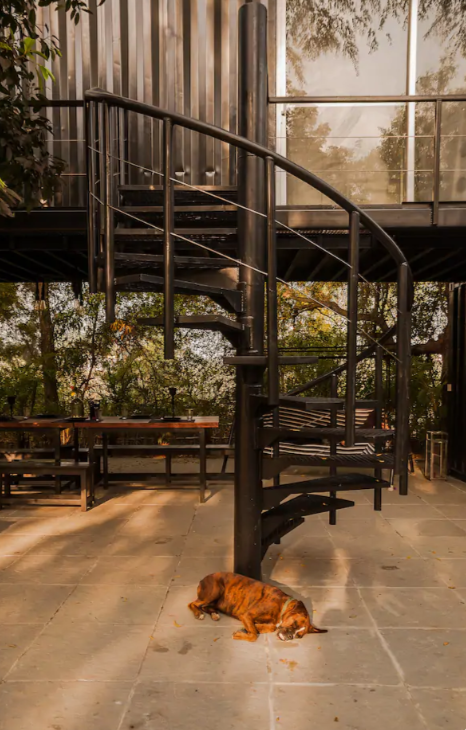 Rooms:
Inside, the bedrooms are decorated with industrial light fixtures made from pipes. The two-storied guest house comes with two bedrooms and can accommodate up to six guests. Though they also have five extra beds. The main bedrooms have really interesting industrial light fixtures made of pipes, with the interiors are all done up in black and lockers to keep your luggage.
The first floor has a sit-out area where you can get lost in a book, have a tête-à-tête over some drinks, or eat breakfast with a view. The guest house is equipped with an air-conditioner, its own kitchen that is stocked up with utensils, refrigerator and silverware, and WiFi. Also, there's a cute little garden in the backyard, installed with rustic tables and benches, perfect for a mini picnic. Besides the kitchen there's also an outdoor lounge and dining area.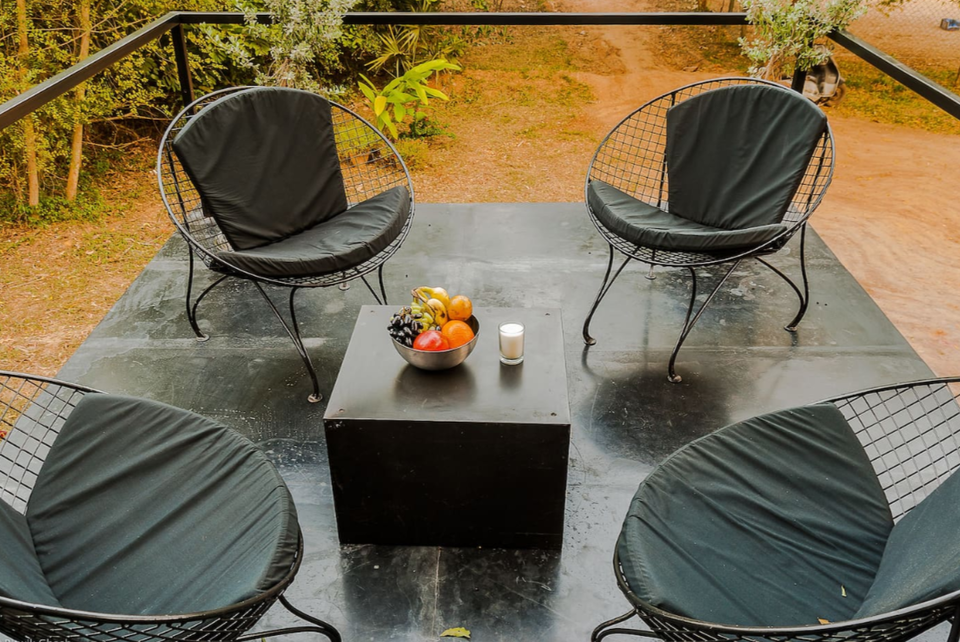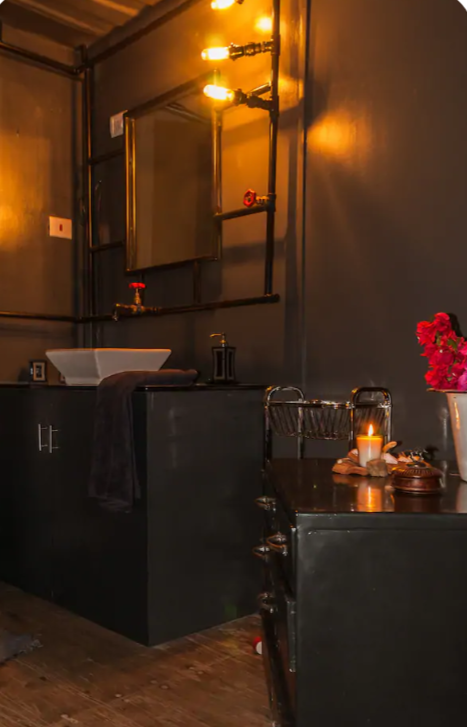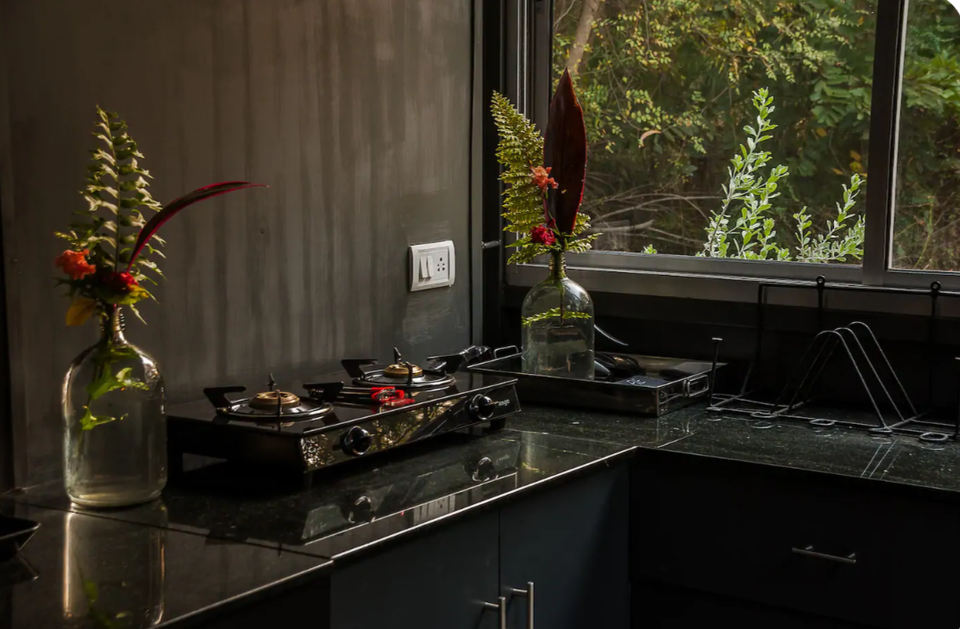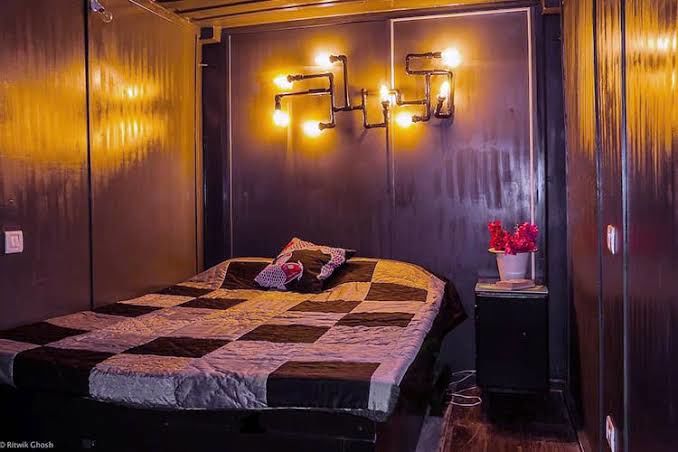 Pro-tip:
Smoking is not allowed inside the box. You can do it outside though. Check-in is post 2.00 pm.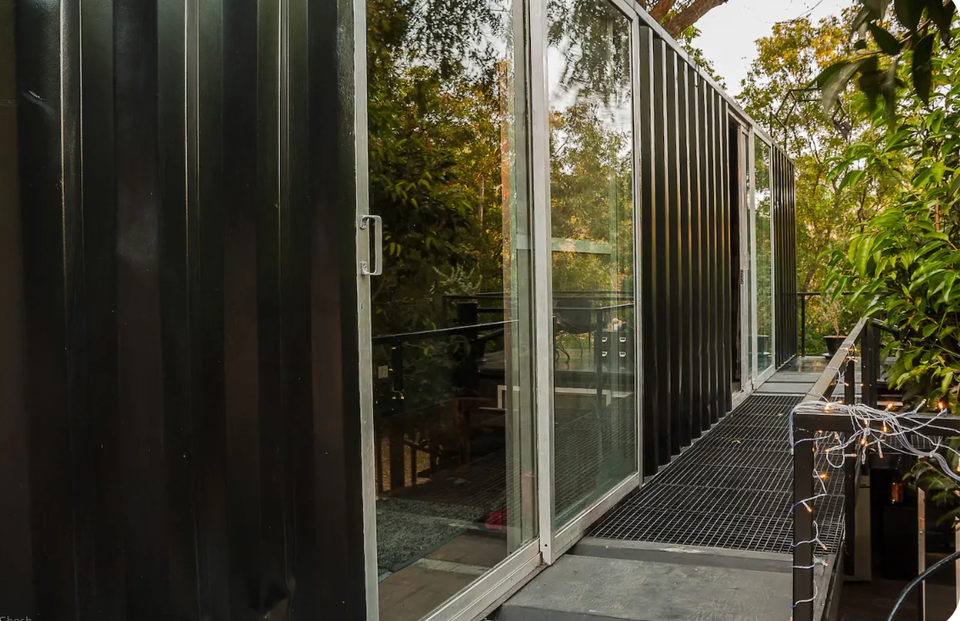 Highlights:
1. Check out the stables around and admire beautiful horses. The entire riding school set-up gives out a very old-school English vibe.
2. You don't have to leave your pets at home.
3. The host, Jacqueline, can organise a plethora of fun and adventurous activities like horse riding, swimming, yoga, surfing, and even cooking lessons.
4. You can also get a foot reflexology massage or an Ayurvedic spa.
5. A barbecue can be arranged for lip-smacking starters.
6. The entire place is surrounded by horses, dogs, peacocks, and other flora and fauna.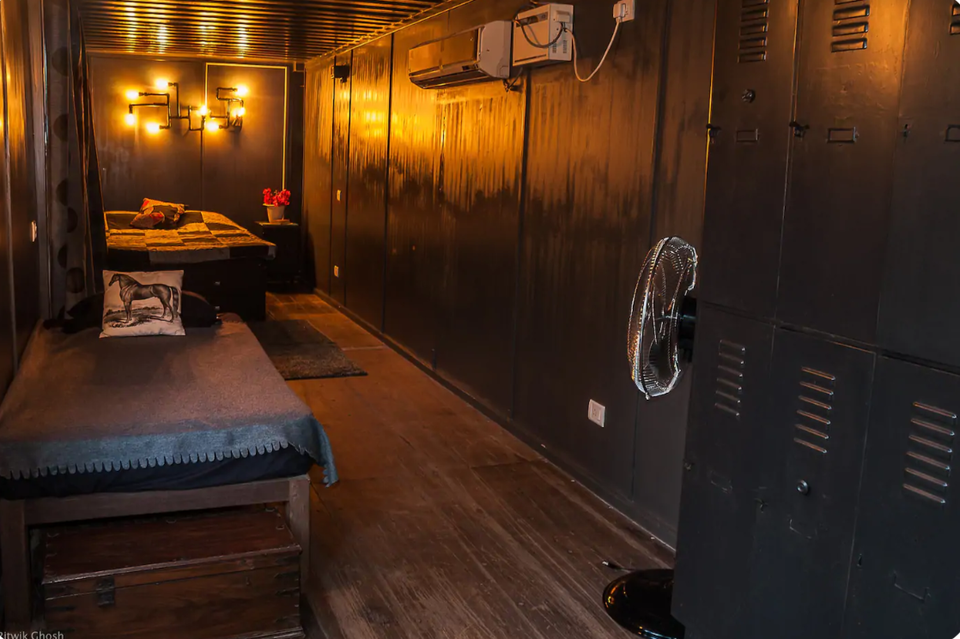 Best time to visit:
November-March
The weather of Auroville is tropical in nature. Summers are extremely hot and humid (40-44 degrees) and it's recommended to avoid them.
How to reach:
As per guest reviews, it is a little difficult to find the location on Google Maps so it's best to call up the host, once you reach the surroundings to get better directions.
Auroville City (6 km) – 11 minutes
Pondicherry (7 km) – 12 minutes
Pondicherry Airport (6 km) – 15 minutes
Be a part of the largest online community of travellers on Tripoto's Facebook page!
Sign Up now and get the latest travel updates from Tripoto straight in your email's inbox!
Get answers to all your travel related queries on the go with Tripoto Chat!