Rann Utsav gained popularity post massive publicity by the Gujarat government and Amitabh Bachchan. A cousin of mine recommended me to explore the marshland preferably on a full moon night. September 2018, finally we decided to visit the Rann of Kutch in December. Even though we booked the tents 3 months in advance to our surprise no tents were available at the tent city on the full moon day in December.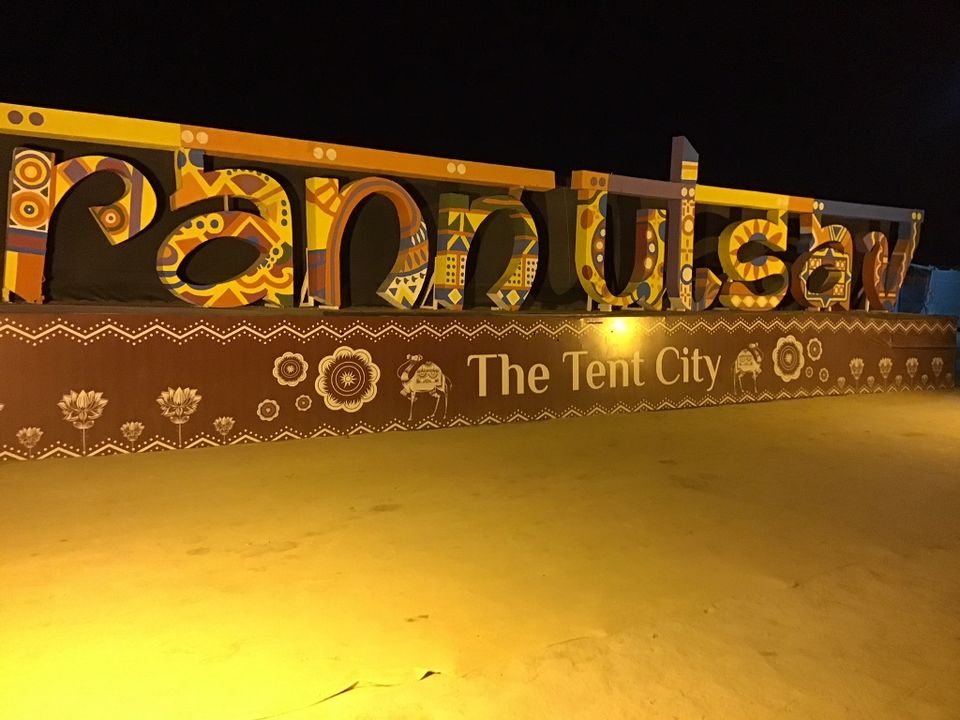 To book a package in tent city you need to make bookings with the numbers provided on the official website. Booking experience was not very efficient. Multiple reminders and careless attitude was making me wonder if it was the right agent to book the package. But apparently there's little choice. We booked premium tents for 2 nights and 3 days in December second week. We were five of us and the tour cost was a whopping INR 84,000/-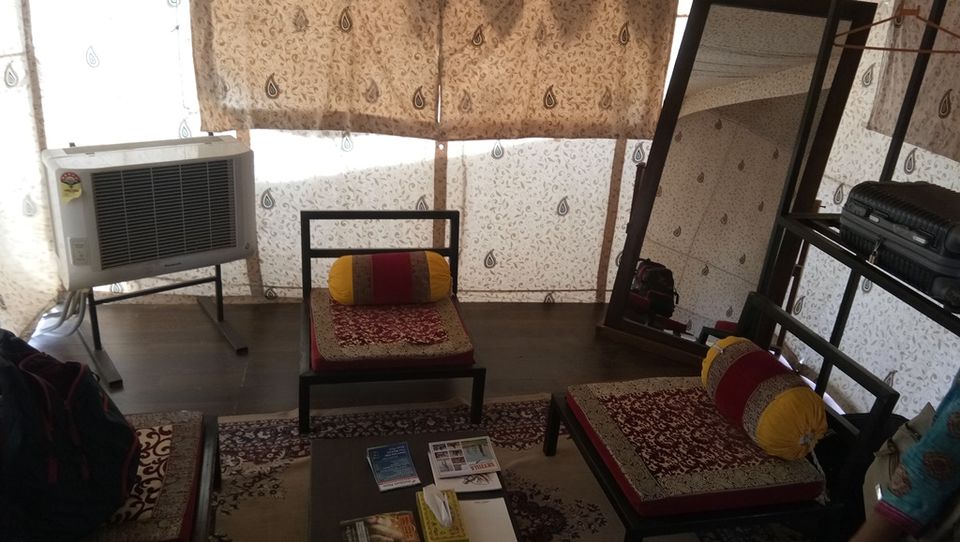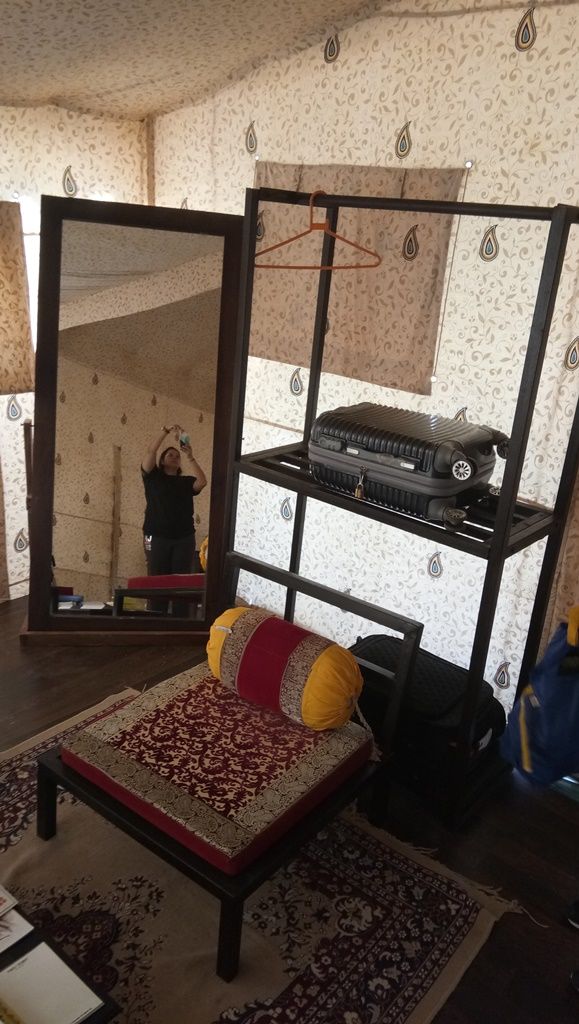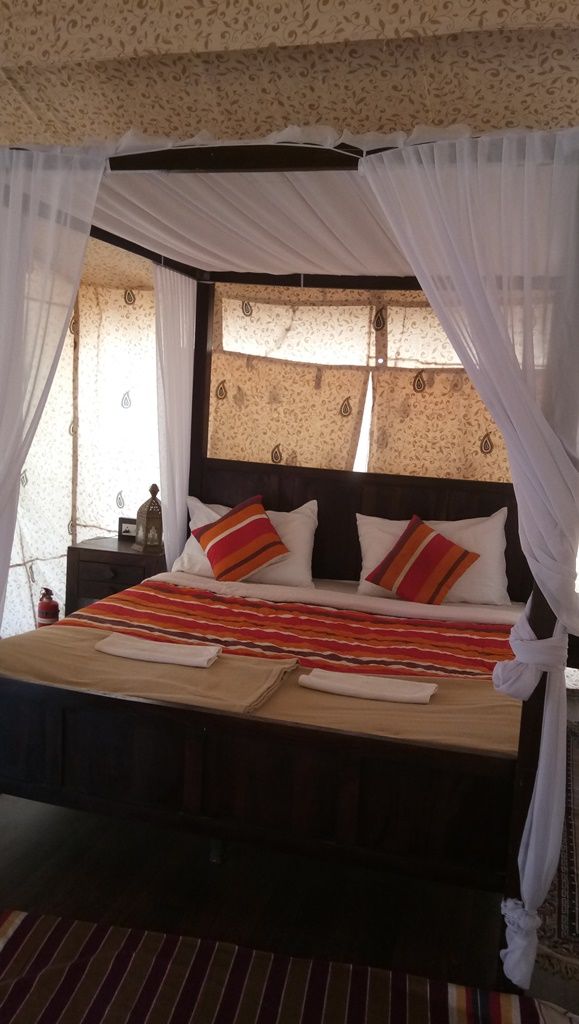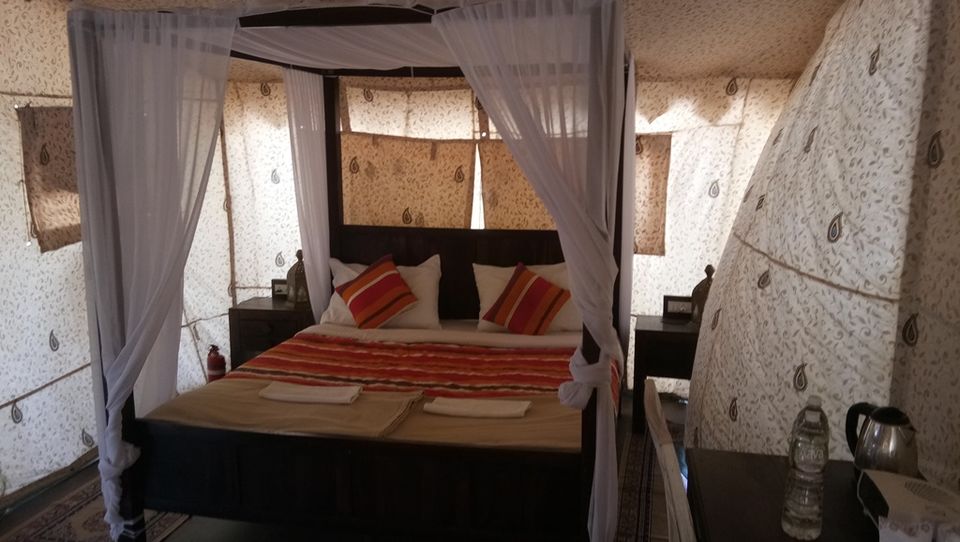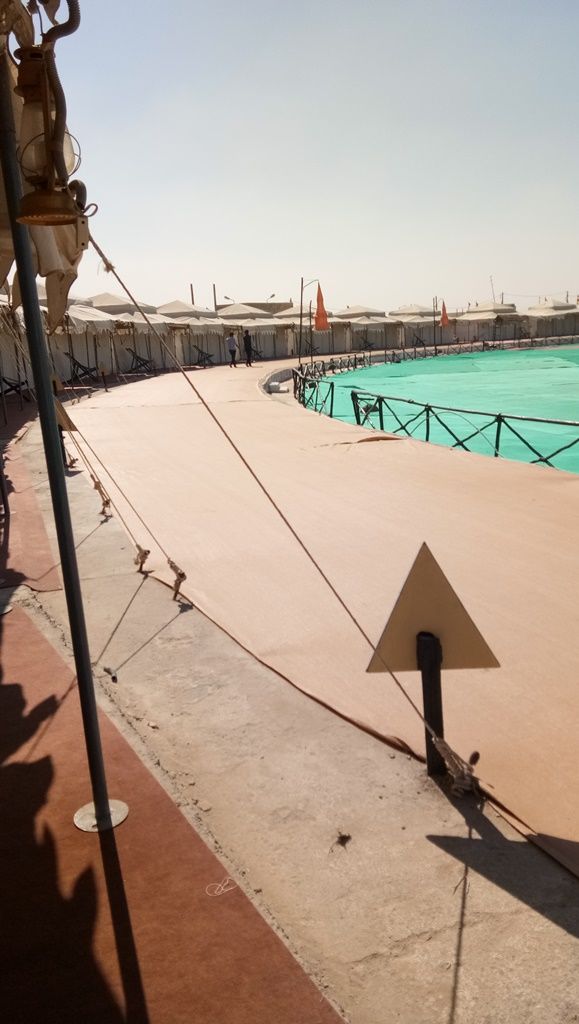 Journey started with a train ride from Mumbai to Bhuj by Bhuj express. It departs Dadar station from platform no 7, western railway at sharp 3 pm. Don't expect much when it comes to hygiene and comfort in this train. Single Journey in 2nd AC compartment will cost you INR 1,650/- It reaches Bhuj Station around 7 am and is mostly on time.
I think I was traveling by train almost after 4-5 years. It was fun playing Uno but annoying hearing people snoring in the compartment.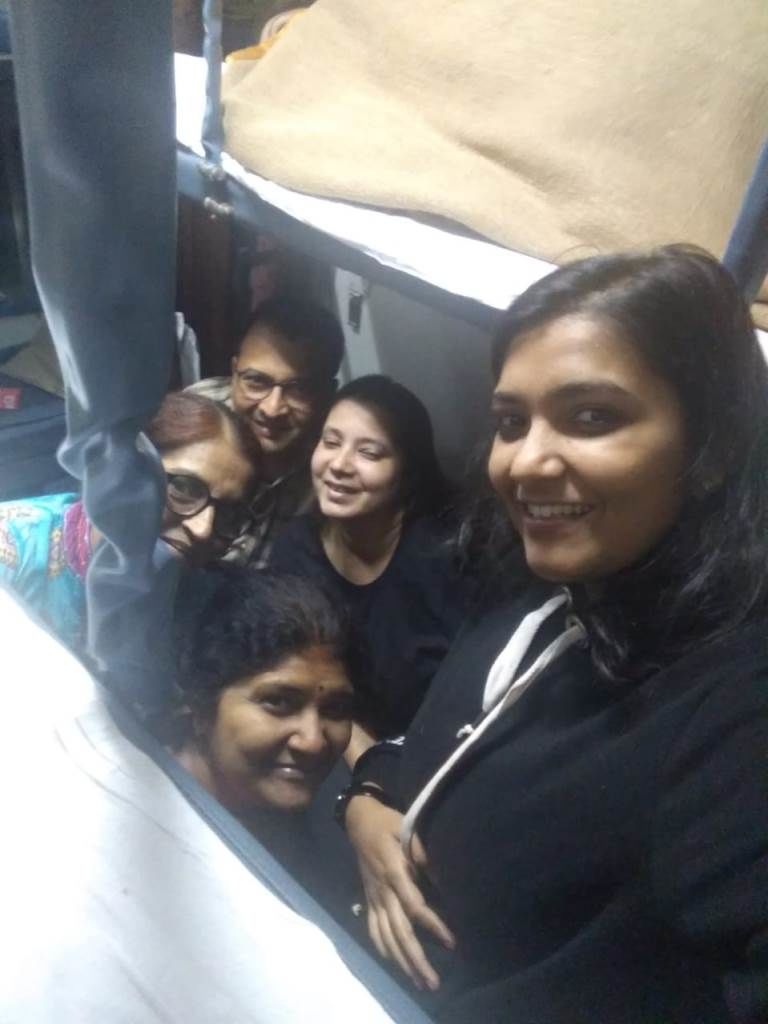 Once you arrive at Bhuj Station, exit towards the parking lot and on the left side you will find the Rann Utsav, Tent City camp. We were booked for the pickup at 8.15 am but we were told we will be transferred only by 10.30 am due to some confusion on their end. Finally after an endless wait they decided to transfer us at the pre-booked 8.15 am slot. While you are at the camp you can freshen up and they offer you tea to beat the chill.
The journey to tent city takes close to two hours. They give you dry refreshments on the way that includes some chips, water, biscuits, frooti and 2 toffees. I'm sure they can provide some hot snacks instead of this sub-standard packet for the amount they charge.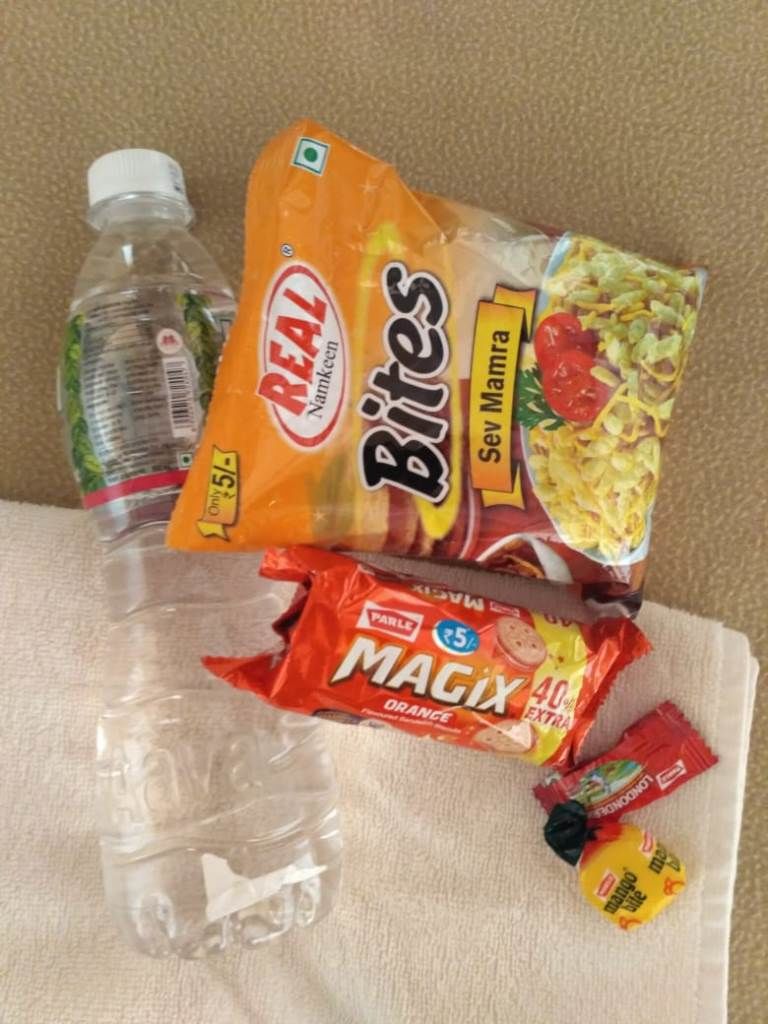 There is a good cultural welcome upon reaching tent city with dhols and folk dances. Check in was smooth though we had to wait a little for the tents to be ready. Transfer within the tent city can be done through the golf carts for no extra charge. There are close to 40 premium tents with attached bathroom. Tents are equipped with AC/Heater, living area, toiletries and slippers. Tip: Jio network doesn't work at tent city and hence consider carrying an alternative number to make and receive calls.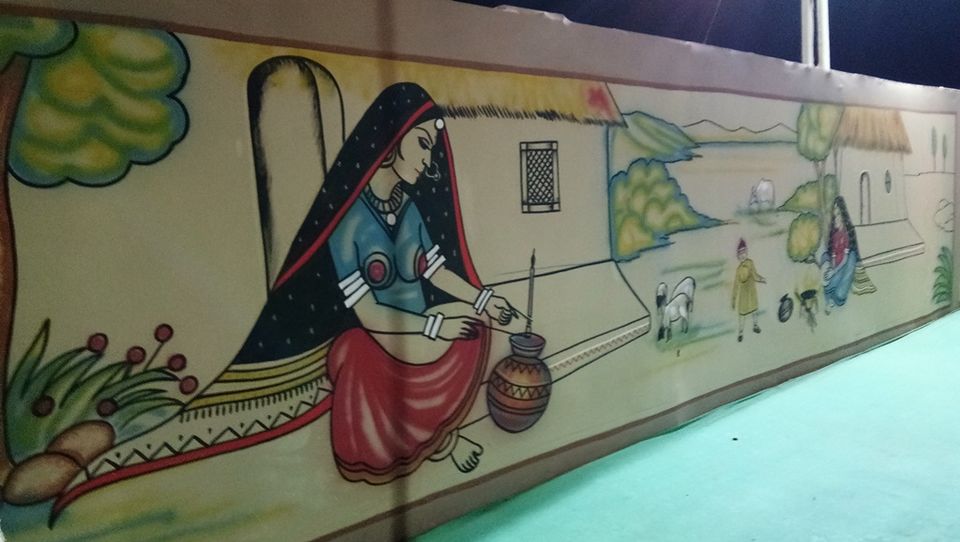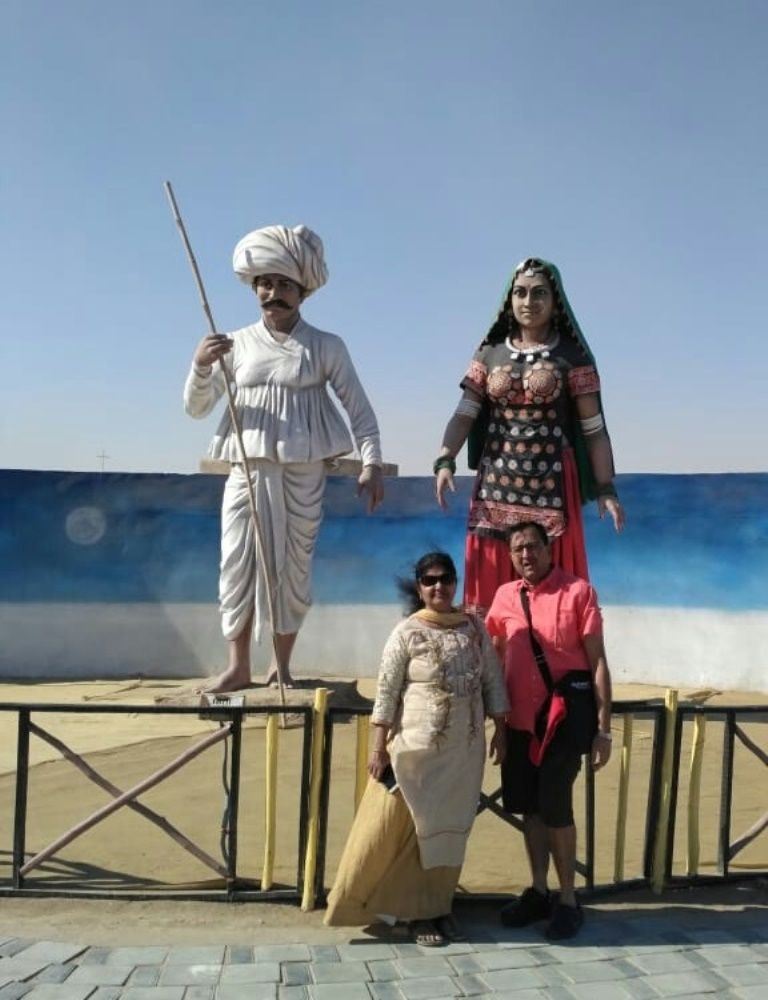 Post freshening up we headed for some warm lunch at the Dining Hall within the tent city. Lunch starts 12.30 pm onwards and the catering is by Sayaji. It's a good vegetarian spread with variety of vegetables, starters, salads, dal, rice and desserts.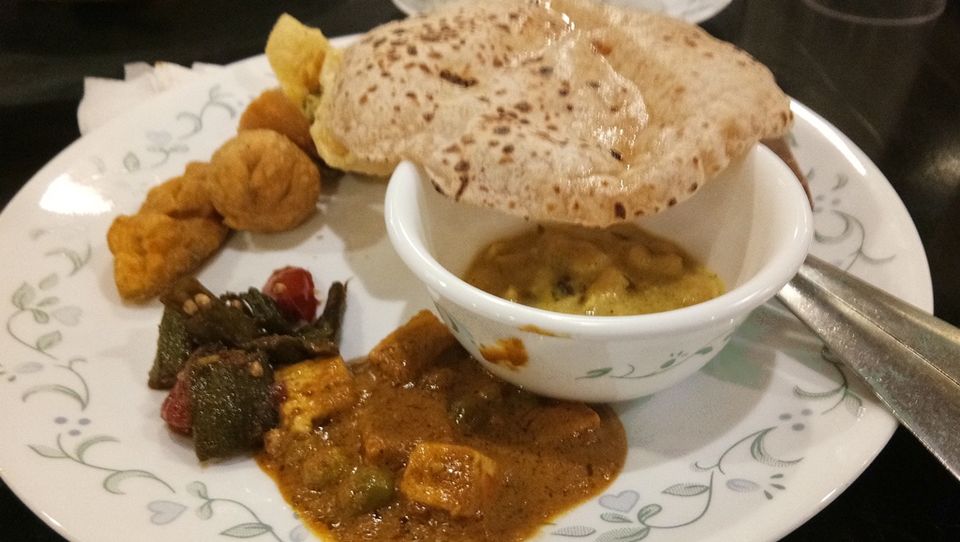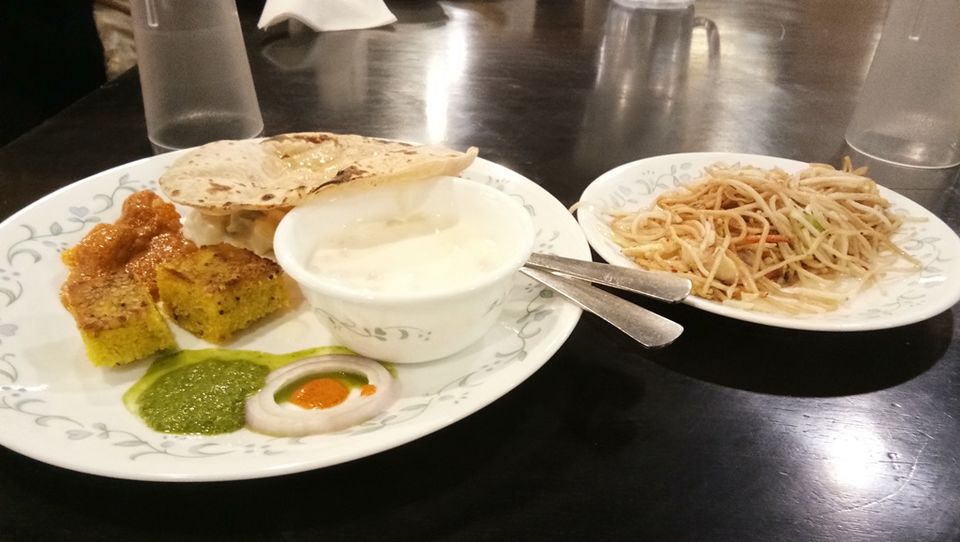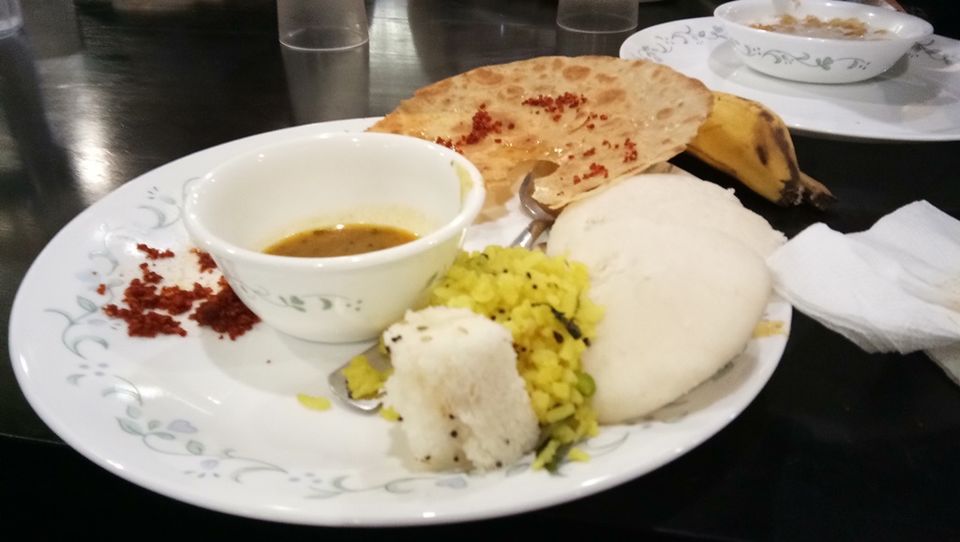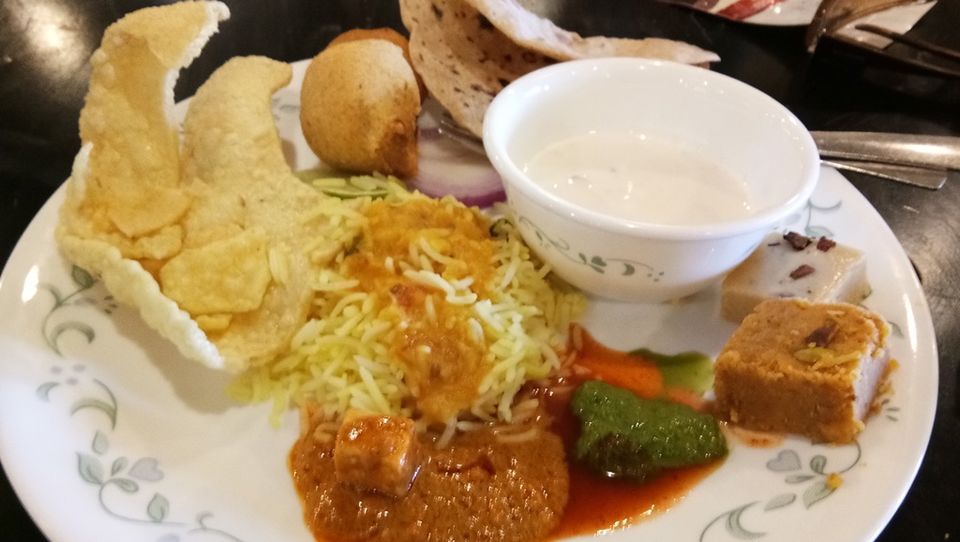 We then explored some in-house activities, for which you have to pay extra after paying the whooping booking amount. There is para-motoring, parasailing, tandem cycling, zipline, auto-swing, archery and paint ball. Para-motoring is for 3000 inr and and parasailing for 1200 INR. Auto swing which barely swings for 2-3 minutes is for a whopping Rs. 500 per seat. There is an exhibition/sale art gallery which has some nice paintings. There is a shopping arena called "haath" which has some local artisans exhibit their products for sale. Bargaining is possible and some of the stuff is nice and different.
Tip: do carry a good, long scarf with you as it's usually very windy and the sand sticks to your hair and face. So it's better to have it covered.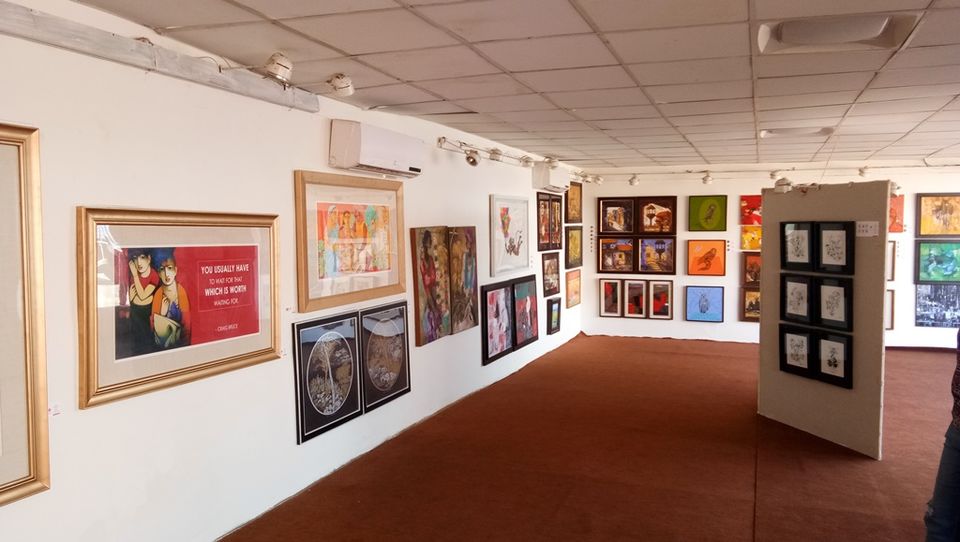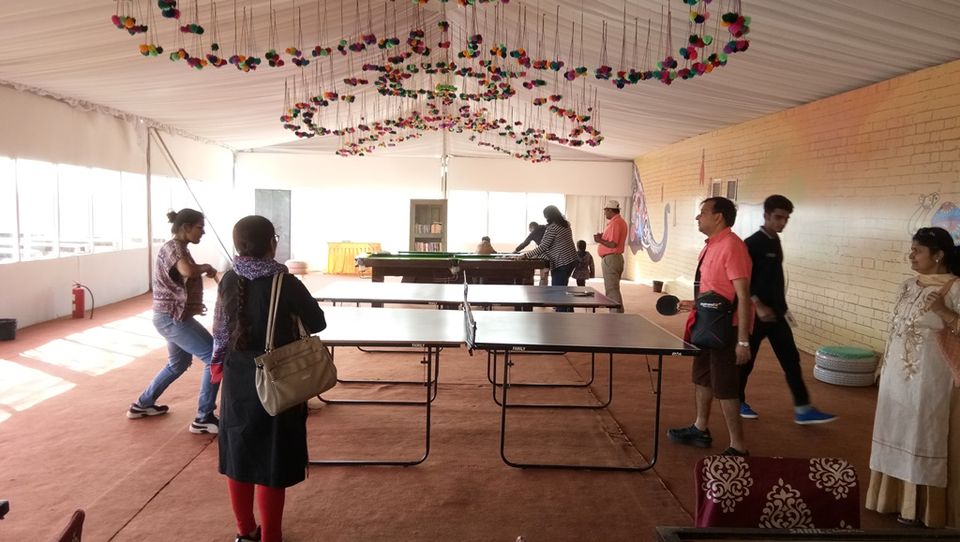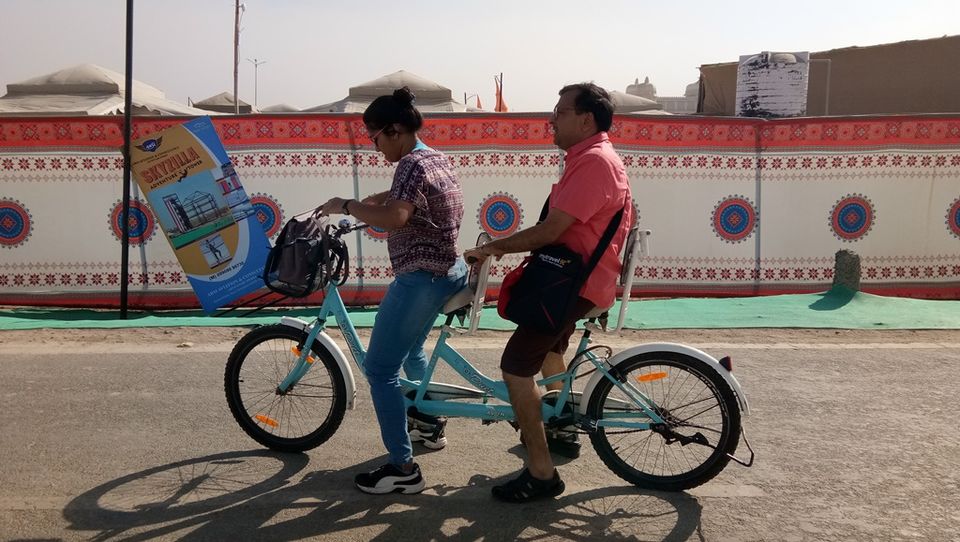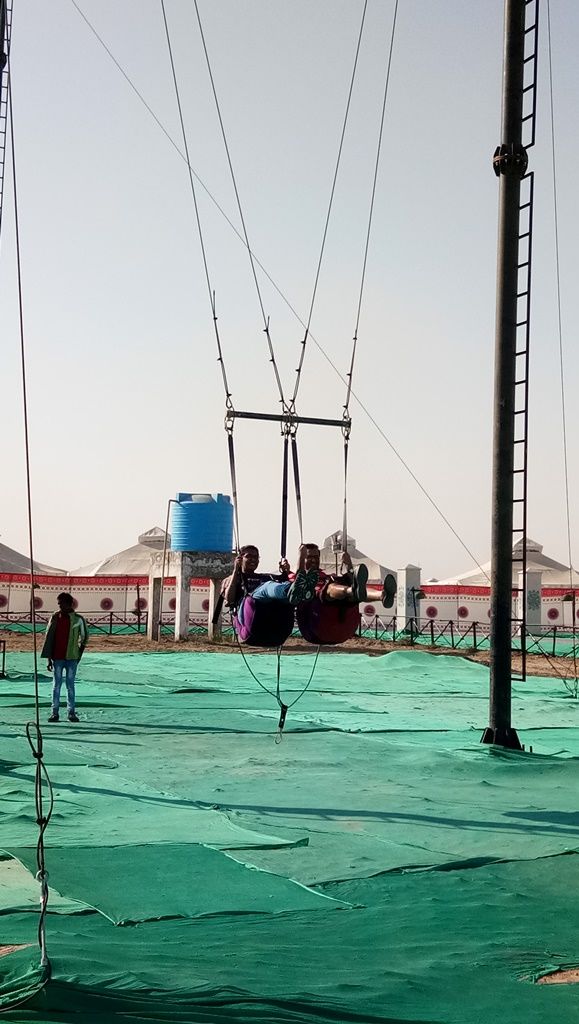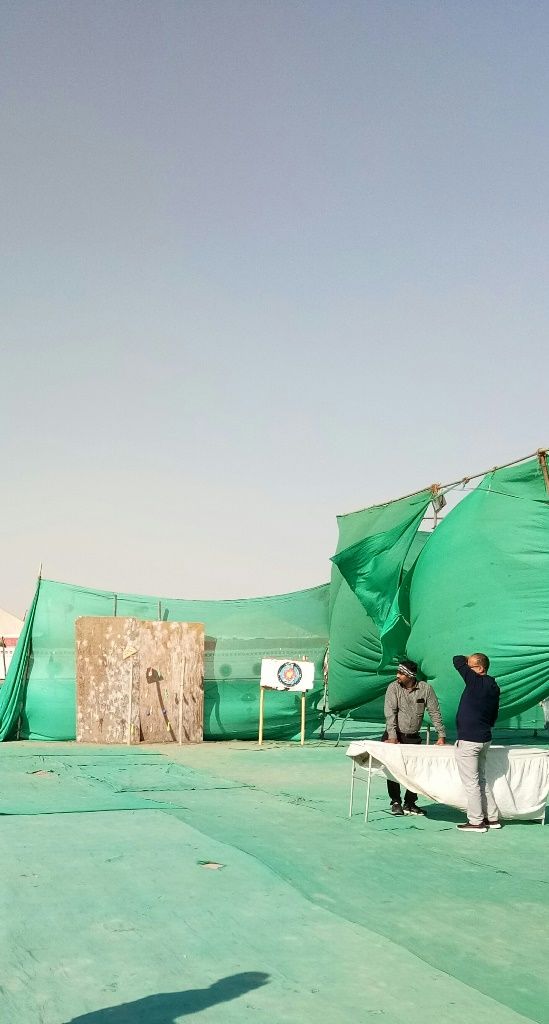 After lazing in our tents for a while we then proceeded for High tea at 4 pm where they serve some lip-smacking paani puri, sandwich, biscuits and tea/coffee. Post High tea one has to line up for evening visit to white Rann either in bus or by camel cart. It takes roughly 40 minutes one way to reach the White Rann and the plight of the camels pulling a heavy cart with even heavier people is appalling.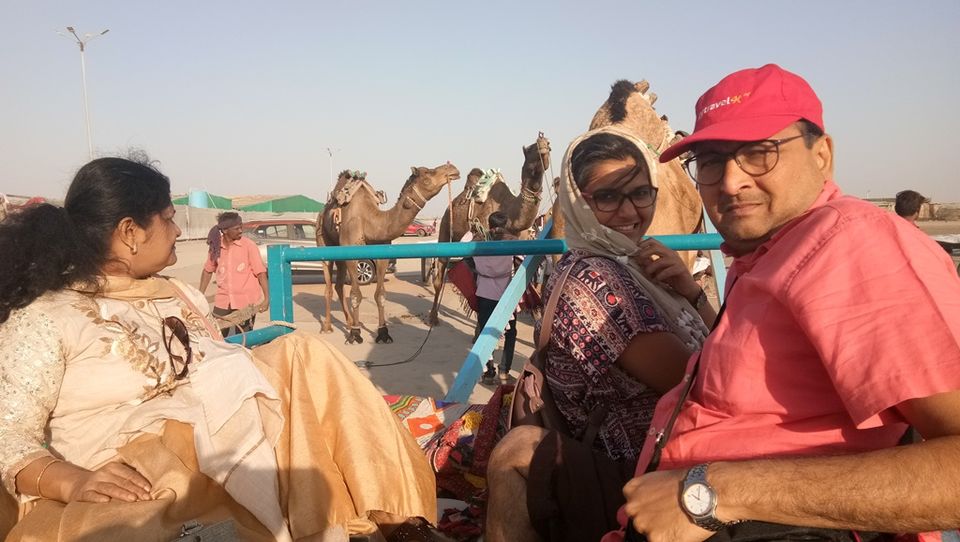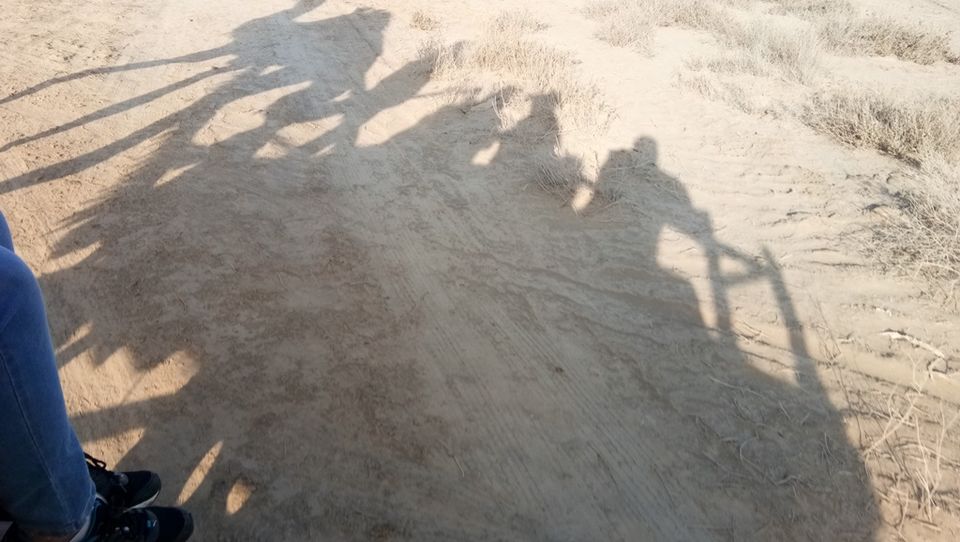 Witnessing the white rann with a setting sun in backdrop is mesmerizing. You can dress up in local attire and get snaps clicked with dhols and umbrellas for Rs. 200. My rockstar bhaiya and bhabhi looked absolutely lovely in the local attire! Have a look at some amazing pictures!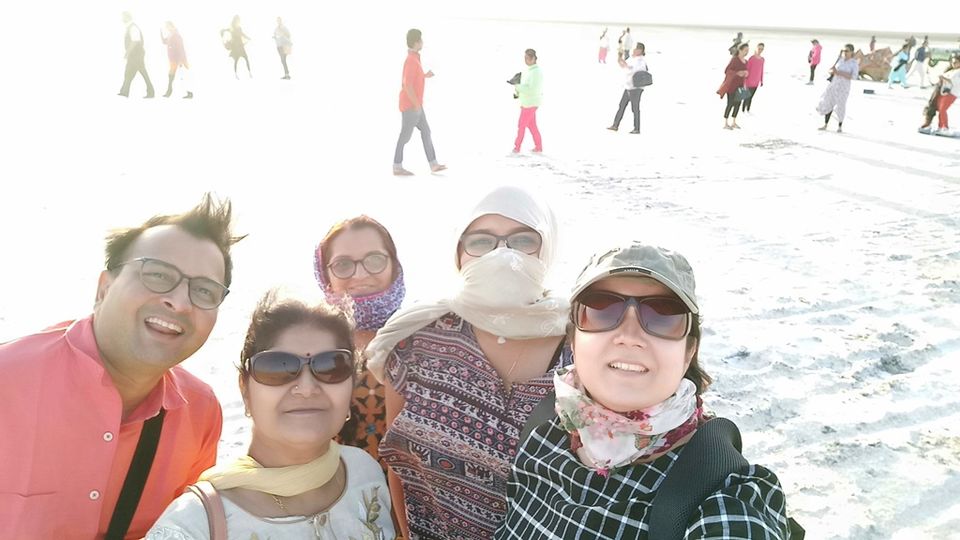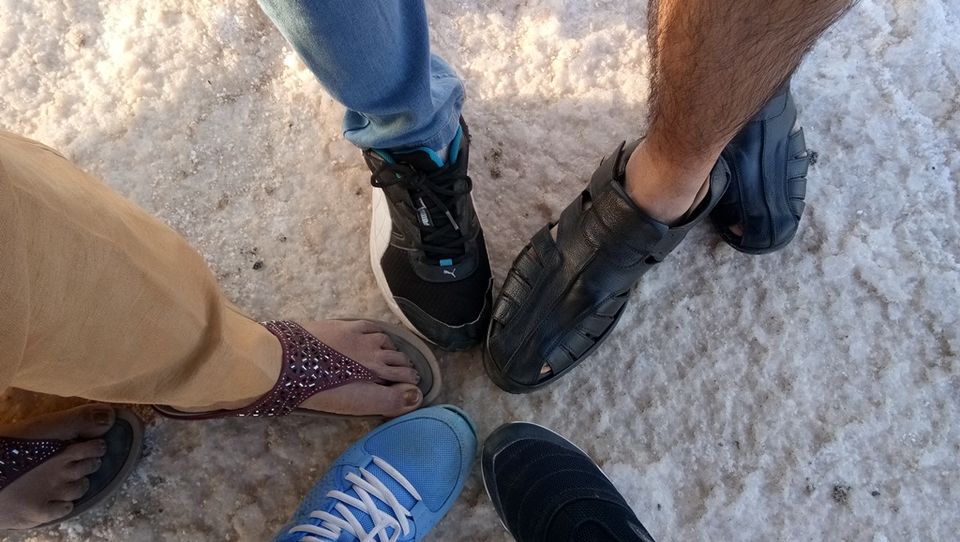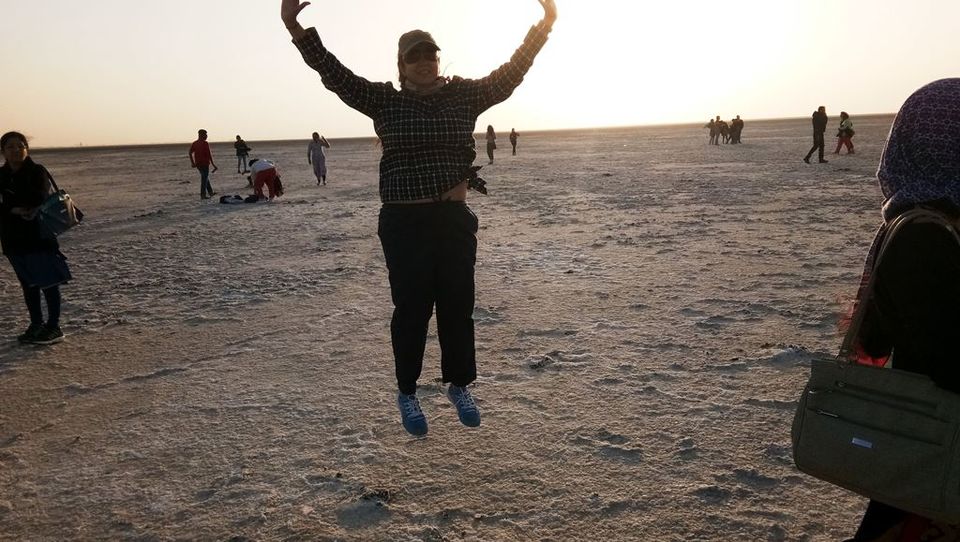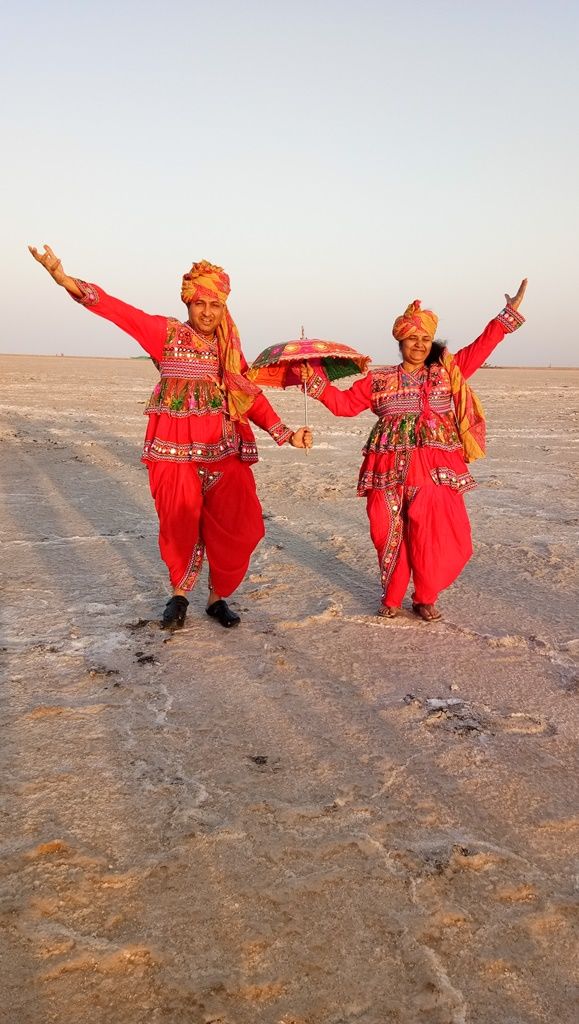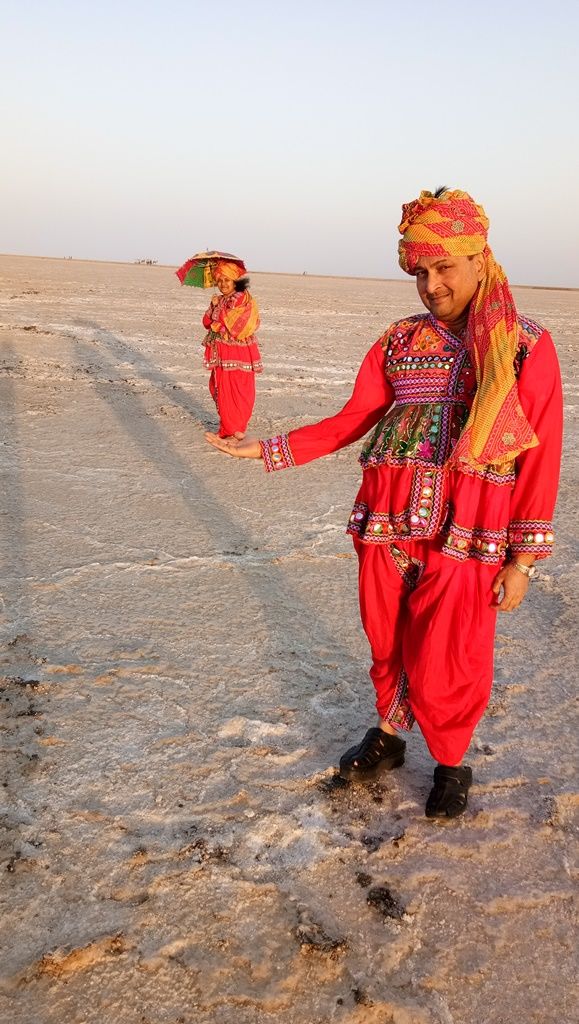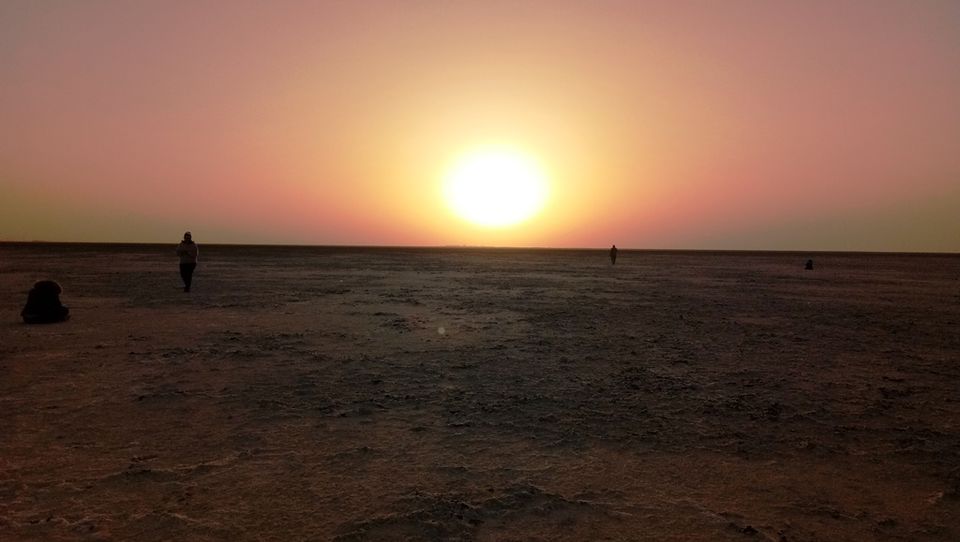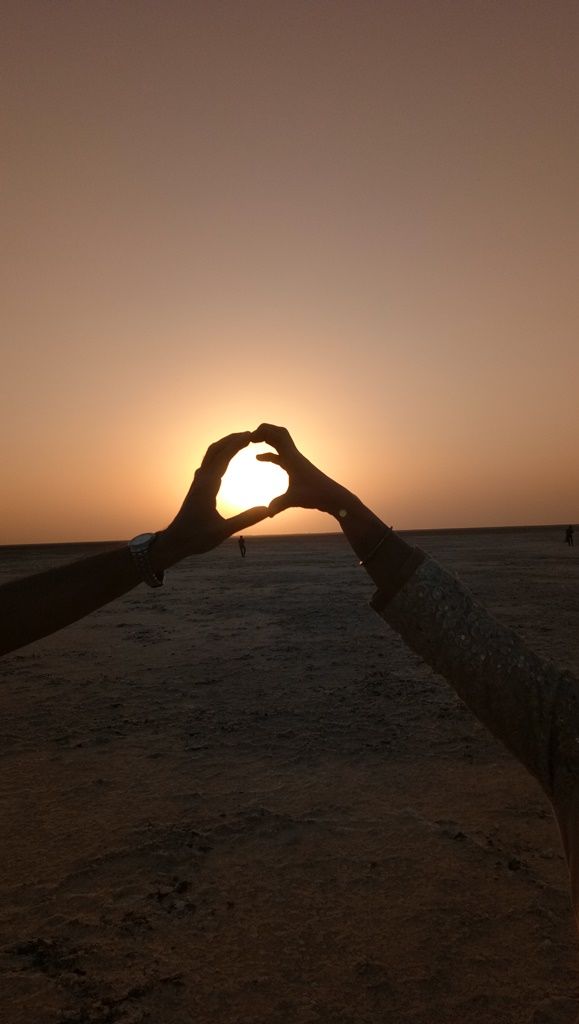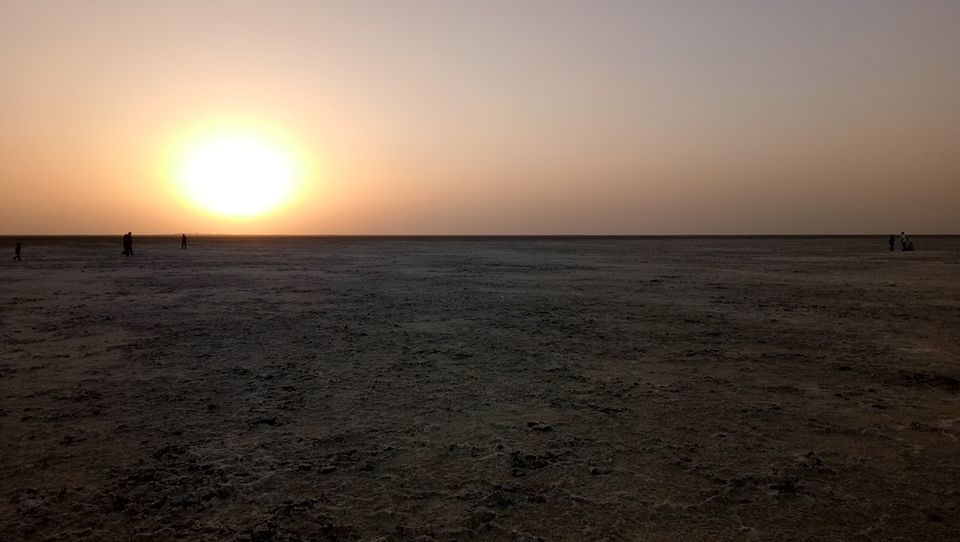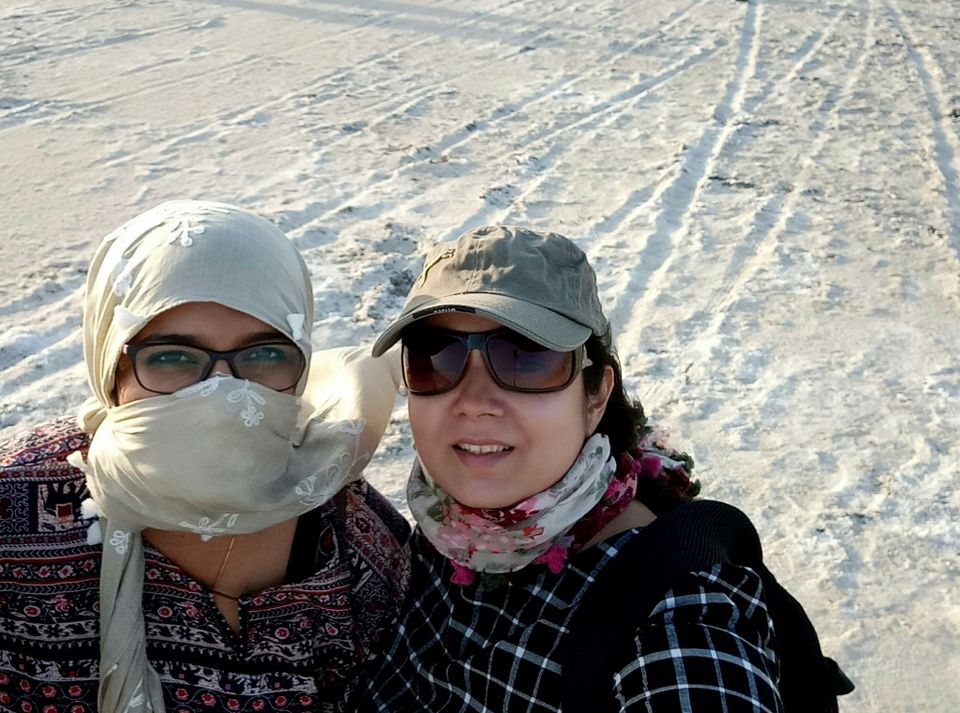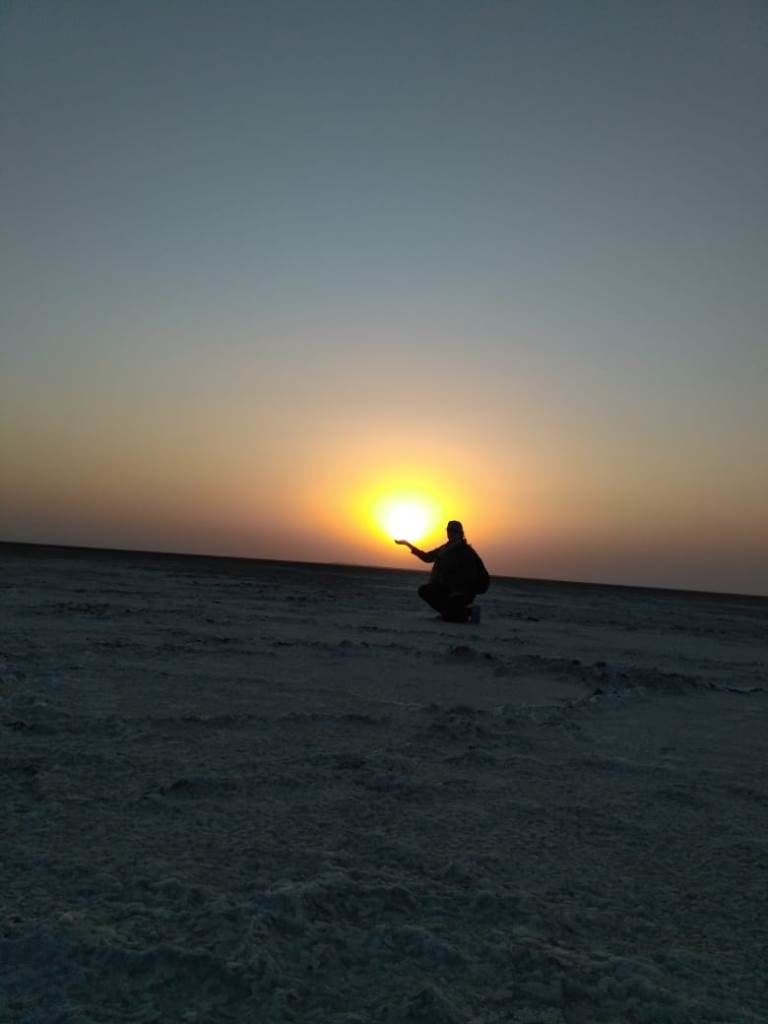 You head back to tent city again via the camel cart and upon reaching you can head for dinner with live music 7 pm onwards.
There is cultural activity from 9.00 to 10.30 pm and they offer some live music by a band, a performance by an artist who can twirl nonstop for 90 minutes and folk music by fankaar group. Its chilling cold at night hence do carry a sweater and shawl to the cultural program. Most of the nights the program is similar and with little variation.
You can gaze the Milky Way from outside your tent if you can bear the cold. I spotted two shooting stars.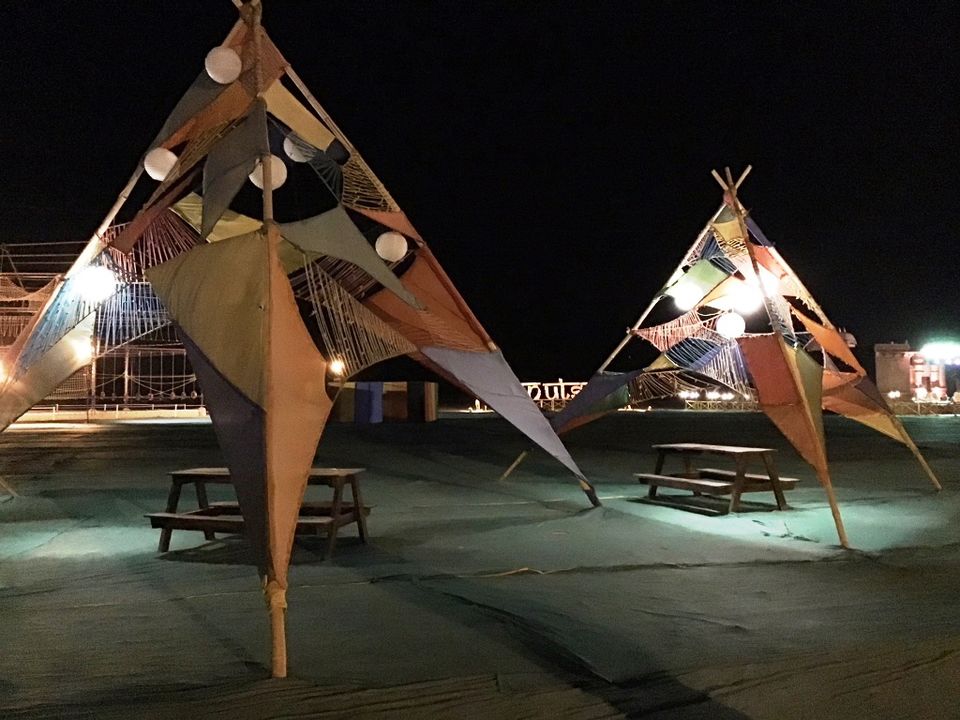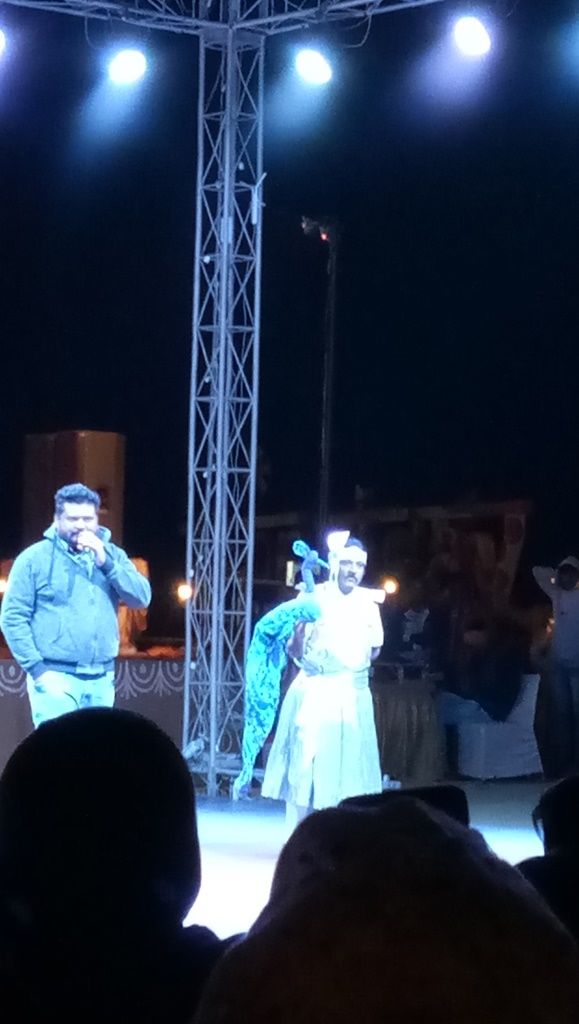 On the second day of the package, you need to set your alarm for 5 am as you depart the tent city for witnessing the White Rann in sync with the rising sun. It was freezing cold and the temperature dipped to 3 degree Celsius. The bus takes you right till the viewing tower, upon which you can climb against teeth rattling cold winds and view the rising sun in crystal white backdrop. Post that you head back to the tent city for breakfast and till lunch spend some leisurely time with your family. Around 4 pm you have to assemble at the main entrance of tent city to depart for Kala Dungar – the highest point in Kutch!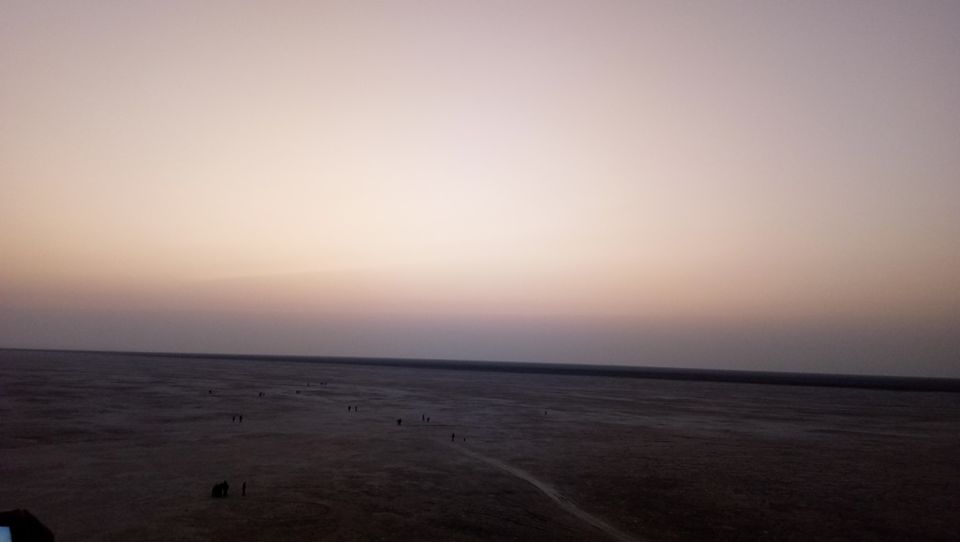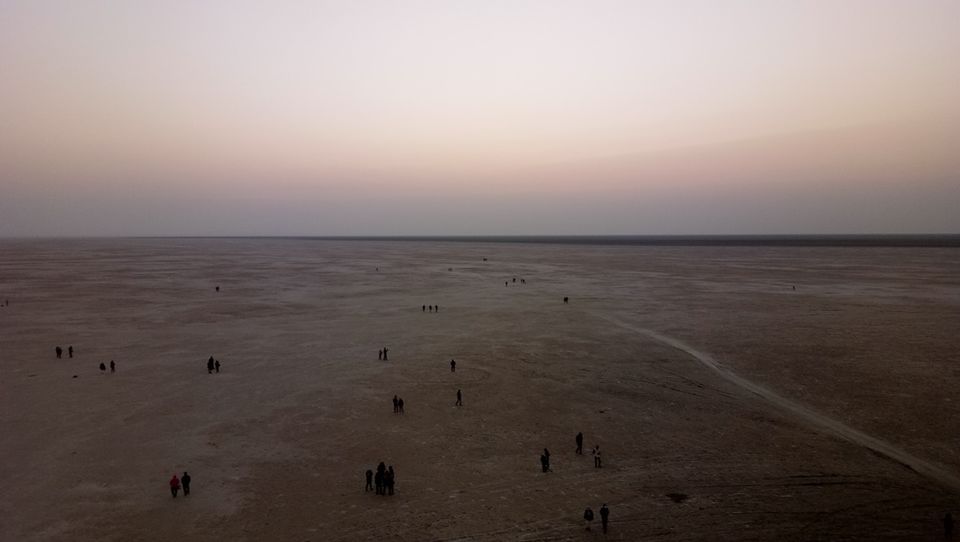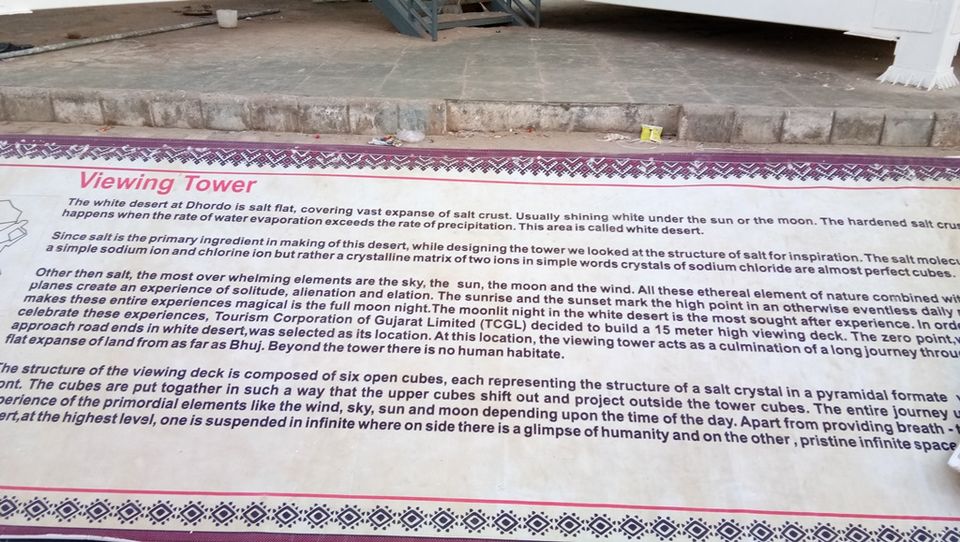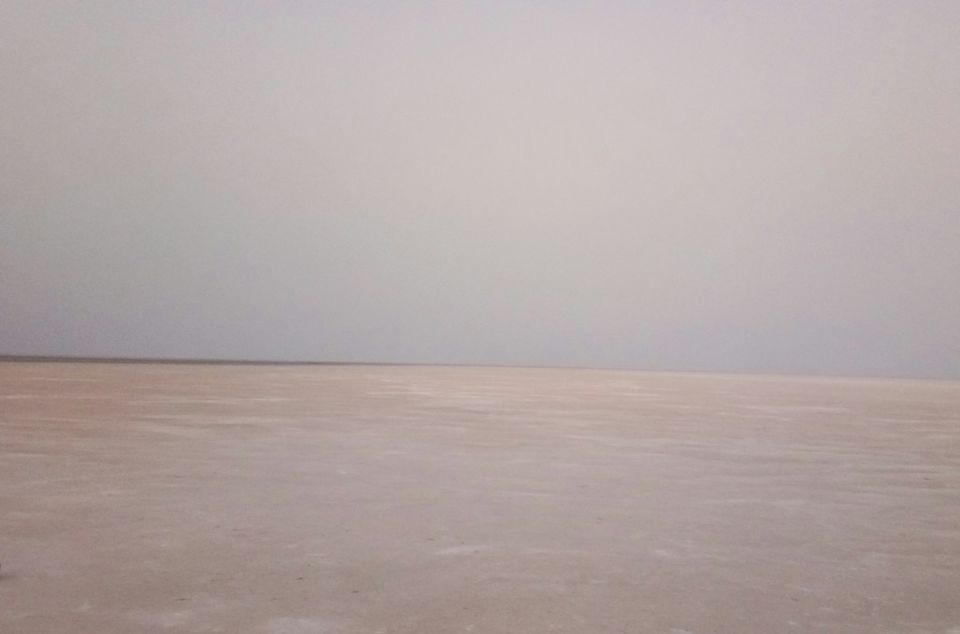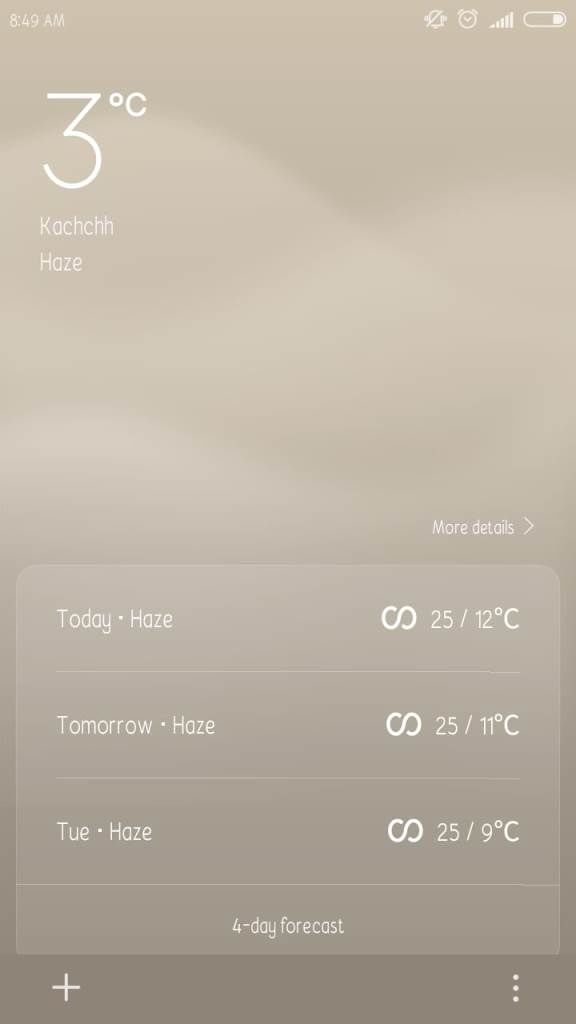 Before visiting the famed hill, they take you to visit "Gandhi nu Gaam" it's a small handicraft village where local artisans display and sell their products. You can pick items like potlis for 250 Inr, shawl for 300 Inr, small clutch for 200 Inr and various kurtis which are moderately priced.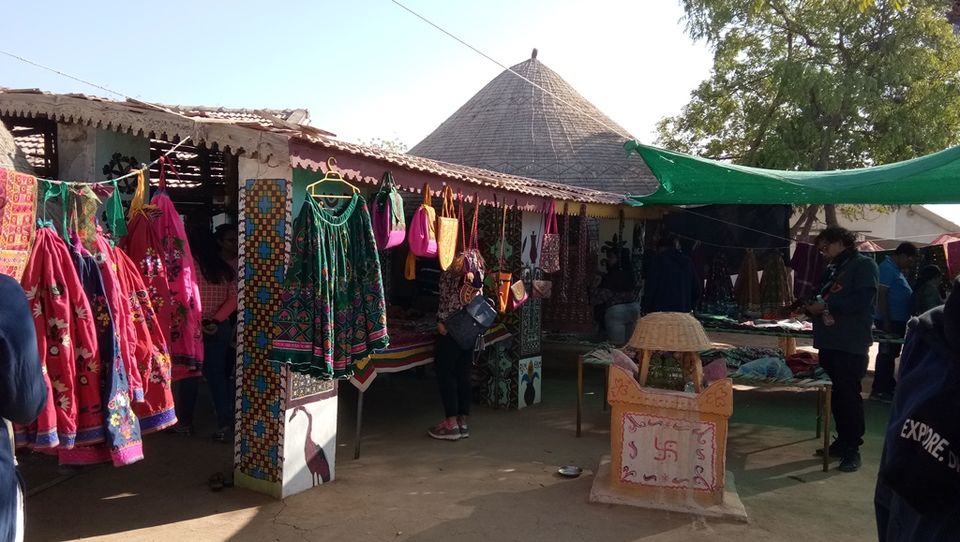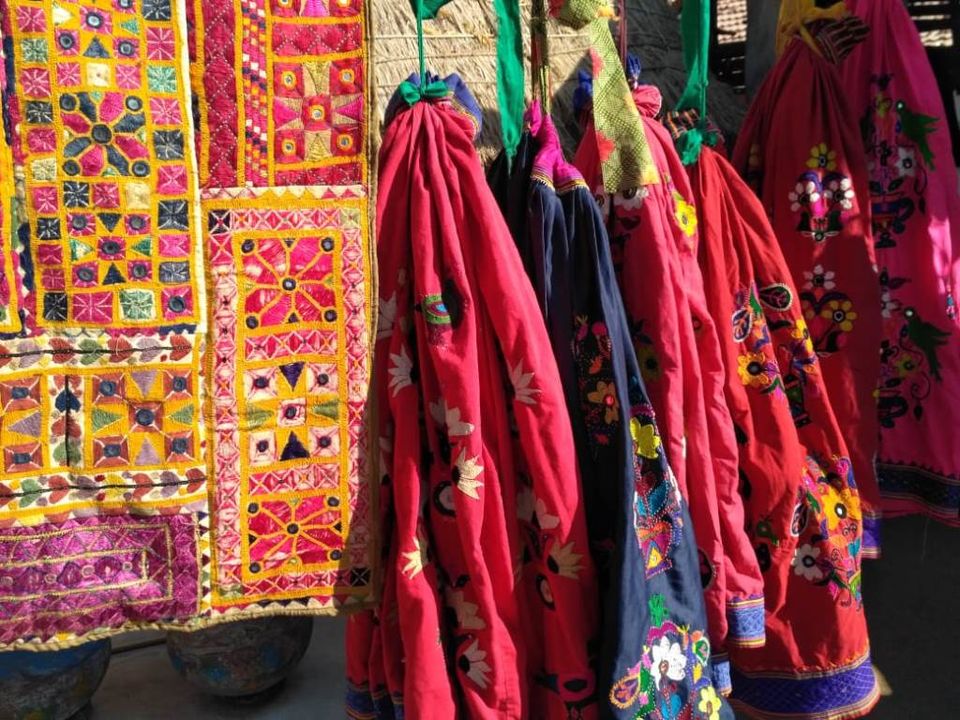 Kala Dungar which literally means Black Hill is situated 450 ft. above the Rann of Kutch. You can see the Indo-pak divison from here and Pakistan is approximately 80 Kms from this place. The bus takes you till the parking lot beyond which you can either climb for 10 minutes or take a bumpy camel/jeep ride till the top. You can have some local corn and snacks available outside and even try colorful pagdis or safas for 20 Inr. The sightseeing buses are not very well maintained and desperately need a re-vamp. Before you head to kala dungar you can visit Datashray Temple and also feed some sweet rice to jackals.
There is a ritual prevalent here to feed the jackals. It's considered a good gesture. You need to wait here till the sunset which I feel is a lot of time to spend on the top. Beyond a point it gets boring and it's difficult to kill time.
Once you head back to the tent city which takes a good 60-70 minutes, you can do some final shopping at the 'Haath' or head for some warm dinner on a very chilly day. The cultural show is repetitive and with similar performances as on day 1, so save some time and rather spend it playing Uno.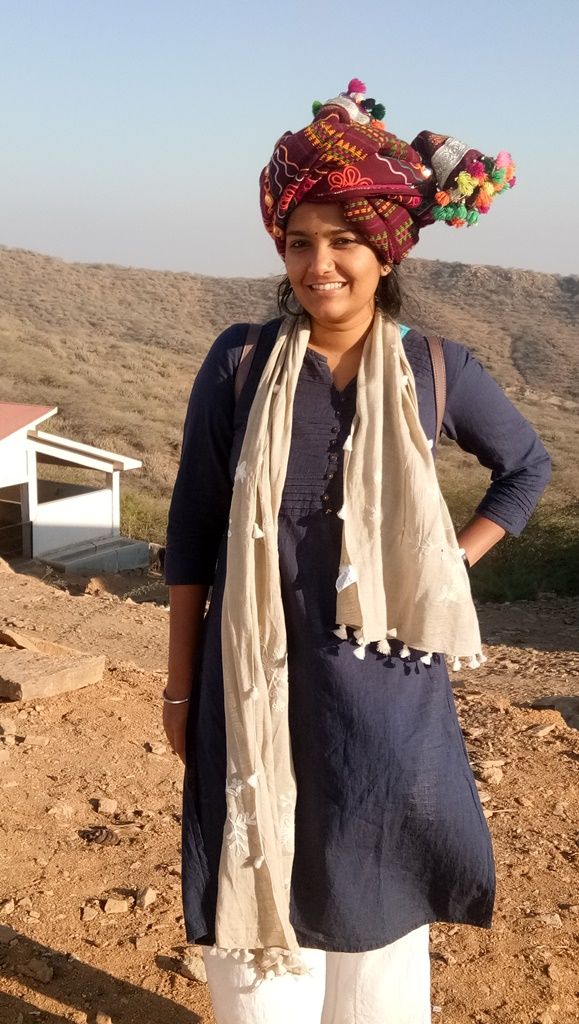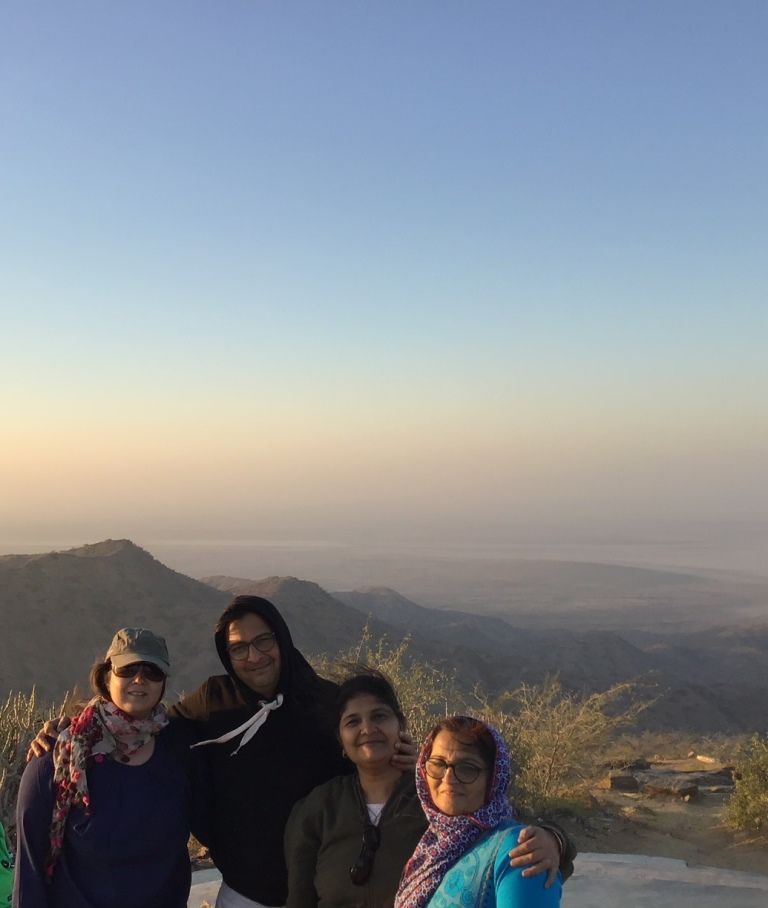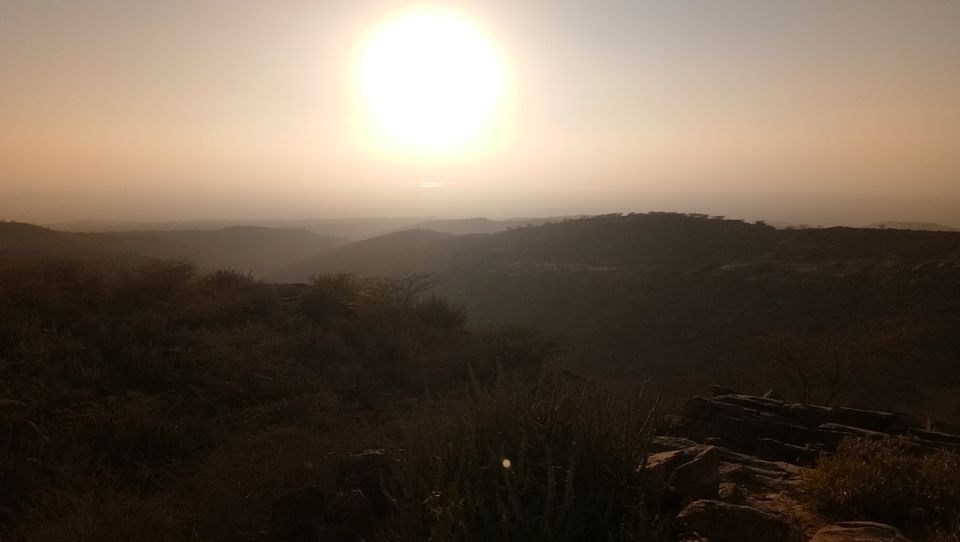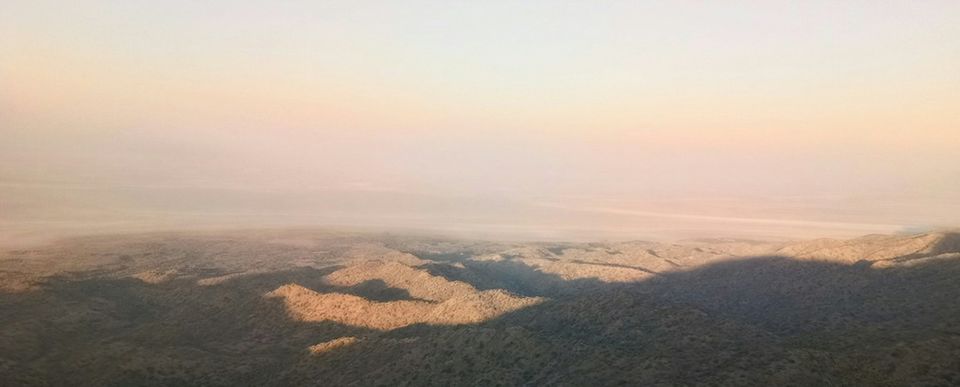 Day 3 begins with chaos! 9 am is the checkout from the tent and you need to finish eating your breakfast and proceed to the main entrance to identify your luggage and get it loaded on the bus. This was the most dis-organized part in the entire trip. They don't segregate people/bus as per airport or railway station drop. The result: MAD CHAOS! If check in was smooth, then check out can qualify as a havoc! The management at tent city need to divide the busses as per railway or airport drop so that it becomes easier for the manager and the passengers.
Before dropping you to the airport they show you some local sightseeing in Bhuj. The first point is Swaminarayan Temple. It's a beautiful temple adorned with marble architecture and sculptures. Ladies are not allowed beyond a point which is sick but most people happily complied with the bias.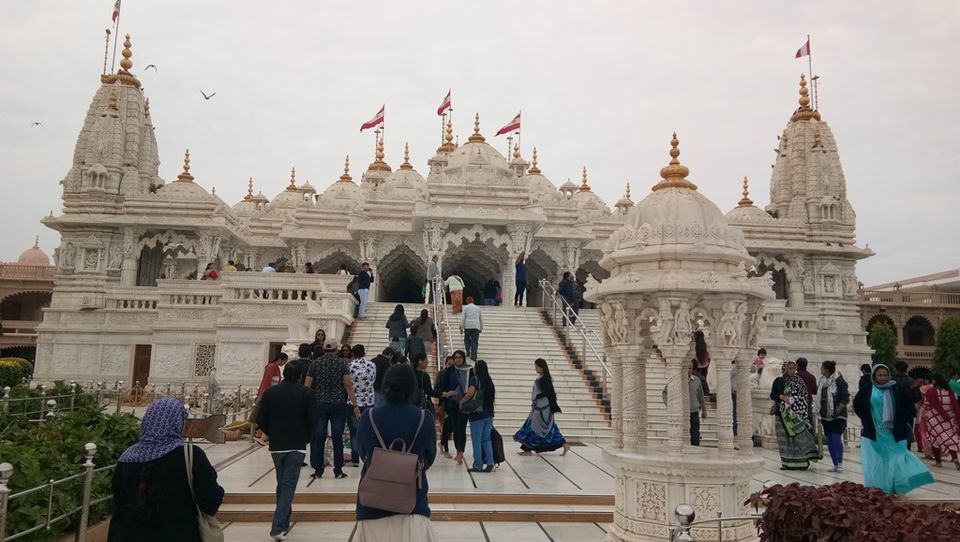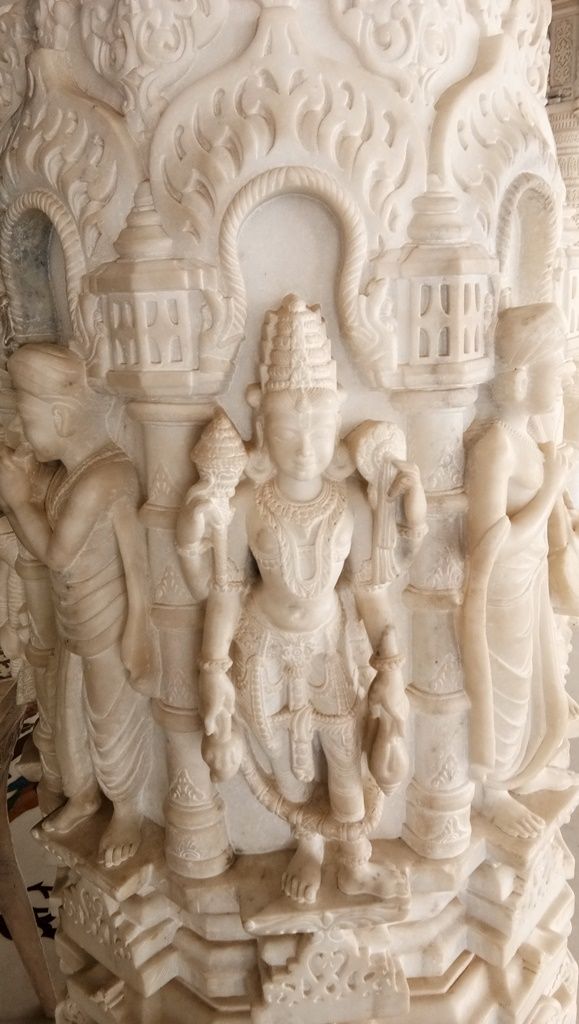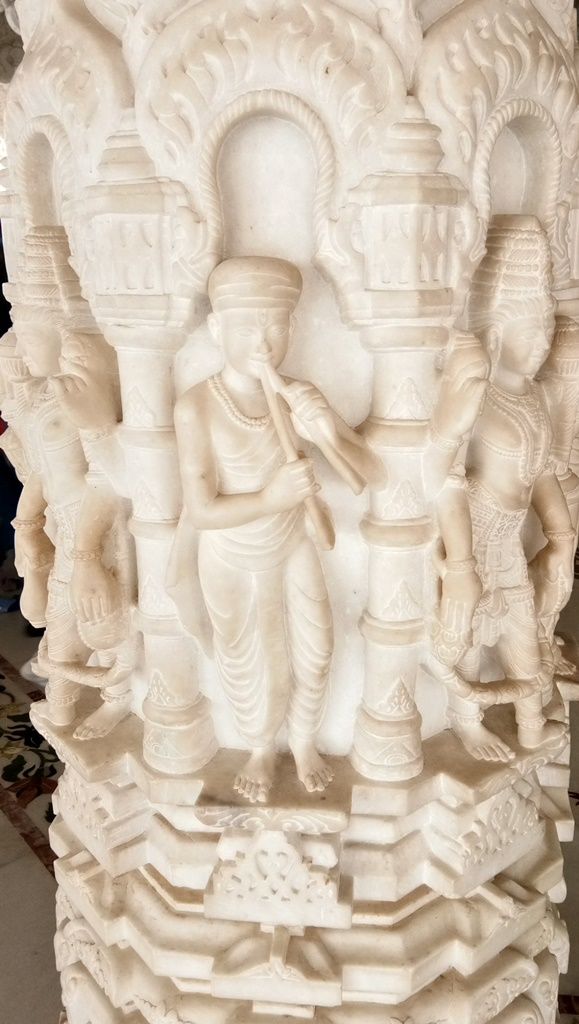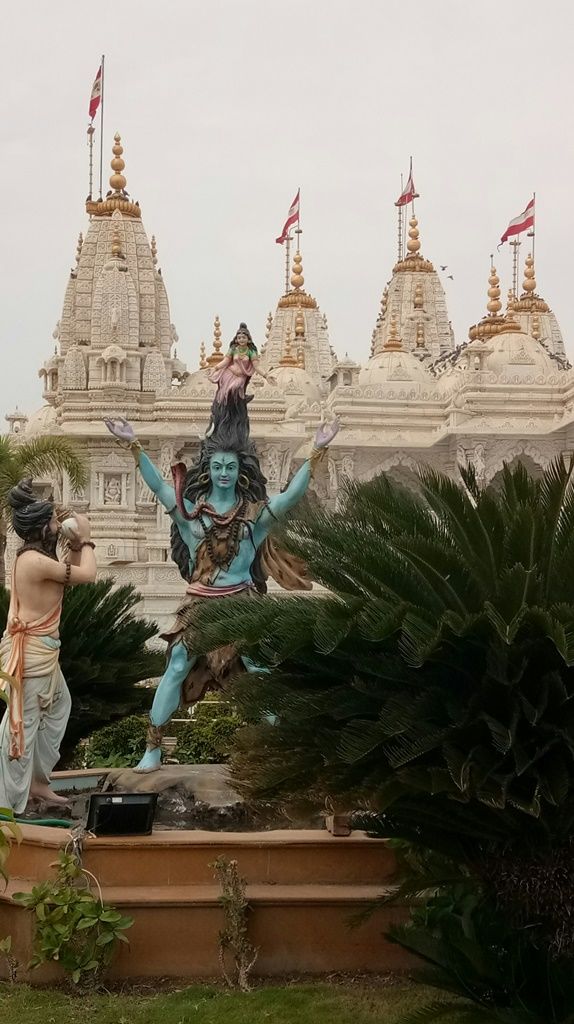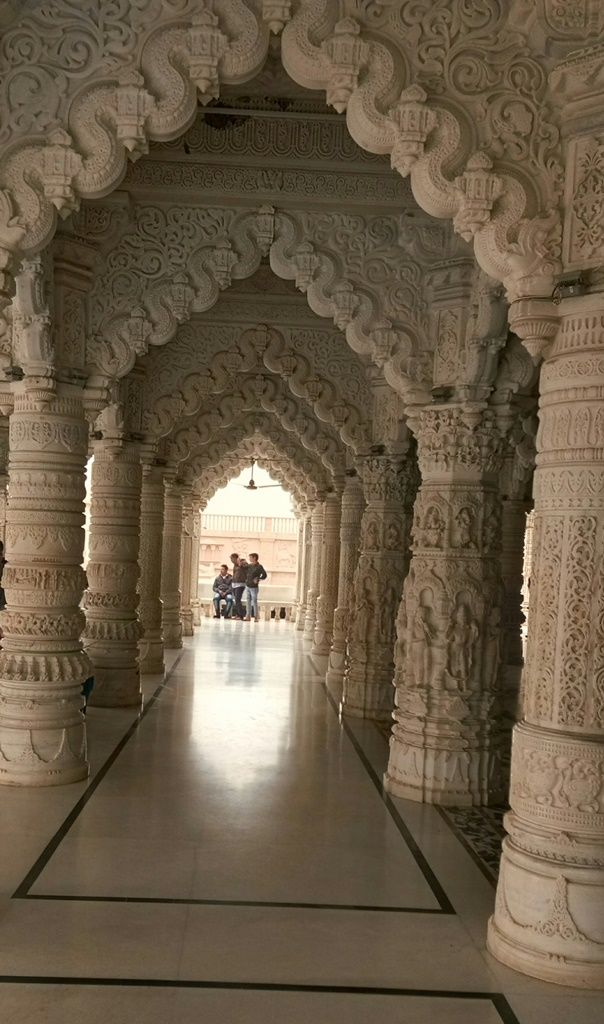 Post that you can walk it up to Bhuj Museum. The entry ticket is a meager Rs. 5 and if you wish to use the camera then pay Rs. 100 additional. Local attire and currency used by kutchis back then are on display.
The last stop before the drop off is 'Bujodi – Handicraft Village by Ashapura Foundation. It's a good initiative to pass the benefit directly to the artisans and there is no middle man involved. You can even buy a ticket to the parliament house re-make which showcases 4d animation show. If you choose to do that then you will have to make your own way to the airport or station. They drop you to the airport by 2.30 pm. There is no lunch time in between and the only option at the airport is some dry snacks and sandwiches.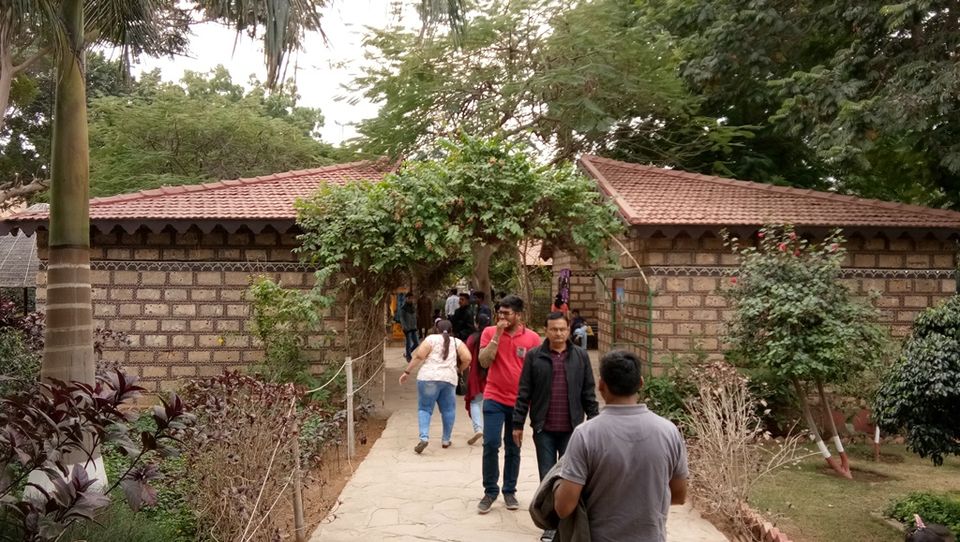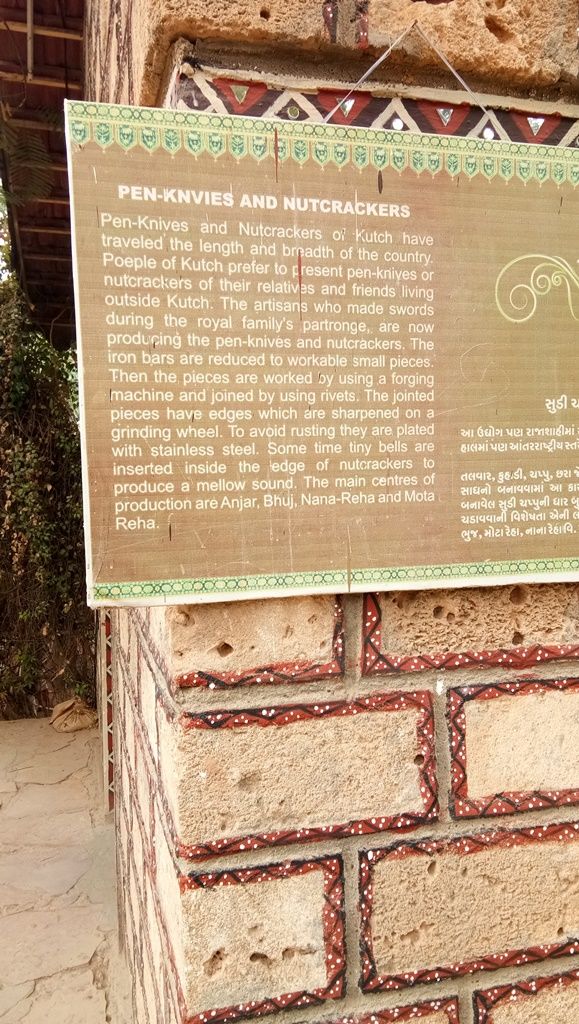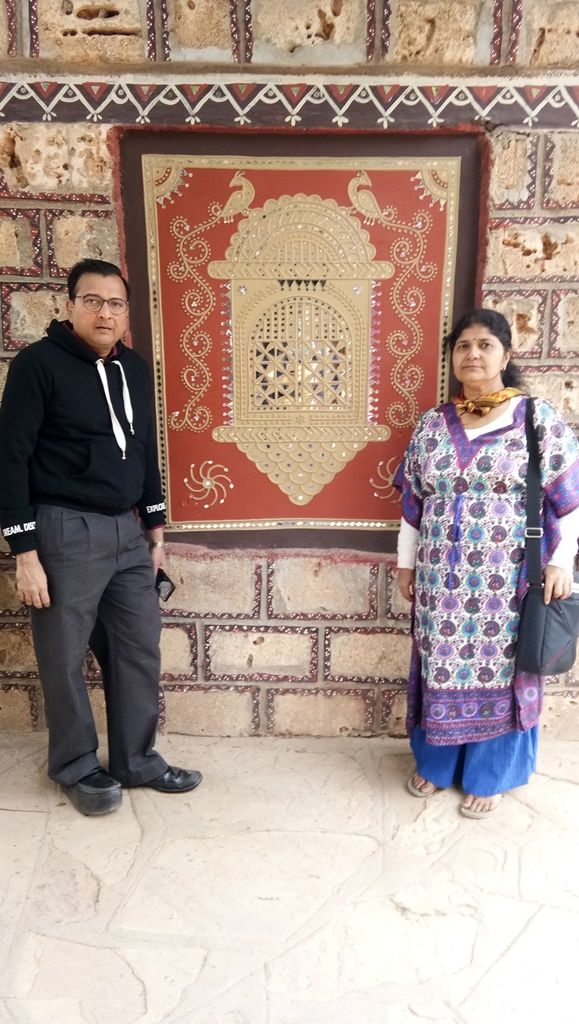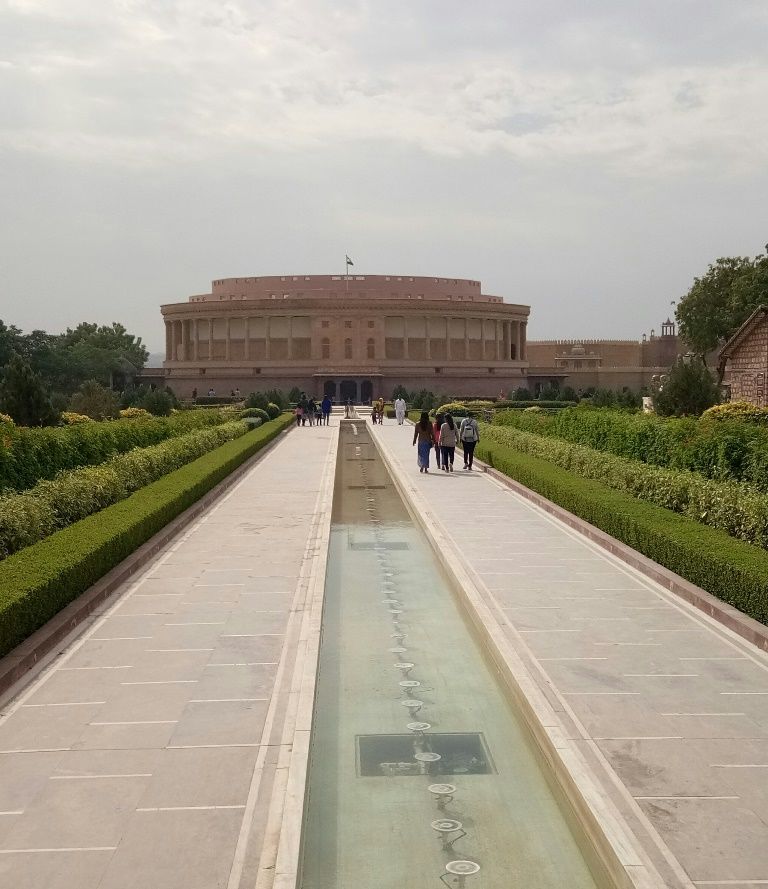 Three days of fun came to an end but honestly I expected a little more from Rann Utsav than this. May be my expectations with all the promotions was very high. I wouldn't recommend staying at tent city as the vibe is dead and I see no added benefit of staying there. You can very well stay in Bhuj and enjoy the white rann in its full glory without staying in tent city.
Some of the points that Tent City organizers can improve on are:
1) Maintenance of tents – one of the segment of the tent had got uprooted resulting in strong wind gushing inside the tent. They fixed it once brought to their notice but the entire night I had to sleep in discomfort.
2) More variety in cultural show and In-house activities - If one is spending a bomb to stay at tent city I'm sure In-house activities can be moderately priced. They can provide Yoga sessions in the morning which would be wonderful in the kutch climate.
Overall, I'm happy I got an opportunity to spend some quality time with family. Do visit this place in a group. solo or as a couple can get very boring. Happy Travel!