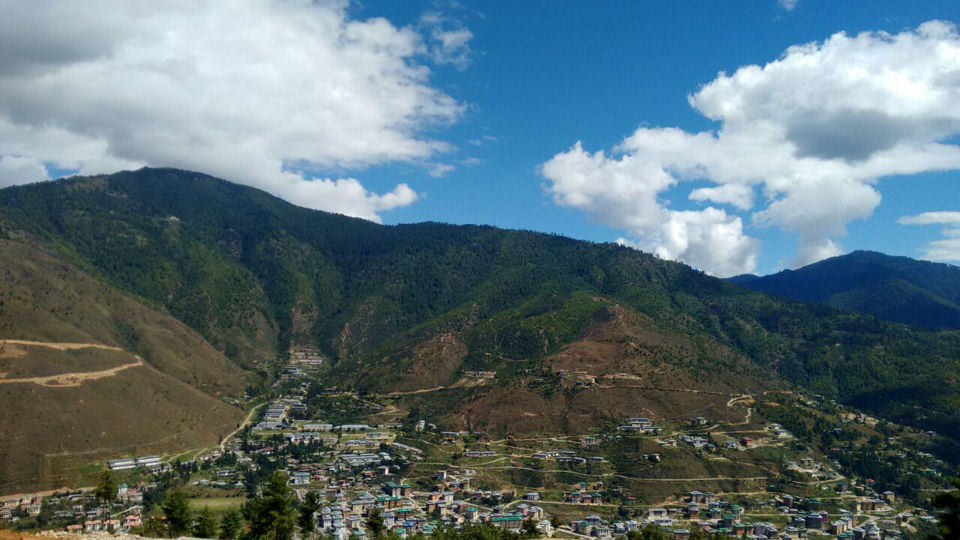 We had barely gotten over yesterday's hangover and we were on our bikes riding out at 8 am. We were heading to Mongar.
As per the route book we had to go to Bhumtang on our way but the group bypassed it. Luckily I was running low on fuel ( got scolded for it actually) so I went quickly dashed to Bhumtang to fill up. I managed to catch a glimpse of the beautiful small town which is a also called the Switzerland of Bhutan.
We regrouped at the Thurimshingla Pass which had a traditional welcome gate and a stupa. We caught some authentic Bhutanese food for lunch (Beef/Pork curry + Imadashi - cheese and chilli dry chutney + dal + homegrown red rice) at Shangor Restaurant.
We crossed Limithang and reached Mongar around 6.30 riding 210 kms. The road was broken all throughout and riders were enjoying the off-roading spree.
After grabbing breakfast we left for Trashigang next day. We were heading at a good pace as the road had considerably improved as compared to the last few days. We were stuck because of a roadblock for couple of hours due to a landslide causing delay. We stopped at the Chazam immigration checkpoint in the afternoon and grabbed some classic road side momos. We had to visit Trashi Yangtze - a heritage stupa site but then the road was closed - once again thanks to landslides due to road construction blasts. Trashigang is a small cozy hill town with few people. We enjoyed a beautiful night sky with a visible streak of the Milky Way. If only life could be this simple.
#TOB2016
#RoyalEnfield
#Himalayan
#REHimalayan