Belonging to the genealogy of excursion lovers, its a Mandate for travel and gathering experiences for souls like us to pack our bags as the clock strikes the slate of being free from our daily work. Following the plethora, this year too during the onset of summers, we decided to relieve ourselves from the scorching heat across North India and sway across our path to Nirvana among the valleys and hillocks. Breaking the stereotyping, we ended up to arriving at a hidden treasure which was completely contrasting to the other destinations we have been to earlier!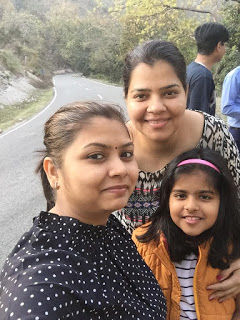 Commencing from Gurugram, we have undulated our way through some cities in UP, crossing Vikas Nagar, Kalsi and excavating our route to an isolation, the marvelous Chakrata! On reaching the destination, we hardly had any idea that the first impression would rather not be the last impression of this place. On reaching Chakrata, we were welcomed with narrow hill roads and utmost silence that can be expected. We opted to hault in an Eco friendly lodge where we put up in tents made of fabric.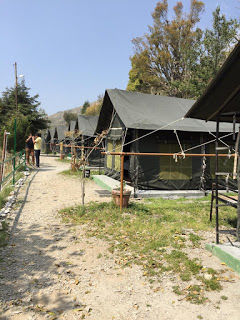 On stepping into our tents we were were miles away from being gleeful. Not only because the ambiance didn't provide us the mindset of having a nice vacation but also due to some glitches within our group due to some external factor. Sooner did we realize after a great sleep that it was not the ambiance but our glitches that didn't accord a good start to the trip! It gave us an illumination to realize that we have got wrong tendencies to blame for bad experiences without realizing the fault in us. Post that hardly did we know that a pool of experiences were about to escort us till the end.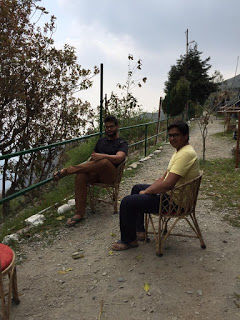 So the trip starts... Not when we reached the destination, but when we woke up from a good sleep late in the afternoon. There we go with the classification of 2 days:-
It all started with a mutual decision by 5 of us to stay withing the premises of the Lodge that evening to relieve ourselves from the long journey and to avail the utmost scope of natures beauty and the cool weather (which was prevalent only post evening). The Lodge had a lot to provide us with its ethnic location and the divine atmosphere pleasant for all age groups and demographics. The tents were paralleled by a common lane across the valleys that leads to trekking spots across the steeps.
All of us sitting across the lane with our gossips and beverages on, the view of the rocky mountains and the layer of canyons was the delight that our senses were craving for! Along with the view, ambiance and the freshness in the atmosphere which is predominant in the hills, what actually added the cherry on the cake was the understanding and bonding we had as a group. I always believe that only a good view and ambiance doesn't create memories but the bondage leaves no stones unturned to a happy soul! All engulfed into gossips, food, beverages and the atmosphere beauty, the lodge had an arrangement of Bonfire which was few steps up from our tents. Again not to forget, the Lodge itself was a trekking point and to reach at any point withing the premises of the lodge, slight trekking has to be done and thats the real gratification for all.
The Bonfire welcomed us with a comfortable feat along with interaction with few other hoteliers who were all boosted up like us to make it an evening worth recalling! Followed by music and dance, we were all set to come down to the lane across our tents where 6 of us would again commence our talks and enjoy with our group. Sooner we found that we had a fan from the Bonfire group who did follow us to our tents and started talking about a lot of matters. I wont say it was irritating but we wanted to spend time with our group so had to indirectly ask him in a polite manner to excuse us :p Post that we did bring an end to the night with some delicious food for dinner and our never ending gossip and fun.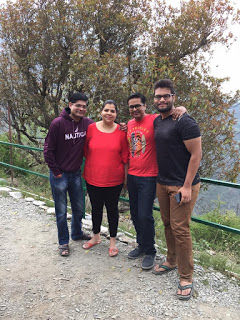 After a mesmerizing day 1 with all ups and downs, we were all set in the morning for breakfast and then leave for a tourist attraction spot in Chakrata, the Tiger Fall. All set and ready, we departed at 11 a.m. and it was a journey of 1.5 hours from the lodge to the destination. Accompanied by the hill views and the spiral hilly roads, we did hit an ecstatic momentum on the go! Some narrow hilly roads were the fierce moments some of us had as the narrow lanes were something not very common with the other hill stations in North India.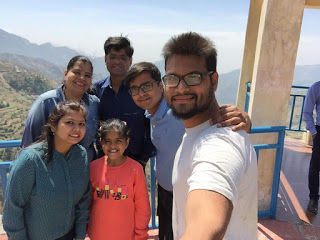 Along with the hilly view, we also earned a beautiful spectacle of Terrace farmings everywhere and trifle streams engulfed with their own flow to infinity. Tiger Fall did surprise us with its pace and the flow beauty and we could not resist ourselves from taking a shower. As we drenched ourselves in, we were shivered by the level of cold it had. But it was absolute fun after few minutes as we get adjusted to the temperature. We did take a good shower there for few minutes but the pebbles under water were too sharp to bruise our legs and we had to advance towards the banks. Even after all, the experience was up to another level and could hardly be explained. We willed to have our lunch at the spot but it didn't bestow the food we require so had to travel back to Chakrata market to find a suitable place to fill our stomachs. Then trekking a kilometer more we reached the other phase of the market where Shopaholics tried their best to find objects to purchase but the husbands were lucky :p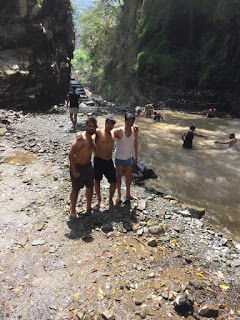 It was a distance of an hour from Chakrata Market to Viratkhai where our lodge was. Again we had a gala time across the lane of our tents and the awe inspiring bonfire. With the only dissimilarity of we being the only group that evening in the lodge. With some soothing music and a good chat session with the lodge staff, we were back to our tents and again had a gala time with music, leg pulling sessions and some ghastly talks to share some shit out!!!
Day 3:- (The walk to remember):- So now was the day to return but it seemed that Chakrata was too upset to let us go. So they cried wielding rain in cats and dogs with too bad a weather. Had there not been a compulsion to return, we would have take sojourn for another day. With the bad weather accompanying us, we all departed after a good breakfast. The journey was thrilling with heavy rains with the hilly roads. The rain started sedating and we were 10 kilometers away from Vikas Nagar which is a plain. All of a sudden there was a jerk from our Innova car with the sound of a flat tyre. One of the sharp pebbles had its pin under the wheels and we confronted a puncture. Unfortunately the stepney was not air packed too and was not capable enough to carry us for 10 kilometers until we find a puncture shop in the plains. There was a time of distress again as the rain too gathered back its momentum.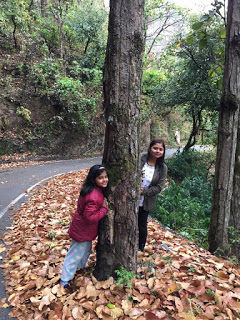 Once again we had a turn and the distress was soon turned into glee when we found out some help with the tyre. The one driving had to go down to Vikasnagar with a localite who fortunately passed our car in that isolated place and get the tyre inflated. With no other alternative, we had to settle by that. But what would we do with that 1 hour time? We decided to walk as much as we can until we find a lift until the plains. Now that's what i would call a walk to remember. The rain has ceased by then and we got a more clear environment to walk across. As it wasn't an elevation but had to descend, we were quite comfortable. Strolling down the valley we had commenced boosting each other up. We started mocking at our luck while coming and going and the ladies were engulfed in photography at every step. Not that uncommon right??? From the steep valleys we reached a point with all gold leaves spread across giving one of us a remembrance of the Hindi movie 'Mohabattein". Sooner did she realize that her hero was with her only. No no, not SRK but her husband :p We started discussing on how to survive in such a place where we were struck with no conveyance. We then had more respect for Bear Grylls then!!!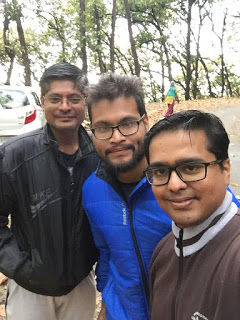 With un-ending laughter, talks, photos, walk we found an SUV carrying 2 aged women. It was 4-5 kilometers more and we were dropped to Vikas Nagar. That 4 kilometer drive with an amazing localite with a modest approach was something more beguiling. Another realization of getting rid of distress is to mock at such situations and find a solution and relieve yourself instead of worrying too much. By the time we had our lunch there, our car was back and then the rest till Gurugram was again filled with laughter, gossips, and some sound sleep.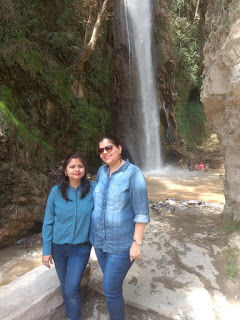 Sometimes heading towards some destination where its not at all easy to avail provisions but walk few extra miles or climb extra slopes to get your necessities is also an experience. We can live the life of people at stone age too sometimes and brace ourselves at rest. We learn how to find one good matter among all the bad ones. All destination has its own beauty and their own beast. With people of common mindset and fun loving souls, we find the best out of worst.
So we bid a goodbye to our trip and bestowing a heavenly farewell, we now look forward to another astonishing destination with the best people in life. Thank you to Rahul bhai, Adi, Rashmi bhabi, Mini bhabi and the little angel Anya! Love you all :)