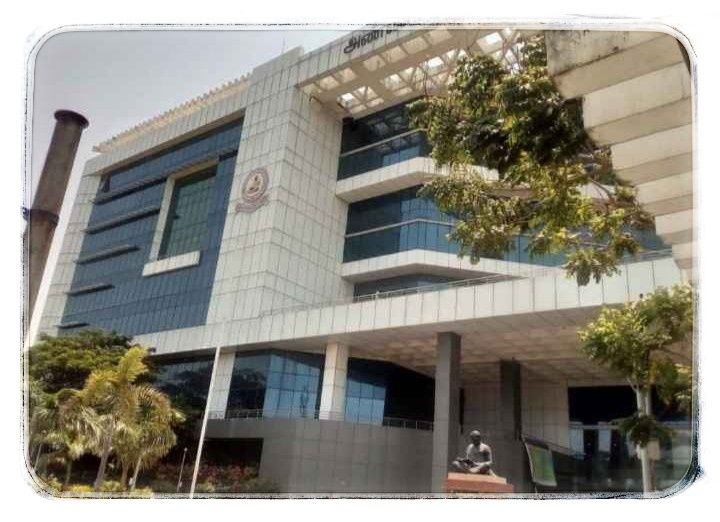 As Michael Embry quotes, ' I don't have to look far for treasures, I discover them when I visit library ' suits very well to Anna centenary library of Kotturpuram. Are you living around Chennai? Do you have passion for reading? Then this article is just for you.

As the name says, it is built in the memory of former CM of TamilNadu, C. N. Annadurai. Mainly focusing on the development of education of all sectors, this state library is evolved around former CM Karunanidhi's period. Almost 172 crores has been used for this purpose. Situated next to Anna university at kotturpuram, Chennai. If you are not around this place, try to visit atleast once, it's worth a lot. I am gonna share my walk inside this place for a day.

How to reach Anna centenary library?
You can come to Guindy through train or bus, and catch 21G (Tambaram to Broadway) or any other bus which goes to Kotturpuram.

Let's start. Entrance of library has an arc, along the right side, we all can leave bags before entering. We can take important things inside library. Then you may see a garden around, well maintained by the staffs of library premises. Even sun was too hot that moment in entrance, there came a gentle breeze, which pacified all of those standing there. Building is almost too big 9 storeyed building it is. In the entrance itself, library listed the sections, which is very useful for readers. After entrance, in ground floor, there exists enquiry to ask anything. Here all books are for reference purposes, no books are allowed out. Then there is a Braille section, all the sections are maintained well, in the same floor, there are halls to study for competitive exams and also own books section. When you go inside more, you will find aavin booth for refreshments, almost all readers use this shop to renew their energies. Textbooks of schools are available here too.
Let's move on to first floor, it's mainly for children and periodicals. And there is also one more hall for own study purposes. Second floor is completely reserved for Tamil books. Third to seventh floor has English books in all subjects. Third floor consists of subjects like sociology, statistics, political science, computer science, psychology, philosophy, library and information science, religion and generalities. Fourth floor has economics, law, public administration, social science, commerce, language and linguistics: all world languages like German, French, Spanish etc and also literature. Fifth floor has medicine, Botany, Zoology, mathematics, astronomy, physics, chemistry, earth sciences, paleontology and biology. Sixth floor has engineering, agriculture, food sciences, arts and recreation, printing, manufacturing and buildings etc. Seventh floor has history, travel & tourism, geography and digital library. Eighth floor has administrative office.
For these eight floors, there are 4 lifts, one staircase( open for all), and also one more emergency staircase. Every floor has drinking water facility and restroom too. Behind the library, there is a food court to eat our own food. Sometimes in contract, people sell food here. Outside the campus, after crossing road, there are few food courts. There are more than 100 staffs work over here. As I sat in third floor reading section, I found a lifting platform used for building upper floors. It's faraone P 16000 E 120 kg, may be able to lift 120 kg for five floors above. Its closed somewhere in a corner now, but surely it is used while building this. In this library campus, there exists an auditorium too.
Head to library,
To rediscover yourself.
Peace awaits here,
Thoughts arise here,
Just take the step
To search the treasure of your life.
Here ends our walk opening the real journey of treasure hunt.