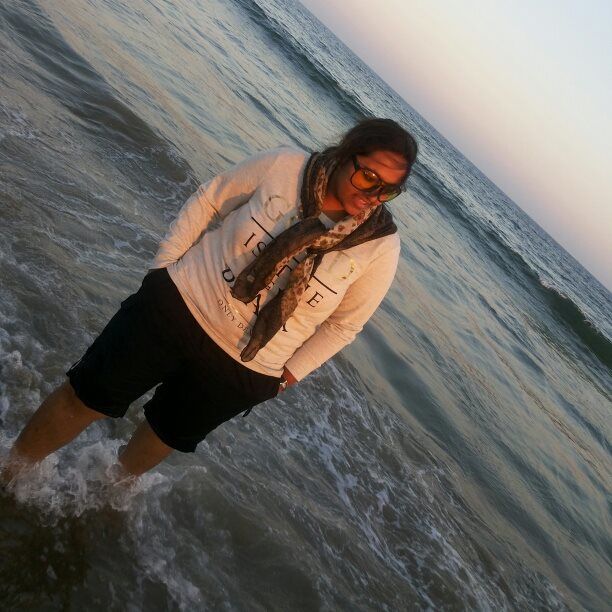 My first Solo travel was to
Chennai
. Being the Gateway of South
India
, I had heard a lot about the city's culture & tradition and was eager to just explore its Charm. I traveled by the Double Decker Train and since it was the first of a kind, it was very much exciting for me. The
Bangalore
Life
(Not to forget the traffic)
had a few times make me hate to travel the distance, but soon I realized that it just wanted me to take a break instead. Diving into the Beaches, Exploring the Local Cuisines, Understanding the Local Culture & Tradition was intoxicating at Chennai. So I decided to Backpack & head Straight to the Most discussed City of all times.
Being a six - hour journey from Bangalore, I reached Chennai by nine in the night only to be welcomed by me friend Soumya
(Didha)
. A native of
Karnataka
(Kannadiga)
speaking Tamil so fluently amazed me as to how quick she learned a new language and showing-off as a Native of Tamil Nadu
(Didha, given the tenure, you learned the language like it was just on the back of your hand. - Hat's Off!!)
. The Night I reached we discussed as to where we can start from the next day & at that moment I was so Thankful & Grateful to myself for taking this Leap.
On the First day we visited the Egmore Museum. Established in the year 1851, it is the second oldest museum in India & largest museums in South - Asia. In addition to the rich archaeological and numismatic collections, it has the largest collection of Roman antiquities outside Europe and the rarest works of Artists like Raja Ravi Varma. As I had rarely liked History, I hadn't paid so much of attention in my History classes. But every moment spent here was worth it. It was as if the time had taken me to its past and I was reliving its memoirs now.
We then moved to Elliot's Beach, probably the cleanest beach of the city as stated and spent the rest of the evening by walking alongside the beach. The roaring waves during the sunset was inviting me to get close. Nevertheless a little Splashing was definitely required and some great moments were captured in mind & heart (Didha, thanks for Capturing it even in your Phone!! :P). Later we had a Jigar - Thanda (Cold dessert with some Ice-Cream), a famous must-have after a dip in the beach to refresh your mind & energize you for the next. Spending the day quite well I was just expecting some good place to dine at when Didha mentioned our friend has cooked Chicken Biryani for me. What more can I ask for eh?! Delighted, we went home. As I entered, the aroma of lovely Biryani drew me directly to the kitchen and it was heaven for me. Some good history, better fun & great delicacy - that was the first day of my Chennai Touring. Tired and at the same time excited for the day two, we just hit the bed very quick.
The next day we planned for some Shopping and before leaving my friend suggested some food. So on our way, she took me to a small Tibet cafe
(Don't remember the name, Sorry!)
. The Place was small and had only five tables with each table having four chairs. At the Center top was a window from which the dishes was passed on & served to us. A dim light on every table & soothing music literally made me feel like an evening in Tibet. Couples, friends, families - anyone & everyone felt very Comfy. Greeting the first -timers was something very lovely about the Cafe. It was One O'clock and the veg momos were already over
(Poor Didha, couldn't get to taste her favorite)
. So after some Quick bite over Chicken Momos & Veg Thukpa for her, we proceeded for shopping where my shopping began and ended only at the Bookstore. We then Crashed to have some early dinner & as I was very keen to have at Sarvana Bhavan, she took me right there. The great, delicious, mouth - watering rasam and rice was like a treat to my taste buds and my mind. Refreshing sweets of
Anand
Bhavan which was very nearby, completed my meal.
It was time to bid Good - bye to Chennai & the Lovely people around who very carefully corrected me whenever I pronounced any wrong word. Right from the Bus Conductors till the Neighbors and Friends, all in whole the City gave me a new lesson of expecting the unexpected. Yes, there would never be enough words to express my heartfelt gratitude to my Didha who single - handedly handled all my Tantrums and showed me the best of Chennai in whatever time Possible.
Carrying a Great Memory to Cherish for Life, this was a Start & I'm now gonna set the trail on Fire. The Travel Bug has bit me so hard that it has left a Scar which I can show it to the World. Teaching me Life Relevant stuff, I Intend to do this more often.