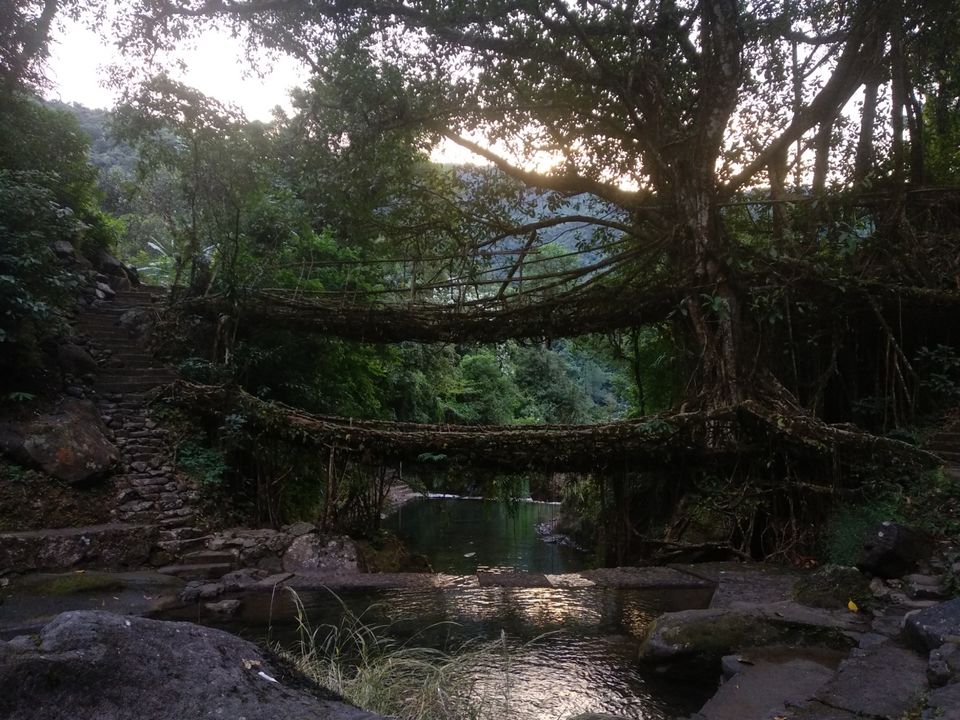 Had bought a bookmark of double decker living root bridge in 2014. Ever since it was on my list to be here and cherish this beautiful place. The wait continued for 4 years till the October of 2018.
Also known as Jingkeing Nongriat, this place in Meghalaya is such a marvel nature has offered us. Meghalaya is full of crazy bridges (really crazy) out of which a few are living root ones and this is the only one (in the world) which is a double decker. It's located in a small village of Nongriat in the east Khasi hills. Around 2.5hrs from Shillong, this drive is fun with all the fog and chilly drizzles in Cherrapunjee. On the way we took a halt at wakaba falls. This spot took my breath away (quite literally) with the cold weather it had. Leave early from shillong so that you reach the destination just in time for lunch.
One has to go down around 4000 steps to reach the bridge we were informed. We thought going down wouldn't be much of a deal but turned out it is. We had not even completed 500 steps and our legs started to shake (maybe coz it was the first trek we encountered which involved descending first) but the surrounding is so refreshing and kept us going. Also it's better to take the bamboo sticks on rent which costs just 20rs.
Our guide informed when we were done with 1000 steps and trust me its such a motivation and there was a sudden burst of energy which wanted me to just go on without even taking a break (took endless breaks though). There was a point where we could see the village, where we were to stay for the night. That vision was another motivation. We continued to trek down.
On the way to double decker, there's a diversion of 15-20mins which led us to a single decker bridge. Underneath was a clear stream of water. Since the bridges are really old, it handles a weight of 2 people max. Took us around 20mins to check out the bat cave on the other side of the bridge. It was enough time to restore the energy and proceed. We also encountered 2 steel bridges which were scary to look at but fun while crossing.
After 3 hours of stepping down the mountain, we had reached the destination. The moment I saw the bridge, all the pain and tiredness vanished. I had waited for this moment for freaking years and it was here. Just stared at it for quite a while. Our homestay was just next to the bridge and we had the entire place for ourselves. Spent the whole evening exploring the village, the tiny pretty things it offered and of course the bridge. Actually danced on it in excitement 🙈 it's so fascinating that these are grown by people and take over decades.
Finally the dream had come true ♥️
It gets dark by 5.30 and we had a really long time till the next day. So we even did some light painting.
**We reached down at around 3.30 pm, starving. There was just one house serving food so had to go there. Took a thali for 100rs, simple but tasty. Since the village is far and involves trekking, one shouldn't expect many options. Basics things like a thali, eggs, noodles are available though. Also there are shops as you trek down but with price hikes. It's better to carry some spare food while going. We had bought some eatables in Cherrapunjee which cost us 5-10rs extra per item. So best buy from Shillong as it'll be cheaper and you'll get more options to choose from.
Also porters are available for people who have difficulty trekking or carrying their luggage.