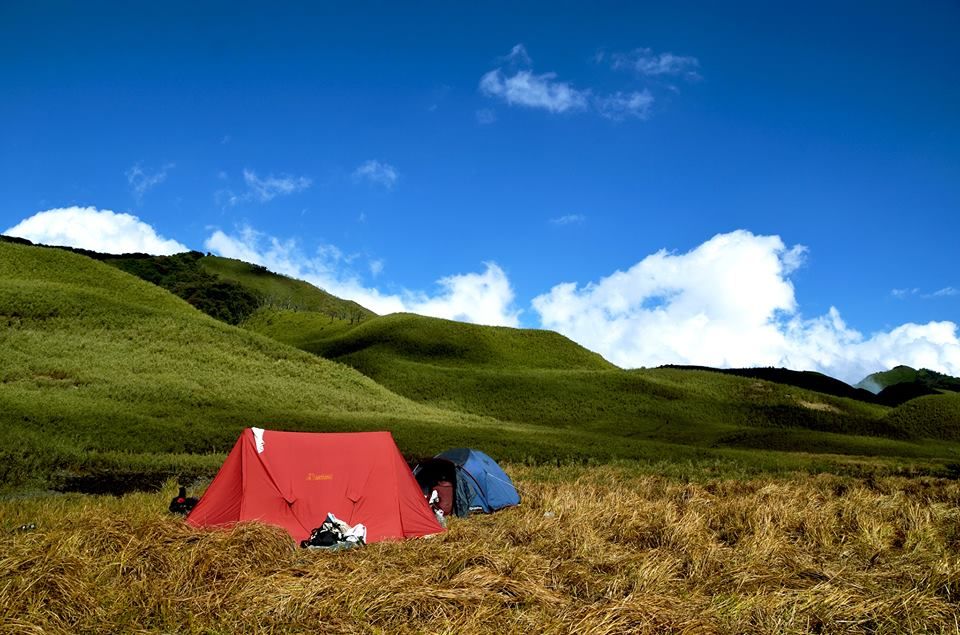 "Don't stay at Dzukou Valley," warned Uncle Tsilie. "It's going to be very cold there in the night. Instead, trek to the valley and come back, it won't take more than 4 hours, to and fro..."
How right was Uncle about the cold. But how misguided we were on that "4 hours journey."
We were a team of six who visited Nagaland with two intentions - to trek and camp at Dzukou Valley and, to witness the much famed "Hornbill Festival." Nagaland is not yet that popular in the tourist map. We were not having much idea on Nagaland or its people as none of us had visited the place before. The faint idea on them was, they were 16 major tribes, who used to be fierce headhunters once upon a time. So, with a lot of anticipation and very little knowledge about the place, we headed towards Nagaland.
It was quite late at night when we reached Dimapur, courtesy, our train was almost 5 hours late. We reached our hotel, freshened ourselves, had our dinner and retired for the night.
Next morning, we packed ourselves up and hired a car to take us to a village called Khonoma from where, we were supposed to begin our trek. It was not so far from Dimapur. Before starting for Khonoma, we visited the local market to purchase the necessary ration for our trek. We were amazed to see the market - from silkworm to dried snakes and rats, frogs and dogs, everything was on display to be purchased and eaten. In a word, anything that could crawl, hop or walk seemed to have fulfilled the pallets of the local people. We felt extremely excited with the prospect of tasting at least a few of those unusual food items for the first time. After purchasing the ration, we had our breakfast. For the first time in our lives, we encountered an apparently simple looking chilly, "Bhoot Jolokiya," which is deemed to be the hottest chilly in the world. Little did we anticipate that those bright red colored fruits would erupt a few volcanoes in our mouth and make our taste buds numb for the next few minutes ! After that, it didn't take long for us to reach Khonoma village through the picturesque winding road...
Our stay at Khonoma was arranged at Uncle Tsilie Sakhire's house, who, we later came to know, was a social worker and the Secretary of Khonoma Nature and Conservation Trust and Tragopan Sanctuary. He was highly knowledgeable with the history of the village and also the conservation project and getting a chance to meet and interact with him was a great opportunity. Khonoma, incidentally, is the first green village in India where hunting and logging in the forests are strictly prohibited. This beautiful village in Nagaland reflects the true colours of nature through its 700 years of precious glory. The evening was spent by lazy strolls along the village and idyllic chats with the villagers.
The next day, we were all geared up for our trek to Dzukou Valley, also known as "The Valley of Flowers of the North East". So, after our breakfast and bidding a farewell to Uncle Tsilie and his family, we started our trek to Dzukou Valley. Since we were told that the to and fro journey won't be taking more than four hours, we took our trek quite lightly and started at around 11 in the morning with an expectation to reach by 1 in the afternoon. We were not in a hurry and enjoying our way through the jungle which was getting more and more denser. Though I am not a birder, I could hear the chirping of numerous kinds of birds. My bird watcher friends didn't let this birding opportunity go. After an hour or so of leisurely walk, we took a break for some food near a water point. Our accompanying guide, a young lad was probably not aware that it was the last water point in that trek route. We kept on heading towards Dzukou Valley and realized that we have walked for almost two hours. The sun was gradually becoming softer and it was peeping through the thick jungle canopy time to time. The monotonous trail along the jungle all on a sudden came up with a surprise as we encountered a rough patch which was broken and at the same time, muddy and slippery, probably caused by a raging stream during the monsoon. It seemed to be quite difficult to cross that patch as we were not carrying rope with us. Though it might not was a life risk, but falling off that patch would have caused a serious injury. We tip toed through that patch very carefully and realized that the trail was not that easy that we thought. Also, we were clueless when would our destination reach. It was getting darker as we derived that since North Eastern parts of India are the first to enjoy the sunrise, the opposite also holds good, that is, the sunset happens earlier here. And though it was barely 3:30 in the afternoon, it started becoming dark and cold. We started to get worried as we are absolutely new in this part of the country. We hurried ourselves to the camping site, though, we were unsure where to camp. As we were heading more and more towards the valley, the only greens around seemed to be those of bamboos... of different shapes and sizes. It was getting denser and denser and it seemed to be pretty tough to negotiate the bamboo shrubs as it was completely dark by then.
It was at around 6 in the evening, that we finally reached Dzukou Valley. Our friends who reached the place a bit earlier had already pitched the tents in a small patch of land, nearby a thin source of water. It was extremely cold and we could anticipate how cold it would be during the night ! We prepared our dinner and intended to slip into our sleeping bags as quickly as we could. Soon after dinner we realized, that it was freezing cold - much colder than we estimated. Though all of us had multiple trek experiences at high altitudes and have braved the cold at those places, it was the cold at Dzukou Valley that rattled our bones. None of us had any clue why it was that cold at an altitude less than 2500 meters. We recalled the warning of Uncle Tsilie, but had no other option than to wait for the morning to come.
The morning was bright and sunny - and a very pleasant weather. Though there was a definite hint of cold in the air, it was certainly not like the nightmarish night before. Our plan was to return to Khonoma village the next morning, so had an ample of time to explore the valley and to indulge into some good foods by flaunting our culinary skills. The night was equally cold, although we were mentally prepared this time. The next morning, we traced our way back to Khonoma... We were informed that there is another trail to Dzukou Valley that starts from Khonoma and ends in Viswema Village. All of us promised we must visit Dzukou Valley again, specially after monsoon season to witness the blooming flowers and to explore the other side of the valley. And the plan is going to mature very soon... Do let me know in case you feel like joining us !