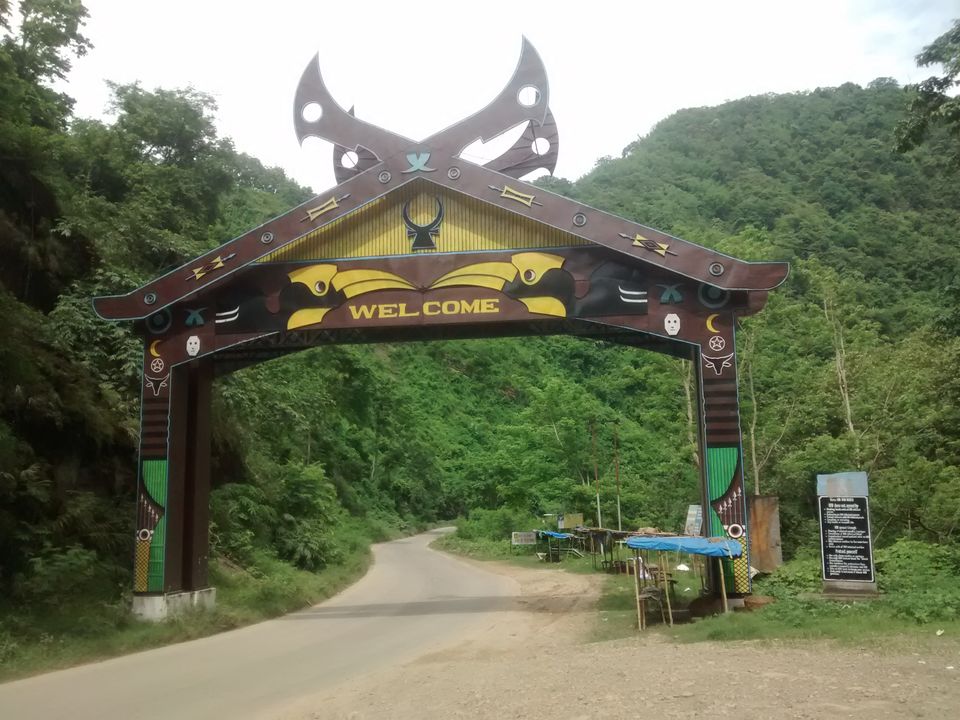 I was doing an Internship in Guwahati and only had a week's time left in North East. So I wanted to have one last taste of this beautiful place. That's when I decided to visit Dimapur - The entrance to Nagaland. Since visiting Dimapur doesn't needed a permit, I planned a one day trip to the place.
I had to board an overnight train from Kamakhya Railway Station to Dimapur. I understood that I made a wrong choice by opting to board the train from Kamakhya instead of Guwahati as the station was way too crowded since it was the time of Ambubachi Mela in the famous Kamakhya Temple (Ambubachi Mela). I boarded the train by around 11:30 pm.
I reached Dimapur Railway Station by around 5:30 am. There was clear daylight as the sun rises very early in these places. I freshen up a bit and started off.
My first destination was the Kachari Ruins which was just 1.5 km far. It is a series of mushroom domed pillars created by the Dimasa Kachari Kingdom. When I reached there I was saddened to see the pathetic condition of the road. It was full of gutters and wastes. The gate to the ruins was closed since it was a Sunday but they were visible through the railings. The structures were not properly maintained and grasses had grown over many of them.
I came back to the main road (which is dirty again) and came across an arch like gate.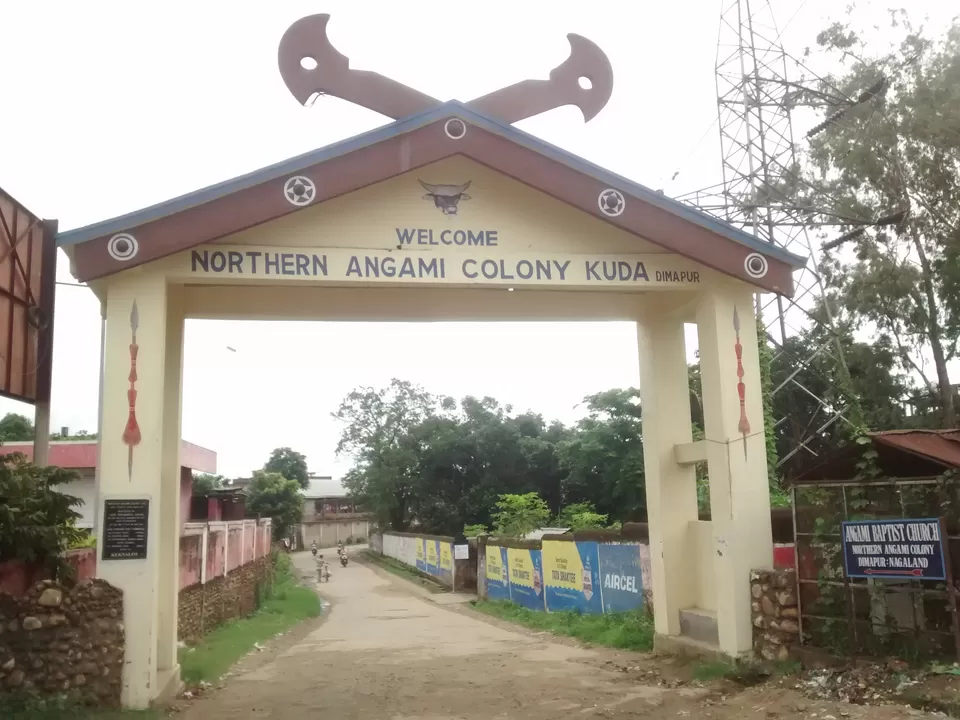 This is a trademark of Nagaland. Every colony or village has a similar kind of gate of its own. This is a different practice from the rest of India where only a board welcomes you to a colony.
I started walking towards the highway. I needed to cross the Dhansiri River but I reached there only to know that there were no bridge anymore as the previous one had collapsed (Google Maps didn't had any idea I guess!!!). There was an iron wire bridge across the river for the convenience of people. Even it was full of holes and one wrong step would drown you to the river. I somehow managed to cross the river. It was an unforeseen adventure.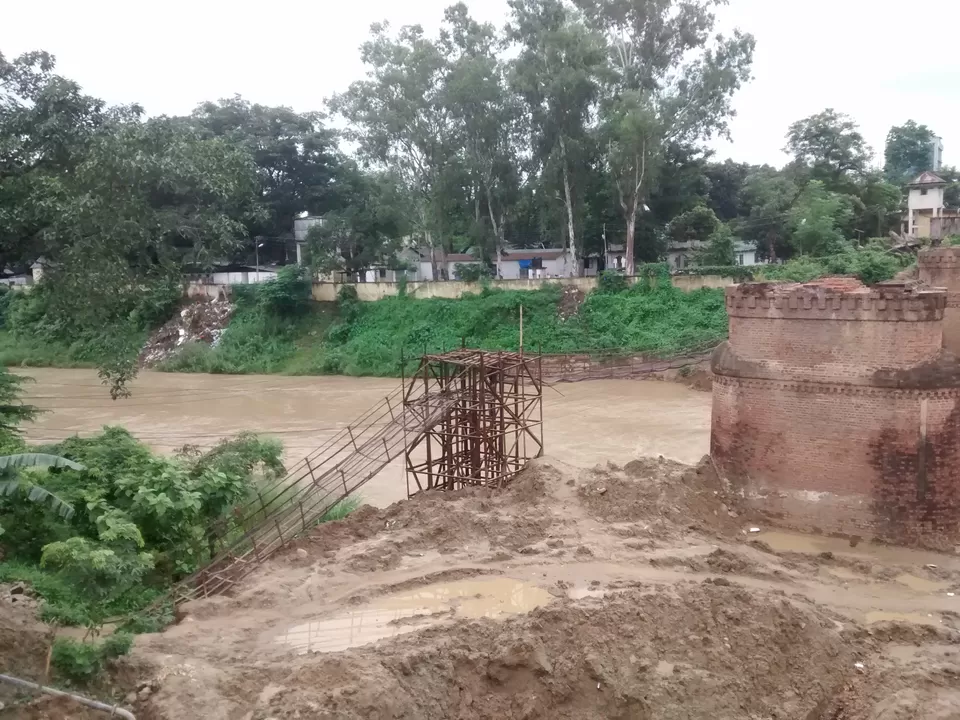 I reached the highway. Even it was kind of a mud road with plenty of gutters. Only a few shops were open. I got in a share auto to Chumukeidima and by giving some more money he took me till Patkai Bridge. I was on my way to Triple Falls- a not much popular waterfall and I didn't had much idea about the path.
I asked a guy (his name was Linus) about the path to the waterfall. He explained how to reach there but said that the path is tricky and I might lost my way as I was traveling alone. I said I could manage but he insisted that there should be someone accompanying me. Hence he called one his friends- Narayan to show me the way. So I started the walk along with Narayan towards the falls.
The way was indeed tricky. We had to walk through small streams, had to take many diversions and had to go past many rocks. I was doing monkey walking at various points. My socks and shoes was filled with loads of sand from the streams which made walking a bit difficult. I had only seen such places only in films and it was definitely an awesome experience. Finally after 1 hour walk we reached the falls. Definitely if I was alone I wouldn't have made this.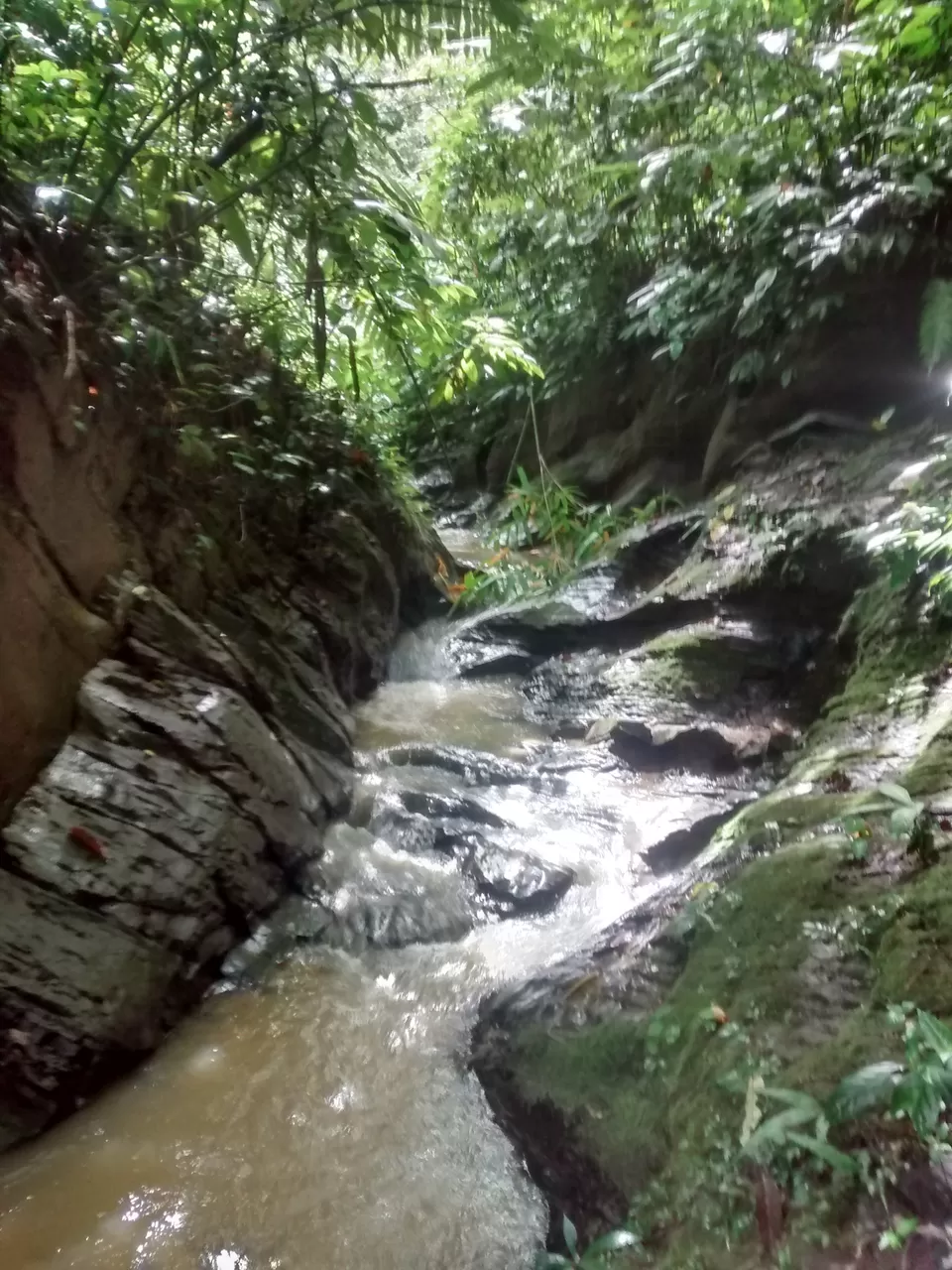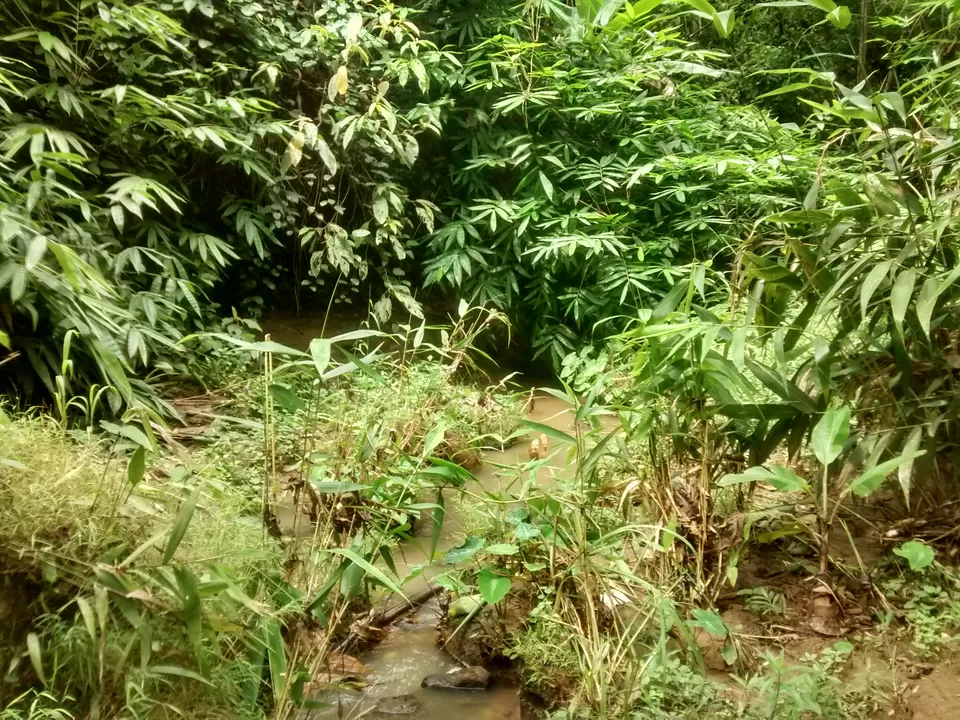 The Triple Falls got its name as it falls down as 3 segments forming a pool and from there it falls down again as one single segment covering a height of 280 ft.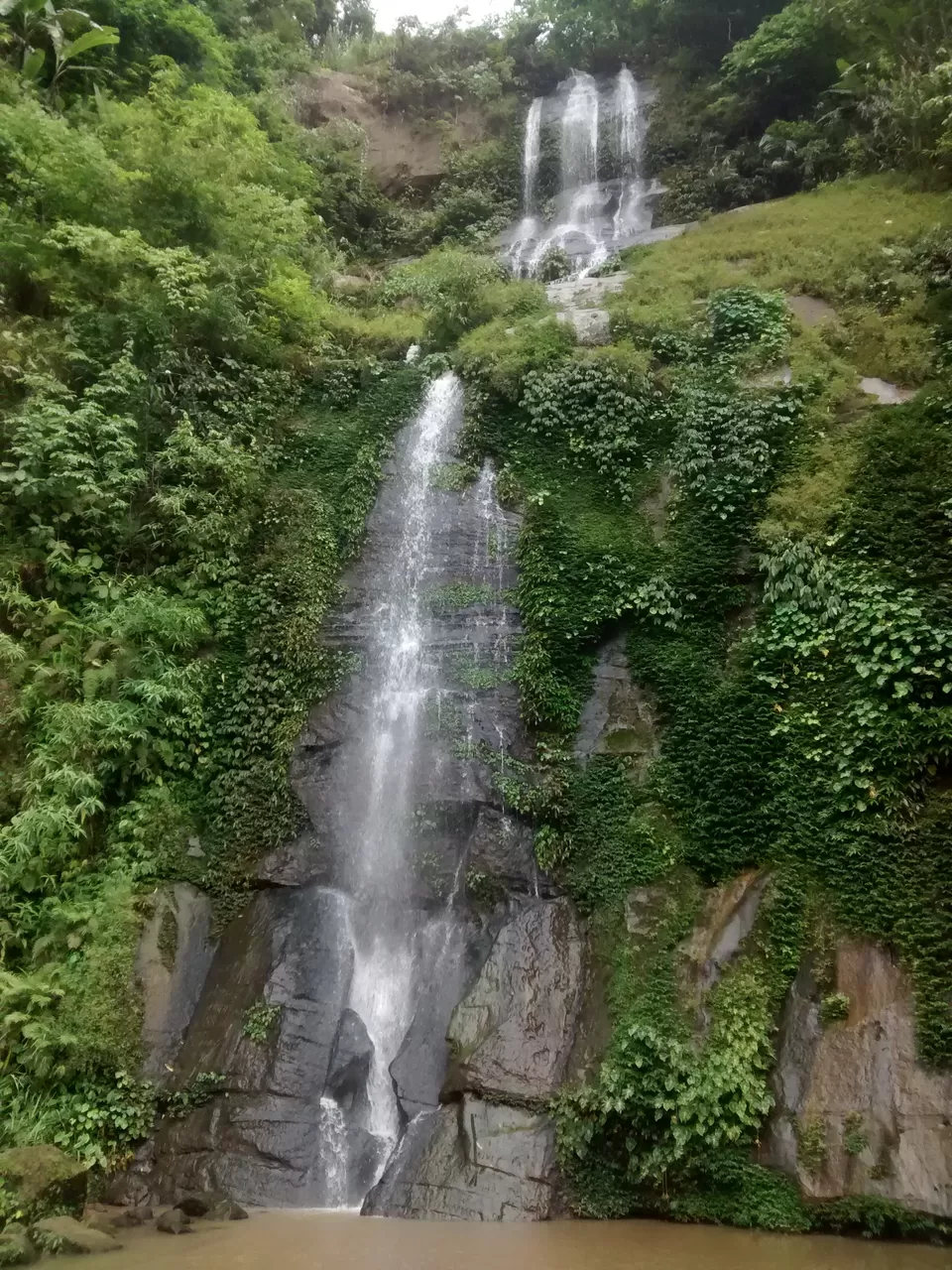 According to Narayan the best time to visit this waterfall is during October-November when beautiful flowers bloom on either sides of the waterfall. One could even go to the top of the waterfall but Narayan couldn't trace the path as it had been 8 years that he last went there. We spent around 20 minutes there and started our journey back.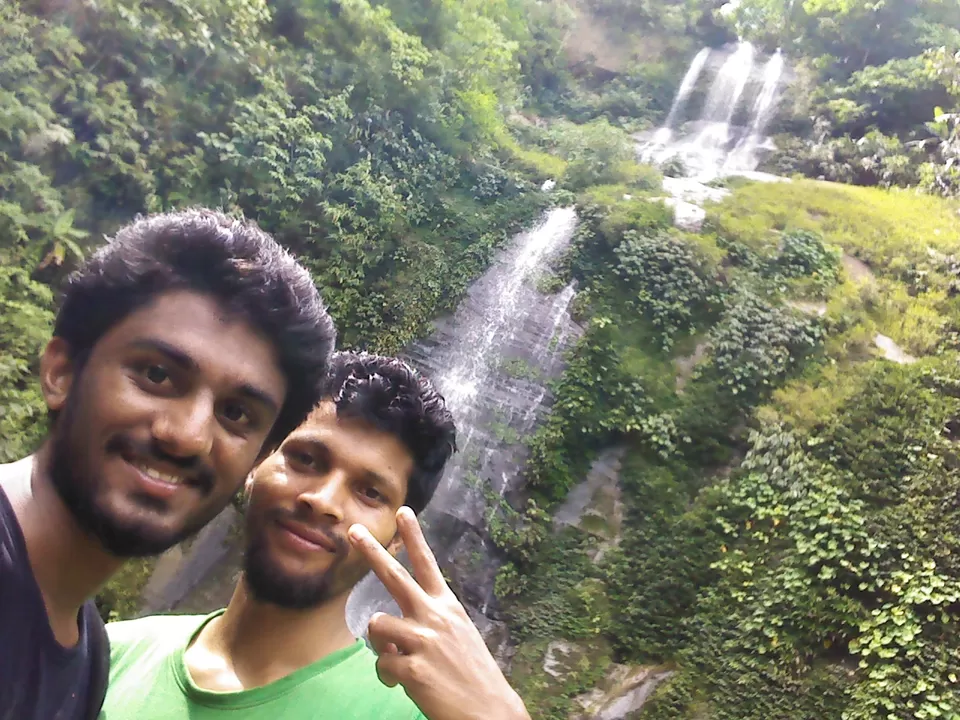 Finally we reached the house of Narayan. He invited me to his house and I obliged. I washed my shoes and socks and kept it to dry. I had a cup of tea and it helped me to energize a bit. After some time we had our lunch together. There were Rice along with Dal,Bamboo Shoot, and Bitter Gourd. It was really tasty. It was the first time that I was eating Bamboo Shoot and it was really good.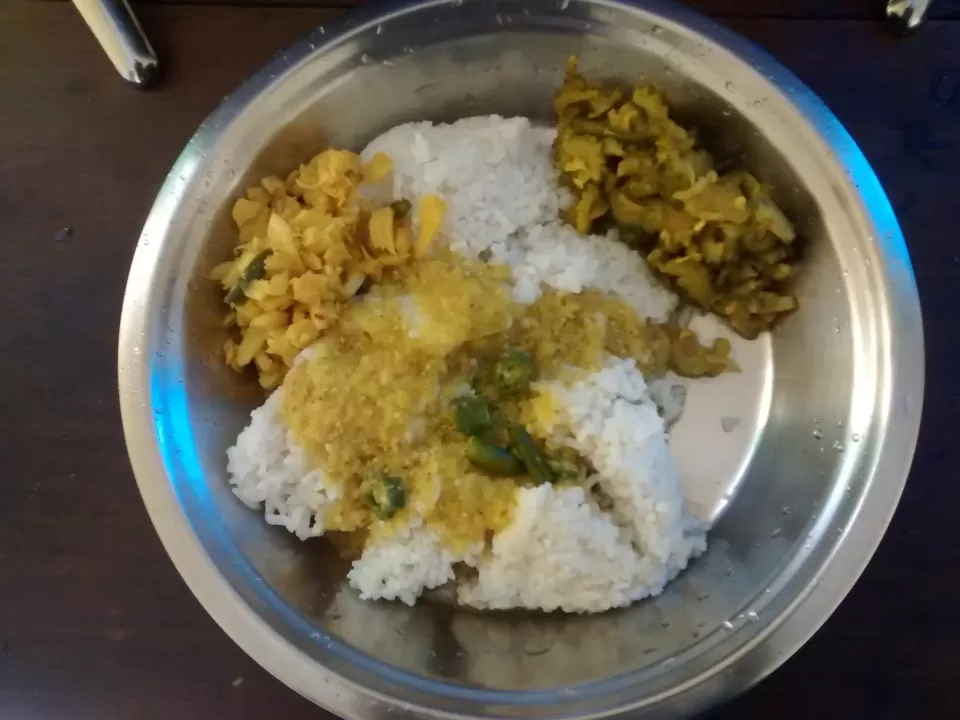 After the lunch, I rested for nearly 1 hour. Then I bid farewell to Narayan thanking him for all the help he had done. Without him this trip wouldn't have been possible. I walked to the Patkai Bridge. From the bridge the entrance gate to the other parts of Nagaland can be seen.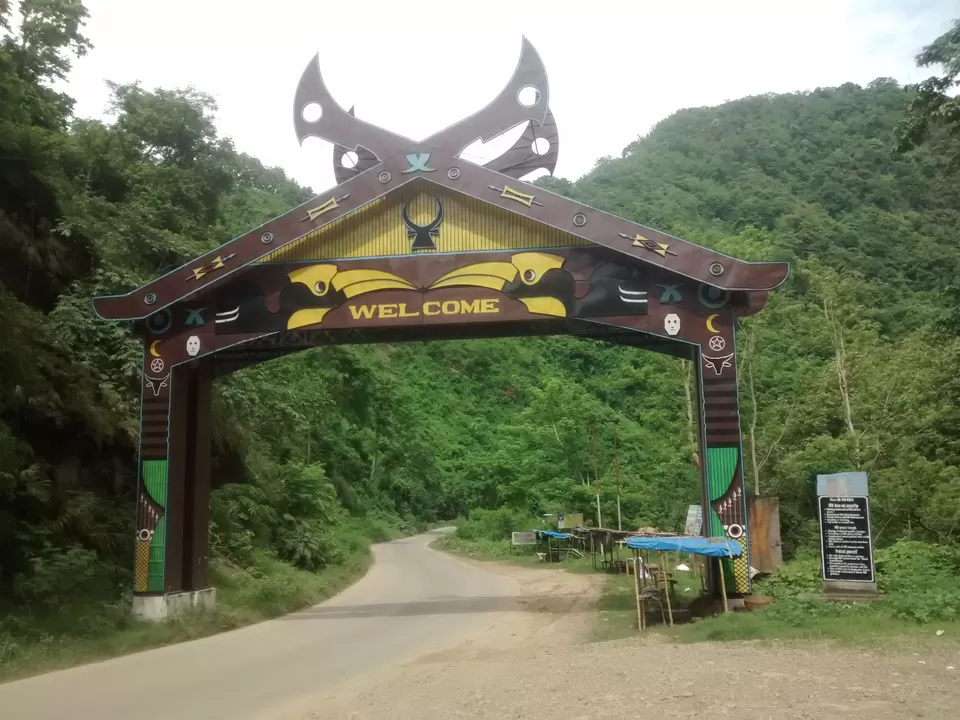 This is the most important gate in Nagaland and can be considered as the face of Nagaland. To go beyond the gate one needs to take the Inner Line Permit(ILP). [For those who have seen the Malayalam movie "Neelakasham Pachakadal Chuvanna Bhoomi", this is the same gate that is shown in the song "Neelakasham"(video- @1:15)- This was my inspiration to visit Dimapur].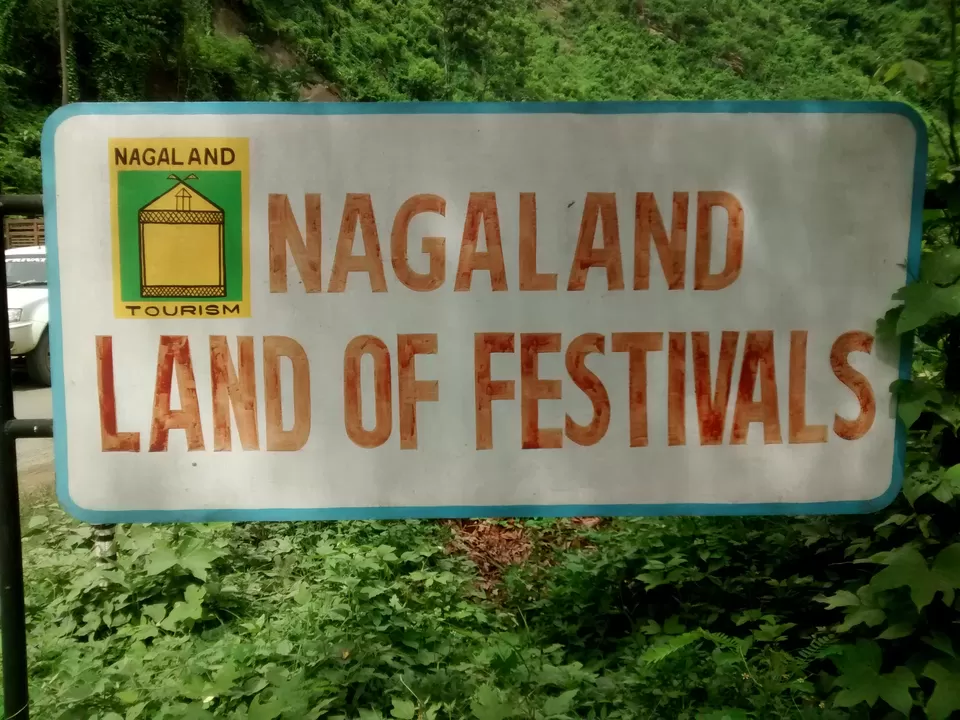 From the Patkai Bridge, I got a bus till the city centre. I started walking along the road and came upon a market. It was a local market where you will get almost all the household items. Then came the surprise. Along the market I found many sellers who were selling various animals for eating. These included Pigeons, Rabbits, Frogs, small insects, Snails, Crab, Dog, and Eel fish. These are the normal eatables of the Naga people but for a South Indian like me it was a surprise.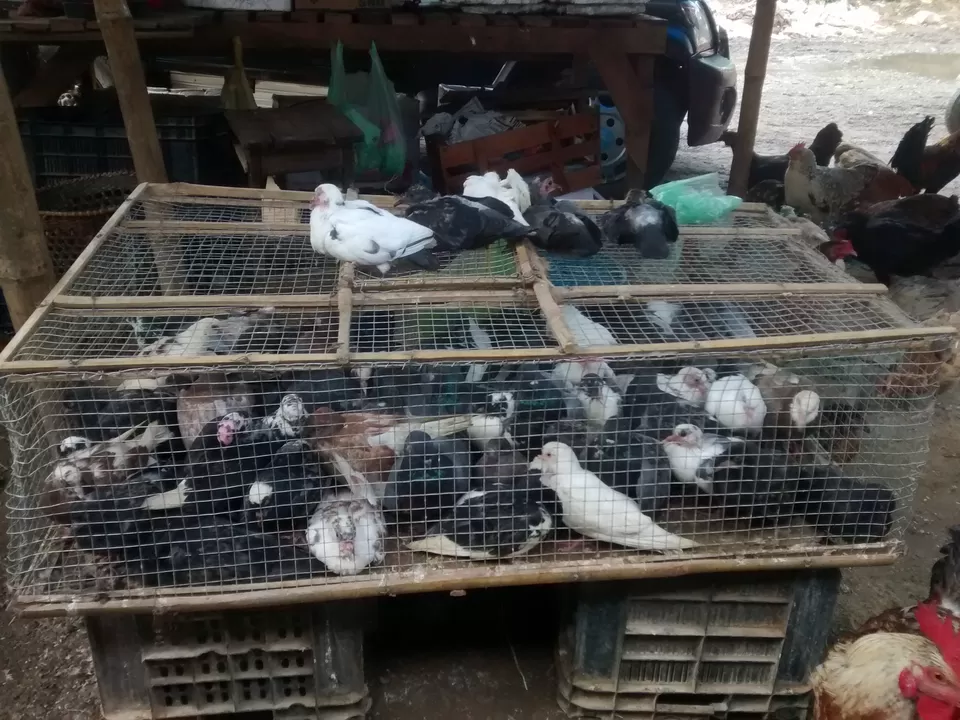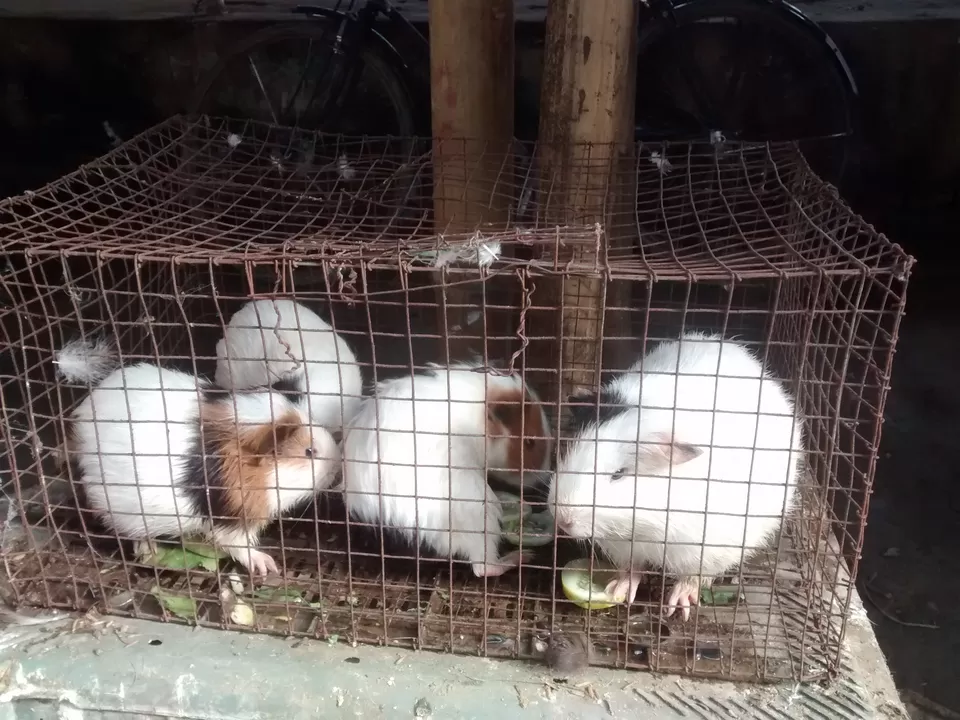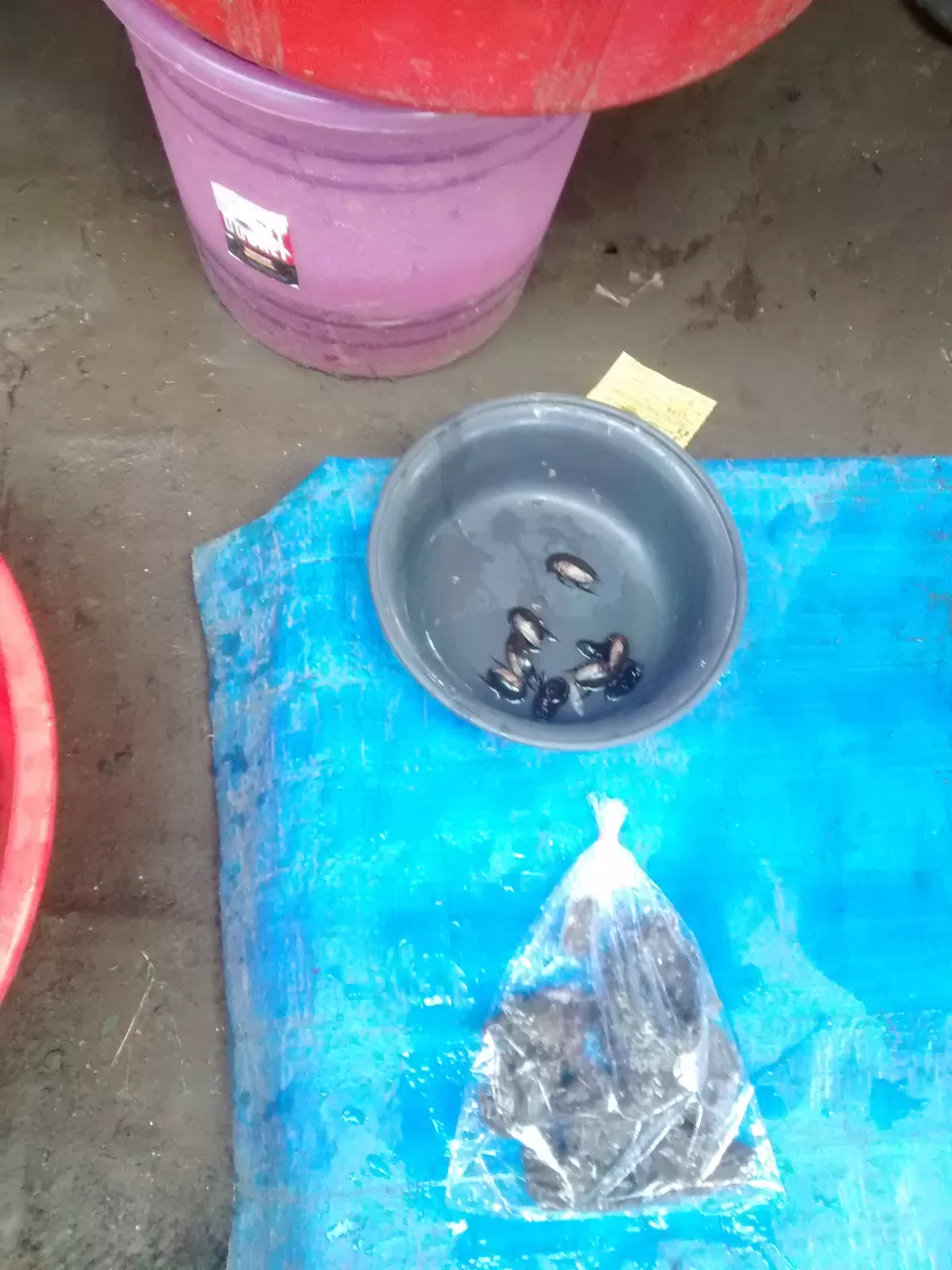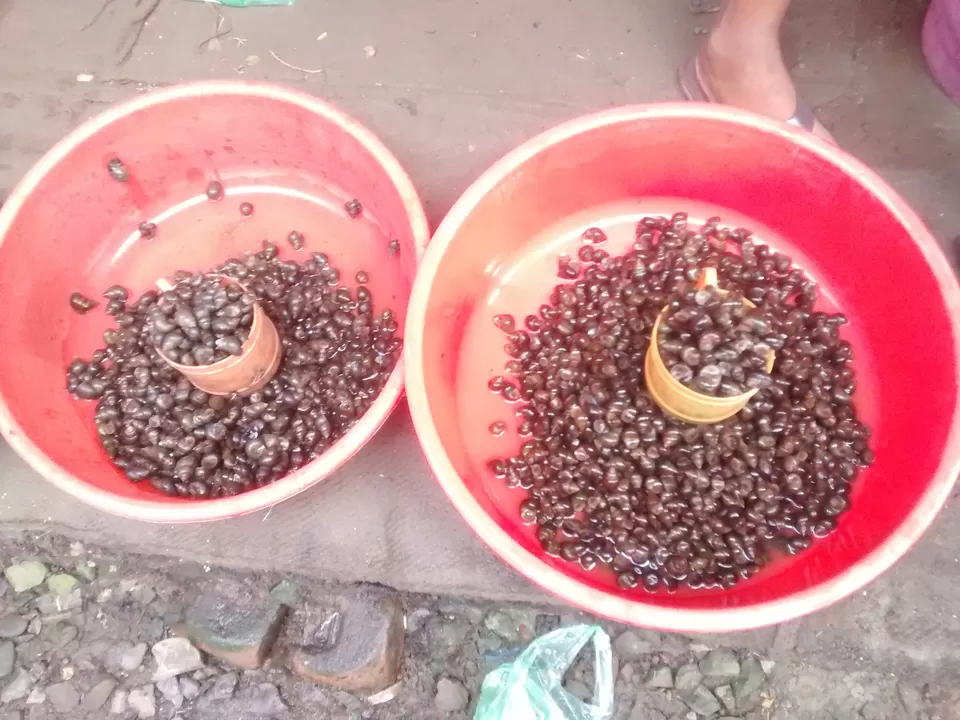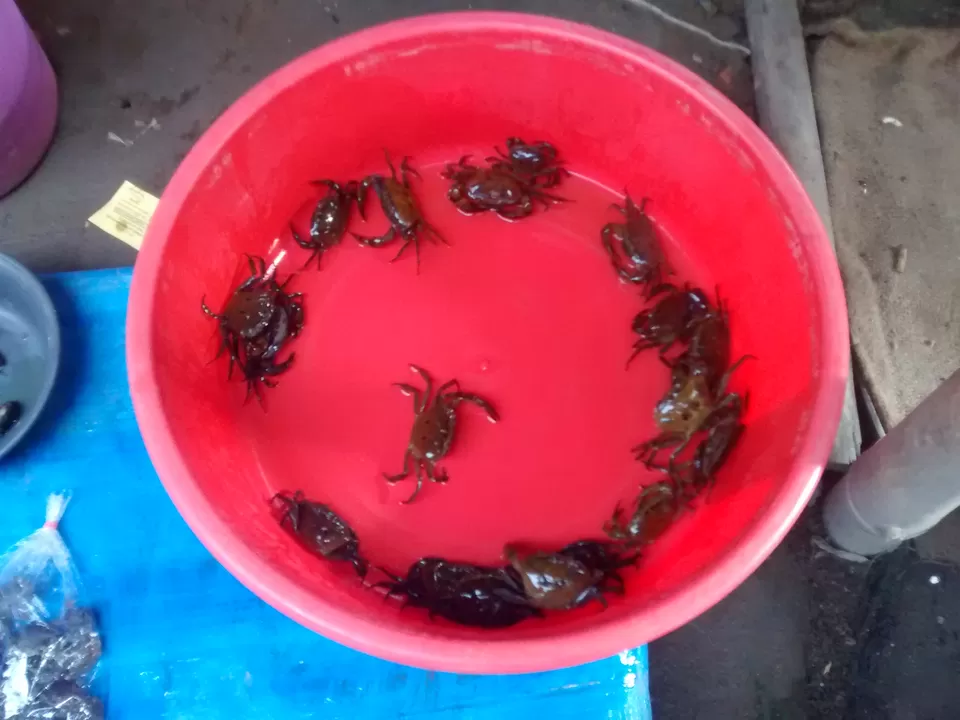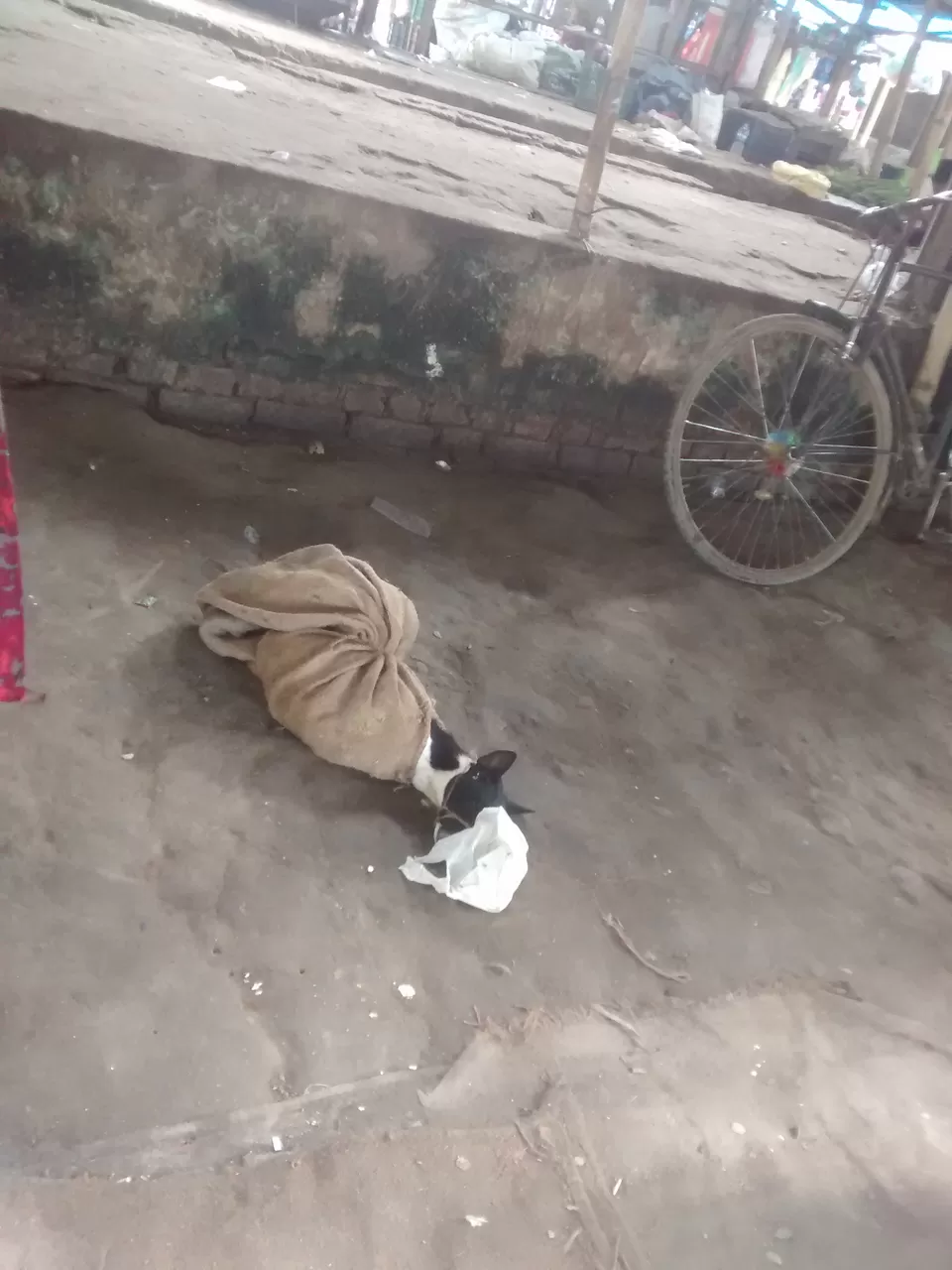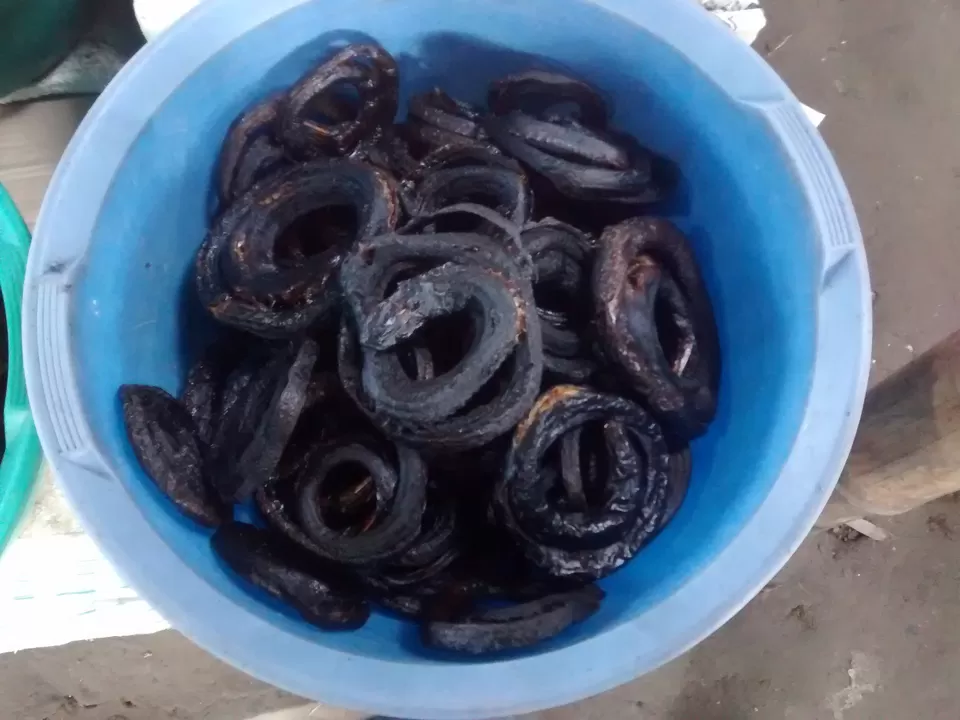 Now after seeing all these stuff I decided to have a taste of any one of them. Off course Nagaland is more popular for its Dog meat, and hence I decided to have a go. I took an auto to Eros Line which is the food hub of Dimapur. Being a Sunday most of the shops were closed but few where open. I bought a plate of dog meat from one of the shops (not all shops sells it).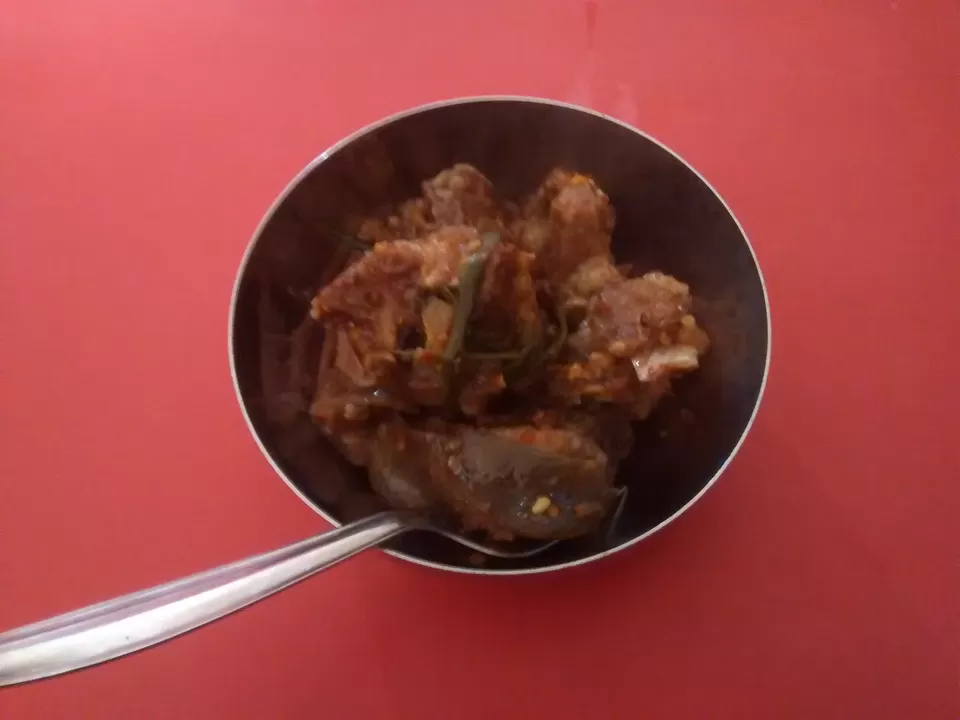 The meat was good. The only thing that disturbed me was the fat over the meat (which makes it a bit slippery) and the smell of the meat (maybe since I am not used to it). It was a special experience.
Its only 5 in the evening and my return train is at 11. So I decided to walk around the city. One thing that struck me was the dress code of the women. When I was traveling Assam and Meghalaya, I saw two different kinds of saree wearing styles. I was in the hope of finding a third one. But I was astonished to see that almost all the women were wearing t-shirts and shorts!!! Even middle aged ladies were wearing them. This is a scene which one wouldn't find in any other parts of India (I guess). Definitely western culture has influenced these people a lot.
It was dark by 6. I keep on walking through the streets. There are a few bars and pubs across the streets where the youth were up to. I realized that Dimapur is one of the safest towns for women as I saw many of them till late night. This is a fact that the rest of India should be ashamed of.
I reached the railway station by around 9pm. The train came after 30 minutes since it started from Dimapur. I was tired a lot by the walking and hence wanted a good sleep. The train started by 11 and I bid farewell to Dimapur.
Frequent searches leading to this page:-
ASSAM- MEGHALAYA 4 nights 5 days via Shillong, ASSAM - SHILLONG Holiday Package: 6 Nights/7 Days, Highlights of Assam Meghalaya, 7 Days 6 Nights Shillong Kaziranga Guwahati