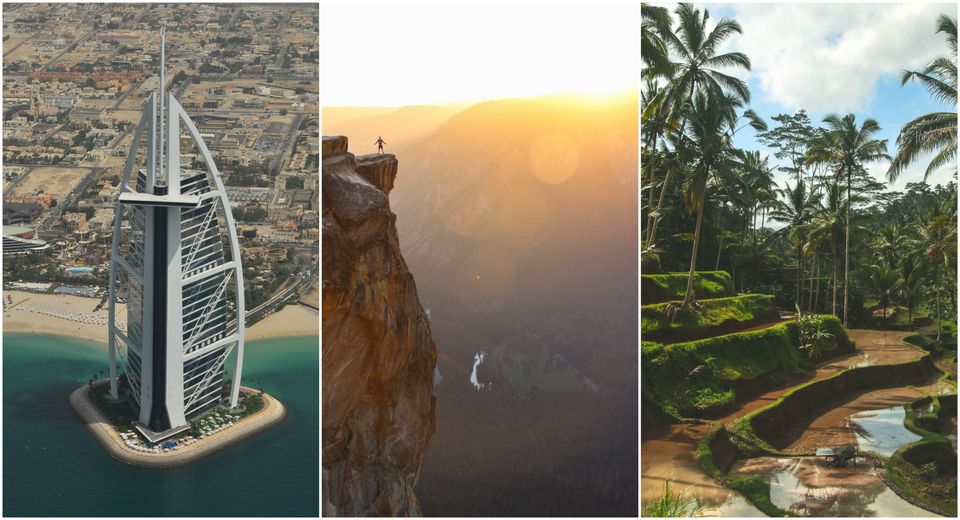 It's November already, and I'm sure that your friends, family or better half have already started pestering you to make an epic vacation plan to celebrate the upcoming new year's eve. And I don't blame them either, because everyone wants to start their new year afresh with a hope that things will be a lot better on the other side of the yearly calendar. Well, things are going good for you, my friend, because the good guys at Tratoli have come up with three customised vacation ideas that are completely different from one another, so you don't have to do the math and planning.

Tratoli lets you design your ideal international vacations by handing over the power of customisation to you. You can choose specific flights, hotels, activities, meals, and what not, on your budget in a few clicks. The choices are endless. You can check out their website right now and start planning!

The three vacation packages they are offering are to the evergreen Bali, the Gulf paradise of Dubai, and the enigmatic country, Australia. If you're suddenly wondering how you will afford it at the end of a tough year, I must tell you that all three are carefully planned on a budget by Tratoli so you need not worry about the little depth of your pockets. Relax and check out these three ideas, of which you can pick one based on your new year desires:

The South-Asian Odyssey
Who doesn't like Bali. It comes as no surprise that it is one of the most frequented vacation pads for Indians. A bare mention of its name invokes images of limitless blue waters with the shining sun, accentuating the backdrop. The cleaner than thou beaches have plenty of surfers, divers, local musicians and dancers whose idea of a perfect day is to just chill and make merry. Isn't that precisely what you would want on your new year's eve? Locals are extremely welcoming towards Indians because the city is replete with Indians and Hindu temples and hence they understand what we like or not pretty well. There are dramatic volcanoes and temples on mountain edges. There are lavish resorts and endless calm beaches. There is plenty of room to go wet and wild, so your 2018 indeed starts with a bang.
Package for one: ₹8,999 onwards (excluding flights)
Duration: 5 days/ 4 nights
Top things to do in Bali: Visit Tanah Lot, a rock formation which is home to the temple Pura Tanah Lot. You should also check out the Mengwi Royal Family Temple, which is located a bit away from the city. The temple is set on a land which is completely surrounded by a big fish pond and hence it looks like it's floating on water. Go for the Kintamani Tour for a crash course in traditional Balinese arts and culture. The highlight is the mythical Barong dance.
All the above can be organised by Tratoli within your package.
Bali is ideal for: Couples, cousins and friends
The Middle-Eastern Sojourn
If Bali is about chilling on the beaches, then Dubai is about splurging and the high life. The city is a melange of futuristic ambitions and strict traditions, but regardless it is hard not to get inspired by Dubai's indefatigable fervour. With nightclubs located on audaciously tall skyscrapers or boldly designed manmade islands, you can easily expect your new year to be incredible. The nightlife is replete with perfect options for every budget and age group, but what Dubai is really renowned for world over is its insane shopping festivals. The shopping malls here are not a mere collection of stores, they are designed like palaces and carnivals to complement the feeling of splurging without the guilt. Expect Dubai to transform your life in 2018!
Package for one: ₹29,999 onwards (excluding flights)
Duration: 6 days/ 5 nights
Top things to do in Dubai: If you're there with your loved one, the first thing you should experience is the Dhow Cruise Dinner. The fascinating lights coupled with music and tanura dance is a treat in itself, and there is obviously great food on offer. Visit Burj Khalifa's 124th floor – the highest observational deck of the building. It promises you an eagle's eye view of the entire city. Go for a desert safari and enjoy the sand dunes.
All the above can be organised by Tratoli within your package.
Dubai is ideal for: Families and groups of friends
The Beautiful Chaos Down Under
Australia is far unlike anything else on the globe. It's impossibly wild yet ultra-urban at the same time. The cities are hip but it's ultimately the coasts where the parties never end till the mornings. While the stylish Melbourne could be termed as the cultural capital owing to its intense love for sport, Sydney is far earthier with plenty of national parks spread around the city. However if you are the party kind, head to Gold Coast for your dose of nightlife and mega-malls.
Package for one: ₹51,500 onwards (excluding flights)
Duration: 7 days/ 6 nights
Top things to do in Australia: Attend an opera play at the Sydney Opera House. Once you are in Sydney, you must get yourself clicked in front of the Harbour Bridge as well. In Melbourne, head over to the Yarra River and visit the various wineries surrounded by the deep forests. Explore the unadulterated wildlife at the Springbrook National Park in Gold Coast.
All the above can be organised by Tratoli within your package.
Australia is ideal for: Couples and friends
In association with Tratoli.
Frequent searches leading to this page:-
Dubai tour packages from Delhi, top Australia tour packages with price, Dubai tourism, new year holiday destinations, new year holiday packages