"I am restless, I don't mind leaving this comfortable, static life. I could live on my own in a remote village!" ~ Michael Palin
Do you guys feel the same way? Honestly, my transition into actually believing this quote has been ineffable. Coming from the busy city of Mumbai, I could never imagine myself living in secluded places like people did back in the USA.
Ireland, however took it to a different level! I have to admit that it did scare me at times to be alone at these locations, driving in some of the most remote, narrow lane roads and up on some of the steepest cliffs. These places definitely had an impact on me and made me feel as close to nature as I could possibly be, to realize, Its only purpose is to give and leave you feeling special to have witnessed the peace flow within just like sunshine flows into the trees.
Here are some of the most hidden places in Ireland and the quotes that I resonated with while exploring its obscurity that made me introspect my own presence!
Keem Bay ~ But you have no silver lining without a cloud.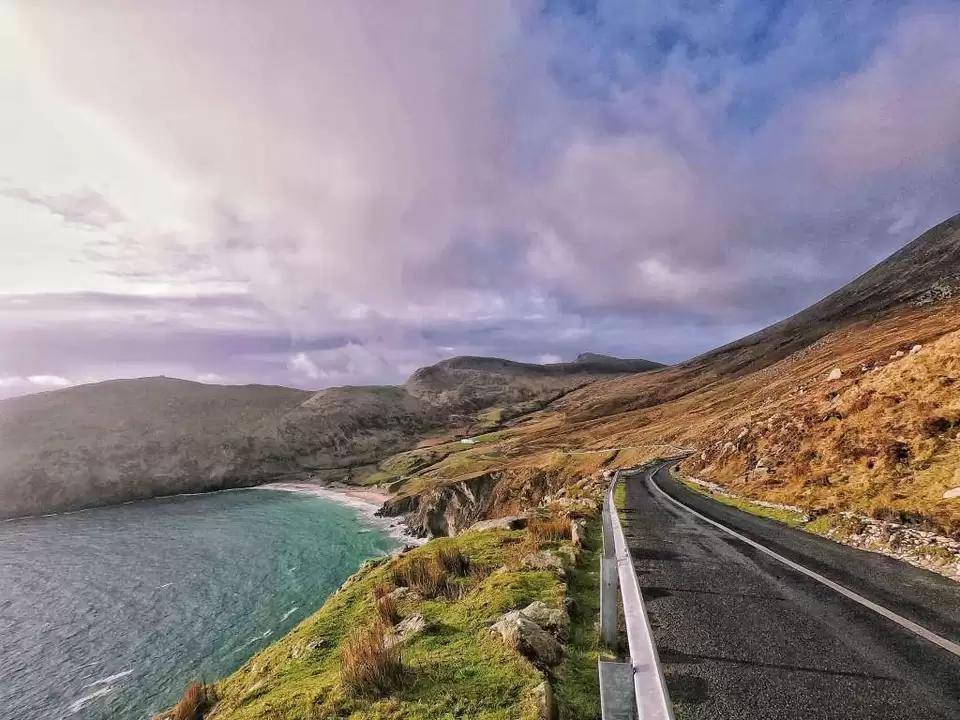 Easily the most beautiful and stunning landscape in Achill Island. This island has my heart for its sanctity and dream like vibe. As soon as you cross the cliff, you will be surrounded by the beauteous mountains, impressive views and divinity! As exhilarating as it sounds, the uphill drive on a steep slope to the bay is absolutely terrifying. I was contemplating if I should even drive any further as I could barely see the road due to the mist. However, I kept driving slowly and carefully.

After an uncomfortable drive, my mind started racing and was urging for a calm spot to relax! An undisturbed walk on the beach, the solitude, the alluring sight of the ocean, the wind, the sun, the sheep peacefully grazing on the side were all like the silver lining I was looking for. I wasn't alone, this was the closest I could be to the nature in its most rugged form!
The Silver strand beach ~ Nothing strengthens authority so much as silence.
- Leonardo Da Vinci
Silver Strand Beach is the extreme level of isolation I've ever witnessed. I was near Slieve League Cliffs when I saw a sequestered beach on Google maps. 45 minutes away from the cliffs to Malin Beg Village in Glencolmcille was a heavenly drive. It is the most rural part of the Country and is comparatively less crowded due to minimal public transportation.

The village had a hostel and a cafe right in front of the beach which were all shut in January, so you can imagine! I was the only person in the entire village. With no network and no soul around me other than the sheep, the remoteness got me. That's when I realized, silence can be the worst thing that can happen to human beings. Because it just makes the noise and the chaos inside your head more evident and you can't help but listen to them. I usually have these voices in my head all the time that I just keep escaping or suppressing. As soon as I was confronted, I started listening to them one by one and could have never hoped for a better place than this, thus untangling the tangled parts of my life!
Slieve League ~ There is nothing in this world that can trouble you more than your own thoughts!
Not sure if I can say anything different than what's already known about these pristine and my most favorite cliffs in Ireland, except for I learnt how too much information and over thinking could be toxic. I started reading about the cliffs, the roads, the weather etc prior to driving there making sure I will be safe. "The drive to the cliffs is not for faint hearted" is what I had come across from majority of the reviews and I continued reading more which frankly took all the fun out of it. I fell asleep tired and exhausted!

The next day I drove to the cliffs, parked at the lower level instead of going all the way up to the Bunglass Point, as all the reviews started haunting me by the time I was here. I was all by myself when I started walking up the cliffs and it started hailing! Just when I thought of turning back and leaving, I saw a vehicle pass by. I decided to ask for a ride and soon another vehicle stopped. Two Irish girls who were just as paranoid about the drive, gave me a ride to the point and we were laughing about how the hype killed the joy of actually relishing the experience.
After lunch, I decided to drive back to the cliffs by myself. This time I was alone, the privacy amidst the wilderness felt spiritual. That's when I realized, that my travel experiences had turned me into a more careful person but somewhere I had forgotten to trust my instincts, that sometimes ignorance is bliss!
Downpatrick Head ~ Life begins at the end of your comfort zone.
It was raining when I decided to drive to Downpatrick Head from Achill Island. Of course I had read about it prior and knew that it was going to be a windy day. This time I followed my instincts and went anyway. Driving in the rain is the most uncomfortable task for me, I was wondering if I should even care going ahead as the visibility kept getting worst!

I got here fairly early and was the only person on site. I parked my car and started following the signs to Downpatrick head which said, "Enter at your own risk", definitely not comforting but the curiosity of watching the sea stacks overpowered every fear. The sun was almost out, the mist started clearing out, the sheep kept me company, the blowhole on my way was frightening, the land was swampy, the wind was subtle, the cliff got steeper, unsure if I was in the right direction, I soon found myself standing right in front of the stacks!
Uncomfortable with the solitude, the rainy drive, the wind, the hysterical signs, all were good enough reasons for me to just stay in my Airbnb. But it's Ireland, if you don't step out of your comfort zone, chances are you will never explore it truly!
Donagoore Castle ~ You always have two choices: your commitment versus your fear.
On my way to the Doolin pier while driving on a hill, surrounded by farms, quaint houses, making my way through the downhill slope, I came across Doonagore castle. The immaculate view of the Castle overlooking the ocean was breathtaking. It only got me thinking about driving here at night, my Airbnb hosts had invited me for a trad session that they were going to be a part of.
Village life in Ireland! as cosy, comforting and carefree as it sounds, is actually very cut-off for someone who is not used to it. I was just too scared to drive in the pitch dark (sun sets at 4:00PM during winter), on a narrow lane with no street lights in a remote area with hardly 1 or 2 houses on the way! I mustered courage and went for it!
Just when I started freaking out driving on the same road that I took in the morning, with no sight of people on the street surrounded by deciduous trees with the Silhouette of the Castle in front me, the thoughts of ghosts popping out of nowhere, making me loose the control of my car and killing me started creeping in. At the verge of a panic attack, I see street lights and few restaurants. I franticly get out of my car and start walking towards the restaurant. Soon after I open the door, I am welcomed to the chirpy sound of live music, people cheering and singing! And just like that all my fears, worries and fatigue disappeared. I felt safe and alive in that very moment.
Portacloy Beach ~We must accept finite disappointment, but never lose infinite hope - Martin Luther King Jr.
I was in no mood to further exploring after having seen Downpatrick head. I felt blessed after seeing the sea stacks and knew that nothing can beat this experience, so what's the point? As I kept driving I see weird cloud patterns in front of me and to my right was a clear sky! The clear sky caught my attention and I decided to follow the path in search of vitamin D.

Half an hour into the drive, the deceptive sky started pouring rain! Disappointed, I kept going as the landscape looked very captivating. That's Portacloy for you all! Another one of Irelands most rural area. Portacloy beach, located in the North Mayo Coast is a very scenic village with traditional cottages. You will not find a single pub or shop in this village, it is unadulterated by any modernity. However, you will see signs for food served daily in the houses while driving.
A quiet cliff walk with magnificent backdrop of Northern headlands were waiting for me! It was a moment where I felt like I found a hidden gem that not many knew about nor did I want anyone to find out. Hope goes a long way only if you truly aspire and not let disappointment take over!
Castlefreke Castle ~You have power over your mind - not outside events. Realize this, and you will find strength"
I was on my way to Castlefreak Castle from Kinsale, blindly trusting GPS. GPS has the knack of finding the shadiest routes for me! About 20 minutes into the drive, I get on the road covered with gravels and grass. It didn't look that bad so I continued. However, I should have stopped and turned around because it got too ugly! The grass started getting thicker and gravels were soon submerged by the swamp. I only started panicking when my car started slipping.
10 minutes into the drive, I was sweating. I was alone and trapped in a concealed, swamp road with no room to turn around. I knew I had to get out of there, or else I was going to get stuck with no one around to help. Just when I was about to loose my sanity, I found a gate on the side of the road which gave me enough space to make a U. Panic-striken, I desperately turned the car around while it kept sliding. After turning around, I found the strength to calm myself down. I kept assuring myself that it was going to be fine. As soon as I was back on the road, I noticed my shivering hands. I couldn't drive! I parked on the side of the road and took a deep breath to regain my composure.
I knew if I hadn't panicked I would have handled the situation better, but having control over your mind in such scenarios is the most difficult job! However, it is better late than never! It is something I am still working on, how good are you?
Mussenden Temple cliff walk ~ Nature will always amaze you.
It was my first time in Northern Ireland and I was ecstatic to drive around this bountiful Country. Mussenden Temple definitely looks like a place that had a very interesting story behind its existence. As I walked through the Coliseum and the Downhill home towards the Temple standing significantly tall right above the Atlantic Ocean, I could not resist the feeling of surreality and peacefulness. Just when I was leaning on the wall gazing at the beach here wondering if I could even hike down to walk on the sand, is when I saw people far away meandering watching the train pass by. Despite of the cliff erosion, there is a railway line running under the temple in a tunnel which was blasted in 1850s. It was one of those sights that made me loose my mind and left me out of words!

For me this was the first instance of nature amazing me. I had never been on cliff walks or seen a train running under the temple in a tunnel, nor had I experienced overwhelming amount of purity. It made me instantly fall in love with the idea of exploring!
This is what I love the most about traveling. When you loose your path, you get an opportunity to discover a world you have never known. And in the process you end up creating memories with yourself. Each journey is a step closer to knowing yourself, finding yourself and wanting to be an individual you aspire to be from the lessons learnt!
This blog was originally published on The Inquisitive Robot.